North Carolina Tar Heels:

Bobby Frasor
November, 8, 2013
11/08/13
11:30
AM ET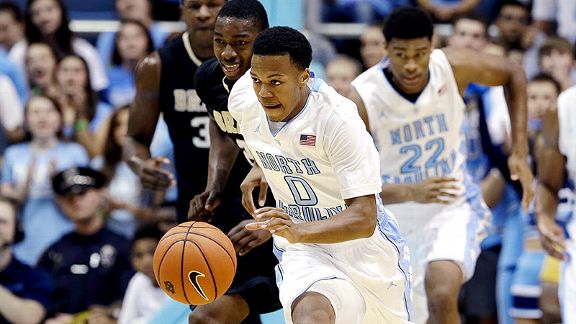 AP Photo/Gerry BroomeFreshman Nate Britt will start at point guard in North Carolina's season opener.
For the fourth time in Roy Williams' North Carolina tenure, he'll entrust a freshman starter at point guard when the Heels open the season against Oakland tonight. It's only the ninth time in school history a freshman point guard will start his first game. (It's the fifth time since 2003.)
Nate Britt
, however, is in a situation unlike Raymond Felton, Quentin Thomas, Bobby Frasor and
Marcus Paige
before him. Williams recruited Britt so he could go back to having a true point guard in reserve instead of using a combo guard, such as the role Dexter Strickland played the past few seasons.
The pending suspensions of
P.J. Hairston
and
Leslie McDonald
leaves the Tar Heels' roster short-handed and Williams scrambling to make the best of who's available. So Paige moves to shooting guard and Britt gets the coveted start.
"If you had everybody at your disposal, he might not be starting," Williams said. "But right now, of the guys, he gives us another dimension."
Britt's speed and ability to push tempo is essentially what earned him the start. The question in a live game situation against Oakland will be if he can direct the offense. Williams thinks so.
"He can attack. He can play at a fast pace. He's a quarterback. Those things I really treasure," Williams said. "He gives us another ball-handler out there.
Wade Moody
is a better shooter, but Wade doesn't give us the ball-handling, so you have to pick and choose what's important to you."
Paige will likely play the majority of the game against the Grizzlies at shooting guard. That will leave Britt logging most of the load – with spells from
Luke Davis
– at point guard.
If history is any indication, Britt's inexperience will show (and he won't make a 3-pointer) in his debut tonight. Other freshman point guard debuts:
Felton scored nine points on 3-of-6 shooting, dished seven assists (to three turnovers) and grabbed four rebounds against Old Dominion to start the 2003-04 season. He missed his only 3-point attempt.

Thomas started the first game of the Heels' run to the 2005 national championship when Felton had to serve a one-game suspension for playing in an unsanctioned summer league game. Thomas made 1 of 3 shots, missing his lone 3-pointer, and finished with two points. He had three turnovers to go with three assists. He added one rebound and a steal as Carolina lost at Santa Clara to begin the 2004-05 season.

Frasor went 1-for-6 from the field, including 0-for-4 from 3-point range. He did compile seven assists but also had five turnovers. He added two points, two rebounds and a steal against Gardner-Webb to start the 2005-06 season.

Paige shot 3-for-9 and missed both of his 3-point attempts in his Carolina debut against Gardner-Webb last season. He had four turnovers and no assists to go along with six points, three rebounds and two steals.
Out of the group, only Felton got to the free throw line more than once, which suggests he possessed an aggressive approach the others did not.
Britt will look for his shot when he has to, but his biggest concern tonight will be trying to efficiently set up for others.
October, 21, 2013
10/21/13
7:30
PM ET
This is the first in a position-by-position look at the Tar Heels.
Point guard is arguably the toughest position to play in coach Roy Williams' system. It's also generally the barometer to indicate what kind of team resides in Chapel Hill. When point guard has been a strength (
Raymond Felton
,
Ty Lawson
,
Kendall Marshall
), the Heels have competed at the highest levels. When it has been a bad fit (Larry Drew), the Heels ended up in the NIT.
[+] Enlarge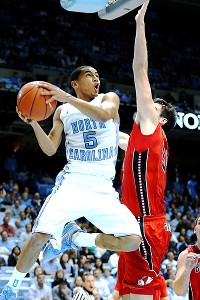 Andy Mead/YCJ/Icon SMINorth Carolina point guard Marcus Paige improved greatly throughout the 2012-13 season.
And when it's been inexperienced, as
Marcus Paige
was last season, they haven't progressed past a second game in the NCAA Tournament. (That includes Williams' first year back in Chapel Hill when Felton got acclimated to the system and Bobby Frasor's season as the starting point guard in 2005-06.)
Paige, who was just the eighth point guard in school history to start his first game as a freshman, came on strong at the end of the season. Over the first 24 games last season, he shot 32.1 percent from the floor, 30.8 percent from the free throw line and averaged 3.4 assists. During the final 11 games including the postseason, Paige improved his shooting from the floor to 42.5 percent -- including 44.5 from behind the arc – and also averaged 3.5 assists.
Williams expects to see the version of Paige that closed out last season when this season begins.
"The initial stages -- particularly if you put a freshman at point guard and say, 'Here's the ball' -- you're thinking so much more than you're doing something instinctively," Williams said. "Hopefully after a year, he'll do those things instinctively, bypass that thinking part and that'll make the decision smoother and quicker, more successful and all those kind of things. Nate's going through the same thing right now."
Nate Britt
will at least give the Heels a true point guard as a second option, unlike the past few seasons when Dexter Strickland was a functioning backup point guard. Williams has said he plans on playing Paige and Britt in the same lineup, which will encourage a faster tempo as either guard can push the pace.
"(Britt's) a distributor, a guy that tries to get everybody else involved and a guy who tries to do exactly what I'm asking him to do," Williams said. "I mean he's really forcing the pace of the game. Now he's just got to be able to make the successful play at the end. He's a guy who is really going to help us."
With plans to use both Paige and Britt, expect
Luke Davis
to continue to log minutes in reserve. The junior appeared in 20 games last season and had a 3 to 1 assist to turnover ratio.
UNC point guards:
Paige: 6-1, 175, So., 8.2 ppg, 4.6 apg
Britt: 5-11, 165, Fr.
Davis: 6-0, 175, Jr., 0.4 ppg, 1.2 apg
December, 1, 2012
12/01/12
8:15
PM ET
CHAPEL HILL, N.C. -- With all due respect to UAB, this isn't usually the type of game during which North Carolina coach Roy Williams has to strip off his jacket, yell at his team in the huddle and spike a clipboard. But it was that type of game Saturday at the Smith Center.
The 14
th
-ranked Tar Heels, who will probably fall out of the polls Monday after last Tuesday's blowout loss at top-ranked Indiana, beat the Blazers
102-84
. But Williams' meltdown with 13:16 left, after his team failed to get back on defense, was indicative of a frustrating outing, at least early-on, for the Tar Heels.


UNC starting point guard
Marcus Paige
was sidelined for this game after jamming his left shoulder in Friday's practice. Junior guard
Leslie McDonald
and freshman big man
Joel James
made their first official starts, and usual starting shooting guard
Dexter Strickland
made his first start at point guard
Turning point:
After UAB closed the first half with an 8-0 run, then opened the second half with two straight buckets to cut its deficit to 35-33, UNC forward
James Michael McAdoo
scored three of the Tar Heels' next four buckets to give his team a 43-36 lead. The Tar Heels still had their problems in the second half -- thus, the jacket toss and clipboard spike -- but the Blazers never really threatened again. UNC pulled away for good in the final 10 minutes.
Key player
s: McDonald led the Tar Heels with a career-high 24 points, all but six coming in the second half. Strickland finished with a career-high nine assists. ...
Jordan Swing
led the Blazers with 21 points.
Key stat
: UNC shot a sizzling 71.9 percent in the second half -- including 7-for-11 from 3-point land. The Tar Heels scored 67 points after halftime.
Etc.:
First-year UAB coach Jerod Haase and his director of basketball operations, Bobby Frasor, received a nice "welcome back" ovation from the Smith Center crowd after their team's starting lineup was announced. Haase played for Roy Williams at Kansas, then served as an assistant there before moving with Williams to UNC in 2003. Frasor is a former UNC point guard. This was the first game in a three-year series with UAB. … UNC junior wing
Reggie Bullock
, who was questionable to play after bruising two fingers during Tuesday loss at Indiana, started.
P.J. Hairston
, who missed the Indiana game with a mildly sprained left knee, came off the bench.
What's next:
UNC plays East Tennessee State at 7:30 p.m. next Saturday. UAB plays at Middle Tennessee State on Wednesday at 7 p.m.
June, 8, 2012
6/08/12
10:00
AM ET
Former UNC assistant Jerod Haase didn't just
take Bobby Frasor with him
when he left Chapel Hill to become head coach at UAB. Some former Tar Heels players have been (and will be) in Birmingham, too, helping Haase out with his youth camps this month.
Steve Irvine of The Birmingham News writes
that Sean May and Marvin Williams -- two of the stars of UNC's 2005 national title team -- were at Bartow Arena on Wednesday to mingle with the kids. And Tyler Hansbrough, who starred on the 2009 NCAA championship team (along with Frasor, Haase's new director of operations), is scheduled to help at camp next week.
It looks like the Carolina "family" has a new branch down south.
"It was one of those no-brainers," Williams said. "Anything that Coach Haase ever needs, he knows to call me. I think he thought I was joking. He called me back about three weeks later and asked if I was serious about coming. I told him just to tell me when and I was there."
Haase told the paper he hopes to develop the same kind of bond with his players at UAB as he has with the Tar Heels.
"That kind of relationship with players at North Carolina, that's something I hope to build here," Haase said. "I hope years from now we're talking about former UAB players who are (NBA players) coming back for camp, as well."
Follow Robbi Pickeral on Twitter at @bylinerp.
April, 18, 2012
4/18/12
1:00
PM ET
CHAPEL HILL, N.C. -- I caught up with North Carolina coach Roy Williams for a few minutes before he addressed fans at the Rams Club's Triangle Tour stop on Tuesday night. A few notes:
COACHING TREE GROWS:
Williams said he plans to
hire a person with UNC ties
to replace assistant coach Jerod Haase, who left earlier this month to become head coach at UAB. But it won't be last season's assistant strength and conditioning coach Jackie Manuel, who is now an assistant coach at UNC Greensboro under former Tar Heels guard Wes Miller. And it won't be assistant video coordinator Bobby Frasor,
Haase's new director of basketball operations
.
Williams thought it would be good for the former Tar Heels guards to gain more coaching experience outside of Chapel Hill.
"I asked Wes to take Jackie, and it was an easy sell. I asked Jerod to take Bobby, and that was an easy sell. Because I thought those were great spots for them to start their coaching career,'' Williams said. "They were wonderful kids, but I wanted them to understand that not every place is like North Carolina.
"I think it was great for me that I was a high school coach for five years; I was an assistant coach for 10 and I had two practices for eight. I realize that somebody's got to flip a switch to turn the lights on, somebody's got to mop the floor; it doesn't just happen magically. And when you coach at North Carolina, you think that all those things happen magically, and they don't. Somebody has to do that."
TEAM LIKELY SET:
With three underclassmen leaving early for the NBA draft and ACC Player of the Year
Tyler Zeller
graduating, the Tar Heels lose four-fifths of the starting line-up that led UNC to the NCAA regional finals. A four-man freshmen class arrives in June, but it sounds like Williams doesn't expect any late additions to next year's team.
"We always keep our eyes and ears open; I'm never going to say that we wouldn't be interested," he said. "But there's nobody out there. There was all this stuff in the paper about one player, that we were doing all this stuff. I talked to the kid one time, period.
But, he added, "we'll always keep our options open."
Although he didn't give that player's name, Williams was referring to his call to Connecticut forward
Alex Oriakhi
, who chose instead to transfer to Missouri. Oriakhi won't have to sit out a season because the Huskies are barred from playing in next year's NCAA tournament, and he would have added an experienced big body to a Tar Heels team that loses both starting forwards (Zeller and
John Henson
).
Williams told fans Tuesday night that sophomore forward
James Michael McAdoo
(who will slide into one of those starting positions) "has a chance to be a big-time, big-time player; he's got to step his game up."
Wing
Reggie Bullock
, he added, "will have to take his game to another level."
Meanwhile, "Dexter [Strickland] and Leslie [McDonald] have to come back in and be healthy, and then the freshman group we have coming in, they've got to show us that they're strong players, as well."
With so many veteran players on the perimeter and so many younger ones in the post, it will be key to see whether Williams opts to go with a smaller, guard-heavy line-up compared years past. Even he doesn't know -- yet.
"It will be interesting to see how my thought process goes over the summer,'' he said.
MIGHT-HAVE-BEENS:
Not surprisingly, it's been a difficult few weeks for Williams, after his team -- which began the season ranked No. 1 and had national title goals -- lost to Kansas in the NCAA tournament in the Midwest Region final.
"It's been really hard, because it was a great, great year with a sad, sad ending. … Our last regular-season game, when we played at Duke, I thought we were pretty doggone good. And I said on the bus, just to our coaching staff, that for me, if we played like that, then we have a chance to win the whole thing.
"Then the very next game, John gets hurt [sprained wrist] -- and John was never the same. And then the second game in the NCAA, Kendall [Marshall] gets hurt, and that's about as unlucky as I've ever been, I guess, too."
Follow Robbi Pickeral on Twitter at @bylinerp.
November, 18, 2011
11/18/11
11:38
AM ET
Bobby Frasor and Jackie Manuel -- guards on North Carolina's 2009 and 2005 national title teams, respectively -- are now on the basketball staff, the school announced Friday.

Frasor will serve as assistant video coordinator; Manuel is the new assistant strength and conditioning coordinator. Both are six-month appointments that run through May 15, 2012.

"These are two outstanding young men who have decided to end their competitive playing careers and are looking to get into basketball from a non-playing perspective," coach Roy Williams said in a prepared statement. "I think this will be a great opportunity for them to focus on what it takes to run a program. They'll set good examples for our current players because they know what it takes to win at a high level."