North Carolina Tar Heels:

Brad Daugherty
November, 27, 2013
11/27/13
11:00
AM ET
It seems like just yesterday when North Carolina guard
Marcus Paige
expressed an uneasiness over making the transition to shooting guard. He was so conditioned to creating for others that the mentality to look for his own shots didn't come naturally.
[+] Enlarge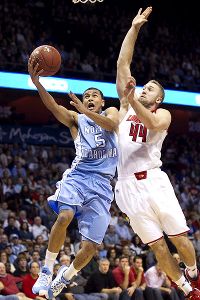 Zumapress/Icon SMIMarcus Paige's transition to shooting guard has been seamless.
Five games later, Paige has thrust himself into a different stratosphere -- both nationally and among Tar Heels historically.
He's currently leading the team with 22.4 ppg. That's comparable to others mentioned as national-player-of-the-year candidates like Oklahoma State's
Marcus Smart
(21.0), Louisville's
Russ Smith
(20.2), Kentucky's
Julius Randle
(19.8), Arizona State's
Jahii Carson
(23.0) and Duke's
Jabari Parker
(23.0).
That also would put Paige on a short list of Tar Heels who have averaged 20 or more points a game since 1970:
Phil Ford (20.8 ppg in 1977-78); Michael Jordan (20.0 ppg in 1982-83); Brad Daugherty (20.2 ppg in 1985-86); Hubert Davis (21.4 ppg in 1991-92); Antawn Jamison (22.2 ppg in 1997-98); Joseph Forte (20.9 ppg in 2000-01), Rashad McCants (20.0 ppg 2003-04) and Tyler Hansbrough (22.6 ppg in 2007-08 and 20.7 in 2008-09).
Paige is shooting 53.1 percent from 3-point range, which ranked him 29th nationally as of Monday's NCAA statistics. The next closest national-player-of-the-year candidate is Creighton's
Doug McDermott
, who is tied for 38th at 50 percent.
If Paige continues at this rate, he would shatter the Carolina single-season record of 49.6 percent set by Dante Calabria in 1994-95. The difference is Calabria was a spot-up shooter who benefited from Jerry Stackhouse and Rasheed Wallace drawing most of the defense's attention.
Paige is shooting 93.1 percent from the free-throw line, which was tied for 40th nationally entering the week. Again, he'd set a new school standard if he keeps it up, besting Shammond Williams' single-season record of 91.1 percent during the 1997-98 season.
Paige is also shooting 53.1 percent from the field, which for a guard is great, but it doesn't compare with post players.
Of course some, if not all, of Paige's current averages will decrease once teams make him the focal point of their game plans.
But the irony here is if Carolina had its full roster, and Paige were strictly playing point guard, he wouldn't be posting anywhere near his scoring average. That's what makes his transformation in such a short amount of time so impressive.
Paige has played at such a high level that it would be hard to argue that he's not the best player on the team even when
P.J. Hairston
came back.
October, 29, 2013
10/29/13
11:30
AM ET
Sophomore forward
Joel James
willingly abandoned the No. 0 jersey he wore last season to allow freshman
Nate Britt
to wear it. The 5-foot-11 guard wore it throughout high school -- with the exception of his lone season playing at Oak Hill Academy last year – and wanted it back.
James, who averaged 2.3 points and 2.4 rebounds as a freshman last season, had no sentimental attachment. He was one of just two players (Jesse Holley) to ever wear the single zero at Carolina so he gladly released it to Britt.
"I wanted to keep him happy," James said. "He wore it his whole life that was my first time wearing it."
Before choosing his next number James said he wanted a greater meaning behind it and settled on No. 42 for a reason.
There are three honored jerseys hanging in the Dean E. Smith Center rafters from players who wore 42 -- Brad Daugherty, Jerry Stackhouse and Sean May. It is tied with six other numbers (22, 30, 34, 35, 40 and 44) for the most players with honored jerseys. James literally wanted to elevate his game to their levels.
"I wanted to change my number just to set a goal for myself," James said. "Great players wore that number -- Big May and Stack -- I set a challenge for myself."
May did some of the challenging as well. May was talking on the phone to director of player development Eric Hoots, who informed him James would be wearing 42 this season. Given that James is the first player to sport the number since May in 2005, May wanted a few words with James.
"Hoots gave me the phone, (May) said, 'Hey I don't want you dropping any passes. I had great hands in that number so you've got to represent,'" James said. "I was like, 'I'll do as best I can.'"
James might not reach the heights of getting an honored jersey (which the criteria is one of the following: ACC Player of the Year, first or second team All-America, team MVP of NCAA title team, Final Four MOP, or Olympic gold medalist) unless he breaks the cycle.
The next player to wear the number after an honored jersey hasn't maintained the same success. Scott Williams wore it after Daugherty and Kris Lang had it after Stackhouse. (That's not to say they weren't successful, after all, Daugherty, Stackhouse and May were all NBA lottery picks.)
For James, who has only played organized basketball since the 10th grade, Williams might be the best measuring sticks. Williams improved from his freshman to sophomore season going from 5.5. points and 4.2 rebounds per game to 12.8 points and 6.4 rebounds.
James probably won't notch double figures scoring this season, but all signs point to him being an improved player.
"I feel like I've developed a lot of things, I've sharpened some tools," James said. "I feel good about it."