North Carolina Tar Heels:

Brad Stevens
July, 29, 2013
7/29/13
10:31
AM ET
1. North Carolina landed a polite, respectful and highly talented player in
Joel Berry
-- for the class of 2014. That's the impression I had after watching and interviewing Berry during the AAU tournament in Orlando last week. The problem for the Tar Heels is that Berry, a point guard who can team up with
Marcus Paige
in 2014-15, won't be on campus for a year. The Tar Heels could use Berry now instead of
P.J. Hairston
, regardless that they don't play the same position. Berry was mature and confident in himself in why he wanted to attend North Carolina. He talked about his respect for the program and admiration for the staff. Clearly, Hairston doesn't have the same feelings after following up a dropped misdemeanor marijuana charge by getting pulled over for reckless driving. That stop came nine days after the marijuana charge was dismissed. Seriously? North Carolina hadn't made up its mind about whether to suspend Hairston prior to Sunday's situation. The
Tar Heels have now
. The Carolina image is sacred to those in Chapel Hill and the alumni living elsewhere. Hairston abused his privileges and continued to disrespect the program he was supposed to serve. He should listen to the sage words of someone younger like Berry. Who knows when or if Hairston will return to the team this coming season. But the Tar Heels can survive without his scoring or the chaos that is now constantly surrounding him. He is not the program. The program is and will be much bigger than characters like him.
2. New Celtics coach Brad Stevens made a terrific staff hire in adding Ronald Nored to the development team. Nored had just been hired in the spring at South Alabama by former Butler assistant Matthew Graves after Nored had coached high school for a year. Over the course of 23 years you'll meet countless players. Nored was one of those people who impressed from the first interview. He was destined to be a coach and commanded respect by his work ethic and attention to detail. He will earn the Celtics players' respect by working with them and not attempting to talk down to them. He may not have played in the NBA, but he'll sponge up as much knowledge on the professional game as quickly and professionally as possible. Stevens doesn't choose people lightly. Nored will fit in perfectly into the Celtics' culture and adhere to their values under Stevens.
3. Wichita State coach Gregg Marshall said the Shockers picked up two home-and-home series following the Final Four: against Alabama and Saint Louis, with both of them starting on the road. The Shockers will also continue a series with Tulsa, play Western Kentucky on the ESPN Marathon and are the featured team in the CBE Classic in Kansas City with BYU, Texas and DePaul. As you can see, the Final Four didn't produce home games for the Shockers. The Tennessee home game -- a quality affair for Wichita State -- is a return game from last season and prior to the Final Four. The Shockers, who return the core of the Final Four team, will be the pick to win the Missouri Valley and are a Top 25-type team to start the season. Marshall said he's had to get the players to dial it back a bit in practice lately, saying that they're working too hard. He said they believe they will be good and they should. They will. But once again a Final Four hardly guarantees a great home schedule the ensuing year -- especially if you're not in a power conference.
January, 1, 2013
1/01/13
10:59
AM ET
By
Jeremy Lundblad, ESPN Stats & Info
| ESPN.com
Syracuse coach Jim Boeheim recently became the third member of the 900-win club, joining Mike Krzyzewski and Bob Knight as the only Division I men's coaches to reach that milestone.
So who, if anyone, might join that elite trio down the line?
Here's a subjective look at the most likely candidates based on age and current win total.
10. Jeff Capel (37 years old) - 162 wins
Currently an assistant at Duke, Capel got his head coaching start at 27. He'd obviously need to get another head-coaching job soon, but at 162 wins, he's got a good head start -- especially if he ends up as Coach K's successor.
9. Steve Alford (48) - 447 wins
In his sixth season at New Mexico, Alford has been a head coach every year since he was 27. At 48, he's almost halfway to 900.
8. Brad Stevens (36) - 149 wins
Stevens was one of the fastest ever to reach both 50 and 100 wins. Still only 36, he has many years in front of him. But Stevens won't have the Horizon League to kick around anymore.
7. Rick Pitino (60) - 641 wins
Six seasons in the NBA have set him back, but Pitino would reach 900 wins in about 10 years if he averages 25 per season.
6. Roy Williams (61) - 685 wins
Williams didn't become a head coach until he was 38. That's six years older than Boeheim was. With 215 wins to go, Williams would likely need to coach until he was about 70.
5. John Calipari (53) - 513 wins
Averaging 34 wins per season at Kentucky, Calipari is making up for the four seasons he lost to the NBA. At 53, he needs fewer than 400 more wins to reach 900.
4. Thad Matta (45) - 333 wins
Matta is in his 13th season, and he's never had fewer than 20 wins. In fact, Roy Williams is the only coach with more wins through his first 12 seasons.
3. Billy Donovan (47) - 430 wins
Only Boeheim and Krzyzewski have longer active streaks of 20-win seasons than Billy Donovan. At 47, he figures to be halfway to 900 before the end of this season.
2. Bill Self (50) - 487 wins
No one under 50 years old has more wins than Self. Since coming to Kansas, he's averaged more than 29 wins. At that rate, he's less than 15 seasons away from 900.
1. Bob Huggins (59) - 717 wins
Bob Huggins is already well beyond 700 wins and hasn't turned 60. That's well ahead of where Boeheim was at the same age. At 24 wins per year since arriving at West Virginia, he's on track to get to 900 at a younger age than either Boeheim or Bob Knight.
November, 21, 2012
11/21/12
1:27
AM ET
LAHAINA, Hawaii -- Here are some observations from the second day of the EA Sports Maui Invitational.
After dominating Mississippi State on Monday, the North Carolina Tar Heels got a rude wake-up call versus Butler on Tuesday. On Monday evening I wrote: "North Carolina has much more talent, but the Bulldogs are scrappy and well-coached. The Tar Heels are more of a finesse team. The physicality of Butler could give the Heels problems." That's exactly what happened. North Carolina was outrebounded 36-27 and Butler beat them to just about every loose ball.

After the game, North Carolina head coach Roy Williams admitted that he had the better players, but Butler and coach Brad Stevens had the better, tougher team. "They were more physical, more assertive and more aggressive," Williams said. "They're really good. Brad's clubs are really intelligent. I like their toughness and their intelligence more than their talent, and I'm not trying to put down their talent. But I love their toughness and their intelligence."

UNC clearly has the talent, but does anyone on this team have the toughness the Heels needs to go deep?

Sixth man P.J. Hairston was, for the second night in a row, the best and toughest Tar Heel on the floor. It might be just a matter of time before Williams puts him in the starting lineup.

Most disappointing was forward James Michael McAdoo. In the tourney-opening blowout against Mississippi State, McAdoo was solid on offense, but had four mind-boggling turnovers, prompting Williams to comment after the game that "we can't throw the basketball around."

On Tuesday night, McAdoo had seven turnovers to go with his 10 points and five rebounds. Williams isn't the only one miffed by the performance of his big man.

Most of the NBA scouts and general managers in the audience savaged McAdoo for his performance the past two games. "He looks good in a basketball uniform," one GM told me. "But after that, I'm not sure what I'm supposed to like. He's a pretty good athlete, but he isn't very skilled and he doesn't go hard all the time. There's not one thing he does that really stands out about his game. He certainly hasn't played like a top-five pick."



[+] Enlarge

AP Photo/Eugene TannerUNC's James Michael McAdoo, here getting blocked by Butler's Andrew Smith, hasn't impressed NBA observers in Maui.

McAdoo is currently ranked No. 6 on our Big Board -- but could be in for a drop if he doesn't start picking it up.

Illinois continued its impressive run in the tournament with an 84-61 win over local underdogs Chaminade on Tuesday. The Illini got balanced scoring -- Brandon Paul scored 13 points, D.J. Richardson had 11 and Joseph Bertrand 14. The Illini are off to a 5-0 start, but they haven't really been tested yet. Butler should give them everything they can handle and will be the favorites to win it all after dominating North Carolina. But don't count out Illinois. The team is playing with a lot more aggressiveness and discipline under new head coach John Groce. It has a terrific backcourt in Richardson, Paul and Abrams and size up front.

A win in the tournament will be a huge boon to the Illini's confidence. They aren't in the same class as Big Ten elite teams such as Indiana, Ohio State, Michigan or Michigan State, but they, along with Wisconsin, Minnesota and Iowa, may be a very tough outs in the league. I won't be surprised if the Big Ten gets eight teams into the NCAA tournament this season.

A number of my tweeps laughed at me Monday when I said that NBA scouts were intrigued by Butler freshman Kellen Dunham. I don't think they are laughing anymore. Dunham bounced back from an awful game versus Marquette and really put the dagger in the Tar Heels in the second half. He ended the game with 17 points and was 5-for-9 from beyond the arc. He's still a little tentative and passed up a few open shots in the game, but his stroke is flat-out pure. Dunham isn't your average mid-major guard. He was ranked as a top-100 player by ESPN and was an NBA camp invitee. Dunham isn't a one-and-done prospect, but as he continues to get stronger and more confident, he could have a future in the pros after his junior or senior years of college.

The Texas debacle continued Tuesday with a 59-53 overtime loss to USC. The good news? The Longhorns didn't get blown out this time and played with more urgency. The bad news? Offensively this team is just a mess. When (or is it if?) the Longhorns get Myck Kabongo back, they'll be better. But I don't think he has the talent alone to turn things around. There just isn't a lot of talent around Kabongo. Sophomore Sheldon McClellan has struggled in Maui, going just 8-for-25 from the field and 1-for-11 from 3. Freshman big man Cameron Ridley was ranked as the eighth-best prospect in the country by ESPN, but he's looked out of shape and overwhelmed in the early going.It could be a long year, Texas fans.

Marquette fans, meanwhile, are hoping they have found a go-to scorer in junior Vander Blue. For the second consecutive game, Blue led the team in scoring with 18 points and three assists versus Mississippi State. Blue has always had the talent, but he has struggled with consistency and aggressiveness in the past. What's different this year? "I'm just playing with a free mind and just playing off my teammates," Blue said. "Junior [Cadougan] is a great guy, and everybody's going to double Davante [Gardner], so that pretty much leaves me open for shots. So I feel like if I'm making those shots, our team is a much better team. I'm not trying to do nothing that we don't do every day in practice." Blue's versatility, toughness athleticism and defense all intrigue NBA scouts. If he can show some offensive prowess as well, he could be a second-round pick.

There was a moment in time when USC big man Dewayne Dedmon was considered a potential NBA prospect. That time has probably passed. Dedmon has the size and athletic ability to be a pro. But he has no feel for the game. That's always a problem, but it's an even bigger problem when you're already 23 years old. Dedmon had 8 points, 8 rebounds and 3 blocks against Texas but was just 3-for-11 from the field.

Butler will face Illinois in the EA Sports Maui Invitational Final on Wednesday at 10 p.m. ET on ESPN. North Carolina will play Chaminade in the consolation game at 7:30 p.m ET on ESPN2.
November, 20, 2012
11/20/12
11:37
PM ET
LAHAINA, Hawaii --
Rotnei Clarke
's improbable 3-point heave at the buzzer against Marquette on Monday launched Butler into a second-round matchup against the No. 9 ranked
North Carolina Tar Heels
in the EA Sports Maui Invitational.
Even more improbable? Clarke and Butler dominating North Carolina for 30 minutes before hanging on for an
82-71 victory
Tuesday.
With 11 minutes, 38 seconds left in the second half, the game looked like it would be a blowout. Butler led 60-31 and the Tar Heels couldn't seem to buy a shot. But after a timeout, North Carolina came out with pressure defense and closed the gap to 62-45 in just more than two minutes, thanks to a handful of Butler turnovers and big 3-point shots by
P.J. Hairston
and
Reggie Bullock
.
"When you're playing a program like North Carolina, you know they're coming and their run's coming next," Bulldogs coach Brad Stevens said. "We didn't handle it great, but we handled it enough that they never got inside six."
The Tar Heels kept up the pressure and Butler kept turning the ball over. A
Marcus Paige
3-pointer with 1:02 left cut the Bulldogs' lead to six.
[+] Enlarge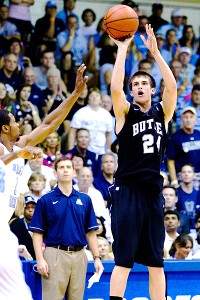 AP Photo/Eugene TannerButler coach Brad Stevens saw freshman Kellen Dunham (24) make 5 of 9 3-pointers in the upset of North Carolina.
But the Bulldogs responded with made free throws and the Tar Heels missed several tough 3s in the last minute to give the Bulldogs the win.
In the end, it was the defensive boards and transition defense that won the game for Butler.
The Bulldogs outrebounded the Tar Heels 36-27 (24-12 in the first half) and limited high-octane North Carolina to just six fast-break points.
"The two things that scare you the most about playing a Carolina team are, No. 1, transition and, No. 2, the defensive glass," Stevens said. "We did a good job on both of those areas and on short prep. We had a very short time to prepare for them. You have to emphasize just a few things and those were the two things we emphasized."
"It was a tough night for us," Tar Heels coach Roy Williams said after the game. "They were more physical, more assertive, more aggressive. They were physically, mentally into the game so much more, and that's my job as a coach to get this team prepared."
Williams also bemoaned the Tar Heels' poor rebounding in the game.
"Last year, we led the nation in rebound margin. They outrebounded us by 12 in the first half. We had one offensive rebound in the whole first half. To me that's aggressiveness."
Butler's sweet shooting from behind the arc also contributed to the win. Butler shot 47 percent from 3-point territory for the game (including going 7-for-9 in the second half). It was a welcome relief for a Butler team that struggled to get its two elite shooters -- Clarke and freshman
Kellen Dunham
-- open in previous games against Xavier and Marquette.
Clarke finished the game with 17 points and was 4-for-6 from beyond the arc. Dunham also scored 17 points and was 5-for-9 from 3.
"If Kellen and Rotnei are open, it has a good chance of going in," Stevens said.
For Williams, the Tar Heels' loss came with somewhat of a silver lining.
"I like our competitiveness and I like that we didn't quit. We are probably not as exciting as we were last night and I hope we aren't as bad as we were when we were down 29 points."
For the Bulldogs?
They face Illinois in the Maui Invitational championship game. While Illinois was the heavy favorite, Stevens got a wry grin on his face when asked by a local Maui reporter what he thought about the possibility of playing Chaminade in the title game.
"I love giant-killers."