North Carolina Tar Heels:

Butler Bulldogs
November, 21, 2012
11/21/12
1:27
AM ET
LAHAINA, Hawaii -- Here are some observations from the second day of the EA Sports Maui Invitational.
After dominating Mississippi State on Monday, the North Carolina Tar Heels got a rude wake-up call versus Butler on Tuesday. On Monday evening I wrote: "North Carolina has much more talent, but the Bulldogs are scrappy and well-coached. The Tar Heels are more of a finesse team. The physicality of Butler could give the Heels problems." That's exactly what happened. North Carolina was outrebounded 36-27 and Butler beat them to just about every loose ball.

After the game, North Carolina head coach Roy Williams admitted that he had the better players, but Butler and coach Brad Stevens had the better, tougher team. "They were more physical, more assertive and more aggressive," Williams said. "They're really good. Brad's clubs are really intelligent. I like their toughness and their intelligence more than their talent, and I'm not trying to put down their talent. But I love their toughness and their intelligence."

UNC clearly has the talent, but does anyone on this team have the toughness the Heels needs to go deep?

Sixth man P.J. Hairston was, for the second night in a row, the best and toughest Tar Heel on the floor. It might be just a matter of time before Williams puts him in the starting lineup.

Most disappointing was forward James Michael McAdoo. In the tourney-opening blowout against Mississippi State, McAdoo was solid on offense, but had four mind-boggling turnovers, prompting Williams to comment after the game that "we can't throw the basketball around."

On Tuesday night, McAdoo had seven turnovers to go with his 10 points and five rebounds. Williams isn't the only one miffed by the performance of his big man.

Most of the NBA scouts and general managers in the audience savaged McAdoo for his performance the past two games. "He looks good in a basketball uniform," one GM told me. "But after that, I'm not sure what I'm supposed to like. He's a pretty good athlete, but he isn't very skilled and he doesn't go hard all the time. There's not one thing he does that really stands out about his game. He certainly hasn't played like a top-five pick."



[+] Enlarge

AP Photo/Eugene TannerUNC's James Michael McAdoo, here getting blocked by Butler's Andrew Smith, hasn't impressed NBA observers in Maui.

McAdoo is currently ranked No. 6 on our Big Board -- but could be in for a drop if he doesn't start picking it up.
Illinois continued its impressive run in the tournament with an 84-61 win over local underdogs Chaminade on Tuesday. The Illini got balanced scoring -- Brandon Paul scored 13 points, D.J. Richardson had 11 and Joseph Bertrand 14. The Illini are off to a 5-0 start, but they haven't really been tested yet. Butler should give them everything they can handle and will be the favorites to win it all after dominating North Carolina. But don't count out Illinois. The team is playing with a lot more aggressiveness and discipline under new head coach John Groce. It has a terrific backcourt in Richardson, Paul and Abrams and size up front.

A win in the tournament will be a huge boon to the Illini's confidence. They aren't in the same class as Big Ten elite teams such as Indiana, Ohio State, Michigan or Michigan State, but they, along with Wisconsin, Minnesota and Iowa, may be a very tough outs in the league. I won't be surprised if the Big Ten gets eight teams into the NCAA tournament this season.
A number of my tweeps laughed at me Monday when I said that NBA scouts were intrigued by Butler freshman Kellen Dunham. I don't think they are laughing anymore. Dunham bounced back from an awful game versus Marquette and really put the dagger in the Tar Heels in the second half. He ended the game with 17 points and was 5-for-9 from beyond the arc. He's still a little tentative and passed up a few open shots in the game, but his stroke is flat-out pure. Dunham isn't your average mid-major guard. He was ranked as a top-100 player by ESPN and was an NBA camp invitee. Dunham isn't a one-and-done prospect, but as he continues to get stronger and more confident, he could have a future in the pros after his junior or senior years of college.
The Texas debacle continued Tuesday with a 59-53 overtime loss to USC. The good news? The Longhorns didn't get blown out this time and played with more urgency. The bad news? Offensively this team is just a mess. When (or is it if?) the Longhorns get Myck Kabongo back, they'll be better. But I don't think he has the talent alone to turn things around. There just isn't a lot of talent around Kabongo. Sophomore Sheldon McClellan has struggled in Maui, going just 8-for-25 from the field and 1-for-11 from 3. Freshman big man Cameron Ridley was ranked as the eighth-best prospect in the country by ESPN, but he's looked out of shape and overwhelmed in the early going.It could be a long year, Texas fans.
Marquette fans, meanwhile, are hoping they have found a go-to scorer in junior Vander Blue. For the second consecutive game, Blue led the team in scoring with 18 points and three assists versus Mississippi State. Blue has always had the talent, but he has struggled with consistency and aggressiveness in the past. What's different this year? "I'm just playing with a free mind and just playing off my teammates," Blue said. "Junior [Cadougan] is a great guy, and everybody's going to double Davante [Gardner], so that pretty much leaves me open for shots. So I feel like if I'm making those shots, our team is a much better team. I'm not trying to do nothing that we don't do every day in practice." Blue's versatility, toughness athleticism and defense all intrigue NBA scouts. If he can show some offensive prowess as well, he could be a second-round pick.
There was a moment in time when USC big man Dewayne Dedmon was considered a potential NBA prospect. That time has probably passed. Dedmon has the size and athletic ability to be a pro. But he has no feel for the game. That's always a problem, but it's an even bigger problem when you're already 23 years old. Dedmon had 8 points, 8 rebounds and 3 blocks against Texas but was just 3-for-11 from the field.
Butler will face Illinois in the EA Sports Maui Invitational Final on Wednesday at 10 p.m. ET on ESPN. North Carolina will play Chaminade in the consolation game at 7:30 p.m ET on ESPN2.
November, 20, 2012
11/20/12
11:37
PM ET
LAHAINA, Hawaii --
Rotnei Clarke
's improbable 3-point heave at the buzzer against Marquette on Monday launched Butler into a second-round matchup against the No. 9 ranked
North Carolina Tar Heels
in the EA Sports Maui Invitational.
Even more improbable? Clarke and Butler dominating North Carolina for 30 minutes before hanging on for an
82-71 victory
Tuesday.
With 11 minutes, 38 seconds left in the second half, the game looked like it would be a blowout. Butler led 60-31 and the Tar Heels couldn't seem to buy a shot. But after a timeout, North Carolina came out with pressure defense and closed the gap to 62-45 in just more than two minutes, thanks to a handful of Butler turnovers and big 3-point shots by
P.J. Hairston
and
Reggie Bullock
.
"When you're playing a program like North Carolina, you know they're coming and their run's coming next," Bulldogs coach Brad Stevens said. "We didn't handle it great, but we handled it enough that they never got inside six."
The Tar Heels kept up the pressure and Butler kept turning the ball over. A
Marcus Paige
3-pointer with 1:02 left cut the Bulldogs' lead to six.
[+] Enlarge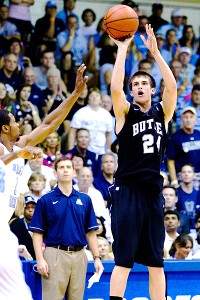 AP Photo/Eugene TannerButler coach Brad Stevens saw freshman Kellen Dunham (24) make 5 of 9 3-pointers in the upset of North Carolina.
But the Bulldogs responded with made free throws and the Tar Heels missed several tough 3s in the last minute to give the Bulldogs the win.
In the end, it was the defensive boards and transition defense that won the game for Butler.
The Bulldogs outrebounded the Tar Heels 36-27 (24-12 in the first half) and limited high-octane North Carolina to just six fast-break points.
"The two things that scare you the most about playing a Carolina team are, No. 1, transition and, No. 2, the defensive glass," Stevens said. "We did a good job on both of those areas and on short prep. We had a very short time to prepare for them. You have to emphasize just a few things and those were the two things we emphasized."
"It was a tough night for us," Tar Heels coach Roy Williams said after the game. "They were more physical, more assertive, more aggressive. They were physically, mentally into the game so much more, and that's my job as a coach to get this team prepared."
Williams also bemoaned the Tar Heels' poor rebounding in the game.
"Last year, we led the nation in rebound margin. They outrebounded us by 12 in the first half. We had one offensive rebound in the whole first half. To me that's aggressiveness."
Butler's sweet shooting from behind the arc also contributed to the win. Butler shot 47 percent from 3-point territory for the game (including going 7-for-9 in the second half). It was a welcome relief for a Butler team that struggled to get its two elite shooters -- Clarke and freshman
Kellen Dunham
-- open in previous games against Xavier and Marquette.
Clarke finished the game with 17 points and was 4-for-6 from beyond the arc. Dunham also scored 17 points and was 5-for-9 from 3.
"If Kellen and Rotnei are open, it has a good chance of going in," Stevens said.
For Williams, the Tar Heels' loss came with somewhat of a silver lining.
"I like our competitiveness and I like that we didn't quit. We are probably not as exciting as we were last night and I hope we aren't as bad as we were when we were down 29 points."
For the Bulldogs?
They face Illinois in the Maui Invitational championship game. While Illinois was the heavy favorite, Stevens got a wry grin on his face when asked by a local Maui reporter what he thought about the possibility of playing Chaminade in the title game.
"I love giant-killers."
November, 20, 2012
11/20/12
11:06
PM ET
No buzzer-beater was needed this time for Butler to advance in the Maui Invitational, although No. 9 North Carolina made it interesting at the end before falling
82-71
.


Bulldogs senior guard
Rotnei Clarke
-- who made the game-winning 3-pointer against Marquette on Monday night -- scored 14 of his 17 points in the first half Tuesday, helping break the Tar Heels' 10-game winning streak in the Invitational and pushing Butler into Wednesday's title game. UNC cut a 29-point deficit to as little as 77-71 with 63 seconds left when freshman point guard
Marcus Paige
followed a three-point play with a 3-pointer. But the Bulldogs' early dominance was too much to overcome.
Turning point:
Leading 12-7 in the first half, Butler ripped off a 9-0 run -- scoring on a floater, a 3-pointer and two putbacks. That breakaway -- which saw Clarke score five points, the Bulldogs pull down two offensive rebounds, and UNC commit two turnovers while looking befuddled on offense and outplayed on defense -- was a sign of things to come.
Why Butler won:
Experience. Toughness. Intensity. The team that appeared so lifeless during a 15-point loss at Xavier last week looked just the opposite Tuesday night, pouncing early and beating the Tar Heels on the boards (36-27), to loose balls and in the paint. Clarke shot his team ahead in the first half, and
Kellen Duham
(17 points) came on strong in the second.
Why UNC lost:
Let's count the ways. The Tar Heels pulled down only one offensive rebound in the first half (with 11:03 left, when
Leslie McDonald
grabbed a
P.J. Hairston
miss, and turned it over). They didn't shoot a free throw until 13:13 remained in the second half (Hairston hit only one). UNC's 18 first-half points were its lowest total since 1996. And even when it put together a 14-2 run midway through the second half (including 11 points from Hairston), UNC trailed 62-45.
Star(s) of the game:
Clarke and Dunham finished with 17 points apiece for Butler.
What it means for Butler:
That the little things do, indeed, count. There was some concern the Bulldogs had made only 27 percent of their 3-pointers entering this game, and their 12-for-25 (48 percent) 3-point shooting effort Tuesday was a good sign. But more important was their aggressive play in the lane, their ball control and the way they wore down the Tar Heels (both mentally and physically) early. Those focused fundamentals bode well.
What it means for UNC:
That the Tar Heels have an awful lot of work to do. Yes, they picked up their intensity and rallied late, but consistency -- whether it's temperament, shooting, rebounding -- will be key as this young team continues to try to put the pieces together. Hairston led the team with 15 points off the bench, but forwards
James Michael McAdoo
,
Desmond Hubert
,
Joel James
and
Brice Johnson
combined for only seven rebounds, total. It was a vastly different outcome from just one night before, when UNC pounded Mississippi State by 46 points.
What's next:
Butler will face Illinois in the championship game at Lahaina Civic Center at 10 p.m. ET Wednesday night. UNC plays Chaminade at 7:30 p.m.
November, 20, 2012
11/20/12
7:44
AM ET
LAHAINA, Hawaii -- Here are some observations from the first day of the EA Sports Maui Invitational:
This is clearly a down season for talent at the Maui Invitational. The names on the front of the jerseys are all impressive -- North Carolina, Texas, Illinois, USC, Marquette, Butler, Mississippi State -- but every single program, with the possible exception of UNC, is having a down season.The USC and Mississippi State programs are in shambles. Both teams aren't even close to being competitive against a solid D-1 team.

Texas, after being blown out by Chaminade, doesn't look much better. Yes, they were missing point guard Myck Kabongo, but even with Kabongo the Longhorns have major issues. Chaminade shot just 37 percent from the field for the game and it still won by 13.

Illinois dominated USC, but it's hard to tell whether Illinois is actually playing better under new head coach John Groce or whether USC is just that bad.

Marquette and Butler played the most entertaining game of the day, but it was marred with fouls, poor shooting and mistakes. Neither team boasts an elite player on its squad.

As for North Carolina -- yes it blew out Mississippi State -- but as far as NBA talent goes, the Tar Heels are having a down season too. After forward James Michael McAdoo, it's unclear whether they have another first-round draft prospect on their roster.

Nevertheless, if UNC doesn't roll through this field, it will be a major upset.
Tomorrow's best game should be Butler versus North Carolina at 8 p.m. ET on ESPN. North Carolina has much more talent, but the Bulldogs are scrappy and well coached. The Tar Heels are more of a finesse team. The physicality of Butler could give the Heels problems.The rest of the field looks like a wash. Marquette should roll over Mississippi State. Texas versus USC will be interesting only if the NCAA somehow clears Kabongo.

Illinois will be the heavy favorites to beat Chaminade in the finale at 10:30 p.m. ET on ESPN2. Yes, the Silverswords just knocked off the Longhorns, but they didn't play particularly well. The Illini should roll.
A number of NBA GMs -- including the Celtics' Danny Ainge, the Jazz's Kevin O'Connor, Bulls' Gar Forman, the Warriors Bob Myers and the Blazers Neil Olshey -- were in attendance. Overall, they are seeing the same phenomenon here that they are seeing everywhere. This is a down season, talent wise, in the NCAA. "If Cody Zeller, Shabazz Muhammad, Nerlens Noel and James McAdoo are your top four picks, it's going to be an ugly, ugly draft."

Other than McAdoo, I couldn't find a scout or GM convinced there was another first-round prospect here. If Kabongo plays, that could be two. But that explains, in part, why the field is so weak.
There were some good performances by top prospects on Monday. Perhaps the best was Illinois' Brandon Paul. Scouts have loved Paul's combination of elite athletic ability and scoring prowess for years. However, they've been puzzled by his inconsistency. He had a 43-point game against Ohio State last season. But there have been plenty of others in which he completely disappeared.

He seems to be more settled and more consistent under his new head coach. He was averaging nearly 20 points a game coming into the tournament and scored 26 points and shot 6-for-9 from 3-point territory on Monday night in Illinois' win.

UNC's Reggie Bullock was on fire against MSU. He had 16 points in 22 minutes and was 4-for-5 from beyond the arc.

As I detailed in my Rapid Reaction to the Butler-Marquette game, Vander Blue and Khyle Marshall also had terrific games on Monday night.
There are many NBA scouts who believe both P.J. Hairston and Leslie McDonald could start on most high major NCAA teams and they probably would average 16-20 points. Once the game quickly got out of hand, Roy Williams turned to both of them and both delivered. The two combined for 39 points and shot 10-for-17 from behind the 3-point line.
UNC has a number of talented freshmen: Joel James, Brice Johnson and J.P. Tokoto. All three got plenty of playing time on Monday. Of the three, it was James who shined on Monday. He was a significant defensive presence for the Tar Heels. He's still trying to get a feel for the game and could still probably lose another 10 to 15 pounds, but his seven rebounds and two blocked shots, combined with just a general toughness in the middle gave NBA scouts an encouraging glimpse into his future if he continues to develop.
The most memorable moment of the day was Rotnei Clarke's buzzer-beating heave to defeat Marquette. Here's how both Clarke and Marquette coach Buzz Williams described the moment.

Williams: "He shot it off one foot from behind his head from 40 feet. It was contested. As soon as the ball left his hand, I knew it was a basket. The trajectory and everything was perfect."

Clarke: "It was just kind of a scramble play. I was dribbling around, and I almost thought about flipping it to Roosevelt Jones, who was going down the lane line just to have him drive and make a play, [but] ended up keeping it, and got through and got around a couple of guys, and just let it up there, and luckily it went in."
November, 19, 2012
11/19/12
9:35
AM ET
This year marks the 30th anniversary of the game that tiny Chaminade (then an NAIA school) upset Ralph Sampson's top-ranked Virginia team on Dec. 23, 1982 -- leading to the creation of the Maui Classic (now EA Sports Maui Invitational). Because there are plenty of teams in the field with plenty of question marks and plenty to prove, there may be plenty of room for an upset or two this season.
The basics:
Nov. 19-21 at Lahaina Civic Center in Maui, Hawaii
The set matchups:
Monday -- Butler vs. Marquette, 3:30 p.m. ET; Mississippi State vs. UNC, 6 p.m.; Texas vs. Chaminade, 9:30 p.m.; USC vs. Illinois, midnight. (Consolation games and semifinals on Tuesday; consolation games and championship game Wednesday.)
The favorite:
North Carolina.
Although the 11th-ranked Tar Heels are still getting their bearings after losing four starters from last season's Elite Eight team, they've got some talented pieces to meld together, beginning with sophomore forward
James Michael McAdoo
and junior wing
Reggie Bullock
. This three-day tournament will be an important test, though, for UNC's ballhandling (freshman
Marcus Paige
is the starter), scoring (it has struggled in stretches) and confidence. If any falter, so could the Heels.
FIVE PLAYERS TO WATCH
Javan Felix, Texas
-- With
Myck Kabongo
sidelined (see below), the point guard is one of three freshmen to start for the Longhorns. He's struggled with his shooting over two games (5-for-18), but even more worrisome is that he's struggled to hold on to the ball. He recorded 11 turnovers to go with 10 assists in wins over Coppin State and Fresno State, and he'll need to be more efficient this week.
Trent Lockett, Marquette
-- The former Arizona State forward transferred to be closer to his ill mother and adds a scoring threat to a team that lost last season's leading scorers, Darius Johnson-Odom and Jae Crowder. After averaging 13 points and 5.8 rebounds for the Sun Devils last season, he's averaged 7.5 points and 4.5 rebounds this season.
[+] Enlarge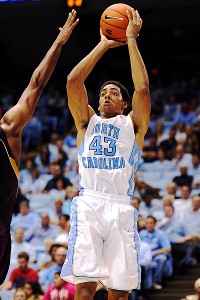 Cal Sport Media via AP ImagesJames Michael McAdoo has been the leading scorer and rebounder for the Tar Heels in each of their games so far.
James Michael McAdoo, UNC
-- Everyone wondered whether the sophomore could consistently pick up where he left off in March -- and he has. The forward has been both confident and focused, and is leading the Tar Heels with 21.3 points and 11 rebounds per game over their first three wins. With his team's inexperience in the post, he'll need to continue to come up big for UNC to be successful.
Omar Oraby, USC
-- The 7-foot-2, 260-pound transfer from Rice was granted an NCAA hardship waiver to play this season just before the regular-season opener, and he has taken advantage of the opportunity. He averaged 10.5 points, 6.5 rebounds and 1.5 blocks off the bench in the Trojans' two wins and should be a physical post challenge for foes in this tournament.
D.J. Richardson, Illinois
-- The senior guard capped a 16-point rally with a buzzer-beating 3-pointer in overtime to top Hawaii 78-77 in the wee hours of Saturday morning. You might not have seen the play, considering the late timing. But the team's leading rebounder (5.7 per game) and third-leading scorer (11.0) needs to keep coming up big for the Illini to stay in the winner's bracket.
FIVE BIG QUESTIONS
Will Myck Kabongo do anything more than watch?
Texas' sophomore point guard was allowed to travel with the team to Hawaii, but he has not been cleared to play as the NCAA continues to investigate him for possibly receiving impermissible benefits during the offseason. His status could be a difference-maker in this tournament.
Will Butler start connecting from the outside?
Arkansas transfer
Rotnei Clarke
and freshman
Kellen Dunham
were supposed to help fix Butler's outside shooting woes from a year ago, when the Bulldogs shot worse than 30 percent from beyond the 3-point arc. But the duo are a combined 10-for-28 in two games (including 2-for-10 in a 15-point loss to Xavier) on 3-pointers, and the Bulldogs are shooting only 31 percent from long distance.
Can Mississippi State stay healthy?
It needs to, because the Bulldogs have only six healthy scholarship players with which to play three games in three days. Junior guard
Jalen Steele
, who recorded 16 points in MSU's season-opening loss, broke his wrist in the team's win over Florida Atlantic. The Bulldogs also suspended forward
Colin Borchert
last week for violating team rules, and freshmen
Jacoby Davis
and DeAndre Applewhite are also out for the season with knee injuries.
Can UNC keep its shooting sharp?
The Tar Heels, who need outside shooting to be a strength, finally started hitting from the outside during Friday night's win at Long Beach State, making 10 of 27 3-pointers, including six during a pivotal 23-7 second-half run. That was after beginning the season by making only a combined 7 of 27 3-point shots in their first two games. Wings Reggie Bullock,
P.J. Hairston
and
Leslie McDonald
need to keep connecting.
Will Chaminade pull another upset?
Probably not. But on the 30th anniversary, it's fun to wonder whether the now-Division II school could do it again ....
THE PICKS
Opening games: Marquette over Butler, UNC over Mississippi State, Texas over Chaminade, Illinois over USC
Semifinals: UNC over Marquette, Texas over Illinois
Championship game: UNC over Texas
July, 26, 2012
7/26/12
12:36
PM ET
Tournament bracket
for the EA SPORTS Maui Invitational
When and where:
Nov. 19-21 at Lahaina Civic Center in Maui, Hawaii
Initial thoughts:
This year marks the 30th anniversary of what many consider the greatest upset in college basketball history -- when tiny Chaminade, then an NAIA school, upset Ralph Sampson's top-ranked Virginia team on Dec. 23, 1982. The stunning upset (in what was supposed to be an easy stopover game for the Cavaliers, on their way home from Tokyo) spurred creation of the Maui Classic, now known as the EA Sports Maui Invitational. Chaminade, now a Division II school, still serves as host, and it will be interesting to see if there is a surprise or two this season. After all, North Carolina will still be rejiggering its lineup after losing four starters to the NBA draft; Texas has to figure out how to replace J'Covan Brown's 20.1 ppg; and Marquette will still be looking to see which members of last season's supporting cast will step up and stand out without
Jae Crowder
and
Darius Johnson-Odom
.
[+] Enlarge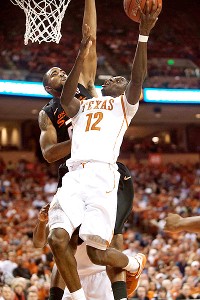 Brendan Maloney/US PresswireSophomore point guard Myck Kabongo will direct a talented group of freshmen at Texas.
Meanwhile, Illinois (John Groce) and Mississippi State (Rick Ray) will be breaking in new coaches; USC's Kevin O'Neill will be melding a passel of new players (including a couple of transfers and a couple of guys sidelined by injuries last season); and Butler will be trying to prove it can shoot the ball a whole lot better than 2011-12 (28 percent on 3-pointers). Chaminade, by the way, holds an all-time record of 6-76 in this tournament.
Matchup I can't wait to see:
Illinois-USC could be interesting just because everything is so new. After losing 12 of its final 14 games, Illinois fired Bruce Weber and replaced him with Groce, who led Ohio to the Sweet 16 in March. USC is also coming off a bad season, having won only one conference game. But a couple of transfers from Wake Forest (Ari Stewart and
J.T. Terrell
) and a high-scoring forward from UC Irvine (Eric Wise), plus the return of point guard
Jio Fontan
and center Dewayne Dedmon from knee injuries, have folks wondering if the Trojans can bounce back all the way to March.
Potential matchup I'd like to see:
UNC-Texas. Granted, these two are scheduled to play in Austin on Dec. 19, but why not a preview in paradise? The title game would feature a bunch of rookie big men --
Joel James
and
Brice Johnson
for UNC;
Cameron Ridley
,
Prince Ibeh
and
Connor Lammert
for Texas -- with a chance to make a big impact.
Five players to watch
Vander Blue, Marquette:
It's hard to get a whole lot of attention when you're in a starting lineup with guys like Jae Crowder and Darius Johnson-Odom. But now that they've gone to the NBA, the Golden Eagles need the junior to improve upon his 8.4 points and 4.4 rebounds from last season.
Rotnei Clarke, Butler:
The Bulldogs are hoping the senior guard -- who sat out last season per NCAA transfer rules -- will add some accuracy from outside. He averaged 15.2 points and made 43.8 percent of his 3-pointers during his junior season at Arkansas before opting out. Butler made fewer than 30 percent of its 3-point shots last season.
Myck Kabongo, Texas:
The Longhorns bring in a deep recruiting class, led by heralded center Cameron Ridley. But they'll need Kabongo, a sophomore point guard, to get him the ball. And to be a strong leader to the newbies.
Marcus Paige, North Carolina:
Whether the freshman point guard begins the season as a starter probably depends on how well senior
Dexter Strickland
has recuperated from February ACL surgery. Either way, the Iowa product (who also had foot surgery during the offseason) will be counted on to contribute quickly. And a lot.
J.T. Terrell, USC:
Trojans coach Kevin O'Neill is excited about the addition of Terrell, and the 6-3 guard will get a chance to show why. He averaged 11.1 points and 1.6 assists at Wake Forest in 2010-11, but played at Peninsula College in Washington last season. Terrell withdrew from Wake after he was arrested last September and charged with driving while impaired.
Title-game prediction
North Carolina over Texas. The Tar Heels preceded their last two national championships by winning the Maui Invitational. And although they don't have that caliber of a team this season, they do have some talented returning veterans (Dexter Strickland,
Leslie McDonald
,
Reggie Bullock
) already out to prove they are being overlooked.
Who others are picking:
Eamonn Brennan:
Butler over Texas
Andy Katz:
North Carolina over Texas
Jason King:
North Carolina over Texas
Myron Medcalf:
North Carolina over Texas
Dana O'Neil:
North Carolina over Texas