North Carolina Tar Heels:

Buzz Peterson
June, 8, 2012
6/08/12
2:30
PM ET
Who will succeed Roy Williams?
Granted, it's a little early for that question, considering the two-time NCAA title-winning coach, who will begin his 10th season as North Carolina's head coach this fall, said recently he plans to remain on the sideline for another six to 10 years.
But after reading Friday's story by ESPN.com's Jason King about
how difficult it is to replace a coaching legend
, it's an interesting question to ponder.
[+] Enlarge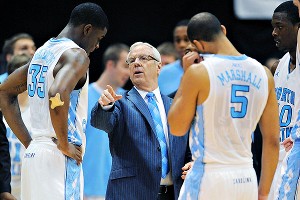 Bob Donnan/US PresswireThe Tar Heels do not have an obvious in-house candidate ready to replace Roy Williams when he decides to retire.
UNC's last three head coaches -- Bill Guthridge, Matt Doherty and Williams -- all had connections to Dean Smith, one of the winningest coaches in NCAA history. And it's likely that when Williams eventually steps down, the school will look first to Carolina's coaching tree, including those branches stemming from Williams. (Although it will no doubt go outside the "family" if it has to.)
After all, at the moment, there are no slam dunk choices with UNC and/or Williams ties (unlike Williams, the former Tar Heels assistant who had already taken Kansas to four Final Fours by the time he was lured back to Chapel Hill in 2003). So it will be interesting to watch who, if anyone, develops into a realistic candidate in the coming seasons.
In the spirit of King's story, here are some coaches with "family" ties worth watching (in no particular order) when debating who might eventually try to fill Williams' shoes:
Steve Robinson, North Carolina assistant coach:
A former head coach at Florida State, Robinson knows the rigors of the ACC. And he's been at UNC since Williams returned. But he turns 55 this year, meaning he might be in his mid-60s by the time Williams steps down. Does he want to wait that long to be a head coach again, and will he even still want to be coaching by then?
Jeff Lebo, East Carolina head coach:
Lebo played point guard under Smith in the late 1980s, and was head coach at Tennessee Tech, Chattanooga and Auburn before landing at ECU in 2010. But he's still looking for that elusive NCAA tournament berth as a coach.
Hubert Davis, North Carolina assistant coach:
When he was hired last month, the former UNC/NBA player said
he wasn't looking ahead to head-coaching possibilities
; after all, the former ESPN analyst has never coached before. But as ESPN.com's Andy Katz pointed out, with no obvious successor,
it's not unreasonable to think that Davis has a shot
if he wants to continue on the coaching career path.
Wes Miller, UNC Greensboro head coach:
Miller, a UNC guard and fan favorite from 2004-07, was named the 2012 Southern Conference Coach of the Year after being named interim head coach after the season began. He earned a five-year contract, and was the youngest coach in NCAA Division I when he was hired.
Kevin Stallings, Vanderbilt head coach:
His two closest ties to UNC are his son (Jacob, who played baseball there), and Williams (who he worked for as an assistant coach at Kansas). He's led teams to the NCAA tournament on multiple occasions, including to the Sweet 16.
Brad Frederick, Vanderbilt assistant coach:
He played for Smith and Guthridge at UNC, is the son of Williams' former athletic director at Kansas, and currently works for Stallings (a former Williams assistant). It's hard to imagine the Tar Heels hiring an assistant coach from another program, though, so he would likely need to pick up some head-coaching experience to have a shot.
Buzz Peterson, UNC Wilmington head coach:
Michael Jordan's former roommate has also been head coach at Appalachian State (where he led the team to the NCAA tournament in 1999-2000), Tulsa (where he won an NIT title), Tennessee and Coastal Carolina.
Mark Turgeon, Maryland head coach:
Another of Williams' former assistants at Kansas, Turgeon took Wichita State to the Sweet 16 and boasted four NCAA tournament berths at Texas A&M before taking over the Terps last season. Now, he gets to take on his former boss at least once a year.
Jerod Haase, UAB head coach:
A Williams assistant through the end of last season, the former player at Kansas was recently hired for his first head-coaching job, at UAB. He said it was difficult leaving Chapel Hill, so it's not a stretch to imagine he wouldn't mind coming back one day.
There are others with North Carolina connections that also come to mind, including Monmouth head coach King Rice, Milwaukee Bucks assistant coach Joe Wolf, current UNC assistant C.B. McGrath and Appalachian State head coach Jason Capel.
Who will you be keeping an eye on?
Follow Robbi Pickeral on Twitter at @bylinerp.
December, 14, 2011
12/14/11
3:30
PM ET
At around midnight Tuesday, Appalachian State coach Jason Capel texted new interim UNC Greensboro coach Wes Miller. The former North Carolina forward welcomed the former Tar Heels guard to the head coaching ranks, and told Miller that his heart would never stop beating fast, as long as he was a head coach.
"It's actually the same thing Coach [Roy] Williams shared with me, the day he found out I was head coach at App State,'' Capel said. "So I kind of passed that on to Wes.
"To me, that's a testament to the program, having another head coach [come out of UNC]."
Indeed, Miller, who replaces Mike Dement for at least the rest of the season, adds another branch to the Tar Heels' ever-growing coaching tree. Out of the 18 Division I basketball programs in the state of North Carolina alone, there are now six head coaches who previously played for the Tar Heels.
The list:
Williams, in his ninth season at UNC after playing on the Tar Heels' junior varsity team and serving as an assistant coach in Chapel Hill, N.C., for 10 seasons.
Capel, in his second season as head coach of the Mountaineers after playing for UNC from 1998-2002 (and going to the Final Four in 2000).
UNC Wilmington's Buzz Peterson, who played for UNC from 1981-85 (including on the 1982 national title team) and roomed with Michael Jordan.
East Carolina's Jeff Lebo, who played for the Tar Heels from 1986-89 (advancing to the NCAA Sweet 16 each season) and is in his second year coaching the Pirates.
High Point's Scott Cherry, a member of UNC's 1993 national title team as a senior.
Miller, who played for the Tar Heels from 2004-07 and was a member of the 2005 NCAA title team. He is now the youngest head coach in Division I, at age 28.
Before the season, Williams said there is a good reason why so many UNC players get coaching jobs: "It's an attractive thing to people, the North Carolina success,'' he said. "And those people who were involved in it, if you're looking for someone to help your program, you'd like someone who's been more involved in it already."
Capel added that playing for UNC prepares you for the sidelines, because you're learning from the best.
"The biggest thing is, when you're at Carolina, you're taught how to play the right way,'' he said. "… I think what people see is you're going to get guys that are pretty sharp, guys who know how to handle themselves, how to conduct themselves, guys that know the game pretty sell, and can teach it pretty well.
"It's truly a testament to Coach [Dean] Smith: what he's done, what he's taught, because we all just try to copy him and the things he's done. We all hope we can be successful, and pay tribute to him by doing that."
Robbi Pickeral can be reached at bylinerp@gmail.com. Twitter: @bylinerp.