North Carolina Tar Heels:

C.J. Williams
March, 10, 2012
3/10/12
10:30
AM ET
ATLANTA – North Carolina and Duke are still vying for a top seed in the NCAA tournament.
NC State is trying to solidify a spot in the field of 68.
And Florida State – which has already secured a spot in the NCAAs – would like to become only the second team not named "UNC" or "Duke" to win the ACC tournament in 16 years.
A quick preview of today's NCAA semifinals at Philips Arena:


No. 1 seed North Carolina vs. No. 5 seed N.C. State, 1 p.m. EST
Will he play or won't he play? The status of UNC forward
John Henson
's left wrist – which he sprained in the first half of his team's quarterfinal win over Maryland on Friday – hasn't reached the scrutiny level of "Ty Lawson Toe-Gate", circa 2009 (when the starting point guard sat out the entire ACC tournament, and part of the NCAAs, en route to a national title).
But give it time.
Official word Friday was that the 6-foot-11 junior would test his pain threshold Saturday morning to see if he would be able to play against the Wolfpack. But frankly, it would make sense to be cautious with the ACC's leading rebounder, blocker and defender. UNC, after all, has wrapped up an NCAA tournament berth, and it's just a matter of whether it ends up with a No. 1 or No. 2 seed.
If Henson doesn't play, it opens up more room the lane for NC State forward
C.J. Leslie
, who has come on particularly strong of late. He's averaging 18.9 points and 11 rebounds over his past seven games – including 19 points and 14 rebounds in Friday's quarterfinal victory over Virginia.
"He [Henson] is a great player – first-team All-ACC, Defensive Player of the Year; we want him to play,'' Wolfpack guard
C.J. Williams
said. "We don't want to give a team an excuse, 'Oh, we didn't have one of our best players.' He's definitely a matchup problem for us, with his length and his size … but we want him to play."
The Tar Heels beat their in-state rival in both match-ups this season.


No. 2 seed Duke vs. No. 3 seed Florida State, approximately 3:30 p.m. EST
Duke, which lost to Florida State on its home court in January, offered up a little bit of payback last month, when it beat the Seminoles in Tallahassee, Fla.
Guard
Andre Dawkins
was 6-for-12 for 22 points that game, with all six of those made shots being 3-pointers.
But since then, however, he's made only 1 of his 12 shot attempts over his past four games. Not a good stat for the Blue Devils, especially since they are also missing forward
Ryan Kelly
for the ACC tournament because of a foot injury.
The key for FSU will be to limit Duke's outside scoring while taking advantage of the Devils' thin depth inside.
And if it's close at the end, they have a couple of clutch options in
Michael Snaer
and
Ian Miller
, who have both buried game-winners this season.
"We know we have a tremendous opportunity to do something great,'' Snaer said. "My team is really confident in our abilities, and we're playing like it. We're playing together. … We know how important this game is to us, and to our program and to the history of our program. And I can't wait for it to get started."
January, 26, 2012
1/26/12
11:50
PM ET
CHAPEL HILL, N.C. -- It looks like
Dexter Strickland
isn't the only Tar Heel who can play defense.
With questions about North Carolina's fortitude still lingering after a 33-point loss at Florida State earlier this month, and new concerns emerging after it lost its starting shooting guard/backup point guard to a torn ACL last week, No. 8 UNC showed it should be just fine --
thank you very much
-- by
blowing out NC State 74-55 on Thursday night
.
And the Tar Heels did it in a way that paid homage to Strickland, widely considered their best shut-down defender.
They blocked eight shots. They held NC State to a season lows in points and shooting (36.8 percent).
They outrebounded the Wolfpack by 22, and sophomore
Reggie Bullock
-- making his first career start, in place of Strickland -- held State sharpshooter
Scott Wood
to a forgettable 4-for-12 outing.
[+] Enlarge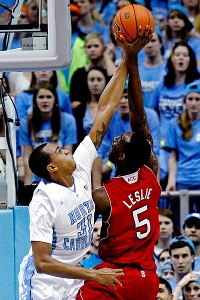 AP Photo/Gerry BroomeJohn Henson, who finished with five blocks, and UNC stepped up on defense against NC State.
"Up until this point, we weren't really known as a defensive team,'' said sophomore forward
Harrison Barnes
(15 points). "But I think that's what we need to make our staple, now, going into the back end of ACC play."
All year long, UNC coach Roy Williams has insisted this team had the ability to be "very good" defensively. But it wasn't until the absence of Strickland in drills this week, his teammates said, that they really realized how much he did -- and how much more they could do.
"As a team, we knew we needed to step up collectively on defense,'' point guard
Kendall Marshall
said.
With Strickland watching from the bench in a natty striped sweater, they did.
The Tar Heels led 17-14 about midway though the first half, but then they outscored the Wolfpack 20-9 to take a 37-23 lead into halftime. They flooded passing lanes; they swatted shots from the lane.
The Wolfpack seemed confounded by the overwhelming size of 6-foot-11
John Henson
(nine points, 10 rebounds, five blocks) and 7-0
Tyler Zeller
(21 points, career-high 17 rebounds) -- especially when State starting forward
Richard Howell
picked up three quick fouls early.
And the only reason they didn't trail by more at the break was point guard
Lorenzo Brown
's 80-foot buzzer beater.
"They got after it defensively, we got a little flustered, we didn't play with poise like we had been the first 20 games of the season and they took us out of what we wanted to do,'' Wolfpack forward
C.J. Williams
said.
New coach Mark Gottfried said that for the first time in his 21 games at NC State, a foe's defensive pressure affected his team's offensive composure.
"They took away one option and we didn't have the wherewithal to stay with our offense and really grind out good shots,'' he said.
Granted, the in-state rivalry had to add something to UNC's intensity. State, under Gottfried, was off to its best start in six years. Tied for the ACC lead at the beginning of the week, the Wolfpack -- a balanced team featuring five starters that averaged double figures -- finally looked ready to make a run at their down-the-road foes.
Instead, the game marked UNC's 11
th
straight win in the series, tying its longest streak of dominance over the Wolfpack (the Tar Heels also won 11 in a row from 1934 to '38).
"We definitely wanted to go out and show them that this was our home court, and that's what we did,'' Barnes said.
The Tar Heels shot 48.4 percent for the game; Bullock recorded 11 points, five rebounds and three assists as a starter; and freshman
Stilman White
, the new backup ballhandler now that Strickland is sidelined, had a 3-pointer, an assist and a foul in five minutes.
Coach Roy Williams wasn't thrilled when UNC's defensive intensity let up a bit in the second half, after the Tar Heels led by as many as 31 points. State shot 52 percent after halftime, when Wood also scored all of his team-high 11 points.
Marshall said the Tar Heels need to keep their defensive focus for 40 minutes, "but we're getting there."
He added: "I think we could have been a better team while he [Dexter] was here. We just didn't take advantage of that opportunity. Moving forward now, I think we're 4-1 [in the ACC], so we've got 11 more games where we can better ourselves."
Follow Robbi Pickeral on Twitter at @bylinerp.
January, 23, 2012
1/23/12
8:00
AM ET
Four teams now top the ACC standings with one league loss; thank Florida State's resurgence for making this conference race so all-of-a-sudden competitive. My attempt at this week's power rankings (up for debate, as always):
1. Duke:
After coming off the bench to score 20 points in a win over Wake Forest, freshman
Austin Rivers
was back in the starting lineup against FSU -- only to have his would-be overtime-inducing shot upstaged by
Michael Snaer
's game-winner. The Devils allowed the Seminoles to make two-thirds of their shots in the second half; Duke's defense has got to continue to improve.

2. Florida State:
Is this really the same team that lost to two Ivys, and at Clemson by 20? The Seminoles said at the beginning of the season that the goal was to push their way into the top two of the ACC. By blowing out North Carolina, beating Maryland, then ending Duke's 45-game home winning streak (all in a matter of eight days), they've done just that. FSU is the hottest team in the league right now.
3. North Carolina:
The Tar Heels bounced back from the worst loss of the Roy Williams era, at FSU, by getting an intense win at Virginia Tech, fueled by 27 points from
Harrison Barnes
. But it still suffered another huge loss in that game, in the form of
Dexter Strickland
. The team's best perimeter defender/starting shooting guard/fastest player/backup point guard is out for the season with a torn ACL. How will the Tar Heels rally?
4. N.C. State:
After Sunday's win over Miami, the Wolfpack is 4-1 in the ACC. One of the positives of the game: Guard
C.J. Williams
, who injured his shoulder against Boston College last week, started and played 31 minutes. The Wolfpack isn't very deep, and the loss of any key player would be devastating.
5. Virginia:
First,
Assane Sene
suffered an ankle injury last week that will keep him out for about six weeks. Then, the Cavs lost to Virginia on Sunday for their second league defeat. Virginia will need to adjust without its center, and one thing that would help: more production from guard
Sammy Zeglinski
, who has made only 4 of his 23 shots over his past three games.
6. Maryland:
After averaging 14 points and eight rebounds in his first three games, freshman center
Alex Len
has struggled -- averaging only 2.6 points and 4.3 rebounds in his next three, then exiting the Terps' loss at Temple early because of a twisted ankle. Maryland lost both of its games last week, and a healthy, rejuvenated Len would be key to getting back on track.
7. Miami:
The Hurricanes' latest loss, to N.C. State on Sunday, means they have dropped three of their last four. This isn't exactly what first-year coach Jim Larranaga was expecting out of this team, especially with its returning talent. "I was anticipating what our squad would be like before my staff and I arrived and I've found that we have a lot more work to do than we originally thought," he said Sunday, according to the Fort Lauderdale Sun-Sentinel.
8. Virginia Tech:
Dorenzo Hudson
's 3-pointer from the corner with 16.5 seconds left secured the Hokies' rivalry win over Virginia -- and their first ACC victory of the season. But after a slow conference start, they have a lot of work (and winning) to do in order to catch up to the top of the pack.
9. Clemson:
Andre Young
crushed his shooting slump by scoring a career-high 29 points (including seven 3-pointers) to hold off Georgia Tech and break a three-game losing streak. The Tigers need him to continue scoring.
10. Georgia Tech:
The Jackets managed only 38 points in their loss to Virginia, their worst output since 1982. Then they fell short in their rally at Clemson, losing by two. They've now dropped three straight, and seven of their last eight.
11. Wake Forest:
After losing three straight, coach Jeff Bzdelik called Saturday's game at Boston College a must-win. After beating freshman-laden BC by 15, he told the Winston-Salem Journal: "This game was our Super Bowl. Every win is huge, and they are hard to come by. This is another big step for us in our journey to be the type of team we want to be."
12. Boston College:
After winning two ACC games, the young Eagles' team have now lost two in a row. "Right now, we have a snowball effect -- in both directions,'' coach Steve Donahue told The Boston Globe. "When things go bad, we have a tendency to let them get to us and compound it on both sides of the ball. When we do positive things, it ends up snowballing in that direction." Not a great sign, with a trip to Virginia next up.
Robbi Pickeral can be reached at bylinerp@gmail.com. Twitter: bylinerp.