North Carolina Tar Heels:

Cameron Ridley
May, 16, 2014
May 16
10:00
AM ET
CHICAGO --
Julius Randle
is gone, but he wouldn't mind watching the
Kentucky
big men battle in the fall.
"Yes, there's going to be some competition," Randle said at the NBA draft combine in Chicago. "But Coach [John Calipari] will figure it out."
Randle wasn't going to return next season. He was a one-and-done player from the moment he arrived, looking like a chiseled NBA veteran. He was the one big man who didn't need seasoning. But the rest did. Toss in newcomer
Karl Towns Jr
., and the Wildcats have as many bigs as any team assembled recently.
Randle's favorite to replace his low-post ability? He's leaning toward sophomore to-be
Dakari Johnson
.
"He's very good in the low post," Randle said. "He's got a nice touch. It's hard to move him down there."
Randle should know. He had to tussle with Johnson in the low block in practice every day. Now, Johnson will take Randle's role as the player whom the others try to knock off in the post -- for position and, possibly, playing time.
ESPN.com is
examining position battles this week
. Here are some center battles to keep an eye on:

Kentucky:
Dakari Johnson,
Willie Cauley-Stein
,
Marcus Lee
versus Karl Towns Jr.: Yes, there are veterans -- three of them -- returning against the young pup. Calipari could figure out how to play all four of them at some point during a game. Johnson, Cauley-Stein and Lee all had their moments in which they shined. Johnson has the best chance to be in the low post, Cauley-Stein can be the top shot-blocker and Lee is a bit of an X factor among the group. Now, enter the newcomer. Towns can do a bit of everything, but he doesn't need to be the primary option. That's key for him and rare for a high-profile Kentucky player. This isn't even mentioning
Trey Lyles
and
Alex Poythress
, who are more positioned to play smaller forward positions next to the bigs. This team is loaded.

North Carolina:
Kennedy Meeks
versus
Brice Johnson
. Meeks is much more of a physical specimen. He can be immovable at times in the low post. Johnson has more finesse to his game. The two of them can play together, but they could take turns sharing the focal point in the middle, depending on the opponent or the flow of the game. They have a chance to both average double figures and nearly seven or eight rebounds per game. If that happens, the Tar Heels could be a force in the ACC and beyond.

Texas:
Cameron Ridley
versus
Myles Turner
. Ridley made himself into a real threat last season. He was nearly a double-double player (he averaged 11.2 points and 8.2 rebounds per game). Ridley could progress even more next season. The Longhorns nabbed a late-recruiting season coup in Turner. Turner is too good, too effective to not be on the court. The key for coach Rick Barnes will be whether he can play the two as a tandem. If he can't, then who is on the court when the game matters most is more of a competition than the overall minutes. Regardless, both players can help Texas take a huge leap next season.

Gonzaga:
Przemek Karnowski
versus
Kyle Wiltjer
. Karnowski is the traditional post player. He can be difficult to move around, and his offensive game continues to develop. Wiltjer can certainly play with Karnowski because he's slender and is much more of a face-up player. The two can be an effective high-low tandem, but if there is a need to see who is on the floor late, then that is also, like with Texas, where the real competition begins. Wiltjer had a year to get stronger, but he won't turn out like
Kelly Olynyk
. Wiltjer is still going to be skill first, strength last. Karnowski needs to be the opposite for the Zags to find the right balance.

LSU :
Jarell Martin
,
Jordan Mickey
versus
Elbert Robinson
. The Tigers have a chance to make the NCAA tournament because of the decisions of Martin and Mickey. The two were effective double-figure scorers last season playing with
Johnny O'Bryant III
. Now, toss in the newcomer Robinson. He'll need to find minutes as well. Coach Johnny Jones can't play all three together, but the minutes will need to be divided up. These are good problems to have, and with 15 fouls to expend among the three, the Tigers are one of the few teams in the SEC with the numbers to hang with Kentucky's frontcourt.

Arizona:
Kaleb Tarczewski
versus
Brandon Ashley
. Tarczewski was one of the most improved players in the country last season. Give him another summer and he should really be a regular to score in the post. But he has to command the ball even more next season without the presence of
Aaron Gordon
. Ashley is coming off a foot injury that sidelined him for the second half of the Pac-12 season. He will play with Tarczewski, but if there is any question who would demand more minutes, then that can be a highly competitive battle in practice. It might be moot for coach Sean Miller since the two can coexist, but dividing up the frontcourt minutes will still be an interesting decision for the staff.
December, 20, 2012
12/20/12
1:02
AM ET
AUSTIN, Texas -- Texas suffered its biggest loss of the season on the night it pulled off its biggest win.
Prior to the Longhorns'
85-67 victory
over No. 23 North Carolina at the Frank Erwin Center, point guard
Myck Kabongo
was ruled ineligible for the season by the NCAA, barring an appeal, according to sources from within the Texas athletics department. The story was first reported by Yahoo! Sports on Wednesday night.
The loss of Kabongo put a serious dent in this young Texas team's chances of making a 16th consecutive NCAA tournament. But the win against the Tar Heels at least gives the 7-4 Longhorns some hope.
Playing with a true freshman point guard in
Javan Felix
and only freshmen and sophomores on the court, UT played the role of the aggressor, pushed the more talented and savvy Heels around, built a big lead and -- for the first time this season -- didn't crumble.
"There is process that every student-athlete goes through, and I can only tell you that process is not done. We are in the middle of that process," said Texas coach Rick Barnes of the Kabongo situation. "Every student-athlete is entitled to a process if something comes up, and that process is ongoing."
Kabongo has been under investigation for impermissible benefits concerning a workout that involved agent Rich Paul. According to sources, the penalty was so severe because Kabongo had been less than straightforward when the NCAA initially questioned him.
While Barnes refused to take further questions on Kabongo, North Carolina coach Roy Williams now has plenty of them about his team.
"It was like comedy of errors, except it wasn't very blankety-blank funny," Williams said.
The Tar Heels' defense refused to extend in the first half and allowed Texas to build a 19-point lead. That lead was aided by two straight surprising 3-pointers from Texas forward
Jonathan Holmes
. The sophomore had made only three shots from beyond the arc in his 10 previous games.
[+] Enlarge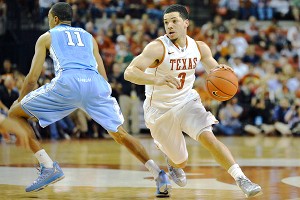 Brendan Maloney/USA TODAY SportsFreshman point guard Javan Felix effectively piloted Texas, scoring 8 points with 8 assists.
"We backed off him," Williams said.
And North Carolina continued to back down for most of the night.
"They did a better job of pushing the pace and getting us back on our heels," Williams said. "It seems like they got every loose ball."
There were plenty of those to go around, as Carolina turned it over 18 times. Texas, typically not a solid transition team, scored 14 points off those turnovers.
"Coming into the game, coach Barnes preached to us to getting the ball out and getting back in transition, and that was our game plan along with rebounding -- and that was what we tried to do," Felix said.
"They outran a running team," is how Williams put it.
In fact, Texas struggled only when it went into half-court sets. Starting the second half, North Carolina started to value the basketball more and made more of an effort to keep the Texas offense in front of it. That, coupled with the aggressiveness of
James Michael McAdoo
(14 points, 9 rebounds) and
Reggie Bullock
(a career-high 13 rebounds), allowed UNC to cut the lead to four.
Given that Texas has been a team that has struggled down the stretch -- the Longhorns were outscored 13-2 down the stretch in a 65-63 loss to UCLA -- it appeared as if the tide had started to turn.
Until, that is, North Carolina neglected to communicate on defense and allowed
Cameron Ridley
to throw down an uncontested dunk to push the lead back to seven with 6 minutes, 35 seconds remaining.
"We were aggressive and moved the ball pretty well, and some guys knocked some shots down," Barnes said. "But this was a game we thought would be won in transition and on the boards."
Texas didn't win on the boards in the box score (North Carolina had 43 to the Horns' 40). But UT did win in second-chance points with 18, and in fast-break points with 14.
"We have had a couple of tough losses because we had not played as hard as we should," said Holmes, who finished with 15 points and 8 boards. "[Wednesday night], we came out and did what we had to do. We definitely set the bar high for the rest of the season."
Regardless of who might be with Texas for the rest of the season.
--HornsNation writer Max Olson contributed to this report
December, 19, 2012
12/19/12
11:45
PM ET
AUSTIN, Texas -- A few quick thoughts from Texas'
85-67 victory
over 23rd-ranked North Carolina at the Frank Erwin Center ...


Overview:
When last Texas found itself on the national stage, it was blowing an eight-point lead with 3 minutes, 43 seconds left against UCLA. Clearly this young Longhorns team -- without point guard
Myck Kabongo
due to NCAA suspension -- learned a little something in that Dec. 8 loss as it held off the Tar Heels on Wednesday night.
The victory comes as Texas is dealing with issues both on and off the floor. Coming into the game, the Horns were an uncustomary 6-4 in the nonconference. And on the day of the game, university officials had learned that Kabongo's ordeal with the NCAA would extend throughout the season barring an appeal, according to sources within the Texas athletic department and first reported by Yahoo! Sports.
The Tar Heels (8-3), meanwhile, are not in that great of shape either. Against Texas, the talent and playmaking was there, but the first-half hole they dug was just too deep. Texas led by as many as 19 in the first half. North Carolina cut it to four with under 8 minutes left in the game, but never managed to get any closer as UT quickly pushed the lead back to a comfortable 10 with less than 2 minutes left.
Turning point:
With North Carolina slowly crawling back into the game and momentarily whittling the Texas lead to four, the Longhorns went inside with a pass from
Sheldon McClellan
to center
Cameron Ridley
, who turned and threw down UT's first dunk of the game. That pushed the Texas lead back to seven, 63-56, with 6:25 left. It also gave the Horns the lift to ward off a UNC comeback.
Key player:
Texas forward
Jonathan Holmes
wasn't flashy in the second half, but his steady play in the first helped give his team a huge lead. The sophomore scored eight consecutive points during one stretch to put Texas up 15, 33-18. Six of those eight points were from behind the arc, a place from which Holmes is not accustomed to making shots. He finished with 15 points and 8 rebounds.
Key stat:
Texas is without its top point guard and best defender in Kabongo, but that did not stop the Longhorn defense from creating 18 North Carolina turnovers, including 12 in the first half. Texas converted those turnovers into 14 points.
Miscellaneous:
Texas is 3-1 against North Carolina over the past four seasons. ... North Carolina shot 31.3 percent. ...
Reggie Bullock
scored 18 points (tying him with Texas' McClellan for game-high honors). He also led in rebounds with 13. ... Texas had 18 second-chance points.
Next up:
After two seesaw games with non-ranked opponents, the Tar Heels should have a relatively easy time with McNeese State at home Saturday before playing host to a resurgent UNLV program Dec. 29. Texas heads on the road for another top-25 opponent as it goes to No. 20 Michigan State for a game Saturday afternoon.
November, 21, 2012
11/21/12
1:27
AM ET
LAHAINA, Hawaii -- Here are some observations from the second day of the EA Sports Maui Invitational.
After dominating Mississippi State on Monday, the North Carolina Tar Heels got a rude wake-up call versus Butler on Tuesday. On Monday evening I wrote: "North Carolina has much more talent, but the Bulldogs are scrappy and well-coached. The Tar Heels are more of a finesse team. The physicality of Butler could give the Heels problems." That's exactly what happened. North Carolina was outrebounded 36-27 and Butler beat them to just about every loose ball.

After the game, North Carolina head coach Roy Williams admitted that he had the better players, but Butler and coach Brad Stevens had the better, tougher team. "They were more physical, more assertive and more aggressive," Williams said. "They're really good. Brad's clubs are really intelligent. I like their toughness and their intelligence more than their talent, and I'm not trying to put down their talent. But I love their toughness and their intelligence."

UNC clearly has the talent, but does anyone on this team have the toughness the Heels needs to go deep?

Sixth man P.J. Hairston was, for the second night in a row, the best and toughest Tar Heel on the floor. It might be just a matter of time before Williams puts him in the starting lineup.

Most disappointing was forward James Michael McAdoo. In the tourney-opening blowout against Mississippi State, McAdoo was solid on offense, but had four mind-boggling turnovers, prompting Williams to comment after the game that "we can't throw the basketball around."

On Tuesday night, McAdoo had seven turnovers to go with his 10 points and five rebounds. Williams isn't the only one miffed by the performance of his big man.

Most of the NBA scouts and general managers in the audience savaged McAdoo for his performance the past two games. "He looks good in a basketball uniform," one GM told me. "But after that, I'm not sure what I'm supposed to like. He's a pretty good athlete, but he isn't very skilled and he doesn't go hard all the time. There's not one thing he does that really stands out about his game. He certainly hasn't played like a top-five pick."



[+] Enlarge

AP Photo/Eugene TannerUNC's James Michael McAdoo, here getting blocked by Butler's Andrew Smith, hasn't impressed NBA observers in Maui.

McAdoo is currently ranked No. 6 on our Big Board -- but could be in for a drop if he doesn't start picking it up.

Illinois continued its impressive run in the tournament with an 84-61 win over local underdogs Chaminade on Tuesday. The Illini got balanced scoring -- Brandon Paul scored 13 points, D.J. Richardson had 11 and Joseph Bertrand 14. The Illini are off to a 5-0 start, but they haven't really been tested yet. Butler should give them everything they can handle and will be the favorites to win it all after dominating North Carolina. But don't count out Illinois. The team is playing with a lot more aggressiveness and discipline under new head coach John Groce. It has a terrific backcourt in Richardson, Paul and Abrams and size up front.

A win in the tournament will be a huge boon to the Illini's confidence. They aren't in the same class as Big Ten elite teams such as Indiana, Ohio State, Michigan or Michigan State, but they, along with Wisconsin, Minnesota and Iowa, may be a very tough outs in the league. I won't be surprised if the Big Ten gets eight teams into the NCAA tournament this season.

A number of my tweeps laughed at me Monday when I said that NBA scouts were intrigued by Butler freshman Kellen Dunham. I don't think they are laughing anymore. Dunham bounced back from an awful game versus Marquette and really put the dagger in the Tar Heels in the second half. He ended the game with 17 points and was 5-for-9 from beyond the arc. He's still a little tentative and passed up a few open shots in the game, but his stroke is flat-out pure. Dunham isn't your average mid-major guard. He was ranked as a top-100 player by ESPN and was an NBA camp invitee. Dunham isn't a one-and-done prospect, but as he continues to get stronger and more confident, he could have a future in the pros after his junior or senior years of college.

The Texas debacle continued Tuesday with a 59-53 overtime loss to USC. The good news? The Longhorns didn't get blown out this time and played with more urgency. The bad news? Offensively this team is just a mess. When (or is it if?) the Longhorns get Myck Kabongo back, they'll be better. But I don't think he has the talent alone to turn things around. There just isn't a lot of talent around Kabongo. Sophomore Sheldon McClellan has struggled in Maui, going just 8-for-25 from the field and 1-for-11 from 3. Freshman big man Cameron Ridley was ranked as the eighth-best prospect in the country by ESPN, but he's looked out of shape and overwhelmed in the early going.It could be a long year, Texas fans.

Marquette fans, meanwhile, are hoping they have found a go-to scorer in junior Vander Blue. For the second consecutive game, Blue led the team in scoring with 18 points and three assists versus Mississippi State. Blue has always had the talent, but he has struggled with consistency and aggressiveness in the past. What's different this year? "I'm just playing with a free mind and just playing off my teammates," Blue said. "Junior [Cadougan] is a great guy, and everybody's going to double Davante [Gardner], so that pretty much leaves me open for shots. So I feel like if I'm making those shots, our team is a much better team. I'm not trying to do nothing that we don't do every day in practice." Blue's versatility, toughness athleticism and defense all intrigue NBA scouts. If he can show some offensive prowess as well, he could be a second-round pick.

There was a moment in time when USC big man Dewayne Dedmon was considered a potential NBA prospect. That time has probably passed. Dedmon has the size and athletic ability to be a pro. But he has no feel for the game. That's always a problem, but it's an even bigger problem when you're already 23 years old. Dedmon had 8 points, 8 rebounds and 3 blocks against Texas but was just 3-for-11 from the field.

Butler will face Illinois in the EA Sports Maui Invitational Final on Wednesday at 10 p.m. ET on ESPN. North Carolina will play Chaminade in the consolation game at 7:30 p.m ET on ESPN2.