North Carolina Tar Heels:

Chane Behanan
October, 30, 2013
10/30/13
10:00
AM ET
After cops found cocaine and marijuana in a car that
Marshall Henderson
was driving over the summer, Ole Miss fans feared the worst for the SEC star. Andy Kennedy had previously announced an indefinite suspension for the troubled standout who'd been reprimanded for a variety of antics since his arrival last season.
On Tuesday, Ole Miss threw the book at Henderson.
A three-game suspension for incidents
in the postseason and his behavior late last season -- a penalty that will cost Henderson the team's first two SEC games.
The opponents in those league matchups? Auburn and Mississippi State.
[+] Enlarge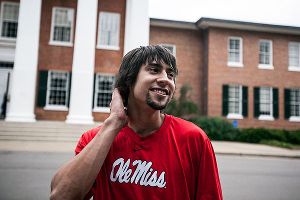 Benjamin Lowy for ESPNAfter a lot of talk about punishing Marshall Henderson, it seems as if the oft-troubled guard got off light with his suspension.
Harsh, I know.
But it's typical.
Throughout the offseason, there has been more smoke than fire with regard to possible suspensions of significant players. The punishments will ultimately prove to be meaningless because players involved probably won't miss a significant chunk of the season or contests that will matter much on Selection Sunday.
In July, North Carolina's
P.J. Hairston
was cited for reckless driving weeks after an arrest for marijuana possession and driving without a license. Roy Williams promised "serious consequences" after Hairston
was suspended indefinitely
following his July citation. But Hairston will return.
He was the star of
North Carolina's "Late Night with Roy" preseason event
last week. During the team's media day earlier this month, Williams told reporters that he's still undecided on Hairston's punishment but earlier reports confirmed that he will play at some point in 2013-14.
"He's been assigned some things that he has to do," Williams told reporters. "He's achieved some of those already -- he's got some more -- and I promise everybody we're not going to go in on game night and say, 'Oh yeah, P.J., you're not playing tonight.' We'll make an announcement before that, but right now he's still going through the process, we're going through the process and we'll wait and see what happens."
Got it.
Rick Pitino seemed furious at Louisville standout
Chane Behanan
when he recently announced that the forward had been suspended indefinitely and
that the earliest he'd return would be early December
. He also said that it was "not probable" that the junior would rejoin the defending national champions. That was mid-October. About a week later, Pitino announced that Behanan
would return "in a short period of time."
Oh.
Purdue's
A.J. Hammons
, a Big Ten player of the year candidate, will miss two exhibitions and the season opener against Northern Kentucky
due to a suspension for misconduct
. Florida's
Scottie Wilbekin
was suspended for the second time in seven months in June, but
he's back practicing with the Gators
.
A memo to the mischievous: If you're going to mess up, do it during the offseason.
Offseason problems give college coaches the ability to chastise players privately because there are no games for them to miss and there's less overall chatter about the sport. The timing of the issues allows them to reprimand players without putting them in situations that require them to miss meaningful games. And they can shroud the entire process under the "rules violation" and "internal punishment" tags.
The players involved in some of the offseason's high-profile mischief haven't necessarily escaped punishment.
Perhaps Hairston has to run to Charlotte every week and Behanan has to do pushups outside the KFC YUM! Center with the national championship trophy on his back to make amends.
We'll most likely never know the extent of the chastisement for them or other players in similar situations.
But they've avoided predicaments that would have potentially forced them to miss significant matchups had their challenges occurred in the middle of the season.
The offseason fuss has exceeded the actual aforementioned penalties thus far -- although we're still not clear on the fate of Behanan and Hairston.
Overall, it seems as though the punishments won't do a lot of damage to the programs that have disciplined key players.
Missing time against the Northern Kentuckys of the college basketball world is trivial.
The suspensions all warranted headlines when they were announced. But come March, we'll barely remember them if the players return and thrive during the season without creating additional drama.
Seems to work out for everyone involved.
October, 21, 2013
10/21/13
3:45
PM ET
It goes without saying the games against Duke won't take a backseat to any opponent this season. Here are five games that could gauge how good, or average, this season will be for the Tar Heels:
5. at Virginia, Jan. 20

The Heels lost for the first time in five trips to John Paul Jones Arena last season. This game could be determined by style points. The Cavs want to use their slow, methodical pace while Carolina wants to run. The difference with this Virginia team is it doesn't have to play slow to be successful. UVa has the talent to make a move into the upper echelon of the ACC. And with the only regular-season meeting between these two, the outcome could end up serving as a tiebreaker.
4. vs. Louisville, Nov. 24

Both teams have to win in order to face each other (the Cards against Fairfield, UNC against Richmond). But if this game comes to fruition as it should, it could be like an NCAA Tournament game in November. Even without Chane Behanan, Louisville will have a formidable frontcourt led by Tarboro, N.C., native Montrezl Harrell. Surprisingly, the biggest test for Carolina won't be seeing how Marcus Paige and Nate Britt will handle the Cards' formidable pressure. It will be seeing if the defense has improved on stopping dribble penetration. If they can't Louisville's Russ Smith is going to give them fits.
3. at Syracuse, Jan. 11

Carolina and Syracuse have faced off seven times (the Heels hold a 4-3 edge), but ironically six of those meetings have come on neutral courts. Only once have they played a true road game and that came the final season Michael Jordan donned Carolina blue in December 1983. This will be the only regular-season meeting with the Orange in their inaugural season in the ACC. In anticipation, Orange fans have already purchased more than 30,000 tickets for the game that's quickly headed towards a sellout. It's one signal that the ACC will no longer just be measured by the Carolina-Duke rivalry.
2. Kentucky, Dec. 14

After a one-year hiatus, it will be great to see two of college basketball's marquee programs back at it. The Wildcats, who are No. 1 in the USA Today/Coaches preseason poll, have a tough non-conference schedule, too. I don't expect them to waltz into the Dean E. Smith Center with an undefeated record, despite coach John Calipari openly discussing the possibility for an undefeated season as a goal. But it will be UK's first true road test and Carolina's first home game against a ranked opponent. The last three regular-season games in the series have been determined by a basket.
1. at Michigan State, Dec. 4

This game, more than any other non-conference matchup, will be an early season barometer for North Carolina. Remember last year's disaster on the road at Indiana? Well, the Breslin Center can be as loud and intimidating for opponents as Assembly Hall (or Cameron Indoor Stadium for that matter); if the Heels aren't ready it could produce similar results. Carolina will see exactly how far their stable of big men have matured going against State's Adreian Payne. The Heels can use a lineup that matches up with the Spartans, so the bigger question will be how they will handle a top five team on the road.