North Carolina Tar Heels:

Cliff Alexander
May, 15, 2014
5/15/14
10:00
AM ET
Some of the best one-on-one matchups will take place before the college basketball season tips off. They will come in the form of position battles within a team to determine a starter, which in some cases will shape an entire lineup.
Starting with point guard, ESPN.com will examine those quiet battles on a
position-by-position basis
this week while also promising we will never use the phrase "iron sharpens iron" to describe the competition.
Here are some power forward battles to keep an eye on:

Kentucky: Trey Lyles vs. Alex Poythress vs. TBD
Exactly who factors into this battle in Lexington will come down to how coach John Calipari divvies up positions. With so many frontcourt players, he has a numbers crunch that could mean guys play more hybrid positions or even out of position. Will he slide Poythress to small forward? Will he turn
Willie Cauley-Stein
or
Marcus Lee
into more of a power forward than a center? Where does
Derek Willis
fit in? Lyles, one of the best in the Class of 2014, will be a factor one way or another. The good news is that Calipari has options. The interesting thing will be to see how they all play out.

Kansas: Cliff Alexander vs. Perry Ellis
Ellis has spent the better part of his career waiting his turn. Now here he is, a junior, and he's got a whippersnapper like Alexander to battle. The two come at their position from different but equally effective ways. Alexander is the more typical power forward, a rebounding machine who muscles his way to success. Ellis can rebound and battle with the best of them, but he also has some finesse to his game. Odds are that coach Bill Self will find a way to use both at the same time -- Alexander likely at the 5 -- to form a pretty formidable backcourt.

North Carolina: Jackson Simmons vs. Isaiah Hicks
Or who will back up
Brice Johnson
? Caught in a numbers crunch, neither saw much playing time last season, but somebody will have to contribute for coach Roy Williams this coming season. Hicks, a sophomore to be, played out of position for most of last season, sliding over to the small forward spot. Meanwhile, Simmons (who will be a senior) has spent the better part of his career biding his time. It will come down to whether Williams leans on the more veteran Simmons or the more talented Hicks.
Wichita State: Who will replace Cleanthony Early?
That's the unenviable battle.
Shaquille Morris
, who stopped traveling with the Shockers in February so he could work on his weight training and get in shape, has a chance if he proves he's up to the task. Freshman
Rashard Kelly
, out of Hargrave Military, is also an option. He averaged 19.6 points and 10.4 boards in his senior season. The truth is that no one can replace Early alone, but coach Gregg Marshall at least needs to find some committee members up to the task.

Florida: Dorian Finney-Smith vs. Alex Murphy vs. Devin Robinson vs. Jon Horford
Finney-Smith, who likes to rebound, likely will get the nod here, but this could be a fluid position for coach Billy Donovan as the season progresses. Once Murphy, the Duke transfer, becomes eligible in mid-December, things could change. And if Robinson, a highly regarded freshman, develops well, it could change again. Horford, who can play immediately after finishing up his degree at Michigan, will likely get lots of minutes between the 4 and 5 spot, and Finney-Smith will float among small forward, power forward and even in the middle at times.

Gonzaga: Kyle Wiltjer vs. Domantas Sabonis
Wiltjer, the sharpshooting transfer from Kentucky, will likely get the edge here thanks to experience, but the Lithuanian Sabonis is an intriguing guy for coach Mark Few. The son of former NBA star Arvydas Sabonis, Domantas excelled in the FIBA Under-18 World Championships, averaging 14 points and 11.4 rebounds per game.
May, 7, 2014
5/07/14
10:30
AM ET
In high school basketball, the best players usually concentrate on their offense because that's how their teams win games. But there are several prospects who have the potential to be elite defenders. Let's examine the five best defenders among the incoming freshmen and one from the Class of 2015.
1. Justise Winslow, Duke
Winslow has a college-ready body and mindset that will help him influence the game with his defensive prowess. His defensive versatility might be the best among the entire freshman class as the 6-foot-6 forward can defend point guards through power forwards. The athletic Winslow can be a factor in full-court pressure or trapping situations as well as in a straight-up man-to-man denial defense locking up, the opposing team's best offensive threat. What makes him a special defender is that he is always thinking about where he should be next on the floor. Winslow will be extremely important for Duke next season.
April, 24, 2014
4/24/14
9:50
AM ET
It's been a busy month for the top high school seniors in America.
First, it was the McDonald's All American Game, then the Nike Hoop Summit and finally last week's Jordan Brand Classic.
While these all-star-style games are mostly about show and only rarely about competition, they also serve as the first real opportunity that NBA scouts have to evaluate these prospects.
With the vast majority of the NBA's 30 franchises having a consistent presence at all three events (both games and practices), we spoke to front-office personnel from five different teams to see their first impressions of the top players in the ESPN 100.
Here's what they had to say:
To continue reading this article you must be an Insider
April, 20, 2014
4/20/14
1:19
PM ET
The Jordan Brand Classic was played at the Barclays Center in Brooklyn, N.Y., on Friday.
This game is always filled with future NBA talent and usually has the No. 1 pick in a future NBA draft.
Twenty-two of the country's elite players went head to head for likely the last time before they meet again in college. There were so many impressive plays and highlights, so let's take a look at what we learned from the event.
To continue reading this article you must be an Insider
April, 9, 2014
4/09/14
10:00
AM ET
Scouting the country each year I'll not only see players' skills, athletic ability and basketball IQ, but I'll also witness their character along the way. This year's class might not have any NBA superstars at the moment, but it will have difference-makers for the college game, both in the short term as well as those who will make a difference in time because of their character traits combined with their talent.
As we wrap up the Class of 2014, here are my five final thoughts:
1. The land of the giants
[+] Enlarge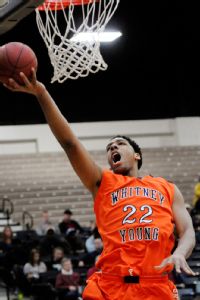 AP Photo/The Sun News/Charles SlateDuke center signee Jahlil Okafor finishes the season as the nation's top prospect.
When you look at the top of a class it's so rare to have three post players sitting in the top three spots.
Jahlil Okafor
, who held the top spot for much of the season, finishes the season as the nation's top prospect. The center from Chicago is a dominating presence in the paint. A Duke signee, Okafor led his high school team to a 4A state championship and was named the McDonalds Morgan Wooten player of the year.
He is special because he scores down low in the paint with his back to the basket. His combination of size, touch and fluid footwork is too much for one defender and when he doesn't score, he attracts a double-team, which gives his team an advantage. He operates with patience and poise and when he reads the double-team he will accurately pass out to the open man. Defensively he guards the post and is improving at ball-screen defense as he is a barrier to the rim for his team.
Myles Turner
, the nation's No. 2 prospect, challenged hard for the No. 1 position and shows a big upside. Turner, who is uncommitted, is an elite shot-blocker and scores baskets with a soft touch and range.
Cliff Alexander
is going to be an absolute difference-maker for Kansas with his ability to rebound, finish and block shots, and he does it in an aggressive manner.
Trey Lyles
is one of the most skilled post players in this group and his future teammate at Kentucky
Karl Towns Jr.
has franchise skill-to-size ratio.
Thomas Welsh
is a fundamentally sound big who will anchor the middle at UCLA.
To continue reading this article you must be an Insider
April, 3, 2014
4/03/14
12:24
AM ET
CHICAGO -- Wednesday marked the 37th Annual McDonald's All-American game featuring the top high school boys basketball players in the country. The game took place at the United Center, home of the NBA's Chicago Bulls.
Best low-post player: Jahlil Okafor
To continue reading this article you must be an Insider
April, 1, 2014
4/01/14
10:00
AM ET
CHICAGO -- The prestigious
McDonald's All American Game
annually brings together the best talent in high school basketball, all on one stage. Here are a few game matchups to watch for this year's star-studded event, which can be seen live on ESPN Wednesday night at 9:30 ET.
To continue reading this article you must be an Insider
March, 11, 2014
3/11/14
10:00
AM ET
By
ESPN.com staff
| ESPN Insider
There are a lot of different ways to win in college basketball, but one of the few staples of virtually all good teams is a commitment to defense.
Ironically, good individual defenders never seem to get the credit they deserve, and that can even be true with the recruiting process. Standouts on offense are not only easier to recognize, they're also easier to quantify with basic statistics. There's also a popular sentiment among college coaches that they can teach a player to defend if they have the proper physical tools.
The reality though is that college-ready defenders are perhaps even harder to find than college-ready scorers or playmakers, which should in turn make them that much more valuable. With that in mind, we went back to our team of RecruitingNation experts and asked them to pinpoint the defensive game-changers in this year's ESPN 100:
To continue reading this article you must be an Insider
January, 29, 2014
1/29/14
7:00
PM ET
The McDonald's All American Game is annually the nation's most prestigious high school basketball all-star event. The rosters have been announced for the Class of 2014, and this year's game will once again be played at the United Center in Chicago and will air live on ESPN on April 2.
Here's a deeper look at five exciting matchups we'll see in the 2014 contest.
1. The battle of the giants
Jahlil Okafor (West) vs. Myles Turner (East)
To continue reading this article you must be an Insider
December, 30, 2013
12/30/13
9:00
AM ET
Basketball is played right through the new year, so as we look back and plan ahead let's take a look halfway through this season at which 2014 prospects have performed best in 14 categories.
1. Best in the low post: Jahlil Okafor (Chicago/Whitney Young), Duke signee
If a team needs to score a basket in the lower half of the painted area, Okafor is the one to pass it to. He has secure hands to catch almost any pass and a soft touch with superb footwork. He also has a wide mobile body to seal his man and the patience to throw the ball back out and re-post his 7-foot-3 wing span.
To continue reading this article you must be an Insider
October, 24, 2013
10/24/13
9:00
AM ET
We've been talking a lot about class rankings in recent weeks. North Carolina and Ohio State have both been in the lead at various points this year while strong finishes from Duke, Kentucky, Kansas and even Baylor could put them all in contention for the top spot before it's all said and done.
With that in mind, we took a speculative look at those six programs, breaking down what they would likely need to get to the top of the mountain.

Duke
Probability of finishing on top:
45 percent
ESPN 100 SG
Grayson Allen
might be the only prospect currently in Mike Krzyzewski's incoming recruiting class, but the Blue Devils have as many top prospects left on the board as anyone. They'll host
Jahlil Okafor
and
Tyus Jones
this weekend, along with
Justise Winslow
, leading to speculation that they could be on the verge of a massive package deal. They also remain in the mix for
Myles Turner
,
Kevon Looney
and
Reid Travis
. If they land Okafor and Jones, they'll have a good chance of finishing in front. If they can add Winslow, Looney or Travis, their chances will be even better. If they could ever put Okafor, Turner and Jones in the same group, the rest of the class would be gravy. Suddenly we'd be talking about one of the best recruiting classes ever.
To continue reading this article you must be an Insider