North Carolina Basketball:

Cody Zeller
January, 23, 2013
Jan 23
2:06
PM ET
By
Jeremy Lundblad, ESPN Stats & Information
| ESPN.com
On Wednesday at Miami (7 ET on ESPN),
Seth Curry
needs 12 points for the Curry brothers to pass Larry and Eddie Bird for the second-most by a pair of brothers in Division I history.
Barring injury, the Curry brothers should pass the Hansbroughs in February for the most ever.
Below is one man's opinion on the top 10 pairs of brothers to play college basketball. Just missing the list? Tyler and
Cody Zeller
.
10. Dominique and Gerald Wilkins
Both Wilkins brothers were more successful NBA players, but that shouldn't diminish what they accomplished in the college ranks. Dominique is arguably the best player in Georgia history, and its only player to win SEC Player of the Year. Younger brother Gerald helped guide Chattanooga to the NCAA Tournament in his first season, and his 21.0 points per game as a senior is the highest in school history.
9. Tom and Dick Van Arsdale
The most accomplished twins to ever play basketball, it wasn't just looks that made the two difficult to distinguish. Tom averaged 17.4 points and 10.0 rebounds in his three seasons at Indiana, while Dick averaged 17.2 points and 10.0 rebounds.
8. Chuck and Wesley Person
Only three players in Auburn history have scored 2,000 points. Two of them were brothers. Chuck is the school's all-time leader with 2,311 points, while Wesley is third at 2,066. While both were elite at Auburn, it's worth noting that neither won SEC Player of the Year.
7. Mark and Brent Price
At a school famous for producing guards, no one had a better career at Georgia Tech than Mark Price. He was the first freshman to lead the ACC in scoring, and was the Yellow Jackets' leading scorer in all four seasons. Brent Price split his college career between South Carolina and Oklahoma. He was an All-Big Eight selection as senior, once scoring 56 points in a game.
6. George and Ed Mikan
Named of ESPN's 25 greatest college basketball players in 2008, George Mikan helped revolutionize the game with his height. A two-time national player of the year, he led DePaul to the NIT title in 1945, averaging 40.0 PPG in that tournament. A year younger, Ed was also a member of that championship team. He also went on to become a member of DePaul's Hall of Fame and play in the NBA.
5. Ed and Charles O'Bannon
The O'Bannon brothers combined to bring UCLA a national title in 1995. Ed won the Wooden Award that year, as well as the Most Outstanding Player of the tournament. Charles was an All-Pac-10 selection in each of the two years after Ed left, making it five consecutive years than an O'Bannon was so honored.
4. Larry and Eddie Bird
No two brothers have scored more points at the same school. Larry Bird requires no introduction. Over three seasons at Indiana State, he averaged 30.3 PPG and 13.3 RPG. In 2008, ESPN's panel of experts named him the ninth-greatest college player of all-time. But did you know he had a brother? Eddie Bird came to Indiana State a decade later and averaged double figures in all four seasons with the Sycamores. He's still sixth on their all-time scoring list.
3. Stephen and Seth Curry
Barring injury, the Curry brothers will be the highest-scoring duo of brothers in Division I history. Older brother Stephen led Davidson to the Elite Eight as a sophomore and finished as the school's all-time leading scorer despite playing for only three years. In fact, only five players have scored more total points in a three-year college career. Seth's career at Duke isn't nearly as prolific, but the senior captain could help lead the Blue Devils to a national title.
2. Bernard and Albert King
The best player in Tennessee history, Bernard King won SEC Player of the Year in all three seasons in Knoxville. He averaged more than 25 PPG in all three seasons. Overshadowed by his older brother, Albert was certainly no slouch. He averaged in double figures in all four seasons at Maryland and is the fourth-leading scorer in school history. Albert garnered ACC Player of the Year honors as a junior.
1. Tyler and Ben Hansbrough
No pair of brothers has scored more combined points than the 4,485 from the Hansbroughs. Tyler Hansbrough finished his North Carolina career as the ACC's all-time leading scorer (2,872 points) and eighth all-time with 1,219 rebounds. One of only five players with 2,800 points and 1,200 rebounds, it's no stretch to call him one of the greatest college basketball players of all time. But younger brother Ben was no slouch. In 2011, he averaged 18.4 PPG at Notre Dame and was named Big East Player of the Year.
Honorable Mention
George and Derrick Gervin, Horace and Harvey Grant, Blake and Taylor Griffin, Brook and Robin Lopez, Jay and Sam Vincent, Gus and Ray Williams, Cody and Tyler Zeller.
November, 28, 2012
11/28/12
1:54
AM ET
BLOOMINGTON, Ind. -- North Carolina coach Roy Williams said earlier Tuesday that he had to stop himself from being too critical during his team's loss to Butler last week in Maui because of the freshmen on the court.
He knew he had to be patient. But that patience might be wearing thin.
The Tar Heels could use an excuse that
P.J. Hairston
was back in Chapel Hill with a sprained left knee, that the freshmen had never been in such a hostile environment as Assembly Hall or that the veterans like
Dexter Strickland
,
Leslie McDonald
and
James Michael McAdoo
were either injured or hardly significant players last season.
But Williams isn't using any of those as a crutch, and neither were his players after a humbling
83-59 defeat
to the top-ranked Hoosiers.
[+] Enlarge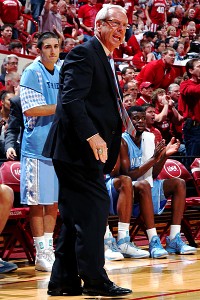 Brian Spurlock/US PresswireRoy Williams admitted he was frustrated in Tuesday's loss, but remains high on UNC's potential.
"There's a point and we're at that point," said Williams. "The best thing is that they have the day off [Wednesday]. Basketball is a simple game. You just need to do the crap that I tell you to do."
Williams said that the young players weren't all at fault. He cited Strickland's inability to get back and the times when everyone failed to compete.
Carolina came out with a sense of urgency, unlike in its loss to Butler in the Maui Invitational semifinals Nov. 20. But the last four minutes of Tuesday's first half and the beginning of the second were as lopsided as Williams has seen in his tenure, or at least as much as that humbling 33-point loss to Florida State in January.
North Carolina was beaten consistently as
Cody Zeller
outran the Tar Heels. Indiana's
Yogi Ferrell
and
Jordan Hulls
passed over the Tar Heels or IU's
Will Sheehey
or
Victor Oladipo
got ahead for a flush or an otherwise-demoralizing finish.
"We were where we wanted to be, but then after the last media timeout [the four-minute mark of the first half] we were lackadaisical and they pushed it to 10 points," said McAdoo. "They kept it going and we never hit them back. We've got to learn from our mistakes. We have so many young guys, we're learning new roles."
North Carolina came into the game ranked No. 14. The Tar Heels won't likely be in the poll next week and will have plenty of work to do to regain their national credibility.
"We don't look at the rankings, we stay in our own camp," said McAdoo. "Right now we have to figure out who we are as a team. We've got a lot of work to do. We're playing for March."
That was sort of Williams' point earlier Tuesday. He said to check back with him in 30 days, 60 days and at the end of the season. This team still can be very good, but he noted that the ACC schedule lies ahead, to say nothing of a visit to Texas (still a road game, regardless of the Longhorns' struggles) and one from UNLV.
"We felt like we could win this game," said Strickland. "We just had a lot of mental mistakes on defense. We left Cody wide open. We have to do a better job of hustling and showing a better sense of urgency and more aggressive play."
Strickland said the Tar Heels lost their poise offensively after the quick strikes by the Hoosiers. That was evident in nearly every fast-break IU basket.
"They just killed us in transition," said freshman
Marcus Paige
. "We didn't get easy baskets. We struggled from the floor."
The Tar Heels shot 1-of-8 on 3s. Hairston would have helped, but the problems are much larger than his health. UNC received good news when an X-ray on
Reggie Bullock
's finger was negative, although Williams said late Tuesday that the staff might take another one back in Chapel Hill.
The Tar Heels need a vocal leader, someone to take charge or calm this team down when things go awry. McAdoo tried to get the squad going in the hallway prior to the second half, imploring his teammates to grab every rebound and get after the Hoosiers.
Indiana then ripped off 13 consecutive points and was ahead 22. Game over.
Duke is clearly the ACC's best team right now. NC State is struggling but hasn't looked as vulnerable as Carolina so far. Florida State lost at home while Maryland won on the road Tuesday. The league is wide open -- after Duke -- so all is not lost for the Tar Heels. But they had better find that intensity, urgency and, for Williams at least, get back on defense -- and fast.
"I don't worry about the expectations," said Paige. "We can be a really good team."
That's still to be determined.
"It's a good group, a really good group of kids," Williams said. "Right now is a tough time and we'll find out how mentally strong we are in practice."
November, 27, 2012
11/27/12
11:44
PM ET
BLOOMINGTON, Ind. -- Quick thoughts from top-ranked Indiana's
83-59 victory
over No. 14 North Carolina on Tuesday in the ACC/Big Ten Challenge:


Overview
: Until the beatdown began in the second half, Indiana and North Carolina had mainly played a tight game Tuesday. The Hoosiers (7-0) couldn't pull away.
James Michael McAdoo
& Co. attacked the rim, keeping the Tar Heels alive in a hostile environment during the first half.
But once Indiana turned up the pressure after halftime, the Tar Heels (5-2) didn't have any answers. A 46-37 advantage became a 70-43 edge midway through the second half. It quickly became an embarrassing event for a North Carolina team that lost to another Indiana-based squad, Butler, in last week's Maui Invitational.
With 3 minutes, 46 seconds to play in the game, Indiana had three players who had scored 19 points or more (
Cody Zeller
,
Victor Oladipo
and
Will Sheehey
) and another,
Jordan Hulls
, who had registered 13.
Indiana was on a different level, a stark contrast from the disparities between the two programs in recent years. But this lopsided win was another piece of evidence that justified Indiana's status as the No. 1 team in the country.
Turning point
: With 3:45 to play in the first half, Oladipo drew a flagrant foul; Indiana led 33-31 at the time. By the end of the half, however, the score was 46-37 in favor of the Hoosiers. It was a burst that secured the momentum for Indiana entering the second half. The Tar Heels had climbed back into the game, but Indiana's surge late in the first half turned the matchup for good.
Key player
: You could pick a few, but Zeller was stellar. His size and tenacity were problems for the Tar Heels. They couldn't match up with him in the half court. They couldn't run with him. They couldn't alter his shots at the rim. Zeller was a polished player his freshman season. But he's clearly a more complete player as a sophomore.
Key stat
: Indiana was 8-for-20 from the 3-point line against the Tar Heels.
Miscellaneous
: McAdoo started strong, but give the Hoosiers credit for slowing him down in the second half. ... You could see the competitive fire between
Marcus Paige
and
Yogi Ferrell
, the top two point guards in the 2012 recruiting class. Ferrell's crisp passing helped Indiana's offense flow throughout the game. Paige played hard throughout, too. Bright future for both players. ... I don't think having
P.J. Hairston
available would have changed the outcome. But the Tar Heels certainly missed his 3-point shooting (they were 1-for-8 from beyond the arc).
Next game
: North Carolina will face Alabama-Birmingham at home Saturday. Indiana will attempt to preserve its perfect record when it plays Coppin State on Saturday in Bloomington.
November, 26, 2012
11/26/12
4:48
PM ET
CHAPEL HILL, N.C. -- Slowing National Player of the Year candidate
Cody Zeller
will be a big concern when 14th-ranked North Carolina plays at No. 1 Indiana on Tuesday night, Tar Heels coach Roy Williams said Monday.
Slowing Zeller and the rest of his teammates, though, is even more of a worry.
"Look at their stats," Williams said. "I mean, seriously: five guys in double figures. ... That's why no one could guard us in '09. You had to worry about Tyler Hansbrough, but then Wayne [Ellington] and Danny [Green] and Ty [Lawson] were going to score them three at a time. So that was an easier year for Tyler than he ever had before because he wasn't facing two and three guys.
"We have to be concerned about Cody, but again ... they have five guys in double figures."
Indeed, Zeller (15.2 ppg) -- the younger brother of former Tar Heels 7-footer Tyler Zeller -- does have the luxury of playing within a balanced offense that includes
Christian Watford
(13.2),
Jordan Hulls
(13.0),
Victor Oladipo
and
Will Sheehey
(11.0).
But those guys also have the luxury of playing with him. A 7-footer, he runs the floor, pulls down 7.7 rebounds per game and makes 64 percent of his shots. It's no coincidence that the Hoosiers rose from 12 wins in 2010-11 to 27 in 2011-12 (Zeller's freshman season). He'll be a tall challenge for the Tar Heels' inexperienced forwards.
"He's a remarkable player," Williams said of the sophomore, who chose the Hoosiers over the Tar Heels. "He's got Z's size, but does some more things out on the court probably than Tyler did for us, and [has] maybe a little more flexibility to his game.
"He is THE one, but they've got five guys averaging double figures, and you guys have heard me say before that that's the most difficult kind of team to guard. So we can't just load it up on [Cody], because all four of those guys average double figures as well."
TOUGH TASK:
When the Tar Heels returned to practice on Saturday after returning from the Maui Invitational, Williams told his team he wasn't happy.
At issue: the team's mental and physical toughness, particularly after falling behind by as many as 29 points against Butler. So he increased the intensity in the weekend practices.
"It's been rough," senior
Dexter Strickland
said. "We ran so much yesterday. But I look at it as, not punishment, but something to make us better. I think we ran about eight 33s yesterday, and I think that was good for us ... we definitely got in shape yesterday."
Running a "33," by the way, means sprinting up and down the court three times in less than 33 seconds, Strickland said. By comparison, the Tar Heels usually do only two or three at the end of a practice.
"Somebody else maybe said, 'well, you went 2-1 [during the tournament],' but I was not happy because I don't like 2-1 when you can be 3-0, but I also don't like the way we played," Williams said. "So we've tried to challenge them in the last couple of days, and we've got to play better than that."
THE 5 SPOT:
Freshman
Brice Johnson
got his first start of the season against Chaminade in the Maui Invitational third-place game, replacing
Desmond Hubert
. But asked how much of a grasp Johnson has on that starting slot, Williams said: "Not at all.
"I was in the mood to start him, and it was a better match-up that day. I have no idea who I'm going to start tomorrow night in that spot; I really don't."
PAIGE OK:
Freshman point guard
Marcus Paige
played only 16 minutes against Chaminade as a precaution after tweaking his back the night before in the loss to Butler.
"He could have played, but it's a 30-point game, so why keep him in the game?" Williams said. "I don't think we played him the last 16 minutes or something like that, but he's practiced both days [since the Tar Heels returned] and been fine."
Meanwhile, sophomore wing P.J.
Hairston's status is uncertain after spraining his knee in practice Sunday.
November, 20, 2012
11/20/12
7:44
AM ET
LAHAINA, Hawaii -- Here are some observations from the first day of the EA Sports Maui Invitational:
This is clearly a down season for talent at the Maui Invitational. The names on the front of the jerseys are all impressive -- North Carolina, Texas, Illinois, USC, Marquette, Butler, Mississippi State -- but every single program, with the possible exception of UNC, is having a down season.The USC and Mississippi State programs are in shambles. Both teams aren't even close to being competitive against a solid D-1 team.

Texas, after being blown out by Chaminade, doesn't look much better. Yes, they were missing point guard Myck Kabongo, but even with Kabongo the Longhorns have major issues. Chaminade shot just 37 percent from the field for the game and it still won by 13.

Illinois dominated USC, but it's hard to tell whether Illinois is actually playing better under new head coach John Groce or whether USC is just that bad.

Marquette and Butler played the most entertaining game of the day, but it was marred with fouls, poor shooting and mistakes. Neither team boasts an elite player on its squad.

As for North Carolina -- yes it blew out Mississippi State -- but as far as NBA talent goes, the Tar Heels are having a down season too. After forward James Michael McAdoo, it's unclear whether they have another first-round draft prospect on their roster.

Nevertheless, if UNC doesn't roll through this field, it will be a major upset.
Tomorrow's best game should be Butler versus North Carolina at 8 p.m. ET on ESPN. North Carolina has much more talent, but the Bulldogs are scrappy and well coached. The Tar Heels are more of a finesse team. The physicality of Butler could give the Heels problems.The rest of the field looks like a wash. Marquette should roll over Mississippi State. Texas versus USC will be interesting only if the NCAA somehow clears Kabongo.

Illinois will be the heavy favorites to beat Chaminade in the finale at 10:30 p.m. ET on ESPN2. Yes, the Silverswords just knocked off the Longhorns, but they didn't play particularly well. The Illini should roll.
A number of NBA GMs -- including the Celtics' Danny Ainge, the Jazz's Kevin O'Connor, Bulls' Gar Forman, the Warriors Bob Myers and the Blazers Neil Olshey -- were in attendance. Overall, they are seeing the same phenomenon here that they are seeing everywhere. This is a down season, talent wise, in the NCAA. "If Cody Zeller, Shabazz Muhammad, Nerlens Noel and James McAdoo are your top four picks, it's going to be an ugly, ugly draft."

Other than McAdoo, I couldn't find a scout or GM convinced there was another first-round prospect here. If Kabongo plays, that could be two. But that explains, in part, why the field is so weak.
There were some good performances by top prospects on Monday. Perhaps the best was Illinois' Brandon Paul. Scouts have loved Paul's combination of elite athletic ability and scoring prowess for years. However, they've been puzzled by his inconsistency. He had a 43-point game against Ohio State last season. But there have been plenty of others in which he completely disappeared.

He seems to be more settled and more consistent under his new head coach. He was averaging nearly 20 points a game coming into the tournament and scored 26 points and shot 6-for-9 from 3-point territory on Monday night in Illinois' win.

UNC's Reggie Bullock was on fire against MSU. He had 16 points in 22 minutes and was 4-for-5 from beyond the arc.

As I detailed in my Rapid Reaction to the Butler-Marquette game, Vander Blue and Khyle Marshall also had terrific games on Monday night.
There are many NBA scouts who believe both P.J. Hairston and Leslie McDonald could start on most high major NCAA teams and they probably would average 16-20 points. Once the game quickly got out of hand, Roy Williams turned to both of them and both delivered. The two combined for 39 points and shot 10-for-17 from behind the 3-point line.
UNC has a number of talented freshmen: Joel James, Brice Johnson and J.P. Tokoto. All three got plenty of playing time on Monday. Of the three, it was James who shined on Monday. He was a significant defensive presence for the Tar Heels. He's still trying to get a feel for the game and could still probably lose another 10 to 15 pounds, but his seven rebounds and two blocked shots, combined with just a general toughness in the middle gave NBA scouts an encouraging glimpse into his future if he continues to develop.
The most memorable moment of the day was Rotnei Clarke's buzzer-beating heave to defeat Marquette. Here's how both Clarke and Marquette coach Buzz Williams described the moment.

Williams: "He shot it off one foot from behind his head from 40 feet. It was contested. As soon as the ball left his hand, I knew it was a basket. The trajectory and everything was perfect."

Clarke: "It was just kind of a scramble play. I was dribbling around, and I almost thought about flipping it to Roosevelt Jones, who was going down the lane line just to have him drive and make a play, [but] ended up keeping it, and got through and got around a couple of guys, and just let it up there, and luckily it went in."
November, 2, 2012
11/02/12
10:00
AM ET
Unlike shooting or rebounding or point guard play or the variety of other specific basketball skills we've been highlighting in our
Best of the Best lists
throughout this week, the category of "most important" is far trickier to quantify. It depends not only on a player's contributions, but on the team around him and where the two dynamics meet in the middle. There is also a constant temptation to conflate "most important" with "best" or "most valuable," and those arguments (hello, baseball) always make my head hurt.
My editors asked me to name the 10 players most important to their teams in the country, and that's precisely what I'm going to try to do. But I also attempted to avoid the rabbit hole that is individual talent at the mid-major level. Instead, I tried to narrow the criteria down to players most important to their teams' chances of winning a national title, or making a deep tournament run, or maintaining some level of national relevance. Let's give it a shot:
[+] Enlarge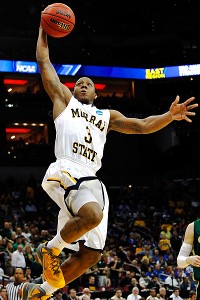 AP Photo/Dave Martin, FileWith much of last season's cast gone, Isaiah Canaan is even more key to Murray State this season.
1. Isaiah Canaan, Murray State
: Last season, Canaan was hands down the best and most important player on a team that went 31–2, leading his team in minutes, points, assists, offensive rating (122.2), 3-point field goal percentage (45.6) and a wide swath of other statistical categories. He dominated the ball, scored at will and facilitated to boot. He was really, really good.
And that was on a team that included seniors Donte Poole, Ivan Aska and Jewuan Long, on a team that already was beginning to bring along guard Zay Jackson as Canaan's new backcourt partner. The first three players are gone to graduation; Jackson is missing the entire season after pleading guilty to wanton endangerment for running over two people with his car in a Walmart parking lot. (
True story
.) So Canaan, already crucial to his team's success a year ago, becomes the primary returner on a squad that still very much maintains conference-title and NCAA tournament aspirations. No one player in the country will mean more to his team this season.
2. Cody Zeller, Indiana
: Zeller, the AP Preseason Player of the Year, obviously is important. He is the unifying force on a team that desperately needed exactly what he provided as a freshman: interior scoring, rebounding, strength, efficiency, you name it. He led the Hoosiers in field goal attempts by a wide margin, and Indiana fans could frequently be heard complaining that Zeller wasn't getting enough touches. Truth is, they probably were right. Before he arrived, with similar personnel, Indiana won 12 games. Afterward, they went 27–9. He doesn't get credit for all 15 wins of that improvement -- other players got better, too -- but there's no question his impact was immense. You know all this already.
Here's the twist, though: All offseason, we've been praising the Hoosiers' depth, and there's no question Tom Crean has a wealth of pieces at his disposal. But right now, aside from Zeller, the frontcourt is looking a little slim. Forward
Derek Elston
(better as a 15-foot jump-shooter anyway) is injured, and the eligibility statuses of freshman
Hanner Mosquera-Perea
(a wide-shouldered rebounding force) and
Peter Jurkin
(a 7-foot center) are both up in the air. Zeller already has much riding on his shoulders, and more help was supposed to be on the way. If it isn't, Zeller's task becomes even more daunting.
3. Doug McDermott, Creighton
: Last season, there were two players in the country who used at least 28 percent of their team's available possessions and posted offensive ratings (a measure of individual player efficiency) above 120. The first was Damian Lillard, who did
this for the Portland Trail Blazers the other night
. The other: Doug McDermott. He shot 63.2 percent from inside the arc (on 400 shots) and 48.6 percent outside (on 111), and he rebounded well on both ends for good measure. Creighton has guys who can play.
Grant Gibbs
is a sublime entry passer,
Jahenns Manigat
is coming on strong and
Ethan Wragge
can shoot it. But there's no getting around the fact that McDermott's incredible inside-out offensive versatility was the main reason his team boasted the fifth-most efficient offense in the country last season,
per KenPom.com
. Seeing as Creighton's defense was so lackluster, the Bluejays very much needed that offense. Even assuming they improve somewhat on the defensive end this season, they'll still need to score like crazy in 2012-13. That's where McDermott comes in.
4. Peyton Siva, Louisville
: Every time we talk about the huge talents returning at Louisville, we talk about how good the defense is going to be. This is for good reason: It was the best in the country last season, good enough to get the No. 4-seeded Cardinals to the Final Four. It will keep them in excellent shape in the season to come. It's bankable like that. Then, after we sing the defensive hosannas, we get around to talking about how so-so Louisville's offense was, and how if the Cardinals are truly a national title contender they have to find ways to score.
Siva is the most crucial piece in this discussion. The UL senior point guard is 5-foot-11 and quick as lightning; the problem is that he just isn't very efficient. He shot 24.6 percent from 3 in 2011-12. He turned the ball over on nearly a third of his possessions (29.3 percent). According to Synergy scouting data, Louisville uses Siva more frequently than any other player to initiate pick-and-roll sets at the top of the key, a play type it favors as a team, but he is merely average in his execution. Why? Because defenses don't have to respect his jumper. They play under the screen, the play dies and Louisville goes to Plan B.
To me, if Louisville is going to turn its offense to something more coherent, Siva is the key. Without a more efficient performance at the point guard spot, the Cardinals will still be a brutally tough out. But they won't reach their full potential.
[+] Enlarge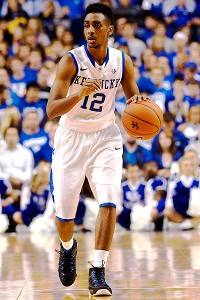 Mark Zerof/US PresswireNC State transfer Ryan Harrow takes the reins of a talented, but again young, Kentucky squad.
5. Ryan Harrow, Kentucky
: The NC State transfer is getting his moment in the John Calipari point-guard spotlight this season, a vaunted role typically reserved for NBA lottery picks. That spotlight can be harsh --
never more so than from Calipari himself
-- but there are good reasons for Calipari's insistence on point guard excellence. For one, his dribble-drive offensive system (which he has used variously in recent seasons, and might return to more in 2012-13) thrives on point guard play more than most.
The second reason? Harrow, who spent last season on the bench after a freshman campaign in Raleigh, is in many ways a veteran in Kentucky's latest amalgamation of highly talented but still raw freshmen. His ability to run an effective offense, while dealing with players still getting used to each other and the college level at the same time, will be key to Kentucky's success this season.
6. Trey Burke, Michigan
: Burke has something of a similar challenge to Harrow's, but one accentuated by what could be a major adjustment at the offensive end. Last season, Burke sprang onto the scene at the helm of an archetypal John Beilein-style "spread the floor and fire away" 3-point-shooting team. The team's three most efficient shooters are gone, replaced by touted freshmen (
Glenn Robinson III
,
Mitch McGary
) unlike anything Beilein has had the luxury of landing during his tenure in Ann Arbor. Now, Michigan's best lineup will look more conventional, with big, athletic, bruising players.
This could be a boon on defense, but it will require a shift on offense; it seems almost unfathomable the Wolverines will shoot nearly as many 3s this season. At the middle of it all will be Burke, a preseason All-American who will see his distribution and leadership abilities fully put to the test.
7. Adonis Thomas, Memphis
: It was tempting to put point guard
Joe Jackson
in this spot. The same could be said for center
Tarik Black
. Jackson has still yet to harness his immense talent in a totally cohesive way; Black can't seem to stay out of foul trouble. But I decided to go with Thomas. Why? For one, he'll be stepping into former Tiger Will Barton's shoes, and there was no mistaking Barton was the best player on a pretty underrated 2011-12 Memphis team. But Thomas could arguably be even better, at least on the offensive end; by all accounts, the 6-6 small forward has been utterly lacing long-range shots all offseason. That versatility would make Thomas, who played power forward until his injury last season, an utter nightmare to guard and could introduce a new dynamism to a Memphis offense that was already pretty good in the first place. I'm really intrigued.
8. Lorenzo Brown, NC State
:
C.J. Leslie
is the obvious pick here, but I think we kind of know what we're going to get with him. He's athletic, he's one of the best in the country at catching on the block or elbow and diving to either side of the rim, and he should be locked in from start to finish this season. Maybe that's presumptuous, but I'm taking Leslie's productivity as a given. (OK, it's definitely presumptuous. Make me look smart, C.J.) Brown, on the other hand, feels more crucial because, like some of the other PGs on this list, it is his job to make the whole Wolfpack thing work. That includes integrating
Rodney Purvis
; playing better defense at the point of attack; and keeping Leslie involved and finding sharpshooter
Scott Wood
on the wing. If Brown has a top season, NC State might indeed be worthy of that lofty, tourney-run-infused No. 6 preseason ranking. If not, the "overrated" refrain will ring out early and often.
9. Phil Pressey, Missouri
: Senior guard
Michael Dixon
's indefinite suspension probably won't last too long, but that's hardly the only reason Pressey deserves a nod here. Along with Dixon -- who is more of a catch-and-shoot player than Pressey, a gifted ball handler, penetrator and creator -- Missouri's backcourt has kind of a crazy/thrilling challenge on its hands in 2012-13. The Tigers have to replace the losses of Kim English, Ricardo Ratliffe and Marcus Denmon with four transfers:
Keion Bell
(from Pepperdine), Jabari Brown (from Oregon),
Alex Oriakhi
(from Connecticut) and
Earnest Ross
(from Auburn). Those players have all been on campus for a while, and it's not exactly like figuring out guys you just picked up in an open run ... but compared to the rest of the country, it's not all that far off, either.
10. James Michael McAdoo, North Carolina
: It will be easy, in the coming months and years, to forget just how good North Carolina's 2011-12 frontcourt was. That's what happens when you have gigantic expectations and bow out of the NCAA tournament short of the Final Four. But let it be known: Tyler Zeller and John Henson (and, oh yeah, Harrison Barnes) were
really
good. Not only did they control the paint and score easily on the offensive end, but they were fast enough to race down the floor in Roy Williams' up-tempo system, getting easy buckets on offense and turning UNC's interior defense into its overall team strength.
Given all that, McAdoo has a ton riding on him in 2012-13. He was a highly touted recruit who probably could have been a lottery pick last season, but he chose to avoid that route (word to Marvin Williams) and come back to prove himself on the college stage. Carolina returns some promising wings (
P.J. Hairston
,
Leslie McDonald
) and brings in a really interesting frosh at point guard (Iowa native
Marcus Paige
), but McAdoo will be in charge of the low block. If he lives up to his heady NBA potential, look out. If not, UNC will labor. It's that simple.
March, 11, 2012
3/11/12
7:36
PM ET
ATLANTA — It didn't put the Zeller brothers in the same region (Tyler's Tar Heels are the No. 1 seed in the Midwest, Cody's
Indiana Hoosiers
are a No. 4 seed in the South). And there's no rematch with UNLV, the first team to beat North Carolina this season.
But the NCAA Selection Committee on Sunday couldn't resist several potentially intriguing opponents for UNC, which will open NCAA play next Friday in Greensboro.
A quick look:
If the Tar Heels get past Lamar or Vermont in their first game -- and no No. 1 seed has ever lost to a No. 16, remember -- they would match up with No. 8 Creighton (which plays No. 9 Alabama in its first game). That sets up a showdown between former high school teammates Harrison Barnes and Doug McDermott. Their Ames (Iowa) High School squad went 53-0 and won two state titles in their junior and senior seasons.
In-state rival NC State, which UNC beat three times this season (including in the ACC tournament semifinals), is the No. 11 seed in UNC's region. The Wolfpack would have to win three games in order to meet the Tar Heels in the regional final. But it's a fun rematch of a rematch of a rematch to think about.
The Tar Heels could potentially face No. 4 seed Michigan in the Sweet 16. UNC beat the Wolverines for the 1993 national title, a game that included Chris Webber's infamous timeout. The game was in New Orleans -- site of this year's Final Four -- and was Dean Smith's second national title.
The No. 2 seed in Midwest Region is Kansas, UNC coach Roy Williams' former team and the squad that beat the Tar Heels in the national semifinals in 2008. He drew lots of criticism for wearing a Jayhawks sticker while watching Kansas win the national title game that year.
And then there's Kentucky, the top overall seed in the tournament, and the No. 1 in the South Region. The Tar Heels lost to the Wildcats by a point in early December in what is still considered one of the best games of the season. The teams would meet in the national championship game.
MIDWEST (St. Louis) REGION
Greensboro
Friday, March 16
No. 1 North Carolina vs. No. 16 Lamar/Vermont winner
No. 8 Creighton vs. No. 9 Alabama
Nashville
Friday, March 16
No. 5 Temple vs. No. 12 California/USF winner
No. 4 Michigan vs. No. 13 Ohio
Columbus
Friday, March 16
No. 6 San Diego State vs. No. 11 NC State
No. 3 Georgetown vs. No. 14 Belmont
Omaha
Friday, March 16
No. 7 Saint Mary's vs. No. 10 Purdue
No. 2 Kansas vs. No. 15 Detroit
Follow Robbi Pickeral on Twitter at @bylinerp.
January, 11, 2012
1/11/12
3:30
PM ET
ESPN.com's Dana O'Neil has a great story today about how
freshman forward Cody Zeller has sparked Indiana's turnaround
. But it also recalls some of the pranks the youngest Zeller has played on his brothers, including Tyler Zeller, North Carolina's senior forward.
For example, she writes:
On Facebook one day this past summer, Lorri's page read, "I'm so thankful for my boys, especially Tyler because he's adopted."

"I started getting all these messages, 'Oh, we didn't know Tyler was adopted.' Well, he's not," Lorri Zeller said. "I leave my Facebook page open, and Cody went in and wrote like it was me. I was just like, 'Oh my gosh, Cody.'"
Another one, also from the social networking world:
Cody once wrote on Twitter, "This year for Halloween, I'm thinking about wearing a #44 North Carolina jersey with big ears, a big nose and clown shoes."
Jokes aside (or maybe included?), the brothers are extremely close. They talk often, and compete at just about everything when they are at home (Tyler was even able to attend one of Indiana's games over the Christmas holiday).
Tyler Zeller said in a recent interview, though, that both he and Cody are glad UNC and Indiana didn't meet up this this season's Big Ten/ACC Challenge.
"He realizes that we can beat them. He'll admit that,'' Tyler insisted. "I think they would give us a run for our money; they're a very good team. Hopefully we would end up on top, though."
Follow Robbi Pickeral on Twitter at @bylinerp.
November, 29, 2011
11/29/11
12:05
PM ET
Tyler and
Cody Zeller
have long been known for their ability to run the floor.
Wednesday night, their parents will be tested on how quickly they can navigate I-40.
As timing would have it, freshman Cody's
Indiana Hoosiers
will face NC State in Raleigh, N.C. at 7:15 p.m. on Wednesday night in the ACC/Big Ten Challenge. About 2 hours, 15 minutes later, senior Tyler's fifth-ranked
North Carolina Tar Heels
will tip off against seventh-ranked Wisconsin in Chapel Hill, N.C.
After an 11-hour drive from Washington, Ind., Tuesday, Lorri and Steve Zeller are determined to see both sons in both games, even though they are being played about 23 miles (and roughly a 30-minute drive) away from each other.
"No, we don't know any good back roads -- we're just hoping to plug in the GPS, click 'fastest route,' and go,'' Lorri said in a telephone interview, laughing.
Things might have been a bit easier, driving-wise, had the scheduling gurus opted to pit the 7-foot brothers against each other, although Lorri was glad they didn't.
"When we found out about this week, and how close they'd be playing each other, we were excited, because it meant we'd be able to see both of them -- although it would have been nice if one was playing Tuesday and the other Wednesday," she said.
As it is, the Zellers are hoping for a quick early game -- with enough of a winning margin so they can slip out of Raleigh's RBC Center early. Depending on traffic (and parking availability), they figure they might not make it to the Smith Center in Chapel Hill by tipoff, but they hope it won't be too long after.
Tyler grinned recently at the notion, curious about how close his parents planned to cut it.
"It will be interesting to see if they leave his [Cody's] game early, or show up for my game late,'' he quipped, starting to laugh. "... They'll probably stay at his game, they like him more. I've accepted that over my years."
Actually, in order not to play favorites (and to not lose precious traveling time in order to change), the Zellers will be wearing specially-made shirts for the occasion: one half printed with North Carolina's logo, the other half with Indiana's.
They're somewhat similar in design to the tops they wore in Maui during Tyler's freshman season -- when he would have played against his older brother Luke (a starter for Notre Dame at the time), had he not been injured.
"We're basketball junkies, so watching all of our sons has been a lot of fun,'' Lorri said. "... [Wednesday] will be a challenge, but it's a good challenge to have."
Robbi Pickeral can be reached at bylinerp@gmail.com. Follow her on Twitter at @bylinerp.