North Carolina Tar Heels:

Craig Neal
March, 8, 2012
3/08/12
9:15
PM ET
ATLANTA – Roughly a week ago, North Carolina beat Maryland to stay in the race for the regular-season ACC title.


Friday at Philips Arena, the top-seeded Tar Heels will face the eighth-seeded Terps in their first step toward winning the ACC tournament title.
On the line this weekend for the Tar Heels: a
possible top seed in the NCAA tournament
, the chance to continue gaining momentum by extending their seven-game winning streak.
For Maryland, it's a chance to get young players more experience – and for ACC leading scorer
Terrell Stoglin
to
continue rounding out his game
.
A few things to watch:
KENDALL MARSHALL'S ASSISTS
Start counting early, because UNC's sophomore point guard needs only five assists to break
former Georgia Tech ballhandler Craig Neal's ACC season record of 303
(set in 1988). Marshall tied a career high with 16 assists in UNC's victory at Maryland on Feb. 4, then recorded eight during the rematch last week.
His season-low for assists is 4 – during his team's 33-point loss at Florida State on Jan. 14 – so the question isn't whether the record will fall; but who will be on the other end of the pass when it does?
REBOUNDING
The Tar Heels have not lost the battle on the boards in 13 consecutive league games, the longest streak against ACC foes since the 2007-08 season (when that team won or tied in rebounds in all 16 regular-season games, plus three conference-tournament games).
UNC out-rebounded Maryland by 7 and 1, respectively, during this season's matchups.
FRESHMAN WATCH
Maryland freshman guard
Nick Faust
has scored in double figures in six of his past seven games (13.0 ppg), since returning to the starting lineup after the season-ending injury to Pe'Shon Howard.
North Carolina freshman forward
James Michael McAdoo
, meanwhile, has come on strong of late. He was aggressive, controlled and confident during his 6-point, 4-rebound game off the bench at Duke – a combination the Tar Heels have been waiting for all season.
Follow Robbi Pickeral on Twitter at @bylinerp.
March, 8, 2012
3/08/12
10:00
AM ET
CHAPEL HILL, N.C. -- North Carolina point guard
Kendall Marshall
doesn't know a whole lot about former Georgia Tech ballhandler Craig Neal.
"I just see his name on the list, and I've been trucking away at these names,'' Marshall said earlier this week.
You can't really blame the sophomore if Neal doesn't pique his memory. Marshall wasn't even born when the 6-foot-5 Yellow Jackets passer set the ACC single-season record for assists, in 1987-88. His 303 dish-out-mark has survived the careers of some of the league's great passers, such as NC State's Chris Corchiani, Duke's Bobby Hurley, and UNC's Ed Cota.
Even Neal is surprised at how long it has held up. Although Marshall, whose team will play either Maryland or Wake Forest on Friday in the quarterfinals of the ACC tournament, is only five assists away from breaking it.
[+] Enlarge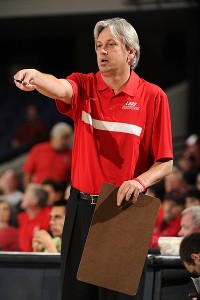 Matt A. Brown/Icon SMICraig Neal, now an assistant at New Mexico, says great passing gets overshadowed by the media's preoccupation with dunks and gaudy points totals.
"I just think the game is played a little bit different, maybe," Neal, now an assistant coach at New Mexico, said during a phone interview this week. "I think kids are trying to score more.... But Marshall, he's an old-school point guard."
By "old-school,'' Neal includes the best ballhandlers of the '80s, guys such as UNLV's Mark Wade (406 assists in 1986-87), Southern's Avery Johnson (399 in 1987-88) and Bradley's Anthony Manuel (373 in 1987-88) who still top the NCAA record books in assists for a season. (Neal is 12th).
There are several factors accounting for why their marks remain: Assists weren't counted as an official stat by the NCAA until the mid-1980s, meaning they set the standard. The best players (and point guards) don't necessarily stay four seasons anymore, limiting their chances to break records.
And as Marshall explained, "In the new generation, point guards are a lot more scorers, and they're looking to attack the basket. I'm not saying they're not going to pass, but that's not maybe their first priority, because teams need them to score."
That wasn't the case when Neal played. Teamed with a starting lineup that included Dennis Scott, Tom Hammonds, Duane Ferrell and Brian Oliver, the fifth-year senior recorded fewer points (247) than assists on the up-tempo '88 team that went 22-10 under Bobby Cremins.
"We had some great games; my assist totals really started adding up in ACC games rather than in preconference games, so I think that means a lot more to me now, just because of how good the league was back then,'' Neal said. " … I think one of the greatest things about our team was we really all knew our roles, and sometimes, that doesn't happen now with teams. And that was a unique situation, and they had a lot of confidence in me. I had the ball in my hands a lot, and was just trying to make something happen, other than try to score."
Sort of like Marshall.
In two of his last four games, UNC's 6-foot-4 creator has scored 20 or more points, proving he is more than "just" a passer.
But he still prefers to fuel a play rather than finish it (to the tune of 9.6 apg per game this season) which Neal says remains an underappreciated quality.
"I think the perception of, 'You have to score to be a big time point guard and impress everyone', I think that's a really big misconception,'' Neal said. "Everybody dreams about playing after college, and it's just so funny that a lot of guys like myself from the '80s got a chance to play because we were point guards. We understood the importance of the position. We were unselfish, and it was team first.
"And I think kids, the media … everybody these days gets fired up on dunks, and how many points you score. And there's not too many highlights on ESPN or anywhere else where they show a great pass, or a kid that throws five or six great passes or leads his team to winning 22 games and being ranked high. I think sometimes, it's just so sensationalized that it [assists] just kind of gets lost in the shuffle. But in the 80s, it was important. And playing that position was important."
Maybe Marshall (as well as Iona's
Scott Machado
, the only player this season averaging more assist than him, at 9.9 per game) is bringing that aspect of the game back into the spotlight. UNC coach Roy Williams noted earlier this week that his starting ballhandler "makes better decisions with the basketball than any point guard I've ever had."
It was a compliment that made Marshall say "wow."
Meanwhile, Neal noted one of the kids from his hometown -- ACC Player of the Year
Tyler Zeller
, from Washington, Ind. -- has contributed to Marshall's impressive assist total, powering the record-breaking pace with lay-ups and hook shots and dunks.
Perhaps it's another sign that the time (and player) is right for this 24-year-old record to finally fall.
"[Marshall] has got his team playing as good as anybody in the country, and they can make a deep run in the tournament, and the reason is because of him,'' Neal said. "It's not always what's in the drink, it's what stirs the drink. He's a unique player, he's a special kid, and I'm a big fan of his.
"… All records are meant to be broken, and I'm happy that a player of his magnitude and somebody that I really respect as a player, is going to break mine."
Follow Robbi Pickeral on Twitter at @bylinerp.
February, 29, 2012
2/29/12
9:15
PM ET
CHAPEL HILL, N.C. -- A quick look at sixth-ranked North Carolina's
88-64 victory
over Maryland at the Smith Center on Wednesday night:


How it happened:
On senior night, it was senior forward
Tyler Zeller
's night; the 7-footer scored 30 points, including shooting 20-of-23 from the free throw line, a Smith Center record (and one off the school record) for made freebies.
It wasn't seamless early, though.
Both teams shot worse than 40 percent in the first half, as Zeller and junior forward
John Henson
combined for 25 of the Tar Heels' 36 points en route to a 36-25 lead. Maryland turned it over 11 times before the break, while the Tar Heels committed six turnovers and outrebounded the Terps by only two.
The Tar Heels were sloppy, so much so that coach Roy Williams stripped off his sports coat in frustration after a bad pass with 15:40 left, with his team leading by eight. Terps coach Mark Turgeon showed some angst of his own, picking up a technical foul about four minutes later, when his team trailed by 11. UNC, though, followed that with a 16-0 run, breaking open the game.
And the only real question then was whether Zeller would break his career scoring record. In the end, he came up two points short of tying it. But the ACC player of the year candidate took his curtain call with 6:39 left -- hugging Williams, high-fiving his teammates on the bench and waving to the chanting, standing, appreciative crowd.
Henson added 19 points for the Tar Heels, who shot 39.4 percent.
Nick Faust
led the Terps with 17 points.
What it means:
The victory kept the Tar Heels tied atop the ACC standings with Duke at 13-2; the rivals will face off Saturday at Cameron Indoor Stadium for the regular-season league title and the No. 1 seed in the conference tournament. Expect a focused showdown. Not only will UNC be trying to avenge its one-point loss earlier this month -- when Devils freshman
Austin Rivers
buried a game-winning 3-pointer to secure a double-digit comeback -- but both teams are trying to keep their hopes alive for a No. 1 seed in the NCAA tournament.
Maryland now has lost three of its past four games.
Hubbub:
It took a while, but North Carolina point guard
Kendall Marshall
set the single-season school assists record with about 18 minutes left on a pass to
Harrison Barnes
. Entering the game, he needed four to pass Ed Cota (who had 284 in 1999-2000), and Marshall finished with eight. He now needs only 15 more to pass former Georgia Tech guard Craig Neal for the ACC record; he tossed 303 in 1987-88.
Hubbub, too:
As expected, senior walk-ons
Stewart Cooper
,
David Dupont
and
Patrick Crouch
joined senior reserve
Justin Watts
and regular senior starter Zeller in the opening lineup for the quintet's final game at the Smith Center. The score was tied at 2 when the normal starters joined Zeller at the 17:55 mark.
What's next:
The Tar Heels will face the Blue Devils at Cameron Indoor Stadium on Saturday. Maryland hosts Virginia on Sunday.
February, 21, 2012
2/21/12
7:00
AM ET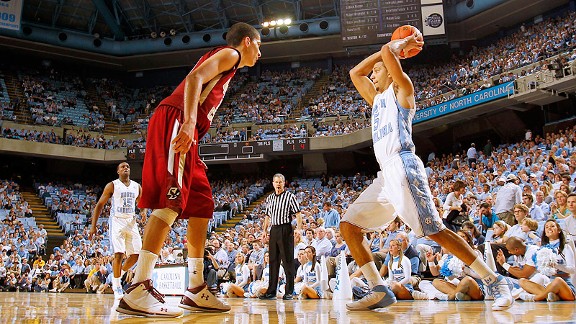 Bob Donnan/US PresswireKendall Marshall is 42 assists away from breaking the ACC's single-season record.
CHAPEL HILL, N.C. -- North Carolina point guard
Kendall Marshall
allowed himself to savor his latest double-digit assist effort -- 13 against Clemson on Saturday -- for all of 90 minutes.
"Until I went and checked ESPN, and saw that [Iona's]
Scott Machado
had 15 assists," he said Monday, smiling and shaking his head. "I was like, 'Oh, God. I'm still struggling to catch this guy.'"
Don't get the sophomore Bob Cousy Award candidate wrong. The first way Marshall judges his play is whether his seventh-ranked team, which faces rival NC State in Raleigh on Tuesday night, wins. "If our team is getting great shots, it doesn't matter to me if I'm getting credit for the assists."
Another way is his turnovers: "I think a good game for me is when I keep them under one or two."
But the pass-first ball handler freely admits he enjoys those double-digit assist games. (He's posted 11 this season and 17 for his career.) And during a season when his closest ACC competition averages more than three fewer dish-outs per game -- the Wolfpack's
Lorenzo Brown
is second in the league at 6.5 -- Marshall often looks to Machado's numbers (nation-leading 10.1 assists, compared to Marshall's 9.7) as a personal challenge.
He also eyes the record books, where his 262 assists are closing in on some historic digits.
"Obviously, those are feats I want to accomplish. I know I've got 22 to tie Ed Cota [for the single-season UNC record for assists], I know I've got a long way to go to get the ACC mark," Marshall said. "First and foremost, we want to win games. But I feel like we're winning games at our best when I'm getting my teammates great shots. So they sort of go hand in hand."
Indeed, Marshall's ability to find his teammates 13, 14, 15 times an outing has become so commonplace that it's often taken for granted.
"Sometimes you think, 'I'm open right now; I'd really like -- and then bam! It's there," UNC forward
Harrison Barnes
said. "He always finds you. And that's why we've got the best point guard in the country."
But what Marshall can do, and so often, is rare.
Consider this:
With six guaranteed games left (four regular-season, at least one ACC tournament, at least one NCAA tournament), Marshall needs to average only 3.83 assists to break Cota's single-season school mark of 284, set in 2000, and would need to average only 7.0 to top Georgia Tech guard Craig Neal's ACC record of 303, set in the 1987-88 season.

He's on pace to exceed Wolfpack great Chris Corchiani's single-season ACC average of 9.6 assists per game, an ACC record that has stood since 1991. (Cota holds the school record at 8.1.)

Marshall already has posted five career games with 15 or more assists. To put that into perspective, Raymond Felton (18), Jeff Lebo (17) and Cota (17) are the only other players in UNC history who have dished out that many in a single outing. And they did it only once apiece.
"He's so unique -- you don't see many guys like him," Clemson coach Brad Brownell said Saturday. "His ability to pass, his unselfishness, his IQ for the game is tremendous. Who wouldn't want to play with that guy? Who wouldn't want to coach him? He takes so much pressure off you as a head coach because he makes so many decisions that you don't need to tell him a whole lot."
Everyone likes to talk about Marshall's extraordinary court vision, but there's more to it than just seeing (especially considering he wears a contact in his left eye). It's about feel, about thinking two or three throws ahead, about knowing exactly where his teammates want to catch the ball and being able to get it there.
Marshall freely admits he lacks the foot speed of most elite point guards, but he pushes the ball up the court with lightning pinpoint throws -- looking not for the first pass but envisioning the one that ultimately leads to a bucket.
"I think that's where Kendall is different than any other point guard in the country -- he can really pass ahead," Duke coach Mike Krzyzewski said. "And not just a pass ahead for somebody to make a move. He's made the move for the guy with the pass."
UNC coach Roy Williams said that's an innate skill that can't really be coached.
"Great poker players have that memory, and I think Kendall sees the game as a whole," Williams said. "It's hard. Some players never see the game as a whole. Tyler Hansbrough did not. It was 'Give me the ball, I'm putting it in that basket.' But Kendall sees the whole court -- and when he doesn't see it, he still has that vision in his head."
Marshall said he doesn't know exactly where his court sight comes from, only that he's always loved to pass. Growing up, he remembers, his dad actually used to get mad at him for not shooting the ball more.
And although he's worked on his shot this season (he's averaging 6.6 points), he's still always looking for his teammates first. "That's what makes our team special," senior forward
Tyler Zeller
said. And Marshall, who is averaging a team-leading 32.4 minutes, so invaluable.
In the coming weeks, there will be plenty of debate about ACC Player of the Year candidates, and "Barnes" and "Zeller" will be among the most repeated names in the chatter.
Marshall, though, should be credited for the often-umpteen times he finds the duo (and the rest of his teammates) for dunks or hook shots or jumpers. Even though he allows himself only scant hours to enjoy those double-digit outings and soon-to-be records.
"I do pay attention," he said, "... but winning games comes first."
Follow Robbi Pickeral on Twitter at @bylinerp.