North Carolina Tar Heels:

D.J. Cooper
March, 23, 2012
3/23/12
10:37
PM ET
ST. LOUIS -- Quick thoughts from North Carolina's
73-65 overtime victory
over Ohio in the Sweet 16 on Friday.


Overview:
On a night when it didn't have star point guard
Kendall Marshall
, No. 1 seed North Carolina couldn't have been more thankful for
Reggie Bullock
after its overtime win against No. 13 seed Ohio. A sophomore, Bullock helped bail out a sloppy Tar Heels team that clearly wasn't at its best with its floor leader out and leading scorer
Harrison Barnes
struggling to find his groove.
Bullock's clutch 3-pointer with 39 seconds remaining turned a 61-60 deficit into a 63-61 lead. Ohio forced a tie on its next possession when
Walter Offutt
was fouled while making a layup. Offut squandered the opportunity for a 3-point play when he missed the ensuing free throw. Offut blocked Barnes' game-winning shot attempt on the other end to force overtime.
Bullock came up huge again moments later when he opened the extra period with a 3-pointer to put his team ahead 66-63. The shot set the tone for the game's final five minutes, when North Carolina cruised to a victory by outscoring the scrappy Bobcats, 10-2.
Bullock finished with 17 points and made five of his 10 attempts from beyond the arc. The victory had to be special for the Kinston, N.C., native, who missed last season's NCAA tournament with a knee injury.
Fearless as Bullock was Friday, the best player on the floor was North Carolina's
Tyler Zeller
, who 20 points and a career-high 23 rebounds. Eight of Zeller's boards came on the offensive end, which helped North Carolina outscore Ohio 14-4 on second-chance points.
Barnes, who averages a team-high 17.4 points, was just 3-of-16 from the field Friday and finished with 12 points. Offut had a game-high 26 points for Ohio on 10-of-18 shooting.
Gutsy as the victory may have been, North Carolina's chances of advancing to the Final Four appear to be in jeopardy without Marshall, who is generally regarded as one of the top two or three point guards in all of college basketball. Marshall, who injured his wrist in last Sunday's victory over Creighton, averages 9.7 assists and is the key reason the Tar Heels have been able to play at a fast, frenetic pace all season.
With combo guard
Dexter Strickland
out with a knee injury, North Carolina's only option Friday was to turn to freshman
Stilman White
, who entered the game averaging 4.3 minutes and 0.7 points on the season. Considering the circumstances, White did a more than admirable job Friday. His only points came on a pair of free throws, but he had 6 assists in 32 minutes and didn't commit a single turnover.
Still, the Tar Heels will have a tough time beating either Kansas or North Carolina State on Sunday without Marshall, whose status is uncertain.
Turning point:
Bullock's 3-pointer at the beginning of overtime set the tone for the extra period and appeared to deflate Ohio. Bobcats guard
D.J. Cooper
missed a 3-pointer on the other end on Ohio's next possession, and UNC responded with a 17-footer by Barnes. At that point, the Tar Heels had a 68-63 lead and momentum they would never relinquish.
Key player:
Bullock's 3-pointers were huge and Zeller, as he's been all season, was steady from start to finish. But in this situation it's hard not to praise White for his performance on such a big stage. As coach Roy Williams likes to say, White helped the Tar Heels by not hurting them.
Key stat:
North Carolina has now won 11 consecutive Sweet 16 games.
Miscellaneous:
North Carolina opened the game on a 26-11 run before allowing an 11-3 march by Ohio to end the half. It was 29-22 at intermission. ... Ohio shot just 23 percent in the first half. ... Barnes missed 11 of his first 12 shots.
Up next:
The Tar Heels will take on No. 2 seed Kansas. The teams haven't met since the 2008 Final Four. Kansas won that game and went on to win the NCAA title with an overtime victory over Memphis two nights later.
March, 22, 2012
3/22/12
8:30
PM ET
ST. LOUIS -- Ohio point guard
D.J. Cooper
received so many messages after his 13
th
-seeded team topped South Florida to reach the NCAA Sweet 16 that he couldn't keep count.
But the most special one came from his mom, Dionne.
"She has this habit of texting me during the game -- even though I can't read them until after," he said, noting that he'll sometimes have five or six waiting for him after the final horn. "In this one, she told me how proud she was of me, and how much she loved me. She always does … but that was an especially good feeling, in that moment."
[+] Enlarge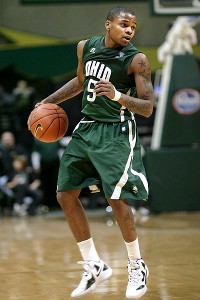 Tim G. Zechar/Icon SMIOhio point guard D.J. Cooper can score, but his defense has proved to be just as dangerous.
The goal now: to experience a similar feeling (and moment) after his team's matchup with top-seeded North Carolina on Friday night at the Edward Jones Dome.
With Tar Heels point guard
Kendall Marshall
's availability in doubt after surgery to repair his fractured wrist Monday, Cooper's play will be especially key to whether the Bobcats -- the lowest-seeded squad to make a regional semifinal since Bradley in 2006 -- keep their postseason run alive.
The 5-foot-11 athlete from Chicago averages 14.9 points, but more importantly, 2.3 steals a game on a team that ranks fourth in the nation in swipes per contest (9.3 per game) and sixth in turnover margin (plus-4.2).
That's important against a foe that might have to start a freshman point guard (
Stilman White
) who is averaging only 4.3 minutes per game.
"All year, coach has been talking about playing with our hands up, keeping it tight, being able to guard our yard," Cooper said. "And that's what we have to do Friday, too, no matter which [point] guard we're playing against."
Also key against the Tar Heels will be getting back in transition. Not only does UNC play fast but it boasts one of the best frontcourts in the country in 7-foot
Tyler Zeller
, 6-11
John Henson
and 6-8
Harrison Barnes
. The tallest contributors in the Bobcats' rotation are 6-8, and no one averages more than five rebounds per game.
Still, Henson called Ohio a dangerous team.
"They're shooting better than they shot all year, 3-point wise, playing more confident," he said. "I mean, even in practice, when our [scout] guys are running their offense, it's tough to guard. So it's going to be a challenge, and we're going to play hard and see what happens."
Ohio coach John Groce said his team is preparing as if Marshall will play but has contingency plans if he does not.
And even though he doesn't know exactly who his opponent will be, Cooper is sure of one thing: His mom will be sending texts throughout the game, offering comments and feedback.
"It's fun to look back and read what she was thinking," he said, smiling.
He hopes that looking back after Friday's game will give him that especially good feeling again.
WHO TO WATCH:
OHIO: Cooper.
The junior is a do-it-all guy, averaging 20 points, 4 rebounds and 6 assists in the NCAA tournament. "He's really a gifted kid who, the last couple games, has really been dominant for them," UNC coach Roy Williams said.
NORTH CAROLINA: White and Justin Watts.
UNC's bigger guys should be able to have big games -- if the fill-in point guards can get them the ball. White and Watts, the third and fourth ballhandling options at the beginning of the season, have 24 assists combined this season. Marshall, by comparison, had 21 in his previous two games. Williams has stressed that these two don't need to play like the Cousy Award finalist, but they do need to protect the ball from the thief-prone Bobcats and get it into the hands of the playmakers.
WHAT TO WATCH: Outside vs. inside.
Ohio has made 15 of 34 3-pointers in the NCAA tournament, led by Cooper and
Walter Offutt
. That's been an Achilles' heel for the Tar Heels, who struggled against foes (at Florida State and versus Duke, for instance) that got hot from behind the arc.
North Carolina, meanwhile, is at its best when its frontcourt is playing its best. UNC needs Zeller, Henson, Barnes and
James Michael McAdoo
to use their size advantage on the boards -- and to finish plays.
Follow Robbi Pickeral on Twitter at @bylinerp.
March, 21, 2012
3/21/12
10:48
PM ET
By
ESPN Stats & Information
| ESPN.com
Our Sweet 16 preview continues with a look at the matchups in the Midwest Regional on Friday:
(13) Ohio vs. (1) North Carolina, 7:47 ET


According to
North Carolina
head coach Roy Williams, the Tar Heels are preparing to play Friday's game without starting point guard
Kendall Marshall
.
Without Marshall as the primary ball handler, the Tar Heels could have difficulty getting past the
Ohio Bobcats
tomorrow. Ohio forces 17.2 turnovers per game, the fifth-highest mark in the nation and most among the remaining Sweet 16 teams.
Marshall has also shined as the team's offensive catalyst during the tournament, creating 80 points in his two games from either his own scoring or assists. Against Creighton, Marshall was responsible for 45 of the team's 87 points (55 percent).
If Marshall is not able to play, North Carolina's ability to finish in the paint and in transition will likely be hurt. Nearly 30 percent of his 201 assists since the start of ACC play have come in transition.
Also, two-thirds of Marshall's assists in that time frame have resulted in paint shots.
Tyler Zeller
has been the biggest benefactor during this stretch, with 43 percent of his field goals coming off passes from Marshall.
Ohio's most indispensable player is guard
D.J. Cooper
, who will be on the court Friday, and the Bobcats are certainly happy about that. Cooper has scored or assisted on 71 of Ohio's 127 points (56 percent), the highest percentage for any player remaining in the field.
(11) NC State vs (2) Kansas, 10:17 ET


One key battle to watch in this Sweet 16 matchup will be the ability of
NC State's
big men to dominate
Kansas'
forward-center tandem of
Thomas Robinson
and
Jeff Withey
around the basket.
The Jayhawks have allowed just 22 points in the paint per game this season, which leads the Big 12 and is second among major conference schools. The Wolfpack are averaging 33 paint points per game this season, which ranks second in the ACC and 11th among the Power 6 teams.
However, NC State struggled to find its inside game against Georgetown in the third round. The Wolfpack shot less than 35 percent and scored just 20 points on attempts in the paint, including only six in the second half.
If Kansas is going to advance to the Elite Eight, the Jayhawks might want to improve their mid-range game. Kansas is shooting 27 percent outside the paint in the tournament, the worst among the remaining teams in the field.