North Carolina Tar Heels:

David Noel
December, 13, 2013
12/13/13
4:30
PM ET


Ranking the wins and losses of the Kentucky series during the last 10 seasons, which coincides with the Roy Williams era at North Carolina:
The UNC wins
1. The first Noel
Dec. 3, 2005: UNC 83, UK 79
[+] Enlarge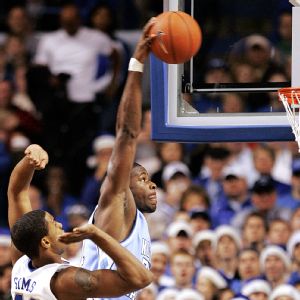 AP Photo\Ed ReinkeDavid Noel's dunk was a big play in North Carolina's win at Kentucky in 2005.
No play epitomized Carolina's surprise upset the way David Noel's baseline dunk summed up the entire game. UK and Rajon Rondo never saw it coming as the unranked and unheralded Heels, who lost seven players from the 2005 national championship team, beat the No. 10 Wildcats in Lexington. Reyshawn Terry scored a career-high 25 points for UNC.
2. Zeller goes off
Dec. 4, 2010: UNC 75, UK 73
Tyler Zeller had 27 points, 11 rebounds, five blocks and went 10-for-10 from the free throw line. The unranked Tar Heels stumbled into the game with a 4-3 record but regained their swagger after knocking off the No. 10 Wildcats and later advanced to the Elite Eight.
3. Raise your hands
Dec. 4, 2004: UNC 91, UK 78
Williams asked his team in practice to raise their hands if they'd ever beaten Kentucky. Only the coaching staff had that experience until the Heels broke their four game losing streak in the series. A season after being held to just four points against UK, Rashad McCants scored 28 as the Heels cruised.
4. No Hansbrough, no problem
Nov. 18, 2008: UNC 77, UK 58
Deon Thompson scored 20 as the Tyler Hansbrough-less Heels, ranked No. 1, ran out to a 16-point lead and easily beat Kentucky. It was the final appearance for coach Billy Gillispie in the series.
5. Pulling the starters
Dec. 2, 2006: UNC 75, UK 63
Williams yanked his starting five early in the second half when they didn't hustle on 50-50 plays. When he inserted the starters back in the lineup, Carolina had an 11-2 run and wasn't threatened the rest of the game. Freshman Wayne Ellington led the Heels with 17 points.
6. Still No. 1
Dec. 1, 2007: UNC 86, UK 77
Carolina led by as many as 20 in winning its first game as the No. 1-ranked team against UK since 1981. Reserve Danny Green scored a career-high 20 points in Lexington.
The UNC losses
1. Frustrated and fouled out
March 27, 2011: UK 76, UNC 69
John Henson was just two blocks shy of tying Brendan Haywood's single-season record, but foul trouble kept him from being a factor in the game. Henson got his fourth foul with 16 minutes left in the game and sat most of the second half of the East Regional final. Carolina was within 1 when DeAndre Liggins delivered a 3-point dagger with 35 seconds left. The Cats denied Roy Williams his fourth Final Four trip while at Carolina.
2. Block heard round the Commonwealth
Dec. 3, 2011: UK 73, UNC 72
Anthony Davis blocked Henson's shot with seven seconds left and the stunned Heels didn't react to foul as time ran out against the No. 1 Wildcats. The initial play went into Zeller on the blocks, but he lost control of the ball and it landed in Henson's hands.
3. Fitch from 3
Jan. 3, 2004: UK 61, UNC 56
Gerald Fitch's fadeaway 3-pointer with 23 seconds left capped the Wildcats' comeback from a 10-point halftime deficit to beat Carolina in Williams' first season in Chapel Hill.
4. Great Wall of Rupp
Dec. 5, 2009: UK 68, UNC 66
Carolina's rally from a 19-point deficit came up short as Raleigh native John Wall scored 16 points had seven rebounds and seven assists in the first win in the series for John Calipari.
January, 4, 2012
1/04/12
1:00
PM ET
Right around Christmas, former North Carolina forward Jawad Williams, a starter on UNC's 2005 national championship team, found himself having dinner with fellow Tar Heel alums David Noel, Sean May and Shammond Williams -- in Paris.
"David and I play on the same team in France now; Sean [who plays in Croatia] had a few days off, so he came to town; and Shammond, being as cultured as he is, just travels Europe sometimes,'' Williams said, laughing. "And we just missed Marcus Ginyard -- we were leaving as he was coming into town.
"…It's a great thing, but it's kind of scary, when we realize how much we do still hang out with each other. This Carolina family, it really is world-wide."

Williams, who has previously played in Spain, Israel and Japan, and for the NBA's Cleveland Cavaliers in 2008-09, and 09-10, was in town this week with his wife, Angel, and 14-month-old daughter, Nailah. He sat behind the Tar Heels bench during Sunday's win over Monmouth, and will re-join the Paris-Levallios team (where he is having an all-star season) next week. We caught up with him before he left:
Q:
How did you and David Noel end up on the same team?
A:
Dave played with that team last season, too … and he stalked me all summer. I wasn't sure where I wanted to go, if I wanted to wait around for the NBA lockout to end. I decided I wasn't going to wait, and to go live it up in Paris for a little while. But David stalked me for most of the summer, trying to get me to come over and sign. It's been great playing with him; he's been able to help me a lot, learning how to get around the city and learn the language a little bit. It's been a blessing.
Q:
What has it been like, playing with each other again?
A:
We find each other on the court, easily. It's no problem. We played together in college, we spent every summer together since college [playing pickup in Chapel Hill]. I tend to get a lot of my assists and things off David, and he tends to do the same thing, vice versa.
… And our coach, he's asked us if there are other Carolina guys who would want to come and play with us. We've actually set up and installed some of the plays we used to run at Carolina. We sit there, we watch film with him, we tell him, 'This is what we used to do.' He's picked up on the plays, and it's been pretty successful for us. I guarantee if you would ever see one of our games, a lot of our plays would look real familiar.
Q:
Do you hope to get back to the NBA, at some point?
A:
I've been given some options to come back, but I'm not really thinking about that right now, it's in the back of my mind. I'm enjoying my time on my team, and my family and I are just enjoying day to day -- seeing places and things that we probably wouldn't be able to see if I wasn't playing basketball.
Q:
Does it seem like seven years ago that you won the national title?
A:
No, because I constantly get reminded about it. Even when I got to France, there were a few guys there with all Carolina gear on. … There was a guy who had a Sports Illustrated, who tried to get Carolina guys to sign it when they come to Europe. It's a great thing, how many fans the Tar Heels have around the world.
Q:
What do you make of this year's UNC team?
A:
I think they're great. They're definitely not the '05 team, but I think they're great. They wouldn't beat us … but I definitely think they have a chance to do something special. I love their work ethic. Being with those guys, and playing against them during the summer, I love watching them play.
And I know everybody keeps saying, 'You're going to give John a big head,' but the development in John [Henson]'s game, from the first time he stepped on campus, is amazing. I remember working out with John, and saying to him once, 'If you ever develop a jump shot, you'll be deadly.' And now I'm watching him shoot turnarounds, facing up. He's put in the work. I've seen him put in the work during the summertime, and it's great.
Q:
Coach Roy Williams mentioned earlier this week how wonderful it was to turn around and see you at the Monmouth game. What's it like for you, watching games in the Smith Center?
A:
I love coming back. When I walk through the tunnel that the team goes through, I still feel like I'm getting ready to play, I still get goose bumps. All the money I've made in my career -- and I'm sure a lot of guys who played [for UNC] would say the same thing -- I'd give it all up, just to go back there, to be able to play in the Dean Dome again.
Follow Robbi Pickeral on Twitter at @bylinerp.