North Carolina Tar Heels:

Dean Smith
March, 5, 2014
Mar 5
9:44
AM ET
By
ESPN.com staff
| ESPN.com
To watch Tipoff Live on your smartphone, click here.
ESPN.com reporters Eamonn Brennan, Mryon Medcalf and C.L. Brown join host Chantel Jennings to discuss the biggest bubble battles, Kansas without
Joel Embiid
, legendary North Carolina coach Dean Smith's health and more from the last week of the regular season.
November, 21, 2013
11/21/13
2:00
PM ET
UNC coach Roy Williams addressed the media before the Tar Heels travel to Uncasville, Conn., for the Hall of Fame tipoff this weekend.
[+] Enlarge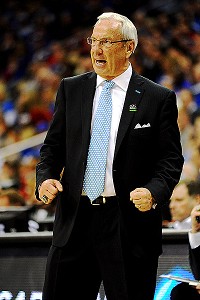 Denny Medley/USA TODAY SportsRoy Williams wasn't pleased with the Tar Heels' defensive effort against Belmont.
The Tar Heels face Richmond on Saturday and either Fairfield or No. 3 Louisville on Sunday.
Some topics Williams covered:
P.J. Hairston and Leslie McDonald will not travel with the team. The duo has yet to play this season while awaiting the NCAA to rule on their eligibility.

The Heels took a step forward offensively against Belmont from their sluggish performance against Holy Cross, but Williams said they took a step back defensively, allowing the Bruins to shoot 40 percent from the 3-point range. "I wasn't pleased at all, and when I looked at the tape, it was even worse," Williams said. "It's a strangeness to it because I thought we did make some great strides and were much better offensively against Belmont, but defensively we were not there.

Williams said their 22-for-48 free throw performance will go down as one of the two worst of his coaching career. It was particularly perplexing because both James Michael McAdoo and J.P. Tokoto had shot better than 80 percent from the line during a recent practice. McAdoo was 11 of 19 and Tokoto 4 of 16 in the loss to Belmont. "If two guys make 81 and 84 percent on their own, I can't simulate what their thought process is in a game," Williams said. "We've got to be able to handle that part of it. We do shoot them, more than likely we're going to shoot more."

Richmond has made only 17 total 3-pointers this season and shot 18.7 percent from behind the arc. (Belmont had made only 15 overall entering Sunday's game before duplicating that number and shooting 40 percent from 3-point range against the Heels.) Williams said he watched half of the Spiders win over Belmont on Wednesday after returning from the Medal of Freedom ceremony at the White House, whose honorees included Dean Smith."It should get our guys' attention the team that beat us lost to the guys we're playing next," Williams said. Williams later "knocked on wood" first tapping his desk then his head when adding that the Spiders, "haven't shot it great from the 3-point line yet."

Freshman forward Isaiah Hicks logged just two minutes against Belmont, which happened in part because of matchup problems, but Williams said that will change. "It was the only thing at the end of the game I was mad at myself about," Williams said. "I should have given him more opportunities. We're going to give him more opportunities."
November, 20, 2013
11/20/13
11:00
AM ET
Former North Carolina coach Dean Smith will receive the Presidential Medal of Freedom -- the nation's highest civilian honor -- today along with 15 other recipients that include former President Bill Clinton.
[+] Enlarge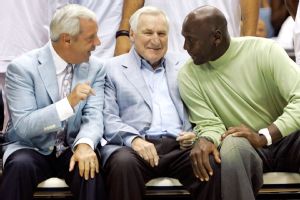 AP Photo/Gerry BroomeDean Smith (center) has mentored coaches and players alike.
Smith's wife, Linnea, told WNCN television in Raleigh last week that traveling was difficult for the 82-year-old Hall of Fame coach and that he would not be able to attend. Back in 2010, the family revealed Smith had a neurocognitive disorder that affected his memory.
UNC coach Roy Williams and former coach Bill Guthridge will accompany Smith's wife and family members to the White House ceremony to receive the award on his behalf.
"I feel very honored to be about to go up there and see that happen, to be with his wife and some of his children," Williams said. "That will be a neat deal for me."
President John F. Kennedy signed the Executive Order that created the Presidential Medal of Freedom in 1963. There will be a special recognition of its inaugural class today.
President Barack Obama, who selected the honorees, announced this year's class in August. He said the award goes to individuals who have, "dedicated their own lives to enriching ours. This year's honorees have been blessed with extraordinary talent, but what sets them apart is their gift for sharing that talent with the world."
That's a definition that Williams would say fits Smith perfectly.
"I'm very thrilled to have worked with coach Smith, he taught me so much more about people than he did about zone defense or man-to-man defense or anything whatsoever," Williams said. "I think he's truly one of the great mentors that you could possibly have and he was a mentor to me and every player. He truly cared his players."
Smith joins former UCLA coach John Wooden and former Tennessee women's coach Pat Summitt as the only college basketball coaches who have received the award.
"Coach Smith, you've heard me say this before, is the best that ever was, in my opinion, on a basketball court and he was far better off the court," Williams said. "And the things that he did off the court meant so much more than the time that he spent on the court."
Williams was nearly brought to tears when asked about Smith on Sunday saying he was, "just a unique man and leader for so many people." Williams said there wasn't a day that goes by that he doesn't utilize some principle -- not just on the court, but in life -- that Smith used to emphasize.
"I ask myself all the time what would coach Smith do right now?" Williams said. "Would coach Smith be proud of the way I handled some things?"
Smith's 879 wins, which were the most when he retired in 1997, has been surpassed by other coaches. And Williams has matched Smith's two national titles. But he said no number could quantify the impact Smith has had.
"I'll never be as good as he was," Williams said. "I don't think anybody ever will be."
November, 11, 2013
11/11/13
11:00
AM ET
With regards to Dean Smith's old practice plans and the "thought of the day," a tradition that has carried on under coach Roy Williams, here's a thought of the week after North Carolina opened the season with an 84-61 win over Oakland:
The Tar Heels' bench could be the difference-maker this season.
[+] Enlarge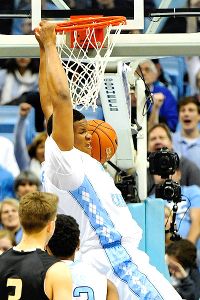 Grant Halverson/Getty ImagesFreshman center Kennedy Meeks is starting to solidify his grip on the starting spot for the Tar Heels.
Carolina outscored the Grizzlies 28-11 off the bench. Forward
Brice Johnson
and center
Kennedy Meeks
were especially effective with identical 10-point, 5-rebound performances in reserve.
"We need to have that kind of performance from our bench every night, too," Williams said.
The frontcourt figured to make the biggest improvement over last season and nothing from its performance Friday disproved the theory. Johnson, Meeks and forward
Jackson Simmons
even added an element not many saw coming with their ability to pass from the post.
Meeks connected with
Marcus Paige
with cross-court passes from the post for his first two 3-pointers. Johnson, who had a career-high four assists, always seemed to make the right pass against the Grizzlies' zone defense. Simmons found
James Michael McAdoo
cutting through the lane for a highlight reel dunk in the first half.
"The big guys did a nice job moving the ball," Williams said.
They also did a god job rebounding as freshman forward
Isaiah Hicks
added five boards in just 11 minutes.
If and when
P.J. Hairston
and
Leslie McDonald
get cleared to play, the bench only figures to improve. Imagine bringing point guard
Nate Britt
off the bench to push tempo as he clearly has shown he's capable of doing. And McDonald would add another perimeter shooting threat.
As long as Hairston and McDonald are out of the lineup, the play of guard
Luke Davis
will be crucial. Davis, who had two points, two rebounds and two assists, doesn't have to do anything special. He just needs to be reliable enough to relieve Paige.
For a game that was out of hand early, Paige still logged a team-high 32 minutes. Williams plans to monitor Paige's minutes to ensure he doesn't get worn down too early in the season.
"I can't play him that much, 32 minutes, I don't want to play him any more than that because it's a long, long season," Williams said. "Luke struggled at times but I think late in the second half Luke got better himself and that's going to be important for us, too."
November, 5, 2013
11/05/13
11:30
AM ET
North Carolina assistant coach Hubert Davis is still happy with his decision to coach, even though he's no longer viewed as the happy coach.
Davis has brought a more assertive presence to his second year on the sideline since leaving his analyst position at ESPN to join Roy Williams' staff.
"Even though I had been a part of Carolina basketball pretty much my whole life and had experienced it as a player, this is my first time experiencing it as a coach, so everything was new to me last year," said Davis, who played at UNC from 1988-92. "This year, everything is familiar to me and so, in terms of what one thing is different (in the second year), everything is different."
Sophomore forward
Brice Johnson
said he literally hears the difference every day. Davis has become a lot more vocal in practices this season.
[+] Enlarge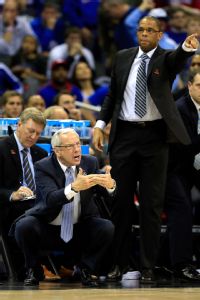 Jamie Squire/Getty ImagesHubert Davis is trying to be more vocal and critical in his second season under Roy Williams at North Carolina.
"Last year he didn't really say as much; he was like the happy guy in practice," Johnson said.
When he was vocal last season, Davis' tendency last season was to err on the side of positivity:
Having a bad shooting day? That's OK, tomorrow will be better.

Confidence shattered because Roy Williams yelled at you? That's OK, tomorrow will be better.

Trouble understanding the system? That's OK, tomorrow will be better.
While that's still a staple of his approach this season, Davis' statement doesn't end there. He's more comfortable criticizing players now. So his brand of positive reinforcement is followed by what they need to do in order to improve.
"It was his first year, so he was getting a feel for how things were run [and] he was really positive all the time – no matter what -- he was positive," sophomore
Marcus Paige
said. "Now he's doing a good job of getting on us being more constructive rather than just encouraging. It's good to see him get mad and get on us and work with us a little bit more now that he's comfortable."
Williams said Davis used the year wisely to understand how he could make an impact in recruiting and in practice. Williams added a responsibility that he believes could help Davis take an even bigger step in his growth.
Williams offered Davis a chance to be the head coach of the junior varsity teams, just as Dean Smith once did for him.
"I had two practices every day for eight years and I thought it was great for me," Williams said. "I got to make decisions and not just suggestions. I think that will help him in is development as a young coach."
Davis has started like many Tar Heels assistant coaches before him, taking their practice plan straight from the book of Dean Smith. He has a thought for the day, an offensive emphasis of the day and a defensive emphasis of the day.
"I'm going to teach in the way that I believe and I believe in the way Williams, (Bill) Guthridge and Smith taught the game of basketball," Davis said. "… The other day I used one coach Smith had always given us: A mistake is good when you recognize it, admit it, learn from it and grow from it."
Davis said the biggest area of his growth between his first and second seasons is the relationships he's built with the players. This season he knows them well enough that he doesn't have to be cautious.
"I know what motivates them; I know what gets their attention; I know what they need to hear; I know what not to say to a particular player," Davis said.
Davis has become a shot doctor of sorts on the staff. When forward
J.P. Tokoto
sought to eliminate the glitch in his shooting form, he only considered one coach for advice.
Davis still holds the school record with a career 3-point shooting percentage of 43.5. When he graduated, he held the record for highest 3-point shooting percentage in a season at 48.9 percent. (Dante Calabria made 49.6 percent in 1994-95.)
Tokoto admitted he'd heard people tell him to tuck in his elbow before, but "hearing it from coach Davis it was a lot easier to take."
"I know about coach Davis [as a player]. If he's saying it, it must be something to it," Tokoto said.
There are few things Davis enjoys more than being out on the court. But he was adamant that his experience with the junior varsity squad and being an assistant was not to essentially serve an apprenticeship to later become a head coach.
"So many people ask me -- not one second have I ever thought about wanting to be a head coach," Davis said. "The only thing on my mind is trying to be the best assistant coach I can be for coach Williams and the University of North Carolina. That's it."
August, 9, 2013
8/09/13
5:00
AM ET
1. The Presidential Medal of Freedom award for former North Carolina coach Dean Smith was an honor well deserved. The recognition by President Barack Obama, like those before him since President John F. Kennedy created the award, is meant to be for individuals who have set themselves apart in their chosen field, but not always for simply the craft that made them so successful. Smith did so much more than simply coach and win basketball games. He wasn't afraid to be active in the world in which he coached in the 1960s. He set a high example for himself and the program. North Carolina coach Roy Williams said in a statement Thursday, "But more than basketball, it was his social conscience that has left even greater marks on our society and will be paying dividends for generations.'' Smith has been battling memory loss over the past few seasons. No one knows if he'll be able to attend the ceremony at the White House when the date is announced. But let's hope he can make an appearance. His family deserves to see him praised publicly. That's what makes the timing right, so those who love him can celebrate his life's accomplishments with him.
2. The Sun Belt played its conference tournament title game on the Monday of Championship Week last season. But the Sun Belt wanted to have more exposure and a significant platform. The league announced it will host its title game on Selection Sunday on ESPN2. This is great news for exposure for the league. But it could cause another headache for the selection committee and possibly for the winner. The committee can't control when conferences schedule title games but if it were up to them there wouldn't be title games on Sunday. The committee has to deal with too many scenarios on Selection Sunday with winners and losers possibly affecting seeding and bracketing. The Sun Belt has gained exposure, but we'll have to wait and see if it sacrificed its seed by forcing the committee to hold a spot for the winner or a possible at-large team.
3. The Big 12 made the right call in having Kansas and Oklahoma State play on March 1 -- in Stillwater -- in what should be one of the best atmospheres and showdowns next season. KU and OSU should dominate the landscape on that day. This would give the focus to the Big 12 with
Andrew Wiggins
and
Marcus Smart
headlining the game. Like it or not, Duke-North Carolina the ensuing weekend usually draws a lot of attention. If KU-OSU were opposite that game there's a good chance it would still be the game of the day based on preseason projections. But this way there is no debate with Kansas and Oklahoma State on a separate weekend.
March, 5, 2013
3/05/13
2:10
PM ET
Some notes from Roy Williams' weekly radio show on Monday night:
DON'T FINE FOR COURT-STORMING:
The ACC is
expected to discuss the safety of court-storming at its league meetings in May
, and whether an SEC-like penalty structure should be enacted.
Williams said he would hate to see teams penalized.
"I'm not bothered by it as much as many people,'' Williams said of court-storming, which became an issue again last week when Duke coach Mike Krzyzewski expressed concern for his players' safety after Virginia fans stormed the court at the conclusion of the Cavs' upset over the Blue Devils
"… The home team's crowd, they choose to do that, they choose to be involved. It is college athletics. I'm not one of those guys to think we ought to hang people up by their toenails just because they run out on the court. But it does get dangerous."
Indeed, Williams opted to take his team off the court early last season at Florida State (accidentally leaving his walk-ons on the floor to finish the game) when he knew the crowd was going to rush onto the court after the Seminoles' blowout victory.
Safety for the visiting team is key, he stressed. But he understands fans' desire to celebrate after an upset.
"I'm old fashioned in some ways; I'm also dumb,'' Williams said. "I remember when I was an assistant coach and we lost a game. I think it was at Notre Dame and they stormed the court. I told Coach [Dean] Smith I wish one game we'd lose that they didn't have to storm the court. That's just a dumb, na´ve, dumb young assistant coach is all that is. Coach Smith looked at me and said, 'You know if they're storming the court after they beat you then they haven't beat you very often.' Then I said I really liked the fact that they stormed the court.
"When we were at Kansas we had it a lot. We've had it a few times since we've been here as well."
ONE FOR THE 'TEAM':
Williams said he doesn't remember ever seeing a basket quite like the one his "team" made on Sunday, when center
Joel James
' pass was inadvertently tipped into the basket by a Florida State player.
"Key thing to me: As soon as Joel took two steps down the court he raised that hand. He wanted to get credit for that basket, too,'' Williams said, laughing. "… In the old days he would have gotten credit for the basket, but the rules have changed. Now they just give you the 'team' basket. You don't get an assist, don't get a shot attempt or anything. I told Joel today that I have seen some of his shots that look bad, but that was the worst one I had ever seen."
Williams also said he thought that might be the first "team" bucket his squad has ever scored.
But, he added, "I'd like to have 20 of them Wednesday night [at Maryland] and about 40 of them on Saturday [vs. third-ranked Duke]."
WHO WAS THAT BLUE-HAIRED GUY?:
Williams said he enjoyed the fact that football coach Larry Fedora -- wearing a blue wig and visor -- stood in the student section, cheering, during the Tar Heels' win over FSU.
"I saw him in the tunnel after the game; he was waiting for me in the tunnel there, and I thanked him and told him I thought it was great and the whole bit,'' Williams said. "It was neat. He's a little wacko. We sort of fit together sometimes."
Williams, a huge supporter of UNC's football program, said he didn't know if he'd make his way into the "Tar Pit" for a football game in the future. But ... maybe.
"I don't know that I need to get down there with the youngsters, but you never can tell what I might do,'' he said. "I can tell you one thing: I'm not jumping out of any frickin' airplane to come in there, but I'll do about anything. If he [Fedora] wants me to do it, I'll do anything."
SEEDING TALK:
Asked about whether he is concerned about where his team might be seeded in the NCAA tournament, Williams said no: "It's out of my control. I have a little control for who goes in the game, what defense we're playing or something like, but it's that old saying, you should worry about what you can control. …
"I've never been drastically upset by any seed we got. We've gone to the Final Four as a five, a three, a two, a one. Bottom line is, you've got to play on game day. I don't worry about those things."
ESPN's Joe Lunardi
projected UNC as a No. 7 seed in his latest Bracketology
on Tuesday.
BRIEFLY:
Williams said that before the team left for Clemson last week, there was cake and ice cream at the office to celebrate former coach Dean Smith's 82
nd
birthday. Williams helped Smith blow out the candles (there were only two, not 82).
January, 31, 2013
1/31/13
10:15
AM ET
Some notes from UNC coach Roy Williams' radio show on Wednesday night. ...
SMITH STILL HAS A GLEAM:
Former North Carolina coach Dean Smith, suffering from what his family announced in 2010 as a "progressive neurocognitive disorder that affects his memory," still goes into his Smith Center offices quite often.

The 81-year old still has good days and bad, but it's always a highlight when Williams gets to see his mentor.
"I saw Coach Smith, and said hello to him twice last week,'' Williams said. "Coach is struggling, there's no question about that. But Coach will still, every now and then, get that gleam in his eye and knows what the heck is going on everywhere. I saw him, I think it was Monday, right before practice this week, and I told him I was getting ready to go down to practice, and his eyes lit up a little bit about that.
"But this is a tough thing he's going through, and so many people genuinely love the man and should do that. It's a difficult time for him and his family. But I love seeing him when he comes by the office."
CHEESE AND CRACKERS:
Williams doesn't know how much of the Super Bowl he'll be able to watch on Sunday; he doesn't think he's been able to view a complete game since his freshman year at UNC. "It's basketball season,'' he said. "If it was the middle of July, I'd watch the whole dad-gum thing."
Still, depending on Sunday's practice time, he said he'll try to catch some of the matchup, and at least the highlights.
Asked about his favorite Super Bowl snack, he said: "I'm a big cheese and crackers guy; I'm pretty easy."
Then he added, laughing, "That's just boring."
UK RENEWED:
Williams said he was happy to renew UNC's series with Kentucky after a one-year hiatus; the Wildcats will play in Chapel Hill next December, and the Tar Heels will travel to Rupp Arena the following season.
"It's two of the biggest names there is, great tradition at both places, it's a game I enjoy -- I enjoy it a lot more when we win,'' he said. "It is a great rivalry."
Putting together a non-conference slate, though, has become more challenging as the ACC has expanded its schedule.
"It's ridiculous,'' he said. "You're trying to put together a package, and everybody wants you to play Kentucky, Kansas, Duke, UCLA, Connecticut, Michigan State -- but they want you to win every game, too, and those other people feel the same way.
"You've heard me say before: I like to get a good mix in our schedule, and when we went from 16 to 18 [ACC] games, I tried to dial back the number of those big-time games we play a little bit, but you have to have some opportunities for the kids to have some success, get a little bit of confidence."
MORE PT FOR J.P.:
Freshman
J.P. Tokoto
has averaged double-figure minutes over UC's past three games. The reason for the increase?
"A lot of times when you get more playing time, it's what you're not doing that's just as important as what you are doing,'' Williams said. "He's not turning the ball over as much, and J.P. is athletic as all get-out; he can defend, he can offensive rebound, he can run, he can really do some big things. And his two big negatives right now are his ability to shoot the ball and his turnovers. So he's cut down on his turnovers and he's started shooting the ball a little bit better. … J.P.'s going to be a big-time player for us."
BRIEFLY:
Williams reiterated that reserve guard
P.J. Hairston
, who suffered a concussion on Tuesday night,
is doubtful to play against Virginia Tech
this weekend: "He's probably not going to play on Saturday, but we'll make that decision on Saturday." ... The biggest challenge of playing the Hokies? Defending
Erick Green
, who leads the nation in scoring at 25.5 ppg. "Every team they've played, they're trying to stop him,'' Williams said. "He's leading the ACC in scoring, he's shooting 50 percent from the floor in conference games. As a guard, he's just having a tremendous, tremendous year, and this is the kind of year you dream of your guards having, and we just … have got to try to slow him down a little bit."
September, 17, 2012
9/17/12
9:15
AM ET
Some North Carolina hoops-related links from around the web:
UNC junior Reggie
Bullock wants to be the best player on both ends of the floor
, writes Adam Lucas of goheels.com:
"There will be a lot of teams who know me as a shooter now," Bullock says. "They don't know the rest of my game. Over the summer, I tried to increase my ability to get to the basket. People might think of me strictly as a shooter, but I want to do it all. I want to get to the basket, finish, and make the one-two dribble pullup. I have some things to show they haven't seen from my first couple years of college basketball."
Carolyn Kyles,
mom of coveted recruit Julius Randle, talked Kentucky and UNC
with The Courier-Journal's Steve Jones late last week, and she shared some thoughts about coach Roy Williams' in-home visit:
The Courier-Journal: After Carolina came in, Julius posted on Twitter or said the quote that "it was just different." What was [it] that Coach Williams said that made him feel that way?

Carolyn Kyles: We both did. It was just different. It was really just different. A lot of people look at Coach Williams like a really laid-back, old-school type guy. He doesn't like email, and as a matter of fact, he doesn't have an email address. He likes it more personal. So he will write or send out cards every day with a quote. He likes that old-school feel, so that's how it's everyone's impression of him. And he kind of said some things – and we'll just keep it between us – that he went out of the box with, that we were like, 'This is a more new-school approach than what you would think with him.' It was just different to do those things that he didn't expect.
Madison Taylor of The (Burlington) Times-News writes about Dean Smith,
"the extraordinary man
."
Former North Carolina big man Scott
Williams has been hired as an assistant coach for the Idaho Stampede
, writes Brian Murphy of The Idaho Statesman.
Pittsburgh has put in a bid
to host the ACC men's basketball tournament in the future, writes David Teel of The Daily Press.
Cost often dictates whether UNC students choose to study abroad, writes Zach Freshwater of The Daily Tar Heel.
But so does basketball season.
Follow Robbi Pickeral on Twitter at @bylinerp.
December, 14, 2011
12/14/11
3:30
PM ET
At around midnight Tuesday, Appalachian State coach Jason Capel texted new interim UNC Greensboro coach Wes Miller. The former North Carolina forward welcomed the former Tar Heels guard to the head coaching ranks, and told Miller that his heart would never stop beating fast, as long as he was a head coach.
"It's actually the same thing Coach [Roy] Williams shared with me, the day he found out I was head coach at App State,'' Capel said. "So I kind of passed that on to Wes.
"To me, that's a testament to the program, having another head coach [come out of UNC]."
Indeed, Miller, who replaces Mike Dement for at least the rest of the season, adds another branch to the Tar Heels' ever-growing coaching tree. Out of the 18 Division I basketball programs in the state of North Carolina alone, there are now six head coaches who previously played for the Tar Heels.
The list:
Williams, in his ninth season at UNC after playing on the Tar Heels' junior varsity team and serving as an assistant coach in Chapel Hill, N.C., for 10 seasons.
Capel, in his second season as head coach of the Mountaineers after playing for UNC from 1998-2002 (and going to the Final Four in 2000).
UNC Wilmington's Buzz Peterson, who played for UNC from 1981-85 (including on the 1982 national title team) and roomed with Michael Jordan.
East Carolina's Jeff Lebo, who played for the Tar Heels from 1986-89 (advancing to the NCAA Sweet 16 each season) and is in his second year coaching the Pirates.
High Point's Scott Cherry, a member of UNC's 1993 national title team as a senior.
Miller, who played for the Tar Heels from 2004-07 and was a member of the 2005 NCAA title team. He is now the youngest head coach in Division I, at age 28.
Before the season, Williams said there is a good reason why so many UNC players get coaching jobs: "It's an attractive thing to people, the North Carolina success,'' he said. "And those people who were involved in it, if you're looking for someone to help your program, you'd like someone who's been more involved in it already."
Capel added that playing for UNC prepares you for the sidelines, because you're learning from the best.
"The biggest thing is, when you're at Carolina, you're taught how to play the right way,'' he said. "… I think what people see is you're going to get guys that are pretty sharp, guys who know how to handle themselves, how to conduct themselves, guys that know the game pretty sell, and can teach it pretty well.
"It's truly a testament to Coach [Dean] Smith: what he's done, what he's taught, because we all just try to copy him and the things he's done. We all hope we can be successful, and pay tribute to him by doing that."
Robbi Pickeral can be reached at bylinerp@gmail.com. Twitter: @bylinerp.
November, 2, 2011
11/02/11
7:30
AM ET
Algonquin Books considered publishing the paperback version of North Carolina coach Roy Williams' autobiography in 2010, a year after the hardback became a New York Times bestseller. But it seems fitting, now, that the publisher waited one extra season, because the new "afterword" does better justice to the book's title: "Hard Work."
In a new 30-page chapter, written with former Sports Illustrated writer Tim Crothers and released as part of the paperback last month, Williams gives his analysis of 17-loss 2009-10 year, which he calls "the worst season I've ever been involved with."
[+] Enlarge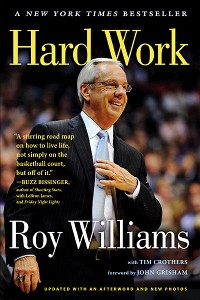 Courtesy of Algonquin BooksRoy Williams' book has a new chapter.
Then he writes about last year's team, which battled through losing four players to transfer and suspension and advanced to the Elite Eight -- and which, Williams wrote, "renewed my faith in my coaching and my love for being a coach."
"When the 2010 season ended, his first reaction was 'I'm going to analyze everything I've done, everything that went wrong, and keep grinding and figure out what we need to do to fix this,'" Crothers said. "It really was the Roy Williams that he had portrayed in the regular text in the book … we saw that everything he preached in regular book is what he used to pull himself out of the hole that had been created in 2010. He's a grinder, and I don't think he really knows any other way than to try to figure out a way. And I think we've seen that."
Some highlights from the new chapter:
Williams wrote that his grandson Aiden -- born three days before the Tar Heels lost to the College of Charleston in January 2010, "soothed my soul" during that rough season: "I could have made it through the season without him, but it would have been much harder. He was something else to live for. Something there to make sure I got my exercise, to make sure I took my heart medicine."

After UNC lost in the final game of the NIT that season, Williams couldn't make himself attend the NCAA Final Four. "On the night of the championship game, I watching Dancing With the Stars. I wanted to watch Erin Andrews and see if Pamela Anderson could dance,'' he wrote.

He wrote of coach Dean Smith's memory loss, and how much he misses the advice Smith used to give him. "He still has good days," Williams wrote. "He sent me a handwritten note during the 2010 season that said exactly what he would have said to me 15 years ago. The writing was so clear; the punctuation and grammar were perfect. A couple days later, I thanked him for the note, and it took a few seconds for him to remember that he'd sent it to me."

Losing the Wear twins (transfer before last season), Will Graves (kicked off the team before last season, and Larry Drew II (transfer during the middle of the season "were the three biggest shocks of my 23 years as a head coach," he wrote.
But he never considered giving up -- and just worked harder.
"The previous season had been a battle every day,'' he wrote. "I had never thought about quitting. I had never thought that I couldn't coach anymore. But if we had endured another season in 2011 when I couldn't get the kids to do what I wanted them to do, I'm not sure what I would've done. The 2011 team renewed my enthusiasm, renewed my confidence, renewed my faith in my coaching and my love for being a coach. They renewed my belief that we were trying to do was right."