North Carolina Tar Heels:

Derrick Nix
November, 12, 2011
11/12/11
12:20
AM ET
SAN DIEGO -- After an event aboard the USS Carl Vinson that will be a lifetime memory, the Michigan State basketball team found that its identity mirrored in some small way the servicemen and women it entertained Friday night.
The Spartans will have to be tough and rugged and able to adjust on the fly if they are going to be a success this season.
"We played hard, we made the hustle plays," said an emotionally drained Tom Izzo. "We can be better offensively."
The Spartans lost to top-ranked North Carolina
67-55
, despite outrebounding the Tar Heels by 15. MSU dealt with multiple players in foul trouble and a woeful 30.6 shooting percentage as a slight breeze blew across the deck. The weather couldn't mask a 2-for-20 effort from behind the 3-point arc, though.
Austin Thornton
was a brutal 0-for-7 from the field, while freshman
Travis Trice
began his career 1-for-8. But Michigan State's
Keith Appling
said the wind wasn't an excuse he or teammates were willing to give.
[+] Enlarge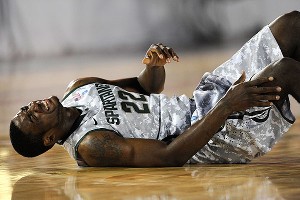 Christopher Hanewinckel/US PresswireBranden Dawson suffered a scare in the first half, but was able to return for the Spartans.
The Spartans got off to decent start in the first few minutes when they were controlling the offensive backboard. But that was before the Tar Heels started to click and run past MSU.
The Spartans weren't helped by a first-half injury to freshman forward
Branden Dawson
, who tweaked his right knee on a center-court logo. Izzo said at halftime and again after the game that the decals are a detriment to players and a serious concern for coaches and players. Dawson said he was a bit nervous after he went down.
He worked on his knee behind the basket, doing slide drills to loosen it up. It worked, as he ended up playing all but five minutes. But he wasn't as effective in the second half, scoring only 4 points and grabbing two of his seven rebounds after the break.
Dawson had ice on his knee after the game, but didn't appear to be having any issues. He will have to be a major factor for the Spartans, helping
Draymond Green
as well as
Adreian Payne
and
Derrick Nix
inside. The Spartans are already down one forward with Delvon Roe having to give up the sport due to injury.
"Coach Izzo told me I have to keep going to the glass," Dawson said. "We know that's what we have to do."
Green was down on himself for his play (6-of-19 from the field), but he did finish with 18 boards.
"We outrebounded them by 15 so you can see that we can be the old Michigan State," Green said. "We have to shoot the ball better, but we can win a lot of games rebounding like that."
The Spartans play Duke on Tuesday night at the Champions Classic in New York City. The Blue Devils have their tallest team in years, giving MSU another challenge inside.
But the Spartans love every minute of this. Izzo said he wouldn't have it any other way, playing the No. 1 Heels in Friday's spectacular and moving environment and then going across the country to play Duke on what could be coach Mike Krzyzewski's clinching victory to own the all-time win record.
"I do this because I'm selfish," Izzo said. "I want to be at these games. We're still building our program. We got something out of this. We competed. There was a different look in our players' eyes. There were no issues, none with the weather. It was just great."
November, 11, 2011
11/11/11
10:04
PM ET
SAN DIEGO -- A quick look at North Carolina's
67-55
victory Friday over Michigan State in the Carrier Classic aboard the USS Carl Vinson:


What it means
: It means nothing in the big scheme of things -- one game in November won't make or break either of these teams. But certainly North Carolina didn't want to come out in its first game and lay an egg, not with all the preseason excitement around this team. And the Tar Heels didn't. They acquitted themselves well. Meanwhile, Michigan State also is what we expected. The Spartans have some good interior play with
Draymond Green
,
Adreian Payne
and
Derrick Nix
, but they need help outside and didn't get it Friday night (finished 2-of-20 from 3).
How it happened
: No smoke and mirrors here. The Tar Heels simply have better players than the Spartans -- and lots of them. They were able to force Michigan State into mistakes and get out in transition to open up the game in their favor. Carolina was beaten on the boards, but it shot a respectable 46 percent given the conditions. Just 31 percent for MSU.
Harrison Barnes
led all scorers with 17 points, while teammate
John Henson
was 6-of-10 from the field.
Kendall Marshall
and
Dexter Strickland
dished out five assists apiece for UNC.
Halftime
: Beat up on the boards early, North Carolina erased a seven-point first-half deficit by going to its bread and butter, its transition offense. The Tar Heels capitalized on missed Michigan State shots and forced turnovers to get out on the break, where the Spartans are simply no match. By the half, UNC led 36-25.
Hubbub
: Since this wasn't a typical game, time to point out some of the not-so-typical stuff. The pregame featured an all-sailor rock band, called The Destroyers, and in-game it was the tunes of the Navy Band. ... Some fans got to the flight deck by taking the lift used to bring the planes on board. ... Both teams sported camouflage-themed uniforms, and the UNC coaching staff wore khaki cargo pants tucked into military boots.
Quotable
: "As some of you may know, because it was reported, the men and women of this ship were part of the critical mission to bring Osama bin Laden to justice" -- President Barack Obama addressing the crowd before the tip.
What's next
: North Carolina will charter to Asheville, N.C., arriving sometime around 5 a.m. and playing UNC Asheville at 4 p.m. Sunday. The Bulldogs are opening a new arena, and Asheville is Roy Williams' hometown. ... Michigan State, meantime, jets cross-country for a Tuesday-night tip against No. 6 Duke in the Champions Classic at Madison Square Garden. The Spartans will make a quick stop in East Lansing, heading to New York on Monday.