North Carolina Tar Heels:

Dorenzo Hudson
February, 27, 2012
2/27/12
8:00
AM ET
One key player was ruled ineligible. At least one key team likely saw its at-large NCAA tournament hopes snuffed. And once again, it looks as if the ACC regular-season title will come down to the final Duke-North Carolina game, next weekend. This week's attempt at the ACC power rankings:

1. Duke:
The Blue Devils -- who already lost to Miami and Florida State at home this season -- had another close call at Cameron Indoor Stadium, needing overtime to beat Virginia Tech. But their win at FSU last week keeps them right where they want to be: In the hunt for No. 1 seeds in both the NCAA and ACC tournament.
2. North Carolina:
ESPN bracketologist Joe Lunardi said last week the Tar Heels would need to win out to make a case for a
top seed in the NCAA tournament
. That push continues this week with their home finale against Maryland, and trip to Duke. When will point guard
Kendall Marshall
set the new school record for assists in a season? Stay tuned.
3. Florida State:
It was a rough week for the Seminoles. First they lost at home to Duke -- and likely lost their chance at the regular-season ACC title. Then they fell at Miami on Sunday. They'll try to stop their slide at Virginia, next.
4. Virginia:
Saturday's loss to the Tar Heels stung -- not just because of the physical game, the myriad of whistles against the Cavs' big guys, or forward
Mike Scott
's ACC-season-low six points. But also because Virginia has now lost three of its last five games.
5. Miami:
The Hurricanes beat Florida State on Sunday without center
Reggie Johnson
, who was declared ineligible by the school after an investigation revealed members of his family took impermissible travel benefits from the former coaching staff. The victory enhanced the Hurricanes' NCAA résumé, but they're going to need Johnson back to make a stronger push (and case).
6. Clemson:
Andre Young
's game-winning 3-pointer in overtime against N.C. State means the Tigers are now 2-8 in games decided by five or fewer points this season. They have now won four out of five games, and pushed themselves to .500 in league play. But that still hasn't made much of a dent in their triple-digit RPI.
7. N.C. State:
Saturday's overtime loss at Clemson was just the latest defeat to rip at the Wolfpack's NCAA tournament hopes. An ACC tournament title would give them an automatic bid, but that now is probably they only way they get there after four-straight defeats (Duke, Florida State, UNC and the Tigers).
8. Maryland:
After beating Miami at home last week, the Terps went on the road against a struggling Georgia Tech team, and promptly lost. Coach Mark Turgeon summed up his team's performance at Georgia Tech this way: "I thought we were growing up, but today showed we haven't grown up all the way," he said, according to The Washington Post."We weren't ready to play."
9. Virginia Tech:
"One or two more rolls went different this year, we'd be a whole different team," senior guard
Dorenzo Hudson
told The Washington Post on Saturday after the Hokies lost another close one -- this time at Duke. 'Nuf said.
10. Wake Forest:
After Duke comes to town on Tuesday, the Deacs will finish the regular season with a winnable game in Atlanta. After prevailing in two of their last three, they'd like to continue on a high note.
11. Georgia Tech:
After managing only 37 points in a loss to Clemson, the Yellow Jackets beat Maryland by a bucket. "We're real happy,'' guard
Mfon Udofia
said, according to The Associated Press. "I always tell the guys, 'Something's going to shake.'"
12. Boston College
: The Eagles have now lost 10 of 11 games. The positive: All of those freshmen will be sophomores next season.
Follow Robbi Pickeral on Twitter at @bylinerp.
January, 23, 2012
1/23/12
4:25
PM ET
Each week, a 12-member panel votes for the ACC Player of the Week and ACC Rookie of the Week.
This week's selections:
POW: Michael Snaer, Florida State guard:
The junior averaged 16.5 points, three rebounds and 1.5 steals in wins against Maryland and at Duke. Snaer beat the buzzer with a 3-pointer Saturday to break the Blue Devils' 45-game homecourt winning streak. He made 50 percent of his shots for the week, including 42.9 percent from behind the 3-point arc. FSU is the hottest team in the ACC right now.
ROW: Austin Rivers, Duke guard:
If not for Snaer's game-winner, Rivers might have been the hero of Saturday's game, as he tied it before the FSU guard buried his jaw-dropping shot. Still, Rivers averaged 19.5 points and 3.5 rebounds in the loss to the Seminoles and win over Wake Forest. He made 48.1 percent of his shots last week, and has now earned ROW honors four times this season.
Other POW nominations:
Scott Wood, N.C. State forward:
The Wolfpack junior averaged 18.5 points and shot 55 percent during wins against Boston College and at Miami last week. At the Hurricanes on Sunday, Wood eclipsed J.J. Redick's ACC record for consecutive free throws made by going 7-for-7; he has now made 58 in a row.
Andre Young, Clemson guard:
The senior averaged 18.5 points during a loss at Miami and win at Georgia Tech. His 29 points against the Yellow Jackets were a career high.
Dorenzo Hudson, Va. Tech guard:
The senior averaged 14 points off the bench in the Hokies' loss versus UNC, then win over Virginia. His 3-pointer from the corner with 17 seconds left gave Tech a four-point lead against the Cavaliers, and eventually its first ACC win of the season.
Travis McKie, Wake Forest forward:
The sophomore averaged 18 points and 10 rebounds in a loss at Duke and win at Boston College. He ranks fourth in the ACC with 17.2 ppg.
Kenny Kadji, Miami forward:
Averaged 17 points and six rebounds last weeks, shooting 56.5 percent from the field and 80 percent from the free throw line.
Harrison Barnes, UNC forward:
The sophomore led all scorers with 27 points in UNC's victory at Virginia Tech, scoring 21 of them in the second half. He was 8-of-14 from the floor in the game, including 6-for-6 in the second half. He also recorded six rebounds, a block and three steals.
Other ROW nominations
Robert Brown, Virginia Tech guard
: In his first two starts of the season, he averaged eight points and 32.5 minutes.
January, 20, 2012
1/20/12
1:20
AM ET
BLACKSBURG, Va. -- The intensity was there. You could hear it in the way North Carolina senior
Tyler Zeller
growled at the roof when he didn't make a layup after being fouled Thursday night. You could see it in the way forward
John Henson
pulled down rebound after rebound (16 in all). You could sense it in the way sophomore
Harrison Barnes
scored 21 of his 27 points in the second half, pushing his team back into the lead, and beyond.
You could even feel it in the way defensive stopper
Dexter Strickland
, obviously hurting after his right knee buckled on a drive to the basket, nonetheless joined his teammates in second-half huddles before limping back his ice pack at the end of the bench.
The eighth-ranked Tar Heels know they can't erase last Saturday's 33-point embarrassment at Florida State. But by beating Virginia Tech
82-68
at Cassell Coliseum -- and snapping a three-game losing streak away from the Smith Center -- they hope they showed they have learned from it.
"You're only as good as your last game, so if you lay an egg the next game, there won't be much benefit from it,'' UNC coach Roy Williams said after his team held Virginia Tech to 33.3 percent shooting in the second half, and outrebounded the Hokies 47-25 for the game.
"But I think we found out that we can't be successful at any level playing the way we played last Saturday. I think we were rewarded for working extremely hard in practice the last couple of days, and it carried over to the game. And I hope they understand that that's the way we'll have to continue working."
UNC's practices following the FSU loss have been described as everything from "brutal" to "not fun." In an effort to increase effort (which was sorely lacking in Tallahassee), every drill was a competition, every expectation (as well as some voices) raised.
[+] Enlarge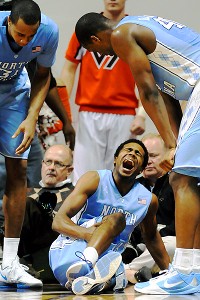 AP Photo/Don PetersenDexter Strickland missed most of the second half after his right knee buckled on a drive.
Point guard
Kendall Marshall
(nine points, eight assists) said that he got to meet the "real Roy Williams." (And probably not the one that says
dad-gum
and
shucks
.)
"He's a lot of smiles with you-all, and that's how he is as a person, but you don't want to get on his bad side,'' Marshall said.
Zeller, who's been through some pretty hard post-loss workouts during his four seasons in Chapel Hill, said he thought that this week marked the most intense practices he's ever been a part of.
"There were times during my sophomore year [when UNC lost 17 games and failed to make the NCAA tournament] when we'd scrimmage for 30 minutes, and that was extremely tough,'' said the 7-footer, who recorded 14 points and 11 rebounds Thursday.
"But this week, it was about perfecting things. Defensively, we wanted every possession perfect. Offensively, we wanted every screen set in the right spot. … The running at the end was tough, the toughest running I've ever done at the end of practice.
"But was great for us, though, because tonight we played with a different edge."
Indeed, UNC trailed 39-34 at halftime, as Hokies senior
Dorenzo Hudson
, who hadn't made a 3-pointer in three straight games, was a perfect 5-for-5 (with four 3-pointers) for 16 points.
But Williams wouldn't let his team hang its collective head in the locker room, reminding his players to focus, to play with effort, to get a closer hand in each shooter's face.
And the Tar Heels (16-3, 3-1 ACC) complied.
With UNC trailing 44-36 early in the second half, Barnes scored the first six points of a 26-2 breakaway that lasted more than nine minutes and saw Tech bury zero field goals. The sophomore was 6-for-6 in the second half, connecting on drives and jumpers and a 3-pointer.
"Barnes made some ridiculous shots,'' said Hokies coach Seth Greenberg. "The guy makes hard shots look easy. … He made one fade, like, he'll be getting paid $3 million a year for that shot next year."
Tech, meanwhile, struggled offensively; by the time it halted UNC's run on a
Robert Brown
3-pointer, UNC had a 16-point lead. In the end,
Erick Green
led Tech (11-7, 0-4 ACC) with 17 points, while Hudson didn't make a shot after halftime. It marks the fourth straight game the Hokies have shot worse than 40 percent.
"I thought it was totally, totally, totally our defense in the second half,'' Williams said.
He added: "For me ... our effort and our intensity and our activity the whole second half was better than it's been in any game this year."
The only downside for the Tar Heels: With 16:44 left, Strickland's right knee buckled when he was driving to the basket. He lay on the baseline in obvious pain before being helped to the bench.
He was walking around the locker room without help after the game, and will be re-evaluated by team doctors on Friday.
Even with their top perimeter defender sidelined for most of the second half, Marshall said UNC's performance shows that it learned from Saturday's loss to the Seminoles, that it can play with the effort and intensity it takes to keep winning.
"Obviously, we wanted to play better,'' Marshall said. "But at the same time, people started making these outrageous predictions, how we're not that good now, how we're not the team everybody thought we were. There are a lot of three-loss teams out there. Ohio State's a great team -- three losses. Indiana's a great team -- three losses. So I think we should just take it as a learning experience, and try not to revert back to the habits from that [FSU] game.
"… We want to get better, and I doubt we'll ever run into that [lack of effort/intensity] again. I know this team, I know the personalities on this team. We're all winners, and like I said, we're focused on the here and now."
Robbi Pickeral can be reached at bylinerp@gmail.com. Twitter: @bylinerp.
January, 19, 2012
1/19/12
10:59
PM ET
BLACKSBURG, Va. -- A quick look at No. 8 North Carolina's
82-68 victory
over Virginia Tech at Cassell Coliseum on Thursday:


What it means for UNC:
A key, effort-filled bounce-back win after its 33-point blowout defeat at Florida State on Saturday – but a possible loss to its starting lineup.
Early in the second half, junior shooting guard
Dexter Strickland
– the best perimeter defender on the team – had his right knee buckle as he was driving to the basket. He lay on the baseline in obvious pain until he was helped to the bench. He stayed there with his knee iced, then wrapped, for rest of the game, and there was no immediate update on his status.
What it means for Virginia Tech:
More frustration. After losing their first three ACC games by a combined nine points, the Hokies fall to 0-4 in ACC play for the first time since 2005-06, when they started 0-6.
How it happened:
UNC led 15-9 early when Hokies guard
Dorenzo Hudson
– 0-for-8 from 3-point-land his previous three outings – connected on a corner 3. He added two more 3s and two free throws to give his team its first lead of the game (20-17). In fact, Hudson didn't miss all half, making all four of his 3-pointers, a 2-pointer and two free throws for 16 points.
Tech, which made half of its 3-pointers in the first 20 minutes, led 44-36 early in the second half on an
Erick Green
3-pointer – but then the Hokies went cold. And UNC got hot.
Tar Heels sophomore
Harrison Barnes
scored the first six points in a 26-2 Tar Heels runaway. The Hokies went more than nine minutes without a field goal, and by the time
Robert Brown
scored on a 3-pointer, there was no slowing the Tar Heels.
Not with Barnes scoring 21 of his 27 points in the second half.
Tyler Zeller
added 14 points and 11 rebounds, and
John Henson
recorded 16 points and 16 rebounds.
Green led the Hokies -- who shot worse than 40 percent for the fourth consecutive game -- with 17 points.
Injury report:
Besides Strickland (see above): Virginia Tech starting point guard Green, who sprained his left knee last week and missed the Boston College game, started. UNC reserve guard
Desmond Hubert
, who sprained his ankle last week and didn't play against FSU, was in uniform but didn't play.
Number to know:
UNC forwards Zeller (9.2 rebounds per game) and Henson (9.7) began the game averaging better than 9 rebounds apice. The last time UNC finished a season with two players averaging 9 or more rebounds? 1966-67, when Rusty Clark averaged 10.3 and Larry Miller averaged 9.3.
What's next:
UNC has a week off before it plays N.C. State at home next Thursday. Meanwhile, Virginia Tech will play at No. 17 Virginia on Sunday.
Follow Robbi Pickeral on Twitter at @bylinerp.