North Carolina Tar Heels:

Draymond Green
November, 12, 2011
11/12/11
7:45
AM ET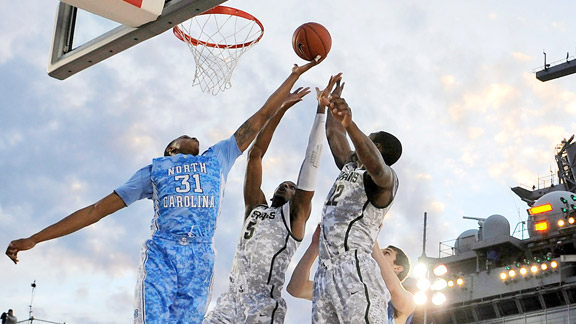 AP Photo/Mark J. TerrillPlayers from both teams gave their jerseys to servicemembers after Friday's game.
Thoughts, notes and anything else that didn't quite make this space after North Carolina's latest game (in this case, a 67-55 victory over Michigan State in the Carrier Classic on Friday night).
SAN DIEGO -- UNC coach Roy Williams, suffering a bout of vertigo, felt so sick Friday, "I was just trying to make sure I could remember what was up and what was down for a while,'' he said.
But at least one of his players didn't know he was ill until after the game.
Shooting guard
Dexter Strickland
said he saw his coach go down to one knee when he approached him during the game to ask him which play he wanted to run. "I asked him if he was OK, he said he was fine, and he gave me the play,'' Strickland said. "But later, he told us he was feeling dizzy, and was ready to get off the ship."
Williams said he's had the vertigo problem for 14 or 15 years, "and there are some things you can do to help it. I talked to the doctor on this trip and made sure I did the right things and it worked out. But I enjoyed every possible moment of it. Hopefully I'll coach another 10-15 years, but it'll be hard to top this unless it's a Final Four."
A FAMILIAR GREETING
: Sophomore
Harrison Barnes
--
who led UNC with 17 point
s -- was both surprised, and impressed, that President Barack Obama was already familiar with the Tar Heels when he met with them before the game.
"He said, 'Hey, Z [
Tyler Zeller
], good seeing you again. Hey
John [Henson]
, are you going to block some shots? Harrison, are you going to make some 3s?' Barnes said. "It was kind of cool to see that he kind of knew us, he was in touch."
Obama has some history with the Tar Heels. In April 2008, then-Sen. Obama played pick-up with the team in Chapel Hill while on a campaign stop. He chose the Tar Heels to win the national title
in an NCAA bracket
the next season – then welcomed them to the White House when he was proven right.
"It's kind of a humbling experience when the president knows who you are,'' said Zeller, who was a freshman on that '09 national title team. "I don't know if he knew me from when I met him the first time, or it's one of those things where he's seen me play on TV. It was very cool."
CLOTHES SWAP
: Credit Michigan State's
Draymond Green
, according to Strickland, for approaching the Tar Heels after the game and suggesting both teams take off their camouflage jerseys and give them to the Wounded Warriors sitting courtside.
UNC's bench attire was a nice tribute, too.
As a show of appreciation to the military, the coaches wore matching khaki combat boots, with cargo pants tucked in.
QUOTABLE:
"Turn around and look – how many times have you never seen a full moon while watching a game at the Smith Center?" UNC associate athletics director for communications Steve Kirschner said, during a second half break in the action
Follow Robbi Pickeral on twitter at @bylinerp
November, 12, 2011
11/12/11
12:20
AM ET
SAN DIEGO -- After an event aboard the USS Carl Vinson that will be a lifetime memory, the Michigan State basketball team found that its identity mirrored in some small way the servicemen and women it entertained Friday night.
The Spartans will have to be tough and rugged and able to adjust on the fly if they are going to be a success this season.
"We played hard, we made the hustle plays," said an emotionally drained Tom Izzo. "We can be better offensively."
The Spartans lost to top-ranked North Carolina
67-55
, despite outrebounding the Tar Heels by 15. MSU dealt with multiple players in foul trouble and a woeful 30.6 shooting percentage as a slight breeze blew across the deck. The weather couldn't mask a 2-for-20 effort from behind the 3-point arc, though.
Austin Thornton
was a brutal 0-for-7 from the field, while freshman
Travis Trice
began his career 1-for-8. But Michigan State's
Keith Appling
said the wind wasn't an excuse he or teammates were willing to give.
[+] Enlarge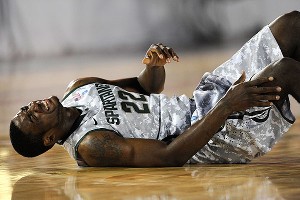 Christopher Hanewinckel/US PresswireBranden Dawson suffered a scare in the first half, but was able to return for the Spartans.
The Spartans got off to decent start in the first few minutes when they were controlling the offensive backboard. But that was before the Tar Heels started to click and run past MSU.
The Spartans weren't helped by a first-half injury to freshman forward
Branden Dawson
, who tweaked his right knee on a center-court logo. Izzo said at halftime and again after the game that the decals are a detriment to players and a serious concern for coaches and players. Dawson said he was a bit nervous after he went down.
He worked on his knee behind the basket, doing slide drills to loosen it up. It worked, as he ended up playing all but five minutes. But he wasn't as effective in the second half, scoring only 4 points and grabbing two of his seven rebounds after the break.
Dawson had ice on his knee after the game, but didn't appear to be having any issues. He will have to be a major factor for the Spartans, helping
Draymond Green
as well as
Adreian Payne
and
Derrick Nix
inside. The Spartans are already down one forward with Delvon Roe having to give up the sport due to injury.
"Coach Izzo told me I have to keep going to the glass," Dawson said. "We know that's what we have to do."
Green was down on himself for his play (6-of-19 from the field), but he did finish with 18 boards.
"We outrebounded them by 15 so you can see that we can be the old Michigan State," Green said. "We have to shoot the ball better, but we can win a lot of games rebounding like that."
The Spartans play Duke on Tuesday night at the Champions Classic in New York City. The Blue Devils have their tallest team in years, giving MSU another challenge inside.
But the Spartans love every minute of this. Izzo said he wouldn't have it any other way, playing the No. 1 Heels in Friday's spectacular and moving environment and then going across the country to play Duke on what could be coach Mike Krzyzewski's clinching victory to own the all-time win record.
"I do this because I'm selfish," Izzo said. "I want to be at these games. We're still building our program. We got something out of this. We competed. There was a different look in our players' eyes. There were no issues, none with the weather. It was just great."
November, 11, 2011
11/11/11
10:04
PM ET
SAN DIEGO -- A quick look at North Carolina's
67-55
victory Friday over Michigan State in the Carrier Classic aboard the USS Carl Vinson:


What it means
: It means nothing in the big scheme of things -- one game in November won't make or break either of these teams. But certainly North Carolina didn't want to come out in its first game and lay an egg, not with all the preseason excitement around this team. And the Tar Heels didn't. They acquitted themselves well. Meanwhile, Michigan State also is what we expected. The Spartans have some good interior play with
Draymond Green
,
Adreian Payne
and
Derrick Nix
, but they need help outside and didn't get it Friday night (finished 2-of-20 from 3).
How it happened
: No smoke and mirrors here. The Tar Heels simply have better players than the Spartans -- and lots of them. They were able to force Michigan State into mistakes and get out in transition to open up the game in their favor. Carolina was beaten on the boards, but it shot a respectable 46 percent given the conditions. Just 31 percent for MSU.
Harrison Barnes
led all scorers with 17 points, while teammate
John Henson
was 6-of-10 from the field.
Kendall Marshall
and
Dexter Strickland
dished out five assists apiece for UNC.
Halftime
: Beat up on the boards early, North Carolina erased a seven-point first-half deficit by going to its bread and butter, its transition offense. The Tar Heels capitalized on missed Michigan State shots and forced turnovers to get out on the break, where the Spartans are simply no match. By the half, UNC led 36-25.
Hubbub
: Since this wasn't a typical game, time to point out some of the not-so-typical stuff. The pregame featured an all-sailor rock band, called The Destroyers, and in-game it was the tunes of the Navy Band. ... Some fans got to the flight deck by taking the lift used to bring the planes on board. ... Both teams sported camouflage-themed uniforms, and the UNC coaching staff wore khaki cargo pants tucked into military boots.
Quotable
: "As some of you may know, because it was reported, the men and women of this ship were part of the critical mission to bring Osama bin Laden to justice" -- President Barack Obama addressing the crowd before the tip.
What's next
: North Carolina will charter to Asheville, N.C., arriving sometime around 5 a.m. and playing UNC Asheville at 4 p.m. Sunday. The Bulldogs are opening a new arena, and Asheville is Roy Williams' hometown. ... Michigan State, meantime, jets cross-country for a Tuesday-night tip against No. 6 Duke in the Champions Classic at Madison Square Garden. The Spartans will make a quick stop in East Lansing, heading to New York on Monday.
November, 11, 2011
11/11/11
5:48
PM ET
SAN DIEGO -- They are asked about the sight lines and the wind variables, what it will be like to play in front of President Obama and what it means to play for the nation's military.
They're asked about everything, that is, except the game.
And therein lies the rub.
The spectacle of the Carrier Classic is enormous, an outdoor basketball game subjected to the elements, played atop an historic aircraft carrier in front of the commander-in-chief.
At the end of the day, though, this is still a basketball game between No. 1 North Carolina and Michigan State (ESPN, 7 ET).
And it counts.
"There is definitely a lot going on,'' Michigan State guard
Keith Appling
admitted. "You have to try to keep it in perspective and focus, but it's hard.''
[+] Enlarge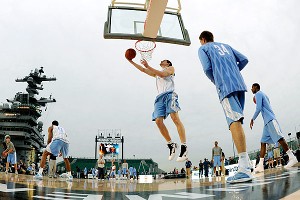 Christopher Hanewinckel/US PresswireThe UNC and MSU players are prepared for a once-in-a-lifetime experience on Friday.
The reality is, college basketball operates differently than college football. One loss on Nov. 11 does not destroy a team for March 11.
Or as UNC coach Roy Williams put it, "It's a big game but it's one game and as long as we're better on Dec. 11 and Jan. 11, we're OK.''
But these are two teams that come to the USS Carl Vinson on disparate but equally critical paths.
North Carolina, the nearly unanimous No. 1 team in the preseason, will try to prove itself worthy of expectations. A season ago, the Tar Heels started in the top 10, fell apart and regrouped over the final two months. Their dash to the Elite Eight, coupled with the return of
Harrison Barnes
,
John Henson
and
Tyler Zeller
put the bull's-eye squarely on the back of a team and a program accustomed to being a target.
The Heels were allowed to grow into themselves last season, to survive early mistakes for late successes. They won't have that luxury this season, not with all this scrutiny.
"We're a team that's going to face adversity -- and right now, that's everyone expecting us to win every game,'' sophomore point guard
Kendall Marshall
said. "That's our goal. We'd love to do that, but we also know how hard that is to do. Right now we just have to concentrate on being ourselves and playing our game.''
Meantime, no one knows quite what to make of Michigan State, Tom Izzo included.
He raised his hand giddily when his team was asked to play in the Carrier Classic and raised it again when the Spartans were asked to be one of four teams invited to the Champions Classic.
In real terms, that means Michigan State will open its season aboard an aircraft carrier in San Diego against No. 1 North Carolina and play its second game four days later in New York against No. 6 Duke.
"Completely insane? Yeah, that works. Insane. Four-letter word in front of it, call me whatever you want,'' Izzo said.
"Coach Izzo always promises that we'll play a tough schedule,'' senior forward
Draymond Green
said. "That's one of the reasons I came to Michigan State. And you can tell, he's a man of his word.''
But the question: Has Izzo bit off more than he can chew with this team and this schedule? Like North Carolina, Michigan State started last season with big expectations, ranked second in the preseason behind only Duke.
Unlike the Tar Heels, the Spartans free-fell and never recovered. They finished 19-15 and 9-9 in the Big Ten, losing to UCLA in the first round of the NCAA tournament.
Green and Appling are the only two players to average 20 minutes per game from that team and return this year. Seven guys on the roster have yet to play a single minute for the Spartans.
"I really have no idea what we'll see,'' Izzo said. "And they know exactly what they have, so that's the hard part for me. We've been very good in practice and this group is really together. I like their chemistry. I just hope the best players don't win, because they have the best players.''
Izzo knows what he's concerned most about -- what every opponent that faces Carolina is concerned about: transition offense. The Spartans might be the loosest offense in the Big Ten, but they are no match for the Tar Heels in the open floor.
Michigan State has to try and get into the halfcourt and then rely on its bread and butter -- rebounding. The Spartans led the nation in rebounding in 2009 and 2010, back-to-back Final Four years.
Last season, they were 48th in the nation ... and out in the first round.
"We have to hit the boards hard,'' Izzo said. "But we could have some funny shots here with some instant offense off the rebounds.''
So maybe it is all about the sight lines.
November, 11, 2011
11/11/11
1:35
AM ET
Editor's Note: For Dana O'Neil's game preview, click here. Also, check out a historic photo gallery of basketball being played on aircraft carriers for decades, including a WWII-era shot of a future President.

SAN DIEGO -- A number of sailors, some on and some off duty, milled around the court atop the USS Carl Vinson on Thursday, giddy about getting to watch North Carolina-Michigan State in an unprecedented event Friday.
The sailors, like everyone else involved in this game -- from the president to the Secretary of the Navy to the captain of the ship to every member of the military on board -- will still actually get the chance, regardless of the weather. The threat of rain is diminishing for Friday night, which is a huge relief to those who fretted over what was a more foreboding forecast a couple days ago.
The conditions were so perfect Thursday evening that Michigan State coach Tom Izzo said during the team's shootaround, "We're playing here. It will be this nice. It's beautiful.''
The decision to play the game on the deck, as originally planned, was actually made Wednesday morning, according to the game's initial innovator, Michigan State athletic director Mark Hollis. Hollis said a half-set was put together in the hangar below deck. And it was a disaster.
[+] Enlarge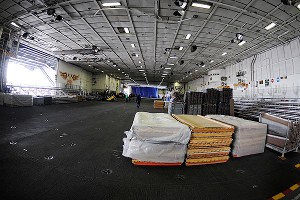 Christopher Hanewinckel/US PresswireCrews stopped construction on the court in the indoor hangar bay after the area was ruled out. The plan is to go forward above deck.
If the game had been moved below deck, it would have had a totally different feel. Seating was only good for 2,500, rather than 7,000. Hollis said the Navy would have had to set up viewing stations around the ship with televisions. It simply wouldn't have been the same.
"It was like a small junior high gymnasium down there,'' Hollis said. "No one wanted it to happen.''
Not the coaches. Not the players. Not the military personnel. No one.
"I had a few of the troops say that if this game isn't outside, they won't see it,'' North Carolina sophomore
Harrison Barnes
said.
Hollis said there is a rain contingency plan -- simply a rain delay. A number of servicemen from a nearby base volunteered throughout the week, setting up the court and the stands. They put a tarp, just like on a baseball diamond, over the court each of the past three days. A tarp was on the court Thursday night.
"We'll stop it if there is any kind of moisture,'' Hollis said. "The biggest concern is the safety of the student-athletes.''
Those student-athletes certainly don't seem concerned, though.
"This is so special to be the first outdoor college basketball game and anyone who doesn't play for Michigan State or North Carolina can't say they played in it,'' Michigan State senior forward
Draymond Green
said. "If we went underneath, we couldn't have said it either.
"You worry about the rain, but I grew up playing outside on the playground, and if there's wind just shoot it off the backboard.''
Hollis said a number of waivers had to be granted by the NCAA.
"There were a lot of operational logistics we were dealing with since we had the government, the Navy, the two institutions and the NCAA,'' Hollis said. "The approval of the uniforms, the long sleeves, the ability to come out a day earlier than normal. There were a lot of things that [Big East coordinator of officials] Art Hyland and [NCAA coordinator of officials]
John Adams
had to help us get through for all the waivers. We also had to get the endorsement of [NCAA president] Mark Emmert and [NCAA vice president] Greg Shaheen.''
The setup on the Vinson's flight deck, where normally 39 jets are stationed, ready to be deployed, is as picture-perfect as any venue in the history of the sport. The court sits on the middle of the deck, with the San Diego skyline across the water. The stands, which seat 7,000, are next to the court, with courtside seating for dignitaries that will include President Barack Obama and First Lady Michelle Obama.
[+] Enlarge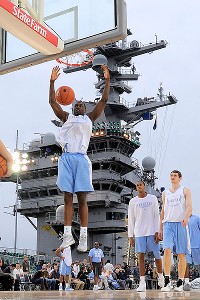 AP Photo/Mark J. Terrill It was quite an experience when the players took the court for the first time Thursday.
At one point Thursday, sailors took turns sitting in their seats in their blue-tinted fatigues. The image was akin to an Army-Navy game.
North Carolina coach Roy Williams said he was filled with pride in advance of the game. His first reaction to coming on board the ship Wednesday was: "Wow. Wow. Every player had their phones and cameras out," Williams said. "No one was talking to each other. Their eyes and mouths were wide open. This is going to be a celebration.
"From the tipoff to the final horn, we'll be working our tails off for the game. But we'll be thinking about the smiles on the faces of the people who serve our country. We're thrilled. It sends a cold chill for me just talking about it. It's the neatest thing I've ever been involved in.''
North Carolina's
Tyler Zeller
said the last time he played outside was in middle school. He said he was a bit worried about his hook shot and sizing up the distance with the potential for wind.
The elements were on everyone's mind, but not in a negative way.
"I like it out here,'' North Carolina junior forward
John Henson
said. "I think we should get the Dean Dome to open up. I'd hate to go down low and miss this experience.''
Barnes called the whole thing "unreal."
"There's no other way to say describe it," he said. "It's so nice with the sky and the cool weather. There will be such a special aura about this game. No matter how far we go in the tournament, we'll never see something like this. We're showing appreciation for the troops, see how they live and this game is put in perspective.''
Michigan State sophomore guard
Keith Appling
called this a once-in-a-lifetime experience.
"I'm only concerned that a couple of my shots get some wind and they could far right or far left,'' he said with a laugh. "It might be embarrassing with the president in the stands.''
Nevertheless, this game will be outside, whether there is wind or mist. That much we know.
"Weather is not going to be a factor,'' Green said. "It's going to be great.''