North Carolina Tar Heels:

Five Questions
September, 13, 2012
9/13/12
11:00
AM ET
Editor's Note: In the buildup to Midnight Madness, we are taking an in-depth look at ESPN Bracketologist Joe Lunardi's top five seeds in a series called Countdown To Madness. In addition to the Insider pieces, Eamonn Brennan will offer Three Big Things about each team, and we'll have Five Questions with a player or coach from each squad.
The last time UCLA senior Larry Drew II played in a regular-season game was Feb. 1, 2011. He recorded nine assists at Boston College. He played 19 minutes off the bench. And he was wearing a North Carolina uniform.
[+] Enlarge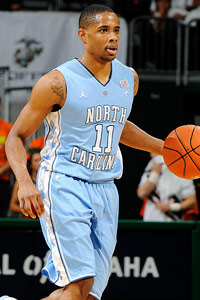 Icon SMIUCLA coach Ben Howland said North Carolina transfer Larry Drew II was the Bruins' "most indispensable player.''
Two days later, the demoted starter suddenly left Chapel Hill, N.C., and his father called UNC coach Roy Williams to tell him Drew was transferring. The player returned home to the West Coast, said he didn't pick up a basketball for at least two months and opted to transfer to UCLA. This season he aims to prove he can lead, make plays and push his talent-stacked new team to NCAA tournament success.
We recently caught up with Drew, who sat out last season per NCAA transfer rules and is both thrilled and anxious to begin his final college basketball season with his new team:
Coach Ben Howland recently told ESPN's Andy Katz that you will be the starter at point guard this season. Does it feel like you are getting a second chance?
Larry Drew:
Definitely, this is my second chance. For a couple of months, I even had my Twitter name as "2ndChance," because I'm also the second, Larry Drew II. … But it's definitely a huge blessing, and I'm just thankful for the opportunity to get back to playing the game I love.
How are you a different player than the last time people saw you in a game? What can people expect?
LD:
I'm still a playmaker. I'm still all about getting my teammates involved. Obviously this year, with the players we have, we have a lot of offensive firepower, so I think that's definitely going to work itself out over the course of the season. So I've just been constantly working on everything: getting stronger, my jump shot, everything. One thing that's just different for me, and what people have been telling me: I look like I'm out there having fun again when I play.
You surprised a lot of people when you left Chapel Hill in the middle of the 2010-11 season. What happened?
LD:
I'm sure it shocked a lot of people. But what I will say: It wasn't a [split-second] decision. I had been unhappy for some time. There was a series of things … and finally, I just got fed up. I just decided to take matters into my own hands. … And I'd just like to take responsibility for everything.
But now I'm here, I'm back in L.A., in my home city, and I've got a second chance. Some people might say I'm selfish, I'm this or that or whatever. But I had to do what's best for me in the long run. And I think it played itself out perfect.
Has it been a distraction to the team, not knowing the status of freshmen Shabazz Muhammad and Kyle Anderson (who are awaiting amateurism certification from the NCAA)?
LD:
There hasn't been much of a discussion. We've just been going with the mindset to do whatever is necessary. [Muhammad] couldn't go on the China [exhibition] trip, unfortunately, but we still talk to him on a regular basis so that he knows he's part of the team even though we were without him in China. It's all about just trying to stay focused on the task at hand, and that's winning.
What are your goals for your final college season?
LD:
To win it -- to win it all. It would be quite an achievement to win two national championships with two different schools. [Editor's note: Drew was a freshman on UNC's '09 NCAA title team.] I'm all about trying to make history.
September, 12, 2012
9/12/12
10:30
AM ET
Editor's Note: In the buildup to Midnight Madness, we are taking an in-depth look at ESPN Bracketologist Joe Lunardi's top five seeds in a series called Countdown To Madness. In addition to the Insider pieces, Eamonn Brennan will offer Three Big Things about each team, and we'll have Five Questions with a player or coach from each squad.
CHAPEL HILL, N.C. -- It was almost like watching two different players last season: the tentative
James Michael McAdoo
who began his North Carolina career so inconsistently that he passed up dunks and looked a little lost; and the confident freshman forward who leapt into the spotlight during March and averaged 10.6 points and 4.8 rebounds as a part-time starter over his final seven games.

McAdoo wowed scouts so much during the postseason that he briefly pondered an early jump to the NBA. Instead, the sophomore returns as the Tar Heels' most experienced player in the post, and will be a key go-to guy on a team that lost four starters to the pros.
UNC's players typically are not available for interviews this time of year, but McAdoo spoke to reporters over the summer about last season and the upcoming one.
Q:
Will it be a dramatic shift, moving from the bench to become a key figure on the team?
A:
I think so. I think I'm ready for it, though. Coach [Roy Williams] brought me along at the pace he wanted to, and I feel like I was able to make strides at the end of the year, and I feel like my confidence is where I want it to be. My teammates are going to help me, and the coaching staff is going to help me make that jump once the season starts.
Q:
How do you think you progressed the most last season?
A:
I think it was just my consistency. I feel like at the beginning of the year, I was really lackadaisical in my approach to the game. And mentally, I feel like I was out of it, I didn't really tell myself that this team needed me. But as the year went on, I would talk to Coach [Williams], and talk to the other coaches, and I realized that this team really did need me, and I needed to step up my responses. Just because I'm a freshman didn't mean I could just sit back and respond when I wanted to -- they needed me every day.
Q:
Where did the "lackadaisical" approach come from?
A:
I don't know. It's college, you know how that is. It's a whole other atmosphere. My mom and dad and sister weren't here, and you've got to grow up quick, especially if you want to play D-I basketball at UNC. So I feel like I really lost my focus, lost who I was. But I feel like [when] I was finally able to just make up my mind and do what I know I'm capable of doing, it finally showed up on the basketball court.
Q:
What did the coaches tell you to concentrate on during the offseason?
A:
Quite a few things. Mainly just being in the weight room, being consistent in there, being the best in there, just working on my conditioning -- as well as learning different spots on the basketball court and getting more comfortable with the ball in my hands, as well as defensively, getting a lot quicker.
Q:
How close were you to leaving early for the NBA?
A:
I don't know if I was ever "close." It was something I definitely thought about and prayed about. It was a decision that everybody dreams about, as a basketball player. But in the end, this was the right decision, to come back.