North Carolina Tar Heels:

Florida State
January, 11, 2013
Jan 11
5:00
PM ET
CHAPEL HILL, N.C. -- Regardless of records, streaks or personnel, chances are that something odd, intriguing or exciting is going to happen when North Carolina (10-5, 0-2 ACC) plays at Florida State (10-5, 2-0) on Saturday.
During the Roy Williams era, it has tended to.
Remember when the Tar Heels blew a 24-point lead and lost in overtime in 2004? Or when they needed six 3-pointers from Wes Miller to win 81-80 two years later? Then there were the game-winners by Ty Lawson and Harrison Barnes in 2009 and 2011.
And who can forget just a year ago, when the Seminoles handed the Tar Heels the most lopsided loss of the Williams era (90-57), when FSU guard Deividas Dulkys scored a career-high 32 points? UNC made further headlines that day when Williams led most of his team off the court early, leaving a group of walk-ons and reserves to play the final 14 seconds before Seminoles fans stormed the court.
Williams insisted earlier this week that he does not regret the decision to leave early, because he wanted to protect his team from the crowd. He re-terated that he did not realize he had left any of his players, and he does regret that.
"Most people criticize me for that, and I've got no problem [with that],'' he said. "But those blankety-blank-blanks that say I should have known they were out there, I say, 'Yeah, but sometimes you don't.' I thought we were all leaving the floor, and getting the dickens out of town. I was trying to take care of my team."
Whether the Tar Heels will want to leave the court early again this year remains to be seen.
UNC, off to an 0-2 ACC start for only the fourth time in the program's history
, collapsed down the stretch in its first two conference games, and will need to curb its defensive lapses in order to halt its three-game road losing streak.
Meanwhile, Florida State, after another round of early nonconference struggles, is off to a 2-0 ACC start.
A few things to watch during Saturday's game, which tips off at 2 p.m. ET:
Okaro White
[+] Enlarge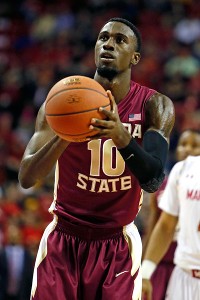 Mitch Stringer/USA TODAY Sports Okaro White led the Seminoles to a comeback win over Maryland, scoring 20 points, grabbing nine rebounds and blocking four shots.
One reason it was hard to give up on FSU was clutch shooter
Michael Snaer
. After all, he led the Seminoles to an ACC tournament title after the Seminoles struggled during last season's nonconference slate, as well.
One big reason for FSU's strong league start is another strong veteran: White, a junior forward. At Clemson, he stole an inbounds pass with 17 seconds left to secure the victory. At Maryland, he scored 15 straight points to fuel a second-half comeback.
He's averaging 17.5 points and eight rebounds in league play, and will test UNC's young frontcourt.
UNC'S defensive communication
UNC reserve
P.J. Hairston
had an interesting (and disturbing) answer to why UNC's defense worsened during the second halves of its past three games (a win over UNLV, and losses at Virginia and to Miami).
According to Inside Carolina
:
There is one common dominator in those three games – UNC's bench is always on the defensive end of the floor for the first half. According to Hairston, that helps explain why UNC has had better communication during the opening 20 minutes.

"I feel like that was with the coaches being right there on the defensive end while we were in the first half," Hairston said. "In the second half, that's when the communication kind of dropped because the coaches were farther away and we didn't know our rotations as well and we were late to some rotations. I feel like that was the key to the game."
Fifteen games into the season, it's surprising that this team is counting on its coaches and not each other to remember the correct rotations. (Not to mention that players forget rotations so often to begin with.) Communication must improve.
James Michael McAdoo
UNC's leading scorer (14.5 points per game) is shooting worse than 40 percent over UNC's past five games (three of which were losses). And as Williams has pointed out several times, the sophomore forward still needs to slow down a half-second or so rather than rushing when he gets the ball.
McAdoo's halfcourt steal-and-dunks are always fun to watch, but the Tar Heels need more consistency from him in other areas, too.
November, 1, 2011
11/01/11
12:00
PM ET
CHAPEL HILL -- When North Carolina coach Roy Williams told Charleston's Bobby Cremins that the Tar Heels would be playing at UNC Asheville on Nov. 13 -- two days and roughly 2,300 miles after playing Michigan State in the Carrier Classic -- Cremins was shocked.
"He said '... They're opening a new gym, they'll be fired up, they're really good. You did that for us a few years ago and we beat you,'" Williams recalled. "I said, 'Yeah, Bobby, I remember.'
"… It'll be a big-time challenge for our team, but we're supposed to be pretty good so we'll see how we handle it."
The top-ranked Tar Heels' schedule is fraught with challenges -- which is exactly what Williams wanted.
[+] Enlarge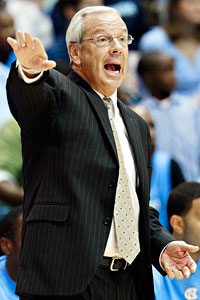 AP Photo/Gerry BroomeRoy Williams is excited about his team's challenging schedule.
UNC opens with Michigan State on an aircraft carrier in San Diego. Then there's the Asheville game at Kimmel Arena, which Williams donated funds to help build (he grew up there).
The Tar Heels play at home against Wisconsin on Nov. 30 in the ACC/Big Ten Challenge, then at No. 2 Kentucky at Rupp Arena on Dec. 3.
And the schedule would have been even tougher had Williams had his way.
"One of our home games, I tried to get it on the road this year -- Texas. But, they already had 19 home games,'' Williams said. " … Rick [Barnes] lost some guys so it might be better for him, and next year we might lose some games, so it might be better for us. I do think you want to really challenge your really good teams [with your schedule] and then hope you don't kill those teams that come afterwards if you slide off a little bit."
The good news for UNC: at least it doesn't play at Georgia Tech, where it lost by an average of 18.5 points the past two seasons.
Five challenges to watch:
1. Vs. Michigan State in San Diego/ at UNC Asheville, Nov. 11 and 13
I combine the two because they're so close together … yet so far apart. UNC will face the Spartans on the outdoor deck of the USS Carl Vinson at 7 p.m. ET (in front of thousands of service members and President Barack Obama), leave after a postgame concert, arrive in Asheville on Saturday and play again at 4 p.m. Sunday.
Jet lag, anyone?
Plus, the opponents are pretty good. The Spartans are young, but were still picked to finish third in the Big Ten -- and like to overachieve. Asheville returns most of its starting lineup, and was picked to finish first in the Big South.
2. At Kentucky, Dec. 3
I listed this game as
one of the five things I can't wait to see
from UNC this season because of all of the drama: preseason No. 1 versus preseason No.2, historically storied programs, the Tar Heels' sense of unfinished business after losing to the Wildcats last March in the Elite Eight.
Enough said (for now).
3. At Florida State, Jan. 14
The Seminoles, perennial third wheels in the ACC of late, desperately want to push into the top two. With ESPN's "GameDay" in town, this is their chance.
Yet again, the Seminoles boast a frustrating defense. Plus, the Tar Heels tend to play close games in Tallahassee. In 2004, they blew a 24-point lead and lost in overtime. Two years later, they survived 81-80 thanks to six 3-pointers from Wes Miller. They needed overtime to survive in 2008, a buzzer-beater by Ty Lawson to escape in 2009 and a 3-pointer from
Harrison Barnes
with 3.1 seconds left last season to win there, 72-70.
Expect another close one.
4. Vs. Clemson, Feb. 18
If the Tigers couldn't break their 0-for-forever streak in Chapel Hill during the 8-20 debacle in 2001-02, they're probably not going to do it this year, either.
But I like to keep them on the list, just in case.
5. At Duke, March 3
The best part of having UNC-Duke as the regular-season finale is that they're playing at their best. Add in the sticky, rambunctious craziness of Cameron Indoor Stadium, and it's the perfect tune up -- for both players and fans -- for the Madness that's about to begin.
The Tar Heels haven't beaten Duke at Duke since 2008-09, when they won the national championship. Plus, that 32-point embarrassment in 2010 still sticks sharply in Williams' craw. Expect a showdown.
Follow Robbi Pickeral on Twitter at @bylinerp.