North Carolina Tar Heels:

Glenn Robinson III
March, 9, 2014
3/09/14
12:07
AM ET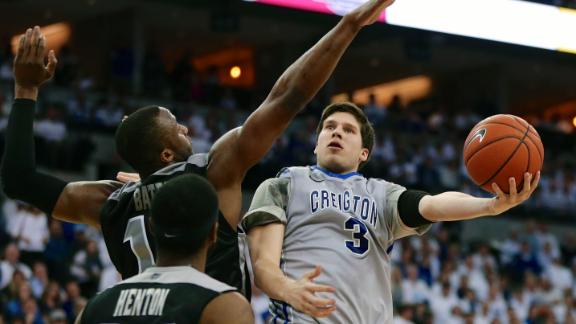 Saturday, the last full day of regular-season college hoops, was a grand affair. We had overtime and history-making matchups and buzzer-beaters and memorable Senior Nights.
And the NCAA tournament hasn't even started.
It's probably best to recap this day according to its most significant numbers:
3,000:
Bill Walton won two national championships with UCLA. Lew Alcindor won three national titles for the Bruins. J.J. Redick shattered records at Duke during his time there. Ralph Sampson won three consecutive Naismith player of the year awards at Virginia. Sampson, Alcindor and Walton are three of the greatest athletes who ever played at the collegiate level. But none of the aforementioned four players scored 3,000 points in their respective careers. Now, it's only fair to note that eligibility limits blocked freshmen from competing with the varsity squads then and the 3-point line wasn't available, either.
[+] Enlarge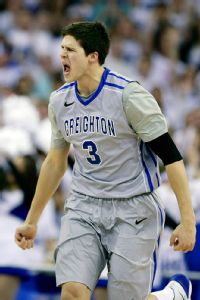 AP Photo/Nati HarnikCreighton's Doug McDermott because just the eighth player to score more than 3,000 career points.
None of that diminishes what
Doug McDermott
has accomplished, however, as the senior forward became just the eighth player in NCAA history to score 3,000 career points. He reached that historic tally on a 3-pointer with 11:27 to play in
Creighton's 88-73 win over Providence
on Saturday. He finished with 45 points total and 3,011 for his career to date.
4:
Iowa State and Oklahoma State have had two battles this season. And after Saturday's thriller, the Cyclones can claim both victories over the Pokes, but they needed four overtimes to get there. The first game, a 98-97 win for Iowa State, demanded triple overtime in Stillwater.
Naz Long
hit a 3-pointer at the buzzer to drag Saturday's game into the extra period in Ames, where Iowa State secured
the 85-81 victory
in the rematch.
41:
Remember that stuff about
Andrew Wiggins
not being aggressive enough? Well, that's so 2013. The freshman, a finalist for the Wooden Award, has been one of America's best players in recent months. Proof? He dropped a career-high 41 points in
Kansas' 92-86 loss
at West Virginia. At one point in the game, the Mountaineers had a 64-39 lead. But the Jayhawks, who were missing
Joel Embiid
, had a chance in the end. Yes, Kansas suffered a loss, which doesn't help its argument for a top seed. But Wiggins produced the second-highest point total for a freshman in Big 12 history, per ESPN Stats & Information. That's impressive.
18-0:
Kentucky made things interesting for a moment. But the Wildcats couldn't handle Florida's full onslaught in
the Gators' 84-65 victory
in Gainesville, a win that gave Florida a perfect 18-0 record in conference play. The Gators are the first team in SEC history to finish a year with 18 wins, per ESPN Stats & Information. The win also extended Florida's winning streak to 23 games.
13:
In the final home game of his career at Louisville,
Russ "Russdiculous" Smith
decided to let his teammates shine. He dished out a career-high 13 assists during
an 81-48 Senior Night win
over UConn.
1:
With Cincinnati topping Rutgers and Louisville beating UConn, the American Athletic Conference had a problem. The Bearcats and Cardinals split the league title so the conference used a coin flip to finalize the top seed in next week's AAC tourney. The winner? Cincinnati. "I requested that Coach Pitino and I play one game of liar's poker," Cincinnati coach Mick Cronin joked to reporters after the game. "We used to do that all the time -- for fun, obviously."
7 minutes, 32 seconds:
That's how long Arizona went without a field goal in the second half of
a 64-57 road loss
to Oregon, which snapped the Wildcats' five-game winning streak. That drought helped the Ducks seize a commanding lead via their 17-5 run.
73 seconds:
That's how much time remained in the game when
Glenn Robinson III
hit a go-ahead 3-pointer in
Michigan's 84-80 win
over Indiana.
33:
Wins for undefeated Wichita State after Saturday's
67-42 victory
over Missouri State in the Missouri Valley Conference tourney semifinals. The Shockers are just the third team in Division I history to achieve a 33-0 mark, per ESPN Stats & Information.
30:
Jabari Parker
's career high in
a 93-81 win over North Carolina
at Cameron Indoor (most points by a Duke freshman in a matchup against North Carolina, according to ESPN Stats & Information), which gave Duke 33 consecutive home wins -- a Division I-high that the Blue Devils currently share with Stephen F. Austin.
2007:
Eastern Kentucky upset top-seeded Belmont,
79-73
, in the Ohio Valley tourney title game. The Colonels became the second team to punch their ticket to the NCAA tournament this season. And they'll be dancing for the first time since 2007.
March, 2, 2014
3/02/14
9:25
AM ET
By
ESPN.com staff
| ESPN.com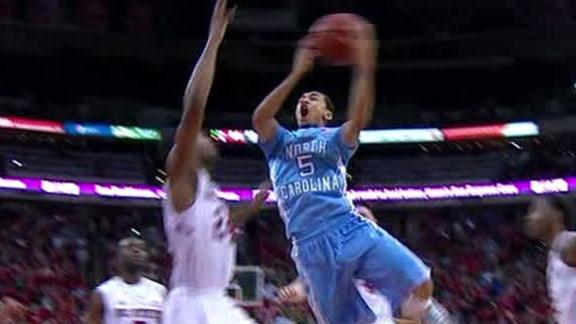 The nominees for the Capital One Cup Impact Performance of the Week include North Carolina's Marcus Paige, Tennessee's Jordan McRae, Michigan's Glenn Robinson III and Indiana's Will Sheehey.
November, 2, 2012
11/02/12
10:00
AM ET
Unlike shooting or rebounding or point guard play or the variety of other specific basketball skills we've been highlighting in our
Best of the Best lists
throughout this week, the category of "most important" is far trickier to quantify. It depends not only on a player's contributions, but on the team around him and where the two dynamics meet in the middle. There is also a constant temptation to conflate "most important" with "best" or "most valuable," and those arguments (hello, baseball) always make my head hurt.
My editors asked me to name the 10 players most important to their teams in the country, and that's precisely what I'm going to try to do. But I also attempted to avoid the rabbit hole that is individual talent at the mid-major level. Instead, I tried to narrow the criteria down to players most important to their teams' chances of winning a national title, or making a deep tournament run, or maintaining some level of national relevance. Let's give it a shot:
[+] Enlarge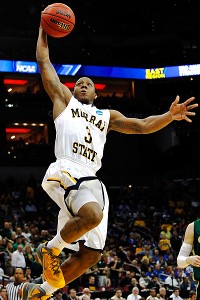 AP Photo/Dave Martin, FileWith much of last season's cast gone, Isaiah Canaan is even more key to Murray State this season.
1. Isaiah Canaan, Murray State
: Last season, Canaan was hands down the best and most important player on a team that went 31–2, leading his team in minutes, points, assists, offensive rating (122.2), 3-point field goal percentage (45.6) and a wide swath of other statistical categories. He dominated the ball, scored at will and facilitated to boot. He was really, really good.
And that was on a team that included seniors Donte Poole, Ivan Aska and Jewuan Long, on a team that already was beginning to bring along guard Zay Jackson as Canaan's new backcourt partner. The first three players are gone to graduation; Jackson is missing the entire season after pleading guilty to wanton endangerment for running over two people with his car in a Walmart parking lot. (
True story
.) So Canaan, already crucial to his team's success a year ago, becomes the primary returner on a squad that still very much maintains conference-title and NCAA tournament aspirations. No one player in the country will mean more to his team this season.
2. Cody Zeller, Indiana
: Zeller, the AP Preseason Player of the Year, obviously is important. He is the unifying force on a team that desperately needed exactly what he provided as a freshman: interior scoring, rebounding, strength, efficiency, you name it. He led the Hoosiers in field goal attempts by a wide margin, and Indiana fans could frequently be heard complaining that Zeller wasn't getting enough touches. Truth is, they probably were right. Before he arrived, with similar personnel, Indiana won 12 games. Afterward, they went 27–9. He doesn't get credit for all 15 wins of that improvement -- other players got better, too -- but there's no question his impact was immense. You know all this already.
Here's the twist, though: All offseason, we've been praising the Hoosiers' depth, and there's no question Tom Crean has a wealth of pieces at his disposal. But right now, aside from Zeller, the frontcourt is looking a little slim. Forward
Derek Elston
(better as a 15-foot jump-shooter anyway) is injured, and the eligibility statuses of freshman
Hanner Mosquera-Perea
(a wide-shouldered rebounding force) and
Peter Jurkin
(a 7-foot center) are both up in the air. Zeller already has much riding on his shoulders, and more help was supposed to be on the way. If it isn't, Zeller's task becomes even more daunting.
3. Doug McDermott, Creighton
: Last season, there were two players in the country who used at least 28 percent of their team's available possessions and posted offensive ratings (a measure of individual player efficiency) above 120. The first was Damian Lillard, who did
this for the Portland Trail Blazers the other night
. The other: Doug McDermott. He shot 63.2 percent from inside the arc (on 400 shots) and 48.6 percent outside (on 111), and he rebounded well on both ends for good measure. Creighton has guys who can play.
Grant Gibbs
is a sublime entry passer,
Jahenns Manigat
is coming on strong and
Ethan Wragge
can shoot it. But there's no getting around the fact that McDermott's incredible inside-out offensive versatility was the main reason his team boasted the fifth-most efficient offense in the country last season,
per KenPom.com
. Seeing as Creighton's defense was so lackluster, the Bluejays very much needed that offense. Even assuming they improve somewhat on the defensive end this season, they'll still need to score like crazy in 2012-13. That's where McDermott comes in.
4. Peyton Siva, Louisville
: Every time we talk about the huge talents returning at Louisville, we talk about how good the defense is going to be. This is for good reason: It was the best in the country last season, good enough to get the No. 4-seeded Cardinals to the Final Four. It will keep them in excellent shape in the season to come. It's bankable like that. Then, after we sing the defensive hosannas, we get around to talking about how so-so Louisville's offense was, and how if the Cardinals are truly a national title contender they have to find ways to score.
Siva is the most crucial piece in this discussion. The UL senior point guard is 5-foot-11 and quick as lightning; the problem is that he just isn't very efficient. He shot 24.6 percent from 3 in 2011-12. He turned the ball over on nearly a third of his possessions (29.3 percent). According to Synergy scouting data, Louisville uses Siva more frequently than any other player to initiate pick-and-roll sets at the top of the key, a play type it favors as a team, but he is merely average in his execution. Why? Because defenses don't have to respect his jumper. They play under the screen, the play dies and Louisville goes to Plan B.
To me, if Louisville is going to turn its offense to something more coherent, Siva is the key. Without a more efficient performance at the point guard spot, the Cardinals will still be a brutally tough out. But they won't reach their full potential.
[+] Enlarge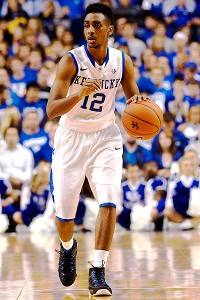 Mark Zerof/US PresswireNC State transfer Ryan Harrow takes the reins of a talented, but again young, Kentucky squad.
5. Ryan Harrow, Kentucky
: The NC State transfer is getting his moment in the John Calipari point-guard spotlight this season, a vaunted role typically reserved for NBA lottery picks. That spotlight can be harsh --
never more so than from Calipari himself
-- but there are good reasons for Calipari's insistence on point guard excellence. For one, his dribble-drive offensive system (which he has used variously in recent seasons, and might return to more in 2012-13) thrives on point guard play more than most.
The second reason? Harrow, who spent last season on the bench after a freshman campaign in Raleigh, is in many ways a veteran in Kentucky's latest amalgamation of highly talented but still raw freshmen. His ability to run an effective offense, while dealing with players still getting used to each other and the college level at the same time, will be key to Kentucky's success this season.
6. Trey Burke, Michigan
: Burke has something of a similar challenge to Harrow's, but one accentuated by what could be a major adjustment at the offensive end. Last season, Burke sprang onto the scene at the helm of an archetypal John Beilein-style "spread the floor and fire away" 3-point-shooting team. The team's three most efficient shooters are gone, replaced by touted freshmen (
Glenn Robinson III
,
Mitch McGary
) unlike anything Beilein has had the luxury of landing during his tenure in Ann Arbor. Now, Michigan's best lineup will look more conventional, with big, athletic, bruising players.
This could be a boon on defense, but it will require a shift on offense; it seems almost unfathomable the Wolverines will shoot nearly as many 3s this season. At the middle of it all will be Burke, a preseason All-American who will see his distribution and leadership abilities fully put to the test.
7. Adonis Thomas, Memphis
: It was tempting to put point guard
Joe Jackson
in this spot. The same could be said for center
Tarik Black
. Jackson has still yet to harness his immense talent in a totally cohesive way; Black can't seem to stay out of foul trouble. But I decided to go with Thomas. Why? For one, he'll be stepping into former Tiger Will Barton's shoes, and there was no mistaking Barton was the best player on a pretty underrated 2011-12 Memphis team. But Thomas could arguably be even better, at least on the offensive end; by all accounts, the 6-6 small forward has been utterly lacing long-range shots all offseason. That versatility would make Thomas, who played power forward until his injury last season, an utter nightmare to guard and could introduce a new dynamism to a Memphis offense that was already pretty good in the first place. I'm really intrigued.
8. Lorenzo Brown, NC State
:
C.J. Leslie
is the obvious pick here, but I think we kind of know what we're going to get with him. He's athletic, he's one of the best in the country at catching on the block or elbow and diving to either side of the rim, and he should be locked in from start to finish this season. Maybe that's presumptuous, but I'm taking Leslie's productivity as a given. (OK, it's definitely presumptuous. Make me look smart, C.J.) Brown, on the other hand, feels more crucial because, like some of the other PGs on this list, it is his job to make the whole Wolfpack thing work. That includes integrating
Rodney Purvis
; playing better defense at the point of attack; and keeping Leslie involved and finding sharpshooter
Scott Wood
on the wing. If Brown has a top season, NC State might indeed be worthy of that lofty, tourney-run-infused No. 6 preseason ranking. If not, the "overrated" refrain will ring out early and often.
9. Phil Pressey, Missouri
: Senior guard
Michael Dixon
's indefinite suspension probably won't last too long, but that's hardly the only reason Pressey deserves a nod here. Along with Dixon -- who is more of a catch-and-shoot player than Pressey, a gifted ball handler, penetrator and creator -- Missouri's backcourt has kind of a crazy/thrilling challenge on its hands in 2012-13. The Tigers have to replace the losses of Kim English, Ricardo Ratliffe and Marcus Denmon with four transfers:
Keion Bell
(from Pepperdine), Jabari Brown (from Oregon),
Alex Oriakhi
(from Connecticut) and
Earnest Ross
(from Auburn). Those players have all been on campus for a while, and it's not exactly like figuring out guys you just picked up in an open run ... but compared to the rest of the country, it's not all that far off, either.
10. James Michael McAdoo, North Carolina
: It will be easy, in the coming months and years, to forget just how good North Carolina's 2011-12 frontcourt was. That's what happens when you have gigantic expectations and bow out of the NCAA tournament short of the Final Four. But let it be known: Tyler Zeller and John Henson (and, oh yeah, Harrison Barnes) were
really
good. Not only did they control the paint and score easily on the offensive end, but they were fast enough to race down the floor in Roy Williams' up-tempo system, getting easy buckets on offense and turning UNC's interior defense into its overall team strength.
Given all that, McAdoo has a ton riding on him in 2012-13. He was a highly touted recruit who probably could have been a lottery pick last season, but he chose to avoid that route (word to Marvin Williams) and come back to prove himself on the college stage. Carolina returns some promising wings (
P.J. Hairston
,
Leslie McDonald
) and brings in a really interesting frosh at point guard (Iowa native
Marcus Paige
), but McAdoo will be in charge of the low block. If he lives up to his heady NBA potential, look out. If not, UNC will labor. It's that simple.