North Carolina Tar Heels:

Greg McDermott
March, 18, 2012
3/18/12
12:49
AM ET
GREENSBORO, N.C. -- Previewing the round of 32 games at Greensboro Coliseum on Sunday:
No. 1 seed North Carolina (30-5) vs. No. 8 seed Creighton (29-5), 5:15 p.m. ET
Greg McDermott knows he made mistakes as Iowa State's coach.
After leading Northern Iowa to three consecutive NCAA tournament appearances from 2004 to 2006, McDermott seemed like the perfect fit to become the Cyclones' coach. A native of Cascade, Iowa, McDermott was successful in his first three coaching stops at Division II Wayne State in Nebraska, North Dakota State and then Northern Iowa.


After spending a dozen seasons coaching at college basketball's lower levels, McDermott seemed ready for the sport's big time.
Instead, McDermott endured four consecutive losing seasons at Iowa State, compiling a 59-68 record and never finishing better than 6-10 in the Big 12. McDermott resigned as the Cyclones' coach after the 2009-10 season, when Creighton mercifully threw him a lifeboat to save his sinking career.
"I made some mistakes," McDermott said. "I made some mistakes in recruiting. I made some mistakes with my dealings with some of our players that resulted in some guys transferring. And I think if you understand yourself and you take a look in the mirror, you better grow from that and learn from that."
McDermott has resurrected his career with the Bluejays, who will play No. 1 seed North Carolina in a Midwest Regional third-round game at Greensboro Coliseum on Sunday.
"I think that the Missouri Valley is just a really good fit for him," said Creighton forward
Doug McDermott
, the coach's son. "[It's] a mid-major conference, a really good league, and I just think the Big 12 might have been a little bit of a wake-up call. I think he's more comfortable in the Missouri Valley Conference recruiting wise and he just feels in his comfort zone, so he's really happy to be here."
Ironically, McDermott's move to Creighton prevented him from making perhaps the biggest recruiting mistake of his career -- not recruiting his son. Doug McDermott signed to play for Northern Iowa during his senior season at Ames (Iowa) High School in 2010. Greg McDermott didn't think his son was good enough to play at Iowa State, and frankly, didn't think his program was good enough for him, either.
"The culture that I had created with the program at Iowa State wasn't where I wanted it to be," Greg McDermott said. "I was constantly plugging holes because of guys transferring. And when you do that, it becomes a vicious cycle of things probably not going very well. And Doug was around it every day and I'm not sure that he was that excited to be part of it."
Under McDermott's watch, the Cyclones began to fall apart after leading scorer Mike Taylor, a junior college transfer, was dismissed from the team for off-court problems in 2007. The next year, forward Wesley Johnson transferred to Syracuse after two seasons at Iowa State. Johnson injured his foot in 2007-08 and didn't learn it was actually broken until after the season. He was named Big East Player of the Year in his only season with the Orange and was the fourth pick in the 2010 NBA draft by the Minnesota Timberwolves.
With so much uncertainty at Iowa State, Doug McDermott thought playing for his father's former school was a better option.
"To be honest, I didn't really want to play for him there, either," McDermott said. "I felt like I was a Missouri Valley Conference fit. I felt like it was a good fit for me at Northern Iowa and at the time we just decided to go separate ways."
But when Greg McDermott signed a 10-year contract with Creighton, the Panthers agreed to release Doug to play for his father. Greg McDermott said he consulted several colleagues who coached their sons -- like former Indiana coach Bob Knight, Minnesota coach Tubby Smith, former Washington State coach Dick Bennett and Michigan coach John Beilein -- about having Doug on his team.
"Almost to a man they felt if your son was going to be one of your best players, it would work fine," Greg McDermott said. "Or if your son was a walk-on that never played, it would work fine. But if he is in the middle, if he's your fourth, fifth, sixth, seventh, eighth guy, it creates a lot of additional pressure for your son and for you as his coach."
That hasn't been a problem at Creighton, where Doug McDermott has easily been the Bluejays' best player over the past two seasons. This season, he was the country's third-leading scorer with 23.2 points per game and was the first sophomore in history to be named MVC Player of the Year. McDermott scored 16 points with 10 rebounds in the No. 8-seeded Bluejays' 58-57 victory over No. 9 seed Alabama in Friday's second round.
"I don't think anybody saw this coming," Greg McDermott said of his son's rapid development.
But North Carolina coach Roy Williams, who recruited
Harrison Barnes
, McDermott's highly coveted teammate at Ames High School, said he told Greg McDermott his son was good enough to play at a program like Iowa State or anywhere else.
"Greg and I were standing outside the locker room when Ames won the state championship their senior year," Williams said. "I said, 'You're crazy.' I said, 'If he's my son, he's going to play for me. He's good enough to play for you.' And that's when Greg was at Iowa State, and he had already signed that fall with Northern Iowa. And Greg said, 'Well, you know, I wish he were a little taller and a little stronger, and I don't really want to put that kind of pressure on him,' which I can appreciate that. But I said, 'I still think you're crazy because he would have been able to be a very successful player at Iowa State or North Carolina or anywhere.'"
On Sunday, McDermott will try to prove he and the rest of the Bluejays are good enough to topple the mighty Tar Heels.
March, 17, 2012
3/17/12
5:55
PM ET
GREENSBORO, N.C. -- It wasn't too long ago that
Harrison Barnes
was riding shotgun around Iowa in
Doug McDermott
's white Nissan Murano -- doing errands when they weren't helping Ames High to consecutive state championships, taking breaks during March Madness to watch games together.
But neither could have foreseen, after graduating in 2010, that they would be matched up in the NCAA tournament Sunday for the chance to advance to the Sweet 16.
"It's weird; it's still weird; I think it will be weird at gametime,'' said McDermott, whose eighth-seeded Creighton Bluejays will try to upset Barnes' top-seeded North Carolina squad at approximately 5:15 p.m. EST at Greensboro Coliseum. "But I think once we step on the floor, it'll be just another game."
The pairing has been anticipated since the NCAA field was announced, and both friends have taken distinctly different routes to this showdown.
Barnes, now a 6-foot-8 wing, was a four-year starter at Ames who broke the state's career scoring record.
McDermott, now a 6-7 forward, was a later bloomer, spending two years on the junior varsity, then coming off the bench his junior season before joining Barnes in the opening lineup as a senior.
It was watching Barnes' work ethic -- his willingness to practice on off-days, to hit the gym before anyone else, to focus on his goals -- McDermott said, that drove him to improve.
[+] Enlarge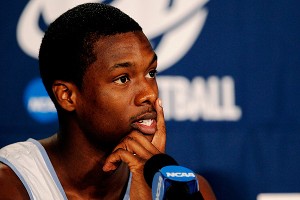 AP Photo/Gerry BroomeNorth Carolina's Harrison Barnes will face former high school teammate Doug McDermott on Sunday.
"Harrison's responsible for a lot of Doug's development," Greg McDermott, Doug's father and Creighton's coach, said. "... When other high school-aged students were going to movies and going to football games and going to the prom, Harrison was working out.
"And I really believe that Doug saw in Harrison a guy that he wanted to emulate and saw the improvement and said, 'You know what? I think that I now know what it takes.' He could listen to his dad and his high school coach, but when you see it in Harrison, the improvement he made each year of high school because of his work ethic, it was certainly impactful for Doug."
Another thing that inspired him,
Doug McDermott
said, was having the best college coaches in the country -- including UNC's Roy Williams and Duke's Mike Krzyzewski -- watching Barnes (and therefore, the rest of the team) at Ames' games.
Greg McDermott said that Williams saw his son play almost as much as he did his junior and senior seasons, "and that made a lot of us better because it brought so much more attention ... and it made us all want to be better players, a better team," Doug McDermott said.
Barnes, considered the top recruit in the country by many, ended up choosing Williams and the Tar Heels, where he earned ACC Rookie of the Year Honors last season. He is a member of the All-ACC first-team this year, and will almost certainly be an NBA lottery pick if he goes pro this summer.
McDermott originally signed with Northern Iowa before being released to play for his father at Creighton. This season, he became the first first-team All-American in the school's history-- an honor Barnes has not yet earned, but for which he has congratulated his friend.
"His growth has been tremendous,'' said Barnes, who leads UNC with 17.3 ppg. "Just having the ability to go to Creighton, go to a system where he's able to grow and develop. And now everyone's starting to see that, see his efficiency magnified, and see him get the shots he needs and in the right location he needs them in, and it's been great. And as a former teammate, it's been fun to watch."
Although it might not be so fun if McDermott, who is averaging 23 point per game, continues that pattern Sunday.
It's unclear how often (or if) the teammates-turned-foes will match up head-to-head. Although McDermott is productive both in the lane and behind the arc (he shoots 60.8 percent overall, and 49.5 percent on 3s), he starts with three shorter guards. That means he'll likely draw 6-9 freshman forward
James Michael McAdoo
(or 6-11
John Henson
, if he returns from a sprained left wrist), at least at the beginning of the game.
No matter the one-on-one match-ups, McDermott said he looks forward to having the teams match up. And to putting all those memories of high school car rides, practices and NCAA-watching aside -- as least for a few hours.
"We're both competitive dudes, so I think it should be a really fun game,'' McDermott said.
Follow Robbi Pickeral on Twitter at @bylinerp.
March, 16, 2012
3/16/12
9:45
AM ET
GREENSBORO, N.C. -- Breaking down the Friday afternoon games in Greensboro:
No. 9 seed Alabama (21-11) vs. No. 8 Creighton (28-5), 1:40 p.m. ET
Creighton loves to score in a hurry; the Bluejays averaged 80 points per game and scored 90 or more nine times this season.


Alabama prefers to play at a relative snail's pace, limiting its opponents to only 58.1 points per game, fewest in the SEC and ninth-fewest in NCAA Division I.
Their contrasting styles will meet in a Midwest Region second-round game at Greensboro Coliseum.
"It's tough for us to simulate," Creighton coach Greg McDermott said. "But we're not going to change anything that we do. We're going to shoot a bunch of 3s, we're going to try to jam it inside, we're going to try to fly it up and down the floor, just like we have played all year. You can't change anything at this stage of the game."
Why would the Bluejays change anything now? Creighton has won seven games in a row, including an 83-79 victory in overtime over Illinois State in the Missouri Valley Conference tournament championship game March 4. The Bluejays rank No. 7 nationally in scoring and they've made 42.5 percent of their 3-pointers and 50.9 percent of their shots overall.
Sophomore guard
Doug McDermott
, the coach's son, ranks No. 3 nationally in scoring with 23.2 points per game and was No. 2 in the MVC with 8.2 rebounds. He knows he'll face a stiff challenge from the Crimson Tide, who will be longer and more athletic than most opponents he faced this season.
"I've seen a lot of different defenses this year with double teams and guys just being more physical with me," McDermott said. "But I think that if they're going to put a lot of attention on me, it's just going to open up a lot of things for [my teammates]."
The Crimson Tide recovered from a 3-6 stretch in midseason to earn its first trip to the NCAA tournament since 2006. Alabama overcame the suspensions of four players and myriad injuries to win five of its final seven games. Tide forward
Tony Mitchell
, the team's second-leading scorer with 13.1 points per game, was suspended on Feb. 20 for the rest of the season. Because of the roster upheaval, the Tide used 13 starting lineups and eight in its past 11 games.
"I think that every program at some point during the year, whether it's injuries or illnesses or something, you go through adversity," Alabama coach Anthony Grant said. "I think every coach you talk to says your team's going to face adversity and [it's about] how you handle that adversity. Sometimes that adversity can come through losing; sometimes it comes through winning. But that's just a part of the game. Our team's no different. I think our guys have grown and matured over the course of the season, individually and collectively."
Who to watch:
Creighton's McDermott:
No player will get as much defensive attention as McDermott, who was named MVC Player of the Year and set a Creighton season record with 765 points. Only two other sophomores in MVC history scored 700 points in a season -- Cincinnati's Oscar Robertson and Indiana State's Larry Bird. McDermott ranked second in the MVC in 3-point shooting (49.5 percent) and scored 30 points or more in six games.
Creighton's Gregory Echenique:
Creighton's chances might come down to Echenique's ability to hold his own against Alabama's frontcourt of
JaMychal Green
and
Nick Jacobs
. Echenique, a junior from Guatire, Venezuela, averaged 9.8 points and 7.4 rebounds and led the MVC in blocked shots in each of the past two seasons.
Alabama's Green:
After returning to the starting lineup against Auburn on Feb. 29, Green recorded double-doubles in three of the Tide's final four games. He had 22 points and 10 rebounds in the Tide's 66-63 loss to Florida in the SEC tournament, the 27th double-double of his career. Green, the Tide's only senior, missed seven games because of injuries and suspensions but still averaged 14 points and 7.4 rebounds.
What to watch:
Guard play. The Crimson Tide likes to turn opponents over with a full-court press and half-court traps. The Bluejays turned the ball over 405 times -- 61 more than their opponents had in 33 games -- but senior
Antoine Young
led the MVC in assist/turnover ratio in each of the past two seasons. Gonzaga transfer
Grant Gibbs
was also among the MVC leaders with 5.1 assists per game.


No. 16 seed Vermont (24-11) vs. No. 1 North Carolina (29-5), 4:10 p.m. ET
North Carolina probably won't need forward
John Henson
to defeat Vermont. After all, No. 1 seeds are 110-0 against No. 16 seeds in the NCAA tournament.
But if the Tar Heels are going to advance beyond the tournament's opening weekend and perhaps even to the Final Four in New Orleans, they'll need Henson to return from a left wrist injury that caused him to miss most of the past three games.
Henson, a 6-foot-10 junior from Tampa, Fla., went through about 70 percent of the team's practice in Chapel Hill, N.C., on Thursday morning and then most of the Tar Heels' light workout in Greensboro. The two-time reigning ACC Defensive Player of the Year, Henson is averaging 13.8 points and 10.1 rebounds with 94 blocked shots this season.
Henson says he's ready to play for the first time since injuring his wrist in the early minutes of an 85-69 win over Maryland in the ACC tournament on March 9, but UNC coach Roy Williams isn't so sure.
"We practiced [Thursday] morning," Williams said. "John did a little more than he did [Wednesday]. We let him in some live situations. He did not shoot the ball left-handed a single time. He did not block any shots left-handed. So I'm extremely concerned about that part of it, because that's his dominant hand in a big, big way. He did block one shot, it was right-handed, and he took one jump hook right-handed and it fell about three miles short. But he felt like if the game were to be played today, he felt like he could play. I'm not convinced."
If Henson can't go, UNC freshman
James Michael McAdoo
will probably start his third consecutive game. McAdoo struggled on offense in UNC's 85-82 loss to Florida State in the ACC final Sunday, scoring four points on 2-for-10 shooting. But he grabbed eight rebounds with one blocked shot and four steals.
"We prepare both ways, prepared for [Henson] to play as well as not play," UNC senior
Tyler Zeller
said. "We don't know yet what's going to happen with him, so we have had him in for some plays. We have also had James Michael in with the first team playing a lot also. We're just trying to prepare for whatever we have and make the best of it."
Henson, who has 272 blocked shots in 106 games at Carolina, would be a big mismatch for the Catamounts, who don't start a player taller than 6-8.
"I don't think it's affecting us," Zeller said. "We would love to have John play. He's a fantastic player, a great rebounder, shot blocker, and he can score. So all-around he's a fantastic player. But we also have confidence in our substitutes, and John Michael especially, we have a lot of confidence in him to be able to step up and fit in the role."
Who to watch:
North Carolina's Kendall Marshall:
The Tar Heels point guard has 330 assists this season, an UNC and ACC single-season record. Marshall's assist total is the fifth-highest in NCAA history -- he needs only four more to move into fourth place -- and his 9.71 assists per game were the most by a sophomore in NCAA history.
North Carolina's Tyler Zeller:
The ACC Player of the Year led the conference in field goal percentage (56.9 percent) and offensive rebounds (four per game), was second in rebounds (9.7), third in scoring (18.5 points) and sixth in free throw percentage (83.3 percent).
Vermont's Four McGlynn:
McGlynn's real name is Patrick McGlynn IV, but he goes by "Four." McGlynn, a freshman from York, Pa., didn't start a game all season, but he led the Catamounts with 12 points per game. He shot 39.3 percent on 3-pointers and 88.7 percent on foul shots.
What to watch:
Pace of play. The Tar Heels average 82 points per game, which is No. 2 in NCAA Division I. The Catamounts gave up 80 points only one time in 35 games, an 80-75 loss to Long Island, which was No. 3 nationally in scoring with 81.9 points per game. Vermont held 23 of its last 24 opponents to 70 points or fewer in regulation.