North Carolina Tar Heels:

Haydn Thomas
July, 22, 2013
7/22/13
1:30
PM ET
Ugly fallout from an ongoing academic scandal isn't the only bit of North Carolina news worth discussing on this fine summer Monday. The more recent and high-profile mess in Chapel Hill -- the
early June arrest
of star guard
P.J. Hairston
with two men, marijuana and a 9 mm handgun
outside a GMC Yukon originally rented by a convicted felon
-- took a rather major turn this past weekend, too.
As
initially reported by Scout.com's Inside Carolina
and confirmed by the Durham, N.C., court clerk to ESPN.com, all charges against Hairston stemming
from the June 5 arrest have been dropped
. Hairston faced charges of misdemeanor marijuana possession and driving without a license. According to the clerk, Hairston completed a
drug assessment
and provided his current driver's license to the court, after which the state decided to stop pursuing charges.
There are some tricky legal questions left over here. The first is the issue of the handgun, which police have said was found outside the vehicle at the traffic checkpoint. None of the three men in the vehicle that day (Hairston, Carlos Sanford and Miykael Faulcon) have been charged for having the handgun, reasons for which are just as uncertain as whose gun it was in the first place.* It is also not unfair to ask whether the state would have been as deferential in dropping charges were Hairston not a Tar Heels star. When you spend the morning trying to mentally navigate whether a faculty report
on widespread academic scandal was changed
at the last minute to elide NCAA interest, you begin to see conspiracy -- or, at best, a
wink-nudge-Go-Heels
-- around every corner.
But here's the real problem for UNC: Hairston's legal woes were never the main concern.
What we wrote in this space last week,
when Roy Williams released a statement on Hairston's status
, remains true: The biggest concern for North Carolina was not the actual legal incident itself, but the connections to Haydn "Fats" Thomas, the aforementioned convicted felon whose name and address
popped in Hertz rental receipts obtained by USA Today in July
. Thomas rented the GMC Yukon, but that's not all. On May 13, Hairston was arrested while driving a Chevrolet Camaro rented by Catinia Farrington, whose last known address (and the one used for the rental) matched Thomas' Durham residence on the transaction report.
Thomas has denied knowing Hairston, and insists he is neither tied to an agent nor a UNC booster, but the veracity of those claims as the NCAA will see them remains unclear. Hairston is due in court Aug. 2 to deal with the May speeding citation, and the car he was driving at the time cost Farrington and Thomas a combined total of $5,717.47 during two separate rental periods lasting from March 25 through April 15 and April 25 through June 17, as first reported by USA Today. At the time, when reached for comment, the NCAA said it did not discuss "potential investigations." It is thus unclear whether the NCAA is already actively investigating the situation. Given enforcement precedent, it would be shocking if that were not the case.
In other words, Hairston has been stopped twice on the road in recent months, and both times he was driving new model vehicles rented by someone else. The NCAA will be keen to find out exactly how that coincidence came to be, and what, if any, improper benefits may be involved.
That is the real concern for North Carolina. If charges against Hairston had not been dropped, and the Tar Heels' leading scorer faced a summer and fall full of court dates, it would have been embarrassing to Williams and his program. But a decision to either suspend Hairston or dismiss him from the team -- "serious consequences" already under consideration, as Williams has said -- could have essentially nipped those woes in the bud. The optics would have been unfortunate, but hardly uncommon, and wouldn't have lasted much longer than Williams had the stomach for.
Forget that. Charges or no charges, those cars were still rented to Thomas' address, and that's what will earn the NCAA's attention. For an athletics program already mired in three years of football mess and widespread suspicion over its role in academic scandal, the idea of an NCAA investigation into potential improper benefits provided to its star player by a well-known local felon is the real nightmare. That process would be long and arduous and unforgiving, and carries the possibility -- however remote -- of serious penalties against one of the college game's marquee programs.
Inside the strange NCAA violations enforcement bizarro bubble, whether Hairston was holding marijuana or not holding his driver's license or driving a vehicle with a firearm and ammunition onboard is almost completely ancillary -- a delivery system for something (car rentals) far less serious in the real world, but far more pertinent in the NCAA's purview. What matters is where the cars came from in the first place and why. That question remains as threatening as ever.
*(
Update
: The lack of a handgun-related charge almost certainly stems from North Carolina state law, where it is
not
illegal to carry a handgun, even
without
an ownership permit, provided the gun is not legally "concealed." For more information,
see pages 6 and 7 of this PDF
, which includes a handy explanation of the law as it governs the transportation of handguns, written by state Attorney General Roy Cooper. Thanks to less-than-polite but nonetheless
helpful Twitter follower UNCDubb for the heads up
.)
July, 15, 2013
7/15/13
4:31
PM ET
For five weeks now, North Carolina coach Roy Williams has been mostly silent.
On June 7, when police said they seized a gun, nine rounds of ammunition and less than a half-ounce of marijuana from a GMC Yukon being driven by UNC guard
P.J. Hairston
, Williams' response -- that the program was aware of the issue and would wait for the "appropriate facts" to surface before it decided to do anything -- was issued through a spokesman. Later,
in his only public remarks on the matter
, Williams said the summer schedule allowed him to take his time and truly wait until "all the information comes out."
In the five weeks since, the fallout from Hairston's arrest has intensified. Eventually,
USA Today Sports tracked down rental receipts
for the vehicle Hairston was driving, and another when he was ticketed in May,
both of which were rented to the last known address of Haydn "Fats" Thomas
, a convicted felon.
[+] Enlarge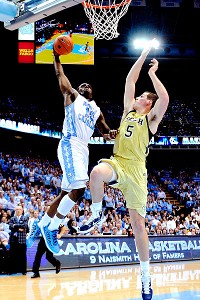 Grant Halverson/Getty ImagesUNC coach Roy Williams said "serious consequences" are being considered for P.J. Hairston.
The receipts -- one of which totaled $5,717.47 in two extended rental periods spanning nearly three months -- created more questions than answers. Initially, Thomas denied knowing Hairston or being a UNC booster and said the Yukon was borrowed by his friend, Miykael Faulcon, the day of the arrest. Why was another vehicle (rented by Catinia Farrington, whose address matched Thomas') being driven by Hairston a month earlier? The story of these rentals, and of the connections therein, remains incomplete. But nothing about it looks good.
Even then, Williams was quiet. Last we saw him, he was being
sweatily pestered on his daily jog by a local TV news reporter
, whom he politely and efficiently referred to UNC's media relations staff. That was it, and the questions -- even things as simple as Hairston's current status with the team, to say nothing of what UNC had found out about the whole mess -- remained unanswered.
On Monday, Williams finally spoke -- sort of.
Williams' statement, issued via email through UNC's media relations staff, is new in at least one way: It addresses the Hairston issues head on, and describes the meetings Williams has held with the player. It also promises consideration of "serious consequences," including discussion of "the idea of suspending P.J." Currently, Williams said, Hairston is not enrolled in summer school and is not practicing with the team (and "we have no games until November," which, thanks for the reminder), conditions which make it easier for Williams to essentially maintain the line he has taken all along: That nothing will happen until the "process is complete."
Despite the lack of public comment to date, Williams is clearly aware of the mess that Hairston's traffic stop catalyzed:
"Other issues have been written about recently that are disturbing and bother me deeply. Our basketball program is based on great ideals and these issues are embarrassing. These are not common in my 10 years as head coach at UNC and they will all be dealt with harshly and appropriately at the correct time to ensure that our program will not be compromised."
Going forward, that is the biggest minefield North Carolina has to traverse. It's not so much that Hairston made the just-downright-awful decision to drive around with bud and a gun; were those the only issues here, he could be suspended or dismissed with little fanfare. UNC would miss its leading scorer next season, but it would cope, and that would be the end of it.
No, it's the rental cars, not only the Yukon but the earlier rental Hairston was ticketed in, that are the issue here. If the NCAA -- which has refused to comment, saying it doesn't talk about "potential investigations" -- somehow
summons the enforcement manpower
in time to unearth a clear connection between Hairston's status as a UNC basketball player and his ability to transport himself in expensive rental cars, the resulting investigation and ruling could be felt long after Hairston's on-court abilities are forgotten.
It is that possibility that must truly frighten Williams and UNC. Any agony over whether Hairston will play for the Tar Heels this season feels laughably minor by comparison.
Here is Williams' full statement:
"I initially decided not to make a statement about PJ [Hairston] until the legal process had been finalized. I believe that is the fair way that everyone should be treated and is the way of our country.

PJ and I have had several discussions already and he knows he has made serious mistakes and there will be serious consequences as a result. Certainly the idea of suspending PJ has been discussed. However, he is not currently enrolled in summer school, is not practicing with the team and we have no games until November. There are several options available in terms of discipline but we are going to wait until the process is complete to decide on those options.

Other issues have been written about recently that are disturbing and bother me deeply. Our basketball program is based on great ideals and these issues are embarrassing. These are not common in my 10 years as head coach at UNC and they will all be dealt with harshly and appropriately at the correct time to ensure that our program will not be compromised.

We will care about each individual but there will be serious actions taken that will fix these issues. I take pride in our values and how we have conducted ourselves for a long time here at Carolina and this time will pass but it will be dealt with strongly.

We are talking about a program that has been a model of success on and off the court and it will be again. I want to thank our fans for their patience, understanding and support."