North Carolina Tar Heels:

Holden Thorp
November, 28, 2012
11/28/12
3:26
PM ET
North Carolina chancellor Holden Thorp put it bluntly when asked why the ACC Council of Presidents chose to add Louisville over Cincinnati and UConn.
Forget academics.
This was all about sports. You have got to appreciate the honesty in his comments.
"It was really all of the presidents who discussed it, and I think that what we felt was that what the ACC needed the most was to add the most exciting sports program that we could," Thorp said on an ACC teleconference Wednesday discussing Louisville's addition. "That is the way to ensure that the success of the ACC in sports was successful enough to allow us to keep our group together and we talked about that extensively.
"But Louisville, [president] Jim Ramsey is an excellent leader in higher education and he's done a lot with their university. It's on an upward trajectory. We feel very good about the addition of Louisville in every respect, but our logic was that we wanted to make the ACC as exciting a sports conference as we possibly could and we felt that Louisville unambiguously did that for us the best."
Commissioner John Swofford was then asked specifically about whether football was the deciding factor in adding the Cardinals.
"The answer would be that we felt Louisville was the best fit for the Atlantic Coast Conference at this point in time in every respect," Swofford said. "When you look at Louisville, you see a university and an athletic program that has all the arrows pointed up. Tremendous uptick there, tremendous energy, so that's my response to that. It's always an overall fit in every respect, and I think that's what we found."
So does this ensure a stable ACC moving forward?
"In working with our presidents over the last 10 days and listening to them and their commitment to the league and to each other, and now adding Louisville and the collective strength of this conference athletically and academically, I couldn't feel any better about the future of this league," Swofford said.
A few other notes from the call:
Louisville will take Maryland's spot in the Atlantic Division, placing the Cardinals in the same grouping as Florida State, Clemson, NC State, Boston College, Wake Forest and Syracuse. Louisville also will take Maryland's spot as Virginia's crossover scheduling partner. The Atlantic is lookin' pretty tough these days.
Swofford said there has been no discussion about raising the $50 million exit fee.
As for the possibility of the ACC creating its own television network, Swofford said there had been some preliminary discussions but added, "You don't do that just for the sake of doing that. You do that because it's the right thing for your league financially and from an exposure standpoint moving ahead. ... We'll continue to look at that. It seems to be the sexy thing in today's world, but it also needs to be the right thing and the thing that's best for our particular conference."
October, 12, 2012
10/12/12
11:35
PM ET
CHAPEL HILL, N.C. -- Six-foot-10, 260-pound freshman
Joel James
probably didn't imagine his North Carolina career would begin in a tutu. Neither, likely, did classmates
Marcus Paige
,
Brice Johnson
or
J.P. Tokoto
.
But such is the ritual of "Late Night With Roy Williams," UNC's annual team introduction that precedes the official start of basketball practice. Part dancing, part videos, part scrimmage, Friday marked Tar Heels fans' first chance to see their team -- which lost four starters to the first round of the NBA draft -- at the Smith Center before real workouts begin at 9 a.m. Saturday.
"My freshman year, I would have been, 'Naaaah, I can't do the tutu,'" redshirt junior
Leslie McDonald
said, laughing after his "blue" team won the event-ending intrasquad scrimmage 37-27. "… But Joel's a big dude, and to see him in a tutu, that's funny."
[+] Enlarge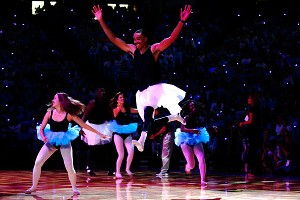 AP Photo/Gerry BroomeBrice Johnson and his fellow UNC freshmen sported tutus as part of Friday's festivities.
It was a night filled with emotion … and applause and dancing.
UNC changed up "Late Night" a bit this season, beginning the evening with an Olympics-style opening ceremony during which each of the school's sports teams was introduced, and walked around the court.
After each of her players was introduced individually, women's basketball coach Sylvia Hatchell pulled chancellor Holden Thorp -- who recently resigned, effective at the end of the school year -- out of the stands to join her near mid-court. The women's players then hoisted him atop their shoulders, before commencing with their own skits and videos.
Finally, it was time for what most of the patient, light-stick-wielding fans were waiting for: men's basketball introductions. And the only cheer that was louder than the one for McDonald and senior
Dexter Strickland
-- who have both fought through ACL injuries, and opted to be introduced together -- was the roar for Williams.
The Hall-of-Fame coach, who is still recovering from a surgery to remove a tumor from one kidney and a biopsy on a tumor in his other kidney (both were non-cancerous), grew emotional as the crowd's standing ovation lasted more than a minute.
Earlier in the day, his Fast Break Against Cancer Breakfast
raised $150,000 for UNC Lineberger Comprehensive Cancer Center -- but this was about being back on the court with his players after a serious cancer scare.
And his players understood the fans' appreciation.
"It's history -- just to see that icon, everybody supporting him,'' McDonald said.
After the team's dance routines -- which included some ballerina moves by the freshmen (thus the tutus), then a salsa shimmy and some Broadway kicks by the rest of the veterans -- the team managed to coax Williams into a few shag-like moves .
Afterward, he sat behind the scorer's table with Strickland and smiled as he watched the blue-white scrimmage. Strickland, still working his way back from February ACL surgery, did not play as a precautionary measure, a team spokesman said. But the guard will practice Saturday.
Sophomore
P.J. Hairston
led the "Blue" team with 12 points in the unofficial stats, while Paige added 7 and Joel had 6. Junior
Reggie Bullock
and sophomore
James Michael McAdoo
scored 7 points apiece for the "White" team.
The night seemed enjoyable to them all, although the veterans know Saturday morning's opening workout will be much different than Friday's festivities.
"Get your mind ready,'' McDonald said when asked how to prepare for a first practice. "We know that this is interacting with the crowd, but tomorrow is the big show. … If you saw us diving on the floor tonight, imagine what we'll be doing tomorrow."
Freshmen were not available to talk about their performances (dance or scrimmage); per team rules, they are not allowed to do interviews with media until after they play in their first regular-season game.
But it sounds like at least one guy didn't have much to say about some of his dance apparel, anyway.
After ESPN recruiting analyst Dave Telep tweeted
"@marcuspaige15 you have some explaining to do with the tutu at UNC's Midnight Madness,"
Paige (
whom Williams expects to start at point guard this season
) offered this response via Twitter:
"I'd rather not talk about it...lol"
.
Follow Robbi Pickeral on Twitter at @bylinerp.
September, 17, 2012
9/17/12
5:30
PM ET
North Carolina chancellor Holden Thorp, whose tenure has been marred by several athletics-related scandals over the past two years, announced Monday he will resign at the end of the 2012-13 academic year.
You can read the full story here
.
We caught up with Thorp for a quick Q&A on Monday afternoon:
Why did you make this decision now?
Thorp:
It's been a tumultuous two years, and it's been a tough few months, the last two months. Last week, a lot of things happened that ended with a [Board of Governors] meeting which ended well, and the BOG was supportive and didn't ask me to do anything. But Friday night was the first time in a while I've had a chance to catch my breath and think about things and spend time with my wife.
[+] Enlarge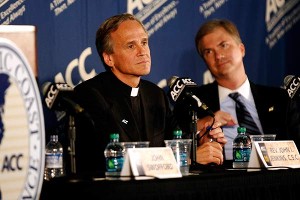 Gerry Broome/AP PhotoHolden Thorp, seen here listening to Notre Dame president Rev. John I. Jenkins speak on Sept. 12, will be stepping down as UNC's chancellor.
And as we thought about all of the different reviews we have going on ... and the polices that need to come out of those, I just decided that I wanted to focus on getting those things in place, and give the institution time to select a new chancellor, and have an orderly transition. So I informed the president that that's what I wanted to do, and he agreed with me that that was the right plan. He asked me if I would stay on ... after July 1 if they hadn't found a successor yet, and I told him of course I would.
Is this something you had been thinking about for a while?
Thorp:
It's been stressful, so I'd be kidding you if I told you I hadn't thought from time to time about whether it would be better for the university and better for me, for me to be over in the chemistry building doing what I used to do and love to do. But this weekend was the first time I really thought about it and felt like it was the right time.
To be clear: this was your decision; no one asked you to step down?
Thorp:
No one asked me to do this, absolutely not.
What will be your focus for your last nine or 10 months as chancellor?
Thorp:
I want to get all of these reviews done, and get all of the policies and procedures that they imply in place. And I want to help the campus do all of the things that we would normally do during the school year: welcome faculty to the University, and welcome new students to the University and get them moving along on the things that they want and need to do. And go through the school year and do the things that universities do so well -- that we do.
Is there any question that you'll stay at UNC -- that you'll return to UNC's chemistry department?
Thorp:
There's no question that that's where I'm going. That's been my plan from Day 1.
When you look back over these last two years and everything that has happened, do you have any regrets about the way you handled anything?
Thorp:
Obviously, if you look back on something, it's easy to say that you wish you would have made some decisions sooner, or you had gotten some information sooner and done something with it sooner. I think once you know how things turn out, it's easy to say that. But I feel good about what I did with all the different pieces of information that came up. And I think we have reforms in place, and this is going to be a better, stronger university because of it.
The athletics department has a new athletic director, a new football coach. Is that department in a good place?
Thorp:
I couldn't feel better about it. I just think [athletic director] Bubba Cunningham is as strong an athletics director as you could have. He's been unbelievably great to work with; the next chancellor will love working with him. He's brought a new focus and a lot of new ideas to the department, and [first-year football coach] Larry Fedora is one prince of a guy. I know people who saw the game [at Louisville] this weekend and saw what happened in the second half understand what he's capable of.
How do you want to be remembered, when people look back at your tenure 10 or 15 years from now?
Thorp:
I think there's no way around the fact that some people will remember that a lot of problems came up, and I dealt with them – and I dealt with them in a way that will make North Carolina a better university for many years to come. But I hope people will also see that we cracked the top 10 in research support for the first time in our history. Our applications skyrocketed during the time that I was chancellor. We recovered from … the budget cuts and faculty retention, where those have all been restored.
Do you still expect former N.C. Governor Jim Martin's investigation [looking into any additional academic irregularities that may have occurred before 2007] to be wrapped up next month?
Thorp:
I hope so, but as I've said many times before, I've given Jim all the latitude in what he wants to look at and the amount of time that he wants to take. So that's up to him.
Is there anything you want to add?
Thorp:
I just want to thank the students, faculty and staff, and alumni of the university who care about Carolina so much, and have done so much to make us great, and will do so much to make us great in the future.
Follow Robbi Pickeral on Twitter at @bylinerp.
September, 12, 2012
9/12/12
7:25
PM ET
Tami Hansbrough, the mother of former North Carolina basketball All-America
Tyler Hansbrough
, resigned her position as a school fundraiser Wednesday as the school continued to study trips she took with Matt Kupec, UNC's vice chancellor for university advancement.
Kupec, a former Tar Heels quarterback, resigned Sunday night after an internal review showed he had charged personal trips with Hansbrough to the university. Hansbrough had been placed on administrative leave.
Chancellor Holden Thorp told The (Raleigh) News & Observer on Monday that Kupec and Hansbrough appeared to have taken non-university-related trips to destinations where Hansbrough's youngest son,
Ben
, was playing basketball for Notre Dame. Thorp did not say how many trips the couple took.
Click
here for the rest of the story
.