North Carolina Tar Heels:

Hubert Davis
November, 27, 2013
11/27/13
11:00
AM ET
It seems like just yesterday when North Carolina guard
Marcus Paige
expressed an uneasiness over making the transition to shooting guard. He was so conditioned to creating for others that the mentality to look for his own shots didn't come naturally.
[+] Enlarge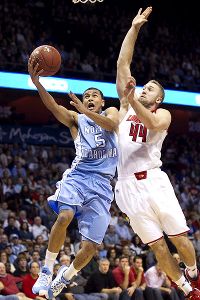 Zumapress/Icon SMIMarcus Paige's transition to shooting guard has been seamless.
Five games later, Paige has thrust himself into a different stratosphere -- both nationally and among Tar Heels historically.
He's currently leading the team with 22.4 ppg. That's comparable to others mentioned as national-player-of-the-year candidates like Oklahoma State's
Marcus Smart
(21.0), Louisville's
Russ Smith
(20.2), Kentucky's
Julius Randle
(19.8), Arizona State's
Jahii Carson
(23.0) and Duke's
Jabari Parker
(23.0).
That also would put Paige on a short list of Tar Heels who have averaged 20 or more points a game since 1970:
Phil Ford (20.8 ppg in 1977-78); Michael Jordan (20.0 ppg in 1982-83); Brad Daugherty (20.2 ppg in 1985-86); Hubert Davis (21.4 ppg in 1991-92); Antawn Jamison (22.2 ppg in 1997-98); Joseph Forte (20.9 ppg in 2000-01), Rashad McCants (20.0 ppg 2003-04) and Tyler Hansbrough (22.6 ppg in 2007-08 and 20.7 in 2008-09).
Paige is shooting 53.1 percent from 3-point range, which ranked him 29th nationally as of Monday's NCAA statistics. The next closest national-player-of-the-year candidate is Creighton's
Doug McDermott
, who is tied for 38th at 50 percent.
If Paige continues at this rate, he would shatter the Carolina single-season record of 49.6 percent set by Dante Calabria in 1994-95. The difference is Calabria was a spot-up shooter who benefited from Jerry Stackhouse and Rasheed Wallace drawing most of the defense's attention.
Paige is shooting 93.1 percent from the free-throw line, which was tied for 40th nationally entering the week. Again, he'd set a new school standard if he keeps it up, besting Shammond Williams' single-season record of 91.1 percent during the 1997-98 season.
Paige is also shooting 53.1 percent from the field, which for a guard is great, but it doesn't compare with post players.
Of course some, if not all, of Paige's current averages will decrease once teams make him the focal point of their game plans.
But the irony here is if Carolina had its full roster, and Paige were strictly playing point guard, he wouldn't be posting anywhere near his scoring average. That's what makes his transformation in such a short amount of time so impressive.
Paige has played at such a high level that it would be hard to argue that he's not the best player on the team even when
P.J. Hairston
came back.
November, 5, 2013
11/05/13
11:30
AM ET
North Carolina assistant coach Hubert Davis is still happy with his decision to coach, even though he's no longer viewed as the happy coach.
Davis has brought a more assertive presence to his second year on the sideline since leaving his analyst position at ESPN to join Roy Williams' staff.
"Even though I had been a part of Carolina basketball pretty much my whole life and had experienced it as a player, this is my first time experiencing it as a coach, so everything was new to me last year," said Davis, who played at UNC from 1988-92. "This year, everything is familiar to me and so, in terms of what one thing is different (in the second year), everything is different."
Sophomore forward
Brice Johnson
said he literally hears the difference every day. Davis has become a lot more vocal in practices this season.
[+] Enlarge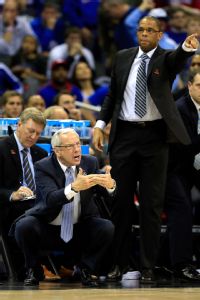 Jamie Squire/Getty ImagesHubert Davis is trying to be more vocal and critical in his second season under Roy Williams at North Carolina.
"Last year he didn't really say as much; he was like the happy guy in practice," Johnson said.
When he was vocal last season, Davis' tendency last season was to err on the side of positivity:
Having a bad shooting day? That's OK, tomorrow will be better.

Confidence shattered because Roy Williams yelled at you? That's OK, tomorrow will be better.

Trouble understanding the system? That's OK, tomorrow will be better.
While that's still a staple of his approach this season, Davis' statement doesn't end there. He's more comfortable criticizing players now. So his brand of positive reinforcement is followed by what they need to do in order to improve.
"It was his first year, so he was getting a feel for how things were run [and] he was really positive all the time – no matter what -- he was positive," sophomore
Marcus Paige
said. "Now he's doing a good job of getting on us being more constructive rather than just encouraging. It's good to see him get mad and get on us and work with us a little bit more now that he's comfortable."
Williams said Davis used the year wisely to understand how he could make an impact in recruiting and in practice. Williams added a responsibility that he believes could help Davis take an even bigger step in his growth.
Williams offered Davis a chance to be the head coach of the junior varsity teams, just as Dean Smith once did for him.
"I had two practices every day for eight years and I thought it was great for me," Williams said. "I got to make decisions and not just suggestions. I think that will help him in is development as a young coach."
Davis has started like many Tar Heels assistant coaches before him, taking their practice plan straight from the book of Dean Smith. He has a thought for the day, an offensive emphasis of the day and a defensive emphasis of the day.
"I'm going to teach in the way that I believe and I believe in the way Williams, (Bill) Guthridge and Smith taught the game of basketball," Davis said. "… The other day I used one coach Smith had always given us: A mistake is good when you recognize it, admit it, learn from it and grow from it."
Davis said the biggest area of his growth between his first and second seasons is the relationships he's built with the players. This season he knows them well enough that he doesn't have to be cautious.
"I know what motivates them; I know what gets their attention; I know what they need to hear; I know what not to say to a particular player," Davis said.
Davis has become a shot doctor of sorts on the staff. When forward
J.P. Tokoto
sought to eliminate the glitch in his shooting form, he only considered one coach for advice.
Davis still holds the school record with a career 3-point shooting percentage of 43.5. When he graduated, he held the record for highest 3-point shooting percentage in a season at 48.9 percent. (Dante Calabria made 49.6 percent in 1994-95.)
Tokoto admitted he'd heard people tell him to tuck in his elbow before, but "hearing it from coach Davis it was a lot easier to take."
"I know about coach Davis [as a player]. If he's saying it, it must be something to it," Tokoto said.
There are few things Davis enjoys more than being out on the court. But he was adamant that his experience with the junior varsity squad and being an assistant was not to essentially serve an apprenticeship to later become a head coach.
"So many people ask me -- not one second have I ever thought about wanting to be a head coach," Davis said. "The only thing on my mind is trying to be the best assistant coach I can be for coach Williams and the University of North Carolina. That's it."
October, 22, 2013
10/22/13
5:00
PM ET
This is the second installment of a position-by-position look at the Tar Heels.
With the length of
P.J. Hairston
's pending suspension still up in the air, the shooting guard position is a bit of an unknown . Hairston, the Heels' leading scorer last season, is clearly the best suited to start. He led the team in made 3-pointers (89) and shot the highest percentage (39.6 percent) from behind the arc of any returning player.
Once he returns to the lineup, Hairston will likely reclaim the status as the team's most gifted scorer. In the meantime,
Leslie McDonald
and
J.P. Tokoto
will be among those who will be relied upon the most to fill the void.
[+] Enlarge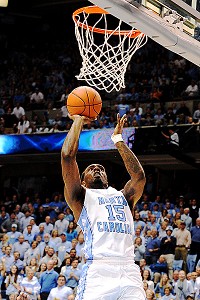 Cal Sport Media via AP ImagesP.J. Hairston's suspension opens up opportunities at shooting guard at North Carolina.
McDonald, the lone scholarship senior on the roster, has played in 100 games during his career – the most of any player on the roster. But he's just started once during that span. Last season against UAB he responded with a career-high 24 points in his lone start.
While coach Roy Williams doesn't expect McDonald to produce career-highs every time he starts, he believes McDonald is poised for a career season.
"I expect him to play his best basketball," Williams said. "He's a shooter, but yet he's been a streak shooter. I need him to be a consistent shooter. I need him to make it in multiple games. He understands that. I think this will be his biggest year."
Tokoto provided most of his value as a tough defender last season. He'll look to score more this year, especially with a renewed confidence in his mid-range jumper. Tokoto made 1 of 11 attempts from 3-point range as a freshman. He made most observers cringe when he stepped to the free-throw line as well, shooting a horrid 10-for-26 (38.5 percent).
Assistant coach Hubert Davis spent the offseason working with Tokoto on his shot and he'll likely be much more of an offensive threat now.
"J.P. is more confident, and he should be because he's shooting it better," Williams said. "But I also want him to understand great players understand their strengths and their weaknesses. I don't want him going out thinking that he's going to shoot five or six 3s every game and never go to the offensive rebounds, 'cause that's not very intelligent and I think he'll understand that, too."
Tokoto could be used at shooting guard if Williams decides to go with a bigger lineup that wold use
James Michael McAdoo
at small forward and
Brice Johnson
or
Isaiah Hicks
at power forward.
It's all experimental right now, but Williams indicated he'll show that look in the season opener as well as a lineup that moves
Marcus Paige
to shooting guard with freshman
Nate Britt
running point guard.
"I would say that I'm convinced that the first game when we play Oakland that you'll see two little point guards out there together," Williams said. "I'm convinced in the first game against Oakland you'll see James Michael as a small forward. It is something that will be a continual process throughout the season."
Paige playing off the ball would force him to become a little more selfish and look to score more. It's something he was reluctant to do last season while running the point, but Williams believes he could be effective at shooting guard.
"Last year you heard me say 50 times Marcus is really a big-time shooter and the numbers didn't show that," Williams said. "I think Marcus' numbers will show this year."
Shooting guards
P.J. Hairston: 6-6, 220, Jr., 14.6 ppg, 4.3 rpg, 39.6 percent 3-pt FG

Leslie McDonald: 6-5, 215, Sr., 7.2 ppg, 2.1 rpg, 35.9 percent 3-pt FG

J.P. Tokoto: 6-5, 200, So., 2.6 ppg, 1.2 rpg, 9.1 percent 3-pt FG

Marcus Paige: 6-1, 175, So., 8.2 ppg, 2.7 rpg, 34.4 percent 3-pt FG
June, 8, 2012
6/08/12
2:30
PM ET
Who will succeed Roy Williams?
Granted, it's a little early for that question, considering the two-time NCAA title-winning coach, who will begin his 10th season as North Carolina's head coach this fall, said recently he plans to remain on the sideline for another six to 10 years.
But after reading Friday's story by ESPN.com's Jason King about
how difficult it is to replace a coaching legend
, it's an interesting question to ponder.
[+] Enlarge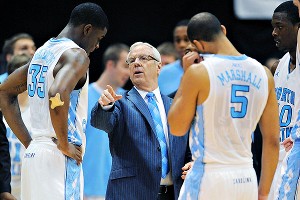 Bob Donnan/US PresswireThe Tar Heels do not have an obvious in-house candidate ready to replace Roy Williams when he decides to retire.
UNC's last three head coaches -- Bill Guthridge, Matt Doherty and Williams -- all had connections to Dean Smith, one of the winningest coaches in NCAA history. And it's likely that when Williams eventually steps down, the school will look first to Carolina's coaching tree, including those branches stemming from Williams. (Although it will no doubt go outside the "family" if it has to.)
After all, at the moment, there are no slam dunk choices with UNC and/or Williams ties (unlike Williams, the former Tar Heels assistant who had already taken Kansas to four Final Fours by the time he was lured back to Chapel Hill in 2003). So it will be interesting to watch who, if anyone, develops into a realistic candidate in the coming seasons.
In the spirit of King's story, here are some coaches with "family" ties worth watching (in no particular order) when debating who might eventually try to fill Williams' shoes:
Steve Robinson, North Carolina assistant coach:
A former head coach at Florida State, Robinson knows the rigors of the ACC. And he's been at UNC since Williams returned. But he turns 55 this year, meaning he might be in his mid-60s by the time Williams steps down. Does he want to wait that long to be a head coach again, and will he even still want to be coaching by then?
Jeff Lebo, East Carolina head coach:
Lebo played point guard under Smith in the late 1980s, and was head coach at Tennessee Tech, Chattanooga and Auburn before landing at ECU in 2010. But he's still looking for that elusive NCAA tournament berth as a coach.
Hubert Davis, North Carolina assistant coach:
When he was hired last month, the former UNC/NBA player said
he wasn't looking ahead to head-coaching possibilities
; after all, the former ESPN analyst has never coached before. But as ESPN.com's Andy Katz pointed out, with no obvious successor,
it's not unreasonable to think that Davis has a shot
if he wants to continue on the coaching career path.
Wes Miller, UNC Greensboro head coach:
Miller, a UNC guard and fan favorite from 2004-07, was named the 2012 Southern Conference Coach of the Year after being named interim head coach after the season began. He earned a five-year contract, and was the youngest coach in NCAA Division I when he was hired.
Kevin Stallings, Vanderbilt head coach:
His two closest ties to UNC are his son (Jacob, who played baseball there), and Williams (who he worked for as an assistant coach at Kansas). He's led teams to the NCAA tournament on multiple occasions, including to the Sweet 16.
Brad Frederick, Vanderbilt assistant coach:
He played for Smith and Guthridge at UNC, is the son of Williams' former athletic director at Kansas, and currently works for Stallings (a former Williams assistant). It's hard to imagine the Tar Heels hiring an assistant coach from another program, though, so he would likely need to pick up some head-coaching experience to have a shot.
Buzz Peterson, UNC Wilmington head coach:
Michael Jordan's former roommate has also been head coach at Appalachian State (where he led the team to the NCAA tournament in 1999-2000), Tulsa (where he won an NIT title), Tennessee and Coastal Carolina.
Mark Turgeon, Maryland head coach:
Another of Williams' former assistants at Kansas, Turgeon took Wichita State to the Sweet 16 and boasted four NCAA tournament berths at Texas A&M before taking over the Terps last season. Now, he gets to take on his former boss at least once a year.
Jerod Haase, UAB head coach:
A Williams assistant through the end of last season, the former player at Kansas was recently hired for his first head-coaching job, at UAB. He said it was difficult leaving Chapel Hill, so it's not a stretch to imagine he wouldn't mind coming back one day.
There are others with North Carolina connections that also come to mind, including Monmouth head coach King Rice, Milwaukee Bucks assistant coach Joe Wolf, current UNC assistant C.B. McGrath and Appalachian State head coach Jason Capel.
Who will you be keeping an eye on?
Follow Robbi Pickeral on Twitter at @bylinerp.
May, 3, 2012
5/03/12
7:20
PM ET
North Carolina coach Roy Williams received interest from at least 14 former Tar Heels players about his assistant coaching vacancy.
But in order to get the guy he wanted -- former UNC guard and ESPN college basketball analyst Hubert Davis -- Williams called
him
.
"Coach Williams asked me to come into his office; he wanted to ask me a favor,'' Davis told ESPN.com Thursday evening. "I thought he was calling me in to change the dates of my camp [a Christian basketball camp he runs each year at UNC]. … But when I went into the office, he said, 'I have a really big favor.' I said, 'OK, what is it, Coach?' He said, 'I want you to be an assistant coach on my staff.'
"I said, 'What?' It was a total surprise."
But a welcome one. It took only a matter of days for Davis -- who spent a dozen years in the NBA, and the previous seven at ESPN -- to be named the successor to Jerod Haase, who left UNC to become head coach at UAB. Davis' contract details have not yet been released by the school, but he joins a veteran staff that came to Chapel Hill with Williams from Kansas nine seasons ago.
"I've always wanted to coach,'' Davis said. "And I think any player at Carolina would want to come back to Carolina. I didn't think anybody from the staff would ever leave, and I didn't think if anybody would leave, that the first person Coach Williams would call would be me. And so I never entertained that thought process, but when he asked me, then and there, it was something I wanted to do."
Davis, who was still trying to get used to being called "Coach" just 25 hours after he was hired, addressed an array of other topics during the telephone interview:
[+] Enlarge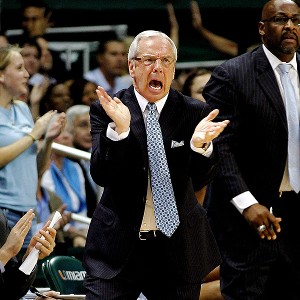 Mike Ehrmann/Getty ImagesEx-Tar Heel and ESPN analyst Hubert Davis couldn't say no to joining Roy Williams' UNC coaching staff.
When was the meeting with Coach Williams?
Hubert Davis:
Maybe three days ago, four days ago. It really has happened fast. This was the last year on my contract with ESPN, and myself and my agent at that point had not started re-negotiating for another contract. But I had said if ESPN wanted me back, that was the place that I intended to go back and work. I've enjoyed the last seven years, but I just didn't want to pass up this opportunity. This was something I thought I should do, I felt great about it, and it gives me more time at home which I need and love, with my kids being 5, 8 and 10.
When did the coaching bug hit you?
HD:
I've always wanted to coach, and the reason why is I love basketball, I love teaching basketball, I love kids, I love relationships. That's what I've wanted to do. But it had to fit my family; that's first. Would I have taken the same job at Kentucky? No. Would I have taken the same job at Texas or Kansas? No. I took this job because I wanted to do this, I felt like … this worked for my family. I live here, my kids don't have to change schools, everything just worked.
Do you know what your specific duties will be, yet? Will you coach the junior varsity team?
HD:
I won't coach JV this year, but that's something in the future I'd like to do. I think that would be really neat, and right now, I want to just be a sponge and just soak up everything. I've never been a coach before, so I want to learn. I want to learn everything. So my responsibilities will be from A to Z, and I'm excited about that.
In the future, if there's an opportunity to coach the JV team, I think that's going to be awesome, as well, in terms of growing and learning how to be a coach. Because I think there's a huge difference: As an assistant coach, you make suggestions. As a head coach, you get to run practice and make decisions.
Is the ultimate goal for you to be a head coach someday?
HD:
There is no ultimate goal. The goal is to be the best assistant coach to Roy Williams that I can be. I've never set goals like that. When I came to Carolina, I never said I wanted to be an All-American, or average a certain amount of points. Never in the NBA, did I say, 'I want to do this, I want to do that.' At ESPN, I never said, 'I want to get the 'GameDay' show.' I never did that. All I always said was, 'Whatever I'm doing, I just want to prepare every day.' And that's what I want to do in coaching. I want to prepare; I want to work hard. And I want to learn. And where ever that takes me, I'm fine. I just want to enjoy the ride.
How will your broadcast experience help you in coaching?
HD:
I think it could be great, because I've been to so many different practices, so many different shoot-arounds, been around so many different coaches and players. Just seeing how different programs run. A lot of things that I've heard from coaches -- coaches that have gone to television, and then have gone back to coaching -- [is that] they feel like they're a better coach because they felt like they had an opportunity to go to different programs, and see how different coaches relate to players.
So I think the experience of going all around the country, and seeing all these different personalities and what it takes to be successful, I think that will really help me in terms of scouting. Because our job every "GameDay" was to know every Division I team, to know their strengths and their weaknesses. And that's something I'm going to have to deal with on a daily basis -- but geared toward North Carolina.
How do you think you can help this particular North Carolina team right off the bat?
HD:
That's my goal, is to just help. Yes, I'm 'Coach Davis,' I am a coach, but I don't look at myself as a coach. I look at myself as helping these kids. And that's something I'm going to tell each one of the players when I have a chance to meet with them: My job is to help them, and my job is to help them become the best basketball player they can become, and my job when they're ready to leave North Carolina, is to help them be ready to go out in the world. And whatever I say, and everything I do, I promise it's for your benefit.
The four years that I was there [at UNC] -- I always dreamed of going to Carolina. And my experience far exceeded what I dreamed it would be, not just as a basketball player, but as a student, as well. And I want those guys to have that same experience. I want
James Michael McAdoo
and
Leslie McDonald
and
Dexter Strickland
, I want those guys wanting in the offseason to come back to Chapel Hill because it's the place that they have loved, and the place where coaches have always wanted to help them. And I want that for every player, for the time I'm there.
When do you officially start, and what's next?
HD
: I'll start sometime next week; I don't know the specific date, but it will be soon. And then I've got to get acclimated. This is the first time I've ever had an office, so I guess I have to go decorate my office and go figure that out. Then probably the next step is take the NCAA Compliance Test, pass that so I can go out and recruit. And then graduation comes up soon, and the kids come back for the first session of summer school, and that will be an opportunity to really get to know them -- so by the time August comes around, I'll be ready to go.
It's been a whirlwind, but I am excited.
Follow Robbi Pickeral on Twitter at @bylinerp.
May, 2, 2012
5/02/12
8:00
PM ET
North Carolina
coach Roy Williams had made it clear over the last few weeks that his new assistant coach would have Tar Heels ties.
Williams got his "first option" Wednesday in former UNC guard
Hubert Davis
, who has spent the last seven years as an ESPN college basketball analyst. The school
announced the move in a statement Wednesday evening
.
"I am elated that I can fill this spot with Hubert," Williams said in a prepared statement. "I helped recruit him to Carolina in 1988, coached him in the World University Games in 1991 and have always admired him on and off the court. I knew the day would eventually come when I would need to replace staff members as they moved on.
"For the last four or five years Hubert has always been on my mind in case a spot did come open. I didn't know if I could get him to come back, but I knew I wanted him to be the first option. Coaching is about teaching, relationships and passion and I feel Hubert is the perfect choice. Our student-athletes will benefit greatly from what he adds to our staff."
Davis, who helped the Tar Heels to a 102-37 record before a 12-year NBA career, replaces Jerod Haase, who left UNC to become head coach at UAB.
Click
here for the rest of the story
.