North Carolina Tar Heels:

Ian Miller
March, 11, 2012
3/11/12
7:30
PM ET
ATLANTA — Florida State forward
Bernard James
has a simple message for those who dare to doubt his basketball team.
"You should be a believer now," he yelled as the last specs of championship confetti floated down around him from the Philips Arena ceiling.
Guard
Ian Miller
wasn't so reserved with his response.
"I guess they believe now," he said.
"If they don't, tough luck because we're getting a ring for this one."
It's hard not to believe in this FSU team after the Seminoles knocked off top-seeded North Carolina
85-82 in the ACC tournament final
. The Seminoles captured their first ACC tournament championship and became the first team since Georgia Tech in 1995-96 to beat both Duke and North Carolina twice in the same season.
The same team that lost 6 of 10 games from the end of November to the beginning of January, suffering losses by 20 and 18 points along the way, went 4-1 against Duke and North Carolina, proving that FSU's successes were no accident.
"This is not a fluke," Miller said. "You can't win a championship on a fluke. Today, by winning this championship, our coaches told us it ain't a fluke no more. People know we're real now."
Added James: "We silenced a lot of the doubters who say we don't belong in the same breath as Duke and Carolina."
Sunday, FSU stood alone, again, but only because it was above Tobacco Road's giants.
[+] Enlarge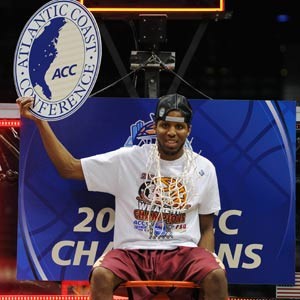 Bob Donnan/US PresswireGuard Michael Snaer and the Seminoles will be a tough force in the NCAA tournament.
Now, the Seminoles, turn their attention to the NCAA tournament and are looking to take their high-flying act to the top of the college basketball mountain.
"We have five or six more wins until the national championship," Miller said. "We're trying to get there now."
The notion of FSU making such a run in the craziest of months is no longer laughable. This team is legit. It went from trouble to tremendous in a few months and now has tons of momentum to thrive off of.
Plus, it's going to be hard for teams to keep up with the Noles. FSU's up-tempo offense frustrated its victims throughout the ACC tournament. UNC, which desperately wanted to slow things down, was left zonked after its uncomfortable foot race.
With such a deep bench, FSU was able to keep its motor going and the legs churning.
"We were all coming off a third day of playing so we wanted to impose our will and try to let them know that they couldn't outrun us," forward
Xavier Gibson
said.
That sort of thing will come in handy during the Dance.
This team can shoot, too, with guards like
Michael Snaer
(ACC tournament MVP),
Luke Loucks
and
Deividas Dulkys
lighting it up from the floor. The Noles shot just under 60 percent against the Heels and shot no worse than 42 percent during its current five-game winning streak.
FSU is also hot from beyond on the arc after hitting 25 of 49 3s in the ACC tournament.
With as fast, physical and athletic as the Noles are, this will be a formidable group for any team to face in the coming weeks. Physically, this team is ready, but players want to make sure that once the celebration of Sunday's win has subsided that this team is in the right frame of mind for another championship run.
"We can't get satisfied with this," James said.
For as sweet as Sunday's win was, this team is still hungry.
"The ACC was just to let people know that we're not a game, there's no jokes no more," Miller said. "We wanted to make a statement and today we did that."
March, 11, 2012
3/11/12
3:36
PM ET
ATLANTA -- Florida State survived a vicious rally and a last-second 3-point attempt from top-seeded North Carolina to capture its first ACC tournament championship with a
85-82 win Sunday
.
With the win, the Seminoles became the first team since Georgia Tech in 1995-96 to beat both Duke and North Carolina twice in the same season.
The Seminoles' up-tempo offense was too much for the Tar Heels to handle for most of the afternoon, but it also helped that FSU shot 58.9 percent from the field (33-of-56).


UNC matched FSU well in the second half, but a nine-point halftime deficit was too much for the Heels to overcome. Florida State also connected on 11 of 22 3-point shots, including four from both
Michael Snaer
and
Deividas Dulkys
.
Four Seminoles players -- Snaer, Dulkys,
Luke Loucks
and
Ian Miller
-- were all double-digit scorers.
Without forward
John Henson
, who was out with a sprained left wrist, UNC failed to have a consistent down-low presence on both ends of the floor.
Turning point:
With UNC down one with 10 seconds left, point guard
Kendall Marshall
chucked a deep 3 that rimmed out and was rebounded by Dulkys. He was fouled and converted two free throws to put FSU up three with five seconds remaining.
Key player:
Snaer scored a team-high 18 points on 7-of-13 shooting and hit 4 of 5 3-point attempts. He was also named the tournament MVP.
Key stat:
Florida State shot 58.9 percent from the field Sunday and hit 11 of 22 3s.
Miscellaneous:
This was North Carolina's ACC-leading 31st appearance in the ACC tournament championship game. ... Since Dulkys scored a career-high 32 points in the regular-season win over UNC, his best point total had been 14 points. He scored 16 Sunday. ... UNC's
P.J. Hairston
hit three 3s Sunday. Since hitting four against Monmouth on Jan. 1, Hairston had made only eight 3s heading into Sunday. ... FSU's
Bernard James
recorded five blocks. ... Both teams each scored 40 points in the paint. ... FSU's bench outscored UNC's 28-14.
What's next:
FSU's tournament chances were never in doubt, but with the win, it earned an automatic bid to the Big Dance. Now, the Noles will sit back and wait for their seeding fate. FSU could now be seriously considered for a No. 3 seed. UNC likely locked up a No. 1 seed with Duke's loss to the Noles on Saturday, but there could be some worry with Missouri capturing the Big 12 championship Saturday night.
March, 10, 2012
3/10/12
10:30
AM ET
ATLANTA – North Carolina and Duke are still vying for a top seed in the NCAA tournament.
NC State is trying to solidify a spot in the field of 68.
And Florida State – which has already secured a spot in the NCAAs – would like to become only the second team not named "UNC" or "Duke" to win the ACC tournament in 16 years.
A quick preview of today's NCAA semifinals at Philips Arena:


No. 1 seed North Carolina vs. No. 5 seed N.C. State, 1 p.m. EST
Will he play or won't he play? The status of UNC forward
John Henson
's left wrist – which he sprained in the first half of his team's quarterfinal win over Maryland on Friday – hasn't reached the scrutiny level of "Ty Lawson Toe-Gate", circa 2009 (when the starting point guard sat out the entire ACC tournament, and part of the NCAAs, en route to a national title).
But give it time.
Official word Friday was that the 6-foot-11 junior would test his pain threshold Saturday morning to see if he would be able to play against the Wolfpack. But frankly, it would make sense to be cautious with the ACC's leading rebounder, blocker and defender. UNC, after all, has wrapped up an NCAA tournament berth, and it's just a matter of whether it ends up with a No. 1 or No. 2 seed.
If Henson doesn't play, it opens up more room the lane for NC State forward
C.J. Leslie
, who has come on particularly strong of late. He's averaging 18.9 points and 11 rebounds over his past seven games – including 19 points and 14 rebounds in Friday's quarterfinal victory over Virginia.
"He [Henson] is a great player – first-team All-ACC, Defensive Player of the Year; we want him to play,'' Wolfpack guard
C.J. Williams
said. "We don't want to give a team an excuse, 'Oh, we didn't have one of our best players.' He's definitely a matchup problem for us, with his length and his size … but we want him to play."
The Tar Heels beat their in-state rival in both match-ups this season.


No. 2 seed Duke vs. No. 3 seed Florida State, approximately 3:30 p.m. EST
Duke, which lost to Florida State on its home court in January, offered up a little bit of payback last month, when it beat the Seminoles in Tallahassee, Fla.
Guard
Andre Dawkins
was 6-for-12 for 22 points that game, with all six of those made shots being 3-pointers.
But since then, however, he's made only 1 of his 12 shot attempts over his past four games. Not a good stat for the Blue Devils, especially since they are also missing forward
Ryan Kelly
for the ACC tournament because of a foot injury.
The key for FSU will be to limit Duke's outside scoring while taking advantage of the Devils' thin depth inside.
And if it's close at the end, they have a couple of clutch options in
Michael Snaer
and
Ian Miller
, who have both buried game-winners this season.
"We know we have a tremendous opportunity to do something great,'' Snaer said. "My team is really confident in our abilities, and we're playing like it. We're playing together. … We know how important this game is to us, and to our program and to the history of our program. And I can't wait for it to get started."
February, 20, 2012
2/20/12
8:00
AM ET
With two weeks remaining, it looks like it's going to be a down-to-the-wire race for the regular-season ACC title. This week's attempt at the power rankings:

1. Duke:
After needing a 20-point rally to beat N.C. State, Duke had it a lot easier at Boston College on Sunday. The Blue Devils won by a decisive 25 points to remain tied atop the ACC standings with UNC and Florida State. Next up: a trip to Tallahassee, Fla., on Thursday for a rematch with the Seminoles.
2. North Carolina:
Sophomore
Harrison Barnes
averaged 23.5 points in wins at Miami and over Clemson, and both he -- and his teammates -- appear to be revving up for a postseason run. Outside shooting is still a concern lately, but defense is making up for it.
3. Florida State:
The Seminoles' win at N.C. State on Saturday marked the first time the they have beaten all four ACC teams from North Carolina -- UNC, Duke, Wake Forest and the Wolfpack -- in the same season. "Being from North Carolina, it's a big thing,'' said guard
Ian Miller
, who hails from Charlotte, N.C.
4. Virginia:
The Cavaliers' upset loss at Clemson marked the first time they have dropped back-to-back games this season. But the Cavaliers followed up by beating Maryland to secure its first 20-win season since 2006-07.
5. Miami:
After his team lost to the Hurricanes, Wake Forest coach Jeff Bzdelik said he thinks Miami is an ACC tournament team. But UM (which broke a two-game losing streak with the win) is taking a one-game-at-a-time approach: "It's a goal and a dream,'' guard
Durand Scott
said, according to The Miami Herald. "But you can't deal with the future unless you take care of the present. Today is the present. Today is what's important right now."
6. N.C. State:
With back-to-back losses at Duke and to FSU last week, it's going to be difficult to reach the 11 ACC victories coach Mark Gottfried predicted his team would need for an NCAA tournament at-large bid. The Wolfpack are now 7-5 in league play, with home games against UNC and Miami and road matchups at Clemson and Virginia Tech left on the docket.
7. Maryland:
The Terps suffered their largest margin of defeat this season when they lost by 27 points at Virginia, and coach Mark Turgeon grew so frustrated with his team's turnovers and shot selection that he pulled his starters with four minutes left. "I just had enough of selfishness, not boxing out, not defending,'' he said, according to The Baltimore Sun.
8. Clemson:
The Tigers followed an upset win over Virginia with yet another loss to the Tar Heels in Chapel Hill. "I don't think it has much to do with extra pressure or anything like that,"
Tanner Smith
said of the Tigers' 0-56 streak at UNC. "We just didn't make the plays down the stretch that we needed to make."
9. Virginia Tech:
Dorenzo Hudson
's desperation 3-pointer at the buzzer helped beat Georgia Tech in overtime. But it couldn't quite erase the sting of allowing FSU to come back from a nine-point deficit in the final 90 seconds to win, just two days before.
10. Wake Forest:
The Deacons ended a six-game slide with a win over Georgia Tech, only to possibly begin another one with a loss at Miami. They get a break before playing Boston College next weekend.
11. Boston College
: The Eagles managed only 50 points against Duke and lost their third straight game.
12. Georgia Tech:
The Jackets' last-second loss at Virginia Tech means they have now lost three straight, and nine of their past 10. They played that game without
Glen Rice Jr.
, who is suspended indefinitely.
Follow Robbi Pickeral on Twitter at @bylinerp.
January, 16, 2012
1/16/12
8:00
AM ET
What's more surprising so far in this topsy-turvy ACC? That Boston College, the team predicted to finish 12th in the ACC, already has two league wins or that North Carolina, predicted to win the ACC and more, got pummeled at Florida State by 33 points? Here's this week's attempt at ranking the squads in this head-scratching conference:
1 . Duke:
The Devils' defense is still a work in progress, but it showed some much-needed second-half intensity in surviving a close game against Virginia (despite making less than half of its free throw attempts and only a quarter of its 3-point attempts) at home last week. After winning at Clemson on Sunday, Duke is 3-0 in ACC play.
2. Virginia:
The Cavs took Duke down to the wire at Cameron Indoor Stadium last week, but couldn't find enough offense besides senior forward
Mike Scott
to extend their 12-game winning streak. Still, this team's defense (as well as Scott, who has scored 23 points in each of his last two games) is going to continue to give teams fits.
3. North Carolina:
The 33-point loss at FSU on Saturday was the worst in the Roy Williams era -- embarrassing and unacceptable for a team considered a Final Four favorite. The Tar Heels must show more mental toughness on the road. They must get more from their bench. And they need a lot more from ACC Preseason Player of the Year
Harrison Barnes
, who is 7-for-25 his last two games.
4. N.C. State:
After coach Mark Gottfried challenged his team to play better defense than it did during its mid-week loss to Georgia Tech, the Wolfpack responded, holding Wake Forest to 2-for-20 from 3-point range and 40 points, total. All five NCSU starters continue to average double figures in scoring.
5. Florida State:
After winning at Virginia Tech and blowing out UNC by 33 points, it looks like it's finally starting to come together for the Seminoles. Their defense is showing its expected intensity, the team is playing more as a unit.
Deividas Dulkys
isn't going to score 32 points every day, but if FSU can get some consistent offense from
Michael Snaer
and
Ian Miller
, it's going to become harder and harder to beat.
6. Maryland:
The Terps have now won nine of their last 10 games as
Terrell Stoglin
continues to score and freshman
Alex Len
continues to impress. Next up: a test at Florida State, another team that looks on the upswing after an inconsistent start to the season.
7. Miami:
The Hurricanes, on paper, have the pieces to be a factor in the ever-shuffling ACC standings, but they still haven't put it all together. They've had plenty of time to stew after their big loss at UNC last Tuesday, but they can't afford to have guards
Malcolm Grant
and
Durand Scott
both shut down, as they were against the Tar Heels.
8. Clemson:
After losing to Boston College and Duke, coach Brad Brownell is still looking for a go-to scorer to consistently make plays, when needed.
9. Virginia Tech:
After losing to Boston College (a team with nine freshmen) coach Seth Greenberg said it's too early to panic. But at 0-3 in the ACC, with games against UNC and Virginia on the horizon, the Hokies are on the brink of busting their NCAA tournament bubble before it's even inflated.
10. Georgia Tech:
The Jackets snapped their four-game losing streak by winning at N.C. State, only to lose at Maryland. Tech scored only 19 points in the first half of that game, its lowest half of scoring of the season.
11. Boston College:
Who'd have thunk it? The freshman-laden Eagles followed a two-point win over Clemson with a two-point win over Virginia Tech. You've got to respect what Steve Donahue is building in Boston.
12. Wake Forest:
N.C. State tried to keep the Deacons from scoring 40 points in its 36-point romp; it almost succeeded. Although junior
C.J. Harris
remains near the top of the league in scoring, the Deacons have now lost three of their last four games.
Robbi Pickeral can be reached at bylinerp@gmail.com. Twitter: bylinerp.