North Carolina Tar Heels:

Jackie Manuel
October, 28, 2013
10/28/13
12:30
PM ET
Senior guard
Leslie McDonald
has always had a sixth-man mentality. In 100 career games at North Carolina, he has started only once. That could change for McDonald this year -- due in part to the potential suspension length of
P.J. Hairston
and partly because coach Roy Williams is still experimenting with different lineups.
Here's where you're reminded that McDonald scored a career-high 24 points last season when he made his lone start against UAB.
[+] Enlarge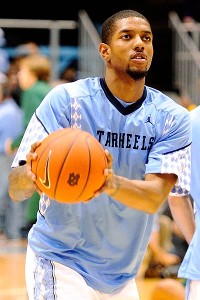 Curtis Wilson/USA Today SportsLeslie McDonald is a big believer in pregame warmups.
Williams has made a habit of starting a more defensive-minded player and having "instant offense" as a sixth man. That's how Jackie Manuel started every game on the 2005 national championship team while Marvin Williams came off the bench. It's also why Danny Green was a backup to Marcus Ginyard on the 2008 Final Four team.
McDonald and
J.P. Tokoto
are most likely to split time at small forward. Tokoto is a better defender. It should be noted that on the 2009 title team, Williams leaned toward starting Green ahead of Ginyard even before an injury that sidelined him that season. Williams could face a similar decision with McDonald and Tokoto.
McDonald said it really doesn't matter to him whether he's coming off the bench or on the floor from the opening tip. The key for the Memphis native in either case comes down to his pregame warmups.
"Just getting into the flow of shooting is key for me," McDonald said. "Once you see your shot going in in pregame and you move around get a little sweat you kind of feel for that game and you see what you're going to do beforehand."
McDonald's pregame routine turns into a game unto itself. If he makes many of his early shots, he knows he's ready. He'll slow down and play it conservatively the rest of his time in warmups. If he's not making anything, he'll move in to make higher-percentage shots to regain confidence.
"You know your body, I feel like players know their bodies, they know themselves," McDonald said. "Once they have a good routine then they can chill out for a bit and save some for the game."
April, 18, 2012
4/18/12
1:00
PM ET
CHAPEL HILL, N.C. -- I caught up with North Carolina coach Roy Williams for a few minutes before he addressed fans at the Rams Club's Triangle Tour stop on Tuesday night. A few notes:
COACHING TREE GROWS:
Williams said he plans to
hire a person with UNC ties
to replace assistant coach Jerod Haase, who left earlier this month to become head coach at UAB. But it won't be last season's assistant strength and conditioning coach Jackie Manuel, who is now an assistant coach at UNC Greensboro under former Tar Heels guard Wes Miller. And it won't be assistant video coordinator Bobby Frasor,
Haase's new director of basketball operations
.
Williams thought it would be good for the former Tar Heels guards to gain more coaching experience outside of Chapel Hill.
"I asked Wes to take Jackie, and it was an easy sell. I asked Jerod to take Bobby, and that was an easy sell. Because I thought those were great spots for them to start their coaching career,'' Williams said. "They were wonderful kids, but I wanted them to understand that not every place is like North Carolina.
"I think it was great for me that I was a high school coach for five years; I was an assistant coach for 10 and I had two practices for eight. I realize that somebody's got to flip a switch to turn the lights on, somebody's got to mop the floor; it doesn't just happen magically. And when you coach at North Carolina, you think that all those things happen magically, and they don't. Somebody has to do that."
TEAM LIKELY SET:
With three underclassmen leaving early for the NBA draft and ACC Player of the Year
Tyler Zeller
graduating, the Tar Heels lose four-fifths of the starting line-up that led UNC to the NCAA regional finals. A four-man freshmen class arrives in June, but it sounds like Williams doesn't expect any late additions to next year's team.
"We always keep our eyes and ears open; I'm never going to say that we wouldn't be interested," he said. "But there's nobody out there. There was all this stuff in the paper about one player, that we were doing all this stuff. I talked to the kid one time, period.
But, he added, "we'll always keep our options open."
Although he didn't give that player's name, Williams was referring to his call to Connecticut forward
Alex Oriakhi
, who chose instead to transfer to Missouri. Oriakhi won't have to sit out a season because the Huskies are barred from playing in next year's NCAA tournament, and he would have added an experienced big body to a Tar Heels team that loses both starting forwards (Zeller and
John Henson
).
Williams told fans Tuesday night that sophomore forward
James Michael McAdoo
(who will slide into one of those starting positions) "has a chance to be a big-time, big-time player; he's got to step his game up."
Wing
Reggie Bullock
, he added, "will have to take his game to another level."
Meanwhile, "Dexter [Strickland] and Leslie [McDonald] have to come back in and be healthy, and then the freshman group we have coming in, they've got to show us that they're strong players, as well."
With so many veteran players on the perimeter and so many younger ones in the post, it will be key to see whether Williams opts to go with a smaller, guard-heavy line-up compared years past. Even he doesn't know -- yet.
"It will be interesting to see how my thought process goes over the summer,'' he said.
MIGHT-HAVE-BEENS:
Not surprisingly, it's been a difficult few weeks for Williams, after his team -- which began the season ranked No. 1 and had national title goals -- lost to Kansas in the NCAA tournament in the Midwest Region final.
"It's been really hard, because it was a great, great year with a sad, sad ending. … Our last regular-season game, when we played at Duke, I thought we were pretty doggone good. And I said on the bus, just to our coaching staff, that for me, if we played like that, then we have a chance to win the whole thing.
"Then the very next game, John gets hurt [sprained wrist] -- and John was never the same. And then the second game in the NCAA, Kendall [Marshall] gets hurt, and that's about as unlucky as I've ever been, I guess, too."
Follow Robbi Pickeral on Twitter at @bylinerp.
April, 16, 2012
4/16/12
9:00
AM ET
Some Tar Heels hoops-related notes, quotes and stories that you might have missed from the weekend:
ORIAKHI CHOOSES MISSOU:
Connecticut transfer
Alex Oriakhi
, the 6-foot-9, 245-pound rising senior who will be eligible to play next season because the Huskies are banned from the 2013 NCAA tournament,
chose Missouri on Friday instead of Kentucky, Xavier or North Carolina
.
Oriakhi, who averaged 7.2 points and 6.8 rebounds in three seasons at UConn, seemed likely to slide into a starting slot had he chosen UNC, what with 7-foot ACC Player of the Year Tyler Zeller's graduation and ACC Defensive Player of the Year John Henson's decision to leave early for the NBA.
His decision leaves rising sophomore
Desmond Hubert
, as well as incoming freshmen Brice Johnson and Joel James, competing for a starting position in the post alongside rising sophomore
James Michael McAdoo
.
JOHNSON, TOKOTO IN JORDAN BRAND CLASSIC
: Speaking of Johnson, he finished with four rebounds and a steal, while fellow incoming UNC freshman J.P. Tokoto had eight points, four rebounds and three steals during the
East team's loss in the Jordan Brand
Classic on Saturday.
Tokoto told the Durham Herald-Sun
it was a fun experience
.
"Me and Rodney [Purvis, who will be a freshman at N.C. State] shared a room this week," Tokoto told the newspaper. "We developed a friendship and it was pretty cool hanging out with him. Me and Sheed [incoming Duke freshman Rasheed Sulaimon] have always joked around with UNC-Duke kind of stuff.

"It was an all-around fun weekend. We don't take it too seriously — yet. But when we play, it will be a different story."
MILLER, MANUEL REUNITE AT UNCG:
Jackie Manuel, who spent last season as UNC's assistant strength and conditioning coach, is a new assistant coach at UNC Greensboro. He was hired by head coach Wes Miller, a former teammate on the Tar Heels' 2005 national title team.
"It's a great honor, and I'm very thankful for Wes to think of me that highly," Manuel said in a
prepared statement released by UNCG
. "I'm very appreciative and just blessed. It brings back old memories. It doesn't happen often, whether it's playing, coaching, whatever it is, that you get to be with a teammate again. It's going to be good. We know each other very well, so the transition should be real easy."
Follow Robbi Pickeral on Twitter at @bylinerp.
December, 13, 2011
12/13/11
5:00
PM ET
CHAPEL HILL, N.C. -- When North Carolina beat Wisconsin two weeks ago, a plethora of basketball alums -- most of them members of Final Four or national championship teams -- could be spotted behind the Tar Heels' bench at the Smith Center, cheering and grinning and yelling occasional instructions.
Rasheed Wallace, Antawn Jamison, Shammond Williams, Raymond Felton, Marvin Williams and Tyler Hansbrough (among others) weren't there just to support the program, as usual -- but this particular Tar Heel team. Because in their own way, they helped forge it.
"I told the guys: 'Since I've been here, since 2001, I've never seen so many pro guys back during the summer, to actually play against, to actually learn from,''' said Jackie Manuel, one of those pros who was back during the summer, and was recently named UNC's assistant strength and conditioning coach. "I told them: 'This is an opportunity of a lifetime, you don't know when you're going to have a chance to play against this many of the [veteran] guys, again. Use it to your advantage.'
[+] Enlarge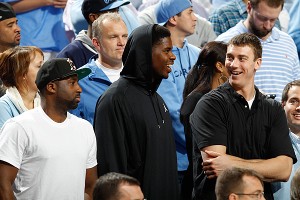 Bob Donnan/US PresswireFormer Tar Heels (L to R) Raymond Felton, Marvin Williams and Tyler Hansbrough watched as North Carolina defeated Wisconsin last month.
"And they did."
Indeed, many of the current Tar Heels credit their predecessors -- which also included Brendan Haywood, Brandan Wright, Bobby Frasor, Jawad Williams, Marcus Ginyard, Vince Carter, Deon Thompson, Sean May and Wayne Ellington -- for pushing the strides they've made individually, and as a team.
Big men
Tyler Zeller
and
John Henson
got to consistently compete against the likes of Haywood, May and Wallace in pick-up games, "and they gave us size and length that we had never seen before,'' Zeller said. "It almost seemed easy when they weren't guarding you, after you'd gone against them for a week."
Point guard
Kendall Marshall
got to match up with Felton -- the speedy ballhandler whose school record for assists in a game (18) he is now trying to break.
"He basically showed us on a daily basis why he's an NBA all-star,'' Marshall said. "That showed me on a daily basis what I needed to improve … and I respect him a lot for coming back, and still playing with us, and helping me out."
It's not that vets haven't come back before. Since head coach Roy Williams returned to Chapel Hill in 2003, there always seems to be alums at the Smith Center during the summers, either working out in the weight room with strength and conditioning coach Jonas Sahratian or popping in to visit with old teammates and assistant coaches.
But the NBA lockout brought more Tar Heels home than in recent memory -- players looking to keep in shape, to compete with other locked-out pros, to hand down a bit of their knowledge to the next potential Final Four squad.
And it made for some lively pick-up games.
"We had some battles,'' forward
Harrison Barnes
said. "We used to play seven-game series. Our starting five against Raymond, Brendan Haywood, Rasheed, Marvin, Jackie -- we'd have some pretty intense pick-up games. It would be Game 7, some hard fouls, some words were exchanged … because no one at Carolina ever wants to lose."
And if a foul was actually called?
"They'd just point up to the banners,'' Barnes said, referring NCAA commemorations hanging in the Smith Center rafters. "It was intense."
But always educational.
Zeller said he was able to pick up some tips and tricks that the pros learned in the pros. Henson said he still gets text messages from Wallace after almost every game. Freshman
James Michael McAdoo
said he met a role model in Marvin Williams -- a forward, like him, who didn't mind coming off the bench if it was the best thing for the team.
Marshall said the vets also talked to current players about how to deal with expectations and pressure, both on and off the court.
"When you're guarding these pro players, day in and day out, you're going to learn a few things and take some beatings,'' Marshall said. "But ultimately, it's going to make you better."
And the team.
And the program.
Manuel said he remembers a time, under former coach Matt Doherty, when there weren't many alumni around. The willingness of so many pros to return during the summers now, he said, is a testament to the re-bonded Tar Heel family.
The current UNC players recognize that as well. And appreciate it.
"I think that's what gives Carolina that special edge," Barnes said. "A lot of former players come back because they want to be here, they want to help out.
"... If you see all the banners and stuff, you always have that enigma of, 'Oh, I wonder what it was like.' But to have their actual experiences, to have somebody [that is around] go through what you want to go through, there's nothing like it."
Robbi Pickeral can be reached at bylinerp@gmail.com. Twitter: @bylinerp.
November, 23, 2011
11/23/11
2:20
PM ET
Each week, we'll try to catch up with someone involved with the Tar Heels program – be it a former coach, player, or member of the team. Curious about someone in particular? Email me at bylinerp@gmail.com.
CHAPEL HILL, N.C. -– Jackie Manuel hasn't worn his national title ring since 2005, the year he helped North Carolina win the NCAA championship.
"But I've seen the coaches with theirs during games, so I might have to think about getting mine back out,'' he said, laughing.
After all, he is now a coach, too.
[+] Enlarge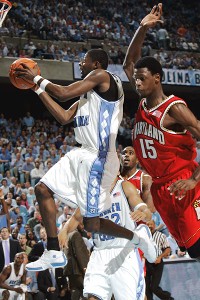 Bob Donnan/US PresswireJackie Manuel, a former UNC guard who is seen in this January 2005 photo, has returned to the university as an assistant.
After playing four years in the NBDL, a few weeks in Argentina and most recently in Japan, Manuel has officially retired – and was named UNC's assistant strength and conditioning coordinator last week.
"I've had the itch [to coach] for three, almost four years now,'' said Manuel, a defensive stopper who averaged 5.5 points and 2.8 rebounds his senior season. "It was one of those things, when I first left school, people said I would make a good coach, but I sort of ran away from it. Then, a few years ago, I started to realize, 'Man, this is something I want to do. I can actually affect kids in a positive way.'''
Manuel, who lives in the Chapel Hill area with his wife and 3-year-old daughter, actually started talking to UNC coach Roy Williams about the idea of a career switch several years ago. He had planned to play professionally one more season. But with the NBA lockout also having an effect on opportunities overseas, he said, he figured now was the time to make his move.
He didn't know if he'd have a chance to start his new career at his alma mater, so when Williams told him and Bobby Frasor (a guard on the 2009 national title team, who was named assistant video coordinator last week) about their six-month appointments to their respective new jobs, Manuel was thrilled.
"When Coach pulled us aside and told us, me and Bobby just looked at each other like, 'Are you serious?''' Manuel said. "The last guys that played for Coach Williams, and then were hired to work for him, were Coach [Jerod] Haase and C.B. [McGrath, who are both current assistants] … and that was in the late '90s. So it means a lot."
Williams said the way Manuel played lays the foundation to make him a good coach.
"Jackie was one of the best perimeter defenders I've ever been around, and was able to sacrifice in so many areas to fit into what the team needed,'' Williams said. "And that's what you have to do to be part of a good coaching staff, is figure out what you can add."
Manuel said his main duties, for now, will be working with players in the weight room and helping to stretch them on the court -- as well as soaking up as much knowledge as possible from Williams and the rest of the staff.
He's mastered one thing already: sounding like a coach.
Asked of his chances of winning a second national title ring with this year's Tar Heels, who are currently ranked No. 1 and are a Final Four favorite, Manuel responded: "It's a long season, and so many things can happen. I always reflect back to our season [in '05] – all the little things that happened, the wins and losses, that got us to the championship. … It is possible, this team definitely has the talent to do it. But you need a little luck, too.
"... I'm just happy to be a part of it."
Follow Robbi Pickeral on Twitter at @bylinerp.
November, 18, 2011
11/18/11
11:38
AM ET
Bobby Frasor and Jackie Manuel -- guards on North Carolina's 2009 and 2005 national title teams, respectively -- are now on the basketball staff, the school announced Friday.

Frasor will serve as assistant video coordinator; Manuel is the new assistant strength and conditioning coordinator. Both are six-month appointments that run through May 15, 2012.

"These are two outstanding young men who have decided to end their competitive playing careers and are looking to get into basketball from a non-playing perspective," coach Roy Williams said in a prepared statement. "I think this will be a great opportunity for them to focus on what it takes to run a program. They'll set good examples for our current players because they know what it takes to win at a high level."