North Carolina Tar Heels:

Jason Capel
December, 29, 2011
12/29/11
9:00
AM ET
The Tar Heels haven't faced the Phoenix since 1950, and if North Carolina stretches its win streak over Elon to 11 straight tonight, it will also
tie the all-time consecutive win streak in the Smith Center
, at 25 straight.


A few things to watch:
THE MEN IN THE MIDDLE
Although Elon likes to shoot 3-pointers, its leading scorer is 6-foot-10 sophomore
Lucas Troutman
(12.6 point per game), who is also pulling down 5 rebounds and blocking 1.6 shots per game. He'll have a lot to deal with, though, in UNC's starting big man tandem of 7-foot
Tyler Zeller
, who is averaging 10.6 rebounds his past three games, and 6-10
John Henson
, who is averaging a double-double, plus 3.3 blocks, this season.
THE BISCUIT CHANT
Elon assistant coach Jack Wooten – a walk-on who played on UNC's 2008 Final Four team and 2009 national title squad – was often on the court during his playing years when Tar Heels fans began the "We want Biscuits!" chant, meaning Carolina was closing in on 100 points. (When UNC hits triple digits during home games, fans get two sausage biscuits for a buck at local Bojangles fast food chains.)
When Jason Capel brought his Appalachian State team to Chapel Hill, N.C., earlier this month, that former UNC player's team kept the fans from their reduced-price morning munchies. Will Wooten's team be able to do the same? The Phoenix rank first in the Southern Conference, and 17th in the country, in field-goal percentage defense (.386).
P.J. HAIRSTON'S SHOOTING
Although the UNC freshman has scored in double figures in two of his past four games, he's done it mostly via the free-throw line, while shooting only 4-for-18 from the field. Look for the reserve sharpshooter – whose driving dunk vs. Texas last week won't soon be forgotten – to start connecting. And soon.
Follow Robbi Pickeral on Twitter at @bylinerp.
December, 18, 2011
12/18/11
8:00
AM ET
The Morning After: Thoughts, notes and anything else that didn't quite make this space after North Carolina's latest game (in this case, the No. 5/6 Tar Heels' 97-82 victory over Appalachian State on Saturday night, during which senior forward Tyler Zeller scored 31 points).
CHAPEL HILL, N.C. – Everything the Tar Heels ran Saturday night, Appalachian State coach Jason Capel said, "I knew it was coming."
After all, he was coaching in the arena – albeit on the opposing sideline – where he started at forward for North Carolina from 1998-2002. And he was coaching against a program that he once helped to a Final Four.
"It was good to be home,'' he said.
Capel, a former two-time All-ACC player, said he was proud of the way his Mountaineers responded against his No. 5/6-ranked alma mater at the Smith Center. Appalachian State trailed by as many as 29 points in the second half, yet lost 97-82.
"We didn't just play hard, we competed,'' Capel said. "We didn't take a step back when they clocked us in the mouth, we just kept coming forward. We got down [29] … we stayed together. That's part of the process."
Capel -- who, at 31, is the third-youngest Division I men's head basketball coach in the nation -- admitted he was a bit nervous before the game. Although he returned to watch his former teammates play in 2005, and came back for the 100-year celebration of Carolina basketball a couple seasons ago, he hadn't been around the program as much as some alums.
So, "it was good to come to back, it was good to share that [pre-game] moment with Coach [Roy] Williams, it was good to see … a lot of familiar faces, people I know. It meant a lot to me."
The highlight: when Bill Guthridge, his head coach for his first two seasons at UNC, attended the Mountaineers' shootaround. "And no one understands how much that meant to me,'' Capel said.
But it does make it easy to understand why each team's plays were so familiar to the other; Carolina coaching ties, and strategies, run deep.
"They call it 'B1', I call it 'Detroit'. They call it 'B2', I call it 'Detroit Double','' he said. "… I tried to stay away from the stuff we run alike, because I know they know it. [But] I called 'Detroit' one time, and
Kendall [Marshall
, UNC's point guard] said 'B1.' It's the same stuff, you try to give it two names. He put the two fists up one time, and I told my guys, 'They're trapping the first pass.' The signals are the same.
"Obviously, they have a different athlete to be able to execute some different things, but we got them in some things they do themselves, and that makes you feel good a little bit. Because we were able to execute it knowing they knew what was coming."
Follow Robbi Pickeral on Twitter at @bylinerp.
December, 17, 2011
12/17/11
10:25
PM ET
CHAPEL HILL, N.C. -- In an attempt to try to prepare his squad for how quickly North Carolina's big guys can get ahead of a fast break, Appalachian State coach Jason Capel had team managers start sprinting at half-court during practice last week. Then he told his players, beginning from the baseline, to try to catch them.
"But nothing can prepare you for a 7-footer running that fast,'' the former Tar Heels forward said after his team
lost 97-82
at the Smith Center. "It's impossible to do."
Using a bevy of hook shots, free throws – and yes, fast-break buckets – 7-foot UNC senior
Tyler Zeller
led the Tar Heels with 31 points (one shy of tying his career high).
Coach Roy Williams said the forward has had better all-around outings this year. But, according to Zeller, "it was just one of those games where everything seemed to be going in."
Then again, it always helps to have a tall guy who can beat everyone to the bucket.
"Z does a great job running,'' said point guard
Kendall Marshall
, who finished with 13 assists and only 2 turnovers. "He kind of reminds me of a deer almost when he gets out and runs."
"[Then] when he gets in the post, he does such a great job of getting post depth and showing me his whole body, I have no choice by to give him the ball."
Marshall got Zeller the ball early and often Saturday, as the forward scored 7 points en route to UNC's early 13-2 lead.
He scored his 20
th
point, just before halftime, when Marshall threw up an almost-full-court shot/pass with time winding down that ended up ricocheting off the rim and into the hands of teammate
Dexter Strickland
. Strickland then found Zeller for the bucket, which gave the Tar Heels a 48-32 lead.
[+] Enlarge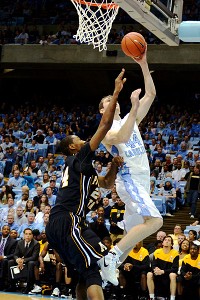 Rob Kinnan/US PresswireSuperior speed got Tyler Zeller and UNC past Appalachian State.
The field goal was Zeller's reward for sprinting down the court so fast. It was an advantage he realized he could use during the pregame, when an assistant coach wrote the opposing players' names, heights and weights on a planning board in the locker room.
The dimensions of 6-foot-10, 290-pound Mountaineer
Isaac Butts
particularly stood out.
"We saw 290, and I think
John [Henson]
was the first one to say, 'Yeah, we're going to get out on them … because we know 290 is tough to run," Zeller said.
UNC built a lead as large as 29 points (76-47, on a Zeller free throw) in the second half before the Mountaineers dug back.
"We were really good for about the last 4 minutes of the first half and the first 4-5 minutes of the second half," said Williams, whose team had limited practice time this week because of exams. "And then we went brain-dead there for a while."
Still, the Tar Heels never trailed, and led by double figures for the entire second half as Zeller flirted with setting a new career high. But when he checked back into the game at the 6:41 mark with 31 points in his pocket, he didn't attempt another shot before exiting again with 4 minutes to go.
"I don't get caught up in that as much as everyone else,'' he said of his numbers. "I thought it was funny when I missed a free throw [with 10:15 left], but just because it was one point short of 30 and everybody got kind of sad. But it was just something that … [once I checked back in], if I got the ball again, I'd try scoring it, and if not, then I'll end up with 31."
Zeller also finished with 10 rebounds, while Henson added 17 points and
Reggie Bullock
and
P.J. Hairston
chipped in 10 points apiece.
Omar Carter
led Appalachian State with 21 points off the bench, but the Mountaineers – despite all that sprinting in practice this week – just couldn't quite keep up.
"It's something that we're always looking for,'' Zeller said of his team's fast break. "It's kind of funny, I heard their coach one time: I ran down and got a layup – and he said, 'I told you he was going to do that.'"
Follow Robbi Pickeral on Twitter at @bylinerp.
December, 17, 2011
12/17/11
9:00
AM ET
CHAPEL HILL, N.C. -- After a long week of exams for the Tar Heels -- practice was actually pushed back a half-hour Friday, because 11 players had one more test -- No. 5/6 North Carolina returns to the court after a six-day break to face Appalachian State tonight.


It marks the first of three games in five days for UNC, a stretch that poses some challenges considering the team hasn't been able to work out much together for the past week because of finals. It won't get much time to work out in the coming days, either.
"You can't practice the day of the game, and you can't practice them for four hours the day between the games if you're going to play three times in five days,'' UNC coach Roy Williams said. "So this is not a great practice scenario. It's survive, try to get a little bit better; survive, get a little bit better. It's not like it's going to be when we get back [from the holiday break] and we have three or four days and a game, then two or three days and a game."
A few things to watch tonight:
JASON CAPEL'S RETURN
Capel was a four-year starter for the Tar Heels from 1998-2002, and two-time All-ACC selection, before playing professionally overseas. After a couple years in the broadcast booth, he went into the family business (coaching), and is in his second year as Appalachian State's head coach.
Earlier this week, Capel said he was looking forward
to competing in the Smith Center, again. Meanwhile, Williams said the return of a former UNC player -- even one coaching from the opposite bench -- is always special.
"Once you're a Tar Heel, you always are, and you're part family, so it's always neat to look down there and see those guys on the other end,'' Williams said. "… Jason is a youngster that I always thought had tremendous savvy; coaching family, brother, father, that kind of deal. Probably mom is the best coach in the family, to take care of all three of those knuckleheads. But that part is a neat deal for us."
REBOUNDING
The tall Tar Heels were expected to dominate the boards this season, but so far they have been out-rebounded in five of their 10 games.
And the Mountaineers will pose another test, as
Andre Williamson
(7.6 rebounds per game),
Isaac Butts
(6.7) and
Omar Carter
(6.1) all rank in the top 10 in rebounding in the Southern Conference.
POINT GUARD KENDALL MARSHALL
How many assists will the sophomore, who leads the nation in that category with 10.6 per game, rack up this time around? With so many games in such a short span, Williams may need to limit his minutes, meaning breaking Ed Cota's record for assists in game (18) may have to continue to wait. But the pass-first ballhandler
also continues to work on his shot
. Will this be the game where it starts to consistently fall?
Robbi Pickeral can be reached at bylinerp@gmail.com. Twitter: bylinerp.
December, 16, 2011
12/16/11
10:00
AM ET
If you're in one of the first few rows around a basket at the Smith Center on Saturday, you might want to watch your head.
Not only will the game feature North Carolina's
John Henson
, who leads the ACC with 3.3 blocks per game, but also Appalachian State's
Andre Williamson
, who leads the Southern Conference with 2.1 swats.
[+] Enlarge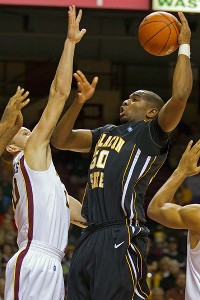 Jesse Johnson/US PresswireAppalachian State's Andre Williamson is averaging 8 points, 7.6 rebounds and 2.1 blocks per game.
"Andre blocks shots like he's spiking a volleyball -- he tries to throw it into the sixth row as hard as he possibly can,'' Mountaineers coach Jason Capel said, laughing. "He has a knack for it."
The knack, Williamson said, came from playing volleyball his senior season in high school, which was his mom's idea of trying to enhance her son's timing.
"It definitely helped,'' the 6-foot-7, 240-pound forward from Dayton, Ohio, said.
So much so, Williamson enters Saturday's game ranked fourth all-time on his school's blocks list. It's a tally he hopes to enhance because he knows it enhances his team's chance of success.
"My main goal for our team is to help get us to the NCAA tournament,'' said Williamson, who toured China as part of a three-week basketball trip with Athletes in Action over the summer. "… But I'd also like to get Defensive Player of the Year in the conference. That would mean a lot to me."
So far, he's on pace to be a factor in that race. Williamson is averaging 7.6 rebounds (third-best in the league) to go along with eight points. ASU enters Saturday's matchup at 4-5, and the player said the keys for his team are to get the ball into the lane, take smart shots and play solid defense.
That defensive-mindedness, Capel said, sets a good example for a team that boasts four seniors but several newcomers, as well.
"Andre's having a heck of a year so far. He's a huge piece to what we're doing and what we're going to do in the future,'' Capel said. " … His defensive prowess is something that's definitely an asset to our ballclub."
Although there is one teensy thing the coach is trying to tweak: "I tell you what, I would love for Andre to block shots and keep them in play so we can possibly get it and have an extra possession."
Until then, watch out if you're sitting close to the court. Especially at UNC.
"There's one on either side, because John Henson has the capability of doing the same thing,'' Capel said, laughing.
Follow Robbi Pickeral on Twitter at @bylinerp.
December, 14, 2011
12/14/11
5:00
PM ET
When Jason Capel played for North Carolina from 1998-2002, he had an inkling, somewhere in the back of his mind, that he might end up on the opposite bench at the Smith Center someday.
"But not this fast,'' he said, laughing during a phone interview Wednesday. "Not as a 31-year-old."
The former All-ACC forward -- in just his second year as a head coach, and third year in coaching overall -- will bring his Appalachian State team to play his alma mater in Chapel Hill, N.C., on Saturday.
He knows being on the opposing sideline will be odd. But it will also, he said, be special.
[+] Enlarge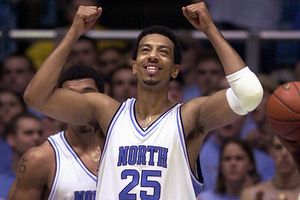 AP Photo/Grant HalversonJason Capel started all four years at UNC and led the Heels in scoring and rebounding his senior season.
"Some of the best times of my life have taken place right there at the Smith Center,'' said Capel, who once recorded a triple-double and who averaged 12.1 points and 6.7 rebounds over his career. "A lot of growing up took place, good and bad. Learning how to succeed, learning how to be a teammate, learning from some of the best basketball minds. Learning not just how to be a player, but how to be a man took place right there.
"So it's always special to go back -- and even more special to take my team to compete against probably the best program in America."
Capel played for UNC at a rocky time in that program's history. He started as a freshman, and went from playing in the 2000 Final Four under coach Bill Guthridge as a sophomore to being part of a team that plummeted to 8-20 under coach Matt Doherty as a senior.
He went undrafted, and many thought it was only a matter of time before he joined his father, Jeff Jr., and brother, Jeff III, in the coaching business. But Jason resisted -- for a while, at least.
After a back injury prematurely ended his overseas playing career in 2006, he used his communications degree to land in the broadcasting booth, working for Raycom and ESPN. But hanging out with his brother (then the coach at Oklahoma, now an assistant coach with Duke) and his father (now an assistant coach with the Philadelphia 76ers) made an impact.
So did a conversation with a respected mentor.
Capel was watching a practice at Charlotte Bobcats training camp in 2008 when he ran into former UNC coach Dean Smith.
"He said to me, 'You're know, you're good on TV, but you know you should be coaching,'" Capel recalled. "Anybody that knows Coach Smith, played for him, or has a relationship with him, knows that when he tells you something -- whether you believe it in yourself or not -- he makes you believe it."
So in 2009, he accepted his first coaching job as an assistant under another former UNC player Buzz Peterson at Appalachian State. A year later, when Peterson opted to leave for UNC Wilmington, Capel was ready to go with him.
Until he was offered the Mountaineers' head job.
"I was always taught that you never know who's watching, you just have to work hard preparing yourself for when opportunity knocks,'' Capel said.
He made the most of that opportunity, leading his team to a 16-15 record last season despite being one of the youngest basketball coaches in Division I.
This season's Mountaineers boast six newcomers and enter Saturday's game with a 4-5 mark, but Capel -- who was last in the Smith Center last summer, watching from the rafters as his wife graduated from nursing school -- is hoping his team can learn something from playing at his old home arena.
Just like he did.
"You're going to go there to wrestle a bear,'' Capel said. "But I want our guys to play loose, play confident, and play as hard as they possibly can. … We're going to have to play a pretty perfect game. But the big picture is, we want to go in there to compete for 40 minutes with a very good basketball team.
"I'm certain that we're going to play well on Saturday, and I'm really looking forward to it."
Robbi Pickeral can be reached at bylinerp@gmail.com. Twitter: @bylinerp.
December, 14, 2011
12/14/11
3:30
PM ET
At around midnight Tuesday, Appalachian State coach Jason Capel texted new interim UNC Greensboro coach Wes Miller. The former North Carolina forward welcomed the former Tar Heels guard to the head coaching ranks, and told Miller that his heart would never stop beating fast, as long as he was a head coach.
"It's actually the same thing Coach [Roy] Williams shared with me, the day he found out I was head coach at App State,'' Capel said. "So I kind of passed that on to Wes.
"To me, that's a testament to the program, having another head coach [come out of UNC]."
Indeed, Miller, who replaces Mike Dement for at least the rest of the season, adds another branch to the Tar Heels' ever-growing coaching tree. Out of the 18 Division I basketball programs in the state of North Carolina alone, there are now six head coaches who previously played for the Tar Heels.
The list:
Williams, in his ninth season at UNC after playing on the Tar Heels' junior varsity team and serving as an assistant coach in Chapel Hill, N.C., for 10 seasons.
Capel, in his second season as head coach of the Mountaineers after playing for UNC from 1998-2002 (and going to the Final Four in 2000).
UNC Wilmington's Buzz Peterson, who played for UNC from 1981-85 (including on the 1982 national title team) and roomed with Michael Jordan.
East Carolina's Jeff Lebo, who played for the Tar Heels from 1986-89 (advancing to the NCAA Sweet 16 each season) and is in his second year coaching the Pirates.
High Point's Scott Cherry, a member of UNC's 1993 national title team as a senior.
Miller, who played for the Tar Heels from 2004-07 and was a member of the 2005 NCAA title team. He is now the youngest head coach in Division I, at age 28.
Before the season, Williams said there is a good reason why so many UNC players get coaching jobs: "It's an attractive thing to people, the North Carolina success,'' he said. "And those people who were involved in it, if you're looking for someone to help your program, you'd like someone who's been more involved in it already."
Capel added that playing for UNC prepares you for the sidelines, because you're learning from the best.
"The biggest thing is, when you're at Carolina, you're taught how to play the right way,'' he said. "… I think what people see is you're going to get guys that are pretty sharp, guys who know how to handle themselves, how to conduct themselves, guys that know the game pretty sell, and can teach it pretty well.
"It's truly a testament to Coach [Dean] Smith: what he's done, what he's taught, because we all just try to copy him and the things he's done. We all hope we can be successful, and pay tribute to him by doing that."
Robbi Pickeral can be reached at bylinerp@gmail.com. Twitter: @bylinerp.