North Carolina Tar Heels:

Jeff Withey
March, 25, 2013
Mar 25
11:25
AM ET
This is why Roy Williams made it clear, earlier this month, that North Carolina's four-guard starting lineup was fine for now, but not forever.
This is why next year's team -- no matter who stays or goes -- will almost certainly go back to boasting more of a traditional, two-big-guys look.
[+] Enlarge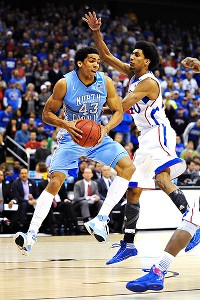 Denny Medley/USA TODAY SportsJames Michael McAdoo had 17 points and four rebounds for the Tar Heels, who failed to keep up with the Jayhawks on Sunday despite a smaller, quicker lineup.
Leading top-seeded Kansas by nine points at halftime, the change that propelled UNC to the NCAA tournament is the thing that ultimately pushed the Tar Heels out in the end. The smaller, faster, higher-scoring offense went cold Sunday, with UNC making just 30.1 percent of its shots for the game (including only 28.6 percent of its 3-pointers). In the second half, in particular, it had no answer for Kansas 7-footer
Jeff Withey
who,
finished with 16 points and 16 rebounds
.
The eighth-seeded Tar Heels got out-rebounded by 17, and the tallest player in its starting line-up, 6-9ish
James Michael McAdoo
, was 5-for-19 from the field in the 70-58 loss in the NCAA Round of 32.
"It was definitely a nightmare in the second half, there's no question about that," Williams said during the post-game news conference. "You know, the change in the lineup, I tried to get the best five basketball players on the court for us. We knew we were giving up some rebounding, but we knew we were adding some things offensively from the perimeter.
"We decided to make that change. Down the stretch we basically decided to stick with it because we thought that was best for our team."
And until Sunday, it was, what with young centers
Desmond Hubert
,
Joel James
and
Brice Johnson
never really establishing themselves during the season, while 6-5 sophomore wing
P.J. Hairston
-- finally inserted as the starting '4' on Feb. 13, in place of Hubert -- often looked like the best player on the floor.
In the end, the Tar Heels won nine of their final 13 games with that starting lineup -- making the NCAA tournament, something that had been in doubt before the switch -- and giving this team something to build upon.
"For me, we had an unbelievably young team, and they tried and tried and tried," Williams said. "We've got a chance to be a sensational basketball team again."
Indeed, the Tar Heels, who finished 25-11 overall, lose only one scholarship senior, starting shooting guard/backup point guard
Dexter Strickland
. But the status of several underclassmen is still up in the air.
Sophomore McAdoo, junior wing
Reggie Bullock
and Hairston all told The News & Observer after Sunday's loss that
they hadn't thought about the NBA yet
– comments you would expect them to make in the moments after their season ended so harshly. Traditionally, Williams meets with players in the weeks after the season to discuss their options, and talks to NBA team contacts on their behalves about where each player would possibly be drafted if they left early.
Williams reports back to each player, offers an opinion, and then it's up to the athlete and his family to make the choice.
None of that threesome are currently listed among ESPN draft analyst
Chad Ford's list of top-20 draft prospects
(although McAdoo was considered a lottery pick last year, had he left). And there's not a whole lot of time to decide.
Although the NBA's deadline to declare for the draft is April 28, the NCAA's early-entry withdrawal deadline is April 16. Players also can apply to an NBA undergraduate advisory committee for their feedback before making a decision, but there no longer is any time to "test the waters," so to speak.
Whatever the decisions of UNC's top three scorers, the Tar Heels do have another
triumvirate of incoming freshmen who could make an immediate impact
.
Nate Britt
, ranked 20th on ESPN's list of incoming ballhandlers, should be a strong back-up to
Marcus Paige
at point guard. Meanwhile, Williams will certainly look to
Isaiah Hicks
and
Kennedy Meeks
-- rated the No. 8 power forward prospect and No. 4 center, respectively -- to bolster a more traditional, comfortable, big-man-in-the-post approach.
"That [four-guard] line-up has been better for us, so we'll stick with that right now,'' Williams said before the ACC tournament. "But Ol' Roy is not going to be small for the rest of his coaching career, I tell you."
Sunday showed why: Going small got the Tar Heels to the NCAA tournament. It just couldn't keep them there.
March, 24, 2013
Mar 24
1:28
AM ET
KANSAS CITY, Mo. -- At their shoot-around on Thursday and again during Friday's win over Villanova, the
North Carolina Tar Heels
received rousing ovations from an unlikely group of supporters.
Kansas fans.
For nearly a decade almost anyone who called themselves a Jayhawk held resentment toward former coach Roy Williams for leaving KU in 2003 and returning to North Carolina, his alma mater. But if this week is any indication, Kansas fans have moved on and come to appreciate Williams for what he accomplished during his 15 seasons in Lawrence.
"Time heals all wounds," Williams said Saturday. "The people have been really nice. There have been people driving by on the streets when we're out walking in the morning that have been yelling and saying nice things.
"I've only had one person yell something that wasn't quite as nice, but that's part of it."
[+] Enlarge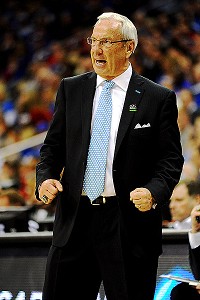 Denny Medley/USA TODAY SportsUNC coach Roy Williams hasn't had any success against Kansas, the school he once led. Will that change on Sunday?
Williams' Tar Heels -- the No. 8 seed in the South Region -- will take on top-seeded Kansas at the Sprint Center on Sunday for a chance to go to the Sweet 16. The Tar Heels are 0-2 against the Jayhawks since Williams became their coach. KU beat UNC in the national semifinals in 2008 and again in the Elite Eight last season.
A lot of the attention leading into each of those games centered on the ill will that some Kansas fans held toward Williams for leaving in 2003, just two years after vowing he'd retire at Kansas. "Benedict Roy" shirts were a hot seller in Lawrence. One barbershop owner went so far as to hang Williams' picture above his toilet.
This season, though, most of the buzz during Saturday's news conference centered around the actual game. That had to have been refreshing to both Williams and KU coach Bill Self, who coached for three seasons at Illinois before taking over for Williams.
"Nobody can ever take away that he did a fabulous job and ran a first-class program [at Kansas]," Self said. "Anybody that doesn't feel that way isn't real, because that's the reality of it.
"Since we've had a chance to play a couple of times in the tournament, I think there were some story lines [before] that probably aren't as good of a story line now."
Self has certainly made it easy for KU fans to move on. By beating No. 16 seed Western Kentucky Friday, Self became the first coach in history to guide his team to four consecutive 30-win seasons. (It should be noted that John Calipari accomplished the feat from 2006-09, but the Tigers' wins from the 2007-08 season were vacated.)
Kansas has also won nine straight Big 12 titles under Self and one national championship. Self is 299-58 (.838) during his tenure at KU, while Williams is 282-78 with six ACC championships and two NCAA titles at North Carolina.
As much as he hopes to win Saturday's game, Williams has made it clear that he doesn't enjoy playing Kansas.
"It's not immoral to love two schools," Williams said. "Someone asked me the other day if I would ever consider coming and playing a home-and-home against Kansas. I said no. My athletic director would understand and the Pope will understand, because I will never walk out of that far tunnel. That will never happen.
"I said this before I left Kansas: 'The day I ever walk into Allen Fieldhouse and don't get cold chills, I'll know it's time to stop.' I feel the same way about the Smith Center. If I walk out on game night and don't have cold chills, I'll quit."
Kansas City news and notes:
North Carolina's switch to a smaller lineup earlier this season could make things difficult for KU center Jeff Withey, who will likely have to guard players such as James Michael McAdoo outside of the paint from time to time. Withey said the shortage of true centers in the Big 12 has forced him to become a better perimeter defender. "I've definitely gotten used to it," Withey said. "I've had to learn to guard and move my feet."

Kansas leading scorer Ben McLemore is averaging just seven points in his past three games -- more than nine points below his average of 16.2. He had just 11 points in 32 minutes against Western Kentucky on Friday, when he only attempted five shots. "He's young," Self said of McLemore, a redshirt freshman. "Obviously this is his first time on a big stage. He's capable of doing it all. When he's aggressive, we're better. We've just got to get him to be more aggressive."

Ole Miss guard Marshall Henderson celebrated Friday's victory over Wisconsin by hanging out with some of his friends at a bar across the street from the arena. Photos of Henderson (who was holding a clear cup containing a red drink) ended up on Twitter, which prompted Rebels AD Ross Bjork to summon Henderson back to the team hotel. "It wasn't like he was guzzling a beer," Bjork said. Ole Miss coach Andy Kennedy was asked if he approved of Henderson hanging out in bars in between NCAA tournament games. "He's 22 years old," Kennedy said of Henderson. "I didn't give him an alcohol sobriety test. We didn't make him recite his ABCs backward, but I know this. I know we had a pretty intense 10 o'clock meeting and he was involved in it, as they all were."

LaSalle coach John Giannini said playing in the "First Four" has been beneficial to his team. The No. 13 seed Explorers upset No. 4-seeded Kansas State on Friday. "You're certainly in a better rhythm," Giannini said. "If you look at yesterday's game, it perfectly demonstrated the advantages and disadvantages. One team was really in a rhythm in the first half. There is an advantage to having played, working out some nerves and being comfortable on the court."
March, 25, 2012
3/25/12
12:50
AM ET
ST. LOUIS -- One day before they were to meet North Carolina in the Elite Eight, members of the Kansas basketball team got into a heated argument while eating breakfast Saturday at the Hyatt Regency hotel.
In this case, it was a good thing.
The bickering started when point guard
Tyshawn Taylor
mentioned the words "Final Four." Before Taylor could finish his thought, teammate
Thomas Robinson
cut him off in mid-sentence and reminded him not to look too far ahead.
"I just want to get there," Robinson said. "I just want to take it one step at a time."
Wise move.
As well as their season has gone, the Jayhawks (30-6) hardly looked like a Final Four-caliber team while squeaking past double-digit seeds Purdue and NC State in the past two rounds of the NCAA tournament.
Satisfying as getting to the Elite Eight may be, Kansas knows its performance will have to dramatically improve if it has any hopes of defeating North Carolina on Sunday in St. Louis. The Tar Heels and Jayhawks are seeded No. 1 and 2, respectively, in the Midwest Region.
"We know we haven't been playing great lately," Robinson said. "A lot of people see that as a bad thing, but I see it as a good thing. We've been finding a way to win and we still haven't played close to our abilities.
"The lid will come off [the rim] tomorrow and we'll play a great game."
While there certainly aren't lids hovering over the Edward Jones Dome baskets, something seems to be affecting the Jayhawks' shooting. Kansas went just 37.5 percent from the field in Friday's 60-57 win over NC State and made just two of its 22 shots from outside the paint.
[+] Enlarge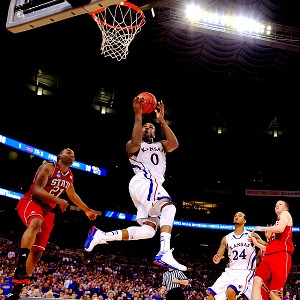 Rich Sugg/Getty ImagesThomas Robinson had his best game of the tournament against NC State, scoring 18 points and grabbing 15 rebounds.
Bill Self's squad connected on just 33.9 percent of its attempts in last week's 63-60 victory against Purdue. Taylor, who has missed 15 of his past 16 shots from 3-point range, was asked if he thought the Jayhawks would be a different team on offense Sunday.
"Honestly, I don't know how confident I am that it will change," Taylor said. "But what I am confident in is [our defense]. We've been getting stops when we need to. If we continue to do that, whether the ball goes in or not, we can win."
Forcing midtier teams such as Purdue and NC State into bad shooting nights is one thing, but limiting elite teams such as North Carolina is a whole different beast. The Tar Heels tout as many as seven future first-round draft picks with players such as
Harrison Barnes
,
Tyler Zeller
and
John Henson
.
North Carolina's most irreplaceable part, however, is point guard
Kendall Marshall
, who is questionable for Sunday's game with a wrist injury. Marshall didn't play against No. 13 seed Ohio University on Friday, and the Tar Heels needed overtime to defeat the Bobcats.
Marshall, who had surgery Monday morning, went through a light workout for the first time this week on Saturday. UNC coach Roy Williams said he likely won't know until just before the game if Marshall can play.
"I've got mad respect for his game," Taylor said. "He's a great guard. He's been killing it this year. As a competitor, I want him to play. I want that challenge. If he plays, I think the game would be that much better."
Marshall ranks second in the nation in assists with 9.7 per game. If he isn't able to go, North Carolina will likely start seldom-used freshman
Stilman White
for the second straight game. White averaged just 4 minutes a contest before he was thrust into duty Friday. He played 32 minutes against Ohio and finished with six assists and zero turnovers.
This will be the first time Kansas and North Carolina have played since the 2008 Final Four, when KU jumped out to a 40-12 lead and eventually won 84-66. Two nights later, the Jayhawks defeated Memphis in overtime to claim their first NCAA title since 1988.
"This is going to be one of the funnest games of our careers," KU center
Jeff Withey
said. "We're excited to play against them. We wouldn't want it any other way than to play North Carolina to get to the Final Four.
"We match up really well with them. It's going to be a fun game, a physical game, one for the history books."
Who to watch:
Jeff Withey, Kansas
-- The 7-foot center had 10 blocks in Friday's Sweet 16 victory over NC State. His defense against players such as Tyler Zeller and John Henson will be vital for a KU squad that doesn't back down in the paint.
Elijah Johnson, Kansas
-- The junior guard has been one of KU's steadiest players the past three weeks. He was the only Jayhawk to make a basket outside of the paint Friday, and his layup off an inbounds pass with less than a minute remaining helped seal KU's win.
Harrison Barnes, North Carolina
-- The Tar Heels' leading scorer was brutal in North Carolina's victory over Ohio on Friday. Barnes scored 12 points but made just three of his 16 shots.
Stilman White, North Carolina
-- The freshman opened the season as the Tar Heels' third-string point guard. But injuries to
Dexter Strickland
and Kendall Marshall forced him to play 32 minutes against Ohio. He had two points and zero turnovers.