North Carolina Tar Heels:

Jerod Haase
December, 1, 2012
12/01/12
10:39
PM ET
CHAPEL HILL, N.C. -- North Carolina senior
Dexter Strickland
has witnessed coach Roy Williams' jacket-shedding, clipboard-spiking, marker-obliterating sideline meltdowns before. But, he said, he just didn't know it was going to happen this time.
With 13 minutes, 16 seconds left Saturday at the Smith Center, Williams got livid when the combo guard -- making his first start at point guard for injured freshman
Marcus Paige
-- failed to pick up UAB ball handler
Terence Jones
and the Tar Heels' defense failed once again, allowing Jones to bury a 3-pointer to cut UNC's lead to seven points.
Strickland and his teammates responded well, using the fire lit under them to attack the basket, swish 3-pointers and shoot a sizzling 71.9 percent in the second half en route to a
102-84 victory
.
But it was another sign that the 14th-ranked Tar Heels, which will likely fall out of the polls Monday after being blown out by No. 1 Indiana earlier this week, are still a work in progress.
"If I say pick up the other team's point guard at the 10-second line, that's what I mean," Williams said. "It's an easy deal. If I tell my 3-year-old grandson to pick that cup up, my guess is he'll probably pick it up. And that's all the crap it is -- do what I tell you to do. And besides, I was really hot."
He was joking about the temperature. But he was rather heated in other ways.
This wasn't supposed to be a tough test for a team whose intestinal fortitude was questioned after falling behind by as many as 29 points during a loss to Butler a week ago then getting smashed by the Hoosiers on Tuesday night. But the Tar Heels made it one.
It didn't help that Paige jammed his left shoulder in practice Friday, limiting him to sitting on the bench in his uniform, or that UAB was so familiar with UNC's offense, because first-year coach Jerod Haase spent the previous nine seasons as a Tar Heels assistant.
But it didn't excuse the fact that UNC was so discombobulated early, allowing the Blazers to come back seemingly every time the Tar Heels got a bit of a cushion. UNC took a 35-21 lead with 2:01 left in the first half, for instance, only watch UAB whittle it down with an 8-0 run end the half and a 4-0 run to open the second half, cutting the advantage to 35-33.
[+] Enlarge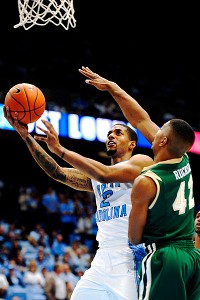 Curtis Wilson/US PresswireLeslie McDonald, who had a career-high 24 points, felt he "couldn't miss" during UNC's victory.
"I can't make any excuses," Strickland said. "We just have to do better and work as a team. All five guys have to get back and play good team basketball."
The Tar Heels made up for their defensive lapses with offensive cohesion in the second half. Forward
James Michael McAdoo
(15 points, 12 rebounds) started working the lane; Strickland (11 points, career-high nine assists) -- particularly after Williams' jacket toss -- started attacking the basket; guard
P.J. Hairston
(16 points), who was 0-for-5 in the first half, started connecting.
But most impressive was junior
Leslie McDonald
, who scored 18 of his career-high 24 points after the break.
"In my head, honestly, I couldn't miss," said McDonald, who finished 7-for-11 overall and 5-for-8 from 3-point land. "Every shot I thought was going in."
Forward
Jordan Swing
led UAB with 21 points as his team shot 47.7 percent in the second half. The Tar Heels countered with a 23-for-32 second half that marked their highest shooting percentage in a half since making 73.5 percent of their shots versus Arkansas in the second round of the NCAA tournament in 2008.
In many ways, and despite his "wacko" moment, Williams said he was pleased with the way his team responded to its 24-point loss to Indiana.
"Except for the defensive end of the floor," he said. "The fans are even wondering why they're getting six shots, that kind of stuff. We've got to get better."
Or else Strickland & Co. may just see that jacket fly a bit more.
"I did not see it coming," Strickland said about his coach's meltdown, "but I've seen it before. I definitely saw it my freshman year when we had that horrible season.
"We definitely have to do better as a team as far as -- he gets mad at the little mistakes we go over in practice, and when he has to repeat himself, that's when he's at his [angriest]. We've just got to get better as a team, get back on defense, just do a better job overall."
December, 1, 2012
12/01/12
8:15
PM ET
CHAPEL HILL, N.C. -- With all due respect to UAB, this isn't usually the type of game during which North Carolina coach Roy Williams has to strip off his jacket, yell at his team in the huddle and spike a clipboard. But it was that type of game Saturday at the Smith Center.
The 14
th
-ranked Tar Heels, who will probably fall out of the polls Monday after last Tuesday's blowout loss at top-ranked Indiana, beat the Blazers
102-84
. But Williams' meltdown with 13:16 left, after his team failed to get back on defense, was indicative of a frustrating outing, at least early-on, for the Tar Heels.


UNC starting point guard
Marcus Paige
was sidelined for this game after jamming his left shoulder in Friday's practice. Junior guard
Leslie McDonald
and freshman big man
Joel James
made their first official starts, and usual starting shooting guard
Dexter Strickland
made his first start at point guard
Turning point:
After UAB closed the first half with an 8-0 run, then opened the second half with two straight buckets to cut its deficit to 35-33, UNC forward
James Michael McAdoo
scored three of the Tar Heels' next four buckets to give his team a 43-36 lead. The Tar Heels still had their problems in the second half -- thus, the jacket toss and clipboard spike -- but the Blazers never really threatened again. UNC pulled away for good in the final 10 minutes.
Key player
s: McDonald led the Tar Heels with a career-high 24 points, all but six coming in the second half. Strickland finished with a career-high nine assists. ...
Jordan Swing
led the Blazers with 21 points.
Key stat
: UNC shot a sizzling 71.9 percent in the second half -- including 7-for-11 from 3-point land. The Tar Heels scored 67 points after halftime.
Etc.:
First-year UAB coach Jerod Haase and his director of basketball operations, Bobby Frasor, received a nice "welcome back" ovation from the Smith Center crowd after their team's starting lineup was announced. Haase played for Roy Williams at Kansas, then served as an assistant there before moving with Williams to UNC in 2003. Frasor is a former UNC point guard. This was the first game in a three-year series with UAB. … UNC junior wing
Reggie Bullock
, who was questionable to play after bruising two fingers during Tuesday loss at Indiana, started.
P.J. Hairston
, who missed the Indiana game with a mildly sprained left knee, came off the bench.
What's next:
UNC plays East Tennessee State at 7:30 p.m. next Saturday. UAB plays at Middle Tennessee State on Wednesday at 7 p.m.
October, 4, 2012
10/04/12
9:30
AM ET
June, 8, 2012
6/08/12
2:30
PM ET
Who will succeed Roy Williams?
Granted, it's a little early for that question, considering the two-time NCAA title-winning coach, who will begin his 10th season as North Carolina's head coach this fall, said recently he plans to remain on the sideline for another six to 10 years.
But after reading Friday's story by ESPN.com's Jason King about
how difficult it is to replace a coaching legend
, it's an interesting question to ponder.
[+] Enlarge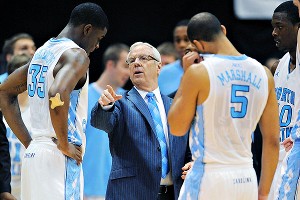 Bob Donnan/US PresswireThe Tar Heels do not have an obvious in-house candidate ready to replace Roy Williams when he decides to retire.
UNC's last three head coaches -- Bill Guthridge, Matt Doherty and Williams -- all had connections to Dean Smith, one of the winningest coaches in NCAA history. And it's likely that when Williams eventually steps down, the school will look first to Carolina's coaching tree, including those branches stemming from Williams. (Although it will no doubt go outside the "family" if it has to.)
After all, at the moment, there are no slam dunk choices with UNC and/or Williams ties (unlike Williams, the former Tar Heels assistant who had already taken Kansas to four Final Fours by the time he was lured back to Chapel Hill in 2003). So it will be interesting to watch who, if anyone, develops into a realistic candidate in the coming seasons.
In the spirit of King's story, here are some coaches with "family" ties worth watching (in no particular order) when debating who might eventually try to fill Williams' shoes:
Steve Robinson, North Carolina assistant coach:
A former head coach at Florida State, Robinson knows the rigors of the ACC. And he's been at UNC since Williams returned. But he turns 55 this year, meaning he might be in his mid-60s by the time Williams steps down. Does he want to wait that long to be a head coach again, and will he even still want to be coaching by then?
Jeff Lebo, East Carolina head coach:
Lebo played point guard under Smith in the late 1980s, and was head coach at Tennessee Tech, Chattanooga and Auburn before landing at ECU in 2010. But he's still looking for that elusive NCAA tournament berth as a coach.
Hubert Davis, North Carolina assistant coach:
When he was hired last month, the former UNC/NBA player said
he wasn't looking ahead to head-coaching possibilities
; after all, the former ESPN analyst has never coached before. But as ESPN.com's Andy Katz pointed out, with no obvious successor,
it's not unreasonable to think that Davis has a shot
if he wants to continue on the coaching career path.
Wes Miller, UNC Greensboro head coach:
Miller, a UNC guard and fan favorite from 2004-07, was named the 2012 Southern Conference Coach of the Year after being named interim head coach after the season began. He earned a five-year contract, and was the youngest coach in NCAA Division I when he was hired.
Kevin Stallings, Vanderbilt head coach:
His two closest ties to UNC are his son (Jacob, who played baseball there), and Williams (who he worked for as an assistant coach at Kansas). He's led teams to the NCAA tournament on multiple occasions, including to the Sweet 16.
Brad Frederick, Vanderbilt assistant coach:
He played for Smith and Guthridge at UNC, is the son of Williams' former athletic director at Kansas, and currently works for Stallings (a former Williams assistant). It's hard to imagine the Tar Heels hiring an assistant coach from another program, though, so he would likely need to pick up some head-coaching experience to have a shot.
Buzz Peterson, UNC Wilmington head coach:
Michael Jordan's former roommate has also been head coach at Appalachian State (where he led the team to the NCAA tournament in 1999-2000), Tulsa (where he won an NIT title), Tennessee and Coastal Carolina.
Mark Turgeon, Maryland head coach:
Another of Williams' former assistants at Kansas, Turgeon took Wichita State to the Sweet 16 and boasted four NCAA tournament berths at Texas A&M before taking over the Terps last season. Now, he gets to take on his former boss at least once a year.
Jerod Haase, UAB head coach:
A Williams assistant through the end of last season, the former player at Kansas was recently hired for his first head-coaching job, at UAB. He said it was difficult leaving Chapel Hill, so it's not a stretch to imagine he wouldn't mind coming back one day.
There are others with North Carolina connections that also come to mind, including Monmouth head coach King Rice, Milwaukee Bucks assistant coach Joe Wolf, current UNC assistant C.B. McGrath and Appalachian State head coach Jason Capel.
Who will you be keeping an eye on?
Follow Robbi Pickeral on Twitter at @bylinerp.
June, 8, 2012
6/08/12
10:00
AM ET
Former UNC assistant Jerod Haase didn't just
take Bobby Frasor with him
when he left Chapel Hill to become head coach at UAB. Some former Tar Heels players have been (and will be) in Birmingham, too, helping Haase out with his youth camps this month.
Steve Irvine of The Birmingham News writes
that Sean May and Marvin Williams -- two of the stars of UNC's 2005 national title team -- were at Bartow Arena on Wednesday to mingle with the kids. And Tyler Hansbrough, who starred on the 2009 NCAA championship team (along with Frasor, Haase's new director of operations), is scheduled to help at camp next week.
It looks like the Carolina "family" has a new branch down south.
"It was one of those no-brainers," Williams said. "Anything that Coach Haase ever needs, he knows to call me. I think he thought I was joking. He called me back about three weeks later and asked if I was serious about coming. I told him just to tell me when and I was there."
Haase told the paper he hopes to develop the same kind of bond with his players at UAB as he has with the Tar Heels.
"That kind of relationship with players at North Carolina, that's something I hope to build here," Haase said. "I hope years from now we're talking about former UAB players who are (NBA players) coming back for camp, as well."
Follow Robbi Pickeral on Twitter at @bylinerp.
April, 18, 2012
4/18/12
1:00
PM ET
CHAPEL HILL, N.C. -- I caught up with North Carolina coach Roy Williams for a few minutes before he addressed fans at the Rams Club's Triangle Tour stop on Tuesday night. A few notes:
COACHING TREE GROWS:
Williams said he plans to
hire a person with UNC ties
to replace assistant coach Jerod Haase, who left earlier this month to become head coach at UAB. But it won't be last season's assistant strength and conditioning coach Jackie Manuel, who is now an assistant coach at UNC Greensboro under former Tar Heels guard Wes Miller. And it won't be assistant video coordinator Bobby Frasor,
Haase's new director of basketball operations
.
Williams thought it would be good for the former Tar Heels guards to gain more coaching experience outside of Chapel Hill.
"I asked Wes to take Jackie, and it was an easy sell. I asked Jerod to take Bobby, and that was an easy sell. Because I thought those were great spots for them to start their coaching career,'' Williams said. "They were wonderful kids, but I wanted them to understand that not every place is like North Carolina.
"I think it was great for me that I was a high school coach for five years; I was an assistant coach for 10 and I had two practices for eight. I realize that somebody's got to flip a switch to turn the lights on, somebody's got to mop the floor; it doesn't just happen magically. And when you coach at North Carolina, you think that all those things happen magically, and they don't. Somebody has to do that."
TEAM LIKELY SET:
With three underclassmen leaving early for the NBA draft and ACC Player of the Year
Tyler Zeller
graduating, the Tar Heels lose four-fifths of the starting line-up that led UNC to the NCAA regional finals. A four-man freshmen class arrives in June, but it sounds like Williams doesn't expect any late additions to next year's team.
"We always keep our eyes and ears open; I'm never going to say that we wouldn't be interested," he said. "But there's nobody out there. There was all this stuff in the paper about one player, that we were doing all this stuff. I talked to the kid one time, period.
But, he added, "we'll always keep our options open."
Although he didn't give that player's name, Williams was referring to his call to Connecticut forward
Alex Oriakhi
, who chose instead to transfer to Missouri. Oriakhi won't have to sit out a season because the Huskies are barred from playing in next year's NCAA tournament, and he would have added an experienced big body to a Tar Heels team that loses both starting forwards (Zeller and
John Henson
).
Williams told fans Tuesday night that sophomore forward
James Michael McAdoo
(who will slide into one of those starting positions) "has a chance to be a big-time, big-time player; he's got to step his game up."
Wing
Reggie Bullock
, he added, "will have to take his game to another level."
Meanwhile, "Dexter [Strickland] and Leslie [McDonald] have to come back in and be healthy, and then the freshman group we have coming in, they've got to show us that they're strong players, as well."
With so many veteran players on the perimeter and so many younger ones in the post, it will be key to see whether Williams opts to go with a smaller, guard-heavy line-up compared years past. Even he doesn't know -- yet.
"It will be interesting to see how my thought process goes over the summer,'' he said.
MIGHT-HAVE-BEENS:
Not surprisingly, it's been a difficult few weeks for Williams, after his team -- which began the season ranked No. 1 and had national title goals -- lost to Kansas in the NCAA tournament in the Midwest Region final.
"It's been really hard, because it was a great, great year with a sad, sad ending. … Our last regular-season game, when we played at Duke, I thought we were pretty doggone good. And I said on the bus, just to our coaching staff, that for me, if we played like that, then we have a chance to win the whole thing.
"Then the very next game, John gets hurt [sprained wrist] -- and John was never the same. And then the second game in the NCAA, Kendall [Marshall] gets hurt, and that's about as unlucky as I've ever been, I guess, too."
Follow Robbi Pickeral on Twitter at @bylinerp.
March, 28, 2012
3/28/12
8:25
AM ET
When now-former North Carolina assistant coach Jerod Haase left the Smith Center offices on Monday, he said he ran into Hall of Fame coach Dean Smith.
"Seeing all this tradition, the opportunity I had there, I left there [thinking] … 'It's my time to go,'" Haase said during the news conference Tuesday to introduce him as UAB's new head coach, according to a
transcript from The Fayetteville Observer
. "While I'll miss everything at Carolina, and I always miss things at Kansas, it's my time and I will never look back. I will be 100 percent committed to UAB with obviously an appreciation for North Carolina, Kansas and Lake Tahoe."
Haase, who played for coach Roy Williams at Kansas, then coached under him with the Jayhawks and UNC, was emotional during the news conference, especially about leaving his North Carolina family.
"I also want to thank Coach Williams. Without getting into too much detail, when I left his office [Monday], I told him I'd have to leave and not talk, because I can't do it. He's been great to me."
He added: "So why this job, why this time I think is an important question. I think it's very easy. Back at Carolina, I think everybody in this room understands that it's a tremendous opportunity, the best assistant coaching job in America working for the best coach, the best program, maybe along with Kansas, and a great place to live. The people there, the assistant coaches and the staff there, are family. C.B. McGrath on my staff, on staff, I've known him longer than my wife. I introduced him to his wife, and I've probably spent more time with him than I have my own mother. To leave that family is not easy.
"But I told [UAB officials] in the interview, UAB is a job I'd walk to, and I would. It has everything I need that we can be successful. It's a tremendous opportunity."
Haase agreed to a five-year contract that will pay him $475,000 annually with incentives,
according to The Birmingham News
.
March, 26, 2012
3/26/12
11:43
PM ET
In a statment released Monday night, North Carolina coach Roy Williams expressed his happiness for assistant coach
Jerod Haase, who was announced as UAB's new head coach.
"I am elated for both Jerod and UAB,'' Williams said in the statement released by UNC. "This will be a great marriage. He is one of the finest young men I have ever known. There is absolutely no doubt in my mind he is going to be a great head coach.
"The people at UAB can count on the fact that Jerod will spend every single day continuing to build a great program there. He has tremendous work ethic and enthusiasm and will bring imagination to the basketball staff and program. He is a tireless worker and will have a great deal of passion for not only the basketball program, but the entire university community."
Haase worked for Williams for 13 seasons -- including the last nine at UNC. He also played for Kansas under Williams, graduating in 1997.
It will be interesting to see how Williams chooses to fill Haase's position, especially considering the staff has been together for so long. Steve Robinson, Joe Holladay, Haase and C.B. McGrath all moved with Williams from Kansas to UNC. Three years ago, Holladay moved from assistant coach to Director of Basketball Operations so Haase and McGrath could get more bench experience, but that's been the only significant change to the coaching staff that had been made since Williams became coach in 2003. Until now.
January, 24, 2012
1/24/12
7:20
PM ET
CHAPEL HILL, N.C. – As he helped injured shooting guard
Dexter Strickland
off the court Thursday night, it didn't take long for North Carolina freshman
Stilman White
to realize the potential ramifications.
One of the reasons he was signed last spring was for insurance, to give the Tar Heels an extra ballhandler in case sophomore starter
Kendall Marshall
, or backup Strickland, got hurt.
Now that Strickland is out for the season with a torn ACL in his right knee, it's time to see how that insurance will pay off.
"I have confidence in myself; I know I can get the job done,'' White said Tuesday. "It's not like they're asking too much of me, to play most of the game. I just need to give Kendall some relief, and hopefully I can do that and do a good job."
Strickland, the starting shooting guard, was playing only about three minutes a half at point guard – but they were important minutes, enough to re-energize Marshall, who is already averaging more than 31 minutes per game. (And enough to give the team confidence that it had an experienced backup point guard should Marshall get hurt or into foul trouble.)
Marshall can (and probably will) play more, and coach Roy Williams said the team may try running the offense in stretches without a natural ballhandler on the floor.
But White, Williams said, "is going to be given the chance to get into the game, and we'll see. Nobody's got a magic wand; we'll see what happens."
A 6-foot, 160-pounder from Wilmington, N.C., White averaged 20.5 points and 3.0 assists as a senior at Hoggard High, where he even occasionally jumped center. A Mormon, he originally planned to begin a two-year mission this season before eventually playing basketball at Utah, BYU or UNC Wilmington.
[+] Enlarge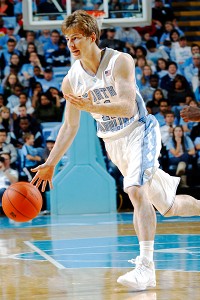 AP Photo/Jim R. BoundsFreshman Stilman White will be called on to handle the ball more often with Dexter Strickland out.
That is, until UNC, in need of another point guard after
Larry Drew II
transferred near mid-season last year, came calling. (He'll go on his mission next season, and return to UNC in 2014.)
"I never really even thought I'd end up somewhere like here, but it was definitely an exciting moment in my life to have the option to come here,'' said White, ranked a two-star recruit by Scout.com.
And since coming here, he's worked. Although he's played in only 15 games, averaging 4.3 minutes mostly when the outcome is already sealed, White has spent plenty of time guarding Marshall in practice. He said that's helped him learn, improve and prepare, just in case.
"Just going against a quality point guard every day like Kendall, who I think is the best in the country, has definitely got me ready,'' he said. "Because I know every day in practice that I go up against the best, so anyone I go out and play against is probably not as good as Kendall. So that gives me a lot of confidence that if I can do stuff against him, I can do it against other people."
It will be a challenge, though, even in short spurts.
Although "he's really been doing a nice job," in practice, Williams said, being a freshman point guard at UNC "is just overwhelming sometimes."
During the 2004-05 national championship season, for example, rookie ballhandler Quentin Thomas was so inconsistent that shooting guard Melvin Scott ended up trying to spell starter Raymond Felton for stretches. In the end, Felton ended up playing more minutes – even when it meant the Tar Heels had to play zone to protect him from picking up too many fouls.
"Quentin Thomas' freshman year, he really couldn't handle it,'' Williams said. "But Kendall Marshall, his freshman year [last season], was off the charts. And my guess is that Stilman will be somewhere in there."
The question is: where?
Since learning that Strickland would be sidelined for the rest of the season, White said he's gotten plenty of advice.
UNC assistant coach Jerod Haase has reminded him that this is an opportunity of a lifetime, and to do his best to take advantage. Marshall has stressed that the entire team has faith in him, and to play with confidence.
White's high school coach has insisted that this situation is why he was recruited, and to never doubt his ability.
Thus, entering Thursday's game against N.C. State, White is anxious -- but in a good way.
"I think just being nervous comes with it, and I hope I'm a little nervous going into it, because I think that always makes people play better,'' he said. "So I've just got to make sure I come in, I stay on edge, and play with some edge and play hard, and just kind of be a scrappy kid. And see what happens out there."
Follow Robbi Pickeral on Twitter at @bylinerp.
November, 9, 2011
11/09/11
8:00
AM ET
There are a lot of neat things about Friday's North Carolina season opener against Michigan State in the Carrier Classic: playing on an aircraft carrier, competing in front of President Barack Obama (who is scheduled to attend), to name a couple.
But to Tar Heels coach Roy Williams, the importance of the Veteran's Day game comes down to one key thing: "To me, it's a way of honoring our military," Williams said during his Tuesday news conference in Chapel Hill. "That's what it boils down to. It's those people, and not just the wounded warriors -- of course, we want to give them a special place in our heart -- but just the people that serve our country and make the rest of us, everybody in here, able to do what we do. So I'm looking at it from that standpoint more than anything."
Williams has nine uncles -- five on his father's side of the family, and four on his mother's side -- who served in the military, according to
Carolina's game notes.
Two of them spent their careers serving the country.
Point guard
Kendall Marshall
's dad spent three years in the army, and his grandmother, GiGi Spearman, served 26 years in the Army and retired as a lieutenant colonel. So he has this game in perspective, as well.
"I think what they do is so much more important than what we do," Marshall said. "We're out here playing for fun, this is almost like a hobby for us. This is every day they are putting their lives of the line. I definitely have much more respect for what they go out there and do day to day as opposed to us playing basketball for fun. We're representing our university and we want to play well, but at the same time, there's a bigger thing at hand."
Included on the lengthy list of other team members with ties to the military (more specifics can be found in the link above):
Pre-season All-American Harrison Barnes has two uncles, a great uncle, and three cousins who served in various branches. Five additional cousins are currently serving.
Forward John Henson has eight cousins serving.
Reserve guard Leslie McDonald's mom, dad and uncle all served in the Army.
Freshman forward Jackson Simmons' grandfather, Butch, was a World War II Army paratrooper who earned the Purple Heart. Simmons currently has a cousin and uncle serving overseas in the Army.
Assistant coach Jerod Hasse has two brothers in the military: Steven is a lieutenant colonel and F16 pilot with the Arizona National Guard; David is an Air Fore colonel based in Germany. Matthew Holladay, son of director of player operations Joe Holladay, is a former Army Ranger paratrooper who served in Iraq.