North Carolina Tar Heels:

Jim Boeheim
October, 16, 2013
10/16/13
8:24
PM ET
CHARLOTTE, N.C. -- The slogan plastered across the Atlantic Coast Conference's signage read: "The Best Get Better." And it seemed every coach and player who sat down for an interview pitched from the same talking points to that end.
The additions of Syracuse, Pittsburgh and Notre Dame will unequivocally make the league that grew up on basketball the nation's best. And at least on paper, it's hard to argue against it.
"For 60 years the ACC has been the best conference in college basketball," North Carolina coach Roy Williams said. "… There may have been a little lull where the Big East, the [SEC] or Big Ten -- I don't see anybody being the best –- any better than us now. I don't care what year it is."
Duke was the overwhelming choice to win the conference by media attending today's event. The Blue Devils garnered 50 first-place votes out of 54. Syracuse received three first-place votes and was picked second. North Carolina, which got one first place vote, was picked third.
Since 1997, there have only been three years when the Tar Heels or Blue Devils didn't have at least a share of the ACC regular-season championship. The newcomers are expected to challenge the stranglehold UNC and Duke have had on the title.
[+] Enlarge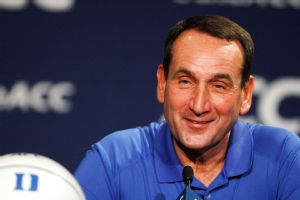 AP Photo/Nell RedmondMike Krzyzewski's Duke team was picked by the media to win the conference title.
"We'll have instant rivalries," Duke coach Mike Krzyzewski said. "It won't take long to develop a Duke-Syracuse … that's why I think our conference is way ahead -- of anybody."
At the very least, the newest league members should add needed depth after the ACC received only four NCAA tournament bids last season.
The league will have three active Hall of Fame coaches in Krzyzewski, Williams and Syracuse's Jim Boeheim -- and add a fourth next season when Rick Pitino and Louisville become a member.
Boeheim once voiced resistance to the move when talk of the Orange joining the ACC remained just talk. Now that Syracuse is in the league, he spoke like a longtime resident of Tobacco Road.
Boeheim said the transition from being a charter member of the Big East to the ACC wasn't difficult because his former league changed so much. He pointed out the ACC now has more former Big East schools (including Virginia Tech, Miami and Boston College) than the current Big East (Villanova, Providence, Seton Hall, St. John's, Georgetown.)
"I mean, there's a certain degree of nostalgia of being in that league because that's where you worked 34 years," Boeheim said. "But this is a better league."
Boeheim pointed out that Syracuse has sold more than 20,000 season tickets, which has already surpassed last season's total of about 15,000. Duke's visit to the Carrier Dome on Feb. 1 is already sold out and the North Carolina game on Jan. 11 isn't far behind.
"The only thing our fans will miss," Boeheim said, "is the Big East tournament."
Other notes:
Many players hate that Maryland is playing in its final season before joining the Big Ten, but it has nothing to do with the Terrapins being an ACC charter member or the tradition it's had in the league. The Maryland/Washington, D.C. area has produced a lot of players who were looking forward to coming home to College Park. "It still feels weird to think about they're not going to be there," said Notre Dame guard Eric Atkins, a Columbia, Md., native. "The only thing I think about is beating them, actually. That's the only thing I can think about. I'm really looking forward to that Jan. 15 game." Pitt forward Talib Zanna said facing Maryland was what excited him most about joining the league. "I know a lot of people when you don't say Duke or North Carolina they look at you like you're crazy," Zanna said. "Duke and North Carolina have a lot of history, they win a lot of games but I'm looking up to playing Maryland just because that's where I grew up. I just want to play in the arena."


The ACC will have its share of impact transfers this season, including Duke's Rodney Hood, who came from Mississippi State; Virginia's Anthony Gill, who came from South Carolina; and Maryland's Evan Smotrycz, who played at Michigan. Hood thinks it is a trend that will only increase. "Other than the money, it does feel like free agency," Hood said. "Guys transfer for different reasons. I'm sure mine was different than a lot of other guys. I really like the school I was at and made a basketball decision."


Syracuse senior forward C.J. Fair was selected the ACC preseason Player of the Year by the media. Fair was the leading scorer for the Orange last season, but it's his leadership role that will have to expand this season after the departures of Michael Carter-Williams and Brandon Triche. "It's something I haven't experienced since high school," Fair said. "Not so much to carry the team, but lead the team."

January, 1, 2013
1/01/13
10:59
AM ET
By
Jeremy Lundblad, ESPN Stats & Info
| ESPN.com
Syracuse coach Jim Boeheim recently became the third member of the 900-win club, joining Mike Krzyzewski and Bob Knight as the only Division I men's coaches to reach that milestone.
So who, if anyone, might join that elite trio down the line?
Here's a subjective look at the most likely candidates based on age and current win total.
10. Jeff Capel (37 years old) - 162 wins
Currently an assistant at Duke, Capel got his head coaching start at 27. He'd obviously need to get another head-coaching job soon, but at 162 wins, he's got a good head start -- especially if he ends up as Coach K's successor.
9. Steve Alford (48) - 447 wins
In his sixth season at New Mexico, Alford has been a head coach every year since he was 27. At 48, he's almost halfway to 900.
8. Brad Stevens (36) - 149 wins
Stevens was one of the fastest ever to reach both 50 and 100 wins. Still only 36, he has many years in front of him. But Stevens won't have the Horizon League to kick around anymore.
7. Rick Pitino (60) - 641 wins
Six seasons in the NBA have set him back, but Pitino would reach 900 wins in about 10 years if he averages 25 per season.
6. Roy Williams (61) - 685 wins
Williams didn't become a head coach until he was 38. That's six years older than Boeheim was. With 215 wins to go, Williams would likely need to coach until he was about 70.
5. John Calipari (53) - 513 wins
Averaging 34 wins per season at Kentucky, Calipari is making up for the four seasons he lost to the NBA. At 53, he needs fewer than 400 more wins to reach 900.
4. Thad Matta (45) - 333 wins
Matta is in his 13th season, and he's never had fewer than 20 wins. In fact, Roy Williams is the only coach with more wins through his first 12 seasons.
3. Billy Donovan (47) - 430 wins
Only Boeheim and Krzyzewski have longer active streaks of 20-win seasons than Billy Donovan. At 47, he figures to be halfway to 900 before the end of this season.
2. Bill Self (50) - 487 wins
No one under 50 years old has more wins than Self. Since coming to Kansas, he's averaged more than 29 wins. At that rate, he's less than 15 seasons away from 900.
1. Bob Huggins (59) - 717 wins
Bob Huggins is already well beyond 700 wins and hasn't turned 60. That's well ahead of where Boeheim was at the same age. At 24 wins per year since arriving at West Virginia, he's on track to get to 900 at a younger age than either Boeheim or Bob Knight.