North Carolina Tar Heels:

Jim Larranaga
March, 17, 2013
3/17/13
5:39
PM ET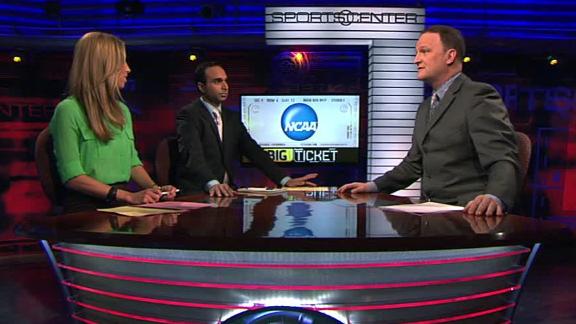 GREENSBORO, N.C. -- Miami point guard
Shane Larkin
said he plans to sleep with his piece of the ACC Tournament net for at least two weeks.
The Hurricanes' frenetic, fantastic, down-to-the-final-minutes championship win over North Carolina on Sunday was worth savoring -- in more ways than one.
Not only did the
87-77 victory
secure UM's first ACC tournament title, another accomplishment on an ever-growing list this season, it quieted any doubts that this team should be one to be reckoned with in the NCAA tournament.
"A lot of people were saying we peaked earlier in the year, when we won 14 in a row, and then we lost three of our last five," said Larkin, named the tournament MVP after his career-high 28-point performance. "A lot of people said ... we weren't going to have any chance in the NCAA tournament. But we just stayed together as a group; we stayed together and believed in ourselves and got three wins in a row against three very good teams."
Indeed, this didn't look like a team that was petering out. Just the opposite, in fact.
[+] Enlarge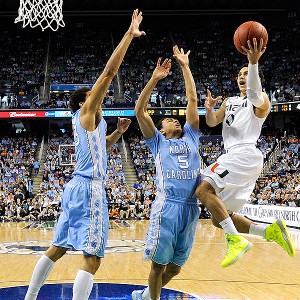 John David Mercer/USA TODAY SportsShane Larkin scored 28 points and had seven assists in Miami's win over North Carolina.
Pushed by a much-improved Tar Heels squad that also had plenty of doubters not too long ago, both teams put together a first half that was "as high a level of basketball as I've seen all year long,'' Canes coach Jim Larranaga said. They combined for 15 3-pointers, only eight turnovers, 13 lead changes and six ties. And that was just in the first 20 minutes.
In one blink-and-you'll-miss-it flurry, UNC sophomore
P.J. Hairston
(28 points) buried three 3-pointers in a row -- interlaced with 3s from Larkin and teammate
Trey McKinney Jones
(career-high 20 points). It was a stretch of entertaining one-upsmanship, and although Miami led 44-41 at halftime, you knew -- you hoped -- there would be more.
And there was.
"It was anyone's ballgame with five minutes to go," said Tar Heels coach Roy Williams, emotional about the loss and about how far his guard-led team has come since it lost to the Hurricanes by 26 points in early February.
Actually, UNC led Sunday 67-64 with 7:44 to go, until Hurricanes big man
Julian Gamble
scored five points in an 8-0 run. The Tar Heels, as they had all game, tried to shoot back, and point guard
Marcus Paige
cut it to a 74-71 with 3:37 to go.
But then Larkin drove by Strickland for a layup, and McKinney Jones (career-high 20 points) hit yet another 3 to make it 79-71 with 1:36 left.
It was the Hurricanes' largest lead to that point in the game, and finally the cushion was enough.
"Congratulations to Miami, it will continue to be a phenomenal year for them," said Williams, whose team is now 8-3 since it last lost to Miami. "They won the regular season, and then validated it by winning a conference tournament as well and it's just a great, great year. ... They're really a big-time basketball team."
As the horn sounded and a multi-colored blizzard of confetti poured out of the rafters, Miami guard
Durand Scott
leapt into Gamble's arms, then embraced big man
Reggie Johnson
. It was an emotional moment for three seniors who had seen Tobacco Road teams dominate the ACC -- until Florida State won the tournament last season.
And until now.
"My first meeting at George Mason in 1997, I asked our players, 'Who are the best programs in the country, and who should be our role model?' and they mentioned Duke and Carolina," said Larranaga, who took the Patriots to the Final Four in 2006. "And when I got to Miami, I asked, 'Who are the best teams and programs in the league?' and they said Duke and North Carolina. So what we've tried to do is use them as a shining example of what can be done."
And Saturday's net-cutting was another step.
McKinney Jones said he would likely give his sliver of the twine to his mom. Larranaga said his would be on display in his office. Scott said he would add his cutting to an ever-growing collection of memorabilia.
Meanwhile, expect Larkin to leave some room under his pillow for another piece of net. That's the goal entering the NCAA tournament.
"This was a big weekend for us,'' Larkin said. "This gives us a lot of momentum going forward."
March, 12, 2013
3/12/13
1:50
PM ET
Virginia Tech guard Erick Green, the first ACC player to lead the nation in scoring in 56 years, was
named the league's player of the year on Tuesday
. He is averaging 25.4 points on 48.2 percent shooting this season for the Hokies, who finished 4-14 in ACC play.
Green joins Maryland's Len Bias as the only players from teams with a losing league record to be named the conference's player of the year.
The senior received 38 of the 76 votes cast. Miami guard Shane Larkin was second (23 votes), followed by Duke's Mason Plumlee (12). Virginia's Joe Harris received two votes and Florida State's Michael Snaer received one.
The rest of the individual league awards, also announced Tuesday:
The Atlantic Coast Sports Media Association (ACSMA) voted on the awards.
The All-ACC teams, which were announced Monday,
can be found here
.
January, 11, 2013
1/11/13
10:40
AM ET
CHAPEL HILL, N.C. -- Only on three other occasions has North Carolina started the season 0-2 in the ACC:
In 1979-80, the Al-Wood-Mike-O'Koren-James-Worthy led Tar Heels lost at Virginia and Clemson before tying for second in the league (9-5), making the NCAA tournament and losing in the first game.

In 1996-97, the crew led by Vince Carter and Antawn Jamison actually fell to 0-3 in league play before tying for second in the regular season, winning the ACC tournament and making the Final Four.

And in 2008-09, Ty Lawson, Tyler Hansbrough, Wayne Ellington and Danny Green dropped their first two before winning the conference -- and the NCAA title.
No one is suggesting that this year's Tar Heels, who lost four starters to the NBA last summer but were still ranked in the top 15 to begin the season, are headed for the final weekend of March Madness. At this point, they barely look like an NCAA tournament team at all. But there is precedent for UNC (now 10-5, 0-2 ACC) turning things around.
[+] Enlarge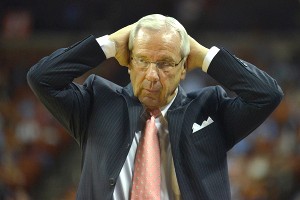 Brendan Maloney/USA TODAY Sports "If I knew what it was I would have already changed it," Roy Williams said regarding his team's recent struggles.
The question is, after watching the team collapse down the stretch for the second straight game on Thursday night, do the Tar Heels have what it takes to rally?
"Everybody's upset, everybody's stressed, trying to figure out how we're going to win games,'' junior
Reggie Bullock
said. "But some way, somehow, real real soon, we'll turn it around and get back on the right track."
It's the "some way" and "somehow" that are both concerning and disconcerting, because the Tar Heels keep making the same mistakes.
UNC trailed at Virginia 51-50 with 3:11 left on Sunday before the Cavaliers went on a game-securing 10-0 run. Against Miami on Thursday, the Tar Heels trailed 56-55 with five minutes to go before the Hurricanes clinched the game with an 8-0 breakaway.
Both collapses were defined by defensive lapses, communication breakdowns, rushed shots and a lack of poise.
Even after a players-only meeting following the Virginia loss, the same mistakes resurfaced against the Hurricanes.
"If I knew what it was I would have already changed it,'' coach Roy Williams said when asked about the reason for the two meltdowns. "It's a smart aleck response, but it is also a true response."
Indeed, when Williams asked his assistants, then his players, for the team's main problem last Monday, everyone gave a different answer. And that grab bag continues.
Miami coach Jim Larranaga pointed to the Tar Heels' lack of size: "In all the years that I coached against North Carolina, they were always bigger than us,'' he said. "When I was at Virginia, even when we had Ralph Sampson, they had a ton of big guys. Last year when we came in here it was [Tyler] Zeller and [John] Henson, and they were huge. This year, they're a little different."
But as much as perimeter-oriented UNC has failed to display a consistent post presence -- what with the timeshare at center involving
Desmond Hubert
,
Joel James
and
Brice Johnson
-- there are plenty of other problems, too.
Like in the backcourt, where senior
Dexter Strickland
's only stat in 26 minutes Thursday was a perplexing missed shot. Not what you want out of your starting shooting guard/backup point guard, especially when your starting ballhandler (
Marcus Paige
) is a freshman and still adjusting to pace and playing style.
Like on defense, where too much reticence is becoming the norm.
Strong leadership would help, too. Bullock, who called that team meeting, is trying to take over the emotional go-t0-guy role, and probably deserves it. But when games have gotten tight down the stretch, this still looks like a rudderless crew, panicking instead of looking for guidance.
And although sophomore
James Michael McAdoo
led the team in scoring against Miami with 14 points, they need more out the forward who would have been a first-round draft pick last summer. Over UNC's past five games, three of which were losses, he's made only 39.6 percent of his shots.
"I hate to lose,'' McAdoo said. "And I really don't know what to do but come every day ready to work and get better. And don't leave the results up to the other team, but just impose my will and our will as a team."
But can he? Can they?
Williams has seen, and experienced, turnarounds in years past, and remains positive that this team can follow that path. With only a short turnaround before facing Florida State in Tallahassee on Saturday, however, conference play doesn't get any easier.
He said his team was stressed in the postgame locker room.
But he remains hopeful.
"Life's going to throw you some curve balls and adversity and if you're always worried, you're never going to get that changed," he said. "I told them we're going to come back tomorrow and we're going to work our butts off and then we go to Florida State. And they're pretty doggone good. … We've got to go down there and regardless of our stress, regardless of our confidence, we've got to go play and we've got to do the best we can in practice tomorrow to see if we can get better."
Or else they might become only the second Tar Heels team to start league play 0-3.
January, 10, 2013
1/10/13
11:43
PM ET
CHAPEL HILL, N.C. -- There were times, early in Miami forward
Julian Gamble
's left-knee rehab, when he wondered if he'd ever be able to even hop without pain -- much less battle for back-to-back offensive rebounds and score on a putback to jump-start a game-winning run at North Carolina.
Breaking the Tar Heels' 10-game winning streak over the Hurricanes?
Starting 2-0 in the ACC for the first time since his team joined the league?
Winning at the Smith Center, just a short drive from his Durham, N.C., hometown,
68-59
?
Yes, Gamble said Thursday night, returning for a sixth year was certainly worth it.
"Of course this is what you hope for," Gamble said after notching 14 points, 6 rebounds and 3 blocks en route to pushing UNC to 0-2 in the ACC. "But not just for me -- for my team."
Indeed, the victory marked the road-tested Hurricanes' third consecutive victory -- perhaps extra impressive, considering all have been without center(piece)
Reggie Johnson
.
When the 6-foot-10, 292-pound center fractured his thumb last month before the Hurricanes' trip to the Diamond Head Classic, there was worry about how the guard-heavy team would adapt without his defensive presence in the lane and double-double (12.6 points, 10.1 rebounds) average per game.
Going 1-2 in the Diamond Head Classic didn't exactly help curb that concern.
But Gamble's play of late just might.
[+] Enlarge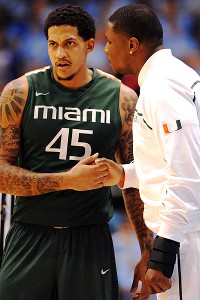 Cal Sport Media via AP ImagesWith center Reggie Johnson, right, out, Julian Gamble has stepped up of late, averaging 9 points and 7 boards his past three games.
In wins against La Salle and at Georgia Tech, he averaged 6.5 points and 7.5 rebounds.
And making his sixth straight start in place of Johnson on Thursday, the 6-10, 250-pounder was even more aggressive from the outset. With Miami trailing 32-30 at the break, the team went to him early and often in the second half, wanting to establish an offensive presence in the lane to help open things up for its outside shooters. And he delivered, scoring six of Miami's first seven points to make it 37-all.
"I feel like we're a bigger, stronger, more physical, more experienced team than them [the Tar Heels] at this point, so we just had to take advantage of it," said Gamble, who got plenty of advice and words of encouragement from Johnson on the bench.
His biggest advantage-taking moment came with 4 minutes, 31 seconds left.
After UNC reserve
P.J. Hairston
buried a 3-pointer to cut Miami's lead to 56-55, Gamble grabbed teammate
Durand Scott
's missed 3-pointer. Playing with four fouls but backing off not one bit, he missed the putback, but grabbed another rebound in traffic and made that one to put his team up by three points -- and jump-start an 8-0 run.
"I was just thinking 'Be relentless, outwork them,'" Gamble said. "That's what one of our coaches always tells us: No matter what happens, no matter what adversity happens, just keep working."
It was that mentality, too, Gamble said, that helped get him through the frustrations of rehabilitation after tearing the anterior cruciate ligament in his left knee during a workout in August 2011. There were days, he remembered, when medication barely numbed the pain. He didn't know until February whether the NCAA would allow him to play for a rare sixth year (he redshirted his freshman season, in 2007-08). And he actually had to undergo a second knee surgery, he said, when a lesion was found on the back of his ACL graft.
"It was another blow to my mindset, and my confidence: Was I ever going to play like I could before?" he said.
But he is.
Maybe, at times, even better.
"Reggie Johnson is a tremendous inside presence, he's a low-post player, back to the basket, and he helps us a lot of different ways," Miami coach Jim Larranaga said. "But Julian has done an admirable job, stepping up and defending, rebounding and scoring. Tonight, he had double figures, 7-for-10 from the field, 14 points and 6 rebounds. That's an outstanding performance, especially in a game like this where every possession counts."
Senior
Kenny Kadji
led the Canes with 18 points and 9 rebounds Thursday.
James Michael McAdoo
led UNC with 14 points and 6 rebounds, although Miami held the Tar Heels to just one field goal (that Hairston 3-pointer) during a crucial 7-minute span in the second half.
"[This win] gives us great confidence, but at the same time, we know we have 16 more games left," Gamble said. "It's the beginning of the conference season, and we don't have a lot of time to dwell on this victory."
Although after all that rehab, Gamble -- who had more than a dozen friends and family members in the crowd -- admits he does appreciate each "W" a bit more.
"To be playing basketball at the highest level, and to be playing at places like Duke and Carolina, and just having the opportunity to play in front of family and friends, it's just a great feeling," he said.
January, 10, 2013
1/10/13
11:00
AM ET
CHAPEL HILL, N.C. -- Monday, the day after North Carolina lost its ACC season opener at Virginia, coach Roy Williams asked his assistants to identify the team's main problem.
They all gave different answers. And the same thing happened when the question was posed to the players.
Thus, it isn't surprising that Williams himself offered a lengthy list of improvements he wants his 10-4 squad to make, preferably beginning with Thursday night's game against Miami.
"I'd like to have more inside scoring," he said, "and I'd like to get to the free throw line more. I'd like our big guys to turn it over less. I'd like us to be more consistent shooting the ball from the outside. I'd like to handle dribble penetration better."
Miami, which has been tested by one of the nation's toughest schedules, will in turn test all of those things. The 10-3 Hurricanes will continue to be without big man
Reggie Johnson
, who is expected to miss another six weeks with a broken thumb. But they are now 3-2 since he was injured, and are trying to replace his double-double average with a plethora of players.
"The whole key for us offensively is to just have good balance, to have different guys step up and make shots for us," Miami coach Jim Larranaga said. "The other day against Georgia Tech it was
Rion Brown
. Often is the case [that]
Shane Larkin
and
Durand Scott
are our leading scorers. But
Kenny Kadji
can really shoot the ball well, and in
Julian Gamble
's first start against Hawaii he scored 16 points and had 13 rebounds. …
Trey McKinney Jones
is shooting the ball very well. He's been in double figures most games.
"If we can get four or five guys in double figures, then I think we're in good shape offensively."
A few things to watch as the Hurricanes attempt to start league play 2-0 for the first time since joining the ACC, while the Tar Heels try to avoid 0-2:
Miami's backcourt
Scott, a senior, and Larkin, a sophomore, are combining for 27.5 points, 8.5 rebounds and 6.6 points per game. And they rarely take (or give defenses) a breather, averaging more than 35 minutes apiece per game.
"They're a difficult team to guard because Durand can take the ball to the basket so well and get fouled, get to the rim and he can make some 3s, too," Williams said. "We tried to go under the screen down there a couple of years ago and he makes three 3s in the first eight minutes.
"Larkin is really, really playing well. He's really aggressive and he's doing a good job. That gives them two point guards that have good assist-error ratios."
Reggie Bullock
UNC's junior wing has had the hot hand of late, averaging 17.7 points over his past four outings. During Sunday's loss at Virginia, Bullock,
who is trying to take on more of a leadership role
, scored 22 points on nine shots, and Williams wants his team to do a better job of recognizing who has the hot hand -- and work on getting him the ball more often.
"What we've got to do is be aware; it's not an equal opportunity," Williams
said during his Monday night radio show
. "Some guys can shoot better than others, some guys can score better than others, and we've got to figure that crap out. And we're pushing them in a direction to figure it out, but still, they've got to do it out on the court. We need to work harder, when someone's as hot as Reggie was [Sunday] night, we need to work harder to get him shots."
And Bullock's shooting may be counted on even more Thursday, if reserve guard
Leslie McDonald
-- who is averaging 8.4 points and 17.9 minutes, and is making 40.2 percent of his 3-pointers -- can't play.
McDonald "tweaked" his right knee, and did not practice Tuesday or Wednesday
.
Defense
The Hurricanes rank 18th nationally in field goal percentage defense, holding foes to 37.4 percent shooting per game.
The Tar Heels have held opponents to 39 percent shooting for the season, but have often been inconsistent and failed to communicate on defense when it mattered most. At Virginia, for instance, UNC allowed the Cavs to shoot 52 percent in the second half.