North Carolina Tar Heels:

Julius Randle
November, 27, 2013
Nov 27
11:00
AM ET
It seems like just yesterday when North Carolina guard
Marcus Paige
expressed an uneasiness over making the transition to shooting guard. He was so conditioned to creating for others that the mentality to look for his own shots didn't come naturally.
[+] Enlarge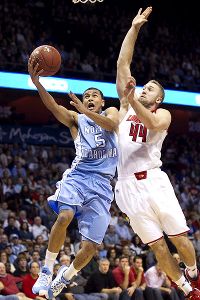 Zumapress/Icon SMIMarcus Paige's transition to shooting guard has been seamless.
Five games later, Paige has thrust himself into a different stratosphere -- both nationally and among Tar Heels historically.
He's currently leading the team with 22.4 ppg. That's comparable to others mentioned as national-player-of-the-year candidates like Oklahoma State's
Marcus Smart
(21.0), Louisville's
Russ Smith
(20.2), Kentucky's
Julius Randle
(19.8), Arizona State's
Jahii Carson
(23.0) and Duke's
Jabari Parker
(23.0).
That also would put Paige on a short list of Tar Heels who have averaged 20 or more points a game since 1970:
Phil Ford (20.8 ppg in 1977-78); Michael Jordan (20.0 ppg in 1982-83); Brad Daugherty (20.2 ppg in 1985-86); Hubert Davis (21.4 ppg in 1991-92); Antawn Jamison (22.2 ppg in 1997-98); Joseph Forte (20.9 ppg in 2000-01), Rashad McCants (20.0 ppg 2003-04) and Tyler Hansbrough (22.6 ppg in 2007-08 and 20.7 in 2008-09).
Paige is shooting 53.1 percent from 3-point range, which ranked him 29th nationally as of Monday's NCAA statistics. The next closest national-player-of-the-year candidate is Creighton's
Doug McDermott
, who is tied for 38th at 50 percent.
If Paige continues at this rate, he would shatter the Carolina single-season record of 49.6 percent set by Dante Calabria in 1994-95. The difference is Calabria was a spot-up shooter who benefited from Jerry Stackhouse and Rasheed Wallace drawing most of the defense's attention.
Paige is shooting 93.1 percent from the free-throw line, which was tied for 40th nationally entering the week. Again, he'd set a new school standard if he keeps it up, besting Shammond Williams' single-season record of 91.1 percent during the 1997-98 season.
Paige is also shooting 53.1 percent from the field, which for a guard is great, but it doesn't compare with post players.
Of course some, if not all, of Paige's current averages will decrease once teams make him the focal point of their game plans.
But the irony here is if Carolina had its full roster, and Paige were strictly playing point guard, he wouldn't be posting anywhere near his scoring average. That's what makes his transformation in such a short amount of time so impressive.
Paige has played at such a high level that it would be hard to argue that he's not the best player on the team even when
P.J. Hairston
came back.
September, 17, 2012
9/17/12
9:15
AM ET
Some North Carolina hoops-related links from around the web:
UNC junior Reggie
Bullock wants to be the best player on both ends of the floor
, writes Adam Lucas of goheels.com:
"There will be a lot of teams who know me as a shooter now," Bullock says. "They don't know the rest of my game. Over the summer, I tried to increase my ability to get to the basket. People might think of me strictly as a shooter, but I want to do it all. I want to get to the basket, finish, and make the one-two dribble pullup. I have some things to show they haven't seen from my first couple years of college basketball."
Carolyn Kyles,
mom of coveted recruit Julius Randle, talked Kentucky and UNC
with The Courier-Journal's Steve Jones late last week, and she shared some thoughts about coach Roy Williams' in-home visit:
The Courier-Journal: After Carolina came in, Julius posted on Twitter or said the quote that "it was just different." What was [it] that Coach Williams said that made him feel that way?

Carolyn Kyles: We both did. It was just different. It was really just different. A lot of people look at Coach Williams like a really laid-back, old-school type guy. He doesn't like email, and as a matter of fact, he doesn't have an email address. He likes it more personal. So he will write or send out cards every day with a quote. He likes that old-school feel, so that's how it's everyone's impression of him. And he kind of said some things – and we'll just keep it between us – that he went out of the box with, that we were like, 'This is a more new-school approach than what you would think with him.' It was just different to do those things that he didn't expect.
Madison Taylor of The (Burlington) Times-News writes about Dean Smith,
"the extraordinary man
."
Former North Carolina big man Scott
Williams has been hired as an assistant coach for the Idaho Stampede
, writes Brian Murphy of The Idaho Statesman.
Pittsburgh has put in a bid
to host the ACC men's basketball tournament in the future, writes David Teel of The Daily Press.
Cost often dictates whether UNC students choose to study abroad, writes Zach Freshwater of The Daily Tar Heel.
But so does basketball season.
Follow Robbi Pickeral on Twitter at @bylinerp.
September, 11, 2012
9/11/12
11:30
PM ET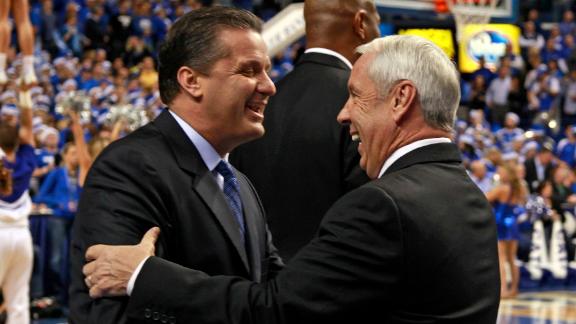 North Carolina coach Roy Williams couldn't quite match Kentucky coach John Calipari's 2012 national championship ring in trying to impress top-five recruit
Julius Randle
earlier this week (the Tar Heels, of course, fell short of the Final Four last season). But
according to USA Today, Williams found a way to "31-up" him during an in-home
visit with the highly-coveted forward.
First, Jason Jordan wrote, Williams opened a case featuring 30 rings earned from his two national championships, plus Final Four berths and league titles. And they make a shiny impact.
"When coach Williams opened the case you almost couldn't look directly in it for fear of going blind," Randle joked to USA Today. "It was crazy."
But that wasn't the end of the bling. Wrote Jordan:
Once he'd achieved the wide-eyed reaction he hoped for, Williams added the exclamation point, reaching into his pocket and pulling out Michael Jordan's 1992 NBA championship ring he won with the Chicago Bulls.

"He said Jordan gave it to him to show his players what they could achieve with hard work and determination," Randle said. "I was just shocked. I couldn't believe I was holding Jordan's ring."
Was it enough sparkle to lure Randle to Chapel Hill? Time will tell...
Follow Robbi Pickeral on Twitter at @bylinerp.