North Carolina Tar Heels:

Kendall Marshall wrist injury
March, 24, 2012
3/24/12
6:10
PM ET
ST. LOUIS -- North Carolina point guard
Kendall Marshall
participated in some non-contact shooting, passing and dribbling drills during practice Saturday.

But the sophomore Cousy Award finalist said he would not have played if the Tar Heels' regional final was that day.
As for Sunday, when the top-seeded Tar Heels face No. 2 seed Kansas?
"I don't know," Marshall said in the locker room at the Edward Jones Dome, his right wrist and elbow wrapped in ice. "We'll see tomorrow. We'll see how I feel after shootaround. ...
"As of right now, it's like yesterday: I'm not playing. But if I do continue to feel better, there's no telling -- I could be out there playing."
The health of Marshall -- a left-handed ball handler who fractured his right wrist this past Sunday, had surgery to insert a screw in it Monday and had his hard cast replaced with a stabilizing brace Wednesday -- has been under constant scrutiny since the injury. UNC managed to beat No. 13 seed Ohio without him, in overtime on Friday, but the offense looked out of sync and the Tar Heels committed a season-high 24 turnovers.
Click
here for the rest of the story....
March, 19, 2012
3/19/12
9:10
PM ET
If North Carolina coach Roy Williams had to guess -- and it's purely a guess, he stressed during his Monday night radio show -- then he would predict that point guard
Kendall Marshall
would not play Friday against 13th-seeded Ohio in the NCAA Midwest regional semifinal.
"But as I said, we're uncertain,'' he stressed.
Williams said the Monday morning
surgery to insert a screw into the sophomore's fractured right wrist
"went great."
"They felt like everything was as good as it could be on the scaphoid bone. The break, the fracture … was at a point where it does get better blood supply than other parts of the bone, and it went really, really well."
But it's too soon to know how well; and it could be a few more days before any decision is made on Marshall's status.
"We can talk all we want to, 'if this' and 'if that' … and that's just a bunch of damn waste of time,'' Williams said. "There's nothing else to talk about until we find out what the crap is going on, and then we'll talk about it."
The injury occurred with 10:56 left at Greensboro Coliseum on Sunday night when Marshall -- who naturally shoots left-handed -- was driving the lane for a right-handed layup. He was fouled hard by Creighton's
Ethan Wragge
, and crashed to the floor. Williams said he did not think that particular foul was flagrant.
The coach cleared the locker room of reporters after the win to tell his team the bad news, and said "you could have hear a pin drop in the back of the bus," as the Tar Heels traveled home from Greensboro. He gave the players Monday off, and he spent a lot of it at the hospital with the Marshalls.
He and Marshall's dad, Williams said, got emotional more than once.
"I said last week: No one is indispensable,'' he said. "But if we have somebody like that, it is Kendall Marshall. We were discussing before, 'Well, you just lost one player.' Well, the Indianapolis Colts just lost a guy, and last year they were in the playoffs and this year they get the No. 1 draft pick. So sometimes that one guy can be pretty important to you, and the way we play, the quarterback is extremely important."
So how do you possibly replace the nation's top assist man, the team's leader and a Cousy Award finalist?
Williams said he wrote out a page and a half of notes and ideas Sunday night, and his assistants will do the same. Whether or not Marshall can play, reserves
Stilman White
and
Justin Watts
will have to provide extended minutes. The team will reconvene Tuesday to figure out how to move forward, despite all of the uncertainty.
Asked if the top-seeded Tar Heels -- a Final Four favorite with national championship dreams since the first practice of the year -- can still accomplish their goals without Marshall, Williams replied: "We'll see.
"We're sure as the dickens not going to not go. When the damn plane leaves here Wednesday night, I'm going to be on it Wednesday night. … We don't have any idea [if he will play], but we can't just roll up and play dead. North Carolina's going to play. I'm going to show up to play and coach and rant and rave, and we're going to see."
Follow Robbi Pickeral on Twitter at @bylinerp.
March, 19, 2012
3/19/12
3:52
PM ET
Well, he's (apparently) typing.

Shortly after North Carolina
issued a news release
Monday afternoon updating the masses on the status of point guard
Kendall Marshall
's fractured right wrist, this showed up on the sophomore's Twitter account feed: "Successful surgery. I'm screwed."
Good pun for the ballhandler, who was just coming off the anesthesia a few hours before.
According to the release, Dr. Don Bynum inserted a screw to stabilize the fracture, which occurred Sunday when Marshall fell
after a hard foul during the second half
of UNC's win against Creighton in the NCAA tournament's Round of 32.
Coach Roy Williams confirmed in the release that
no one will know what they really want to know until later in the week
: Will the Cousy Award finalist be able to play in the NCAA regional semifinals against Ohio on Friday in St. Louis?
In the meantime, at least we know Marshall has retained his sense of humor.
Follow Robbi Pickeral on Twitter at @bylinerp.
March, 19, 2012
3/19/12
10:50
AM ET
GREENSBORO, N.C. -- As one Wrist Watch began Sunday night, another one ended.
Somewhat lost in the news of point guard
Kendall Marshall
's fractured right wrist -- and whether or not he will be able to play in the NCAA Sweet 16 in St. Louis on Friday -- was the return of forward
John Henson
after a three-game hiatus because of a sprained left wrist.
[+] Enlarge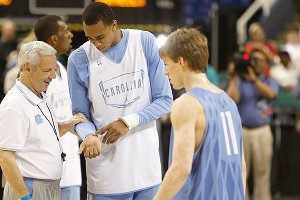 Bob Donnan/US PresswireThe injured wrist of Tar Heels forward John Henson, center, has been on the minds of UNC fans as the tournament progresses.
Wearing tape and a molded splint to protect his sensitive injury, the ACC Defensive Player of the Year recorded his 17
th
double-double of the season (13 points, 10 rebounds, plus four blocked shots) -- and inspired his team, in more ways than one.
With the score tied 11-11 early, Henson was fouled by
Ethan Wragge
(the same Bluejay who fouled Marshall hard later in the game, resulting in Marshall's broken wrist). Creighton's
Grant Gibbs
was also defending on the play, and ended up slapping down on the ball -- and on Henson's still-tender wrist. That earned an exchange of words with a not-so-smiling Henson, and eventually a whistle.
"I didn't necessary like the play when the 3-man, after the whistle blew, slapped my wrist a few times," Henson said. "… I don't think it was anything dirty, but they targeted the wrist, they tested it a few times early."
And it really peeved off his Tar Heels teammates, as well.
"I don't know if it was intentional or not,'' forward
James Michael McAdoo
said of Gibbs hitting Henson's wrist. "… But it did light a fire underneath us."
After the Bluejays made one of the two technical free throws, UNC responded with a 28-12 run to take its largest lead of the first half (39-24). Marshall, his wrist still well at that point, scored nine points in a row for the Tar Heels during the breakaway, as the Tar Heels played with their scariest-for-foes emotion: inspired anger.
"Just knowing that John had been out for three games … we knew he was out there battling with his wrist,'' shooting guard
Reggie Bullock
said. "And we knew if he was out there battling, we had to have his back. So when that happened, we increased our intensity on both ends of the floor. Our shots were falling, we were getting out in transition, getting easy steals, getting easy buckets."
Indeed, it looked as if UNC was clicking again on all cylinders, like a team that would not only reach the Final Four, but have a shot to win the whole tournament.
Until Marshall's injury, and all the questions surrounding whether he can play against 13
th
-seeded Ohio, and how much.
It was a weird scene: Before coach Roy Williams cleared the locker room of media to give his team the bad news about Marshall's wrist, dozens of reporters surrounded Henson to talk about his comeback. (He said his wrist was feeling good after the game, and was glad the team could drive instead of fly home, so it wouldn't swell.)
When the locker room re-opened, Henson was left pretty much alone, still icing his hand, the swarm having moved to a red-eyed Marshall.
"John," a team member joked, "your wrist is old news now."
A new Wrist Watch had begun.
Follow Robbi Pickeral on Twitter at @bylinerp.
March, 19, 2012
3/19/12
1:37
AM ET
Even with
Kendall Marshall
reportedly having surgery on his fractured wrist Monday, he could still play in the NCAA tournament but time is of the essence for the North Carolina point guard, an expert in hand and wrist injuries said.

Dr. Christopher Sforzo, a Florida-based orthopedic surgeon who works extensively with professional tennis players, told ESPN.com there were basically two options -- immediate surgery, which would stabilize the wrist and give Marshall a chance to play, or to play with a cast.
"It's a roll of the dice either way,'' Sforzo said. "If he's going to have surgery, it would have to be first thing in the morning.''
Scaphoid fractures are common, especially involving a fall and treatment depends on where the break is, Sforzo said.
If the fracture is at the end of the bone, where the blood supply is best, the bone can heal quickly and usually a cast or splint is all that's required.
If the break is in the middle or at the beginning of the bone, surgery is typically required, with a screw inserted to stabilize the bone.
Neither scenario is ideal.
"If he wanted to play, it would be difficult with a cast and he'd risk that the bone could move and then he'd need surgery,'' Sforzo said. "And it would be painful. I wouldn't say it would be heroic for him to play under those circumstances, but it would be very difficult.
"[With] surgery, in some regards it's better because the bone is stabilized and there's no risk. But could he play in four days?''
But North Carolina, obviously, is up against the clock. The No. 1 seed Tar Heels play Ohio in the Sweet 16 on Friday.
And Marshall is not just any player; he's a point guard, with the ball in his hand for the bulk of the game.
"His jump shot wouldn't be a problem,'' Sforzo said. "But it's still tough for him to handle the ball with that off hand, to push off and dribble. It's an interesting conundrum and a real tough break for him, especially at this time of year. Maybe he could play this week, maybe by Saturday if you want to hope you get there. Or do you wait until the Final Four? There's no easy answer.''
March, 19, 2012
3/19/12
1:10
AM ET
GREENSBORO, N.C. -- Freshman
Stilman White
is North Carolina's former third-string ballhandler who plans to take a two-year Mormon mission after this season.
Justin Watts
is a senior reserve who has played four positions -- but only two stints at point guard.
These will be the Tar Heels' top two choices to replace Cousy Award finalist
Kendall Marshall
in Friday's NCAA Regional Semifinal game, if the sophomore can't play (or is limited)
because of his fractured right wrist
.
"You just have to have that mentality the whole season, that whenever your number is called, you'll be ready,'' said White, who was averaging 4.2 minutes before Sunday's win.
[+] Enlarge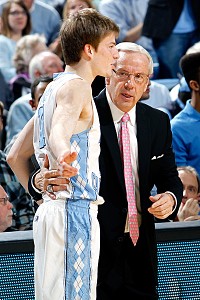 AP Photo/Jim R. BoundsRoy Williams' Tar Heels may look to Stilman White to step up if Kendall Marshall cannot play.
Said Watts: "I'll do whatever it takes to help the team win. We just don't know all the details yet."
White, a 6-foot, 160-pound ballhandler from Wilmington, N.C., averaged 20.5 points and 3.0 assists last season as a senior at Hoggard High, where he even occasionally jumped center. He was signed last spring as insurance, to play behind Marshall and starting shooting guard/back-up point guard
Dexter Strickland
.
Ends up, the Tar Heels needed that insurance. White played sparingly --
for an occasional minute or two in the first half
, and at the end of the game with the walk-ons -- until Strickland tore the ACL in his right knee at Virginia Tech on January 19, and was lost for the season.
Since then, White's minutes have increased, particularly around timeouts. But so had those of Marshall, who set UNC and ACC records for assists in a season.
"I've still got to have the same attitude I've had: when Dexter went down, I knew my role was going to increase a little,'' White said Sunday. " And right now, I'm not sure, but if that's what's happening, that's what has to happen."
Watts is a 6-5 athlete from Durham, N.C., who
had played both in the post and on the wing for his first three seasons
. But this year, the defensive-minded player added another position: point guard. Two games after Strickland was injured, he was inserted at the '1' for a few minutes during the Tar Heels' double-digit win over Georgia Tech. Then during the ACC tournament semi-finals against N.C. State, Watts was tabbed again to play a couple of point guard stretches because Marshall was in foul trouble.
"I was just catching and pitching ahead; I wasn't trying to do much,'' Watts said after the win over the Wolfpack. "When you've got guys to throw it into like [Tyler] Zeller and Harrison [Barnes], they make you look a lot better than you are."
Indeed, the hope is that if either reserve has to play long stretches at point guard, the talent around them will hopefully pick up the slack. Marshall, who was still hopeful Sunday that he might be able to play Friday, said he has confidence in his squad, whether or not he can play.
"This is not a one-on-one sport, it's a team sport,'' Marshall said. "So no matter what happens, we'll band together like we've always done and find a way to win."
Follow Robbi Pickeral on Twitter at @bylinerp.
March, 19, 2012
3/19/12
1:07
AM ET
Michigan State coach Tom Izzo knows the anguish North Carolina's Roy Williams is feeling.
Izzo understands the uncertainty of losing a point guard after the second game of the NCAA tournament.
He can comprehend more than most the need to adjust on the fly and hope the moves you make work well enough to still get to the Final Four and compete for a national title.
The No. 5 seed Spartans were a legit candidate for the Indianapolis Final Four in 2010. But then Kalin Lucas, Izzo's starting point guard and unquestioned leader, suffered a torn Achilles in a second-round victory over Maryland.
"It's a killer," Izzo told ESPN.com Sunday night upon learning of North Carolina guard
Kendall Marshall
's fractured right wrist, suffered in a fall during the Tar Heels' win over Creighton earlier Sunday in Greensboro, N.C.
"It's tough,'' said Izzo. "When it's a point guard, it's a different animal. They're already missing
[Dexter] Strickland
.''
[+] Enlarge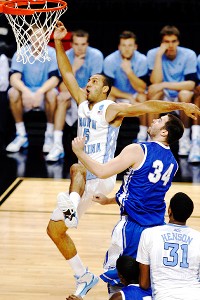 AP Photo/Zach GibsonMichigan State reached the 2010 Final Four without its starting point guard; can UNC do the same without Kendall Marshall?
Lucas' backup at the position, Korie Lucious, stepped in for him and buried a 3-pointer at the buzzer to beat Maryland and send the Spartans to the 2010 Sweet 16.
Michigan State caught a break in that the next game as the Spartans played 9-seed Northern Iowa instead of top seed Kansas. The Panthers had upset the Jayhawks in the second round.
"It helped us a bit,'' Izzo said. "Lucious got his feet wet [in the Maryland game]. We were fortunate.''
This season, Ohio is more than formidable after the No. 13 Bobcats knocked off No. 4 Michigan in the second round and then No. 12 South Florida on Sunday to get to the Sweet 16 matchup against North Carolina on Friday in St. Louis.
In 2010, the Spartans beat the Panthers by seven but had to survive a one-point game to beat Tennessee in the Elite Eight. Michigan State then lost by two to Butler in the national semifinal.
If Lucas doesn't get hurt do the Spartans beat Butler and topple Duke for the national title?
"I remember saying in the locker room [after the Maryland game] that we've got to find a way to get it done,'' Izzo said. "We knew Kalin was done. What you've got to do is get your team to believe that you still have a chance. We made it to the Final Four. I didn't think it was a reach that we could win [the title]. It was one of those Final Four years where anything could have happened.''
Lucas was done the moment he tore his Achilles. It is still unknown if Marshall could return at any point during this tournament.
Izzo said that knowing he had Lucious as a backup to Lucas at least lessened some of the blow. The Tar Heels are already without Strickland, who suffered a torn ACL in January. Shooting shouldn't be a problem with
Reggie Bullock
and
P.J. Hairston
. But leading the Carolina break and setting up big men like
Tyler Zeller
,
John Henson
and
Harrison Barnes
may fall to seldom-used playmakers
Stilman White
and
Justin Watts
.
"I'll guarantee that Carolina has better people than we did,'' Izzo said. "They'll have good enough people to rally. But the problem is that the backup point guard isn't there.''
The Spartans played the Tar Heels to start the season on the USS Carl Vinson off Coronado, Calif., on Nov. 11. North Carolina won 67-55.
Izzo can see the Tar Heels playing differently if they opt for a change.
"They can play another way,'' Izzo said. "[Marshall] ran their break and that's what they'll miss the most, at least that's what I see from afar. But there were times when they would throw it inside where they were more effective.''
Not having Lucas in 2010 meant the Spartans didn't run as much.
"We had to pound it in more,'' Izzo said. "We didn't run as much. We had to walk it up because we didn't have the depth. We had to adjust.''
Assuming Carolina can beat Ohio even without Marshall would be a mistake. Predicting who the Tar Heels would meet in the Elite Eight is foolish, too.
"I told my guys on Selection Sunday, 'Don't start looking at the bracket because down the road, it will change,''' Izzo said. "There is going to be something, an injury, an upset, something is going to happen.''
March, 18, 2012
3/18/12
10:38
PM ET
GREENSBORO, N.C. -- Red-eyed and trying to smile, North Carolina point guard
Kendall Marshall
talked Sunday night about how proud he was of his team for advancing to the NCAA regional semifinals.
But surrounded by reporters, his fractured right wrist enveloped in ice, it was easy to see he was in pain.
"What hurts the most is that I want to be here for my team and help them out,'' said Marshall, UNC's creator, playmaker and one of the nation's leading assist men. "It's yet to be determined whether I'll be able to or not, but we'll find a way to get through it."
But this time, could it be too much? Marshall, who finished with 18 points and 11 assists, was diagnosed with a fractured scaphoid bone in his right wrist after top-seeded UNC's
87-73
victory over Creighton. A team spokesman said he would wear a soft cast Sunday night, but did not know whether the sophomore will be able to play when the Tar Heels face No. 13 seed Ohio in St. Louis on Friday.
The team is hoping there will be an update Monday.
"We'll speak to the hand specialist tonight with Kendall and his family, and we'll see what happens after that,'' an obviously upset UNC coach Roy Williams said after the win.
Later, he added: "When you go to the Sweet 16, it's supposed to be a lot more fun than this."
The injury occurred with 10:56 left at Greensboro Coliseum when Marshall -- who naturally shoots left-handed -- was driving the lane for a right-handed layup. He was fouled hard by Bluejay
Ethan Wragge
, and crashed to the floor.
"I kind of got pushed to the ground,'' Marshall said. "And I guess when I fell, I hurt my funny bone first, and that's what I was most worried about. That's fine. My wrist just got the worst of it."
[+] Enlarge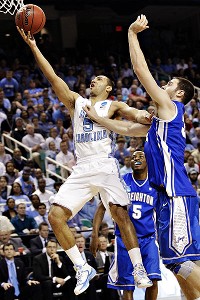 AP Photo/Chuck Burton"He's the best point guard in the nation," UNC star Tyler Zeller said of Kendall Marshall. "He makes this team go."
Asked if he thought it was a clean play, Marshall replied: "It was hard for me to tell. I was focused on making the basket. I watched the replay from one angle, and it was still hard to tell. Hopefully, he had his best intentions in mind of making a team play."
Marshall didn't know how bad the injury was at the time, though, making one of two free throws after a media timeout, leaving the game, and then eventually playing another seven-plus minutes.
"I felt the pain, but I didn't want to make a big deal of it,'' he said. "I just wanted us to get the win."
But it may be a costly one.
Marshall is not just the team's best creator and assist-man, he's really the only one. Backup
Dexter Strickland
(who was also the team's starting shooting guard) was lost for the season in January with a torn ACL. Freshman
Stilman White
has been spelling Marshall, but only to the tune of 4.2 minutes per game (before Sunday). Senior wing
Justin Watts
has also played point guard, but only for two stints this season.
"This is big,'' senior forward
Tyler Zeller
said. "Kendall's always been the leader of the team, he's always been somebody who plays 35-plus minutes per game. … He's the best point guard in the nation. He makes this team go."
Indeed, it was Marshall who rallied the Tar Heels last year, when former starter Larry Drew II opted to transfer in the middle of the ACC season. His ability get teammates the ball in the right spots pushed the Tar Heels to a surprising run to the 2011 NCAA regional finals.
This season, his scoring blossomed, as did his ability to rack up assists. Sunday marked his sixth consecutive double-digit game. Meanwhile, he already has set the school and ACC records for assists in a season, and is a Cousy Award finalist.
So stunning was the postgame diagnosis, Williams asked the media to leave the locker room to address the team before heading to the podium for his postgame news conference. What had been a proud, celebratory atmosphere turned to shock and confusion.
"Kendall's an intricate part of the team, to say the least,'' said junior forward
John Henson
, who had missed three straight games with a sprained left wrist before returning Sunday "And I know it's going to hurt, but we don't know what his status is, so we're just going to keep praying for him and hoping for the best."
Marshall was hoping Sunday, too -- somehow, for a quick recovery. Until now, he said, the worst injury of his career was a twisted ankle during his junior year of high school.
"And I thought I was 'the man' because I played the entire game with it, and I was like, 'Oh, man, this is some Jordan-type stuff,'" he said, trying to smile.
If there is any positive, it's that the injury is to his right wrist; had it been his left, Marshall said, he knows he would have no chance to play this week.
Whether he can, anyway, is a serious question.
And what happens if he can't? Even more so.
"Through being banged up, through missing players, we still find a way to go out there to compete,'' Marshall said, still leading through the pain. "That's a huge asset to a championship team, and that's still what we want to be."
Follow Robbi Pickeral on Twitter at @bylinerp
.
March, 18, 2012
3/18/12
9:13
PM ET
By
ESPN.com staff
| ESPN.com
Hubert Davis on what North Carolina guard
Kendall Marshall
's wrist injury means for the Tar Heels.