North Carolina Tar Heels:

Larry Drew II
September, 13, 2012
9/13/12
11:00
AM ET
Editor's Note: In the buildup to Midnight Madness, we are taking an in-depth look at ESPN Bracketologist Joe Lunardi's top five seeds in a series called Countdown To Madness. In addition to the Insider pieces, Eamonn Brennan will offer Three Big Things about each team, and we'll have Five Questions with a player or coach from each squad.
The last time UCLA senior Larry Drew II played in a regular-season game was Feb. 1, 2011. He recorded nine assists at Boston College. He played 19 minutes off the bench. And he was wearing a North Carolina uniform.
[+] Enlarge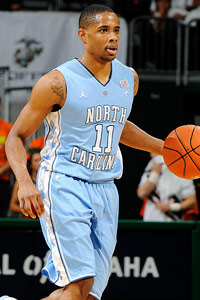 Icon SMIUCLA coach Ben Howland said North Carolina transfer Larry Drew II was the Bruins' "most indispensable player.''
Two days later, the demoted starter suddenly left Chapel Hill, N.C., and his father called UNC coach Roy Williams to tell him Drew was transferring. The player returned home to the West Coast, said he didn't pick up a basketball for at least two months and opted to transfer to UCLA. This season he aims to prove he can lead, make plays and push his talent-stacked new team to NCAA tournament success.
We recently caught up with Drew, who sat out last season per NCAA transfer rules and is both thrilled and anxious to begin his final college basketball season with his new team:
Coach Ben Howland recently told ESPN's Andy Katz that you will be the starter at point guard this season. Does it feel like you are getting a second chance?
Larry Drew:
Definitely, this is my second chance. For a couple of months, I even had my Twitter name as "2ndChance," because I'm also the second, Larry Drew II. … But it's definitely a huge blessing, and I'm just thankful for the opportunity to get back to playing the game I love.
How are you a different player than the last time people saw you in a game? What can people expect?
LD:
I'm still a playmaker. I'm still all about getting my teammates involved. Obviously this year, with the players we have, we have a lot of offensive firepower, so I think that's definitely going to work itself out over the course of the season. So I've just been constantly working on everything: getting stronger, my jump shot, everything. One thing that's just different for me, and what people have been telling me: I look like I'm out there having fun again when I play.
You surprised a lot of people when you left Chapel Hill in the middle of the 2010-11 season. What happened?
LD:
I'm sure it shocked a lot of people. But what I will say: It wasn't a [split-second] decision. I had been unhappy for some time. There was a series of things … and finally, I just got fed up. I just decided to take matters into my own hands. … And I'd just like to take responsibility for everything.
But now I'm here, I'm back in L.A., in my home city, and I've got a second chance. Some people might say I'm selfish, I'm this or that or whatever. But I had to do what's best for me in the long run. And I think it played itself out perfect.
Has it been a distraction to the team, not knowing the status of freshmen Shabazz Muhammad and Kyle Anderson (who are awaiting amateurism certification from the NCAA)?
LD:
There hasn't been much of a discussion. We've just been going with the mindset to do whatever is necessary. [Muhammad] couldn't go on the China [exhibition] trip, unfortunately, but we still talk to him on a regular basis so that he knows he's part of the team even though we were without him in China. It's all about just trying to stay focused on the task at hand, and that's winning.
What are your goals for your final college season?
LD:
To win it -- to win it all. It would be quite an achievement to win two national championships with two different schools. [Editor's note: Drew was a freshman on UNC's '09 NCAA title team.] I'm all about trying to make history.
June, 21, 2012
6/21/12
9:15
AM ET
North Carolina's basketball program scored a 963 in the latest APR rankings, released Wednesday. Ranked sixth in the ACC, the number exceeded the national men's basketball average of 950, but it was the lowest score for Tar Heels basketball in the seven years of the of the multi-season number.
The APR measures the classroom performance of every Division I team, and a score below 925 can lead to sanctions, including scholarship reductions and eventually postseason bans. This year's data calculated the rates from 2007-08 through 2010-11, and UNC coach Roy Williams said last week that the lower-than-usual score stemmed from the high number the transfers late in that time period.

After 2009-10, twin forwards
David
and
Travis Wear
left UNC for UCLA. Just before 2010-11, Williams dismissed senior wing Will Graves from the team. Then in February 2011, point guard Larry Drew II left the team in the middle of the season and eventually transferred to UCLA.
"We're concerned about it, but everybody's concerned about it. There's no magic potion that you're going to be able to put out there that's going to have kids stay at the same school,'' Williams said last week. "We're going to have record numbers of transfers this year; I wouldn't be surprised if we had a record number of transfers next year.
"… The culture of college basketball is kids expect instant gratification and to play immediately, and if it doesn't happen, either their or mom or dad or somebody is going to decide they want to go play somewhere else. It's a shame, but that's what we're faced with. … Those numbers are not going to go down by any rules we make."
Williams noted that APR scores are not going to keep athletes from transferring: "Kids are going to leave because they, and their families, thought it would be better for them to be somewhere else. I cannot convince a kid to stay. In today's world, sometimes you don't even have the opportunity to talk to find out why they're leaving."
Williams said the APR has some great points, "but it is severely lacking in some of the understanding of what's going on in today's world."
In a prepared statement, UNC athletic director Bubba Cunningham said the school -- which had 21 teams exceed the national average -- had room for improvement in some sports, including basketball.
"The APR for several men's sports was lower in 2010-11, and those are areas where we will focus our efforts in the future,'' Cunningham said in the statement. "The NCAA had honored men's basketball in the six previous seasons for having one of the top APRs in the country, but the number for 2010-11 was lower because one player was dismissed from the team right before the season started and another left the squad in the middle of conference play."
Nationally, a record 10 basketball teams
will be banned from next year's NCAA tournament
because of sub-par APR scores.
Here are the latest APR basketball scores in the ACC, from the 2007-08 to 2010-11 time period:
Duke 995
Miami 980
Virginia Tech 976
NC State 974
Maryland 970
North Carolina 963
Boston College 958
Clemson 953
Florida State 946
Virginia 939
Wake Forest 939
Georgia Tech 935
Follow Robbi Pickeral on Twitter at @bylinerp.
January, 25, 2012
1/25/12
5:05
PM ET
CHAPEL HILL, N.C. -- North Carolina coach Roy Williams says he feels comfortable playing
Kendall Marshall
35, 36, 37 minutes -- if he has to.
Marshall says he has every confidence he can do it, too.
After all, the sophomore point guard has done it before.
[+] Enlarge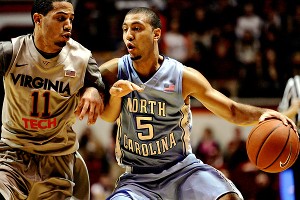 Peter Casey/US PRESSWIREWithout Dexter Strickland, North Carolina will lean more heavily on point guard Kendall Marshall.
It was only about a year ago -- in early February, just four games after being inserted into the starting lineup -- that Marshall found himself the Tar Heels' only true ballhandler after
Larry Drew II
inexplicably opted to bolt town and announce his transfer. Marshall averaged 34.7 minutes over his final nine ACC regular-season games, then 35.1 minutes in UNC's seven postseason outings.
Now that starting shooting guard/back-up point guard
Dexter Strickland
is out for the season with a torn ACL in his right knee, Marshall finds himself in an eerily similar situation.
"It's almost like déjà vu,'' Marshall said Wednesday. "Last year, we took a bad loss, started playing, playing well, lost a player and had to figure it out from there.
"…I have full faith in our team that we'll get it done. I think we're a lot more relaxed than at this point last year. We were like, 'Oh my God, what are we going to do without Larry?' But I think going through it for a second time, we're a lot more aware of the situation. And now we just want to play basketball."
Marshall said the hardest part of last season's final 16 games was the ACC tournament, when UNC played three games in three days (including one in overtime): "I think that's the only time where I felt physically worn out,'' he said.
He did have Strickland -- who grew more and more comfortable handling the ball as last season wore on -- to spell him. But now that he's out, the only other ballhandler left is freshman
Stilman White
, who has averaged only 4.3 minutes over 15 games, mostly when the outcome has been decided.
Williams, whose eighth-ranked team plays N.C. State on Thursday, said he would probably use the 6-foot, 160-pounder mostly around TV timeouts to try to give Marshall a longer breather.
"If he does well, he'll get more opportunities,'' Williams said of White. "And if he doesn't do well, we'll try to make sure we try to keep Kendall fresher some way. I think it just depends on how it goes when he gets in there."
Marshall, who is averaging a team-high 31.2 minutes this season, doesn't seem particularly worried about his potential increase in playing time.
Since last season, he said, he's learned to take better care of his body -- stretching more, getting to bed earlier.
Williams said Marshall could still improve in the weight room, but "he's worked, done a nice job on his body. Not anything as much as I want him to do, but I might be able to say that about a lot of other guys, too."
Still, he's sure his starting point guard can compete for longer stretches, just like last season.
"I think he can play 34, 35 minutes per game,'' Williams said. "I hope that he doesn't have to. But I think he can, if we ask him to."
Follow Robbi Pickeral on Twitter at@bylinerp.
January, 24, 2012
1/24/12
7:20
PM ET
CHAPEL HILL, N.C. – As he helped injured shooting guard
Dexter Strickland
off the court Thursday night, it didn't take long for North Carolina freshman
Stilman White
to realize the potential ramifications.
One of the reasons he was signed last spring was for insurance, to give the Tar Heels an extra ballhandler in case sophomore starter
Kendall Marshall
, or backup Strickland, got hurt.
Now that Strickland is out for the season with a torn ACL in his right knee, it's time to see how that insurance will pay off.
"I have confidence in myself; I know I can get the job done,'' White said Tuesday. "It's not like they're asking too much of me, to play most of the game. I just need to give Kendall some relief, and hopefully I can do that and do a good job."
Strickland, the starting shooting guard, was playing only about three minutes a half at point guard – but they were important minutes, enough to re-energize Marshall, who is already averaging more than 31 minutes per game. (And enough to give the team confidence that it had an experienced backup point guard should Marshall get hurt or into foul trouble.)
Marshall can (and probably will) play more, and coach Roy Williams said the team may try running the offense in stretches without a natural ballhandler on the floor.
But White, Williams said, "is going to be given the chance to get into the game, and we'll see. Nobody's got a magic wand; we'll see what happens."
A 6-foot, 160-pounder from Wilmington, N.C., White averaged 20.5 points and 3.0 assists as a senior at Hoggard High, where he even occasionally jumped center. A Mormon, he originally planned to begin a two-year mission this season before eventually playing basketball at Utah, BYU or UNC Wilmington.
[+] Enlarge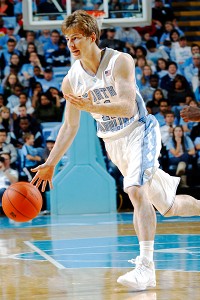 AP Photo/Jim R. BoundsFreshman Stilman White will be called on to handle the ball more often with Dexter Strickland out.
That is, until UNC, in need of another point guard after
Larry Drew II
transferred near mid-season last year, came calling. (He'll go on his mission next season, and return to UNC in 2014.)
"I never really even thought I'd end up somewhere like here, but it was definitely an exciting moment in my life to have the option to come here,'' said White, ranked a two-star recruit by Scout.com.
And since coming here, he's worked. Although he's played in only 15 games, averaging 4.3 minutes mostly when the outcome is already sealed, White has spent plenty of time guarding Marshall in practice. He said that's helped him learn, improve and prepare, just in case.
"Just going against a quality point guard every day like Kendall, who I think is the best in the country, has definitely got me ready,'' he said. "Because I know every day in practice that I go up against the best, so anyone I go out and play against is probably not as good as Kendall. So that gives me a lot of confidence that if I can do stuff against him, I can do it against other people."
It will be a challenge, though, even in short spurts.
Although "he's really been doing a nice job," in practice, Williams said, being a freshman point guard at UNC "is just overwhelming sometimes."
During the 2004-05 national championship season, for example, rookie ballhandler Quentin Thomas was so inconsistent that shooting guard Melvin Scott ended up trying to spell starter Raymond Felton for stretches. In the end, Felton ended up playing more minutes – even when it meant the Tar Heels had to play zone to protect him from picking up too many fouls.
"Quentin Thomas' freshman year, he really couldn't handle it,'' Williams said. "But Kendall Marshall, his freshman year [last season], was off the charts. And my guess is that Stilman will be somewhere in there."
The question is: where?
Since learning that Strickland would be sidelined for the rest of the season, White said he's gotten plenty of advice.
UNC assistant coach Jerod Haase has reminded him that this is an opportunity of a lifetime, and to do his best to take advantage. Marshall has stressed that the entire team has faith in him, and to play with confidence.
White's high school coach has insisted that this situation is why he was recruited, and to never doubt his ability.
Thus, entering Thursday's game against N.C. State, White is anxious -- but in a good way.
"I think just being nervous comes with it, and I hope I'm a little nervous going into it, because I think that always makes people play better,'' he said. "So I've just got to make sure I come in, I stay on edge, and play with some edge and play hard, and just kind of be a scrappy kid. And see what happens out there."
Follow Robbi Pickeral on Twitter at @bylinerp.
November, 2, 2011
11/02/11
7:30
AM ET
Algonquin Books considered publishing the paperback version of North Carolina coach Roy Williams' autobiography in 2010, a year after the hardback became a New York Times bestseller. But it seems fitting, now, that the publisher waited one extra season, because the new "afterword" does better justice to the book's title: "Hard Work."
In a new 30-page chapter, written with former Sports Illustrated writer Tim Crothers and released as part of the paperback last month, Williams gives his analysis of 17-loss 2009-10 year, which he calls "the worst season I've ever been involved with."
[+] Enlarge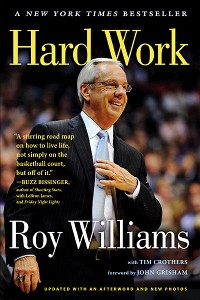 Courtesy of Algonquin BooksRoy Williams' book has a new chapter.
Then he writes about last year's team, which battled through losing four players to transfer and suspension and advanced to the Elite Eight -- and which, Williams wrote, "renewed my faith in my coaching and my love for being a coach."
"When the 2010 season ended, his first reaction was 'I'm going to analyze everything I've done, everything that went wrong, and keep grinding and figure out what we need to do to fix this,'" Crothers said. "It really was the Roy Williams that he had portrayed in the regular text in the book … we saw that everything he preached in regular book is what he used to pull himself out of the hole that had been created in 2010. He's a grinder, and I don't think he really knows any other way than to try to figure out a way. And I think we've seen that."
Some highlights from the new chapter:
Williams wrote that his grandson Aiden -- born three days before the Tar Heels lost to the College of Charleston in January 2010, "soothed my soul" during that rough season: "I could have made it through the season without him, but it would have been much harder. He was something else to live for. Something there to make sure I got my exercise, to make sure I took my heart medicine."

After UNC lost in the final game of the NIT that season, Williams couldn't make himself attend the NCAA Final Four. "On the night of the championship game, I watching Dancing With the Stars. I wanted to watch Erin Andrews and see if Pamela Anderson could dance,'' he wrote.

He wrote of coach Dean Smith's memory loss, and how much he misses the advice Smith used to give him. "He still has good days," Williams wrote. "He sent me a handwritten note during the 2010 season that said exactly what he would have said to me 15 years ago. The writing was so clear; the punctuation and grammar were perfect. A couple days later, I thanked him for the note, and it took a few seconds for him to remember that he'd sent it to me."

Losing the Wear twins (transfer before last season), Will Graves (kicked off the team before last season, and Larry Drew II (transfer during the middle of the season "were the three biggest shocks of my 23 years as a head coach," he wrote.
But he never considered giving up -- and just worked harder.
"The previous season had been a battle every day,'' he wrote. "I had never thought about quitting. I had never thought that I couldn't coach anymore. But if we had endured another season in 2011 when I couldn't get the kids to do what I wanted them to do, I'm not sure what I would've done. The 2011 team renewed my enthusiasm, renewed my confidence, renewed my faith in my coaching and my love for being a coach. They renewed my belief that we were trying to do was right."