North Carolina Tar Heels:

Leonard Hamilton
March, 3, 2013
3/03/13
9:00
AM ET
Despite winning four consecutive games, North Carolina will be looking to rebound Sunday against Florida State.
As in, box out. Battle. Grab the ball with two hands.
Or else.


Tar Heels coach Roy Williams was downright peeved after Thursday's victory at Clemson, saying his players were "acting like a bunch of pansies" when they were out-rebounded 14 in the second half. UNC might have gone to a smaller, four-guard starting line-up, which has resulted in more forced turnovers, better firepower and an even faster pace, but that doesn't mean getting beaten on the boards is OK.
"No, I'm not going to accept it because tonight it was lack of effort,'' Williams said after the win over the Tigers. "If we try to box a guy out and they beat us to the ball and that kind of stuff, then I can accept it. But we were very inadequate on the backboards, to say the least."
In FSU (15-13, 7-8 ACC), the Tar Heels (20-8, 10-5) face the worst rebounding team in the ACC; the Seminoles are averaging only 31.3 per game. And although 6-foot-8
Terrance Shannon
, out since January with a neck injury, has been cleared to play, coach Leonard Hamilton said he'd be
shocked if the junior was ready for Sunday's game
. Shannon was the team's best rebounder prior to his injury.
A few other things to watch during the 2 p.m. ET tipoff at the Smith Center:
DEXTER STRICKLAND
The UNC senior tied his season high with 16 points at Clemson, shooting 7-for-9 while also getting 3 rebounds and 4 assists. He's now scored in double figures in three of his past five games; players have said that inserting 6-5
P.J. Hairston
for 6-9
Desmond Hubert
has added more lanes to the basket, and Strickland has taken advantage.
The shooting guard also has regained his speed throughout the season, after ACL surgery a year ago sidelined him for the second half of 2011-12.
MICHAEL SNAER
There are so many reasons to keep an eye on this guy.
The Seminoles senior guard was just 3-for-9 with nine points when UNC won at FSU 77-72 earlier this season. But he has been scoring more of late, getting 20 or more points in three of the Noles' last four games.
And then there's the last-second-shot factor: Snaer has made three game-winners this season, and five over the past two ACC seasons. UNC doesn't want this to be a close one down the stretch.
THE ACC STANDINGS
The Tar Heels enter this game tied for third place with Virginia in the ACC standings; the top four teams get a first-day bye in the ACC tournament. The Cavaliers, fresh off an upset of Duke, play at Boston College on Sunday. NC State, in fifth place and a game behind in the standings, plays at Georgia Tech on Sunday.
March, 12, 2012
3/12/12
10:40
AM ET
The Morning After: Thoughts, notes and anything else that didn't quite make this space after North Carolina's latest game (in this case, the fourth-ranked Tar Heels' 85-82 loss to Florida State in the ACC tournament title game on Sunday).
ATLANTA -- North Carolina coach Roy Williams said after his team's loss to Florida State in Sunday's ACC title game that he thinks forward
John Henson
will be OK to play in the NCAA tournament.
"We expect John will be fine next weekend; you don't know, because I'm not inside his wrist to see what's going on,'' he said.
Henson, the team's starting power forward and the ACC's Defensive Player of the Year, sprained his left wrist during Friday's quarterfinal game against Maryland when he fell on it after being fouled. He sat out Saturday's semifinal win over NC State, and was in uniform for Sunday's game only in case of an "emergency situation."
What would have counted as an emergency?
"If we had a one-point lead and the ball was underneath their basket, three seconds to play I would've put him in to guard the guy taking the ball out of bounds,'' Williams said. "It helped us win the Washington game in the NCAA tournament last year, but that would've been it. If we had four guys foul out maybe I would've put him in the middle of the zone and told him to stand still.
"But basically he felt better [Sunday], but he wasn't confident, and then it didn't have to get to the level of I had to decide whether he was going to be effective or not effective. If he wasn't confident with it then, in my opinion, there's no need to put him out there."
UNC earned a top seed in the NCAA tournament and will open play against either Lamar or Vermont on Friday in Greensboro, N.C.
BUILDING MOMENTUM:
A loss might have halted some teams' momentum. The Tar Heels are hoping Sunday's defeat actually helps theirs.
Although they opened the game as the aggressee, rather than the aggressor, the team was pleased with the way it played over the final 12 minutes, cutting a double-digit deficit and having a chance to send it to overtime on a
P.J. Hairston
3-pointer (it missed).
"The way we finished the game, hopefully we can build off that,'' sophomore
Harrison Barnes
said. "This whole weekend, I thought we competed better as a team. We came out here, competed, had a lot more focus than last year. That's kind of nice as we're going forward."
PRAISE FOR HAMILTON:
Florida State's Leonard Hamilton became the first African-American coach to win the ACC tournament.
Williams praised the fellow North Carolina native for being a great coach, period.
"I'm sure that Leonard's proud of that, but I think we're also at the time it's just … he's a coach,'' Williams said. "We kid a little bit about both of us just being homeboys from North Carolina. He swears up and down that Gastonia is a lot bigger than Asheville and things like that, but Leonard and I got to know each other when I was an assistant at North Carolina and he was an assistant at Kentucky.
"He's a wonderful coach, he's fun to be around, he's dedicated to the game. In my opinion, he's gotten a bad rap over several years about being just a great recruiter and not being able to coach. I mean, he coaches his rear-end off. They led the nation in defensive field goal percentage I think three out of four years. He's a guy that I enjoy. He's a guy that's done a great job at Florida State and people should recognize what a fantastic coach he is.
"And I'm not saying anything about being the first African-American, because guys our age remember when that was really different -- and I hope that we get the game of basketball that it doesn't get to be as different anymore. When I look at Leonard Hamilton, I look at a peer that I have a great deal of respect for and look at him as a friend and, yes, he's African-American and I'm white redneck or whatever, but I look at him as a friend."
ANOTHER RECORD FOR MARSHALL:
UNC point guard
Kendall Marshall
finished with nine assists Sunday, giving him 31 for the tournament. That broke the old three-game tourney mark of 29, set by former UNC guard Ed Cota in 1999.
Follow Robbi Pickeral on Twitter at @bylinerp.
March, 11, 2012
3/11/12
7:30
PM ET
ATLANTA — Florida State forward
Bernard James
has a simple message for those who dare to doubt his basketball team.
"You should be a believer now," he yelled as the last specs of championship confetti floated down around him from the Philips Arena ceiling.
Guard
Ian Miller
wasn't so reserved with his response.
"I guess they believe now," he said.
"If they don't, tough luck because we're getting a ring for this one."
It's hard not to believe in this FSU team after the Seminoles knocked off top-seeded North Carolina
85-82 in the ACC tournament final
. The Seminoles captured their first ACC tournament championship and became the first team since Georgia Tech in 1995-96 to beat both Duke and North Carolina twice in the same season.
The same team that lost 6 of 10 games from the end of November to the beginning of January, suffering losses by 20 and 18 points along the way, went 4-1 against Duke and North Carolina, proving that FSU's successes were no accident.
"This is not a fluke," Miller said. "You can't win a championship on a fluke. Today, by winning this championship, our coaches told us it ain't a fluke no more. People know we're real now."
Added James: "We silenced a lot of the doubters who say we don't belong in the same breath as Duke and Carolina."
Sunday, FSU stood alone, again, but only because it was above Tobacco Road's giants.
[+] Enlarge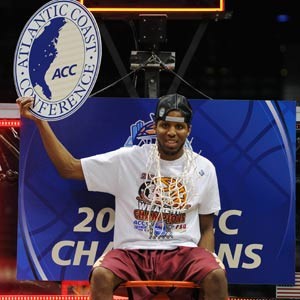 Bob Donnan/US PresswireGuard Michael Snaer and the Seminoles will be a tough force in the NCAA tournament.
Now, the Seminoles, turn their attention to the NCAA tournament and are looking to take their high-flying act to the top of the college basketball mountain.
"We have five or six more wins until the national championship," Miller said. "We're trying to get there now."
The notion of FSU making such a run in the craziest of months is no longer laughable. This team is legit. It went from trouble to tremendous in a few months and now has tons of momentum to thrive off of.
Plus, it's going to be hard for teams to keep up with the Noles. FSU's up-tempo offense frustrated its victims throughout the ACC tournament. UNC, which desperately wanted to slow things down, was left zonked after its uncomfortable foot race.
With such a deep bench, FSU was able to keep its motor going and the legs churning.
"We were all coming off a third day of playing so we wanted to impose our will and try to let them know that they couldn't outrun us," forward
Xavier Gibson
said.
That sort of thing will come in handy during the Dance.
This team can shoot, too, with guards like
Michael Snaer
(ACC tournament MVP),
Luke Loucks
and
Deividas Dulkys
lighting it up from the floor. The Noles shot just under 60 percent against the Heels and shot no worse than 42 percent during its current five-game winning streak.
FSU is also hot from beyond on the arc after hitting 25 of 49 3s in the ACC tournament.
With as fast, physical and athletic as the Noles are, this will be a formidable group for any team to face in the coming weeks. Physically, this team is ready, but players want to make sure that once the celebration of Sunday's win has subsided that this team is in the right frame of mind for another championship run.
"We can't get satisfied with this," James said.
For as sweet as Sunday's win was, this team is still hungry.
"The ACC was just to let people know that we're not a game, there's no jokes no more," Miller said. "We wanted to make a statement and today we did that."
March, 11, 2012
3/11/12
10:15
AM ET
ATLANTA – Florida State hasn't looked at any of the film from its 33-point victory over North Carolina on Jan. 14.
"When you get big blowout wins like that, it's probably not the best idea to go back and watch; you might get a sense of comfort, or forget that we have to play hard – or what got us that 33-point lead,'' forward
Bernard James
said. "So we just put that one behind us, and chalked it up to Carolina not being ready."
He knows the Tar Heels will be this time.


The Seminoles downright embarrassed the UNC two months ago, beating the Tar Heels on the boards, holding them to 37 percent shooting. The
90-57 rout
marked the most lopsided loss of the Roy Williams era, and it was so irritating/befuddling/maddening that Williams and most of the team left the court early – leaving three walk-ons and two reserves to finish the game.
Since then, the Tar Heels have lost only once, to Duke on a buzzer-beater.
Since then, the Seminoles have lost three times, but won three games with last-second heroics.
"We can't necessarily worry about the games that we've played prior to this game coming up,'' FSU coach Leonard Hamilton said. "Each game takes on a different personality and I'm sure the team that we played in Tallahassee will not be the team we play on Sunday."
UNC will be competing for its first ACC title since 2008; FSU will be vying for its first ACC title, period.
A few things to watch in the 1 p.m. EST showdown at Philips Arena:
WILL UNC'S JOHN HENSON PLAY?
The ACC Defensive Player of the Year sat out Saturday's semifinal victory over NC State after spraining his left wrist during Friday's quarterfinal win over Maryland.
His status will
once again be a game-time decision
– and his potential absence will hurt.
James, a former Air Force sergeant and all a member of the ACC's All-Defense team, is a load for anyone to handle, and if Henson can't go, James would probably match up with UNC's
James Michael McAdoo
. The Tar Heels freshman has been more confident and aggressive lately, but got he into foul trouble during Saturday's game against the Wolfpack.
3-POINTERS
One of the reasons FSU was so successful against UNC last time was
Deividas Dulkys
, who shot 8-for-10 from behind the 3-point arc and scored a career-high 32 points.
The Seminoles senior hasn't approached anything close to that since (with 12 points being his high), but you get the point: UNC (which also lost to Duke at home when the Blue Devils shot 14-for-36 on 3s) can't afford to let an opposing team get hot.
The Seminole to watch:
Michael Snaer
. He's shooting better than 40 percent from 3-point land for the season, and buried two of those aforementioned game-winners this season.
THAT COMPETITIVE FLARE
One of the reasons UNC lost so badly – and looked so listless in doing so – in the last meeting, according to players, was that they bought into their own preseason No. 1 hype and didn't compete as hard as necessary. That shouldn't be a problem Sunday.
The last time UNC was looking for revenge was last weekend, when it went into Cameron Indoor Stadium and pasted the Blue Devils, building a 24-point lead by halftime en route to the ACC regular-season title.
FSU, though, has plenty of motivation, too.
Lots of folks wrote the Seminoles off
when they lost to two Ivy League schools, then opened the ACC season with a 20-point defeat at Clemson. Since then, they've beaten UNC and Duke, but winning the league tournament would prove that the conference is more than a two-team league.
"This has been our goal since the beginning of the season, and we want to accomplish it,'' Dulkys said.
Follow Robbi Pickeral on Twitter at @bylinerp.
March, 6, 2012
3/06/12
12:53
PM ET
North Carolina forward
Tyler Zeller
on Tuesday became the 13th Tar Heel to be named the ACC's Player of the Year; teammate
John Henson
won his second straight ACC Defensive Player of the Year award.
Zeller, a unanimous first-team All-ACC selection, beat out Virginia's
Mike Scott
(14 votes) and teammates
Harrison Barnes
(2) and Henson (1); the 7-footer from Washington, Ind., won by a landslide, earning 45 of the 62 votes cast in balloting by the Atlantic Coast Sports Media Association.
"This is just phenomenal," UNC coach Roy Williams said in a prepared statement. "It's an outstanding recognition of an outstanding young man who has been playing big time basketball for us all year. He performed at a high level on extremely consistent basis and did so in every phase of the game."
Henson received 56 of 62 votes. Virginia guard
Jontel Evans
and Florida State guard
Michael Snaer
received three votes apiece. The junior from Tampa, Fla., becomes only the second multiple-season winner of the eight-year-old defensive award; Duke Shelden Williams won it in 2005 and 2006.
"John is a game-changing presence on defense, someone who has a direct impact on the opposition's ability to score in every game," Williams said in the statement. "He blocks three shots and probably alters at least that many that result in missed shots. Plus, he cleans up so many misses that help us start our break. He's been a big factor for us."
In addition, Duke's
Austin Rivers
was named ACC Rookie of the Year, and Florida State's Leonard Hamilton was named ACC Coach of the Year.
Check back for more shortly ...
Follow Robbi Pickeral on Twitter at @bylinerp.
February, 29, 2012
2/29/12
9:35
AM ET
Editor's Note: To see our expert picks for each of the nation's 12 top conferences, click here. To cast your vote in these races, visit SportsNation.
Here is a quick assessment of the player and coach of the year races in the ACC:
Player of the year
Tyler Zeller
has been the most consistent Tar Heel in ACC play.
Harrison Barnes
has come up big when the team needed shots and has the most NBA potential.
John Henson
is averaging a double-double. And none of them would be as effective without point guard
Kendall Marshall
's 9.7 assists per game.
So which North Carolina star gets ACC Player of the Year?
[+] Enlarge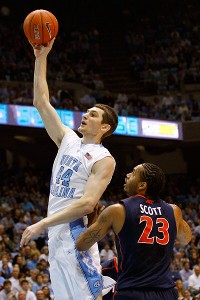 AP Photo/Gerry BroomeTyler Zeller has averaged 17.5 points and 9.5 rebounds in ACC games this season.
Maybe none of them, especially if they divide the vote. Oh, there are other exceedingly worthy candidates, too. Virginia would never have pushed itself into the top third of the league without fifth-year forward
Mike Scott
(16.9 ppg). And Duke freshman
Austin Rivers
(15.5 ppg) beat UNC earlier this month with a buzzer-beating 3-pointer.
But it's hard to downplay the 7-foot Zeller, who has averaged 17.5 points and 9.5 rebounds in ACC play after a rather erratic nonconference season. Or ignore Barnes, the preseason ACC Player of the Year who leads his team in scoring (17.7) and has been hitting the boards harder of late. Henson (14 points, 10.4 rebounds) will get some consideration and is a pretty big shoo-in to repeat as ACC Defensive Player of the Year. And then there's Marshall, who is on pace to break the UNC and ACC records for assists in a season.
In the end, my nod goes to Zeller, the senior who out-played foul-plagued Scott in their two matchups, and who bounced back with big games after Rivers buried that game-winning shot over him. Consistency matters, even on a team filled with NBA prospects. (As long as, in this case, those other NBA prospects don't split the ballots.)
Coach of the year
This award will probably go to a guy whose team overachieved. The question is: Which one?
At Duke, coach Mike Krzyzewski lost the nucleus of his squad from last season, never saw this season's Blue Devils find consistent defensive footing -- yet has still won 26 games, is ranked in the top 5 and has a chance at a No. 1 seed in the NCAA tournament.
At Virginia, coach Tony Bennett has done it with defense (plus a heaping help from Scott), pushing his team into the Top 25 with a slow, methodical, frustrating-to-opponents offensive pace.
But my choice is Florida State's Leonard Hamilton. His Seminoles -- left for dead after losing to two Ivy League schools, then at Clemson by 20 points -- beat the Big Four North Carolina programs (Duke, UNC, Wake Forest and North Carolina State) in the same season for the first time in program history. His team excelled with defense, too, after losing its top two scorers from last season and returning no one who averaged double-digit points. Hamilton's Noles fell out of the ACC regular-season race by losing two games last week, but he's still my pick.
January, 14, 2012
1/14/12
9:24
PM ET
TALLAHASSEE, Fla. -- As the Florida State crowd rushed the court Saturday, only North Carolina's walk-ons were there to see it.
With 14.2 seconds left of the most lopsided defeat of the Roy Williams era, Williams and most of the rest of the team walked to the locker room, shaking hands with Florida State's coaches in front of their bench along the way. The Seminoles blew out third-ranked UNC 90-57 at the Tucker Center.
[+] Enlarge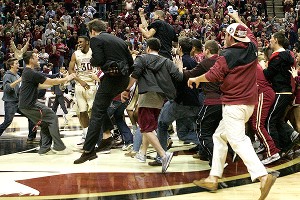 AP Photo/Steve CannonMost of the North Carolina basketball team avoided this scene following Florida State's upset win.
After the game, FSU coach Leonard Hamilton said the early departure was his idea.
"I want to be clear to one thing: I wanted very much for Roy to take his team off the floor, so that they wouldn't get caught up in the excitement and jubilance of fans,'' Hamilton said. "It wasn't a negative on his part, or anything disrespectful. As a matter of fact, I suggested he do that. Because it's college basketball, and the students and fans get excited … I just thought it would be in the best interest for all of us, with 15 seconds to go and us up like we were … I didn't see anything wrong with that."
It made for a strange scene after a performance during which UNC posted a season-high in turnovers (22) and field-goal percentage defense (48.4), while recording a season-low eight assists. More than one Tar Heel player called the loss "embarrassing."
Williams, after the game, said he wanted to make clear "that I was not trying to embarrass Florida State by pretending that they could not control the crowd. That's not what I was trying to do at all. I was just trying to protect our team. We had an ugly incident at Las Vegas and one of our female managers got knocked down."
Williams was referring the his team's 90-80 loss to UNLV in Las Vegas in November, when opposing fans also rushed the court.
"I'm between a rock and a hard place, because I love to be able to see college kids celebrate,'' Williams said. "I have feelings for that, as well, but I also think it's dangerous for the visiting team trying to get off the court. ... I went to talk to Leonard, and I'd already talked to one of the referees when he was over there, and it was almost Leonard's suggestion."
Williams added that he hopes the early leave doesn't draw any attention away from FSU's win, which he called a "great victory."
"We were just trying to be cautious,'' Williams said.
Follow Robbi Pickeral on Twitter at @bylinerp.
January, 14, 2012
1/14/12
8:00
PM ET
TALLAHASSEE, Fla. -- After the ball swished through -- yet again -- midway through the second half Saturday afternoon, Florida State guard
Deividas Dulkys
shrugged his shoulders and grinned as he ran down the court.
The senior's reaction wasn't about making yet another 3-pointer. (In a game in which he connected on a career-high eight shots from behind the arc as part of a career-high 32 points, he'd gotten pretty used to that.)
It was about what it all meant.
"I just thought, at that moment, 'We got 'em,'" Dulkys said, grinning again at the memory. "It wasn't about any individual -- it was about beating North Carolina."
Beat
the third-ranked Tar Heels? FSU mauled them
90-57
. Pasted them. Blew them out so totally that Noles coach Leonard Hamilton suggested UNC coach Roy Williams and his players leave for the locker room early, lest they be caught in the frenzy of fans rushing the Tucker Center floor.
And UNC did, leaving only the walk-ons on the court with 14.2 seconds left.
It marked the biggest loss of the Williams era, worse than even the 32-point shellacking the Tar Heels suffered at Duke in 2010, the season they lost 17 games and failed to make the NCAA tournament.
It was, UNC shooting guard
Dexter Strickland
said, "embarrassing."
But for the Seminoles, it was a bit of sweet revenge.
[+] Enlarge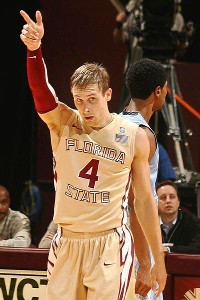 Phil Sears/US PresswireFSU guard Deividas Dulkys scored a career-high 32 points against the third-ranked Tar Heels on Saturday.
Dulkys was watching from the bench as a freshman in 2009 when point guard Ty Lawson made a running 3-pointer from the top of the key at the buzzer to lift UNC to a three-point victory.
Then he was inches away from
Harrison Barnes
last season when the Tar Heel's 3-pointer with three seconds left upended the Noles, again.
"The memory of losing those close games hurt,'' said Dulkys, whose team had dropped five straight at home to the Tar Heels before Saturday. "But it also showed us we could win."
And at the right time.
Florida State, a veteran team with six seniors, was supposed to be a top-25 squad, a contender to push Carolina and Duke in the ACC standings this season after blocking, rebounding and defending its way to the NCAA Sweet Sixteen last March.
Instead, the Seminoles have been struggling to get their groove back -- losing to two Ivy League schools and at Clemson by 20 points before showing some of their old cohesiveness in a win over Virginia Tech earlier this week.
Part of the problem had been offense, and part of that, Dulkys admitted, was on him. One of the hardest workers on the team, he'd been in the gym every day, shooting (and making) shots before most of the rest of the team arrived.
But it hadn't translated to games; he'd connected on only seven of his 26 shot attempts over his previous six outings, and his team entered the game with the poorest 3-point shooting mark in the ACC (30.2 percent).
Until UNC came back to town.
When Dulkys buried a 3-pointer on FSU's first possession, and two more eight minutes into the game to give his team an eight-point lead, you got the sense things might be a little different.
"When you get hot, your teammates look for you, and you just keep shooting -- and the rim gets bigger and bigger,'' said Dulkys, who tied his season high of 16 points by halftime.
And when he followed a layup with a 3-pointer five minutes into the second half, giving his team a 21-point lead, you
knew
things were different (and that the rim must be looking like a swimming pool).
"I have to give some credit to my rebounder this morning; I hit 28 in a row,'' Dulkys said, referring to his warm-up prior to the game. "I guess it was a good sign."
Ya think?
"There's no question that he's capable of doing this,'' Hamilton said. "... Deividas is a very hard worker, a great teammate, a great student-athlete. He tries so hard that sometimes when he misses that first shot, he gets a little tight. ... I thought he relaxed tonight and played with an extreme amount of confidence and gave us a performance that we needed for us to be successful."
Dulkys, a team leader who knocked on teammates' doors during the summer to remind them of voluntary workouts, credited his team's defense, "and everyone playing the way they're capable of," for his strong performance.
The Seminoles (11-6, 2-1 ACC) -- who also got 17 points from
Michael Snaer
and a double-double (12 points, 10 rebounds) from
Okaro White
-- swiped 12 steals, helped force 22 UNC turnovers, held the Tar Heels to 37.3 percent shooting and won the rebounding war 43-35.
"We had no answers for them on the court; I had no answers for them on the sideline," said Williams, whose Tar Heels (15-3, 2-1) seemed complacent early after nine straight games at home.
Particularly when it came to Dulkys, whom he called "sensational."
The 6-foot-5 shooter -- who said he hasn't scored this many points since he was playing for his hometown team as a 17-year-old -- also said one of the best parts of the game was that his parents got to watch it, live.
Back home in Lithuania, he explained, his folks get only one ESPN channel. With "College GameDay" in town, they were able to tune in at 9 p.m their time.
He hadn't checked his messages before talking to reporters, but he figured he had one (or more) from them.
That made him shrug and grin, too, kind of like when he was on the court.
"I think somebody said, 'If I wake up tomorrow morning, it was awesome. If not, it was a dream,''' he said. "It's great. I think everybody dreams about this when they were a little kid, of having a moment like this."
Follow Robbi Pickeral on Twitter at @bylinerp.