North Carolina Tar Heels:

Louisville Cardinals
June, 17, 2014
6/17/14
10:00
AM ET
If you've noticed a sudden rush of recruiting information for 2016 prospects in the last few days, it's no coincidence.
Sunday was the first day that college coaches were permitted to contact prospects in the rising junior class, and for some prospects that literally meant the phone rang when the clock struck midnight.
Often times, those conversations are followed by some sort of offer. Here's a look at some of the latest news for the
Class of 2016
:
July, 16, 2013
7/16/13
10:10
AM ET
Editor's Note: Over two days, we're releasing the brackets/matchups for 11 of the top early-season events. Starting Wednesday at 10 a.m. ET, we'll unveil the final six: Charleston, 2K Sports, Diamond Head, CBE, Wooden and Maui. A thread of previews and info for all 11 tourneys can be found here.
When and where:
Nov. 23-24 at Mohegan Sun Arena in Uncasville, Conn.
Semifinal schedule for the Basketball Hall of Fame Tip-Off:
Nov. 23: North Carolina vs. Richmond (noon ET, ESPN3); Louisville vs. Fairfield (2 p.m. ET, ESPN3)
Nov. 24: Championship game (1 p.m. ET, ESPN); Consolation game (3 p.m. ET, ESPN3)
Initial thoughts:
Smart move by Mohegan Sun. The casino, already home of a popular WNBA franchise, wisely has opened its doors to some of the college game's best. Louisville and North Carolina would be headliners anywhere, and their presence here turns Uncasville into a destination getaway in late November. Odds of an upset are slim, but never count out Richmond. The Spiders always are well-coached.
Matchup I can't wait to see:
North Carolina versus Richmond. If an upset is going to happen here, this is the game. The Spiders return four of their top five scorers, and with
P.J. Hairston
's status very much in question, they could give the Tar Heels a handful.
Potential matchup I'd like to see:
Were you expecting to see Richmond-Fairfield here? Seriously, a Louisville-North Carolina matchup in late November is a pretty nice little early-season tilt for college hoops. The defending national champion Cardinals return the core if not the heart (that would be
Peyton Siva
) of their title-winning team, while the Tar Heels -- with
James Michael McAdoo
back, and possibly Hairston (depending on criminal charges he's currently facing), are expected to make big jumps this season. Louisville likes to defend; UNC likes to score. Not a bad combo.
Five players to watch:
[+] Enlarge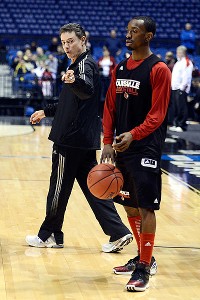 Jamie Rhodes/USA TODAY SportsGuard Russ Smith returns to the defending champion Cardinals' lineup this season.
Russ Smith, Louisville:
Russdiculous opted to return to the college game -- a very good decision. Now it's time to see if Smith is willing to make good decisions more regularly. No one will argue his talent; now it's time for him to showcase his IQ.
James Michael McAdoo:
The talented but somewhat enigmatic player surprised some by coming back for his junior season after averaging 14.4 PPG and 7.3 RPG. He hasn't exactly been the alpha dog the Tar Heels have so desperately needed the past couple of years. Is now the time?
Cedrick Lindsay, Richmond:
The senior finished second on the team in scoring, but really got good late. He averaged 16.5 points per game in his last 11 games.
Maurice Barrow, Fairfield:
On a rebuilding squad that lost all-everything guard Derek Needham, last season's second-leading scorer will need to have a step up in production. If the Stags are going to compete in the MAAC, the 6-foot-5 forward will have to play a large role.
Chris Jones, Louisville:
Just how good the Cardinals will be this season ultimately falls into the point guard's hands. Literally. The highly touted juco transfer is replacing Siva -- no easy task, but he comes to campus with serious praise from Rick Pitino.
Title-game prediction:
Louisville over North Carolina. Everyone will be trying to upset the king this year, so the road won't be easy for the Cardinals. But Louisville is just too loaded with experience, even for a very good Tar Heels team.
Who others are picking:
Eamonn Brennan:
Louisville over North Carolina
Jeff Goodman:
Louisville over North Carolina
Seth Greenberg:
Louisville over North Carolina
Andy Katz:
Louisville over North Carolina
Jason King:
Louisville over North Carolina
Myron Medcalf:
Louisville over North Carolina
November, 2, 2012
11/02/12
10:00
AM ET
Unlike shooting or rebounding or point guard play or the variety of other specific basketball skills we've been highlighting in our
Best of the Best lists
throughout this week, the category of "most important" is far trickier to quantify. It depends not only on a player's contributions, but on the team around him and where the two dynamics meet in the middle. There is also a constant temptation to conflate "most important" with "best" or "most valuable," and those arguments (hello, baseball) always make my head hurt.
My editors asked me to name the 10 players most important to their teams in the country, and that's precisely what I'm going to try to do. But I also attempted to avoid the rabbit hole that is individual talent at the mid-major level. Instead, I tried to narrow the criteria down to players most important to their teams' chances of winning a national title, or making a deep tournament run, or maintaining some level of national relevance. Let's give it a shot:
[+] Enlarge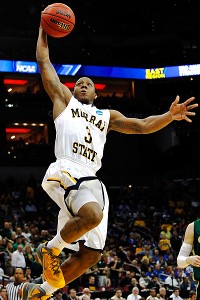 AP Photo/Dave Martin, FileWith much of last season's cast gone, Isaiah Canaan is even more key to Murray State this season.
1. Isaiah Canaan, Murray State
: Last season, Canaan was hands down the best and most important player on a team that went 31–2, leading his team in minutes, points, assists, offensive rating (122.2), 3-point field goal percentage (45.6) and a wide swath of other statistical categories. He dominated the ball, scored at will and facilitated to boot. He was really, really good.
And that was on a team that included seniors Donte Poole, Ivan Aska and Jewuan Long, on a team that already was beginning to bring along guard Zay Jackson as Canaan's new backcourt partner. The first three players are gone to graduation; Jackson is missing the entire season after pleading guilty to wanton endangerment for running over two people with his car in a Walmart parking lot. (
True story
.) So Canaan, already crucial to his team's success a year ago, becomes the primary returner on a squad that still very much maintains conference-title and NCAA tournament aspirations. No one player in the country will mean more to his team this season.
2. Cody Zeller, Indiana
: Zeller, the AP Preseason Player of the Year, obviously is important. He is the unifying force on a team that desperately needed exactly what he provided as a freshman: interior scoring, rebounding, strength, efficiency, you name it. He led the Hoosiers in field goal attempts by a wide margin, and Indiana fans could frequently be heard complaining that Zeller wasn't getting enough touches. Truth is, they probably were right. Before he arrived, with similar personnel, Indiana won 12 games. Afterward, they went 27–9. He doesn't get credit for all 15 wins of that improvement -- other players got better, too -- but there's no question his impact was immense. You know all this already.
Here's the twist, though: All offseason, we've been praising the Hoosiers' depth, and there's no question Tom Crean has a wealth of pieces at his disposal. But right now, aside from Zeller, the frontcourt is looking a little slim. Forward
Derek Elston
(better as a 15-foot jump-shooter anyway) is injured, and the eligibility statuses of freshman
Hanner Mosquera-Perea
(a wide-shouldered rebounding force) and
Peter Jurkin
(a 7-foot center) are both up in the air. Zeller already has much riding on his shoulders, and more help was supposed to be on the way. If it isn't, Zeller's task becomes even more daunting.
3. Doug McDermott, Creighton
: Last season, there were two players in the country who used at least 28 percent of their team's available possessions and posted offensive ratings (a measure of individual player efficiency) above 120. The first was Damian Lillard, who did
this for the Portland Trail Blazers the other night
. The other: Doug McDermott. He shot 63.2 percent from inside the arc (on 400 shots) and 48.6 percent outside (on 111), and he rebounded well on both ends for good measure. Creighton has guys who can play.
Grant Gibbs
is a sublime entry passer,
Jahenns Manigat
is coming on strong and
Ethan Wragge
can shoot it. But there's no getting around the fact that McDermott's incredible inside-out offensive versatility was the main reason his team boasted the fifth-most efficient offense in the country last season,
per KenPom.com
. Seeing as Creighton's defense was so lackluster, the Bluejays very much needed that offense. Even assuming they improve somewhat on the defensive end this season, they'll still need to score like crazy in 2012-13. That's where McDermott comes in.
4. Peyton Siva, Louisville
: Every time we talk about the huge talents returning at Louisville, we talk about how good the defense is going to be. This is for good reason: It was the best in the country last season, good enough to get the No. 4-seeded Cardinals to the Final Four. It will keep them in excellent shape in the season to come. It's bankable like that. Then, after we sing the defensive hosannas, we get around to talking about how so-so Louisville's offense was, and how if the Cardinals are truly a national title contender they have to find ways to score.
Siva is the most crucial piece in this discussion. The UL senior point guard is 5-foot-11 and quick as lightning; the problem is that he just isn't very efficient. He shot 24.6 percent from 3 in 2011-12. He turned the ball over on nearly a third of his possessions (29.3 percent). According to Synergy scouting data, Louisville uses Siva more frequently than any other player to initiate pick-and-roll sets at the top of the key, a play type it favors as a team, but he is merely average in his execution. Why? Because defenses don't have to respect his jumper. They play under the screen, the play dies and Louisville goes to Plan B.
To me, if Louisville is going to turn its offense to something more coherent, Siva is the key. Without a more efficient performance at the point guard spot, the Cardinals will still be a brutally tough out. But they won't reach their full potential.
[+] Enlarge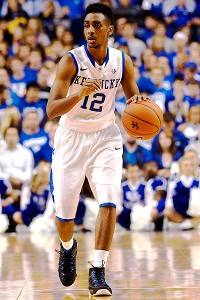 Mark Zerof/US PresswireNC State transfer Ryan Harrow takes the reins of a talented, but again young, Kentucky squad.
5. Ryan Harrow, Kentucky
: The NC State transfer is getting his moment in the John Calipari point-guard spotlight this season, a vaunted role typically reserved for NBA lottery picks. That spotlight can be harsh --
never more so than from Calipari himself
-- but there are good reasons for Calipari's insistence on point guard excellence. For one, his dribble-drive offensive system (which he has used variously in recent seasons, and might return to more in 2012-13) thrives on point guard play more than most.
The second reason? Harrow, who spent last season on the bench after a freshman campaign in Raleigh, is in many ways a veteran in Kentucky's latest amalgamation of highly talented but still raw freshmen. His ability to run an effective offense, while dealing with players still getting used to each other and the college level at the same time, will be key to Kentucky's success this season.
6. Trey Burke, Michigan
: Burke has something of a similar challenge to Harrow's, but one accentuated by what could be a major adjustment at the offensive end. Last season, Burke sprang onto the scene at the helm of an archetypal John Beilein-style "spread the floor and fire away" 3-point-shooting team. The team's three most efficient shooters are gone, replaced by touted freshmen (
Glenn Robinson III
,
Mitch McGary
) unlike anything Beilein has had the luxury of landing during his tenure in Ann Arbor. Now, Michigan's best lineup will look more conventional, with big, athletic, bruising players.
This could be a boon on defense, but it will require a shift on offense; it seems almost unfathomable the Wolverines will shoot nearly as many 3s this season. At the middle of it all will be Burke, a preseason All-American who will see his distribution and leadership abilities fully put to the test.
7. Adonis Thomas, Memphis
: It was tempting to put point guard
Joe Jackson
in this spot. The same could be said for center
Tarik Black
. Jackson has still yet to harness his immense talent in a totally cohesive way; Black can't seem to stay out of foul trouble. But I decided to go with Thomas. Why? For one, he'll be stepping into former Tiger Will Barton's shoes, and there was no mistaking Barton was the best player on a pretty underrated 2011-12 Memphis team. But Thomas could arguably be even better, at least on the offensive end; by all accounts, the 6-6 small forward has been utterly lacing long-range shots all offseason. That versatility would make Thomas, who played power forward until his injury last season, an utter nightmare to guard and could introduce a new dynamism to a Memphis offense that was already pretty good in the first place. I'm really intrigued.
8. Lorenzo Brown, NC State
:
C.J. Leslie
is the obvious pick here, but I think we kind of know what we're going to get with him. He's athletic, he's one of the best in the country at catching on the block or elbow and diving to either side of the rim, and he should be locked in from start to finish this season. Maybe that's presumptuous, but I'm taking Leslie's productivity as a given. (OK, it's definitely presumptuous. Make me look smart, C.J.) Brown, on the other hand, feels more crucial because, like some of the other PGs on this list, it is his job to make the whole Wolfpack thing work. That includes integrating
Rodney Purvis
; playing better defense at the point of attack; and keeping Leslie involved and finding sharpshooter
Scott Wood
on the wing. If Brown has a top season, NC State might indeed be worthy of that lofty, tourney-run-infused No. 6 preseason ranking. If not, the "overrated" refrain will ring out early and often.
9. Phil Pressey, Missouri
: Senior guard
Michael Dixon
's indefinite suspension probably won't last too long, but that's hardly the only reason Pressey deserves a nod here. Along with Dixon -- who is more of a catch-and-shoot player than Pressey, a gifted ball handler, penetrator and creator -- Missouri's backcourt has kind of a crazy/thrilling challenge on its hands in 2012-13. The Tigers have to replace the losses of Kim English, Ricardo Ratliffe and Marcus Denmon with four transfers:
Keion Bell
(from Pepperdine), Jabari Brown (from Oregon),
Alex Oriakhi
(from Connecticut) and
Earnest Ross
(from Auburn). Those players have all been on campus for a while, and it's not exactly like figuring out guys you just picked up in an open run ... but compared to the rest of the country, it's not all that far off, either.
10. James Michael McAdoo, North Carolina
: It will be easy, in the coming months and years, to forget just how good North Carolina's 2011-12 frontcourt was. That's what happens when you have gigantic expectations and bow out of the NCAA tournament short of the Final Four. But let it be known: Tyler Zeller and John Henson (and, oh yeah, Harrison Barnes) were
really
good. Not only did they control the paint and score easily on the offensive end, but they were fast enough to race down the floor in Roy Williams' up-tempo system, getting easy buckets on offense and turning UNC's interior defense into its overall team strength.
Given all that, McAdoo has a ton riding on him in 2012-13. He was a highly touted recruit who probably could have been a lottery pick last season, but he chose to avoid that route (word to Marvin Williams) and come back to prove himself on the college stage. Carolina returns some promising wings (
P.J. Hairston
,
Leslie McDonald
) and brings in a really interesting frosh at point guard (Iowa native
Marcus Paige
), but McAdoo will be in charge of the low block. If he lives up to his heady NBA potential, look out. If not, UNC will labor. It's that simple.
March, 21, 2012
3/21/12
12:15
PM ET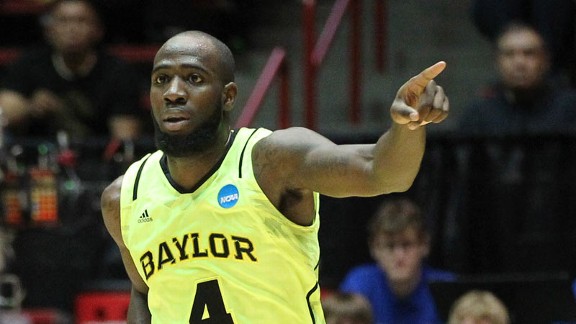 Nelson Chenault/US PresswireQuincy Acy's superior offensive skills help make him Baylor's most indispensable player.
When North Carolina guard
Kendall Marshall
fractured his wrist in Sunday's win against Creighton, it was momentarily easy to forget Marshall isn't the most talented or productive player on his team. There's
Tyler Zeller
and
Harrison Barnes
and
John Henson
, and that's just for starters. So why is losing Marshall such a big deal?
Because he is, without question, UNC's
most important
player. The most efficient? No. The most gifted? Probably not. But there's little question Marshall -- with his visionary, table-setting passing (second nationally in assists), intelligent tempo management and offensive initiation, and the lack of a viable backup -- was/is the most crucial personnel component to Carolina's style, identity and ultimately success.
Which got us thinking: Who is everyone else's Marshall? Who's the most indispensable player on each of the Sweet 16 rosters, the one each team could least afford to lose? Well, we're glad you (OK, we) asked. Here's what we came up with:
South Region
No. 1 Kentucky: Anthony Davis, forward
-- No overthinking this one. Sure, there's an argument to be made for
Marquis Teague
, who appeared for much of the season to be Kentucky's lone potential weakness; Teague's two months of consistently increased success -- culminating in a brilliant performance in a rout of Iowa State -- have cast doubts about whether he could be easily replaced. But one can envision a scenario in which guard
Doron Lamb
, whose ballhandling is probably slightly underrated at this point, would be able to get UK into its offense. Coach John Calipari would find a way to make it work. Without Davis, the Cats lose a downright transcendent shot-blocking force and the source of countless easy baskets on the other end of the floor, the type of player who opposing coaches frequently say "changes the game." It's Davis, and it's hard to find the counterintuitive argument here.
No. 3 Baylor: Quincy Acy, forward
-- While not the most talented big man in Baylor's lineup, Acy's absence would irreparably harm the Bears for two obvious reasons: He scores easy buckets in the low block, and he rebounds.
Perry Jones III
does some of these same things, too, but hardly to the level Acy does (and not nearly as consistently), and the Bears -- a very good offensive rebounding team that struggles on the defensive glass -- would not be nearly as good on offense were Acy not around to clean up so many misses.
No. 4 Indiana: Cody Zeller, forward
-- Again, no use in overthinking this. Zeller is by far IU's leader in offensive efficiency and rebounding, and he has changed the way the Hoosiers -- who were immensely foul-prone the past three years under Tom Crean -- guard the rim and chase down misses. Plus, without him, Indiana's big man rotation would consist of
Tom Pritchard
and
Derek Elston
. We've seen that movie before. It was not critically acclaimed.
No. 10 Xavier: Kenny Frease, center
-- Sticking with the all-big-men theme here, Frease is the most indispensable player because Xavier really doesn't have another guy who can do what he does, primarily on the glass. If star guard
Tu Holloway
went missing, the Musketeers would certainly lack for offensive creativity, but they'd have another talented (if mercurial) guard in
Mark Lyons
, who would no doubt be more than willing to hoist a few extra shots. Without Frease, Chris Mack's team would be in no-man's-land on the low block.
West Region
No. 1 Michigan State: Draymond Green, forward
-- When you do this much for your team, your membership on this list requires no explanation. Really, it's not even close.
No. 3 Marquette: Darius Johnson-Odom, guard
--
Jae Crowder
's breakout senior season has been a huge factor in this team's success, no doubt about it. But DJO's relentless, attacking, bruising style -- not to mention his all-court game, his lockdown perimeter defense and his ability to go end-to-end on the fast break both with rim finishes and pull-up jumpers -- gives this Marquette team its hard-won identity.
No. 4 Louisville: Gorgui Dieng, forward
-- I promise, this list isn't all forwards. The obvious answer here is
Peyton Siva
, but the Cardinals already have a pretty willing on-ball defender and shot-happy penetrator in guard
Russ Smith
, while Dieng -- a crazy-lanky shot-blocker, rebounder and defensive anchor -- has keyed so much of the Cards' No. 2-ranked per-possession defense this season.
No. 7 Florida: Kenny Boynton, guard
-- The original temptation was to go with another big man, in this case
Patric Young
, but let's be real: The Gators don't use their frontcourt on offense anyway. Which is why Boynton's ability not only to take a lot of long-range jumpers but actually make them at a high rate is so important. That isn't always the case with the rest of this backcourt. Plus, Boynton -- with the possible exception of
Bradley Beal
-- happens to be Florida's most creative scorer off the dribble, one of the Gators' few players who can do more than chuck long-range shots to fuel this high-powered offense.
[+] Enlarge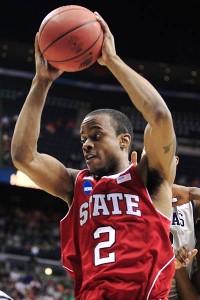 Tony Dejak/AP PhotoLorenzo Brown and NC State will be facing high expectations this upcoming season.
Midwest Region
No. 1 North Carolina: Kendall Marshall, guard
-- By now, you get the idea.
No. 2 Kansas: Tyshawn Taylor, guard
-- The obvious choice is
Thomas Robinson
and, you know, duh: Dude's a national player of the year candidate for a reason. But at this stage of the season, Kansas' ability to win a national title rests in large part on Taylor's play at the point guard spot. If he is on -- attacking the rim and finding teammates without coughing up turnovers -- he's truly the biggest X factor on Bill Self's team. If he's off, the Jayhawks turn to
Elijah Johnson
,
Travis Releford
and ...
Conner Teahan
? The defense rests.
No. 11 North Carolina State: Lorenzo Brown, guard
--
C.J. Leslie
has blossomed into this team's most impressive player, but its point guard deserves as much if not more credit for the unlikely late-season Sweet 16 run this Wolfpack team has somehow managed to piece together. On a team with no tournament experience and plenty of young players, Brown's calming influence on the ball is a major asset.
No. 13 Ohio: D.J. Cooper, guard
-- Cooper demonstrated his worth with huge shots down the stretch against a South Florida team that prides itself on disallowing exactly the kind of offensive display Cooper generated. For a team with the No. 2-ranked opponents' turnover percentage in the country, Cooper's 4.3 percent steals rate (the 22nd-ranked individual mark in the country) truly makes it go.
East Region
No. 1 Syracuse: C.J. Fair, forward
-- It's hard to pick from Syracuse's still-stacked-minus-Fab lineup, but Fair gets the nod. With all due respect to
Scoop Jardine
,
Dion Waiters
,
Kris Joseph
and
Brandon Triche
, the Orange wouldn't exactly hurt for scoring guards were one of them to suffer an injury. If Fair went down, Jim Boeheim would lose his last truly effective big man, and the only viable interior option this side of
Rakeem Christmas
and
Baye Keita
.
No. 2 Ohio State: William Buford, guard
-- This is a bit of a tricky one, because there's simply no replacing
Jared Sullinger
's interior prowess or
Aaron Craft
's incredible perimeter defense. But if OSU is truly a national title threat -- and it looks the part thus far -- that's because Buford, who struggled with his shot in nearly every Ohio State loss this season, isn't cashing in from the perimeter. Having Buford as a go-to option on the outside only aids Sullinger's load and takes as much pressure off Craft and the rest of the Buckeyes as possible. The senior has to score efficiently for this team to make a run. Simple as that.
No. 4 Wisconsin: Jordan Taylor, guard
-- Again: No overthinking required, no explanation needed. May a resounding
duh
ring forth across the land.
No. 6 Cincinnati: Yancy Gates, forward
-- With all due respect to
Sean Kilpatrick
, who has quietly become one of the stars of the tournament, the Bearcats would be a team full of guards with no interior punch (sorry) were it not for the indomitable Gates. Losing Kilpatrick would be a major blow, but lineup and skill-set facsimiles abound. Not so with Gates. He's crucial.