North Carolina Tar Heels:

Marshall Henderson
October, 30, 2013
10/30/13
10:00
AM ET
After cops found cocaine and marijuana in a car that
Marshall Henderson
was driving over the summer, Ole Miss fans feared the worst for the SEC star. Andy Kennedy had previously announced an indefinite suspension for the troubled standout who'd been reprimanded for a variety of antics since his arrival last season.
On Tuesday, Ole Miss threw the book at Henderson.
A three-game suspension for incidents
in the postseason and his behavior late last season -- a penalty that will cost Henderson the team's first two SEC games.
The opponents in those league matchups? Auburn and Mississippi State.
[+] Enlarge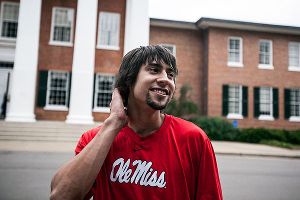 Benjamin Lowy for ESPNAfter a lot of talk about punishing Marshall Henderson, it seems as if the oft-troubled guard got off light with his suspension.
Harsh, I know.
But it's typical.
Throughout the offseason, there has been more smoke than fire with regard to possible suspensions of significant players. The punishments will ultimately prove to be meaningless because players involved probably won't miss a significant chunk of the season or contests that will matter much on Selection Sunday.
In July, North Carolina's
P.J. Hairston
was cited for reckless driving weeks after an arrest for marijuana possession and driving without a license. Roy Williams promised "serious consequences" after Hairston
was suspended indefinitely
following his July citation. But Hairston will return.
He was the star of
North Carolina's "Late Night with Roy" preseason event
last week. During the team's media day earlier this month, Williams told reporters that he's still undecided on Hairston's punishment but earlier reports confirmed that he will play at some point in 2013-14.
"He's been assigned some things that he has to do," Williams told reporters. "He's achieved some of those already -- he's got some more -- and I promise everybody we're not going to go in on game night and say, 'Oh yeah, P.J., you're not playing tonight.' We'll make an announcement before that, but right now he's still going through the process, we're going through the process and we'll wait and see what happens."
Got it.
Rick Pitino seemed furious at Louisville standout
Chane Behanan
when he recently announced that the forward had been suspended indefinitely and
that the earliest he'd return would be early December
. He also said that it was "not probable" that the junior would rejoin the defending national champions. That was mid-October. About a week later, Pitino announced that Behanan
would return "in a short period of time."
Oh.
Purdue's
A.J. Hammons
, a Big Ten player of the year candidate, will miss two exhibitions and the season opener against Northern Kentucky
due to a suspension for misconduct
. Florida's
Scottie Wilbekin
was suspended for the second time in seven months in June, but
he's back practicing with the Gators
.
A memo to the mischievous: If you're going to mess up, do it during the offseason.
Offseason problems give college coaches the ability to chastise players privately because there are no games for them to miss and there's less overall chatter about the sport. The timing of the issues allows them to reprimand players without putting them in situations that require them to miss meaningful games. And they can shroud the entire process under the "rules violation" and "internal punishment" tags.
The players involved in some of the offseason's high-profile mischief haven't necessarily escaped punishment.
Perhaps Hairston has to run to Charlotte every week and Behanan has to do pushups outside the KFC YUM! Center with the national championship trophy on his back to make amends.
We'll most likely never know the extent of the chastisement for them or other players in similar situations.
But they've avoided predicaments that would have potentially forced them to miss significant matchups had their challenges occurred in the middle of the season.
The offseason fuss has exceeded the actual aforementioned penalties thus far -- although we're still not clear on the fate of Behanan and Hairston.
Overall, it seems as though the punishments won't do a lot of damage to the programs that have disciplined key players.
Missing time against the Northern Kentuckys of the college basketball world is trivial.
The suspensions all warranted headlines when they were announced. But come March, we'll barely remember them if the players return and thrive during the season without creating additional drama.
Seems to work out for everyone involved.
March, 24, 2013
3/24/13
1:28
AM ET
KANSAS CITY, Mo. -- At their shoot-around on Thursday and again during Friday's win over Villanova, the
North Carolina Tar Heels
received rousing ovations from an unlikely group of supporters.
Kansas fans.
For nearly a decade almost anyone who called themselves a Jayhawk held resentment toward former coach Roy Williams for leaving KU in 2003 and returning to North Carolina, his alma mater. But if this week is any indication, Kansas fans have moved on and come to appreciate Williams for what he accomplished during his 15 seasons in Lawrence.
"Time heals all wounds," Williams said Saturday. "The people have been really nice. There have been people driving by on the streets when we're out walking in the morning that have been yelling and saying nice things.
"I've only had one person yell something that wasn't quite as nice, but that's part of it."
[+] Enlarge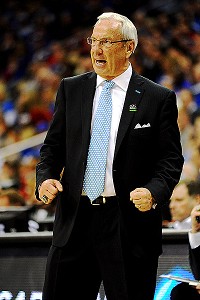 Denny Medley/USA TODAY SportsUNC coach Roy Williams hasn't had any success against Kansas, the school he once led. Will that change on Sunday?
Williams' Tar Heels -- the No. 8 seed in the South Region -- will take on top-seeded Kansas at the Sprint Center on Sunday for a chance to go to the Sweet 16. The Tar Heels are 0-2 against the Jayhawks since Williams became their coach. KU beat UNC in the national semifinals in 2008 and again in the Elite Eight last season.
A lot of the attention leading into each of those games centered on the ill will that some Kansas fans held toward Williams for leaving in 2003, just two years after vowing he'd retire at Kansas. "Benedict Roy" shirts were a hot seller in Lawrence. One barbershop owner went so far as to hang Williams' picture above his toilet.
This season, though, most of the buzz during Saturday's news conference centered around the actual game. That had to have been refreshing to both Williams and KU coach Bill Self, who coached for three seasons at Illinois before taking over for Williams.
"Nobody can ever take away that he did a fabulous job and ran a first-class program [at Kansas]," Self said. "Anybody that doesn't feel that way isn't real, because that's the reality of it.
"Since we've had a chance to play a couple of times in the tournament, I think there were some story lines [before] that probably aren't as good of a story line now."
Self has certainly made it easy for KU fans to move on. By beating No. 16 seed Western Kentucky Friday, Self became the first coach in history to guide his team to four consecutive 30-win seasons. (It should be noted that John Calipari accomplished the feat from 2006-09, but the Tigers' wins from the 2007-08 season were vacated.)
Kansas has also won nine straight Big 12 titles under Self and one national championship. Self is 299-58 (.838) during his tenure at KU, while Williams is 282-78 with six ACC championships and two NCAA titles at North Carolina.
As much as he hopes to win Saturday's game, Williams has made it clear that he doesn't enjoy playing Kansas.
"It's not immoral to love two schools," Williams said. "Someone asked me the other day if I would ever consider coming and playing a home-and-home against Kansas. I said no. My athletic director would understand and the Pope will understand, because I will never walk out of that far tunnel. That will never happen.
"I said this before I left Kansas: 'The day I ever walk into Allen Fieldhouse and don't get cold chills, I'll know it's time to stop.' I feel the same way about the Smith Center. If I walk out on game night and don't have cold chills, I'll quit."
Kansas City news and notes:
North Carolina's switch to a smaller lineup earlier this season could make things difficult for KU center Jeff Withey, who will likely have to guard players such as James Michael McAdoo outside of the paint from time to time. Withey said the shortage of true centers in the Big 12 has forced him to become a better perimeter defender. "I've definitely gotten used to it," Withey said. "I've had to learn to guard and move my feet."

Kansas leading scorer Ben McLemore is averaging just seven points in his past three games -- more than nine points below his average of 16.2. He had just 11 points in 32 minutes against Western Kentucky on Friday, when he only attempted five shots. "He's young," Self said of McLemore, a redshirt freshman. "Obviously this is his first time on a big stage. He's capable of doing it all. When he's aggressive, we're better. We've just got to get him to be more aggressive."

Ole Miss guard Marshall Henderson celebrated Friday's victory over Wisconsin by hanging out with some of his friends at a bar across the street from the arena. Photos of Henderson (who was holding a clear cup containing a red drink) ended up on Twitter, which prompted Rebels AD Ross Bjork to summon Henderson back to the team hotel. "It wasn't like he was guzzling a beer," Bjork said. Ole Miss coach Andy Kennedy was asked if he approved of Henderson hanging out in bars in between NCAA tournament games. "He's 22 years old," Kennedy said of Henderson. "I didn't give him an alcohol sobriety test. We didn't make him recite his ABCs backward, but I know this. I know we had a pretty intense 10 o'clock meeting and he was involved in it, as they all were."

LaSalle coach John Giannini said playing in the "First Four" has been beneficial to his team. The No. 13 seed Explorers upset No. 4-seeded Kansas State on Friday. "You're certainly in a better rhythm," Giannini said. "If you look at yesterday's game, it perfectly demonstrated the advantages and disadvantages. One team was really in a rhythm in the first half. There is an advantage to having played, working out some nerves and being comfortable on the court."