North Carolina Tar Heels:

Marshall Plumlee
February, 20, 2014
Feb 20
11:37
PM ET
We've just witnessed another chapter of the Duke-UNC rivalry. This time in Chapel Hill.
Here are five observations from North Carolina's
74-66 win
over No. 5 Duke on Thursday night.


North Carolina's resilience:
Marcus Paige
finished the first half without one point. He was 0-for-2. And his three assists equaled his three turnovers. It wasn't a pretty opening for the point guard. But he shook it off. And the rest of his team followed his lead. With 15 minutes to play, the Tar Heels were down 51-40. But the resurgence of their offense coincided with Duke's slump. As John Gasaway pointed out in
this piece about North Carolina's improved offensive capabilities
during its seven (now eight)-game winning streak, the Tar Heels have blossomed on that end of the floor. They'd averaged 1.12 points per possession during the streak prior to Thursday's game, per Gasaway. And although that offensive execution was absent before halftime, it reappeared in the second half. Leslie McDonald's 21-point effort changed everything. Paige's tough layup in the final 90 seconds was clutch. The Tar Heels could have quit. Let's be honest. The Tar Heels from two months ago might have quit. Not these guys, though.
Where was Jabari?
Rodney Hood
was an early catalyst for Duke.
Quinn Cook
hit big 3-pointers. But
Jabari Parker
struggled in the second half, when Duke needed him more than it did in the first half. By halftime, he'd Jabari'd the Tar Heels (10 points, five rebounds, two blocks). Other than a sneaky crossover and finish against
James Michael McAdoo
, he wasn't really a star in the second half. He finished with 17 points, 11 rebounds and five turnovers. Good numbers, beyond the turnovers. But give the Tar Heels credit for pressuring Parker and forcing other Blue Devils to be the primary playmakers late.
Drought or defense?
In the second half, Duke couldn't score for about nine minutes. Parker's layup with 15:14 to go was the Blue Devils' only field goal before Cook's shot with 6:26 to play. After leading North Carolina 37-30 at halftime, Duke went cold after the break. Yes, shots just weren't falling for the Blue Devils. But the Tar Heels -- renewed by the return of McAdoo and other players who were limited by foul trouble in the first half -- really clogged the lane and made every attempt difficult for the Blue Devils. And they wouldn't let Duke (5-for-22 from the 3-point line) breathe on the perimeter. North Carolina's defense was critical during its emergence from an 11-point hole.
Don't forget about Plumlee
In terms of perception and expectations,
Marshall Plumlee
's last name hasn't helped his cause. His brothers,
Mason
and
Miles
, are both talented young NBA contributors. Marshall entered Thursday's contest averaging just 7.5 mpg for the Blue Devils. He was solid against the Tar Heels, though. His final stat line wasn't mind-blowing. But he looked like a serviceable sophomore big man. He grabbed key rebounds down the stretch. He was a strong defender. He faced foul trouble but he played through it. Plumlee's attitude and aggression was a factor in the matchup. He also proved that he can help Duke in big games the rest of the way.
Wow!
This is a special rivalry. We all know that. Once Duke took control in the first half and extended its lead after halftime, however, it didn't feel special. It felt like an ordinary, semi-lopsided game. Duke would pick up another quality win and the Tar Heels would face questions about their poor free throw shooting and turnovers postgame. And then things changed. That's what happens in college basketball. The same North Carolina team that was down by 11 points launched a comeback. The same North Carolina team that couldn't find the rim began to hit shots. Duke didn't break, though. The Blue Devils kept fighting through a lengthy drought. But it just wasn't enough. That was an amazing turnaround. That was an amazing game. We were lucky to see it all unfold.
February, 12, 2014
Feb 12
11:40
AM ET
Among the many intriguing angles for
North Carolina
's battle with
Duke
on Wednesday night is that the potential winter storm might play a factor in the outcome. Seriously.
The forecast projects two to four inches of snow for Chapel Hill and the surrounding area during the day. That first wave is supposed to make way for another half-inch of ice by night. The game, by all accounts, will likely be played regardless. (The ACC by rule states postponements can only occur if teams, officials and essential game personnel cannot arrive at the arena safely.)


What if the scenario unfolds like the Tar Heels' win over Maryland in 2000, when snow kept away most fans from the Smith Center? Carolina announced general admission seating, so whoever made it to the arena packed the lower-level seats. The crowd's demographics were students who walked to the game and those crazy enough to value basketball over hazardous conditions.
The result was an atmosphere that former UNC point guard Ed Cota likened to Cameron Indoor Stadium, and the unranked Heels upset the No. 22 Terrapins 75-63.
Generally speaking, the Duke game always has the most charged atmosphere in the Smith Center, but an inadvertent boost from Mother Nature could turn Wednesday night's game into another special chapter in the rivalry.
Avenging Tyler?
The student basketball managers for both schools
engaged in a heated moment
during their annual game before The Game. One of the Carolina managers, trying to clear out space after a rebound, caught a Duke manager with an elbow to the nose. Tempers flared as players had to be separated, but the game continued. (It happened at the same basket that
Tyler Hansbrough
had his nose bloodied by
Gerald Henderson
in the closing seconds back in 2007.) The Heels' managers ended up winning the game 38-33.
Matchup within
Duke's frontcourt isn't big enough or deep enough to match up with the Tar Heels. But it's not like that's a newly discovered weakness; the Blue Devils have been playing that way all season. They've done a good job compensating for their shortcomings while winning seven of their last eight games.
Carolina guard
Marcus Paige
said center
Kennedy Meeks
would play a key factor in exploiting the Heels' advantage.
"We really want to establish our big guys in the paint, especially Kennedy. He's got size that no one else on the court is going to have," Paige said. "We'd like to get him going. Our best offense is when we get to the basket or in the paint. I think we realize that. I think they know that and that's what we're going to try to do."
[+] Enlarge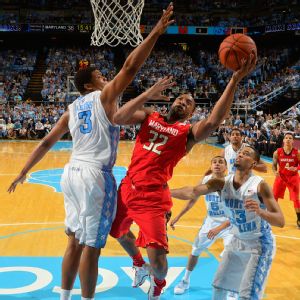 Bob Donnan/USA TODAY SportsKennedy Meeks' size could prove to be a big matchup factor in Wednesday's game against Duke.
Keep an eye on the amount of minutes Duke's
Marshall Plumlee
plays. The 7-foot sophomore only averages 7.5 minutes per game, but if he plays more it could be an indication that Duke coach Mike Krzyzewski is conceding he needs a bigger lineup. That would be a small victory for the Heels, an indication that the Blue Devils are playing Carolina's game.
Conversely, Meeks' time on the floor could be a similar barometer. He didn't play much in the second half against Maryland because the Terps had enough perimeter-savvy frontcourt players to make it difficult for him to defend. Instead,
Brice Johnson
played extended minutes because he was better suited to guard pick-and-rolls. If Johnson plays more at center than Meeks against Duke, that too could be an indication Carolina is playing into Duke's game.
UNC coach Roy Williams said if Duke plays
Rodney Hood
and
Jabari Parker
at the 4 and 5, it could be a matchup nightmare for the Heels.
"It depends on who else is in the lineup with them because it can get to be almost an unbelievable matchup problem," Williams said. "Or it can be we have a couple of guys who are similar and have a chance of staying with them."
Advice to the freshmen
Carolina's freshman trio of Meeks,
Nate Britt
and
Isaiah Hicks
will get its first indoctrination into the rivalry tonight. Sophomore
J.P. Tokoto
said he's been telling them to look at it as "just another game."
"My experience last year was limited, but for guys like Kennedy and Nate, they've been playing big minutes," Tokoto said. "I've pretty much have been telling them to look at it as another game and just play their game."
Asked if he personally viewed it as just another game, Tokoto broke out laughing. "Nah, I don't," he said. "Not me, but I feel like that would help them out mentally."
Keys for a UNC win
No help:
With Duke shooting 42 percent from 3-point range, this should be the one game the Heels abandon their typical defensive philosophy. Whenever the Blue Devils get dribble penetration, Carolina should employ a no-help strategy. Better to give up a layup than to watch Duke kick it outside for an open 3-pointer.
Capitalize on putbacks:
Carolina leads the ACC in offensive rebounds with a 14.1 average per game. The Heels have turned that into a 13.4 average in second-chance points, which should actually be higher. Williams has consistently emphasized that his team has to be better at finishing through contact. Syracuse is the only team in ACC play to outscore the Heels in second-chance points.
Run off turnovers:
During the Heels' five-game winning streak, they've consistently pushed the pace and gotten out in transition more than at any other time during the season. They've also capitalized by converting points off turnovers. Duke, however, only averages 9.5 turnovers per game, so chances might be limited.
July, 16, 2012
7/16/12
4:16
PM ET
Editor's note: ESPN.com's Summer Shootaround series catches up on the offseason storylines for each conference. For more on the ACC, click here.
[+] Enlarge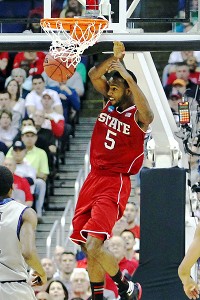 Greg Bartram/US PresswireExpectations are high for C.J. Leslie and the rest of the NC State Wolfpack heading into the season.
1. Expectations at NC State
: The last time the ACC media picked the Wolfpack to finish first in the league standings was 1988-89. But after a run to the Sweet 16 last March, forward
C.J. Leslie
's decision to return for another season, the arrival of a heralded recruiting class and so many departures from the other top conference teams, expect Mark Gottfried's club to top the ballots come fall. Point guard
Lorenzo Brown
needed knee surgery late last month, but is expected to practice before NCSU leaves for an August trip to Spain.
2.
Departures at North Carolina
: Losing so many stars to the NBA in one swipe (this time,
Tyler Zeller
,
John Henson
,
Harrison Barnes
and
Kendall Marshall
) is nothing new in Chapel Hill. The question is, how will the Tar Heels respond? In 2005-06, after losing seven of its top eight players, a young UNC team exceeded preseason expectations by making it to the second round of the NCAA tournament. But in 2009-10, after losing four of five starters, the Tar Heels didn't make it to the NCAA tournament at all. Returners such as
James Michael McAdoo
,
Reggie Bullock
,
Leslie McDonald
and
Dexter Strickland
still make UNC a top-15 favorite this time around.
3.
Decisions at Duke
: The Blue Devils' jaw-dropping defeat to 15th-seeded Lehigh in the NCAA tournament was followed by a couple of other spring surprises: the announcement that guard
Andre Dawkins
will redshirt his senior season, and forward
Mason Plumlee
will return for another year. The latter is particularly key for Duke, which will boast sizeable frontcourt options in Mason and
Marshall Plumlee
,
Ryan Kelly
,
Alex Murphy
and late signee
Amile Jefferson
. But without Dawkins, how
Seth Curry
,
Quinn Cook
,
Tyler Thornton
and freshman
Rasheed Sulaimon
perform on the perimeter could determine how far the Blue Devils go.
4.
Personnel changes at Virginia Tech
: Seth Greenberg is gone. But so are rising sophomore
Dorian Finney-Smith
and recruit
Montrezl Harrell
, who opted for new schools after Greenburg was fired. Former Greenberg assistant James Johnson -- who left Blacksburg, Va., for the same position at Clemson, only to return weeks later after he was hired to replace Greenberg in the head-coaching job -- has some talent to build around. But not all he could have hoped for.
5. Don't forget about Florida State
: After losing six players in their rotation (including fan favorite forward
Bernard James
, who went No. 33 overall in the NBA draft), it would be easy to overlook the chances of the Seminoles, who won their first ACC tournament last season. But don't. The Noles return four of their top five scorers, including guards
Michael Snaer
and
Ian Miller
, who both buried game-winners last season. Plus, coach Leonard Hamilton has proven that defense wins.