North Carolina Tar Heels:

Matt Doherty
November, 14, 2013
11/14/13
11:45
AM ET
Roy Williams won two championships in Chapel Hill thanks in large part to three standout recruiting classes. On paper, he just landed a fourth on Wednesday.
Williams delivered one of the nation's best recruiting classes and gave a comment on each:
Theo Pinson
, a 6-foot-8 wing, is ranked eighth in the ESPN 100: "He can do almost everything on the court and do it well. He can handle the ball, pass, defend and he has tremendous savvy.
[+] Enlarge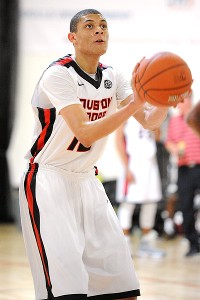 Chris Williams/Icon SMI2014 UNC signee Justin Jackson is the nation's top-ranked small forward.
Justin Jackson
, a 6-foot-6 wing is ranked 13th: "He's 6-8 with perimeter skills. He performed well last summer against tough competition, including at USA Basketball events."
Joel Berry
, a 6-foot-1 point guard, ranked 15th: "He is a true quarterback on the floor, but he has the ability to score as well."
It matches the 2010 class of
Harrison Barnes
,
Reggie Bullock
and Kendall Marshall for the highest average ranking. But the formula for winning titles doesn't come with a talented class alone.
Williams has proven when he stacks classes the right way, Carolina contends for the title.
As you recall, Matt Doherty recruited the classes who proved to be the cornerstones of the 2005 national championship team. That included the 2002 class that featured
Sean May
,
Rashad McCants
and
Raymond Felton
.
Marvin Williams
, from the class of 2004, proved to be a key addition to that team and was in Roy Williams' first full recruiting class in Chapel Hill.
The starters for the 2009 title team came from portions of the 2005 (
Tyler Hansbrough
,
Danny Green
) and 2006 (
Ty Lawson
,
Wayne Ellington
,
Deon Thompson
) classes.
The team built to win in 2012 had key starters from three classes in
Tyler Zeller
(2008),
John Henson
and Dexter Strickland (2009) and Marshall and Barnes (2010).
Even if
James Michael McAdoo
and
P.J. Hairston
are not on next year's squad, the Heels will still have a nice blend of old and new talents from three straight classes. That once again could be the formula for a serious Final Four contender.
Pinson and Jackson in particular will give Carolina the depth and athleticism on the wings that it has lacked. Berry will team with
Marcus Paige
and
Nate Britt
to form one of the fastest back courts Williams has had at UNC.
UNC recruiting classes under Roy Williams
2004
J.R. Smith, SF
Marvin Williams, PF
Quentin Thomas, PG
2005
Tyler Hansbrough, PF
Danny Green, SG
Bobby Frasor, SG
Marcus Ginyard, PG
Michael Copeland, F
2006
Wayne Ellington, G
Ty Lawson, PG
Brandon Wright, PF
Deon Thompson, PF
Alex Stepheson, PF
Will Graves, SF
2007
None
2008
Ed Davis, PF
Tyler Zeller, C
Larry Drew, PG
Justin Watts, SG
2009
John Henson, PF
Dexter Strickland, SG
Leslie McDonald
, SG
David Wear
, PF
Travis Wear
, PF
2010
Harrison Barnes, SF
Regge Bullock, SG
Kendall Marshall, PG
2011
James Michael McAdoo, PF
P.J. Hairson, SF
Desmond Hubert
, C
Jackson Simmons
, PF
Stillman White, PG
2012
Marcus Paige, PG
Joel James
, C
Brice Johnson
, PF
J.P. Tokoto
, SF
2013
Isaiah Hicks
, PF
Kennedy Meeks
, C
Nate Britt, PG
2014
Theo Pinson, SF
Justin Jackson, SF
Joel Berry, PG
October, 4, 2012
10/04/12
9:30
AM ET
August, 21, 2012
8/21/12
1:35
PM ET
It's been almost a decade since former North Carolina forward Matt Doherty was fired as UNC's head coach. But that didn't keep him from taking to Twitter on Tuesday morning to defend one of his former Tar Heels -- while taking a crack at rival NC State fans, to boot.
After beginning the morning by tweeting a tip of the day –
"TOD: Double knot. All of my players must double knot for practice and games. I hate seeing a shoelace come undone during a game. Costly!"
--
@DohertyMatt
began tweeting about former UNC football/basketball player Julius Peppers, whose transcript has been the subject of much scrutiny since it inexplicably was found on UNC's website.
To (try to) sum up that issue: The partial transcript, which
Peppers confirmed last weekend was his
, showed that numerous classes in the Afro and African-American Studies department helped him stay eligible before he left UNC early for the NFL after the 2001 season. That department has come under intense scrutiny over the past three months since an internal investigation showed poor oversight, grade changes and little or no instruction in 54 AFAM classes between summer 2007 and summer 2011. More than 50 percent of the students in those classes were athletes. The school last week
launched a new probe, led by a former governor, which aims to look farther back than 2007
, and Peppers has
donated $250,000 to a scholarship fund at UNC
.
Got all that?
Anyway, @DohertyMatt responded to all of the recent happenings at his alma mater by defending Peppers' intelligence, throwing in a comparison to Steve Jobs -- and then taking some time to "mess with" Wolfpack fans.
Here we go:
@DohertyMatt: Julius Peppers was one of the smartest players I ever coached. He remembered plays better than anyone. He was a good person and a worker...

@DohertyMatt: ...I wish I had a team full of players like Julius Peppers!

@DohertyMatt: Doing poorly in school doesn't mean you are dumb. See Steve Jobs, Bill Gates. Both college drop outs!

@austin_johnson (who covers NC State for PackPride.com) "Seriously, I've coached a ton of dumb players." - How I interpreted @DohertyMatt's tweet.

@DohertyMatt: @austin_johnson can't believe a Pack fan is taking shots at UNC's education? Really? Stay tuned for some famous NC State quotes!

@DohertyMatt: A famous NC State player once said, "I can go left, I can go right. I be amphibious!" Go Heels!

@DohertyMatt: An NC State player said in response to a question on why he chose State, "I always wanted to go to school in the North." He was from SC!

@thedevilwolf: Doherty dropped the "amphibious" bomb right off the bat. Pace yourself, bro.

@DohertyMatt:@thedevilswolf I get paid for not working! SMU owes me thru May 13. Good gig if you can get it! Gives me time to toy with the State "grads"

@DohertyMatt: State fans are so easy! Fun to mess with them.
Doherty went on to tweet that "if UNC demonstrated academic fraud, responsible party should pay penalty. No question. With that, many good schools have ez classes/majors." The whole point of his tweeting barrage, he added, was to defend Peppers: "Bad student - yes. Dumb person - no. Good person - definitely."
And he concluded (we think) with:
@DohertyMatt: Still fun exchange w State fans. Like being back in Reynolds!
Follow Robbi Pickeral on Twitter at @bylinerp.