North Carolina Tar Heels:

Myck Kabongo
December, 17, 2013
12/17/13
11:00
AM ET
It's hard to tell when #FreePJ picked up the most momentum.
Was it from former North Carolina center John Henson's Instagram post? Henson, in his second year with the Milwaukee Bucks, displayed a photo of himself wearing a T-shirt mimicking the trademark blue circle NCAA logo and its font -- but replacing it with the word "Scam."
Was it when proof of an electronic billboard on Interstate 85 displaying the hashtag went viral? Eastbound drivers approaching Durham city limits could view the message alternating with a hospital surgery advertisement.
[+] Enlarge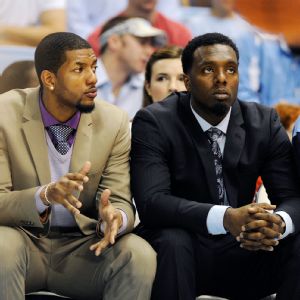 Liz Condo/USA TODAY SportsP.J. Hairston, right, and Leslie McDonald have missed all nine games for UNC while waiting for the NCAA to rule on their eligibility.
It's hard to pinpoint how or when its popularity increased, but Tuesday night, in Cameron Indoor Stadium of all places, confirmed the movement is growing.
Abraham Rubert-Schewel, John Barber, Casey Page and self-confessed Wake Forest fan Robert Coffman brought the "Free P.J." cause to Duke. During the first half of the Blue Devils' win over Gardner-Webb, Rubert-Schewel held up the poster board and was even picked up by the ESPNU broadcast.
"We were talking about how it was messed up that P.J. wasn't allowed to play and I was like, 'What could we do that would be funny?'" said Rubert-Schewel, who graduated from UNC in 2008 but whose father is a Duke professor.
The group didn't write out their message until they reached their seats in Cameron to avoid getting it taken at the door. They drew the letters too big -- that's why they didn't add the hashtag to it -- but the sentiment was the same.
Among those not amused were the security dudes in yellow jackets who quickly confiscated it by simply saying "Sign" and motioning to hand it over. That was a bit more polite than the smaller "Free P.J." sign Barber -- who wore a blue Tar Heels T-shirt -- said he held in his hand until the Duke fan seated behind him took it and ripped it in two.
Ripping a sign won't stop this campaign, though. It will likely continue until the NCAA rules on the status of
P.J. Hairston
and
Leslie McDonald
. The duo has missed each of North Carolina's nine games this season stemming from possible rules infractions that occurred during the summer.
Back in October, UNC coach Roy Williams initially gave the impression that Hairston's discipline would be determined before the regular season began. With nearly a third of the season complete, reasonable people believe it's dragged on long enough.
Texas coach Rick Barnes, who brings the Longhorns to Chapel Hill on Wednesday, knows the feeling. Last season, the NCAA held his star point guard Myck Kabongo in a similar limbo before ruling on his case in late December.
"It's tough, believe me, it's tougher than you can imagine, and I know what Roy is going through and it's not a lot of fun," said Barnes.
"The worst part is, again, you're at the mercy of the NCAA," Barnes added. Whenever they get to it, then you'll have your answer."
Barnes said the uncertainty on when Kabongo would return weighed heavily on the team and the player last season. The NCAA eventually announced on Dec. 19, 2012 that Kabongo would miss the entire season. Texas appealed the initial ruling and got it amended to 23 games.
"The emotional stress that it put on him, I can't even begin to tell you," Barnes said. "It weighed on him heavily. I'm sure it is for the Carolina players right now because they're there like we were a year ago."
While the Longhorns waited to hear Kabongo's fate, Barnes said it was like having two different teams: the squad he had in practice with Kabongo and the squad he took to games without him. Barnes said when Kabongo did return for the final 11 games, Kabongo tried to overcompensate for the time he missed.
"I know what those guys are going through, and it's tough because, again, you're dealing with kids here and they don't understand it, I can assure you of that," Barnes said. "They don't understand why it's taking so long to get an answer."
Neither do many Carolina fans. That's why until then, #FreePJ sightings will only get more frequent.
December, 20, 2012
12/20/12
1:02
AM ET
AUSTIN, Texas -- Texas suffered its biggest loss of the season on the night it pulled off its biggest win.
Prior to the Longhorns'
85-67 victory
over No. 23 North Carolina at the Frank Erwin Center, point guard
Myck Kabongo
was ruled ineligible for the season by the NCAA, barring an appeal, according to sources from within the Texas athletics department. The story was first reported by Yahoo! Sports on Wednesday night.
The loss of Kabongo put a serious dent in this young Texas team's chances of making a 16th consecutive NCAA tournament. But the win against the Tar Heels at least gives the 7-4 Longhorns some hope.
Playing with a true freshman point guard in
Javan Felix
and only freshmen and sophomores on the court, UT played the role of the aggressor, pushed the more talented and savvy Heels around, built a big lead and -- for the first time this season -- didn't crumble.
"There is process that every student-athlete goes through, and I can only tell you that process is not done. We are in the middle of that process," said Texas coach Rick Barnes of the Kabongo situation. "Every student-athlete is entitled to a process if something comes up, and that process is ongoing."
Kabongo has been under investigation for impermissible benefits concerning a workout that involved agent Rich Paul. According to sources, the penalty was so severe because Kabongo had been less than straightforward when the NCAA initially questioned him.
While Barnes refused to take further questions on Kabongo, North Carolina coach Roy Williams now has plenty of them about his team.
"It was like comedy of errors, except it wasn't very blankety-blank funny," Williams said.
The Tar Heels' defense refused to extend in the first half and allowed Texas to build a 19-point lead. That lead was aided by two straight surprising 3-pointers from Texas forward
Jonathan Holmes
. The sophomore had made only three shots from beyond the arc in his 10 previous games.
[+] Enlarge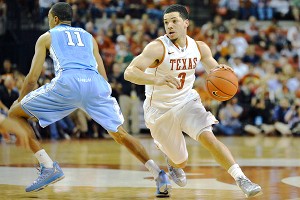 Brendan Maloney/USA TODAY SportsFreshman point guard Javan Felix effectively piloted Texas, scoring 8 points with 8 assists.
"We backed off him," Williams said.
And North Carolina continued to back down for most of the night.
"They did a better job of pushing the pace and getting us back on our heels," Williams said. "It seems like they got every loose ball."
There were plenty of those to go around, as Carolina turned it over 18 times. Texas, typically not a solid transition team, scored 14 points off those turnovers.
"Coming into the game, coach Barnes preached to us to getting the ball out and getting back in transition, and that was our game plan along with rebounding -- and that was what we tried to do," Felix said.
"They outran a running team," is how Williams put it.
In fact, Texas struggled only when it went into half-court sets. Starting the second half, North Carolina started to value the basketball more and made more of an effort to keep the Texas offense in front of it. That, coupled with the aggressiveness of
James Michael McAdoo
(14 points, 9 rebounds) and
Reggie Bullock
(a career-high 13 rebounds), allowed UNC to cut the lead to four.
Given that Texas has been a team that has struggled down the stretch -- the Longhorns were outscored 13-2 down the stretch in a 65-63 loss to UCLA -- it appeared as if the tide had started to turn.
Until, that is, North Carolina neglected to communicate on defense and allowed
Cameron Ridley
to throw down an uncontested dunk to push the lead back to seven with 6 minutes, 35 seconds remaining.
"We were aggressive and moved the ball pretty well, and some guys knocked some shots down," Barnes said. "But this was a game we thought would be won in transition and on the boards."
Texas didn't win on the boards in the box score (North Carolina had 43 to the Horns' 40). But UT did win in second-chance points with 18, and in fast-break points with 14.
"We have had a couple of tough losses because we had not played as hard as we should," said Holmes, who finished with 15 points and 8 boards. "[Wednesday night], we came out and did what we had to do. We definitely set the bar high for the rest of the season."
Regardless of who might be with Texas for the rest of the season.
--HornsNation writer Max Olson contributed to this report
December, 19, 2012
12/19/12
11:45
PM ET
AUSTIN, Texas -- A few quick thoughts from Texas'
85-67 victory
over 23rd-ranked North Carolina at the Frank Erwin Center ...


Overview:
When last Texas found itself on the national stage, it was blowing an eight-point lead with 3 minutes, 43 seconds left against UCLA. Clearly this young Longhorns team -- without point guard
Myck Kabongo
due to NCAA suspension -- learned a little something in that Dec. 8 loss as it held off the Tar Heels on Wednesday night.
The victory comes as Texas is dealing with issues both on and off the floor. Coming into the game, the Horns were an uncustomary 6-4 in the nonconference. And on the day of the game, university officials had learned that Kabongo's ordeal with the NCAA would extend throughout the season barring an appeal, according to sources within the Texas athletic department and first reported by Yahoo! Sports.
The Tar Heels (8-3), meanwhile, are not in that great of shape either. Against Texas, the talent and playmaking was there, but the first-half hole they dug was just too deep. Texas led by as many as 19 in the first half. North Carolina cut it to four with under 8 minutes left in the game, but never managed to get any closer as UT quickly pushed the lead back to a comfortable 10 with less than 2 minutes left.
Turning point:
With North Carolina slowly crawling back into the game and momentarily whittling the Texas lead to four, the Longhorns went inside with a pass from
Sheldon McClellan
to center
Cameron Ridley
, who turned and threw down UT's first dunk of the game. That pushed the Texas lead back to seven, 63-56, with 6:25 left. It also gave the Horns the lift to ward off a UNC comeback.
Key player:
Texas forward
Jonathan Holmes
wasn't flashy in the second half, but his steady play in the first helped give his team a huge lead. The sophomore scored eight consecutive points during one stretch to put Texas up 15, 33-18. Six of those eight points were from behind the arc, a place from which Holmes is not accustomed to making shots. He finished with 15 points and 8 rebounds.
Key stat:
Texas is without its top point guard and best defender in Kabongo, but that did not stop the Longhorn defense from creating 18 North Carolina turnovers, including 12 in the first half. Texas converted those turnovers into 14 points.
Miscellaneous:
Texas is 3-1 against North Carolina over the past four seasons. ... North Carolina shot 31.3 percent. ...
Reggie Bullock
scored 18 points (tying him with Texas' McClellan for game-high honors). He also led in rebounds with 13. ... Texas had 18 second-chance points.
Next up:
After two seesaw games with non-ranked opponents, the Tar Heels should have a relatively easy time with McNeese State at home Saturday before playing host to a resurgent UNLV program Dec. 29. Texas heads on the road for another top-25 opponent as it goes to No. 20 Michigan State for a game Saturday afternoon.
November, 21, 2012
11/21/12
1:27
AM ET
LAHAINA, Hawaii -- Here are some observations from the second day of the EA Sports Maui Invitational.
After dominating Mississippi State on Monday, the North Carolina Tar Heels got a rude wake-up call versus Butler on Tuesday. On Monday evening I wrote: "North Carolina has much more talent, but the Bulldogs are scrappy and well-coached. The Tar Heels are more of a finesse team. The physicality of Butler could give the Heels problems." That's exactly what happened. North Carolina was outrebounded 36-27 and Butler beat them to just about every loose ball.

After the game, North Carolina head coach Roy Williams admitted that he had the better players, but Butler and coach Brad Stevens had the better, tougher team. "They were more physical, more assertive and more aggressive," Williams said. "They're really good. Brad's clubs are really intelligent. I like their toughness and their intelligence more than their talent, and I'm not trying to put down their talent. But I love their toughness and their intelligence."

UNC clearly has the talent, but does anyone on this team have the toughness the Heels needs to go deep?

Sixth man P.J. Hairston was, for the second night in a row, the best and toughest Tar Heel on the floor. It might be just a matter of time before Williams puts him in the starting lineup.

Most disappointing was forward James Michael McAdoo. In the tourney-opening blowout against Mississippi State, McAdoo was solid on offense, but had four mind-boggling turnovers, prompting Williams to comment after the game that "we can't throw the basketball around."

On Tuesday night, McAdoo had seven turnovers to go with his 10 points and five rebounds. Williams isn't the only one miffed by the performance of his big man.

Most of the NBA scouts and general managers in the audience savaged McAdoo for his performance the past two games. "He looks good in a basketball uniform," one GM told me. "But after that, I'm not sure what I'm supposed to like. He's a pretty good athlete, but he isn't very skilled and he doesn't go hard all the time. There's not one thing he does that really stands out about his game. He certainly hasn't played like a top-five pick."



[+] Enlarge

AP Photo/Eugene TannerUNC's James Michael McAdoo, here getting blocked by Butler's Andrew Smith, hasn't impressed NBA observers in Maui.

McAdoo is currently ranked No. 6 on our Big Board -- but could be in for a drop if he doesn't start picking it up.

Illinois continued its impressive run in the tournament with an 84-61 win over local underdogs Chaminade on Tuesday. The Illini got balanced scoring -- Brandon Paul scored 13 points, D.J. Richardson had 11 and Joseph Bertrand 14. The Illini are off to a 5-0 start, but they haven't really been tested yet. Butler should give them everything they can handle and will be the favorites to win it all after dominating North Carolina. But don't count out Illinois. The team is playing with a lot more aggressiveness and discipline under new head coach John Groce. It has a terrific backcourt in Richardson, Paul and Abrams and size up front.

A win in the tournament will be a huge boon to the Illini's confidence. They aren't in the same class as Big Ten elite teams such as Indiana, Ohio State, Michigan or Michigan State, but they, along with Wisconsin, Minnesota and Iowa, may be a very tough outs in the league. I won't be surprised if the Big Ten gets eight teams into the NCAA tournament this season.

A number of my tweeps laughed at me Monday when I said that NBA scouts were intrigued by Butler freshman Kellen Dunham. I don't think they are laughing anymore. Dunham bounced back from an awful game versus Marquette and really put the dagger in the Tar Heels in the second half. He ended the game with 17 points and was 5-for-9 from beyond the arc. He's still a little tentative and passed up a few open shots in the game, but his stroke is flat-out pure. Dunham isn't your average mid-major guard. He was ranked as a top-100 player by ESPN and was an NBA camp invitee. Dunham isn't a one-and-done prospect, but as he continues to get stronger and more confident, he could have a future in the pros after his junior or senior years of college.

The Texas debacle continued Tuesday with a 59-53 overtime loss to USC. The good news? The Longhorns didn't get blown out this time and played with more urgency. The bad news? Offensively this team is just a mess. When (or is it if?) the Longhorns get Myck Kabongo back, they'll be better. But I don't think he has the talent alone to turn things around. There just isn't a lot of talent around Kabongo. Sophomore Sheldon McClellan has struggled in Maui, going just 8-for-25 from the field and 1-for-11 from 3. Freshman big man Cameron Ridley was ranked as the eighth-best prospect in the country by ESPN, but he's looked out of shape and overwhelmed in the early going.It could be a long year, Texas fans.

Marquette fans, meanwhile, are hoping they have found a go-to scorer in junior Vander Blue. For the second consecutive game, Blue led the team in scoring with 18 points and three assists versus Mississippi State. Blue has always had the talent, but he has struggled with consistency and aggressiveness in the past. What's different this year? "I'm just playing with a free mind and just playing off my teammates," Blue said. "Junior [Cadougan] is a great guy, and everybody's going to double Davante [Gardner], so that pretty much leaves me open for shots. So I feel like if I'm making those shots, our team is a much better team. I'm not trying to do nothing that we don't do every day in practice." Blue's versatility, toughness athleticism and defense all intrigue NBA scouts. If he can show some offensive prowess as well, he could be a second-round pick.

There was a moment in time when USC big man Dewayne Dedmon was considered a potential NBA prospect. That time has probably passed. Dedmon has the size and athletic ability to be a pro. But he has no feel for the game. That's always a problem, but it's an even bigger problem when you're already 23 years old. Dedmon had 8 points, 8 rebounds and 3 blocks against Texas but was just 3-for-11 from the field.

Butler will face Illinois in the EA Sports Maui Invitational Final on Wednesday at 10 p.m. ET on ESPN. North Carolina will play Chaminade in the consolation game at 7:30 p.m ET on ESPN2.
November, 20, 2012
11/20/12
7:44
AM ET
LAHAINA, Hawaii -- Here are some observations from the first day of the EA Sports Maui Invitational:
This is clearly a down season for talent at the Maui Invitational. The names on the front of the jerseys are all impressive -- North Carolina, Texas, Illinois, USC, Marquette, Butler, Mississippi State -- but every single program, with the possible exception of UNC, is having a down season.The USC and Mississippi State programs are in shambles. Both teams aren't even close to being competitive against a solid D-1 team.

Texas, after being blown out by Chaminade, doesn't look much better. Yes, they were missing point guard Myck Kabongo, but even with Kabongo the Longhorns have major issues. Chaminade shot just 37 percent from the field for the game and it still won by 13.

Illinois dominated USC, but it's hard to tell whether Illinois is actually playing better under new head coach John Groce or whether USC is just that bad.

Marquette and Butler played the most entertaining game of the day, but it was marred with fouls, poor shooting and mistakes. Neither team boasts an elite player on its squad.

As for North Carolina -- yes it blew out Mississippi State -- but as far as NBA talent goes, the Tar Heels are having a down season too. After forward James Michael McAdoo, it's unclear whether they have another first-round draft prospect on their roster.

Nevertheless, if UNC doesn't roll through this field, it will be a major upset.
Tomorrow's best game should be Butler versus North Carolina at 8 p.m. ET on ESPN. North Carolina has much more talent, but the Bulldogs are scrappy and well coached. The Tar Heels are more of a finesse team. The physicality of Butler could give the Heels problems.The rest of the field looks like a wash. Marquette should roll over Mississippi State. Texas versus USC will be interesting only if the NCAA somehow clears Kabongo.

Illinois will be the heavy favorites to beat Chaminade in the finale at 10:30 p.m. ET on ESPN2. Yes, the Silverswords just knocked off the Longhorns, but they didn't play particularly well. The Illini should roll.
A number of NBA GMs -- including the Celtics' Danny Ainge, the Jazz's Kevin O'Connor, Bulls' Gar Forman, the Warriors Bob Myers and the Blazers Neil Olshey -- were in attendance. Overall, they are seeing the same phenomenon here that they are seeing everywhere. This is a down season, talent wise, in the NCAA. "If Cody Zeller, Shabazz Muhammad, Nerlens Noel and James McAdoo are your top four picks, it's going to be an ugly, ugly draft."

Other than McAdoo, I couldn't find a scout or GM convinced there was another first-round prospect here. If Kabongo plays, that could be two. But that explains, in part, why the field is so weak.
There were some good performances by top prospects on Monday. Perhaps the best was Illinois' Brandon Paul. Scouts have loved Paul's combination of elite athletic ability and scoring prowess for years. However, they've been puzzled by his inconsistency. He had a 43-point game against Ohio State last season. But there have been plenty of others in which he completely disappeared.

He seems to be more settled and more consistent under his new head coach. He was averaging nearly 20 points a game coming into the tournament and scored 26 points and shot 6-for-9 from 3-point territory on Monday night in Illinois' win.

UNC's Reggie Bullock was on fire against MSU. He had 16 points in 22 minutes and was 4-for-5 from beyond the arc.

As I detailed in my Rapid Reaction to the Butler-Marquette game, Vander Blue and Khyle Marshall also had terrific games on Monday night.
There are many NBA scouts who believe both P.J. Hairston and Leslie McDonald could start on most high major NCAA teams and they probably would average 16-20 points. Once the game quickly got out of hand, Roy Williams turned to both of them and both delivered. The two combined for 39 points and shot 10-for-17 from behind the 3-point line.
UNC has a number of talented freshmen: Joel James, Brice Johnson and J.P. Tokoto. All three got plenty of playing time on Monday. Of the three, it was James who shined on Monday. He was a significant defensive presence for the Tar Heels. He's still trying to get a feel for the game and could still probably lose another 10 to 15 pounds, but his seven rebounds and two blocked shots, combined with just a general toughness in the middle gave NBA scouts an encouraging glimpse into his future if he continues to develop.
The most memorable moment of the day was Rotnei Clarke's buzzer-beating heave to defeat Marquette. Here's how both Clarke and Marquette coach Buzz Williams described the moment.

Williams: "He shot it off one foot from behind his head from 40 feet. It was contested. As soon as the ball left his hand, I knew it was a basket. The trajectory and everything was perfect."

Clarke: "It was just kind of a scramble play. I was dribbling around, and I almost thought about flipping it to Roosevelt Jones, who was going down the lane line just to have him drive and make a play, [but] ended up keeping it, and got through and got around a couple of guys, and just let it up there, and luckily it went in."
December, 21, 2011
12/21/11
11:20
AM ET
Texas coach Rick Barnes knew he'd landed one of the fastest recruits in the country when he signed Canadian point guard
Myck Kabongo
in the fall of 2010.


Occasionally, though, Kabongo seems almost
too
fast.
Multiple times this season, the 6-foot-1 freshman has sprinted up the court with the basketball and realized that none of his teammates were there with him. Instead of pulling back and waiting for them to catch up, Kabongo often tried to make things happen all by himself, which usually resulted in an ill-advised shot or a turnover.
"I needed to learn how to slow down and run my team," said Kabongo, chuckling during a phone interview with ESPN.com Tuesday night. "They need me to play great for us to be in games. I understand that now."
Apparently so.
Texas has won seven straight games -- all by double digits -- since a pair of early-season losses to Oregon State and North Carolina State. Kabongo is one of the main reasons. The Toronto native is averaging 12.8 points and 6.7 assists in his last six contests, which includes a season-high 18-point effort in Saturday's win over Temple.
Tonight Kabongo will face the toughest test of his career thus far when the Longhorns face No. 6 North Carolina in Chapel Hill. Texas has defeated the Tar Heels the last two seasons, but with a rotation that includes five freshmen and just three experienced players, Kabongo knows he'll have to be at his best if Texas has any hopes of a victory.
"I could try to tell you it's just another game, and it is," Kabongo said. "But at the same time, I'm excited for the opportunity for our team and our guys. It's a chance for us to get better. North Carolina has an NBA front court. It's a great chance for our freshmen to play against guys that are good so we can keep getting better and keep improving.
[+] Enlarge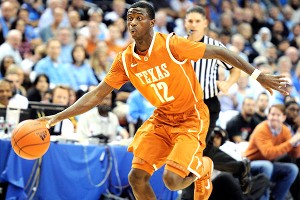 Chris Williams/Icon SMITexas point guard Myck Kabongo is learning to slow down and involve his teammates.
"I think my guys are ready for it."
That Kabongo refers his teammates as "my guys" says everything you need to know about the freshman's confidence. Junior
J'Covan Brown
is the Longhorns' top scorer, and
Alexis Wangmene
and
Clint Chapman
are seniors. Still, even when he struggled early, Kabongo said he always viewed this as "his" team. That type of mind set has been missing in the Longhorns' backcourt the past few seasons, which may be one of the reasons Texas hasn't advanced past the second round of the NCAA tournament since 2008.
Kabongo is hopeful that will change this season. Texas lost big leads against Oregon State and North Carolina State in a pair of setbacks at the Legends Classic in New Jersey in mid-November. Frustrating as the losses were, Kabongo said they will benefit a young Texas team in the long run.
The Longhorns lost forward Tristan Thompson and guards Cory Joseph and Jordan Hamilton to the NBA draft, and under-appreciated forward Gary Johnson graduated.
"We're finishing games now," he said. "We know now that teams aren't going to quit playing at this level. In high school, if a team is down by 14 in the fourth quarter, they may just give up. But at this level teams are going to continue to push and push and push."
And when that happens, Kabongo must keep his poise. Barnes certainly wants Kabongo to use his speed to push the ball and beat opposing defenses down the court. But he said Kabongo needs to do a better job of "picking his spots."
Carelessness is a trait almost every freshman point must overcome before becoming a high-level player.
"At first, I was just so excited to be out there playing, that I was trying to make a lot of plays that weren't there," Kabongo said. "I was running the floor and no one was running with me. I have to pace myself so that my teammates are running with me when I'm running. I was pushing the fast break when it wasn't there.As the game slows down, I'm starting to realize when I can go and when I can't."
Statisticians track Kabongo's turnovers during games -- but Barnes began doing it in practice just so Kabongo could see how much his miscues were affecting the team.
"That one possession where you don't execute could come back to haunt you at the end of the game," Kabongo said. "I understand I can't make a lot of poor decisions for us to win."
Especially against the Tar Heels.