North Carolina Tar Heels:

Myles Turner
May, 16, 2014
May 16
10:00
AM ET
CHICAGO --
Julius Randle
is gone, but he wouldn't mind watching the
Kentucky
big men battle in the fall.
"Yes, there's going to be some competition," Randle said at the NBA draft combine in Chicago. "But Coach [John Calipari] will figure it out."
Randle wasn't going to return next season. He was a one-and-done player from the moment he arrived, looking like a chiseled NBA veteran. He was the one big man who didn't need seasoning. But the rest did. Toss in newcomer
Karl Towns Jr
., and the Wildcats have as many bigs as any team assembled recently.
Randle's favorite to replace his low-post ability? He's leaning toward sophomore to-be
Dakari Johnson
.
"He's very good in the low post," Randle said. "He's got a nice touch. It's hard to move him down there."
Randle should know. He had to tussle with Johnson in the low block in practice every day. Now, Johnson will take Randle's role as the player whom the others try to knock off in the post -- for position and, possibly, playing time.
ESPN.com is
examining position battles this week
. Here are some center battles to keep an eye on:

Kentucky:
Dakari Johnson,
Willie Cauley-Stein
,
Marcus Lee
versus Karl Towns Jr.: Yes, there are veterans -- three of them -- returning against the young pup. Calipari could figure out how to play all four of them at some point during a game. Johnson, Cauley-Stein and Lee all had their moments in which they shined. Johnson has the best chance to be in the low post, Cauley-Stein can be the top shot-blocker and Lee is a bit of an X factor among the group. Now, enter the newcomer. Towns can do a bit of everything, but he doesn't need to be the primary option. That's key for him and rare for a high-profile Kentucky player. This isn't even mentioning
Trey Lyles
and
Alex Poythress
, who are more positioned to play smaller forward positions next to the bigs. This team is loaded.

North Carolina:
Kennedy Meeks
versus
Brice Johnson
. Meeks is much more of a physical specimen. He can be immovable at times in the low post. Johnson has more finesse to his game. The two of them can play together, but they could take turns sharing the focal point in the middle, depending on the opponent or the flow of the game. They have a chance to both average double figures and nearly seven or eight rebounds per game. If that happens, the Tar Heels could be a force in the ACC and beyond.

Texas:
Cameron Ridley
versus
Myles Turner
. Ridley made himself into a real threat last season. He was nearly a double-double player (he averaged 11.2 points and 8.2 rebounds per game). Ridley could progress even more next season. The Longhorns nabbed a late-recruiting season coup in Turner. Turner is too good, too effective to not be on the court. The key for coach Rick Barnes will be whether he can play the two as a tandem. If he can't, then who is on the court when the game matters most is more of a competition than the overall minutes. Regardless, both players can help Texas take a huge leap next season.

Gonzaga:
Przemek Karnowski
versus
Kyle Wiltjer
. Karnowski is the traditional post player. He can be difficult to move around, and his offensive game continues to develop. Wiltjer can certainly play with Karnowski because he's slender and is much more of a face-up player. The two can be an effective high-low tandem, but if there is a need to see who is on the floor late, then that is also, like with Texas, where the real competition begins. Wiltjer had a year to get stronger, but he won't turn out like
Kelly Olynyk
. Wiltjer is still going to be skill first, strength last. Karnowski needs to be the opposite for the Zags to find the right balance.

LSU :
Jarell Martin
,
Jordan Mickey
versus
Elbert Robinson
. The Tigers have a chance to make the NCAA tournament because of the decisions of Martin and Mickey. The two were effective double-figure scorers last season playing with
Johnny O'Bryant III
. Now, toss in the newcomer Robinson. He'll need to find minutes as well. Coach Johnny Jones can't play all three together, but the minutes will need to be divided up. These are good problems to have, and with 15 fouls to expend among the three, the Tigers are one of the few teams in the SEC with the numbers to hang with Kentucky's frontcourt.

Arizona:
Kaleb Tarczewski
versus
Brandon Ashley
. Tarczewski was one of the most improved players in the country last season. Give him another summer and he should really be a regular to score in the post. But he has to command the ball even more next season without the presence of
Aaron Gordon
. Ashley is coming off a foot injury that sidelined him for the second half of the Pac-12 season. He will play with Tarczewski, but if there is any question who would demand more minutes, then that can be a highly competitive battle in practice. It might be moot for coach Sean Miller since the two can coexist, but dividing up the frontcourt minutes will still be an interesting decision for the staff.
April, 24, 2014
Apr 24
9:50
AM ET
It's been a busy month for the top high school seniors in America.

First, it was the McDonald's All American Game, then the Nike Hoop Summit and finally last week's Jordan Brand Classic.

While these all-star-style games are mostly about show and only rarely about competition, they also serve as the first real opportunity that NBA scouts have to evaluate these prospects.

With the vast majority of the NBA's 30 franchises having a consistent presence at all three events (both games and practices), we spoke to front-office personnel from five different teams to see their first impressions of the top players in the ESPN 100.

Here's what they had to say:


April, 17, 2014
Apr 17
10:00
AM ET
The Jordan Brand Classic features the best talent high school basketball has to offer. Here are some of the most intriguing potential matchups in this terrific annual event, which airs Friday night at 7 p.m. ET on ESPN2.
Tyus Jones (Duke) vs. Tyler Ulis (Kentucky)
This matchup will be the battle for who can get the most assists. Both are terrific pass-first point guards who can play fast or slow. They can make open shots in order to keep the defense honest, and their decision-making on the offensive end of the floor is excellent, as well. Ulis can apply more heat on the ball defensively, while Jones is stronger and the better finisher in heavy traffic. It will be interesting to see who makes the fewest mistakes with the ball and who will win the assist category as Jones and Ulis push each other on both ends of the floor.
To continue reading this article you must be an Insider
April, 15, 2014
Apr 15
10:00
AM ET
By
RecruitingNation staff
| ESPN Insider
The
ESPN 100
has just three remaining uncommitted prospects, and the competition remains furious for their services.
Myles Turner
, No. 2 in the ESPN 100, leads the way, followed by No. 94
Elijah Stewart
, who was released from his letter of intent to Loyola Marymount following the firing of coach Max Good, and No. 98
Josh Cunningham
.
Devonte Graham
wasn't ESPN 100 eligible by virtue of his post-graduate status, but there is no denying he is a wanted man after receiving his release from Appalachian State. He will take official visits to Kansas and North Carolina State while also considering Virginia, Virginia Tech, Xavier and Providence.
So where are these remaining four prospects headed? No one knows for sure just yet, but here are a few educated guesses:
To continue reading this article you must be an Insider
April, 9, 2014
Apr 9
10:00
AM ET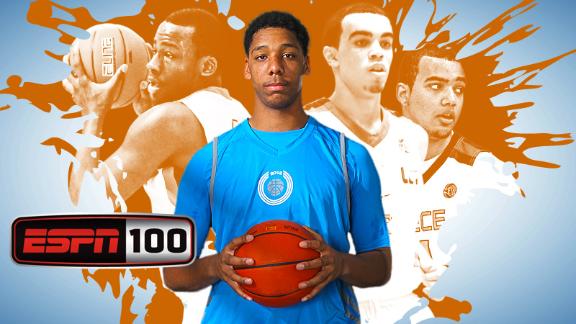 Scouting the country each year I'll not only see players' skills, athletic ability and basketball IQ, but I'll also witness their character along the way. This year's class might not have any NBA superstars at the moment, but it will have difference-makers for the college game, both in the short term as well as those who will make a difference in time because of their character traits combined with their talent.
As we wrap up the Class of 2014, here are my five final thoughts:
1. The land of the giants
[+] Enlarge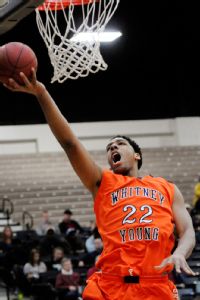 AP Photo/The Sun News/Charles SlateDuke center signee Jahlil Okafor finishes the season as the nation's top prospect.
When you look at the top of a class it's so rare to have three post players sitting in the top three spots.
Jahlil Okafor
, who held the top spot for much of the season, finishes the season as the nation's top prospect. The center from Chicago is a dominating presence in the paint. A Duke signee, Okafor led his high school team to a 4A state championship and was named the McDonalds Morgan Wooten player of the year.
He is special because he scores down low in the paint with his back to the basket. His combination of size, touch and fluid footwork is too much for one defender and when he doesn't score, he attracts a double-team, which gives his team an advantage. He operates with patience and poise and when he reads the double-team he will accurately pass out to the open man. Defensively he guards the post and is improving at ball-screen defense as he is a barrier to the rim for his team.
Myles Turner
, the nation's No. 2 prospect, challenged hard for the No. 1 position and shows a big upside. Turner, who is uncommitted, is an elite shot-blocker and scores baskets with a soft touch and range.
Cliff Alexander
is going to be an absolute difference-maker for Kansas with his ability to rebound, finish and block shots, and he does it in an aggressive manner.
Trey Lyles
is one of the most skilled post players in this group and his future teammate at Kentucky
Karl Towns Jr.
has franchise skill-to-size ratio.
Thomas Welsh
is a fundamentally sound big who will anchor the middle at UCLA.
To continue reading this article you must be an Insider
April, 3, 2014
Apr 3
12:24
AM ET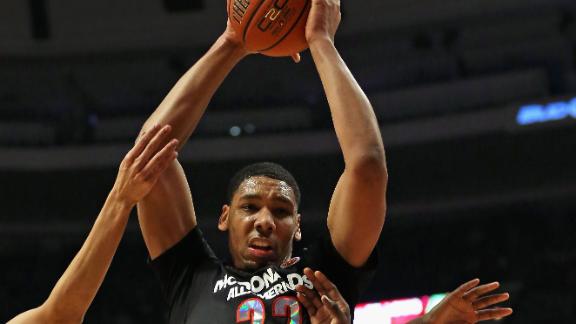 CHICAGO -- Wednesday marked the 37th Annual McDonald's All-American game featuring the top high school boys basketball players in the country. The game took place at the United Center, home of the NBA's Chicago Bulls.
Best low-post player: Jahlil Okafor
To continue reading this article you must be an Insider
April, 1, 2014
Apr 1
10:00
AM ET
CHICAGO -- The prestigious
McDonald's All American Game
annually brings together the best talent in high school basketball, all on one stage. Here are a few game matchups to watch for this year's star-studded event, which can be seen live on ESPN Wednesday night at 9:30 ET.
To continue reading this article you must be an Insider
March, 11, 2014
Mar 11
10:00
AM ET
By
ESPN.com staff
| ESPN Insider
There are a lot of different ways to win in college basketball, but one of the few staples of virtually all good teams is a commitment to defense.
Ironically, good individual defenders never seem to get the credit they deserve, and that can even be true with the recruiting process. Standouts on offense are not only easier to recognize, they're also easier to quantify with basic statistics. There's also a popular sentiment among college coaches that they can teach a player to defend if they have the proper physical tools.
The reality though is that college-ready defenders are perhaps even harder to find than college-ready scorers or playmakers, which should in turn make them that much more valuable. With that in mind, we went back to our team of RecruitingNation experts and asked them to pinpoint the defensive game-changers in this year's ESPN 100:
To continue reading this article you must be an Insider
January, 29, 2014
Jan 29
7:00
PM ET
The McDonald's All American Game is annually the nation's most prestigious high school basketball all-star event. The rosters have been announced for the Class of 2014, and this year's game will once again be played at the United Center in Chicago and will air live on ESPN on April 2.
Here's a deeper look at five exciting matchups we'll see in the 2014 contest.
1. The battle of the giants
Jahlil Okafor (West) vs. Myles Turner (East)
To continue reading this article you must be an Insider
January, 28, 2014
Jan 28
12:30
PM ET
Want to ask ESPN RecruitingNation national recruiting director Paul Biancardi a question about basketball recruiting? Tweet it to @PaulBiancardi using the hashtag #AskCoachB.
@PaulBiancardi #AskCoachB Who are the top 3 Undeclared seniors? Where do you see them ending up?

— Paul Aspiras (@paul_aspiras) January 28, 2014
The top three undeclared seniors are
Myles Turner
,
Rashad Vaughn
and
JaQuan Lyle
.
Turner has only made one official visit so far and that has been to Ohio State. He and his family will be traveling to Oklahoma State this weekend for his second official visit. Other schools on his list are Duke, Kansas, Kentucky and Texas.
Vaughn has been to UNLV and Iowa State on official visits and is planning to visit North Carolina on Feb. 15. He still has Kansas and Kentucky on his list.
Lyle is visiting Oregon this weekend and told me recently that he plans to visit Oklahoma State and Kansas.
Turner will be a real difference maker in college. Vaughn will come in and be a scoring machine, and Lyle will be able to use his instincts and strength to help a team right away. I believe they will all take their time with this decision. Some say Turner is waiting to see who departs for the NBA. It's way too early to make a prediction on any of these recruiting races.
December, 30, 2013
12/30/13
9:00
AM ET
Basketball is played right through the new year, so as we look back and plan ahead let's take a look halfway through this season at which 2014 prospects have performed best in 14 categories.
1. Best in the low post: Jahlil Okafor (Chicago/Whitney Young), Duke signee
If a team needs to score a basket in the lower half of the painted area, Okafor is the one to pass it to. He has secure hands to catch almost any pass and a soft touch with superb footwork. He also has a wide mobile body to seal his man and the patience to throw the ball back out and re-post his 7-foot-3 wing span.
To continue reading this article you must be an Insider
December, 16, 2013
12/16/13
9:00
AM ET
The high school basketball season is in full swing and some of the nation's best are playing well and leading their teams. Others are extremely productive and having great individual performances.
There's also a small group of players who are good now with a chance of big-time growth.
As top-ranked players, they have talent. It's what they do with it that will determine their ultimate success. To reach their potential, it's a matter of two important questions. Does the prospect have the necessary tools to perform at a high level? And will he do what is necessary from an effort standpoint to be great?
Let's take a look at players who are playing at a high level now and who have plenty of potential to be even better down the road.
ESPN No. 2 Myles Turner
The Texas native has a combination of size and skill, and he's a shot blocker with mobility. Turner was one block shy of a triple double, as he had 29 points, 15 rebounds and nine blocks last week against Homeschool Christian.
To continue reading this article you must be an Insider
October, 24, 2013
10/24/13
9:00
AM ET
We've been talking a lot about class rankings in recent weeks. North Carolina and Ohio State have both been in the lead at various points this year while strong finishes from Duke, Kentucky, Kansas and even Baylor could put them all in contention for the top spot before it's all said and done.
With that in mind, we took a speculative look at those six programs, breaking down what they would likely need to get to the top of the mountain.

Duke
Probability of finishing on top:
45 percent
ESPN 100 SG
Grayson Allen
might be the only prospect currently in Mike Krzyzewski's incoming recruiting class, but the Blue Devils have as many top prospects left on the board as anyone. They'll host
Jahlil Okafor
and
Tyus Jones
this weekend, along with
Justise Winslow
, leading to speculation that they could be on the verge of a massive package deal. They also remain in the mix for
Myles Turner
,
Kevon Looney
and
Reid Travis
. If they land Okafor and Jones, they'll have a good chance of finishing in front. If they can add Winslow, Looney or Travis, their chances will be even better. If they could ever put Okafor, Turner and Jones in the same group, the rest of the class would be gravy. Suddenly we'd be talking about one of the best recruiting classes ever.
To continue reading this article you must be an Insider