North Carolina Tar Heels:

On Holiday
November, 25, 2013
11/25/13
12:45
PM ET
On Holiday is College Basketball Nation's daily rundown of holiday tournaments, complete with previews, recaps, and links to all of the early-season tournament info you'll need in the weeks to come. Please excuse any typos. It is hard to type while whimpering in the fetal position.
IN REVIEW
TOP STORY: Big Sunday in North Carolina
. "The No. 24 Tar Heels haven't
had a November win
that warranted such an impromptu celebration in a while. Just one week ago, the Heels' loss to Belmont was just their second nonconference home defeat during Williams' tenure. The program also has been carrying an albatross of uncertainty while awaiting a final judgment on the status of
P.J. Hairston
and
Leslie McDonald
. That's why a little celebration was in order. Carolina needed this one. 'Since June 5 it's not been a very pleasant time
it's been probably the most difficult time I've had as a coach,' Williams said. 'It has not been fun in any way, shape or form. But today, out on that court watching their excitement, bumping with them, then going in the locker room celebrating, that's what I coach for.'" —
C.L. Brown, on UNC's immensely impressive 93-84 win over No. 3 Louisville in the Hall of Fame Tip-Off title game Saturday, ESPN.com
[+] Enlarge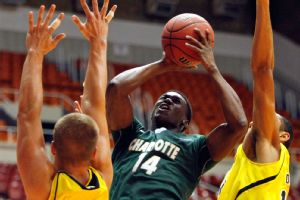 AP Photo/Ricardo ArduengoTerrence Williams and Charlotte prevailed in Puerto Rico and made a big early season statement.
But that's not all
North Carolina could get happy about Sunday. The state at large had an excellent Sunday, as Charlotte -- which entered the weekend unmentioned and unloved --
toppled Michigan 63-61
in the
Puerto Rico Tip-Off
finale. The 49ers shot 46.2 percent from 3 to Michigan's 21.7 percent, and won the thanks to a last-second, game-deciding
Terrence Williams
layup, but those key facts tell only a small portion of the story. Charlotte looked crisp and cohesive throughout, quicker to loose balls and more aggressive around the rim. Michigan looked uncharacteristically disjointed.
Alan Major's team has improved every year but has never really sniffed the NCAA tournament. This season, Major's fourth, may be the breakthrough. At the very least, Charlotte is the early favorite to win Conference USA -- and their presence might make that woebegone league a bit better than anyone expected.
(Also,
Duke survived Vermont 91-90 at home
. That wasn't a holiday thing, and Coach K certainly wasn't feeling celebratory afterward, but it fits nicely into the North Carolina theme, so hey, there you go.)
Georgetown was feeling the love, too
: After a loss to Northeastern in the first round in Puerto Rico last week, Georgetown fans were understandably sent on a downward spiral of rage and ennui. (Fortunately for the rest of us, they're really funny when they're mad.) But the Hoyas got one back Sunday,
beating VCU 84-80
. The win was made even more impressive in that it was played at the Rams' pace: The two teams exchanged 80 possessions, which, given the Hoyas' typical stylistic sloth, felt like even more-- though there were 61 fouls called, which is a lot even in 80 possessions. Georgetown scored 55 points in the second half;
Markel Starks
,
D'Vauntes Smith-Rivera
and
Joshua Smith
scored 23, 26 and 17, respectively.
On the flip side: Is it time to start worrying about VCU?
The Rams are now 4-2 with losses to unranked Florida State and Georgetown; their only win in Bayamon was a not particularly impressive 73-67 strugglefest against Long Beach State. The most disconcerting thing: VCU is forcing plenty of their trademark turnovers -- 28 percent of opponents' possessions, to be exact -- but shooting so poorly on the offensive end, and giving so much away at the foul line, that it almost doesn't matter.
Elsewhere
: New Mexico rebounded from a Charleston Classic semifinal loss to UMass, while UMass held on against local favorite Clemson to a) move to 6-0 on the season, b) win the Charleston title and c) further convince yours truly that Derrick Kellogg's speedy group has finally cracked the code.
UP NEXT
[+] Enlarge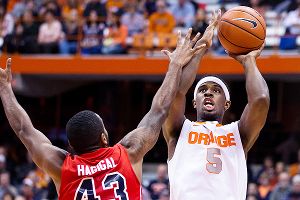 Brett Carlsen/Getty ImagesC.J. Fair and Syracuse head into the Maui Invitational as a clear favorite..
THE MAUI INVITATIONAL (bracket). Perhaps you've heard of it?
The marquee early-season tournament -- the one that started the whole trend in the early 1980s -- commences its 30th competition on Monday. The anniversary field might not be the
murderer's row that was 2011
, but
it is a typically solid, even sneaky-good field
.
Syracuse is the favorite, but hardly a guarantee.
Ahead of Arkansas-California's 3 p.m. tip, the Orange look like the strongest team in the field -- with a caveat. Yes, Syracuse is 4-0, but its wins -- particularly its most recent, a diabolically ugly 56-50 survival of St. Francis at the Carrier Dome -- have showcased the team's struggles to replace guards Michael Carter-Williams and Brandon Triche. Syracuse has shot just 31.8 percent from 3 thus far, and 46.6 percent inside the arc; even worse, the Orange have made just 61.7 percent from the free throw line. What's worse? The Orange, who almost always defy the convention that opponents' 3-point range can be a function of defensive excellence (and never more so than in 2012-13) have allowed foes to knock down 37 percent from beyond the arc -- 259th in the country. There is plenty of good news: Syracuse's zone is still dominant on the low block, senior forward
C.J. Fair
is probably the best player in the tournament, and if freshman point guard
Tyler Ennis
comes into his own in Maui, what Sean Keely said:
Look out
.
Other Maui notes:
The sneaky-good reference above has a lot to do with California, which has played top-15 defense -- and blown out a better-than-you-think Denver team, 77-50 -- to date.
The Baylor Bears are officially the "non-Syracuse team most likely to win the tournament, at least on paper," because "at least on paper" must always be applied to Scott Drew's talented but occasionally incoherent group. Brady Heslip is still making 3s at a crazy rate (51.9 percent), Cory Jefferson has stepped into the lead usage role, and Isaiah Austin, despite offensive struggles, is blocking 15.9 percent of opponents' shots. But the Bears are losing too many possessions (20.8) to turnovers, and gaining almost none of them back; their 12.9 percent opponent turnover percentage is one of the lowest in the country.
Oh, by the way, Gonzaga is in this field too. The Zags haven't lost a step on offense without 2012-13 star forward Kelly Olynyk; Gonzaga has averaged 1.18 points per trip to date. That's thanks in large to part to Kevin Pangos, who has made 14 of his 32 3s, good for a 136.9 offensive rating on 25.2-percent usage in four games to date.
Finally, the Maui also offers a good look at the Gophers of Minnesota, who have been one of the most paper-impressive teams of November. Four of Minnesota's five wins have come at home against inferior opponents, sure, but all of them have been convincing, and their 74-59 Nov. 16 win at Richmond was a legitimately quality victory. New coach Richard Pitino doesn't quite have Andre Hollins and Austin Hollins playing as fast as he advertised in the offseason, but Minnesota has picked up the pace significantly, and at any speed, those two key holdovers from the Tubby Smith era have played brilliantly thus far. Monday's opening round matchup against Syracuse should be fascinating.
Elsewhere
: Providence and Maryland both handled business (against La Salle and Northern Iowa, respectively) to get to Monday's 10 p.m. ET Paradise Jam final; it was nice to have at least one tournament this weekend that made any semblance of sense … the CBE Classic and Legends Classic, both two-day, four-team championship round events, tip off as well. Enjoy.
November, 24, 2013
11/24/13
12:00
PM ET
On Holiday is College Basketball Nation's daily rundown of the holiday tournaments, complete with previews, recaps and links to all of the early-season tournament info you'll need in the weeks to come.
IN REVIEW
College football was more exciting Saturday, and I don't love college football: "On a slow Saturday for college basketball, there just weren't many gems. North Carolina struggled with Richmond but eventually pulled away to win 82-72. Louisville dismissed Fairfield 71-57, which set up a marquee Sunday matchup against the Tar Heels. Winless Tulsa gave Creighton a scare. But overall, it certainly wasn't the game's sexiest Saturday. But there were a variety of under-the-radar and mid-major programs that offered some impressive individual efforts." -- Myron Medcalf, ESPN.com
[+] Enlarge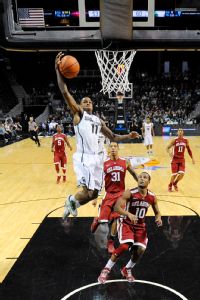 Maddie Meyer/Getty ImagesKeith Appling's career-high 27 points and clutch plays helped Michigan State overcome Oklahoma.
COACHES V. CANCER: Michigan State "got punched, almost KO'd' by Oklahoma; wins Coaches' title 87-76 anyway: "The Sooners came out with something to prove. The Spartans did not. They won anyway, 87-76, despite falling behind by double digits midway through the first half in the finals of the Coaches vs. Cancer Classic. And despite building an 18-point second-half lead, only to fritter it away with turnovers and missed free throws. … They might not have were it not for Keith Appling, whose 3-pointer in the first half ignited a run for MSU and whose three-point play in the second half stopped a run for Oklahoma. That driving layup and ensuing free throw began a run of seven consecutive points for Appling. He finished with 27 -- a career high. He scored many of them down the stretch, driving into the lane, tossing acrobatic floaters." --Shawn Windsor, Detroit Free Press
UP NEXT
**HALL OF FAME TIP-OFF: No. 3 Louisville, No. 24 North Carolina survive in semis, give us marquee title game -- with one caveat: The tournament organizers at the Mohegan Sun in Uncasville, CT could rest easy Saturday afternoon. Defending national champs Louisville handled Fairfield 71-57 and continued to look impressive. North Carolina, on the other hand, was a little bit shakier against Richmond -- a more solid, healthier Richmond than in recent seasons, but Richmond all the same.
Strong recap from C.L.: "Erase for a minute everything you're used to assuming about a North Carolina basketball team under coach Roy Williams. The No. 24 Tar Heels are not that team." -- C.L. Brown, ESPN.com.
They're also not last season's team, in one very obvious way. The Tar Heels still won't have last season's leading scorer, P.J. Hairston, against Louisville on Sunday, though that is not exactly new news. What is new, now, is the open question of whether Hairston might ever come back for North Carolina. To put it simply, if Williams and UNC are worried that Hairston's summertime dalliances with convicted felon Haydn "Fats" Thomas (and the rental cars Hairston was driving that led back to Thomas's payment info and addresses at rental vendors), then he can't play. If he did, and the NCAA ruled against Hairston or UNC in the future, every game it played in the time being -- whether Richmond or Louisville or wherever -- would be in dispute.
For the first time since Hairston was pulled over, North Carolina officials -- down to Williams himself -- aren't evincing optimism about his return.
— Will Williams ever coach Hairston again? "I think I will," he said. "There's no doubt in my mind that I think I will. But I don't know." To understand the weight of that quote you need to understand that Williams would never rule anything out until it's officially ruled out. He's forever positive and hopeful. But it should be noted that even the Hall of Fame coach has changed his position since the preseason. Back then, Williams admittedly seemed unsure about how much time Hairston might miss, but he never publicly entertained the idea that Hairston would not play for the Tar Heels again. Now, Williams acknowledges he just doesn't know, and that public uncertainty can be interpreted as serious doubt. … But the prevailing theory among sources around the North Carolina program is that Hairston might not have been completely honest with investigators about the extent of his use of rental cars connected to a convicted felon named Haydn 'Fats' Thomas that were seemingly occupied by Hairston in violation of NCAA bylaws." -- Gary Parrish, CBS
[+] Enlarge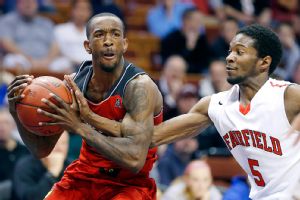 AP Photo/Michael DwyerAfter beating Fairfield, Russ Smith and the Cards face North Carolina on Sunday afternoon.
Oh, also: Louisville: It would be a shame to allow the ongoing North Carolina psychodrama to blot out Russ Smith and the Cardinals. Sure, Saturday represents Louisville's first test against quality competition -- besides Fairfield, the Cardinals have treated College of Charleston, Hofstra, Cornell and Hartford like a bored housecat with a mouse. But two things stand out about Louisville thus far:
Much like VCU, it is still turning people over at the same rate as in 2012-13 despite the new handchecking rules.
The Cardinals are not turning the ball over themselves. They finished No. 77 in turnover rate in 2012-13 -- coughing up on 18.3 percent of their trips. This season, with Chris Jones installed in place of departed senior Peyton Siva, the Cardinals are turning it over just 11.3 percent of the time.
The small sample size disclaimer applies here. Actually, make that a double disclaimer -- small sample size and poor competition. Jones is unlikely to make things look this easy all season. But the juco transfer junior hasn't missed a step in his first season in Louisville, Smith is even better offensively thus far, and the Cardinals are rolling as a result.
Paradise Jam (updated bracket) semifinal rounds: Seeds mostly held on Day 1 of the Paradise Jam, which I think we should abbreviate to "PJ," even if support among my colleagues remains tepid. Northern Iowa and Maryland square off at 7 p.m. ET, and La Salle gets Providence at 9:30 ET in the winners' half of the bracket.
Puerto Rico Tip-Off (updated bracket): Will Act III be as crazy as the first two? Georgetown-VCU sounds like a pretty solid November nonconference game, right? By March, it might be possible for both teams to have fully shaken off the reasons why they played on the final day of Puerto Rico; they may have improved so much by then we'll look back on today's consolation -- yes, consolation -- in a whole different context.
Today, however, it's a product of the unpredictability of the week in Puerto Rico -- where Florida State manhandled VCU and probably should have beaten Michigan late; where Northeastern made Georgetown look like a fellow CAA team, and not a very good one; where Charlotte, a seemingly nondescript program at this point, finds itself in today's 6:30 p.m. ET title game in Bayamon, PR.
With all due respect to the 49ers, the Florida State game may well have hardened Michigan in crucial ways. The Wolverines were physically dominated and just straight-up played badly and still, thanks to some timely, late heroics, managed to dispatch Leonard Hamilton's team and progress to the title game. It's hard to see them losing to Charlotte now.
Then again, we've been wrong before -- which is how we got Georgetown and VCU in the 2 p.m. ET consolation game in the first place. VCU was the favorite coming in to Puerto Rico, but FSU did a number on the Rams in Round 1, and Long Beach State kept that crucial turnover number startlingly low in VCU's win in Round 2. Georgetown has not protected the ball particularly well to date. The Hoyas turn it over on 18.0 percent of their offensive possessions. And their one clear personnel advantage -- massive center Josh Smith -- may not be able to stay on the court in an uptempo affair.
And that's it: There are other tournaments out there, but only so much space on the Internet to discuss them. Enjoy the Sunday of hoops everyone.