North Carolina Tar Heels:

Rasheed Wallace
November, 27, 2013
11/27/13
11:00
AM ET
It seems like just yesterday when North Carolina guard
Marcus Paige
expressed an uneasiness over making the transition to shooting guard. He was so conditioned to creating for others that the mentality to look for his own shots didn't come naturally.
[+] Enlarge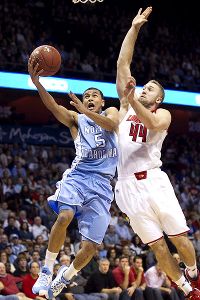 Zumapress/Icon SMI
Five games later, Paige has thrust himself into a different stratosphere -- both nationally and among Tar Heels historically.
He's currently leading the team with 22.4 ppg. That's comparable to others mentioned as national-player-of-the-year candidates like Oklahoma State's
Marcus Smart
(21.0), Louisville's
Russ Smith
(20.2), Kentucky's
Julius Randle
(19.8), Arizona State's
Jahii Carson
(23.0) and Duke's
Jabari Parker
(23.0).
That also would put Paige on a short list of Tar Heels who have averaged 20 or more points a game since 1970:
Phil Ford (20.8 ppg in 1977-78); Michael Jordan (20.0 ppg in 1982-83); Brad Daugherty (20.2 ppg in 1985-86); Hubert Davis (21.4 ppg in 1991-92); Antawn Jamison (22.2 ppg in 1997-98); Joseph Forte (20.9 ppg in 2000-01), Rashad McCants (20.0 ppg 2003-04) and Tyler Hansbrough (22.6 ppg in 2007-08 and 20.7 in 2008-09).
Paige is shooting 53.1 percent from 3-point range, which ranked him 29th nationally as of Monday's NCAA statistics. The next closest national-player-of-the-year candidate is Creighton's
Doug McDermott
, who is tied for 38th at 50 percent.
If Paige continues at this rate, he would shatter the Carolina single-season record of 49.6 percent set by Dante Calabria in 1994-95. The difference is Calabria was a spot-up shooter who benefited from Jerry Stackhouse and Rasheed Wallace drawing most of the defense's attention.
Paige is shooting 93.1 percent from the free-throw line, which was tied for 40th nationally entering the week. Again, he'd set a new school standard if he keeps it up, besting Shammond Williams' single-season record of 91.1 percent during the 1997-98 season.
Paige is also shooting 53.1 percent from the field, which for a guard is great, but it doesn't compare with post players.
Of course some, if not all, of Paige's current averages will decrease once teams make him the focal point of their game plans.
But the irony here is if Carolina had its full roster, and Paige were strictly playing point guard, he wouldn't be posting anywhere near his scoring average. That's what makes his transformation in such a short amount of time so impressive.
Paige has played at such a high level that it would be hard to argue that he's not the best player on the team even when
P.J. Hairston
came back.
October, 4, 2012
10/04/12
9:30
AM ET
December, 13, 2011
12/13/11
5:00
PM ET
CHAPEL HILL, N.C. -- When North Carolina beat Wisconsin two weeks ago, a plethora of basketball alums -- most of them members of Final Four or national championship teams -- could be spotted behind the Tar Heels' bench at the Smith Center, cheering and grinning and yelling occasional instructions.
Rasheed Wallace, Antawn Jamison, Shammond Williams, Raymond Felton, Marvin Williams and Tyler Hansbrough (among others) weren't there just to support the program, as usual -- but this particular Tar Heel team. Because in their own way, they helped forge it.
"I told the guys: 'Since I've been here, since 2001, I've never seen so many pro guys back during the summer, to actually play against, to actually learn from,''' said Jackie Manuel, one of those pros who was back during the summer, and was recently named UNC's assistant strength and conditioning coach. "I told them: 'This is an opportunity of a lifetime, you don't know when you're going to have a chance to play against this many of the [veteran] guys, again. Use it to your advantage.'
[+] Enlarge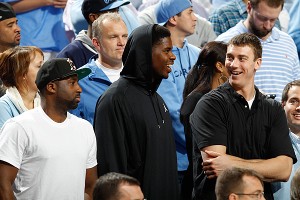 Bob Donnan/US PresswireFormer Tar Heels (L to R) Raymond Felton, Marvin Williams and Tyler Hansbrough watched as North Carolina defeated Wisconsin last month.
"And they did."
Indeed, many of the current Tar Heels credit their predecessors -- which also included Brendan Haywood, Brandan Wright, Bobby Frasor, Jawad Williams, Marcus Ginyard, Vince Carter, Deon Thompson, Sean May and Wayne Ellington -- for pushing the strides they've made individually, and as a team.
Big men
Tyler Zeller
and
John Henson
got to consistently compete against the likes of Haywood, May and Wallace in pick-up games, "and they gave us size and length that we had never seen before,'' Zeller said. "It almost seemed easy when they weren't guarding you, after you'd gone against them for a week."
Point guard
Kendall Marshall
got to match up with Felton -- the speedy ballhandler whose school record for assists in a game (18) he is now trying to break.
"He basically showed us on a daily basis why he's an NBA all-star,'' Marshall said. "That showed me on a daily basis what I needed to improve … and I respect him a lot for coming back, and still playing with us, and helping me out."
It's not that vets haven't come back before. Since head coach Roy Williams returned to Chapel Hill in 2003, there always seems to be alums at the Smith Center during the summers, either working out in the weight room with strength and conditioning coach Jonas Sahratian or popping in to visit with old teammates and assistant coaches.
But the NBA lockout brought more Tar Heels home than in recent memory -- players looking to keep in shape, to compete with other locked-out pros, to hand down a bit of their knowledge to the next potential Final Four squad.
And it made for some lively pick-up games.
"We had some battles,'' forward
Harrison Barnes
said. "We used to play seven-game series. Our starting five against Raymond, Brendan Haywood, Rasheed, Marvin, Jackie -- we'd have some pretty intense pick-up games. It would be Game 7, some hard fouls, some words were exchanged … because no one at Carolina ever wants to lose."
And if a foul was actually called?
"They'd just point up to the banners,'' Barnes said, referring NCAA commemorations hanging in the Smith Center rafters. "It was intense."
But always educational.
Zeller said he was able to pick up some tips and tricks that the pros learned in the pros. Henson said he still gets text messages from Wallace after almost every game. Freshman
James Michael McAdoo
said he met a role model in Marvin Williams -- a forward, like him, who didn't mind coming off the bench if it was the best thing for the team.
Marshall said the vets also talked to current players about how to deal with expectations and pressure, both on and off the court.
"When you're guarding these pro players, day in and day out, you're going to learn a few things and take some beatings,'' Marshall said. "But ultimately, it's going to make you better."
And the team.
And the program.
Manuel said he remembers a time, under former coach Matt Doherty, when there weren't many alumni around. The willingness of so many pros to return during the summers now, he said, is a testament to the re-bonded Tar Heel family.
The current UNC players recognize that as well. And appreciate it.
"I think that's what gives Carolina that special edge," Barnes said. "A lot of former players come back because they want to be here, they want to help out.
"... If you see all the banners and stuff, you always have that enigma of, 'Oh, I wonder what it was like.' But to have their actual experiences, to have somebody [that is around] go through what you want to go through, there's nothing like it."
Robbi Pickeral can be reached at bylinerp@gmail.com. Twitter: @bylinerp.
November, 7, 2011
11/07/11
4:45
PM ET
CHAPEL HILL, N.C. -- Duke or Carolina – who are the true Kings of Tobacco Road? Bragging rights will be on the line (and court) later this month.

Former Duke stars Kyrie Irving, Nolan Smith, Corey Maggette, Chris Duhon, and Elton Brand -- as well as former UNC standouts Jerry Stackhouse, Rasheed Wallace, Antawn Jamison, Vince Carter, and Raymond Felton – have agreed to play in the "Kings of Tobacco Road" game November 17, at 8:30 p.m. at N.C. Central University.

Matthew Moyer, head of basketball operations for Lexington, Ky.-based Bleid Sports, confirmed this afternoon that the event will take place. His firm, which puts on high school men's and women's basketball showcases, has partnered with Jerry Stackhouse's summer NC Pro Am event.

All proceeds will go to a yet-to-be determined charity. Ticket prices also have not yet been determined.

Rosters are liquid; and of course, more NBA talent than usual may be available to play in the game, if the NBA lockout has not been settled by then.

Last month, Duke's Smith and former UNC All-America Tyler Hansbrough were on the "Villians" roster in the Kentucky Villians vs. Big Blue All-Stars event. That game was put on by a different company, but with a similiar goal of entertaining fans while raising money for charity.