North Carolina Tar Heels:

Reggie Johnson
March, 17, 2013
3/17/13
5:39
PM ET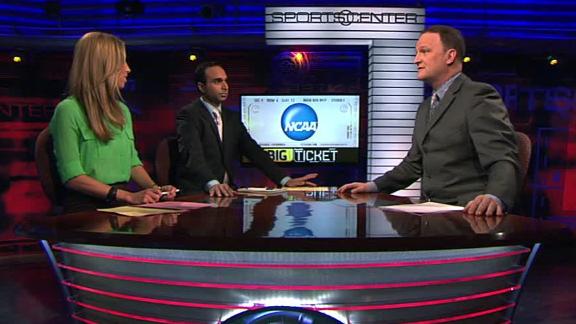 GREENSBORO, N.C. -- Miami point guard
Shane Larkin
said he plans to sleep with his piece of the ACC Tournament net for at least two weeks.
The Hurricanes' frenetic, fantastic, down-to-the-final-minutes championship win over North Carolina on Sunday was worth savoring -- in more ways than one.
Not only did the
87-77 victory
secure UM's first ACC tournament title, another accomplishment on an ever-growing list this season, it quieted any doubts that this team should be one to be reckoned with in the NCAA tournament.
"A lot of people were saying we peaked earlier in the year, when we won 14 in a row, and then we lost three of our last five," said Larkin, named the tournament MVP after his career-high 28-point performance. "A lot of people said ... we weren't going to have any chance in the NCAA tournament. But we just stayed together as a group; we stayed together and believed in ourselves and got three wins in a row against three very good teams."
Indeed, this didn't look like a team that was petering out. Just the opposite, in fact.
[+] Enlarge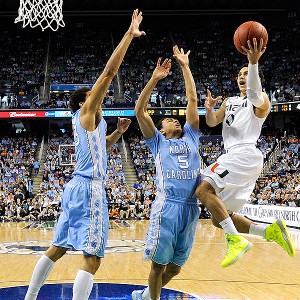 John David Mercer/USA TODAY SportsShane Larkin scored 28 points and had seven assists in Miami's win over North Carolina.
Pushed by a much-improved Tar Heels squad that also had plenty of doubters not too long ago, both teams put together a first half that was "as high a level of basketball as I've seen all year long,'' Canes coach Jim Larranaga said. They combined for 15 3-pointers, only eight turnovers, 13 lead changes and six ties. And that was just in the first 20 minutes.
In one blink-and-you'll-miss-it flurry, UNC sophomore
P.J. Hairston
(28 points) buried three 3-pointers in a row -- interlaced with 3s from Larkin and teammate
Trey McKinney Jones
(career-high 20 points). It was a stretch of entertaining one-upsmanship, and although Miami led 44-41 at halftime, you knew -- you hoped -- there would be more.
And there was.
"It was anyone's ballgame with five minutes to go," said Tar Heels coach Roy Williams, emotional about the loss and about how far his guard-led team has come since it lost to the Hurricanes by 26 points in early February.
Actually, UNC led Sunday 67-64 with 7:44 to go, until Hurricanes big man
Julian Gamble
scored five points in an 8-0 run. The Tar Heels, as they had all game, tried to shoot back, and point guard
Marcus Paige
cut it to a 74-71 with 3:37 to go.
But then Larkin drove by Strickland for a layup, and McKinney Jones (career-high 20 points) hit yet another 3 to make it 79-71 with 1:36 left.
It was the Hurricanes' largest lead to that point in the game, and finally the cushion was enough.
"Congratulations to Miami, it will continue to be a phenomenal year for them," said Williams, whose team is now 8-3 since it last lost to Miami. "They won the regular season, and then validated it by winning a conference tournament as well and it's just a great, great year. ... They're really a big-time basketball team."
As the horn sounded and a multi-colored blizzard of confetti poured out of the rafters, Miami guard
Durand Scott
leapt into Gamble's arms, then embraced big man
Reggie Johnson
. It was an emotional moment for three seniors who had seen Tobacco Road teams dominate the ACC -- until Florida State won the tournament last season.
And until now.
"My first meeting at George Mason in 1997, I asked our players, 'Who are the best programs in the country, and who should be our role model?' and they mentioned Duke and Carolina," said Larranaga, who took the Patriots to the Final Four in 2006. "And when I got to Miami, I asked, 'Who are the best teams and programs in the league?' and they said Duke and North Carolina. So what we've tried to do is use them as a shining example of what can be done."
And Saturday's net-cutting was another step.
McKinney Jones said he would likely give his sliver of the twine to his mom. Larranaga said his would be on display in his office. Scott said he would add his cutting to an ever-growing collection of memorabilia.
Meanwhile, expect Larkin to leave some room under his pillow for another piece of net. That's the goal entering the NCAA tournament.
"This was a big weekend for us,'' Larkin said. "This gives us a lot of momentum going forward."
February, 22, 2013
2/22/13
7:30
AM ET
With roughly two weeks left in the regular season, the race is on for a top-four seed (and first-day bye) in the ACC tournament. In the meantime, here are this week's rankings based on myriad factors, including how teams have performed lately and the foes they've faced:
1. Miami.
Clemson and Virginia both tested the Canes, but a late 3-pointer from
Kenny Kadji
at the Tigers and
Reggie Johnson
's tiebreaking layup versus the Cavs kept Miami undefeated in league play. The 13-0 record marks the hottest league start since Duke went 16-0 en route to the conference title in 1998-99.
2. Duke.
The Devils bounced back from a close loss at Maryland with a blowout win at Virginia Tech as
Mason Plumlee
followed a four-point, three-rebound performance with a double-double Thursday night. Coach Mike Krzyzewski is now third on the career list for victories at one school (877), behind Dean Smith and Jim Boeheim.
3. NC State.
The Wolfpack got a big boost by inserting 6-foot-8
T.J. Warren
into the starting lineup this week. Not only did he turn in a 31-point, 13-rebound performance against FSU, but the team grabbed a season-best 45 boards. The Pack have won three straight, and it will be interesting to see whether they stay big against the Tar Heels this weekend.
4. North Carolina.
Coach Roy Williams continues to start a smaller lineup with sophomore
P.J. Hairston
at the 4, and the Tar Heels continue to look faster and more aggressive with another scorer on the floor. Forward
James Michael McAdoo
's double-double at Georgia Tech, after he scored in single digits for three straight games, is a good sign, too.
5. Virginia.
The Cavs are in the midst of a tough stretch. They lost at both UNC and No. 2 Miami in the past week, play a Georgia Tech team this weekend that beat them earlier this month, and then face another test in No. 6 Duke coming up next week. Junior
Joe Harris
, though, continues to be on a tear, averaging 22.4 points over his past five games.
6. Maryland.
Another (way) up and (way) down week for the Terps, who upset the then-second-ranked Blue Devils at home, only to lose on the road to a focused Boston College team that had won just three previous ACC games. After posting an impressive 19-point, nine-rebound game against Mason Plumlee, Maryland big man
Alex Len
managed only four points against the Eagles.
7. Florida State.
For all his last-second shots this season, Seminoles point guard
Michael Snaer
hadn't managed 20 points against an ACC foe this year, until this week. He followed a 21-point game in a win against Boston College with 20 during a loss at NC State. Next up: a trip to Virginia Tech.
8. Clemson.
Another week, another home heartbreaker for the Tigers, who lost to Miami on Kadji's 3 after losing to NC State on a
Scott Wood
3 on Feb. 10. At least they won a close one in the middle at Georgia Tech.
Devin Booker
posted his fifth double-double of the season in Clemson's latest loss.
9. Georgia Tech.
Freshman
Robert Carter Jr.
hit two free throws in the final 10 seconds to beat Wake Forest before Georgia Tech lost by double figures to the Tar Heels. The Yellow Jackets were an ouch-worthy 4-for-11 from the free throw line in their latest game and remain the worst foul-shooting team in the league (63.2 percent).
10. Boston College.
And to build on the above note about the importance of free throws: The Eagles hit 16 straight down the stretch to protect the lead in their win over Maryland. Freshman
Olivier Hanlan
scored a career-high 26 points in that game, and BC has won two of its past three.
11. Wake Forest.
A three-point loss at Boston College followed by a one-point loss to Georgia Tech? The bottom tier of the ACC likes to make things interesting, at least. The Deacs are second in the league in steals, sandwiched between UNC and Duke, and
C.J. Harris
continues to lead the team with 14.8 points per game.
12. Virginia Tech.
Erick Green
is still really good, adding a 22-point game against Duke to his nation-leading scoring average. His team still is struggling, though, losing nine in a row -- including two in overtime and Thursday's loss to the Blue Devils.
February, 8, 2013
2/08/13
5:20
PM ET
CHAPEL HILL, N.C. -- Besides the return of big man
Reggie Johnson
, who had been sidelined because of a broken thumb, there's not a whole lot different about Miami since North Carolina lost to the Hurricanes on Jan. 10, Tar Heels coach Roy Williams said.


Well, except this: "They're better now than we were when we played them," he said. "I hope we're a heck of a lot better than when we played them the last time."
The Heels will need to be.
The experienced, deep Hurricanes were still a team in question (How good are they? Can they win without Johnson?) when they dropped the Tar Heels to 0-2 in league play at the Smith Center last month. Since that victory -- UM's third straight at the time -- they have kept on winning, have risen to No. 8 in the Associated Press poll and are the only undefeated team in ACC play.
The Tar Heels, meanwhile, have won six of seven, but even UNC's players concede they haven't quite put all the pieces together yet. Now is the time, though, because after playing at the Hurricanes, they face another top-10 team on the road: No. 4 Duke, on Wednesday.
Williams said there will be "100 things" that will determine his team's success, including "our focus, our sense of urgency, whether the ball goes in the basket. The way I look at it, it's nine games like that. I can't remember what the third game is after that, but that's a game I'll worry about. I don't remember what the fourth game is, but I know it's a game I'm going to worry about. Because we're in the second half of conference play, and it's a pretty good league."
A few things to watch during the game, which tips off at 2 p.m. ET Saturday:
JOHNSON
The 6-foot-10, 292-pound Miami center hasn't returned to his double-double form since he returned from his injury earlier than expected five games ago. But he has made an impact. He scored the winning tip-in to keep his team's streak alive at then-No. 19 NC State last weekend and has been a load to handle on the boards, averaging 7.6 rebounds since he came back.
Former Tar Heels forward Tyler Zeller, now a rookie in the NBA, used to say Johnson was the most exhausting player to face in the ACC because of his size and aggression. Thus, he'll be a load for UNC's thinner front line, especially because Miami has so many other big guys (
Julian Gamble
,
Kenny Kadji
) to deal with.
JAMES MICHAEL MCADOO
UNC's sophomore forward has been more aggressive and confident of late, and it has showed up on the stat sheet. He has posted four double-doubles in his past four games and averaged 21.5 points in his past two outings, and Williams wants it to continue.
"I think he is getting better," Williams said. "He's concentrating even better on his shot. … Most of James Michael's [problems] are when you go too fast, shoot it too quickly. When you make shots, that makes you a little more enthused on the other end, also."
ETC.
The Tar Heels have beaten the Hurricanes five straight times in Miami. One key: UNC has outrebounded UM in all five games. Entering Saturday, the Tar Heels lead the league in offensive rebounds at 13 per game. … Only two teams other than North Carolina and Duke have started ACC play 9-0: Virginia in 1980-81 and NC State in 1972-73. … Miami is the eighth-most experienced team in the country, according to KenPom.com. The Hurricanes average 2.39 years of experience per player. They're the most experienced squad among "power six" teams. … In case you missed it,
the Tar Heels will be wearing special Nike Hyper Elite road uniforms
featuring the interlocking N-C on the front of their jerseys.
ESPN Stats & Information contributed to this report.
January, 11, 2013
1/11/13
7:30
AM ET
Can we just call places 3 through 6 a tie? After the first week of ACC play, it's harder than ever to judge the middle of the league pack. But here are this week's ACC Power Rankings, based on myriad factors, including how teams have performed lately and the foes they've faced:

1. Duke.
Still undefeated, still No. 1 after victories over Wake Forest and Clemson. But the Blue Devils will be tested Saturday not only by an NC State team that has won nine in a row, but by playing without senior forward
Ryan Kelly
, who is out indefinitely with an injured right foot.
2. NC State.
The Wolfpack was picked to win the ACC during the preseason by both media and coaches, and Saturday's home game against the Blue Devils will show if it has what it takes to make that push.
Lorenzo Brown
, with 21 points against Georgia Tech, was the latest to lead his team in scoring. Who's next?
3. Miami.
The Hurricanes have never started 2-0 in the ACC -- until now. Senior forward
Kenny Kadji
had 18 points to help break his team's 10-game losing streak to UNC on Thursday night, and sixth-year senior
Julian Gamble
(14 points against the Tar Heels) has been filling in admirably for the injured
Reggie Johnson
.
4. Maryland.
Dez Wells
had a bad shooting night,
Alex Len
at times got pushed around, and the Terps saw their 13-game winning streak snapped via a 12-point comeback by Florida State. Whether they bounce back at Miami this weekend could be a good indication of whether they're a top-tier ACC team.
5. Florida State.
Junior forward
Okaro White
has come up big during the Seminoles' 2-0 ACC start, averaging 17.5 points and 8 rebounds. And so has his team. "We sat down, the juniors and seniors, with the young guys and told them we have to stop talking, and we have to show them how hard you have to play,'' White told Tallahassee.com.
6. Virginia.
Beat North Carolina, only to lose to Wake Forest? It might be that sort of topsy-turvy season for the Cavs, who should get more and more of a boost as senior guard
Jontel Evans
, who returned from injury last weekend, gets more and more back in sync with the offense.
7. North Carolina.
Coach Roy Williams said his team was stressed in the locker room after losing to Miami on Thursday night. And for good reason: This marks only the fourth time UNC has ever started 0-2 in the ACC, and things won't get any easier at Florida State on Saturday.
8. Boston College.
The Eagles have now won six of their past seven games, and gave NC State a scare in their only loss since Dec. 4. Sophomore
Lonnie Jackson
has posted double digit points for three consecutive games, including a season-high 22 at Virginia Tech.
9. Georgia Tech.
The Yellow Jackets had a six-game winning streak broken by the start of ACC play. Tech is shooting just 35.2 percent during its 0-2 conference start.
10. Wake Forest.
Despite shooting just 26 percent after halftime and failing to score a field goal for the final 10 minutes, the Deacs survived Virginia's comeback attempt. "We stayed with it," Wake Forest forward
Travis McKie
told The Times-News. "I think early in the season we would've put our head down and had a pity party. But we stayed with it and continued to fight hard." Wake has now won five of seven games.
11. Clemson.
The Tigers scored only 10 points, on just 12 percent shooting, in the first half at Duke on Wednesday. Yikes.
Devin Booker
has posted two double-doubles in Clemson's 0-2 ACC start.
12. Virginia Tech.
Already-undermanned Tech was down to six scholarship players during its midweek loss to BC, thanks to illness and injury.
Erick Green
continues to lead the nation in scoring, but the Hokies have now lost four in a row, and are 0-2 in ACC play.
January, 10, 2013
1/10/13
11:43
PM ET
CHAPEL HILL, N.C. -- There were times, early in Miami forward
Julian Gamble
's left-knee rehab, when he wondered if he'd ever be able to even hop without pain -- much less battle for back-to-back offensive rebounds and score on a putback to jump-start a game-winning run at North Carolina.
Breaking the Tar Heels' 10-game winning streak over the Hurricanes?
Starting 2-0 in the ACC for the first time since his team joined the league?
Winning at the Smith Center, just a short drive from his Durham, N.C., hometown,
68-59
?
Yes, Gamble said Thursday night, returning for a sixth year was certainly worth it.
"Of course this is what you hope for," Gamble said after notching 14 points, 6 rebounds and 3 blocks en route to pushing UNC to 0-2 in the ACC. "But not just for me -- for my team."
Indeed, the victory marked the road-tested Hurricanes' third consecutive victory -- perhaps extra impressive, considering all have been without center(piece)
Reggie Johnson
.
When the 6-foot-10, 292-pound center fractured his thumb last month before the Hurricanes' trip to the Diamond Head Classic, there was worry about how the guard-heavy team would adapt without his defensive presence in the lane and double-double (12.6 points, 10.1 rebounds) average per game.
Going 1-2 in the Diamond Head Classic didn't exactly help curb that concern.
But Gamble's play of late just might.
[+] Enlarge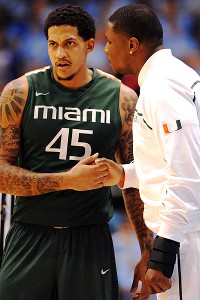 Cal Sport Media via AP ImagesWith center Reggie Johnson, right, out, Julian Gamble has stepped up of late, averaging 9 points and 7 boards his past three games.
In wins against La Salle and at Georgia Tech, he averaged 6.5 points and 7.5 rebounds.
And making his sixth straight start in place of Johnson on Thursday, the 6-10, 250-pounder was even more aggressive from the outset. With Miami trailing 32-30 at the break, the team went to him early and often in the second half, wanting to establish an offensive presence in the lane to help open things up for its outside shooters. And he delivered, scoring six of Miami's first seven points to make it 37-all.
"I feel like we're a bigger, stronger, more physical, more experienced team than them [the Tar Heels] at this point, so we just had to take advantage of it," said Gamble, who got plenty of advice and words of encouragement from Johnson on the bench.
His biggest advantage-taking moment came with 4 minutes, 31 seconds left.
After UNC reserve
P.J. Hairston
buried a 3-pointer to cut Miami's lead to 56-55, Gamble grabbed teammate
Durand Scott
's missed 3-pointer. Playing with four fouls but backing off not one bit, he missed the putback, but grabbed another rebound in traffic and made that one to put his team up by three points -- and jump-start an 8-0 run.
"I was just thinking 'Be relentless, outwork them,'" Gamble said. "That's what one of our coaches always tells us: No matter what happens, no matter what adversity happens, just keep working."
It was that mentality, too, Gamble said, that helped get him through the frustrations of rehabilitation after tearing the anterior cruciate ligament in his left knee during a workout in August 2011. There were days, he remembered, when medication barely numbed the pain. He didn't know until February whether the NCAA would allow him to play for a rare sixth year (he redshirted his freshman season, in 2007-08). And he actually had to undergo a second knee surgery, he said, when a lesion was found on the back of his ACL graft.
"It was another blow to my mindset, and my confidence: Was I ever going to play like I could before?" he said.
But he is.
Maybe, at times, even better.
"Reggie Johnson is a tremendous inside presence, he's a low-post player, back to the basket, and he helps us a lot of different ways," Miami coach Jim Larranaga said. "But Julian has done an admirable job, stepping up and defending, rebounding and scoring. Tonight, he had double figures, 7-for-10 from the field, 14 points and 6 rebounds. That's an outstanding performance, especially in a game like this where every possession counts."
Senior
Kenny Kadji
led the Canes with 18 points and 9 rebounds Thursday.
James Michael McAdoo
led UNC with 14 points and 6 rebounds, although Miami held the Tar Heels to just one field goal (that Hairston 3-pointer) during a crucial 7-minute span in the second half.
"[This win] gives us great confidence, but at the same time, we know we have 16 more games left," Gamble said. "It's the beginning of the conference season, and we don't have a lot of time to dwell on this victory."
Although after all that rehab, Gamble -- who had more than a dozen friends and family members in the crowd -- admits he does appreciate each "W" a bit more.
"To be playing basketball at the highest level, and to be playing at places like Duke and Carolina, and just having the opportunity to play in front of family and friends, it's just a great feeling," he said.
January, 10, 2013
1/10/13
11:00
AM ET
CHAPEL HILL, N.C. -- Monday, the day after North Carolina lost its ACC season opener at Virginia, coach Roy Williams asked his assistants to identify the team's main problem.
They all gave different answers. And the same thing happened when the question was posed to the players.
Thus, it isn't surprising that Williams himself offered a lengthy list of improvements he wants his 10-4 squad to make, preferably beginning with Thursday night's game against Miami.
"I'd like to have more inside scoring," he said, "and I'd like to get to the free throw line more. I'd like our big guys to turn it over less. I'd like us to be more consistent shooting the ball from the outside. I'd like to handle dribble penetration better."
Miami, which has been tested by one of the nation's toughest schedules, will in turn test all of those things. The 10-3 Hurricanes will continue to be without big man
Reggie Johnson
, who is expected to miss another six weeks with a broken thumb. But they are now 3-2 since he was injured, and are trying to replace his double-double average with a plethora of players.
"The whole key for us offensively is to just have good balance, to have different guys step up and make shots for us," Miami coach Jim Larranaga said. "The other day against Georgia Tech it was
Rion Brown
. Often is the case [that]
Shane Larkin
and
Durand Scott
are our leading scorers. But
Kenny Kadji
can really shoot the ball well, and in
Julian Gamble
's first start against Hawaii he scored 16 points and had 13 rebounds. …
Trey McKinney Jones
is shooting the ball very well. He's been in double figures most games.
"If we can get four or five guys in double figures, then I think we're in good shape offensively."
A few things to watch as the Hurricanes attempt to start league play 2-0 for the first time since joining the ACC, while the Tar Heels try to avoid 0-2:
Miami's backcourt
Scott, a senior, and Larkin, a sophomore, are combining for 27.5 points, 8.5 rebounds and 6.6 points per game. And they rarely take (or give defenses) a breather, averaging more than 35 minutes apiece per game.
"They're a difficult team to guard because Durand can take the ball to the basket so well and get fouled, get to the rim and he can make some 3s, too," Williams said. "We tried to go under the screen down there a couple of years ago and he makes three 3s in the first eight minutes.
"Larkin is really, really playing well. He's really aggressive and he's doing a good job. That gives them two point guards that have good assist-error ratios."
Reggie Bullock
UNC's junior wing has had the hot hand of late, averaging 17.7 points over his past four outings. During Sunday's loss at Virginia, Bullock,
who is trying to take on more of a leadership role
, scored 22 points on nine shots, and Williams wants his team to do a better job of recognizing who has the hot hand -- and work on getting him the ball more often.
"What we've got to do is be aware; it's not an equal opportunity," Williams
said during his Monday night radio show
. "Some guys can shoot better than others, some guys can score better than others, and we've got to figure that crap out. And we're pushing them in a direction to figure it out, but still, they've got to do it out on the court. We need to work harder, when someone's as hot as Reggie was [Sunday] night, we need to work harder to get him shots."
And Bullock's shooting may be counted on even more Thursday, if reserve guard
Leslie McDonald
-- who is averaging 8.4 points and 17.9 minutes, and is making 40.2 percent of his 3-pointers -- can't play.
McDonald "tweaked" his right knee, and did not practice Tuesday or Wednesday
.
Defense
The Hurricanes rank 18th nationally in field goal percentage defense, holding foes to 37.4 percent shooting per game.
The Tar Heels have held opponents to 39 percent shooting for the season, but have often been inconsistent and failed to communicate on defense when it mattered most. At Virginia, for instance, UNC allowed the Cavs to shoot 52 percent in the second half.
March, 5, 2012
3/05/12
8:00
AM ET
One more set of power rankings to end the ACC regular season, as we prepare for this week's ACC tournament in Atlanta:

1. North Carolina:
Wasn't this where the Tar Heels were predicted to finish all along? It just seemed like a roller coaster ride to get here -- including Saturday's 18-point regular-season-title-securing blowout at Duke. Anyone see that one coming?
2. Duke:
Three league losses on its home court this season -- including its largest letdown at home to the Tar Heels since 1989? Not exactly the way the Blue Devils wanted to end the regular season. The ACC tournament always matters to Duke, though, so stay tuned.
3. Florida State:
It seemed rather fitting that the Seminoles ended the regular season with a win against Clemson -- the team they lost to by 20 back in January. My, how far FSU has come.
4. Virginia:
It took overtime against Maryland, but the Cavs clinched the No. 4 seed -- and first-day bye -- in this week's ACC tournament.
Mike Scott
's career-high 35 points in his regular-season finale also gave voters one last fantastic performance to think about in the ACC POY race. (Votes were due at 11 p.m. ET Sunday).
5. Miami:
Going 1-1 last week -- even with center
Reggie Johnson
's eligibility restored -- didn't help Miami's NCAA tournament chances. It's going to have to better inflate its postseason bubble with a strong ACC tournament.
6. N.C. State:
After closing out the season with two straight wins (and nine overall in ACC play), Wolfpack coach Mark Gottfried said, according to The (Raleigh) News & Observer, that he thinks there are six league teams that should be in the NCAA tournament -- and his is one of them. State will try to better push its case as the fifth seed in the conference tournament.
7. Clemson:
The Tigers allowed 49 points in the first half on Sunday to Florida State, a team known a whole lot more for defense than points. Clemson finished the season by winning three of four games, but Brad Brownell couldn't have been happy after his team gave up the most points in a half since he's been coach.
8. Maryland:
The Terps closed out the regular season by losing four of its last five games – including Sunday, when they rallied from a dozen-point deficit but lost to Virginia in overtime.
9. Virginia Tech:
Once again, the Hokies won't make the NCAA tournament -- barring winning four games in four days to take an automatic bid via an ACC tournament title, that is. They closed out the season with four straight losses, though, so that scenario doesn't seem likely.
10. Georgia Tech:
The Jackets won two of their last three games, both at Philips Arena -- which has been their home away from home during this ACC season as their normal building is under construction. Will that give them any sort of advantage when the league tournament is played there this week?
11. Wake Forest:
The Deacons rallied to put a scare into Duke before losing to the Devils last week, then lost their season finale at Georgia Tech.
C.J. Harris
remains fourth in the league in scoring at 16.8 per game.
12. Boston College
: The freshmen on this young team take one more step toward being sophomores as they prepare for their first ACC tournament. With four league wins under their belts, do they have any other surprises in store?
Follow Robbi Pickeral on Twitter at @bylinerp.
February, 27, 2012
2/27/12
8:00
AM ET
One key player was ruled ineligible. At least one key team likely saw its at-large NCAA tournament hopes snuffed. And once again, it looks as if the ACC regular-season title will come down to the final Duke-North Carolina game, next weekend. This week's attempt at the ACC power rankings:

1. Duke:
The Blue Devils -- who already lost to Miami and Florida State at home this season -- had another close call at Cameron Indoor Stadium, needing overtime to beat Virginia Tech. But their win at FSU last week keeps them right where they want to be: In the hunt for No. 1 seeds in both the NCAA and ACC tournament.
2. North Carolina:
ESPN bracketologist Joe Lunardi said last week the Tar Heels would need to win out to make a case for a
top seed in the NCAA tournament
. That push continues this week with their home finale against Maryland, and trip to Duke. When will point guard
Kendall Marshall
set the new school record for assists in a season? Stay tuned.
3. Florida State:
It was a rough week for the Seminoles. First they lost at home to Duke -- and likely lost their chance at the regular-season ACC title. Then they fell at Miami on Sunday. They'll try to stop their slide at Virginia, next.
4. Virginia:
Saturday's loss to the Tar Heels stung -- not just because of the physical game, the myriad of whistles against the Cavs' big guys, or forward
Mike Scott
's ACC-season-low six points. But also because Virginia has now lost three of its last five games.
5. Miami:
The Hurricanes beat Florida State on Sunday without center
Reggie Johnson
, who was declared ineligible by the school after an investigation revealed members of his family took impermissible travel benefits from the former coaching staff. The victory enhanced the Hurricanes' NCAA résumé, but they're going to need Johnson back to make a stronger push (and case).
6. Clemson:
Andre Young
's game-winning 3-pointer in overtime against N.C. State means the Tigers are now 2-8 in games decided by five or fewer points this season. They have now won four out of five games, and pushed themselves to .500 in league play. But that still hasn't made much of a dent in their triple-digit RPI.
7. N.C. State:
Saturday's overtime loss at Clemson was just the latest defeat to rip at the Wolfpack's NCAA tournament hopes. An ACC tournament title would give them an automatic bid, but that now is probably they only way they get there after four-straight defeats (Duke, Florida State, UNC and the Tigers).
8. Maryland:
After beating Miami at home last week, the Terps went on the road against a struggling Georgia Tech team, and promptly lost. Coach Mark Turgeon summed up his team's performance at Georgia Tech this way: "I thought we were growing up, but today showed we haven't grown up all the way," he said, according to The Washington Post."We weren't ready to play."
9. Virginia Tech:
"One or two more rolls went different this year, we'd be a whole different team," senior guard
Dorenzo Hudson
told The Washington Post on Saturday after the Hokies lost another close one -- this time at Duke. 'Nuf said.
10. Wake Forest:
After Duke comes to town on Tuesday, the Deacs will finish the regular season with a winnable game in Atlanta. After prevailing in two of their last three, they'd like to continue on a high note.
11. Georgia Tech:
After managing only 37 points in a loss to Clemson, the Yellow Jackets beat Maryland by a bucket. "We're real happy,'' guard
Mfon Udofia
said, according to The Associated Press. "I always tell the guys, 'Something's going to shake.'"
12. Boston College
: The Eagles have now lost 10 of 11 games. The positive: All of those freshmen will be sophomores next season.
Follow Robbi Pickeral on Twitter at @bylinerp.
February, 15, 2012
2/15/12
10:04
PM ET
CORAL GABLES, Fla. -- A quick look at seventh-ranked North Carolina's
73-64 win
over Miami at BankUnited Center on Wednesday:
What it means
: The win pushed UNC's ACC record to 9-2 and kept it in the hunt for the regular-season conference title (although it could use some help from Duke and Florida State, as all three began the day tied atop the conference standings). The loss thwarted Miami's attempt to beat both Duke and UNC in the same season for the first time, as the Hurricanes are still trying to play -- and prove -- their way into the NCAA tournament.


How it happened
: Miami connected on 42.4 percent of its shots -- including five 3-pointers -- in the first half, and few looked overly tough.
UNC, meanwhile, got zero first-half points from its backcourt, as
Tyler Zeller
,
John Henson
,
Harrison Barnes
and reserve
James Michael McAdoo
accounted for all its points. It was a stark contrast from the last time these two teams played -- last month, when UNC starting guards
Kendall Marshall
and
Dexter Strickland
combined for 26 points. This time, Marshall and fellow starter
Reggie Bullock
were 0-for-7 at the break.
The Tar Heels trailed 35-30 at halftime, then 44-36 early in the second half when Barnes started doing that make-big-shots-at-key-times thing he does. He followed a 3-pointer with a three-point play to cut his team's deficit to 44-42, teammate
P.J. Hairston
added two free throws to tie it, and then, after two foul shots from UM's
Reggie Johnson
, Barnes buried another 3 to give the Tar Heels a 47-46 lead with 13:06 left.
UNC led by as much as 63-55 on a Bullock 3-pointer, and the Hurricanes tried to keep it interesting when
Rion Brown
countered with a 3 to cut UNC's lead to five points. But Bullock's second 3 of the game gave the Tar Heels a 67-58 cushion with 1:31 left.
Barnes led the Tar Heels with 23 points, Henson added 14 and Bullock finished with 10.
Durand Scott
led the Hurricanes with 15 points.
Number to know
: The Tar Heels entered the game 6-for-26 from 3-point land in the month of February; they were 5-for-18 on Wednesday.
Injury report
: Hairston, who sat out UNC's win over Virginia on Saturday because of a sore left foot, went through the shootaround Wednesday morning, dressed for the game and checked in with 9:39 left in the first half. He finished with four points.
What's next
: The Tar Heels will play Clemson on Saturday at the Smith Center. The Hurricanes play Wake Forest, also on Saturday.
Follow Robbi Pickeral on Twitter at @bylinerp.
February, 14, 2012
2/14/12
4:45
PM ET
It's fair to say, Miami's
Reggie Johnson
agreed, that he was still working his way back into playing shape the last time the Hurricanes matched up with North Carolina.
But this time around?
[+] Enlarge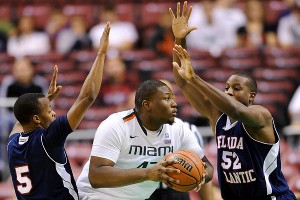 Steve Mitchell/US PresswireMiami's Reggie Johnson had 12 points and nine rebounds during a loss at UNC last month.
"I feel good, personally," said Johnson, whose Hurricanes will face the seventh-ranked Tar Heels in Coral Gables, Fla., on Wednesday night. "And the team, we're real together, we're real confident … and we're real excited to play this game."
Since losing at UNC 73-56 on Jan. 10, the Hurricanes have won six of eight outings -- including a five-game streak of victories that included a 78-74 overtime upset at Duke. It has rejuvenated their NCAA tournament hopes under first-year coach Jim Larranaga, and thrilled Johnson, who missed the first nine games of the season because of knee surgery.
"We've beaten some good teams, some teams with some really good RPIs,'' Johnson said in a phone interview Tuesday. "And I really think we've got a good chance to make it [to the tournament]. … Students around here, they're more excited about basketball than I've ever seen them."
A big reason for that is Johnson, a 6-foot-10, 284-pound big man who averaged 15 ppg during Miami's five game winning streak (and logged 35 minutes during that Duke game, scoring five crucial points in overtime). He'll be looking to bounce back after a four-point performance in Miami's loss at Florida State last weekend.
His wide body "makes him just exhausting to play,'' UNC forward
Tyler Zeller
said earlier this season.
And it also makes him a tough defensive matchup, UNC forward
John Henson
-- last season's ACC Defensive Player of the Year -- said during the preseason.
"I do take that as a compliment, coming from great players,'' said Johnson, who recorded 12 points and nine rebounds during the loss at UNC last month.
Indeed, Johnson, who hails from Winston-Salem, N.C., knows many of the Tar Heels fairly well. He's worked at UNC coach Roy Williams' summer camp in the past, and might do so in the future.
"In the offseason, we can all be friendly … nothing wrong with that,'' Johnson said. "But during games, we're all out there battling to win."
Johnson's return to playing shape helps that goal.
"If you look at
Kenny Kadji's
numbers, Kenny was averaging about seven points a game before Reggie became available,'' Larranaga told reporters during his team's winning streak, according to The Palm Beach post. "He's been averaging about 17 points a game since Reggie's been back.
Durand Scott
was shooting in the low 30s (field goal percentage) when Reggie was not available, and he's been shooting about 50 percent or above playing with Reggie.
Perhaps most important: The team was 5-4 without Johnson, and is now 10-4 with him.
"So he's impacted his team and his teammates in a major way in so many different categories,'' Larranaga said.
Follow Robbi Pickeral on Twitter at @bylinerp.
February, 13, 2012
2/13/12
8:00
AM ET
Remember earlier this season, when it looked as if the ACC might not get more than three NCAA tournament bids? As many as six are making cases now. My attempt at this week's power rankings:

1. Duke:
The Blue Devils beat Maryland over the weekend, but it will be their come-from-behind victory at UNC last Wednesday -- rallying from 10 points down in the final 2:38 -- that will linger in the annals of the rivalry. Freshman
Austin Rivers
, who scored 29 points (including the game-winning 3-pointer) in the victory, averaged 20 points, three rebounds and three assists for the week -- and shot his team back to the top of these ratings.
2. North Carolina:
The Tar Heels -- led by forward
Tyler Zeller
-- bounced back from the Duke loss with a double-digit win over Virginia. But they've hit only 2 of their last 16 3-pointers, and will be thin on the bench until freshman
P.J. Hairston
(who missed Saturday's win with a sore foot) returns.
3. Florida State:
Forward
Bernard James
scored 15 of his 18 points in the second half to help beat Miami, but the loss at Boston College still has to burn. Guard
Michael Snaer
, who had been shooting better than 57 percent from 3-point range during his team's seven-game winning streak, managed only one 3 against the Eagles, proving again how key he is to this team's success.
4. Virginia:
Coach Tony Bennett was able to rest star forward
Mike Scott
for a long second half stretch in a blowout victory versus Wake Forest. But Bennett would have liked to have been able to use him more at UNC, where the senior was in foul trouble early and his team lost by double figures. The Cavs have now lost two of their last three games, both to top-25 foes.
5. N.C. State:
Junior
Scott Wood
finally missed a free throw, ending his ACC-record streak at 66. But the Wolfpack won their only game last week, at Georgia Tech, avenging their loss to the Yellow Jackets last month. They have now won three in a row.
6. Miami:
Reggie Johnson
was held to four points as FSU halted the Hurricanes' winning streak at five. Next up: a home rematch with UNC.
7. Maryland:
With players moving in and out of the lineup early on, first-year coach Mark Turgeon said it felt like he had coached several different seasons in one. Add another. Starting point guard
Pe'Shon Howard
, who missed the first nine games with a stress fracture in his foot, is now out for the rest of the season with a torn ACL in his knee. The Terps lost their first game without him (again), at Duke.
8. Clemson:
After losing three straight games by four points or fewer, the Tigers got a 20-point blowout win at Wake Forest. Forward
Milton Jennings
, back from his second suspension of the season, scored 15 points.
9. Virginia Tech:
The Hokies followed a sloppy 16-point loss at Miami with a one-point win over Boston College on Sunday when
Dorian Finney-Smith
hit a tip-in with 1.8 seconds left.
10. Boston College
: Eagles coach Steve Donahue said he doesn't put great emphasis on wins and losses, considering the youth of his team. But he had to be thrilled with the Eagles' upset win over Florida State, its third ACC victory of the season. They followed that with a one-point loss to Virginia Tech.
11. Georgia Tech:
Tech made only 1 of 17 3-point attempts against N.C. State, and has now lost seven of its past eight games.
12. Wake Forest:
The Deacons' 20-point loss to Clemson marked their sixth straight defeat. "Obviously we are embarrassed," coach Jeff Bzdelik said, according to the Winston-Salem Journal. "Obviously we have some limitations on this team… . What we have to do is be stronger and tougher to stay the course with great energy in those areas we can control -- like defending and rebounding and running the court."
Follow Robbi Pickeral on Twitter at @bylinerp.
January, 2, 2012
1/02/12
9:00
AM ET
Would the fourth-best team in the league please raise your collective hand? Or at least, your level of play? One more attempt to rank the ACC squads before conference competition (finally) begins this week. As always, feel free to debate or weigh in:
1. North Carolina:
Blowout wins against Elon and Monmouth certainly don't help UNC's RPI. But then again, its ACC opener against Boston College next weekend probably won't, either. Forward
John Henson
continues to average a double-double, plus a league-leading 3.2 blocks per game.
2. Duke:
After a 40-point win over Western Michigan followed by a 30-point win over Penn, the Devils have one more road game, at Temple on Wednesday, to gear up for league play. Rookie
Austin Rivers
continues to lead the team -- and the ACC Rookie of the Year race -- with 15.4 ppg.
3. Virginia:
The Cavs, who have won 10 straight, should get a good pre-conference test Monday night in Baton Rouge, where they will face an LSU team that has won seven straight by holding its competition to fewer than 60 points per game.
4. Virginia Tech:
The Hokies have now beaten Oklahoma State twice this season, the second time snapping the Cowboys' 37-game home winning streak against nonconference foes. Tech has won six in a row entering its ACC opener at Wake Forest on Saturday.
5. N.C. State:
Scoring depth could be an issue come conference play, but the Wolfpack's starting five sure knows how to keep things interesting.
Lorenzo Brown
leads the league in steals at 2.1 per game.
6. Florida State:
For the second time this season, the Seminoles lost to an Ivy League school -- this time to Princeton in triple overtime. With six scholarship seniors on the team, FSU should be showing more motivation.
7. Miami:
The Hurricanes haven't lost since forward
Reggie Johnson
returned, and trail only Duke in the league in 3-pointers made per game (8.3).
Malcolm Grant
is the team's leader (and the ACC co-leader) in that category with 2.8 made per game.
8. Maryland:
Center
Alex Len
made an alley-oop dunk in the opening minute of his college debut against Albany -- a sign of good things to come for the Terps? He's averaging 13.5 points and 7.5 rebounds after two games, and Maryland has won six straight.
9. Wake Forest:
Led by
C.J. Harris
(18.7 ppg), the Deacs have already won nine games this season, one more than 2010-11. They've won three straight, but are still tied for last in the league in rebounding margin, at minus-5 per game.
10. Georgia Tech:
The Jackets' latest loss was at Fordham, which only managed one victory in the Atlantic 10 last season. One problem: Tech can't seem to hold on to the ball, as its turnover margin is minus-3 per game.
11. Clemson:
Forwards
Milton Jennings
and
Devin Booker
are combining to average only about three more points per game than last season. More was expected.
12. Boston College:
The Eagles managed only three points (all on free throws) in the final 8:32 of their loss to Harvard, and the point-less stretches are becoming a theme for young BC. Boston College is averaging a league-worst 61 ppg.
Robbi Pickeral can be reached at bylinerp@gmail.com. Twitter: @bylinerp.