North Carolina Tar Heels:

Rick Pitino
November, 24, 2013
11/24/13
11:39
PM ET
UNCASVILLE, Conn. -- North Carolina coach Roy Williams walked over to his players huddled in a circle and jumping after their
93-84 win over No. 3 Louisville
on Sunday at Mohegan Sun Arena.
The 63-year-old cracked a smile and disappeared into the blue, his shiny white top barely visible, as he hopped, jumped and bumped into the players. Williams broke from the pack and gave a salute to the fans before the team ran off, hauling the Hall of Fame Tip-Off championship trophy to their locker room.
The No. 24 Tar Heels haven't had a November win that warranted such an impromptu celebration in a while. Just one week ago, the Heels' loss to Belmont was just their second nonconference home defeat during Williams' tenure. The program has also been carrying an albatross of uncertainty while awaiting a final judgment on the status of
P.J. Hairston
and
Leslie McDonald
.
That's why a little celebration was in order. Carolina needed this one.
"Since June 5
th
it's not been a very pleasant time -- it's been probably the most difficult time I've had as a coach," Williams said. "It has not been fun in every way, shape or form. But today, out on that court watching their excitement, bumping with them, then going in the locker room celebrating, that's what I coach for."
Former coach and mentor Dean Smith used to tell Williams he could accept whatever the outcome was as long as the team played well. Williams said he would respond by saying he'd rather win, but he changed his thinking before the Louisville game because of the many growing pains UNC has endured so far.
[+] Enlarge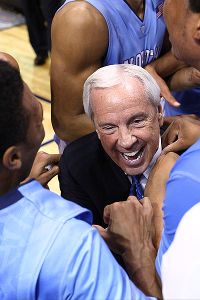 Mark L. Baer/USA TODAY SportsRoy Williams celebrates with the Tar Heels after they knocked off No. 3 Louisville.
"I would have accepted it today. I wasn't worried about result," Williams said. "I really wasn't. I wasn't thinking win, win, win, I was thinking we had to play better. If we played better we'd have a chance."
The Cardinals proved to be the right opponent at the right time for the Heels.
The Cards aren't as deep in the front court and the Heels seem to never run out of big bodies. The Cards preferred to play a faster pace that the Heels enjoy, too. The Cards preferred to press, and the Heels have been playing two points guards in the lineup with
Nate Britt
and
Marcus Paige
.
"We tried to outscore them and I think they were better at it," Louisville coach Rick Pitino said.
Paige said the Heels were "best in that environment" of playing a fast tempo and it certainly helped that they had a good example to learn from in Ty Lawson. Williams showed his team clips from the Heels' 2008 Elite Eight win over Louisville in which they consistently beat the press by quickly getting Lawson an outlet pass.
Carolina, which had just 14 turnovers, never allowed the press to be a problem. Often the hidden effect of Louisville's pressure is end of game fatigue for its opponents. But since Britt and Paige both handled the ball, that wasn't a problem either.
"There were stretches where I was pretty tired, I played 38 minutes [on Saturday]," Paige said. "Nate being able to be out there, me and him together, kept both us from getting too fatigued and worn down, which is what they want to do."
Not many could have predicted a nine-point outing on 3-of-11 shooting from
James Michael McAdoo
, who averaged 17 points, would end in a Carolina victory. But McAdoo's offensive struggles never were a factor thanks to a group that virtually grew overnight.
Williams called freshman center
Kennedy Meeks
"one of the worst players on the planet" for his one-point, three rebound performance in five minutes against Richmond, but added that against Louisville he was "unbelievable."
In his most extensive playing time this season, Meeks nearly posted a triple double with 13 points, 12 rebounds and seven assists. His outlet passes were crucial in helping the Heels break the press.
"I just realize [against Richmond] that's not the way I play, that's not the way I've played my whole life. It was time for me to step up," Meeks said. "This is college now, it's all about me being a man so I did pretty good today."
Britt, who was benched for critical stretches in the second half against Holy Cross and Belmont, also had his best outing of the season. The freshman guard set personal bests with nine points and five assists.
"I just feel like I'm starting to get more comfortable and I can kind of play like myself," Britt said. "Earlier it's just a lot of things I had to learn, lot of things I'm still learning. The more and more I play, I'm starting to get more relaxed and I'm coming into my own."
Paige continued to show his development in his new role as a shooting guard with a career-high 32 points. That marks the third time in the last four games that the sophomore guard has set a new scoring high. He did it with on efficient 9-of-12 shooting.
Paige had high praise for Louisville's
Russ Smith
, who scored a career-high 36 points, saying "there's a reason why he's a National Player of the Year candidate." Paige is playing his way on that list too, whether he realizes it or not.
"I don't know about all that I'm just trying to help this team win," Paige said. "Whether it's dishing the ball, or shooting the ball, whether it's defending, I'm trying to be the guy that consistently brings something to the table for this team."
The win changes the season narrative for Carolina and raises expectations back that may have been reconsidered after the Belmont loss.
"We understand that we still have a chance to be special. We just have to come out and play as hard as we did today consistently," Paige said. "The belief in this locker room is that we're one of the best teams in the country."
They proved it by beating the Cardinals, and on this November that's reason enough for the Tar Heels to celebrate.
November, 23, 2013
11/23/13
8:15
PM ET
UNCASVILLE, Conn. – There's no convincing Louisville players that they're not about to face an elite North Carolina squad at 1 p.m. Sunday at Mohegan Sun Arena.
Most of the third-ranked Cardinals said they had not seen the Tar Heels play this season until they watched the Heels beat Richmond in Saturday's first game of the Hall of Fame Tip-Off Tournament. Despite Carolina being a shell of the team ranked No. 12 in the preseason, the Cardinals are still showing respect for the name.
Maybe a tad too much respect considering
P.J. Hairston
and
Leslie McDonald
did not make the trip for UNC.


"We know they're the real deal," Louisville's
Luke Hancock
said. "It's always going to be Carolina, it's a top program. Coach [Roy] Williams is going to have them ready to play."
When the schedule was released, a potential Louisville-Carolina matchup looked to be the first real test for both teams. The reality is it will be more of a barometer for the Tar Heels.
With no word on the status of Hairston and McDonald, whose eligibility is under review by the school and NCAA, Carolina will be playing with its current rotation for the foreseeable future. It's about to hit a rough five-game stretch that includes a Dec. 4 trip to No. 1 Michigan State and a Dec. 14 home date against No. 4 Kentucky.
"We're definitely going to try to show up -- well, we will show up -- and compete like we did today," UNC forward
James Michael McAdoo
said after Saturday's 82-72 victory over the Spiders. "We'll start focusing on games like this which are definitely huge games for us going into conference play."
The Cardinals had the kind of win against Fairfield that coach Rick Pitino can use to grab his team's attention. After winning their first four games by an average of nearly 34 points, Pitino called their 71-57 victory on Saturday their "poorest game of the season." He even hinted that the Cardinals might have been looking ahead to UNC.
Louisville's postgame locker room reflected his sentiment. Players sat slumped into their lockers, the entire room void of the laughter and energy usually associated with winning. On the contrary, the Cardinals had the look and feel of a group that had just lost.
"It's eye-opening for us just to not play as well as we want," Hancock said. "This type of effort will lose against a lot of teams."
Forward
Montrezl Harrell
, who led Louisville with 14 points and 12 rebounds, said the Cardinals played like they didn't respect Fairfield, and it showed early.
"We should have come out and been prepared to play from the very beginning," Harrell said. "But we weren't and got burned for it in the first half. Playing against a team like North Carolina, if we start off like that we can really get burned and not be able to bounce back."
Pitino even elevated the praise for the Heels, after watching his team shoot just 38 percent and his starting backcourt of
Russ Smith
and
Chris Jones
commit a combined eight turnovers.
He said North Carolina's size could give the Cardinals problems, especially with the Heels' offensive rebounding.
"You're going to see a close game [on Sunday] -- if we don't get blown out," Pitino said. "If we play this way, there won't even be a game."
Just two games ago, Carolina players were thinking they might not belong on a court with Louisville after struggling to a 62-54 win over Holy Cross. McAdoo joked afterward that if the Heels played that poorly against the Cardinals, all he could do was "hope that Louisville played bad, too."
The bad news for the Heels is Louisville might have gotten that one out of the way.
"We'll come back," Pitino said. "I don't expect us to have two bad games in a row."
October, 30, 2013
10/30/13
10:00
AM ET
After cops found cocaine and marijuana in a car that
Marshall Henderson
was driving over the summer, Ole Miss fans feared the worst for the SEC star. Andy Kennedy had previously announced an indefinite suspension for the troubled standout who'd been reprimanded for a variety of antics since his arrival last season.
On Tuesday, Ole Miss threw the book at Henderson.
A three-game suspension for incidents
in the postseason and his behavior late last season -- a penalty that will cost Henderson the team's first two SEC games.
The opponents in those league matchups? Auburn and Mississippi State.
[+] Enlarge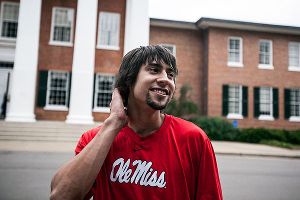 Benjamin Lowy for ESPNAfter a lot of talk about punishing Marshall Henderson, it seems as if the oft-troubled guard got off light with his suspension.
Harsh, I know.
But it's typical.
Throughout the offseason, there has been more smoke than fire with regard to possible suspensions of significant players. The punishments will ultimately prove to be meaningless because players involved probably won't miss a significant chunk of the season or contests that will matter much on Selection Sunday.
In July, North Carolina's
P.J. Hairston
was cited for reckless driving weeks after an arrest for marijuana possession and driving without a license. Roy Williams promised "serious consequences" after Hairston
was suspended indefinitely
following his July citation. But Hairston will return.
He was the star of
North Carolina's "Late Night with Roy" preseason event
last week. During the team's media day earlier this month, Williams told reporters that he's still undecided on Hairston's punishment but earlier reports confirmed that he will play at some point in 2013-14.
"He's been assigned some things that he has to do," Williams told reporters. "He's achieved some of those already -- he's got some more -- and I promise everybody we're not going to go in on game night and say, 'Oh yeah, P.J., you're not playing tonight.' We'll make an announcement before that, but right now he's still going through the process, we're going through the process and we'll wait and see what happens."
Got it.
Rick Pitino seemed furious at Louisville standout
Chane Behanan
when he recently announced that the forward had been suspended indefinitely and
that the earliest he'd return would be early December
. He also said that it was "not probable" that the junior would rejoin the defending national champions. That was mid-October. About a week later, Pitino announced that Behanan
would return "in a short period of time."
Oh.
Purdue's
A.J. Hammons
, a Big Ten player of the year candidate, will miss two exhibitions and the season opener against Northern Kentucky
due to a suspension for misconduct
. Florida's
Scottie Wilbekin
was suspended for the second time in seven months in June, but
he's back practicing with the Gators
.
A memo to the mischievous: If you're going to mess up, do it during the offseason.
Offseason problems give college coaches the ability to chastise players privately because there are no games for them to miss and there's less overall chatter about the sport. The timing of the issues allows them to reprimand players without putting them in situations that require them to miss meaningful games. And they can shroud the entire process under the "rules violation" and "internal punishment" tags.
The players involved in some of the offseason's high-profile mischief haven't necessarily escaped punishment.
Perhaps Hairston has to run to Charlotte every week and Behanan has to do pushups outside the KFC YUM! Center with the national championship trophy on his back to make amends.
We'll most likely never know the extent of the chastisement for them or other players in similar situations.
But they've avoided predicaments that would have potentially forced them to miss significant matchups had their challenges occurred in the middle of the season.
The offseason fuss has exceeded the actual aforementioned penalties thus far -- although we're still not clear on the fate of Behanan and Hairston.
Overall, it seems as though the punishments won't do a lot of damage to the programs that have disciplined key players.
Missing time against the Northern Kentuckys of the college basketball world is trivial.
The suspensions all warranted headlines when they were announced. But come March, we'll barely remember them if the players return and thrive during the season without creating additional drama.
Seems to work out for everyone involved.
October, 16, 2013
10/16/13
8:24
PM ET
CHARLOTTE, N.C. -- The slogan plastered across the Atlantic Coast Conference's signage read: "The Best Get Better." And it seemed every coach and player who sat down for an interview pitched from the same talking points to that end.
The additions of Syracuse, Pittsburgh and Notre Dame will unequivocally make the league that grew up on basketball the nation's best. And at least on paper, it's hard to argue against it.
"For 60 years the ACC has been the best conference in college basketball," North Carolina coach Roy Williams said. "… There may have been a little lull where the Big East, the [SEC] or Big Ten -- I don't see anybody being the best –- any better than us now. I don't care what year it is."
Duke was the overwhelming choice to win the conference by media attending today's event. The Blue Devils garnered 50 first-place votes out of 54. Syracuse received three first-place votes and was picked second. North Carolina, which got one first place vote, was picked third.
Since 1997, there have only been three years when the Tar Heels or Blue Devils didn't have at least a share of the ACC regular-season championship. The newcomers are expected to challenge the stranglehold UNC and Duke have had on the title.
[+] Enlarge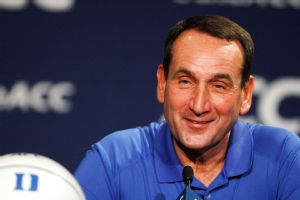 AP Photo/Nell RedmondMike Krzyzewski's Duke team was picked by the media to win the conference title.
"We'll have instant rivalries," Duke coach Mike Krzyzewski said. "It won't take long to develop a Duke-Syracuse … that's why I think our conference is way ahead -- of anybody."
At the very least, the newest league members should add needed depth after the ACC received only four NCAA tournament bids last season.
The league will have three active Hall of Fame coaches in Krzyzewski, Williams and Syracuse's Jim Boeheim -- and add a fourth next season when Rick Pitino and Louisville become a member.
Boeheim once voiced resistance to the move when talk of the Orange joining the ACC remained just talk. Now that Syracuse is in the league, he spoke like a longtime resident of Tobacco Road.
Boeheim said the transition from being a charter member of the Big East to the ACC wasn't difficult because his former league changed so much. He pointed out the ACC now has more former Big East schools (including Virginia Tech, Miami and Boston College) than the current Big East (Villanova, Providence, Seton Hall, St. John's, Georgetown.)
"I mean, there's a certain degree of nostalgia of being in that league because that's where you worked 34 years," Boeheim said. "But this is a better league."
Boeheim pointed out that Syracuse has sold more than 20,000 season tickets, which has already surpassed last season's total of about 15,000. Duke's visit to the Carrier Dome on Feb. 1 is already sold out and the North Carolina game on Jan. 11 isn't far behind.
"The only thing our fans will miss," Boeheim said, "is the Big East tournament."
Other notes:
Many players hate that Maryland is playing in its final season before joining the Big Ten, but it has nothing to do with the Terrapins being an ACC charter member or the tradition it's had in the league. The Maryland/Washington, D.C. area has produced a lot of players who were looking forward to coming home to College Park. "It still feels weird to think about they're not going to be there," said Notre Dame guard Eric Atkins, a Columbia, Md., native. "The only thing I think about is beating them, actually. That's the only thing I can think about. I'm really looking forward to that Jan. 15 game." Pitt forward Talib Zanna said facing Maryland was what excited him most about joining the league. "I know a lot of people when you don't say Duke or North Carolina they look at you like you're crazy," Zanna said. "Duke and North Carolina have a lot of history, they win a lot of games but I'm looking up to playing Maryland just because that's where I grew up. I just want to play in the arena."


The ACC will have its share of impact transfers this season, including Duke's Rodney Hood, who came from Mississippi State; Virginia's Anthony Gill, who came from South Carolina; and Maryland's Evan Smotrycz, who played at Michigan. Hood thinks it is a trend that will only increase. "Other than the money, it does feel like free agency," Hood said. "Guys transfer for different reasons. I'm sure mine was different than a lot of other guys. I really like the school I was at and made a basketball decision."


Syracuse senior forward C.J. Fair was selected the ACC preseason Player of the Year by the media. Fair was the leading scorer for the Orange last season, but it's his leadership role that will have to expand this season after the departures of Michael Carter-Williams and Brandon Triche. "It's something I haven't experienced since high school," Fair said. "Not so much to carry the team, but lead the team."

July, 16, 2013
7/16/13
10:10
AM ET
Editor's Note: Over two days, we're releasing the brackets/matchups for 11 of the top early-season events. Starting Wednesday at 10 a.m. ET, we'll unveil the final six: Charleston, 2K Sports, Diamond Head, CBE, Wooden and Maui. A thread of previews and info for all 11 tourneys can be found here.
When and where:
Nov. 23-24 at Mohegan Sun Arena in Uncasville, Conn.
Semifinal schedule for the Basketball Hall of Fame Tip-Off:
Nov. 23: North Carolina vs. Richmond (noon ET, ESPN3); Louisville vs. Fairfield (2 p.m. ET, ESPN3)
Nov. 24: Championship game (1 p.m. ET, ESPN); Consolation game (3 p.m. ET, ESPN3)
Initial thoughts:
Smart move by Mohegan Sun. The casino, already home of a popular WNBA franchise, wisely has opened its doors to some of the college game's best. Louisville and North Carolina would be headliners anywhere, and their presence here turns Uncasville into a destination getaway in late November. Odds of an upset are slim, but never count out Richmond. The Spiders always are well-coached.
Matchup I can't wait to see:
North Carolina versus Richmond. If an upset is going to happen here, this is the game. The Spiders return four of their top five scorers, and with
P.J. Hairston
's status very much in question, they could give the Tar Heels a handful.
Potential matchup I'd like to see:
Were you expecting to see Richmond-Fairfield here? Seriously, a Louisville-North Carolina matchup in late November is a pretty nice little early-season tilt for college hoops. The defending national champion Cardinals return the core if not the heart (that would be
Peyton Siva
) of their title-winning team, while the Tar Heels -- with
James Michael McAdoo
back, and possibly Hairston (depending on criminal charges he's currently facing), are expected to make big jumps this season. Louisville likes to defend; UNC likes to score. Not a bad combo.
Five players to watch:
[+] Enlarge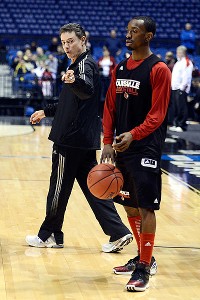 Jamie Rhodes/USA TODAY SportsGuard Russ Smith returns to the defending champion Cardinals' lineup this season.
Russ Smith, Louisville:
Russdiculous opted to return to the college game -- a very good decision. Now it's time to see if Smith is willing to make good decisions more regularly. No one will argue his talent; now it's time for him to showcase his IQ.
James Michael McAdoo:
The talented but somewhat enigmatic player surprised some by coming back for his junior season after averaging 14.4 PPG and 7.3 RPG. He hasn't exactly been the alpha dog the Tar Heels have so desperately needed the past couple of years. Is now the time?
Cedrick Lindsay, Richmond:
The senior finished second on the team in scoring, but really got good late. He averaged 16.5 points per game in his last 11 games.
Maurice Barrow, Fairfield:
On a rebuilding squad that lost all-everything guard Derek Needham, last season's second-leading scorer will need to have a step up in production. If the Stags are going to compete in the MAAC, the 6-foot-5 forward will have to play a large role.
Chris Jones, Louisville:
Just how good the Cardinals will be this season ultimately falls into the point guard's hands. Literally. The highly touted juco transfer is replacing Siva -- no easy task, but he comes to campus with serious praise from Rick Pitino.
Title-game prediction:
Louisville over North Carolina. Everyone will be trying to upset the king this year, so the road won't be easy for the Cardinals. But Louisville is just too loaded with experience, even for a very good Tar Heels team.
Who others are picking:
Eamonn Brennan:
Louisville over North Carolina
Jeff Goodman:
Louisville over North Carolina
Seth Greenberg:
Louisville over North Carolina
Andy Katz:
Louisville over North Carolina
Jason King:
Louisville over North Carolina
Myron Medcalf:
Louisville over North Carolina
January, 1, 2013
1/01/13
10:59
AM ET
By
Jeremy Lundblad, ESPN Stats & Info
| ESPN.com
Syracuse coach Jim Boeheim recently became the third member of the 900-win club, joining Mike Krzyzewski and Bob Knight as the only Division I men's coaches to reach that milestone.
So who, if anyone, might join that elite trio down the line?
Here's a subjective look at the most likely candidates based on age and current win total.
10. Jeff Capel (37 years old) - 162 wins
Currently an assistant at Duke, Capel got his head coaching start at 27. He'd obviously need to get another head-coaching job soon, but at 162 wins, he's got a good head start -- especially if he ends up as Coach K's successor.
9. Steve Alford (48) - 447 wins
In his sixth season at New Mexico, Alford has been a head coach every year since he was 27. At 48, he's almost halfway to 900.
8. Brad Stevens (36) - 149 wins
Stevens was one of the fastest ever to reach both 50 and 100 wins. Still only 36, he has many years in front of him. But Stevens won't have the Horizon League to kick around anymore.
7. Rick Pitino (60) - 641 wins
Six seasons in the NBA have set him back, but Pitino would reach 900 wins in about 10 years if he averages 25 per season.
6. Roy Williams (61) - 685 wins
Williams didn't become a head coach until he was 38. That's six years older than Boeheim was. With 215 wins to go, Williams would likely need to coach until he was about 70.
5. John Calipari (53) - 513 wins
Averaging 34 wins per season at Kentucky, Calipari is making up for the four seasons he lost to the NBA. At 53, he needs fewer than 400 more wins to reach 900.
4. Thad Matta (45) - 333 wins
Matta is in his 13th season, and he's never had fewer than 20 wins. In fact, Roy Williams is the only coach with more wins through his first 12 seasons.
3. Billy Donovan (47) - 430 wins
Only Boeheim and Krzyzewski have longer active streaks of 20-win seasons than Billy Donovan. At 47, he figures to be halfway to 900 before the end of this season.
2. Bill Self (50) - 487 wins
No one under 50 years old has more wins than Self. Since coming to Kansas, he's averaged more than 29 wins. At that rate, he's less than 15 seasons away from 900.
1. Bob Huggins (59) - 717 wins
Bob Huggins is already well beyond 700 wins and hasn't turned 60. That's well ahead of where Boeheim was at the same age. At 24 wins per year since arriving at West Virginia, he's on track to get to 900 at a younger age than either Boeheim or Bob Knight.