North Carolina Tar Heels:

Rodney Hood
March, 9, 2014
Mar 9
3:20
AM ET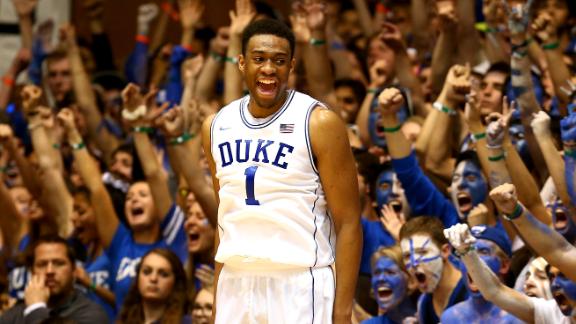 DURHAM, N.C. -- If Duke freshman
Jabari Parker
and sophomore
Rodney Hood
never play another game in Cameron Indoor Stadium for the Blue Devils, they gave a performance worthy of a senior night send-off against North Carolina.
Parker scored a career-high 30 points and Hood added 24 -- which marked the first game in ACC play that both players surpassed 20 points -- as Duke beat the rival Tar Heels 93-81. Parker's 30 points were the second-most by a freshman in a Duke-North Carolina game, falling one short of Walter Davis' 31 for North Carolina in 1974.
Neither player has revealed their intentions regarding whether or not they'll turn pro at the end of the season, but both showed why they'd be coveted by NBA teams as soon as they are ready to declare.
Parker and Hood were so dominant even teammate
Rasheed Sulaimon
confessed to being transfixed by the way they played.
"It's crazy kind of watching that," Sulaimon said. "You're in the game, but at some point you're kind of spectating as well when two great players like that just take over the game."
NFL commissioner Roger Goodell, who donned a Duke pullover, and Dallas Cowboys coach Jason Garrett and quarterback Tony Romo were among the celebrities in the crowd, but it was quite clear who the stars were.
It's long past the time when Hood can walk around town in anonymity. But after his performance in avenging the loss to the Heels, he can add a Cheshire grin.
"I got tired of walking through Durham with people screaming 'Carolina' at me when I walk through Walmart and stuff like that," Hood said. "It was a big-time win, I'm just happy to keep the streak going."
[+] Enlarge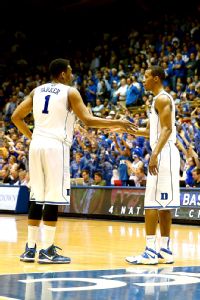 Streeter Lecka/Getty ImagesJabari Parker and Rodney Hood joined forces for 54 points Saturday against North Carolina, their best performance as a duo in ACC play.
Duke moved its nation-best home win streak to 33 consecutive games by focusing on its best two players.
In the Blue Devils' loss to Wake Forest, they got away from going to Parker and Hood in the game's deciding minutes. Saturday, Duke determined its offense had to go through Parker and Hood to be effective.
"The Wake Forest game gave us a sense of urgency after losing," Parker said. "We can't do the same things that we've been doing so we had to change, and I think today we have. That's all that matters is consistency from this point."
Hood's three-point play early in the second half sparked an 11-3 spurt that gave Duke all the separation it would need, as the Heels never got closer than eight points after that.
Parker drilled his only 3-pointer in the second half and kissed the fingers on his shooting hand as he ran back down the floor. The 19-point lead effectively helped the Blue Devils kiss North Carolina's 12-game win streak goodbye.
"I just got lost in the game, they want to share my energy and emotion -- Coach is really big on that -- but not celebrating too much," Parker said. "I kind of lost myself in the moment. That's not exceptional: I just got to get my butt back on defense."
But Parker was exceptional. Carolina tried just about everything it could to slow him down.
James Michael McAdoo
, who was the primary defender against Parker in their earlier meeting, was in foul trouble throughout.
It probably wouldn't have mattered anyway. Five different Tar Heels found themselves trying to defend Parker at some point, from 6-foot-9 forward
Brice Johnson
, whose reach was supposed to give Parker trouble, to 6-foot-5 forward
J.P. Tokoto
, whose quickness was supposed to keep Parker from getting in the lane.
Parker got the shots he wanted. During a sequence in the first half, Parker drove baseline past
Leslie McDonald
, rose over Johnson and made a floater just as
Kennedy Meeks
was swatting to try and block his shot.
"He was feeling it, he was in attack mode," Hood said. "We expect more, to be honest. Like Coach said 30 is probably not enough."
Hood was referring to points, but he easily could have referred to shots. Parker and Hood combined for 30 attempts, with no other Duke player taking more than eight shots. If nothing else, Saturday's win proved that is the formula for the Blue Devils' offense.
Parker and Hood need to be the ones leading the way.
"They are a duo that not many people, or nobody else, has," Duke senior guard
Tyler Thornton
said.
North Carolina coach Roy Williams would agree. He used zone in the Heels' win to slow the Blue Devils' offense down. But Duke, which entered the game shooting 27 percent from 3-point range in its past four games, busted the zone from deep.
Parker and Hood combined for five of the team's eight 3-pointers, including three of Duke's six in the second half. Whether inside or out, the pair was a problem for the Heels.
"Between Jabari and Rodney we really had trouble trying to figure out a way to try and stop them," Williams said. "And we still didn't figure it out."
Duke even eliminated the one big advantage the Heels were supposed to have. Carolina got outrebounded 34-20, which marked its lowest rebound total since the 1987 ACC tournament championship against N.C. State.
Parker, who had a game-high 11 rebounds, contributed to the Heels' misery in that area, too. With Carolina trailing by 11 with two minutes left, Duke finally missed a free throw (it shot 23-of-27 in the second half), but Parker got the rebound, was fouled and made a pair of free throws. According to ESPN Stats & Information, Parker scored 10 second-chance points.
Carolina shot 59.6 percent from the field. It was the first time during Williams' tenure that his team lost when shooting better than 50 percent. During those prior 141 games, the Tar Heels never faced a duo that was as on their game as Parker and Hood were Saturday.
"We're a completely different team offensively I think; it's so difficult to guard both of us at the same time," Hood said. "Then you have guys like
Andre [Dawkins]
, 'Sheed [Sulaimon],
Quinn [Cook]
that can chip in like that, we can score in the 80s, 90s every game."
March, 8, 2014
Mar 8
9:00
AM ET
What a difference a delay makes.
North Carolina's postponed first meeting with Duke might have set in motion a crazy change of fortunes for both squads. The Tar Heels had confidence for the game originally scheduled for Feb. 12, but the Blue Devils had more.
Around Chapel Hill, the game didn't have the same buzz as in previous years because Carolina fans still looked at their team skeptically. Something happened when the game was moved to Feb. 20 after a snowstorm stopped Duke's charter bus from delivering them down U.S. 15-501.
It turned an accommodating Dean E. Smith Center crowd into an angry one.
[+] Enlarge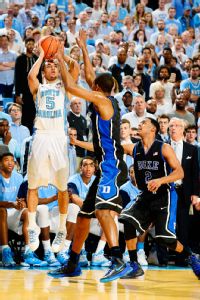 Bob Donnan/USA TODAY SportsMarcus Paige said UNC fans were anxious when the Tar Heels played Duke after weather forced a schedule change.
"The fact that it was postponed gave it a little bit different energy in the gym," UNC guard
Marcus Paige
said. "People were more anxious. Our fans were chomping at the bit for Duke to come play us. It gave it a cool and unique and interesting dynamic to the game."
More importantly for the Tar Heels, it gave them the validation they sorely needed. They'd won seven in row before handing then-No. 5 Duke a
74-66 loss
, but that was the game that made the other wins matter.
"You still have people now congratulating you on the win over Duke even though you've played [four] games afterwards," UNC senior guard
Leslie McDonald
said. "I don't know; it's just something about playing against Duke. I think that game really got everybody together and opened their eyes, saying, 'This is a good team.'"
The Tar Heels are now the self-assured team heading into Durham, with their winning streak reaching 12 in a row. According to ESPN Stats & Info, the 10 previous times Carolina has faced the Blue Devils after winning at least 12 in a row, the Heels have won nine of the meetings.
It presumably emboldened some North Carolina students to temporarily rename "Krzyzewskiville," the area where Duke students camp out for game tickets. Someone painted a white sheet with "Williamsville" written in Carolina blue and hung it up in front of Cameron Indoor Stadium.
Yes, nothing speaks of confidence like trying to clown your rival. No one was trying to taunt Duke before the postponement. But even North Carolina coach Roy Williams acknowledged that victory added an exclamation point to their winning streak.
"We know that we can win the game because we already have," Williams said. "Does that mean we're going to win [Saturday, 9 p.m. ET on ESPN]? No, and I think our players understand that. Whether it's validation, as you said, or just us gaining some confidence from the game, I think there is a difference."
Duke finds itself in need of a confidence boost after
losing at Wake Forest
on Wednesday. The Blue Devils are no longer being touted as a potential No. 1 seed for the NCAA tournament. If they lose again to the Heels, they could also lose playing the opening NCAA tournament weekend in Raleigh, N.C.
Duke senior forward
Josh Hairston
, playing in what will be in his final game in Cameron Indoor Stadium against the Heels, called the loss to the Demon Deacons "probably our worst defeat of the season."
"We basically low-balled the game," Hairston said. "We thought that because of who we were, our ranking and all that, they would lay over for us."
A troubling pattern is emerging that could make for a short postseason showing if the Blue Devils don't rectify it.
In its loss to Carolina, Duke couldn't find a way to close out the game. The Tar Heels outscored the Blue Devils 18-6 in the final 4:55. Duke was 2-for-7 from the floor during that stretch, missed all four 3-point attempts and committed two turnovers.
Duke's 82-72 loss to Wake Forest produced a similar stretch. The Blue Devils were outscored 23-6 over the final 5:44, in which they shot 2-for-10 from the floor, missed all six 3-point attempts and committed six turnovers.
"I think we let up in certain games, not all the time; we let up when we get a lead and that can't be the case going forward," said Duke forward
Rodney Hood
.
Another cause for concern is the Blue Devils' 3-point shooting. They ranked second nationally, making 42 percent from behind the arc, through their first 25 games. Since going 5-of-22 against Carolina, they have shot just 27 percent from 3-point range in their last four games.
Hood said the shooting will improve if the Blue Devils revert to making the extra pass instead of trying to score as individuals. He said they've been working on it since the Virginia game in mid-January, but it was reiterated after going 6-of-27 against Wake.
"Sometimes one game can devastate you or it can make you better. I think Wake Forest made us better," Hood said. "Before Wake Forest we were playing very good basketball in that stretch we had. We're confident we're not looking at it like the season is over. We're confident for [Carolina]."
Duke will face a confident Carolina team and the Blue Devils are partly to blame for the Heels' rise.
"It has been a lot more positive vibes around here. People are lot more optimistic about what we can do later this month and in the [NCAA] tournament," Paige said. "We're obviously feeling the same way. Even though we've played ugly the last couple of games, we're still able to win and win consistently and that kind of thing helps you later on in March."
February, 20, 2014
Feb 20
11:37
PM ET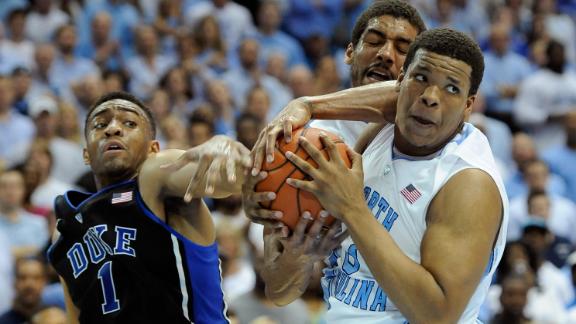 We've just witnessed another chapter of the Duke-UNC rivalry. This time in Chapel Hill.
Here are five observations from North Carolina's
74-66 win
over No. 5 Duke on Thursday night.


North Carolina's resilience:
Marcus Paige
finished the first half without one point. He was 0-for-2. And his three assists equaled his three turnovers. It wasn't a pretty opening for the point guard. But he shook it off. And the rest of his team followed his lead. With 15 minutes to play, the Tar Heels were down 51-40. But the resurgence of their offense coincided with Duke's slump. As John Gasaway pointed out in
this piece about North Carolina's improved offensive capabilities
during its seven (now eight)-game winning streak, the Tar Heels have blossomed on that end of the floor. They'd averaged 1.12 points per possession during the streak prior to Thursday's game, per Gasaway. And although that offensive execution was absent before halftime, it reappeared in the second half. Leslie McDonald's 21-point effort changed everything. Paige's tough layup in the final 90 seconds was clutch. The Tar Heels could have quit. Let's be honest. The Tar Heels from two months ago might have quit. Not these guys, though.
Where was Jabari?
Rodney Hood
was an early catalyst for Duke.
Quinn Cook
hit big 3-pointers. But
Jabari Parker
struggled in the second half, when Duke needed him more than it did in the first half. By halftime, he'd Jabari'd the Tar Heels (10 points, five rebounds, two blocks). Other than a sneaky crossover and finish against
James Michael McAdoo
, he wasn't really a star in the second half. He finished with 17 points, 11 rebounds and five turnovers. Good numbers, beyond the turnovers. But give the Tar Heels credit for pressuring Parker and forcing other Blue Devils to be the primary playmakers late.
Drought or defense?
In the second half, Duke couldn't score for about nine minutes. Parker's layup with 15:14 to go was the Blue Devils' only field goal before Cook's shot with 6:26 to play. After leading North Carolina 37-30 at halftime, Duke went cold after the break. Yes, shots just weren't falling for the Blue Devils. But the Tar Heels -- renewed by the return of McAdoo and other players who were limited by foul trouble in the first half -- really clogged the lane and made every attempt difficult for the Blue Devils. And they wouldn't let Duke (5-for-22 from the 3-point line) breathe on the perimeter. North Carolina's defense was critical during its emergence from an 11-point hole.
Don't forget about Plumlee
In terms of perception and expectations,
Marshall Plumlee
's last name hasn't helped his cause. His brothers,
Mason
and
Miles
, are both talented young NBA contributors. Marshall entered Thursday's contest averaging just 7.5 mpg for the Blue Devils. He was solid against the Tar Heels, though. His final stat line wasn't mind-blowing. But he looked like a serviceable sophomore big man. He grabbed key rebounds down the stretch. He was a strong defender. He faced foul trouble but he played through it. Plumlee's attitude and aggression was a factor in the matchup. He also proved that he can help Duke in big games the rest of the way.
Wow!
This is a special rivalry. We all know that. Once Duke took control in the first half and extended its lead after halftime, however, it didn't feel special. It felt like an ordinary, semi-lopsided game. Duke would pick up another quality win and the Tar Heels would face questions about their poor free throw shooting and turnovers postgame. And then things changed. That's what happens in college basketball. The same North Carolina team that was down by 11 points launched a comeback. The same North Carolina team that couldn't find the rim began to hit shots. Duke didn't break, though. The Blue Devils kept fighting through a lengthy drought. But it just wasn't enough. That was an amazing turnaround. That was an amazing game. We were lucky to see it all unfold.
February, 20, 2014
Feb 20
12:00
PM ET
Here's a look at the individual matchups that could determine Thursday night's game between North Carolina and Duke:
McAdoo vs. Parker
James Michael McAdoo
is coming off his worst game of the season. He fouled out scoreless having played just 13 minutes in Monday's win over Florida State. If the Kentucky game was any indication, McAdoo will be up for facing
Jabari Parker
. McAdoo rendered Kentucky's
Julius Randle
, another highly-touted freshman, a non-factor offensively during the Heels' win over the Wildcats.
Parker will be more of a challenge because he's more comfortable stepping out on the perimeter than Randle. McAdoo may want Parker to drift out, however, as Parker has scored more than 20 points in three of Duke's last four games while making more of a concerted effort to stay in the paint.
"He's taking it upon himself to get the basket, he's posting up a lot more. That's where he's most effective," Duke's
Rodney Hood
said of Parker. "Not saying he can't hit a jump shot, [but in the paint] that's where he can punish people."
[+] Enlarge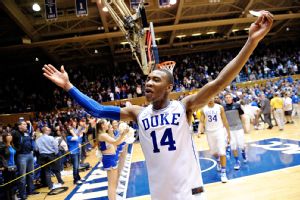 Grant Halverson/Getty ImagesDuke's Rasheed Sulaimon has the length to make scoring a little tougher for UNC point guard Marcus Paige.
Sulaimon on Paige
Rasheed Sulaimon
has started three of the last four games at point and could be matched up with
Marcus Paige
, the Heels' leading scorer. At 6-foot-4, Sulaimon brings a little more length than
Tyler Thornton
or
Quinn Cook
and could make scoring a little more difficult for Paige. Florida State tried the same strategy by using the 6-foot-5
Aaron Thomas
on Paige. It was effective for a half until the Heels started running Paige off more screens and he lit it up with 14 points in a nine-minute span in the second half. That went right along with Paige's recent trend of producing big in the second half after a slow start.
"I don't let my performance in one half dictate how I feel the rest of the game. I'm usually pretty even keeled throughout the game," Paige said. "I'm not going to let a poor shooting performance or a couple of turnovers in the first half affect my mindset for the second half because I know my teammates are counting on me to produce."
Tokoto on Hood
J.P. Tokoto
is accustomed to drawing the opponent's best wing player, having just chased around Pittsburgh's
Lamar Patterson
for the better part of a game. Hood may be the best player Tokoto will have faced this season. Hood isn't one-dimensional. He's shooting 45 percent from 3-point range, yet he can put the ball on the floor and create shots on his own. Tokoto said his defensive strategy doesn't change regardless of the opponent.
"I just approach every game with the mentality that I'm going to beat him up defensively," Tokoto said. "Not so much foul, but just kind of get into him, get the ball out of his hands, keep the ball out of his hands -- whoever it is."
[+] Enlarge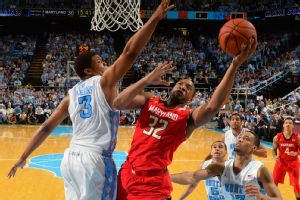 Bob Donnan/USA TODAY SportsUNC's Kennedy Meeks has size on his side, but Duke's Amile Jefferson will try to counter with quickness.
Jefferson on Meeks
Kennedy Meeks
played arguably his second-best game of the season against Florida State (trumped only by his Louisville performance of 13 points, 12 rebounds and seven assists). He scored a career-high 23 points on 11 of 12 shooting from the field, and most of those baskets were point-blank putbacks.
Duke's
Amile Jefferson
, meanwhile, has been outsized all season. He's listed as 6-foot-9, 210 pounds. Meeks is listed at 6-foot-9, 290 pounds.
"For me it's about fighting the other guy because a lot of times they're bigger, stronger, height-wise," Jefferson said. "For me it's about using my quickness to beat them up and down the floor length, on offense and defense. Really it's just about fighting the entire game, making sure they feel me every possession."
McDonald & Cook vs. Slumps
Carolina's
Leslie McDonald
and Duke's Cook are fighting similar slumps. McDonald has made just two of his last 15 from 3-point range and is 8 of 31 from the field since scoring a season-high 20 points against NC State on Feb. 1.
"He's a phenomenal shooter from outside. We need him, and he knows that," McAdoo said. "We're not going to put too much pressure on him because as you've seen, we are still capable. But hopefully [against Duke] his shot is falling. When he is on, he's just another great player, an added dimension."
Cook's recent performance against Maryland highlighted his inconsistencies. It was the only game this season that he didn't record an assist, and he also had three turnovers. He played a season-low 14 minutes in the game.
If either player can emerge in this game, it could be a huge boost for his respective team.
The X-factors
Carolina's Brice Johnson just posted his second double-double of the season with 14 points and 11 rebounds against Florida State. Johnson could see extended minutes if the Heels are hurt by Duke pulling its five out to the perimeter on pick-and-rolls. Johnson is better suited to defend it than Meeks or Joel James.

Duke's Andre Dawkins shoots like every shot is going in and was a big factor off the bench when he scored a season-high 20 in the Blue Devils' win at Pittsburgh in late January.
February, 12, 2014
Feb 12
11:40
AM ET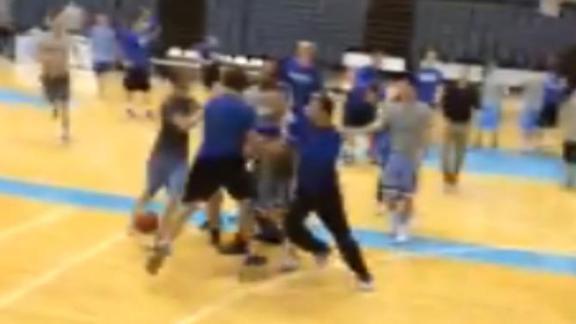 Among the many intriguing angles for
North Carolina
's battle with
Duke
on Wednesday night is that the potential winter storm might play a factor in the outcome. Seriously.
The forecast projects two to four inches of snow for Chapel Hill and the surrounding area during the day. That first wave is supposed to make way for another half-inch of ice by night. The game, by all accounts, will likely be played regardless. (The ACC by rule states postponements can only occur if teams, officials and essential game personnel cannot arrive at the arena safely.)


What if the scenario unfolds like the Tar Heels' win over Maryland in 2000, when snow kept away most fans from the Smith Center? Carolina announced general admission seating, so whoever made it to the arena packed the lower-level seats. The crowd's demographics were students who walked to the game and those crazy enough to value basketball over hazardous conditions.
The result was an atmosphere that former UNC point guard Ed Cota likened to Cameron Indoor Stadium, and the unranked Heels upset the No. 22 Terrapins 75-63.
Generally speaking, the Duke game always has the most charged atmosphere in the Smith Center, but an inadvertent boost from Mother Nature could turn Wednesday night's game into another special chapter in the rivalry.
Avenging Tyler?
The student basketball managers for both schools
engaged in a heated moment
during their annual game before The Game. One of the Carolina managers, trying to clear out space after a rebound, caught a Duke manager with an elbow to the nose. Tempers flared as players had to be separated, but the game continued. (It happened at the same basket that
Tyler Hansbrough
had his nose bloodied by
Gerald Henderson
in the closing seconds back in 2007.) The Heels' managers ended up winning the game 38-33.
Matchup within
Duke's frontcourt isn't big enough or deep enough to match up with the Tar Heels. But it's not like that's a newly discovered weakness; the Blue Devils have been playing that way all season. They've done a good job compensating for their shortcomings while winning seven of their last eight games.
Carolina guard
Marcus Paige
said center
Kennedy Meeks
would play a key factor in exploiting the Heels' advantage.
"We really want to establish our big guys in the paint, especially Kennedy. He's got size that no one else on the court is going to have," Paige said. "We'd like to get him going. Our best offense is when we get to the basket or in the paint. I think we realize that. I think they know that and that's what we're going to try to do."
[+] Enlarge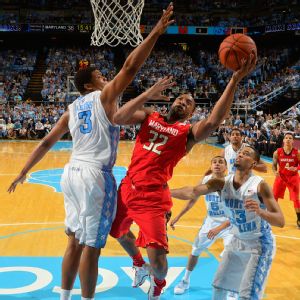 Bob Donnan/USA TODAY SportsKennedy Meeks' size could prove to be a big matchup factor in Wednesday's game against Duke.
Keep an eye on the amount of minutes Duke's
Marshall Plumlee
plays. The 7-foot sophomore only averages 7.5 minutes per game, but if he plays more it could be an indication that Duke coach Mike Krzyzewski is conceding he needs a bigger lineup. That would be a small victory for the Heels, an indication that the Blue Devils are playing Carolina's game.
Conversely, Meeks' time on the floor could be a similar barometer. He didn't play much in the second half against Maryland because the Terps had enough perimeter-savvy frontcourt players to make it difficult for him to defend. Instead,
Brice Johnson
played extended minutes because he was better suited to guard pick-and-rolls. If Johnson plays more at center than Meeks against Duke, that too could be an indication Carolina is playing into Duke's game.
UNC coach Roy Williams said if Duke plays
Rodney Hood
and
Jabari Parker
at the 4 and 5, it could be a matchup nightmare for the Heels.
"It depends on who else is in the lineup with them because it can get to be almost an unbelievable matchup problem," Williams said. "Or it can be we have a couple of guys who are similar and have a chance of staying with them."
Advice to the freshmen
Carolina's freshman trio of Meeks,
Nate Britt
and
Isaiah Hicks
will get its first indoctrination into the rivalry tonight. Sophomore
J.P. Tokoto
said he's been telling them to look at it as "just another game."
"My experience last year was limited, but for guys like Kennedy and Nate, they've been playing big minutes," Tokoto said. "I've pretty much have been telling them to look at it as another game and just play their game."
Asked if he personally viewed it as just another game, Tokoto broke out laughing. "Nah, I don't," he said. "Not me, but I feel like that would help them out mentally."
Keys for a UNC win
No help:
With Duke shooting 42 percent from 3-point range, this should be the one game the Heels abandon their typical defensive philosophy. Whenever the Blue Devils get dribble penetration, Carolina should employ a no-help strategy. Better to give up a layup than to watch Duke kick it outside for an open 3-pointer.
Capitalize on putbacks:
Carolina leads the ACC in offensive rebounds with a 14.1 average per game. The Heels have turned that into a 13.4 average in second-chance points, which should actually be higher. Williams has consistently emphasized that his team has to be better at finishing through contact. Syracuse is the only team in ACC play to outscore the Heels in second-chance points.
Run off turnovers:
During the Heels' five-game winning streak, they've consistently pushed the pace and gotten out in transition more than at any other time during the season. They've also capitalized by converting points off turnovers. Duke, however, only averages 9.5 turnovers per game, so chances might be limited.
October, 30, 2013
10/30/13
5:00
PM ET
The Tar Heels were picked to finish third in the ACC behind Duke and Syracuse by a media poll. The league's depth this season should make it so that wins and losses will be as hard as ever to predict. With that in mind, here are advantages and disadvantages for the Heels against each of their league opponents:

BOSTON COLLEGE
Advantage:
The Heels should again enjoy a big rebounding edge over the Eagles.
Disadvantage:
Stopping guard
Olivier Hanlan
(the ACC's 2013 Freshman of the Year) will be a challenge.

CLEMSON
Advantage:
Um, history? The only meeting is in Chapel Hill, where it's Heels 56, Tigers 0.
Disadvantage:
Complacency knowing their undefeated record vs. Clemson at home.

DUKE
Advantage:
Frontcourt should dominate Blue Devils' glaring weakness in the paint.
Disadvantage:
Matching up with Duke wings
Rodney Hood
,
Rasheed Sulaimon
and
Jabari Parker
.

FLORIDA STATE
Advantage:
P.J. Hairston
has averaged 18.2 points in four career games vs. the Noles.
Disadvantage:
No. 3 Heels lost by 33 at unranked FSU in 2012 -- anything can happen in Tallahassee.

GEORGIA TECH
Advantage:
James Michael McAdoo
stung the Jackets with an 18-point, 10-rebound average last season.
Disadvantage:
Tennessee transfer
Trae Golden
adds experience to a talented young lineup.

MARYLAND
Advantage:
Avoiding final trip to College Park during the Terps' year-long ACC swan song.
Disadvantage:
Terps will likely be more motivated to win in their final shot at UNC.

MIAMI
Advantage:
The Canes are starting from scratch with a completely overhauled roster.
Disadvantage:
Unknown commodities can be hard to prepare against.

NC STATE
Advantage:
State will have fewer offensive weapons to defend than last season.
Disadvantage:
T.J. Warren
(14.5 points, 6.5 rebounds per game vs. Heels last season) is still one of them.

NOTRE DAME
Advantage:
McAdoo presents matchup problem for the Irish frontcourt.
Disadvantage:
South Bend is poised to become one of the most difficult places to play in the ACC.

PITTSBURGH
Advantage:
UNC can use its fast pace to bury a team not known for running.
Disadvantage:
The Heels typically encounter trouble against teams as physical as Pitt.

SYRACUSE
Advantage:
The starting lineups are about even, so deeper Heels bench could be key to beating Orange.
Disadvantage:
The length of the Cuse zone is hard to play against the first time.

VIRGINIA
Advantage:
Marcus Paige
, who enjoyed a 17-point breakout game vs. Cavs last season, should own the point guard matchup.
Disadvantage:
Joe Harris
is a problem. He shot 70 percent from the field and averaged 23 points in two meetings last season.

VIRGINIA TECH
Advantage:
Young Hokies still don't have an abundance of talent (or the defense) to compete at a high level.
Disadvantage:
Two of Tech's three wins vs. Heels since joining the ACC came in Blacksburg, the site of their only meeting this season.

WAKE FOREST
Advantage:
The Heels have won seven of the last nine meetings with Deacs by an average margin of 20 points.
Disadvantage:
Travis McKie
and
Devin Thomas
are a formidable rebounding duo.
October, 16, 2013
10/16/13
8:24
PM ET
CHARLOTTE, N.C. -- The slogan plastered across the Atlantic Coast Conference's signage read: "The Best Get Better." And it seemed every coach and player who sat down for an interview pitched from the same talking points to that end.
The additions of Syracuse, Pittsburgh and Notre Dame will unequivocally make the league that grew up on basketball the nation's best. And at least on paper, it's hard to argue against it.
"For 60 years the ACC has been the best conference in college basketball," North Carolina coach Roy Williams said. "… There may have been a little lull where the Big East, the [SEC] or Big Ten -- I don't see anybody being the best –- any better than us now. I don't care what year it is."
Duke was the overwhelming choice to win the conference by media attending today's event. The Blue Devils garnered 50 first-place votes out of 54. Syracuse received three first-place votes and was picked second. North Carolina, which got one first place vote, was picked third.
Since 1997, there have only been three years when the Tar Heels or Blue Devils didn't have at least a share of the ACC regular-season championship. The newcomers are expected to challenge the stranglehold UNC and Duke have had on the title.
[+] Enlarge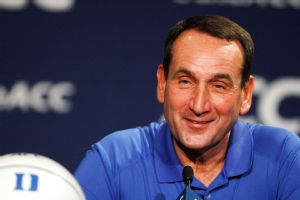 AP Photo/Nell RedmondMike Krzyzewski's Duke team was picked by the media to win the conference title.
"We'll have instant rivalries," Duke coach Mike Krzyzewski said. "It won't take long to develop a Duke-Syracuse … that's why I think our conference is way ahead -- of anybody."
At the very least, the newest league members should add needed depth after the ACC received only four NCAA tournament bids last season.
The league will have three active Hall of Fame coaches in Krzyzewski, Williams and Syracuse's Jim Boeheim -- and add a fourth next season when Rick Pitino and Louisville become a member.
Boeheim once voiced resistance to the move when talk of the Orange joining the ACC remained just talk. Now that Syracuse is in the league, he spoke like a longtime resident of Tobacco Road.
Boeheim said the transition from being a charter member of the Big East to the ACC wasn't difficult because his former league changed so much. He pointed out the ACC now has more former Big East schools (including Virginia Tech, Miami and Boston College) than the current Big East (Villanova, Providence, Seton Hall, St. John's, Georgetown.)
"I mean, there's a certain degree of nostalgia of being in that league because that's where you worked 34 years," Boeheim said. "But this is a better league."
Boeheim pointed out that Syracuse has sold more than 20,000 season tickets, which has already surpassed last season's total of about 15,000. Duke's visit to the Carrier Dome on Feb. 1 is already sold out and the North Carolina game on Jan. 11 isn't far behind.
"The only thing our fans will miss," Boeheim said, "is the Big East tournament."
Other notes:
Many players hate that Maryland is playing in its final season before joining the Big Ten, but it has nothing to do with the Terrapins being an ACC charter member or the tradition it's had in the league. The Maryland/Washington, D.C. area has produced a lot of players who were looking forward to coming home to College Park. "It still feels weird to think about they're not going to be there," said Notre Dame guard Eric Atkins, a Columbia, Md., native. "The only thing I think about is beating them, actually. That's the only thing I can think about. I'm really looking forward to that Jan. 15 game." Pitt forward Talib Zanna said facing Maryland was what excited him most about joining the league. "I know a lot of people when you don't say Duke or North Carolina they look at you like you're crazy," Zanna said. "Duke and North Carolina have a lot of history, they win a lot of games but I'm looking up to playing Maryland just because that's where I grew up. I just want to play in the arena."


The ACC will have its share of impact transfers this season, including Duke's Rodney Hood, who came from Mississippi State; Virginia's Anthony Gill, who came from South Carolina; and Maryland's Evan Smotrycz, who played at Michigan. Hood thinks it is a trend that will only increase. "Other than the money, it does feel like free agency," Hood said. "Guys transfer for different reasons. I'm sure mine was different than a lot of other guys. I really like the school I was at and made a basketball decision."


Syracuse senior forward C.J. Fair was selected the ACC preseason Player of the Year by the media. Fair was the leading scorer for the Orange last season, but it's his leadership role that will have to expand this season after the departures of Michael Carter-Williams and Brandon Triche. "It's something I haven't experienced since high school," Fair said. "Not so much to carry the team, but lead the team."