North Carolina Tar Heels:

Russ Smith
March, 9, 2014
Mar 9
12:07
AM ET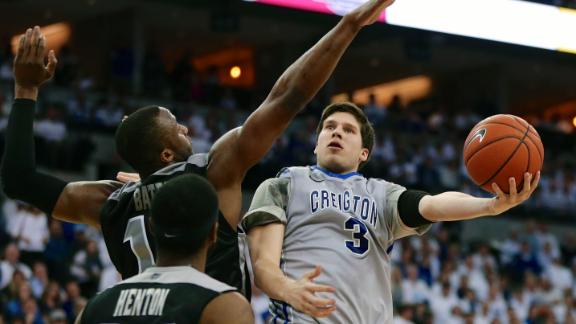 Saturday, the last full day of regular-season college hoops, was a grand affair. We had overtime and history-making matchups and buzzer-beaters and memorable Senior Nights.
And the NCAA tournament hasn't even started.
It's probably best to recap this day according to its most significant numbers:
3,000:
Bill Walton won two national championships with UCLA. Lew Alcindor won three national titles for the Bruins. J.J. Redick shattered records at Duke during his time there. Ralph Sampson won three consecutive Naismith player of the year awards at Virginia. Sampson, Alcindor and Walton are three of the greatest athletes who ever played at the collegiate level. But none of the aforementioned four players scored 3,000 points in their respective careers. Now, it's only fair to note that eligibility limits blocked freshmen from competing with the varsity squads then and the 3-point line wasn't available, either.
[+] Enlarge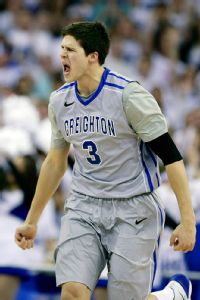 AP Photo/Nati HarnikCreighton's Doug McDermott because just the eighth player to score more than 3,000 career points.
None of that diminishes what
Doug McDermott
has accomplished, however, as the senior forward became just the eighth player in NCAA history to score 3,000 career points. He reached that historic tally on a 3-pointer with 11:27 to play in
Creighton's 88-73 win over Providence
on Saturday. He finished with 45 points total and 3,011 for his career to date.
4:
Iowa State and Oklahoma State have had two battles this season. And after Saturday's thriller, the Cyclones can claim both victories over the Pokes, but they needed four overtimes to get there. The first game, a 98-97 win for Iowa State, demanded triple overtime in Stillwater.
Naz Long
hit a 3-pointer at the buzzer to drag Saturday's game into the extra period in Ames, where Iowa State secured
the 85-81 victory
in the rematch.
41:
Remember that stuff about
Andrew Wiggins
not being aggressive enough? Well, that's so 2013. The freshman, a finalist for the Wooden Award, has been one of America's best players in recent months. Proof? He dropped a career-high 41 points in
Kansas' 92-86 loss
at West Virginia. At one point in the game, the Mountaineers had a 64-39 lead. But the Jayhawks, who were missing
Joel Embiid
, had a chance in the end. Yes, Kansas suffered a loss, which doesn't help its argument for a top seed. But Wiggins produced the second-highest point total for a freshman in Big 12 history, per ESPN Stats & Information. That's impressive.
18-0:
Kentucky made things interesting for a moment. But the Wildcats couldn't handle Florida's full onslaught in
the Gators' 84-65 victory
in Gainesville, a win that gave Florida a perfect 18-0 record in conference play. The Gators are the first team in SEC history to finish a year with 18 wins, per ESPN Stats & Information. The win also extended Florida's winning streak to 23 games.
13:
In the final home game of his career at Louisville,
Russ "Russdiculous" Smith
decided to let his teammates shine. He dished out a career-high 13 assists during
an 81-48 Senior Night win
over UConn.
1:
With Cincinnati topping Rutgers and Louisville beating UConn, the American Athletic Conference had a problem. The Bearcats and Cardinals split the league title so the conference used a coin flip to finalize the top seed in next week's AAC tourney. The winner? Cincinnati. "I requested that Coach Pitino and I play one game of liar's poker," Cincinnati coach Mick Cronin joked to reporters after the game. "We used to do that all the time -- for fun, obviously."
7 minutes, 32 seconds:
That's how long Arizona went without a field goal in the second half of
a 64-57 road loss
to Oregon, which snapped the Wildcats' five-game winning streak. That drought helped the Ducks seize a commanding lead via their 17-5 run.
73 seconds:
That's how much time remained in the game when
Glenn Robinson III
hit a go-ahead 3-pointer in
Michigan's 84-80 win
over Indiana.
33:
Wins for undefeated Wichita State after Saturday's
67-42 victory
over Missouri State in the Missouri Valley Conference tourney semifinals. The Shockers are just the third team in Division I history to achieve a 33-0 mark, per ESPN Stats & Information.
30:
Jabari Parker
's career high in
a 93-81 win over North Carolina
at Cameron Indoor (most points by a Duke freshman in a matchup against North Carolina, according to ESPN Stats & Information), which gave Duke 33 consecutive home wins -- a Division I-high that the Blue Devils currently share with Stephen F. Austin.
2007:
Eastern Kentucky upset top-seeded Belmont,
79-73
, in the Ohio Valley tourney title game. The Colonels became the second team to punch their ticket to the NCAA tournament this season. And they'll be dancing for the first time since 2007.
November, 27, 2013
11/27/13
11:00
AM ET
It seems like just yesterday when North Carolina guard
Marcus Paige
expressed an uneasiness over making the transition to shooting guard. He was so conditioned to creating for others that the mentality to look for his own shots didn't come naturally.
[+] Enlarge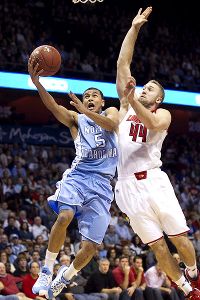 Zumapress/Icon SMI
Five games later, Paige has thrust himself into a different stratosphere -- both nationally and among Tar Heels historically.
He's currently leading the team with 22.4 ppg. That's comparable to others mentioned as national-player-of-the-year candidates like Oklahoma State's
Marcus Smart
(21.0), Louisville's
Russ Smith
(20.2), Kentucky's
Julius Randle
(19.8), Arizona State's
Jahii Carson
(23.0) and Duke's
Jabari Parker
(23.0).
That also would put Paige on a short list of Tar Heels who have averaged 20 or more points a game since 1970:
Phil Ford (20.8 ppg in 1977-78); Michael Jordan (20.0 ppg in 1982-83); Brad Daugherty (20.2 ppg in 1985-86); Hubert Davis (21.4 ppg in 1991-92); Antawn Jamison (22.2 ppg in 1997-98); Joseph Forte (20.9 ppg in 2000-01), Rashad McCants (20.0 ppg 2003-04) and Tyler Hansbrough (22.6 ppg in 2007-08 and 20.7 in 2008-09).
Paige is shooting 53.1 percent from 3-point range, which ranked him 29th nationally as of Monday's NCAA statistics. The next closest national-player-of-the-year candidate is Creighton's
Doug McDermott
, who is tied for 38th at 50 percent.
If Paige continues at this rate, he would shatter the Carolina single-season record of 49.6 percent set by Dante Calabria in 1994-95. The difference is Calabria was a spot-up shooter who benefited from Jerry Stackhouse and Rasheed Wallace drawing most of the defense's attention.
Paige is shooting 93.1 percent from the free-throw line, which was tied for 40th nationally entering the week. Again, he'd set a new school standard if he keeps it up, besting Shammond Williams' single-season record of 91.1 percent during the 1997-98 season.
Paige is also shooting 53.1 percent from the field, which for a guard is great, but it doesn't compare with post players.
Of course some, if not all, of Paige's current averages will decrease once teams make him the focal point of their game plans.
But the irony here is if Carolina had its full roster, and Paige were strictly playing point guard, he wouldn't be posting anywhere near his scoring average. That's what makes his transformation in such a short amount of time so impressive.
Paige has played at such a high level that it would be hard to argue that he's not the best player on the team even when
P.J. Hairston
came back.
November, 24, 2013
11/24/13
11:39
PM ET
UNCASVILLE, Conn. -- North Carolina coach Roy Williams walked over to his players huddled in a circle and jumping after their
93-84 win over No. 3 Louisville
on Sunday at Mohegan Sun Arena.
The 63-year-old cracked a smile and disappeared into the blue, his shiny white top barely visible, as he hopped, jumped and bumped into the players. Williams broke from the pack and gave a salute to the fans before the team ran off, hauling the Hall of Fame Tip-Off championship trophy to their locker room.
The No. 24 Tar Heels haven't had a November win that warranted such an impromptu celebration in a while. Just one week ago, the Heels' loss to Belmont was just their second nonconference home defeat during Williams' tenure. The program has also been carrying an albatross of uncertainty while awaiting a final judgment on the status of
P.J. Hairston
and
Leslie McDonald
.
That's why a little celebration was in order. Carolina needed this one.
"Since June 5
th
it's not been a very pleasant time -- it's been probably the most difficult time I've had as a coach," Williams said. "It has not been fun in every way, shape or form. But today, out on that court watching their excitement, bumping with them, then going in the locker room celebrating, that's what I coach for."
Former coach and mentor Dean Smith used to tell Williams he could accept whatever the outcome was as long as the team played well. Williams said he would respond by saying he'd rather win, but he changed his thinking before the Louisville game because of the many growing pains UNC has endured so far.
[+] Enlarge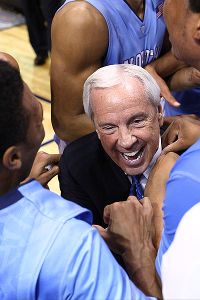 Mark L. Baer/USA TODAY SportsRoy Williams celebrates with the Tar Heels after they knocked off No. 3 Louisville.
"I would have accepted it today. I wasn't worried about result," Williams said. "I really wasn't. I wasn't thinking win, win, win, I was thinking we had to play better. If we played better we'd have a chance."
The Cardinals proved to be the right opponent at the right time for the Heels.
The Cards aren't as deep in the front court and the Heels seem to never run out of big bodies. The Cards preferred to play a faster pace that the Heels enjoy, too. The Cards preferred to press, and the Heels have been playing two points guards in the lineup with
Nate Britt
and
Marcus Paige
.
"We tried to outscore them and I think they were better at it," Louisville coach Rick Pitino said.
Paige said the Heels were "best in that environment" of playing a fast tempo and it certainly helped that they had a good example to learn from in Ty Lawson. Williams showed his team clips from the Heels' 2008 Elite Eight win over Louisville in which they consistently beat the press by quickly getting Lawson an outlet pass.
Carolina, which had just 14 turnovers, never allowed the press to be a problem. Often the hidden effect of Louisville's pressure is end of game fatigue for its opponents. But since Britt and Paige both handled the ball, that wasn't a problem either.
"There were stretches where I was pretty tired, I played 38 minutes [on Saturday]," Paige said. "Nate being able to be out there, me and him together, kept both us from getting too fatigued and worn down, which is what they want to do."
Not many could have predicted a nine-point outing on 3-of-11 shooting from
James Michael McAdoo
, who averaged 17 points, would end in a Carolina victory. But McAdoo's offensive struggles never were a factor thanks to a group that virtually grew overnight.
Williams called freshman center
Kennedy Meeks
"one of the worst players on the planet" for his one-point, three rebound performance in five minutes against Richmond, but added that against Louisville he was "unbelievable."
In his most extensive playing time this season, Meeks nearly posted a triple double with 13 points, 12 rebounds and seven assists. His outlet passes were crucial in helping the Heels break the press.
"I just realize [against Richmond] that's not the way I play, that's not the way I've played my whole life. It was time for me to step up," Meeks said. "This is college now, it's all about me being a man so I did pretty good today."
Britt, who was benched for critical stretches in the second half against Holy Cross and Belmont, also had his best outing of the season. The freshman guard set personal bests with nine points and five assists.
"I just feel like I'm starting to get more comfortable and I can kind of play like myself," Britt said. "Earlier it's just a lot of things I had to learn, lot of things I'm still learning. The more and more I play, I'm starting to get more relaxed and I'm coming into my own."
Paige continued to show his development in his new role as a shooting guard with a career-high 32 points. That marks the third time in the last four games that the sophomore guard has set a new scoring high. He did it with on efficient 9-of-12 shooting.
Paige had high praise for Louisville's
Russ Smith
, who scored a career-high 36 points, saying "there's a reason why he's a National Player of the Year candidate." Paige is playing his way on that list too, whether he realizes it or not.
"I don't know about all that I'm just trying to help this team win," Paige said. "Whether it's dishing the ball, or shooting the ball, whether it's defending, I'm trying to be the guy that consistently brings something to the table for this team."
The win changes the season narrative for Carolina and raises expectations back that may have been reconsidered after the Belmont loss.
"We understand that we still have a chance to be special. We just have to come out and play as hard as we did today consistently," Paige said. "The belief in this locker room is that we're one of the best teams in the country."
They proved it by beating the Cardinals, and on this November that's reason enough for the Tar Heels to celebrate.
November, 23, 2013
11/23/13
8:15
PM ET
UNCASVILLE, Conn. – There's no convincing Louisville players that they're not about to face an elite North Carolina squad at 1 p.m. Sunday at Mohegan Sun Arena.
Most of the third-ranked Cardinals said they had not seen the Tar Heels play this season until they watched the Heels beat Richmond in Saturday's first game of the Hall of Fame Tip-Off Tournament. Despite Carolina being a shell of the team ranked No. 12 in the preseason, the Cardinals are still showing respect for the name.
Maybe a tad too much respect considering
P.J. Hairston
and
Leslie McDonald
did not make the trip for UNC.


"We know they're the real deal," Louisville's
Luke Hancock
said. "It's always going to be Carolina, it's a top program. Coach [Roy] Williams is going to have them ready to play."
When the schedule was released, a potential Louisville-Carolina matchup looked to be the first real test for both teams. The reality is it will be more of a barometer for the Tar Heels.
With no word on the status of Hairston and McDonald, whose eligibility is under review by the school and NCAA, Carolina will be playing with its current rotation for the foreseeable future. It's about to hit a rough five-game stretch that includes a Dec. 4 trip to No. 1 Michigan State and a Dec. 14 home date against No. 4 Kentucky.
"We're definitely going to try to show up -- well, we will show up -- and compete like we did today," UNC forward
James Michael McAdoo
said after Saturday's 82-72 victory over the Spiders. "We'll start focusing on games like this which are definitely huge games for us going into conference play."
The Cardinals had the kind of win against Fairfield that coach Rick Pitino can use to grab his team's attention. After winning their first four games by an average of nearly 34 points, Pitino called their 71-57 victory on Saturday their "poorest game of the season." He even hinted that the Cardinals might have been looking ahead to UNC.
Louisville's postgame locker room reflected his sentiment. Players sat slumped into their lockers, the entire room void of the laughter and energy usually associated with winning. On the contrary, the Cardinals had the look and feel of a group that had just lost.
"It's eye-opening for us just to not play as well as we want," Hancock said. "This type of effort will lose against a lot of teams."
Forward
Montrezl Harrell
, who led Louisville with 14 points and 12 rebounds, said the Cardinals played like they didn't respect Fairfield, and it showed early.
"We should have come out and been prepared to play from the very beginning," Harrell said. "But we weren't and got burned for it in the first half. Playing against a team like North Carolina, if we start off like that we can really get burned and not be able to bounce back."
Pitino even elevated the praise for the Heels, after watching his team shoot just 38 percent and his starting backcourt of
Russ Smith
and
Chris Jones
commit a combined eight turnovers.
He said North Carolina's size could give the Cardinals problems, especially with the Heels' offensive rebounding.
"You're going to see a close game [on Sunday] -- if we don't get blown out," Pitino said. "If we play this way, there won't even be a game."
Just two games ago, Carolina players were thinking they might not belong on a court with Louisville after struggling to a 62-54 win over Holy Cross. McAdoo joked afterward that if the Heels played that poorly against the Cardinals, all he could do was "hope that Louisville played bad, too."
The bad news for the Heels is Louisville might have gotten that one out of the way.
"We'll come back," Pitino said. "I don't expect us to have two bad games in a row."
October, 21, 2013
10/21/13
3:45
PM ET
It goes without saying the games against Duke won't take a backseat to any opponent this season. Here are five games that could gauge how good, or average, this season will be for the Tar Heels:
5. at Virginia, Jan. 20

The Heels lost for the first time in five trips to John Paul Jones Arena last season. This game could be determined by style points. The Cavs want to use their slow, methodical pace while Carolina wants to run. The difference with this Virginia team is it doesn't have to play slow to be successful. UVa has the talent to make a move into the upper echelon of the ACC. And with the only regular-season meeting between these two, the outcome could end up serving as a tiebreaker.
4. vs. Louisville, Nov. 24

Both teams have to win in order to face each other (the Cards against Fairfield, UNC against Richmond). But if this game comes to fruition as it should, it could be like an NCAA Tournament game in November. Even without Chane Behanan, Louisville will have a formidable frontcourt led by Tarboro, N.C., native Montrezl Harrell. Surprisingly, the biggest test for Carolina won't be seeing how Marcus Paige and Nate Britt will handle the Cards' formidable pressure. It will be seeing if the defense has improved on stopping dribble penetration. If they can't Louisville's Russ Smith is going to give them fits.
3. at Syracuse, Jan. 11

Carolina and Syracuse have faced off seven times (the Heels hold a 4-3 edge), but ironically six of those meetings have come on neutral courts. Only once have they played a true road game and that came the final season Michael Jordan donned Carolina blue in December 1983. This will be the only regular-season meeting with the Orange in their inaugural season in the ACC. In anticipation, Orange fans have already purchased more than 30,000 tickets for the game that's quickly headed towards a sellout. It's one signal that the ACC will no longer just be measured by the Carolina-Duke rivalry.
2. Kentucky, Dec. 14

After a one-year hiatus, it will be great to see two of college basketball's marquee programs back at it. The Wildcats, who are No. 1 in the USA Today/Coaches preseason poll, have a tough non-conference schedule, too. I don't expect them to waltz into the Dean E. Smith Center with an undefeated record, despite coach John Calipari openly discussing the possibility for an undefeated season as a goal. But it will be UK's first true road test and Carolina's first home game against a ranked opponent. The last three regular-season games in the series have been determined by a basket.
1. at Michigan State, Dec. 4

This game, more than any other non-conference matchup, will be an early season barometer for North Carolina. Remember last year's disaster on the road at Indiana? Well, the Breslin Center can be as loud and intimidating for opponents as Assembly Hall (or Cameron Indoor Stadium for that matter); if the Heels aren't ready it could produce similar results. Carolina will see exactly how far their stable of big men have matured going against State's Adreian Payne. The Heels can use a lineup that matches up with the Spartans, so the bigger question will be how they will handle a top five team on the road.
July, 16, 2013
7/16/13
10:10
AM ET
Editor's Note: Over two days, we're releasing the brackets/matchups for 11 of the top early-season events. Starting Wednesday at 10 a.m. ET, we'll unveil the final six: Charleston, 2K Sports, Diamond Head, CBE, Wooden and Maui. A thread of previews and info for all 11 tourneys can be found here.
When and where:
Nov. 23-24 at Mohegan Sun Arena in Uncasville, Conn.
Semifinal schedule for the Basketball Hall of Fame Tip-Off:
Nov. 23: North Carolina vs. Richmond (noon ET, ESPN3); Louisville vs. Fairfield (2 p.m. ET, ESPN3)
Nov. 24: Championship game (1 p.m. ET, ESPN); Consolation game (3 p.m. ET, ESPN3)
Initial thoughts:
Smart move by Mohegan Sun. The casino, already home of a popular WNBA franchise, wisely has opened its doors to some of the college game's best. Louisville and North Carolina would be headliners anywhere, and their presence here turns Uncasville into a destination getaway in late November. Odds of an upset are slim, but never count out Richmond. The Spiders always are well-coached.
Matchup I can't wait to see:
North Carolina versus Richmond. If an upset is going to happen here, this is the game. The Spiders return four of their top five scorers, and with
P.J. Hairston
's status very much in question, they could give the Tar Heels a handful.
Potential matchup I'd like to see:
Were you expecting to see Richmond-Fairfield here? Seriously, a Louisville-North Carolina matchup in late November is a pretty nice little early-season tilt for college hoops. The defending national champion Cardinals return the core if not the heart (that would be
Peyton Siva
) of their title-winning team, while the Tar Heels -- with
James Michael McAdoo
back, and possibly Hairston (depending on criminal charges he's currently facing), are expected to make big jumps this season. Louisville likes to defend; UNC likes to score. Not a bad combo.
Five players to watch:
[+] Enlarge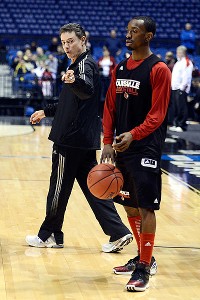 Jamie Rhodes/USA TODAY SportsGuard Russ Smith returns to the defending champion Cardinals' lineup this season.
Russ Smith, Louisville:
Russdiculous opted to return to the college game -- a very good decision. Now it's time to see if Smith is willing to make good decisions more regularly. No one will argue his talent; now it's time for him to showcase his IQ.
James Michael McAdoo:
The talented but somewhat enigmatic player surprised some by coming back for his junior season after averaging 14.4 PPG and 7.3 RPG. He hasn't exactly been the alpha dog the Tar Heels have so desperately needed the past couple of years. Is now the time?
Cedrick Lindsay, Richmond:
The senior finished second on the team in scoring, but really got good late. He averaged 16.5 points per game in his last 11 games.
Maurice Barrow, Fairfield:
On a rebuilding squad that lost all-everything guard Derek Needham, last season's second-leading scorer will need to have a step up in production. If the Stags are going to compete in the MAAC, the 6-foot-5 forward will have to play a large role.
Chris Jones, Louisville:
Just how good the Cardinals will be this season ultimately falls into the point guard's hands. Literally. The highly touted juco transfer is replacing Siva -- no easy task, but he comes to campus with serious praise from Rick Pitino.
Title-game prediction:
Louisville over North Carolina. Everyone will be trying to upset the king this year, so the road won't be easy for the Cardinals. But Louisville is just too loaded with experience, even for a very good Tar Heels team.
Who others are picking:
Eamonn Brennan:
Louisville over North Carolina
Jeff Goodman:
Louisville over North Carolina
Seth Greenberg:
Louisville over North Carolina
Andy Katz:
Louisville over North Carolina
Jason King:
Louisville over North Carolina
Myron Medcalf:
Louisville over North Carolina