North Carolina Tar Heels:

Ryan Kelly
March, 10, 2013
3/10/13
10:03
AM ET
CHAPEL HILL, N.C. -- Less than 10 feet from the bucket and falling backward in Saturday's first half, Duke guard
Seth Curry
swirled through an unmakeable-looking basket that, he insisted with a grin, "I knew was going in the whole time."
It was that kind of game for Curry, who made his first seven shots and set the tone for the third-ranked Blue Devils'
69-53 blowout
over rival North Carolina.
It was that kind of game for Duke (27-4, 14-4 ACC), which might have finished second in the ACC regular-season standings -- but is looking more and more like the top team in the nation again, thanks to the return of forward
Ryan Kelly
, the inside play of senior
Mason Plumlee
and the dynamic scoring of Curry.
"We're re-energized,'' said Curry, who finished 8-for-13 with two assists and three rebounds. "We're having fun with our whole team back out there. … And when we're on our A-game, we feel like we're one of the best teams in the country."
The Devils have systematically been returning to their A-game now that Kelly's back, after missing 13 games because of an injured foot. The senior -- who had averaged 27 points in the two games since his return last weekend -- was only 2-for-4 with eight points this time around. But the team, and his teammates, are looking more and more comfortable with the 6-foot-10 defense-stretcher back in the starting five.
For Robbi Pickeral's full column, click
here
.
March, 9, 2013
3/09/13
10:58
PM ET
CHAPEL HILL, N.C. -
Seth Curry
scored 20 points.
Mason Plumlee
had 23.
It was a memorable Senior Night at the Dean Smith Center -- for Duke.


The third-ranked Blue Devils decimated their in-state rivals
69-53
Saturday, snapping the Tar Heels' smaller-lineup-led six-game winning streak while winning their third straight since the return of their other starting senior,
Ryan Kelly
. It marked the regular-season finale for both teams.
A quick look at the blowout:
Turning point:
Ummm … tipoff? Duke, paced first by Curry, got off to a 14-0 run before UNC scored (on a
James Michael McAdoo
free throw). McAdoo scored five consecutive points before the Blue Devils took off again. Curry was 7-for-7 with 15 points before he recorded his first miss and had 18 points by halftime.
With his team leading 42-24 at the break, it was Plumlee's turn to take off, scoring the Devils' first 10 points of that half.
How lopsided was the disparity? With about nine minutes left, Curry and Plumlee had combined to outscore UNC's entire team 41-36.
The Tar Heels tried to rally, putting together a 13-2 run that included their first 3-pointer of the game (from
P.J. Hairston
), with 5:01 left. But that only cut Duke's lead to 63-49, and Blue Devils guard
Quinn Cook
quickly re-padded his team's cushion with back-to-back buckets.
Player(s) of the game:
Curry reached the 2,000-career-points mark in the first half, and finished 8-for-13. Plumlee was 10-for-15 and had 13 rebounds.
McAdoo led the Tar Heels with 15 points.
Number(s) to know:
Hairston,
Reggie Bullock
and
Marcus Paige
were a combined 0-for-11 for UNC in the first half, when the Tar Heels shot 27.3 percent and Duke shot 69.2.
Etc.:
Kelly, averaging 27 points in two games since his return from a foot injury, was plagued by foul trouble in the first half and finished with eight points. … As per Senior Game tradition at UNC, senior walk-on
Frank Tanner
started. He played 41 seconds before usual starter Paige checked back in. UNC trailed 7-0 by then. … Saturday marked the first time a Roy Williams-coached UNC team has lost on Senior Night.
Up next:
Duke will be the No. 2 seed in next week's ACC tournament. The Blue Devils will have a first-round bye Thursday and play the winner of Thursday's No. 7-No. 10 game on Friday at 7 p.m. in Greensboro. North Carolina will be the No. 3 seed, also have a first-round bye and will play the winner of Thursday's No. 6-No. 11 (Florida State-Clemson) game at approximately 9:30 p.m. on Friday in Greensboro.
March, 9, 2013
3/09/13
8:00
AM ET
CHAPEL HILL, N.C. -- Who would have thought, as little as a month ago, that Duke and North Carolina would've been the two hottest teams in the ACC?
Yet that's exactly where things stand entering Saturday's rivalry showdown at the Smith Center, thanks in part to the return of Blue Devils forward
Ryan Kelly
a week ago and
the Tar Heels' switch to a four-guard starting lineup last month
.
"We've accomplished a lot that hasn't been seen, just coming together and working a lot harder than we did initially," said UNC forward
James Michael McAdoo
, whose team has won six in a row since losing at Duke last month. "... After all those games, when you used to interview us, we used to say, 'We need to learn from our mistakes.' It took us long enough, but we're at a point now where we don't want to go back and have that feeling again."


A few things to watch when the game tips off at 9 p.m. ET Saturday on ESPN:
KELLY VERSUS P.J. HAIRSTON
UNC coach Roy Williams said he was wowed by the performance of Kelly, the third-ranked Blue Devils' 6-foot-11 senior, when he scored a career-high 36 points against Miami last weekend; after all, it was the player's first game back after missing 13 straight because of a foot injury.
With Kelly in the lineup, "their team changes drastically," said Williams, whose Tar Heels lost to a Duke team sans the forward last month.
"You've got
Seth [Curry]
and
Mason [Plumlee]
and
Quinn [Cook]
and
Rasheed [Sulaimon]
and all of those guys who have played really well. And all of a sudden they've got a huge shot of adrenaline here two weeks before the tournament starts -- [with the return of a player] who, according to Mike [Krzyzewski], may have been their best team defender, best talker on the defensive end of the floor. [Who] gives them another rebounder, a guy who can take charges and block shots.
"And he gets 36 points in the first game back, that's mind-boggling to me."
Kelly has averaged 27 points in the two games since his return, and his matchup with 6-5 UNC sophomore Hairston -- who has averaged 17.6 points since he was inserted into UNC's starting lineup during the Tar Heels' last game at Duke -- will be key.
Especially considering that Krzyzewski himself has been a bit wowed by Hairston.
"Hairston's played great -- not good, he's played great," Krzyzewski said. "He's taken advantage of his matchup, and that matchup hasn't taken advantage of him, because he's really a tough kid, he's strong. I just think he's tough-minded. A bigger player hasn't hurt him on his defensive end of the court, and he's really hurt that other player. Really, he's been one of the best players in the conference the last few weeks."
DEXTER STRICKLAND
Saturday will mark the final game at the Smith Center for shooting guard Dexter Strickland, UNC's lone scholarship senior.
His career has been a roller coaster -- from an NIT season as a freshman, to a rebuilding season as a sophomore, to an ACL tear in 2011-12. But after settling for an inconsistent outside shot all too often earlier this season (he was still recovering from that knee injury, sometimes hampering his ability to drive to the basket), Strickland seems to be getting his speed and confidence back.
And at the right time.
"He's a tough kid, he's handled some tough times," Williams said. "He's really done some good things, and I'm really pleased that lately, things have gone a little bit smoother for him."
Strickland, who also serves as backup point guard, has recorded 31 assists and only three turnovers during the Tar Heels' six-game winning streak -- a pretty impressive stretch for a player who had limited ballhandling experience when he first came to UNC.
THE ACC SEEDING RAMIFICATIONS
The Tar Heels have earned a first-day bye in the ACC tournament, but could still finish with the third or fourth seed. Duke will have the second seed, but still has a chance to share the regular-season league title.
Here's the breakdown of scenarios for UNC entering Saturday:
If the Tar Heels win, they will tie Duke for second place in the regular-season conference standings, and be the No. 3 seed in the tournament. (Tiebreaker explanation: Duke and UNC split their series during the regular season, and the second tiebreaker is based on winning percentage against the top seed. Duke split its series with Miami, while UNC went 0-2 against the Hurricanes.)
If the Tar Heels lose and NC State beats Florida State on the road Saturday, then UNC and the Wolfpack would tie for third place -- but UNC would drop to the No. 4 seed in the tournament. (Tiebreaker explanation: The teams split with each other during the regular season, and neither beat top seed Miami. But NCSU went 1-1 against second-seeded Duke, while UNC would have finished 0-2.)
If the Wolfpack lose to the Seminoles, UNC gets the No. 3 seed in the tournament no matter the outcome against Duke.
And here's the breakdown of scenarios for Duke entering the game:
If the sixth-ranked Hurricanes win at home against Clemson on Saturday, they win the regular-season title outright.
If Duke beats UNC and Miami loses, the Blue Devils and Hurricanes tie for first place in the conference standings, but the Blue Devils get the second seed in the ACC tournament. (Tiebreaker explanation: The teams split, and both swept UNC, but Miami has a better winning percentage against both NC State and Virginia.)
If Duke loses to UNC, the rivals tie for second place in the league standings, but the Blue Devils earn the second seed in the ACC tourney (as explained above).
March, 8, 2013
3/08/13
4:35
PM ET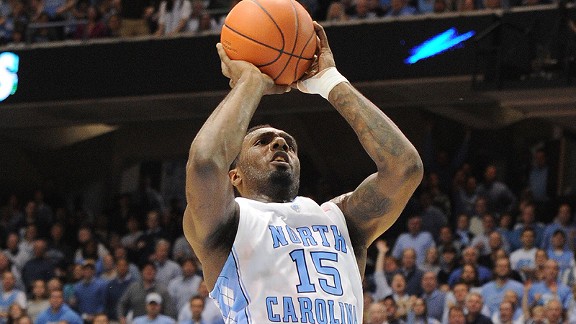 Cal Sport Media/AP ImagesNorth Carolina has won six straight games with P.J. Hairston in the starting lineup.
CHAPEL HILL, N.C. -- With about 2 seconds left at Cameron Indoor Stadium last month, newly installed North Carolina starter
P.J. Hairston
briefly cut through the roar of the crazy, celebrating crowd with a driving, rim-rattling jam.
The emphatic bucket, itself, didn't mean anything to the final outcome of the rivalry game: Duke 73, UNC 68. But it was a sign -- and a statement -- of what was to come.
"I wanted to show that we weren't going to stop being aggressive, we weren't going to stop trying," the sophomore said recently. "And we haven't."
Indeed, since that game, UNC's first with a four-guard starting lineup, the Tar Heels have reeled off six straight wins; secured a first-day bye in next week's ACC tournament; seemingly played themselves off the NCAA tournament bubble; and are just a few votes short of being back in the AP top 25.
The change hasn't always been seamless, but it has so far been successful.
In the rematch with No. 3 Duke at the Smith Center on Saturday, the Tar Heels are out to prove that their smaller lineup will be a big force to be reckoned with in the postseason.
"Even though we lost that first game [against the Blue Devils], I felt like that was a turning point for us," senior
Dexter Strickland
said. "We saw what type of team we could be if we continued to play like that. ... And we have."
MAKING THE CHANGE
When the 6-foot-5 Hairston was announced as part of the opening five instead of 6-9 sophomore
Desmond Hubert
on Feb. 13, it was somewhat of a surprise. Fans had been clamoring for the sophomore to start; he was, after all, the most productive player off the bench, and an offensive spark on a team whose starting five had lacked consistent scoring punch.
But coach Roy Williams -- trying to build freshman point guard
Marcus Paige's
experience, and keep his only scholarship senior, Strickland, confident at shooting guard -- was hesitant to make any switches to his starting backcourt. The Tar Heels had used smaller, four-guard lineups during some games. But Williams, whose offenses have always gone through the post, preferred to keep a traditional big man in the mix.
That is, until Feb. 9, when the Tar Heels were embarrassed by 26 points at Miami.
After watching his team yet again fall behind early; get only 10 points out of its center-by-committee trio of Hubert,
Brice Johnson
and
Joel James
; and show a lack of cohesiveness, the frustrated Hall of Famer knew something had to change. So he gathered his assistants in the bowels of BankUnited Center and asked for their input on how to jump-start a season that seemed in danger of free-falling in the wrong direction.
"We were sitting in the locker room and I said, 'Guys I'm going to do something,'" said Williams, whose squad also had previously trailed big in losses to Butler, at Indiana, at Texas and at NC State. "We talked about it at that time, that neither Marcus or Dexter were shooting a great percentage. Our fifth starter, one of the big guys, wasn't giving us a lot offensively, and
James Michael [McAdoo]
wasn't shooting the percentage we wanted him to either."
The coaches traded ideas and were given the night to ponder. Then the following day, they met back in Chapel Hill and solidified the decision to move Hairston into the starting five for Hubert -- hoping a smaller lineup would result in a bigger offensive assault.
The players learned about it the next day, when the name of the wing-turned-power forward was written on a board in the locker room as part of the opening five.
"I'm not sure there really was that big of a reaction," McAdoo said. "It was more like, 'OK, let's play.'"
The move was an experiment, Williams would say later, one that made his team instantly look more comfortable -- but took him out of his comfort zone. But even in the loss at Duke, he saw the potential when Hairston scored 23 and helped get the team off to a more energetic start.
And he saw results against Virginia and at Georgia Tech, both 12-point victories.
"I'm still uncomfortable with part of it, there's no question," Williams said of his lineup the following week, after those wins. "But I think it gives us the best chance to be successful."
A CHANGE IN RESULTS
That success continued with wins against NC State, at Clemson, versus Florida State and at Maryland. Duke coach Mike Krzyzewski called Hairston one of the best players in the ACC over the past few weeks, but it isn't just the sophomore's 17.6 PPG since he entered the starting lineup that has fed the streak -- but also what his presence does for the team as a whole.
Because defenses must guard another 3-point shooter, he has opened up more driving lanes for Paige and Strickland. McAdoo, too, has more room to move.
Rebounding has had to become more of a concern and an emphasis, but junior wing
Reggie Bullock
, in particular, has helped on that front, recording three double-doubles in his past four games. And Williams has credited Hubert, who has averaged about four minutes per game off the bench since the switch, with having a team-first attitude that has carried over to the rest of the squad.
The result is a faster, more confident, more offensive Tar Heels team that is averaging 10.1 more points per game since the switch. And a team that has taken on Hairston's swagger.
"When you put those five guys on the court, they can play with anybody and they can score with anybody," Krzyzewski said. "They're very good -- they're very good."
In Saturday's rematch with Duke (26-4, 13-4), the Tar Heels (22-8, 12-5) face an also-very-good Blue Devils team that has changed since last month's game, too. Starting forward
Ryan Kelly
, out for two months with an injured foot, has returned with a flourish, averaging 27 points over his past two games. At 6-11 and 6-10, respectively, he and
Mason Plumlee
make for another tall test for the shorter Tar Heels.
But it's a challenge UNC players say they've looked forward to since Hairston's statement dunk at the end of the last matchup.
"Of course we wanted that game bad, and losing by, like, five [hurt]," Hairston said. "But now, we're more team-oriented ... we've got this confidence now where we feel like we can't be beat. Right now, we just have this intensity that we bring to the game, a different focus than what people have seen from the beginning of the season."
//
March, 1, 2013
3/01/13
7:30
AM ET
Duke coach Mike Krzyzewski often has said he doesn't believe in revenge games. But after losing at Miami by 27 points in January, and getting beaten at Virginia on Thursday night, is there much doubt there will be some extra, er, motivation for the Blue Devils when they host the Hurricanes on Saturday? In the meantime, here's an attempt at this week's ACC power rankings:

1. Miami:
The now-No.-5 Hurricanes bounced back from their first ACC loss of the season (by 15 points at Wake Forest) by beating up on Virginia Tech. Since then, they've been able to focus on the game everyone's been talking about: Saturday's rematch with Duke: "It's going to be a blast," guard
Trey McKinney Jones
said, according to The Associated Press. "We beat them here this year, and we beat them there last year, so they're going to be gunning for our heads."
2. Duke:
Plus, the No. 3 Blue Devils should be especially fired up after shooting worse than 40 percent and never leading during the 73-68 loss at Virginia on Thursday. Forward
Ryan Kelly
, sidelined since January with a foot injury, returned to practice this week, but isn't expected back until after Saturday's game.
3. Virginia:
Nothing like beating the No. 3 team in the nation to bolster your NCAA tournament hopes.
Joe Harris
scored a career-high 36 points and teammate
Akil Mitchell
added a double-double Thursday night as the Cavs toppled the Blue Devils and remained tied for third place in the ACC standings.
4. North Carolina:
The Tar Heels are now 4-1 since they went to a four-guard starting lineup, and as their momentum grows, so does their NCAA tournament résumé. UNC secured another 20-win season with Thursday night's victory at Clemson, and junior
Reggie Bullock
has averaged 17 points and 11 rebounds the past two games.
5. NC State:
The Wolfpack bounced back from their loss at UNC by blasting Boston College, securing back-to-back 20-win seasons for the first time since Herb Sendek was coach. Next up: a trip to Georgia Tech, with an eye on trying to work back into the top four of the conference standings. State now stands in fifth place, a game behind the Cavs and Tar Heels.
6. Maryland:
The Terps are 1-6 on the road in conference play after losing at Georgia Tech, with their only ACC road win coming at last-place Virginia Tech. They still travel to Wake Forest and Virginia, and play UNC at home, during the regular season, but Maryland's at-large NCAA tournament bid hopes are diminishing.
7. Florida State:
The Seminoles remain the worst rebounding team in the league (31.3 per game) but could get a boost when 6-foot-8
Terrance Shannon
-- who suffered a neck injury on Jan. 19 but has been cleared to play -- returns. FSU beat Wake Forest earlier this week, but has still lost four of its past six games.
8. Wake Forest:
After scoring 23 points en route to a court-storming win over then-No. 2 Miami, Demon Deacon
C.J. Harris
made only one field goal, and finished with nine points, in a loss at Florida State. So continue Wake Forest's road woes. As some consolation, two of its final three games are at home.
9. Georgia Tech:
Yellow Jackets coach Brian Gregory called his team's win over Maryland earlier this week the most consistent 40 minutes of basketball it has played this season. Freshman forward
Robert Carter Jr.
posted his fourth double-double; and at 15-12 with three games left, Tech is guaranteed at least a .500 regular-season finish.
10. Clemson:
Even with double-doubles from big men
Milton Jennings
and
Devin Booker
, the Tigers couldn't outmatch the Tar Heels' smaller starting lineup. Thursday's defeat marked Clemson's third consecutive loss and sixth in its last seven games, as the Tigers continue to struggle to score.
11. Boston College:
It was a tough week on Tobacco Road for the Eagles, who followed a 21-point loss at Duke with an 18-point loss at NC State.
Ryan Anderson
averaged 17.5 points in the two defeats.
12. Virginia Tech:
The Hokies snapped a nine-game losing streak by besting FSU, only to lose at Miami. The Canes held senior guard/nation's-leading-scorer
Erick Green
to 16 points, only the second time during the conference season that he's failed to score at least 22.
February, 13, 2013
2/13/13
10:30
AM ET
CHAPEL HILL, N.C. -- North Carolina coach Roy Williams admits that, on paper, his team doesn't match up very well with No. 2 Duke.
The Blue Devils boast a Wooden Award candidate (
Mason Plumlee
) who is averaging a double-double in the lane, another Wooden Award candidate (
Seth Curry
) who is making 41.9 percent of his 3-pointers and averaging 16.9 points and a team that has rejiggered and remelded since losing starter
Ryan Kelly
indefinitely to a foot injury on Jan. 8.
[+] Enlarge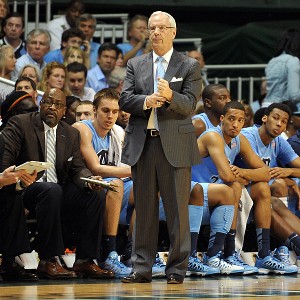 Lance King/Getty ImagesRoy Williams and the Tar Heels have their work cut out for them against Duke.
Still, Williams insisted Tuesday: "We have a chance. I believe that from the bottom of my soul. But we've got to play great, and we didn't play great Saturday [in a 26-point loss at Miami]. We've got to play great [Wednesday] night. If we do that, I'll be very pleased, because we'll have a chance."
Although UNC (16-7, 6-4 ACC) has won five of the last seven rivalry games at Cameron Indoor Stadium, Duke has won nine of the last 10 meetings when it is ranked and the Tar Heels are not, according to ESPN Stats & Information. The exception: March 2003, when Matt Doherty's unranked Tar Heels beat the No. 10 Blue Devils at the Smith Center in his final season as head coach.
The Tar Heels have struggled this season on the road in starting strong, playing consistent defense and getting big plays from big guys, but yes, there is a chance.
Especially in a season that has already seen 13 unranked teams knock off a top-five squad, again according to ESPN Stats & Info.
And especially in this rivalry -- and the Blue Devils (21-2, 8-2) know it.
"We can't just think because of their record or their prior losses that they're going to come in here and it's going to be a blowout,'' Duke guard
Quinn Cook
said. "They are a great team. People have seen glimpses of them against UNLV. They played well against Miami the first time. They have played some good games, and they have a lot of talent."
A few things to watch in Wednesday's game (9 p.m. ET, ESPN):
THE BEGINNING
Yet again, UNC got off to a slow start at Miami on Saturday, spotting the Hurricanes a 9-0 lead from which it never recovered. It was the same sort of funk that got the Tar Heels into trouble during losses against Butler in the Maui Invitational, at Indiana and at NC State -- and they know they have to be more aggressive from the outset at Cameron Indoor Stadium.
But in a rivalry like this, should that really be a problem?
"I just think, when we play them, everybody's energy, sense of urgency, everything goes up,'' UNC senior Dexter Strickland said. "I don't think we had that against Miami; going down there was like an embarrassment, and we didn't play like we were capable of playing. This game is different, just because it's Duke, and it's the greatest rivalry of all time, and stuff like that. So we've just got to be ready."
CAN ANYONE SLOW PLUMLEE?
The 6-foot-10 senior has recorded 30 or more points in two of his last four games, and he's going to be a load for UNC to defend. Because of their lack of size, the Tar Heels have often struggled to thwart bigger post players this season, and it won't help matters that their only true wide body -- reserve freshman
Joel James
-- will not play because of a concussion.
"I think the one thing that Joel does is he does have that size that bothers people,'' Williams said. "He doesn't have the experience to be able to play Mason head-up or anything like that, but when he's in the right position, it's really difficult to score over him. Whereas the other guys might be in the right position, and it's not nearly as difficult to score over them as it is to score over Joel.
"Desmond [Hubert] and James Michael [McAdoo] and Jackson [Simmons] and Brice [Johnson], they've got to be able to come through and do it."
Williams said the Tar Heels want to put a crowd around Plumlee on defense, "but you can't over-help because I'm real good at math and 3s add up faster than 2s."
MCADOO
After posting three double-doubles in his previous four games, UNC's leading scorer struggled against the Hurricanes, scoring a season-low six points on 3-for-12 shooting. The Tar Heels need the 6-9 sophomore -- who said his previously sore back was feeling better Tuesday -- to bounce back in a big way.
Plumlee said he could be tough to defend.
"He is a really aggressive scorer; he really looks for his shot,'' Plumlee said. "He is a good player. He likes a lot of jump shots so I will have to get out on him, like [NC State's Richard] Howell, I didn't get out on and he was knocking them down, so I have to get out on McAdoo for sure.
"He is a good player, he runs the floor, so I'll have to do a good job on him."
3-POINT SHOOTING
Last year's first meeting between the blue bloods was decided on a 3-pointer (the much-replayed game winner by now-NBA rookie Austin Rivers), and long-distance shooting could be key Wednesday, too.
The Blue Devils lead the ACC in 3-point field goal percentage (40.9), as all three of Duke's perimeter starters -- Cook, Seth Curry and
Rasheed Sulaimon
– are connecting on at least 41 percent of their shots from beyond the arc.
The Tar Heels, meanwhile, are 145-14 in the Williams era when shooting 38 percent or better from 3-point land -- including 10-1 this season. Reserve
P.J. Hairston
has been the most pinpoint from long distance of late, shooting 14-for-23 (60.9 percent) over his last four games.
THE IMPLICATIONS
The Tar Heels had won six of seven before their thud at Miami. They've proved they can win against good teams, but can they beat a great one? If they have a signature victory this season, it's against UNLV -- which has since dropped out of the Top 25. Their best road win is against Florida State, and despite all of their potential, they have yet to fit their puzzle pieces together into a consistent, cohesive picture. A victory Wednesday night could go a long way toward changing the perception, and perhaps trajectory, of this team.
Duke, meanwhile, has come an awful long way from its discombobulation (and 27-point loss at Miami) after losing Kelly last month. Learning to play without the senior's defense, and his ability to stretch defenses because he's a 6-10 forward who can make 3-pointers, remains an adjustment. But a win Wednesday would be its sixth straight, and would continue to show that the Blue Devils remain a team to be reckoned with.
"We aren't as comfortable as we were with Ryan, and we will never be as comfortable as we are with Ryan, because we aren't as good as we are with Ryan,'' Duke coach Mike Krzyzewski said. "You are more comfortable the more talent you have.
"... Our kids have done a really good job of adjusting without Ryan, winning and playing really hard. I think we have played really hard. A few games we have played great, and portions of games, unbelievable. There is more variance for performance playing without a very good veteran player. The more experience you can have, the less variance [and] you get more confident. Our team is capable of having that level of variance still."
January, 11, 2013
1/11/13
7:30
AM ET
Can we just call places 3 through 6 a tie? After the first week of ACC play, it's harder than ever to judge the middle of the league pack. But here are this week's ACC Power Rankings, based on myriad factors, including how teams have performed lately and the foes they've faced:

1. Duke.
Still undefeated, still No. 1 after victories over Wake Forest and Clemson. But the Blue Devils will be tested Saturday not only by an NC State team that has won nine in a row, but by playing without senior forward
Ryan Kelly
, who is out indefinitely with an injured right foot.
2. NC State.
The Wolfpack was picked to win the ACC during the preseason by both media and coaches, and Saturday's home game against the Blue Devils will show if it has what it takes to make that push.
Lorenzo Brown
, with 21 points against Georgia Tech, was the latest to lead his team in scoring. Who's next?
3. Miami.
The Hurricanes have never started 2-0 in the ACC -- until now. Senior forward
Kenny Kadji
had 18 points to help break his team's 10-game losing streak to UNC on Thursday night, and sixth-year senior
Julian Gamble
(14 points against the Tar Heels) has been filling in admirably for the injured
Reggie Johnson
.
4. Maryland.
Dez Wells
had a bad shooting night,
Alex Len
at times got pushed around, and the Terps saw their 13-game winning streak snapped via a 12-point comeback by Florida State. Whether they bounce back at Miami this weekend could be a good indication of whether they're a top-tier ACC team.
5. Florida State.
Junior forward
Okaro White
has come up big during the Seminoles' 2-0 ACC start, averaging 17.5 points and 8 rebounds. And so has his team. "We sat down, the juniors and seniors, with the young guys and told them we have to stop talking, and we have to show them how hard you have to play,'' White told Tallahassee.com.
6. Virginia.
Beat North Carolina, only to lose to Wake Forest? It might be that sort of topsy-turvy season for the Cavs, who should get more and more of a boost as senior guard
Jontel Evans
, who returned from injury last weekend, gets more and more back in sync with the offense.
7. North Carolina.
Coach Roy Williams said his team was stressed in the locker room after losing to Miami on Thursday night. And for good reason: This marks only the fourth time UNC has ever started 0-2 in the ACC, and things won't get any easier at Florida State on Saturday.
8. Boston College.
The Eagles have now won six of their past seven games, and gave NC State a scare in their only loss since Dec. 4. Sophomore
Lonnie Jackson
has posted double digit points for three consecutive games, including a season-high 22 at Virginia Tech.
9. Georgia Tech.
The Yellow Jackets had a six-game winning streak broken by the start of ACC play. Tech is shooting just 35.2 percent during its 0-2 conference start.
10. Wake Forest.
Despite shooting just 26 percent after halftime and failing to score a field goal for the final 10 minutes, the Deacs survived Virginia's comeback attempt. "We stayed with it," Wake Forest forward
Travis McKie
told The Times-News. "I think early in the season we would've put our head down and had a pity party. But we stayed with it and continued to fight hard." Wake has now won five of seven games.
11. Clemson.
The Tigers scored only 10 points, on just 12 percent shooting, in the first half at Duke on Wednesday. Yikes.
Devin Booker
has posted two double-doubles in Clemson's 0-2 ACC start.
12. Virginia Tech.
Already-undermanned Tech was down to six scholarship players during its midweek loss to BC, thanks to illness and injury.
Erick Green
continues to lead the nation in scoring, but the Hokies have now lost four in a row, and are 0-2 in ACC play.
July, 16, 2012
7/16/12
4:16
PM ET
Editor's note: ESPN.com's Summer Shootaround series catches up on the offseason storylines for each conference. For more on the ACC, click here.
[+] Enlarge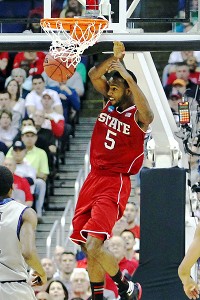 Greg Bartram/US PresswireExpectations are high for C.J. Leslie and the rest of the NC State Wolfpack heading into the season.
1. Expectations at NC State
: The last time the ACC media picked the Wolfpack to finish first in the league standings was 1988-89. But after a run to the Sweet 16 last March, forward
C.J. Leslie
's decision to return for another season, the arrival of a heralded recruiting class and so many departures from the other top conference teams, expect Mark Gottfried's club to top the ballots come fall. Point guard
Lorenzo Brown
needed knee surgery late last month, but is expected to practice before NCSU leaves for an August trip to Spain.
2.
Departures at North Carolina
: Losing so many stars to the NBA in one swipe (this time,
Tyler Zeller
,
John Henson
,
Harrison Barnes
and
Kendall Marshall
) is nothing new in Chapel Hill. The question is, how will the Tar Heels respond? In 2005-06, after losing seven of its top eight players, a young UNC team exceeded preseason expectations by making it to the second round of the NCAA tournament. But in 2009-10, after losing four of five starters, the Tar Heels didn't make it to the NCAA tournament at all. Returners such as
James Michael McAdoo
,
Reggie Bullock
,
Leslie McDonald
and
Dexter Strickland
still make UNC a top-15 favorite this time around.
3.
Decisions at Duke
: The Blue Devils' jaw-dropping defeat to 15th-seeded Lehigh in the NCAA tournament was followed by a couple of other spring surprises: the announcement that guard
Andre Dawkins
will redshirt his senior season, and forward
Mason Plumlee
will return for another year. The latter is particularly key for Duke, which will boast sizeable frontcourt options in Mason and
Marshall Plumlee
,
Ryan Kelly
,
Alex Murphy
and late signee
Amile Jefferson
. But without Dawkins, how
Seth Curry
,
Quinn Cook
,
Tyler Thornton
and freshman
Rasheed Sulaimon
perform on the perimeter could determine how far the Blue Devils go.
4.
Personnel changes at Virginia Tech
: Seth Greenberg is gone. But so are rising sophomore
Dorian Finney-Smith
and recruit
Montrezl Harrell
, who opted for new schools after Greenburg was fired. Former Greenberg assistant James Johnson -- who left Blacksburg, Va., for the same position at Clemson, only to return weeks later after he was hired to replace Greenberg in the head-coaching job -- has some talent to build around. But not all he could have hoped for.
5. Don't forget about Florida State
: After losing six players in their rotation (including fan favorite forward
Bernard James
, who went No. 33 overall in the NBA draft), it would be easy to overlook the chances of the Seminoles, who won their first ACC tournament last season. But don't. The Noles return four of their top five scorers, including guards
Michael Snaer
and
Ian Miller
, who both buried game-winners last season. Plus, coach Leonard Hamilton has proven that defense wins.
March, 10, 2012
3/10/12
10:30
AM ET
ATLANTA – North Carolina and Duke are still vying for a top seed in the NCAA tournament.
NC State is trying to solidify a spot in the field of 68.
And Florida State – which has already secured a spot in the NCAAs – would like to become only the second team not named "UNC" or "Duke" to win the ACC tournament in 16 years.
A quick preview of today's NCAA semifinals at Philips Arena:


No. 1 seed North Carolina vs. No. 5 seed N.C. State, 1 p.m. EST
Will he play or won't he play? The status of UNC forward
John Henson
's left wrist – which he sprained in the first half of his team's quarterfinal win over Maryland on Friday – hasn't reached the scrutiny level of "Ty Lawson Toe-Gate", circa 2009 (when the starting point guard sat out the entire ACC tournament, and part of the NCAAs, en route to a national title).
But give it time.
Official word Friday was that the 6-foot-11 junior would test his pain threshold Saturday morning to see if he would be able to play against the Wolfpack. But frankly, it would make sense to be cautious with the ACC's leading rebounder, blocker and defender. UNC, after all, has wrapped up an NCAA tournament berth, and it's just a matter of whether it ends up with a No. 1 or No. 2 seed.
If Henson doesn't play, it opens up more room the lane for NC State forward
C.J. Leslie
, who has come on particularly strong of late. He's averaging 18.9 points and 11 rebounds over his past seven games – including 19 points and 14 rebounds in Friday's quarterfinal victory over Virginia.
"He [Henson] is a great player – first-team All-ACC, Defensive Player of the Year; we want him to play,'' Wolfpack guard
C.J. Williams
said. "We don't want to give a team an excuse, 'Oh, we didn't have one of our best players.' He's definitely a matchup problem for us, with his length and his size … but we want him to play."
The Tar Heels beat their in-state rival in both match-ups this season.


No. 2 seed Duke vs. No. 3 seed Florida State, approximately 3:30 p.m. EST
Duke, which lost to Florida State on its home court in January, offered up a little bit of payback last month, when it beat the Seminoles in Tallahassee, Fla.
Guard
Andre Dawkins
was 6-for-12 for 22 points that game, with all six of those made shots being 3-pointers.
But since then, however, he's made only 1 of his 12 shot attempts over his past four games. Not a good stat for the Blue Devils, especially since they are also missing forward
Ryan Kelly
for the ACC tournament because of a foot injury.
The key for FSU will be to limit Duke's outside scoring while taking advantage of the Devils' thin depth inside.
And if it's close at the end, they have a couple of clutch options in
Michael Snaer
and
Ian Miller
, who have both buried game-winners this season.
"We know we have a tremendous opportunity to do something great,'' Snaer said. "My team is really confident in our abilities, and we're playing like it. We're playing together. … We know how important this game is to us, and to our program and to the history of our program. And I can't wait for it to get started."
February, 9, 2012
2/09/12
1:55
AM ET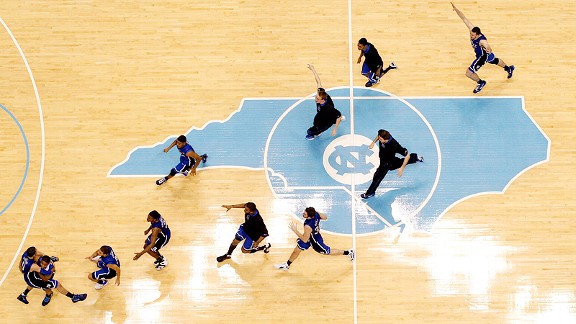 Streeter Lecka/Getty ImagesWednesday's improbable victory was Duke's fifth in its past six tries against rival North Carolina.
CHAPEL HILL, N.C. -- North Carolina point guard
Kendall Marshall
was so excited about Wednesday's rivalry showdown with Duke, he said, that his stomach hurt before the game.
It must have felt like a punch to the gut afterward.
The fifth-ranked Tar Heels squandered a 10-point lead in the final 2 minutes, 38 seconds at the Smith Center, losing
85-84
to No. 9 Duke when Blue Devils freshman
Austin Rivers
buried a 3-pointer from the right wing at the buzzer.
It was another Duke-Carolina instant classic. But not the kind these Tar Heels will want to watch over and over.
"When the ball went through, it kind of took me a second to process it -- to realize that we had lost the game,'' Marshall said. "I was stunned."
And still was, when talking to the media about 20 minutes after the defeat.
After all, UNC -- which now has lost five of the past six in the rivalry series -- looked like it had this one wrapped up. It had rallied from an eight-point first-half deficit to take a three-point lead at halftime. It had extended that advantage to as much as 13 with a 14-4 run to open the second half.
It had gotten star performances from senior
Tyler Zeller
(who scored 19 of his 23 points in the first half) and sophomore guard
Harrison Barnes
(19 of his 25 in the second), whose field goal with 2:38 left put the Tar Heels ahead by 10.
At that point, some in the Smith Center crowd began muttering about whether UNC would reach 100 points, so they could get the two-sausage-biscuits-for-a-buck deal at Bojangles.
Some reporters retired to the media room to start writing their stories.
And although the Tar Heels weren't celebrating yet, they looked pretty confident.
[+] Enlarge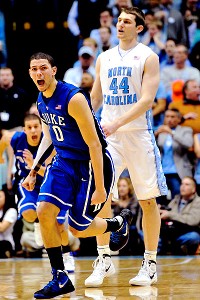 Grant Halverson/Getty ImagesThe final minutes of North Carolina's last-second loss were especially difficult for Tyler Zeller.
"We had control the whole time,'' said forward
John Henson
(12 points, 17 rebounds), referring to the first 17 minutes of the second half.
And then it all fell apart.
After Duke's
Tyler Thornton
and
Seth Curry
made 3-pointers to cut UNC's lead to four, the Tar Heels turned it over on their second consecutive possession -- and Duke forward
Ryan Kelly
's bucket cut the lead to 82-80.
Zeller made one of two free throws. And then after a timeout, Kelly launched what appeared to be a 3-pointer with 14 seconds left -- only to have it somehow go off Zeller's hand and into the basket for a bucket in Duke's favor.
"I went up and tried to grab it, and just tipped it in somehow,'' Zeller said.
When Roy Williams was asked whether he'd ever seen something like that happen, he responded: "No. But it's Duke-Carolina."
And in true Duke-Carolina fashion, the rally wasn't over.
Zeller went to the free throw line, again, and made only one of two, again, with 14 seconds still remaining. That pushed his team's lead to 84-82.
But with the clock ticking down, the 7-footer ended up covering the 6-4 Rivers (career-high 29 points) on a defensive switch near the 3-point line.
Swish.
"I should have got up further [on him],'' said Zeller, whose team didn't attempt a single field goal in Duke's closing 13-2 run. "I didn't want to foul him, get him to the free throw line, but I should have gotten up further. You can't give him a 3 when you're up 2."
It was a devastating final minute for the power forward, who had played so well -- and aggressively -- throughout.
And a disheartening minute for a team that could have vaulted into sole first place in the ACC, after Florida State's loss at Boston College earlier Wednesday.
Instead, the Tar Heels left with painful what-ifs. And, perhaps, stomachs.
"It really hurts, because of how we played the whole game," Henson said. "For us in the last three minutes just to give it up like that is really depressing."
Follow Robbi Pickeral on Twitter at @bylinerp.
February, 8, 2012
2/08/12
11:55
PM ET
CHAPEL HILL, N.C. -- Well, well, well. Some quick, pertinent details from Duke's buzzer-beating
85-84 win
over hated rival North Carolina after a 10-point rally in the final two minutes ...
Overview
: Getting into a run-and-gun game with North Carolina is never a good idea, but because Duke's defense has struggled so often this season, especially recently, the Blue Devils didn't really have a choice. If they were going to win in the Dean Dome, they were going to have to outscore UNC. And for nearly 20 minutes, it worked. Duke came out hot, hitting 7-of-17 from 3 in the first half and leading Carolina the entire way. The Tar Heels couldn't stop Duke's screen action. They couldn't close out on shooters. They couldn't keep
Austin Rivers
out of the lane. There was the creeping suspicion that the early lead was built on a foundation of sand, but hey: This was Duke's chance. The Blue Devils deserved credit for taking it.


Alas, it didn't -- and maybe couldn't -- last long. If UNC picked up the pace late in the first half, it absolutely exploded in the second.
Kendall Marshall
began to push the pace,
Harrison Barnes
started to work his midrange game and, by the 16:34 mark, the Tar Heels rushed out to a 54-44 lead. Rivers remained hot from 3, but the rest of the Blue Devils cooled off.
However, they never went away. Every time it looked like North Carolina was going to snuff the life out of the game, Duke got a big bucket, or a key steal, or a big 3 from Rivers or
Seth Curry
. Slowly but surely -- almost quietly, if you can believe it -- Duke snuck back into the game. With a minute left to play,
Mason Plumlee
's steal led to a Curry 3, which cut a seven-point lead to four. Barnes was called for a charge on one end;
Ryan Kelly
made a big 2 on the other. Just like that, it was a two-point game, 82-80, and UNC's fans had no choice but to realize the sudden seriousness of the situation.
Strange events followed: At 83-80, Kelly's attempt at a 3 became a 2 when
Tyler Zeller
(somehow) tipped it in. After a missed free throw at 84-82, Rivers backed his hesitant defender (Zeller) away and, just milliseconds before the buzzer, launched a 3 that -- wouldn't you know -- went in. It was, well, pick your adjective. Miraculous? Ridiculous? Insane? It was all those things and more, and no rapid reaction could ever do it justice. Wow. Just ... wow.
Star of the game
: Duke's Austin Rivers has been mercurial and inconsistent for much of the season -- have you seen this? have you heard about this? -- but wow, what a second half and what a finish. A star is born. Rivers finished with a career-high 29 points, made six of 10 shots from long range and even pulled down five rebounds.
Rivers was Duke's early spark, scoring 13 points in the first half, and his second-half shooting (including a pair of 3s in the midst of UNC's run) kept his team in the game when UNC looked ready to totally blow it open. When all else was failing, he kept his team's chances viable much deeper into the game than they had any right. And then, well, you saw the final shot. You're going to see it a million more times, too.
Stat of the game:
Duke connected on 14 of its 3-pointers, the most the Blue Devils have hit against a North Carolina team since March 2001.
Meanwhile, UNC attempted just six 3s and hit just one of them. That's a whopping 39-point difference from beyond the arc.
What it means
: The Blue Devils just made the ACC a three-horse race after ending UNC's 31-game home winning streak. Carolina could have pulled away, but instead, Duke moves ahead to 7-2, UNC moves back to 7-2 and both are tied with 7-2 Florida State after the Seminoles' strange loss at Boston College. This thing is now wide open.
But forget the ACC standings. Honestly, who cares? This game was another insane chapter in one of the best rivalries in the world of sports, and Rivers' shot will join the all-time great players and plays in the pantheon. You'll see it replayed over and over and over, and it will be warranted, because it immediately becomes one of the greatest shots in a rivalry full of them. This was Jeff Capel-type stuff. It was nuts. And this writer won't soon forget it.
On March 3, UNC travels 8 miles to Durham for a rematch at Cameron Indoor Stadium. "Big game" doesn't even begin to describe it.
What's next:
Duke hopes to carry the momentum over to a Saturday afternoon home matchup with Maryland, while North Carolina better bounce back quick because No. 20 Virginia comes to Chapel Hill next, also Saturday afternoon.