North Carolina Tar Heels:

Shane Larkin
March, 17, 2013
3/17/13
5:39
PM ET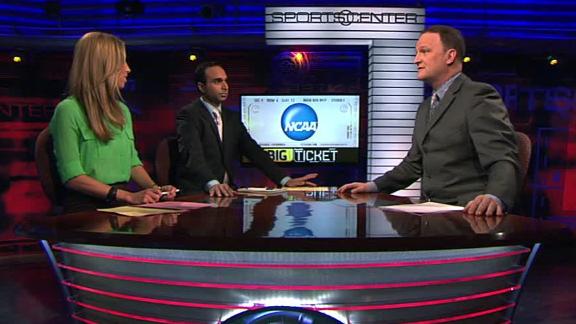 GREENSBORO, N.C. -- Miami point guard
Shane Larkin
said he plans to sleep with his piece of the ACC Tournament net for at least two weeks.
The Hurricanes' frenetic, fantastic, down-to-the-final-minutes championship win over North Carolina on Sunday was worth savoring -- in more ways than one.
Not only did the
87-77 victory
secure UM's first ACC tournament title, another accomplishment on an ever-growing list this season, it quieted any doubts that this team should be one to be reckoned with in the NCAA tournament.
"A lot of people were saying we peaked earlier in the year, when we won 14 in a row, and then we lost three of our last five," said Larkin, named the tournament MVP after his career-high 28-point performance. "A lot of people said ... we weren't going to have any chance in the NCAA tournament. But we just stayed together as a group; we stayed together and believed in ourselves and got three wins in a row against three very good teams."
Indeed, this didn't look like a team that was petering out. Just the opposite, in fact.
[+] Enlarge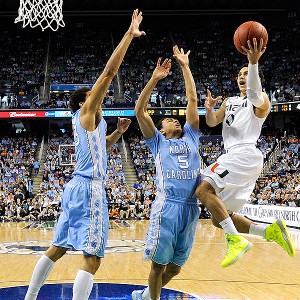 John David Mercer/USA TODAY SportsShane Larkin scored 28 points and had seven assists in Miami's win over North Carolina.
Pushed by a much-improved Tar Heels squad that also had plenty of doubters not too long ago, both teams put together a first half that was "as high a level of basketball as I've seen all year long,'' Canes coach Jim Larranaga said. They combined for 15 3-pointers, only eight turnovers, 13 lead changes and six ties. And that was just in the first 20 minutes.
In one blink-and-you'll-miss-it flurry, UNC sophomore
P.J. Hairston
(28 points) buried three 3-pointers in a row -- interlaced with 3s from Larkin and teammate
Trey McKinney Jones
(career-high 20 points). It was a stretch of entertaining one-upsmanship, and although Miami led 44-41 at halftime, you knew -- you hoped -- there would be more.
And there was.
"It was anyone's ballgame with five minutes to go," said Tar Heels coach Roy Williams, emotional about the loss and about how far his guard-led team has come since it lost to the Hurricanes by 26 points in early February.
Actually, UNC led Sunday 67-64 with 7:44 to go, until Hurricanes big man
Julian Gamble
scored five points in an 8-0 run. The Tar Heels, as they had all game, tried to shoot back, and point guard
Marcus Paige
cut it to a 74-71 with 3:37 to go.
But then Larkin drove by Strickland for a layup, and McKinney Jones (career-high 20 points) hit yet another 3 to make it 79-71 with 1:36 left.
It was the Hurricanes' largest lead to that point in the game, and finally the cushion was enough.
"Congratulations to Miami, it will continue to be a phenomenal year for them," said Williams, whose team is now 8-3 since it last lost to Miami. "They won the regular season, and then validated it by winning a conference tournament as well and it's just a great, great year. ... They're really a big-time basketball team."
As the horn sounded and a multi-colored blizzard of confetti poured out of the rafters, Miami guard
Durand Scott
leapt into Gamble's arms, then embraced big man
Reggie Johnson
. It was an emotional moment for three seniors who had seen Tobacco Road teams dominate the ACC -- until Florida State won the tournament last season.
And until now.
"My first meeting at George Mason in 1997, I asked our players, 'Who are the best programs in the country, and who should be our role model?' and they mentioned Duke and Carolina," said Larranaga, who took the Patriots to the Final Four in 2006. "And when I got to Miami, I asked, 'Who are the best teams and programs in the league?' and they said Duke and North Carolina. So what we've tried to do is use them as a shining example of what can be done."
And Saturday's net-cutting was another step.
McKinney Jones said he would likely give his sliver of the twine to his mom. Larranaga said his would be on display in his office. Scott said he would add his cutting to an ever-growing collection of memorabilia.
Meanwhile, expect Larkin to leave some room under his pillow for another piece of net. That's the goal entering the NCAA tournament.
"This was a big weekend for us,'' Larkin said. "This gives us a lot of momentum going forward."
March, 17, 2013
3/17/13
3:18
PM ET
GREENSBORO, N.C. -- By the time you read this, Sunday's ACC tournament championship game will be an afterthought, a fond March asterisk as you debate seeding and Cinderellas and start the post-Selection Show process of filling out a bracket.
And that's a shame,


because, wow, that was entertaining.
In the end, the top-seeded Miami Hurricanes enjoyed the confetti treatment and its first ACC tournament title, but it took 15 lead changes, 10 ties, and a gritty, sharpshooting effort against a vastly improved North Carolina Tar Heels team
to prevail 87-77
at Greensboro Coliseum.
A quick look at the contest:
Turning point:
UNC, which lost twice to Miami during the regular season before it switched to its current four-guard starting lineup, was leading 67-64 with about seven minutes left. That's when Miami put together an 8-0 run, led by five points from forward
Julian Gamble
, to take a 72-67 lead.
UNC's
Dexter Strickland
stopped the breakaway, briefly, with two free throws, but in a game that went back and forth for the first 36 minutes, it was enough of a cushion to build upon. And the final score does not show just how competitive this game was.
Players of the game
: Miami point guard
Shane Larkin
finished with 28 points on 8-for-15 shooting, with seven assists and five rebounds. Teammate
Trey McKinney Jones
added 20 points. UNC sophomore
P.J. Hairston
also scored 28 points, including six 3-pointers, in front of his hometown crowd.
Numbers to know
: The teams combined for 25 3-pointers. Miami shot 50.8 percent for the game, and UNC shot 45 percent.
What's next
: The Hurricanes earn the automatic bid to the NCAA tournament; the Tar Heels will get an at-large seed. Where will they go? Who will they play? The bracket will be revealed at 6 p.m. ET Sunday.
March, 17, 2013
3/17/13
8:00
AM ET
GREENSBORO, N.C. -- In a way, Miami is responsible for the team North Carolina has become.
That's why, in a way, it's fitting that the two teams will play for the ACC tournament title Sunday.
Feb. 9, the then-eighth-ranked Hurricanes trounced the Tar Heels so handily (by 26 points) that UNC coach Roy Williams knew something had to change. After meeting with his coaches in the BankUnited Center locker room, he opted to
go to a four-guard starting lineup
.


The result: An 8-2 record for the Tar Heels since the switch, and a faster, more confident, better scoring UNC team than the one Miami faced during its two-game regular-season sweep.
"The smaller lineup has helped us,'' Williams said Saturday after his team beat Maryland in the semifinals. "We're a better basketball team. Is it a world-beater, is it the newest thing that ever happened, the best thing that ever happened? No. ... But [going small] was the best thing for this team.
"Whether it presents any different problems for [the Hurricanes], we'll have to wait and see what happens [Sunday]."
The Tar Heels are confident, though, pointing out how far they've come not just from that last game at Miami, but from their 0-2 ACC start. Who would have imagined back then that they'd be competing for the league's tournament championship?
"We've had some ups and downs this year, and we went through a period where we struggled, and a lot of people kind of doubted us,'' UNC point guard
Marcus Paige
said. "But the great thing about that is we stuck together as a team and we finally started getting things clicking.
"So to get a chance to play Miami [Sunday], who has beaten us pretty badly, and have a chance to cut down the nets and ... to win an ACC tournament championship -- it would just be awesome to see the season come full circle like that."
A few things to watch in the championship game at Greensboro Coliseum:
MIAMI'S STARTING BACKCOURT
Hurricanes point guard
Shane Larkin
(a first-team All-ACC selection) and shooting guard
Durand Scott
(the ACC Defensive Player of the Year)
combined for 55 points in their semifinal victory
over NC State on Saturday.
UNC's Paige and starting shooting guard
Dexter Strickland
-- who combined for 23 points against Maryland -- are going to have their hands full, even with the help of wing
Reggie Bullock
, the team's best defender.
"We try to be the best backcourt every night, and I feed off his energy and he feeds off me,'' Larkin said. "We play well with each other, and I know if he's driving he's going to have his head up and if I'm open he's going to find me and hopefully he thinks the same of me. We challenge each other in practice; most of the time we are going against each other and we try to make each other better in practice. I'm just grateful that he's on my team."
UNC's 'BIG' MEN
Tar Heels forward
James Michael McAdoo
turned in his worst scoring game of the season the last time these two teams matched up, with six points on 3-for-12 shooting in 26 minutes. UNC's leading scorer has been more aggressive of late, but he has battled foul trouble his last two games, something the 6-foot-9 sophomore will have to be wary of against Miami's bevy of big guys.
Meanwhile, 6-foot-5
P.J. Hairston
, inserted to create the smaller starting lineup after the last Miami loss, will have to play big even with
his left hand still bandaged after needing eight stitches
between his fingers on Friday night. Miami's starting backcourt stands 6-11 (
Kenny Kadji
) and 6-10 (
Julian Gamble
), with a 6-10 wide body (
Reggie Johnson
) coming off the bench.
THE INCENTIVES
Both teams are NCAA tournament locks, but a victory would mark the Hurricanes' first ACC tournament title -- and
make a better case to the NCAA selection committee
that they should be a No. 1 seed.
"We're a hungry team and we want more and more,'' Larkin said. "We're not satisfied with winning the regular season, we want the ACC and eventually we're going to make the national championship game. We're hungry and not going to settle for less. Hopefully we can get out there and get it done."
The Tar Heels are looking for their 18th ACC tournament title, to strengthen their NCAA seeding and to prove they are ready to make a run as the postseason continues.
"Everyone had their doubts,'' Hairston said. "... But once we started clicking together and playing as a team and just playing North Carolina basketball, that's when everything came together and we started playing with different intensity and a sense of urgency."
March, 7, 2013
3/07/13
1:00
PM ET
Ballots for the All-ACC teams have been sent out, and there likely will be a lot of hand-wringing among voters as to which players fall where. Among the lingering questions:
Do Virginia Tech's Erick Green (the nation's leading scorer) or Virginia's Joe Harris (making a late push) have a chance to beat out Duke's Mason Plumlee or Miami's Shane Larkin for player of the year?

Will NC State senior Richard Howell (the team's glue guy who has averaged a double-double) edge out preseason first-team teammates C.J. Leslie and Lorenzo Brown in votes?

[+] Enlarge

Cal Sport Media via AP ImagesReggie Bullock is worthy of consideration for first-team All-ACC.

Who gets the fifth slot on the first team? Howell? Duke's Seth Curry? Miami's Kenny Kadji? A Tar Heel?

And just where does North Carolina fit into the mix?
The Tar Heels, who have won six in a row and are currently third in the league standings, pose an interesting conundrum all on their own because they boast three players deserving of votes -- but for different reasons: consistency vs. potential vs. impact.
Junior wing
Reggie Bullock
has been the Tar Heels' most steady player, scoring in double figures in all but two games in ACC play, making 45.2 percent of his 3-point shots, serving as the team's top defensive stopper, and picking up his rebounding when the team went to a four-guard lineup. (He's posted three double-doubles in his past four games, and is averaging 14.4 points and 6.4 rebounds for the season.) How much will voters appreciate all he contributes?
Sophomore forward
James Michael McAdoo
was a first-team preseason selection, is the team's leading scorer (14.6 PPG) and rebounder (7.8 RPG) and is considered a future first-round NBA draft pick (should he choose to leave early). But he hasn't been the dominating star everyone expected him to be. How much will that push voter perception?
And then there's sophomore
P.J. Hairston
, whose insertion into the starting lineup has resulted in UNC's late-season push. Playing the '4' position, Hairston has done a bit of everything -- hitting 3-pointers, driving to the basket, defending bigger post players. At times, he has looked like the best player on the floor, and is averaging 13.6 points and 4.1 rebounds a game. But will his reserve role early affect his votes late?
The likelihood of votes being divided up among the trio could keep a Tar Heel off the first team, but it will be interesting to see which, and how many, UNC players make the second and third teams.
Point guard
Marcus Paige
also has a strong shot at the ACC All-Freshman team, and Bullock is a candidate for All-Defense.
Thoughts? Predictions?
February, 15, 2013
2/15/13
11:28
AM ET
If you haven't done it already, go ahead and circle March 2 on your calendar. That's when Miami travels to Duke in what should still be a clash of top-5 teams. In the meantime, here are this week's rankings based on myriad factors, including how teams have performed lately and the foes they've faced:
1. Miami.
Raise your hand if you would have guessed at the beginning of the season that the Hurricanes would be in the conversation for the No. 1 ranking. They're No. 3 in the AP poll, still the only undefeated team in ACC play. And point guard
Shane Larkin
continues to wow; he averaged 20 points and 6.5 assists in two wins last week.

2. Duke.
Make that six wins in a row for the No. 2 Blue Devils after surviving tests at Boston College and versus UNC.
Mason Plumlee
continues to average a double-double (17.5 points, 10.2 rebounds) in ACC play. Coach Mike Krzyzewski said he still expects
Ryan Kelly
to return this season, but he also used the word "if" a couple times last week.
3. Virginia.
Can the Cavs, who have now won seven of their past eight, beat UNC on the road Saturday for a season sweep? A victory would certainly bolster their improving NCAA resume.
Joe Harris
is averaging 17.8 points in ACC play, second best in the league.
4. NC State.
After three straight losses, the Wolfpack finally got back in the "W" column at Clemson last weekend, but it took a
Scott Wood
3-pointer with a second to go to do it. Point guard
Lorenzo Brown
has returned from his ankle injury, and State had an open week to regroup and reset.
5. North Carolina.
Despite being the unranked underdogs, the Tar Heels led by as many as 10 points in an eventual loss at second-ranked Duke, and the insertion of
P.J. Hairston
into the starting lineup was a big reason why. It will be interesting to see whether the move sticks.
6. Maryland.
It's been an inconsistent couple of weeks for Terps center
Alex Len
, who has scored in single digits in three of his past five games -- and the Terps have lost all three. Maryland had an open week since losing to Virginia last weekend. Next up: the Blue Devils.
7. Clemson.
Senior
Milton Jennings
came up big Thursday night, blocking a potentially game-tying 3-pointer at the buzzer to secure his team's victory over Georgia Tech. It was a nice bounce-back after losing to NC State on a 3-pointer the game before.
8. Florida State.
The Seminoles' five ACC wins have been by five points or fewer. Four of their six league losses? By double digits. Their six-point defeat to Miami last week was one of the rare exceptions.
Michael Snaer
continues to lead the team with 13.7 ppg.
9. Wake Forest.
It's wacky how much worse the Deacs are on the road than at home. Case in point: last week, when they blew out Florida State 71-46 at Lawrence Joel Coliseum, only to let a seven-point lead with 2:12 left at Boston College slip away.
10. Boston College.
After losing a late five-point lead against the Blue Devils, the Eagles were the ones who staged a late-game comeback, against the Deacons.
Joe Rahon
, who capped an 8-0 run with two free throws, had 12 points and nine rebounds in that game.
11. Georgia Tech.
Speaking (writing?) of ACC road woes, the Yellow Jackets finally ended theirs, at Virginia Tech, before losing to Clemson. Freshman
Robert Carter
posted his third double-double of the season in that defeat.
12. Virginia Tech.
Weekly
Erick Green
tracker: He scored 28 against Georgia Tech, 22 at Virginia, and continues to lead the ACC (and nation) in scoring with 25.2 ppg. Seven straight losses now for the Hokies, though, with a trip to NC State up next.
February, 9, 2013
2/09/13
4:15
PM ET
CORAL GABLES, Fla. -- A quick look at Miami's
87-61
win over North Carolina on Saturday.


Overview:
Any lingering doubters out there about the Hurricanes? Didn't think so.
Miami ran its record to 10-0 in the ACC, dominating the Tar Heels in a game that was one in name only. Bigger, older and tougher, Miami ran roughshod over North Carolina at home, drilling the Heels on offense and frustrating them on defense.
In uproariously topsy-turvy and unpredictable season, Miami may be one of the nation's few reliable teams.
Turning point:
Tipoff. Seriously.
Kenny Kadji
hit a 3-pointer, setting the tone for what was to come. The Hurricanes led 13-2 early and never looked back.
Key player:
Shane Larkin
. The Miami guard is the prototype for the new model point guard, a guy who can score (18 points) and create (nine assists). He is equal parts nimble and smart, a deft ball handler but a savvy distributor as well and the engine for a pretty well-oiled Hurricanes machine.
Key stat:
The Hurricanes owned the box score but really made the difference beyond the arc. Miami, which had a season high of 11 3-pointers coming into the game, swished 10 in the first half and finished with 15.
Miscellaneous:
Midway through the first half, the BankUnited Center crowd stood up collectively and whipped out camera phones. Why? LeBron James and Dwyane Wade were in the house. Yes, the Hurricanes have officially arrived. James didn't want to talk. "Nah, it's my day off," he told ESPN.com. This was Miami's first win at home against North Carolina since Jan. 4, 2003.
Next game:
From the "you've got be kidding me" annals of scheduling cruelty, the Tar Heels head to Duke on Wednesday for the first of its two annual tap dances with the Blue Devils. Miami has something of a rivalry game too, but not quite like UNC. The Hurricanes are next at Florida State on Wednesday.
January, 10, 2013
1/10/13
11:00
AM ET
CHAPEL HILL, N.C. -- Monday, the day after North Carolina lost its ACC season opener at Virginia, coach Roy Williams asked his assistants to identify the team's main problem.
They all gave different answers. And the same thing happened when the question was posed to the players.
Thus, it isn't surprising that Williams himself offered a lengthy list of improvements he wants his 10-4 squad to make, preferably beginning with Thursday night's game against Miami.
"I'd like to have more inside scoring," he said, "and I'd like to get to the free throw line more. I'd like our big guys to turn it over less. I'd like us to be more consistent shooting the ball from the outside. I'd like to handle dribble penetration better."
Miami, which has been tested by one of the nation's toughest schedules, will in turn test all of those things. The 10-3 Hurricanes will continue to be without big man
Reggie Johnson
, who is expected to miss another six weeks with a broken thumb. But they are now 3-2 since he was injured, and are trying to replace his double-double average with a plethora of players.
"The whole key for us offensively is to just have good balance, to have different guys step up and make shots for us," Miami coach Jim Larranaga said. "The other day against Georgia Tech it was
Rion Brown
. Often is the case [that]
Shane Larkin
and
Durand Scott
are our leading scorers. But
Kenny Kadji
can really shoot the ball well, and in
Julian Gamble
's first start against Hawaii he scored 16 points and had 13 rebounds. …
Trey McKinney Jones
is shooting the ball very well. He's been in double figures most games.
"If we can get four or five guys in double figures, then I think we're in good shape offensively."
A few things to watch as the Hurricanes attempt to start league play 2-0 for the first time since joining the ACC, while the Tar Heels try to avoid 0-2:
Miami's backcourt
Scott, a senior, and Larkin, a sophomore, are combining for 27.5 points, 8.5 rebounds and 6.6 points per game. And they rarely take (or give defenses) a breather, averaging more than 35 minutes apiece per game.
"They're a difficult team to guard because Durand can take the ball to the basket so well and get fouled, get to the rim and he can make some 3s, too," Williams said. "We tried to go under the screen down there a couple of years ago and he makes three 3s in the first eight minutes.
"Larkin is really, really playing well. He's really aggressive and he's doing a good job. That gives them two point guards that have good assist-error ratios."
Reggie Bullock
UNC's junior wing has had the hot hand of late, averaging 17.7 points over his past four outings. During Sunday's loss at Virginia, Bullock,
who is trying to take on more of a leadership role
, scored 22 points on nine shots, and Williams wants his team to do a better job of recognizing who has the hot hand -- and work on getting him the ball more often.
"What we've got to do is be aware; it's not an equal opportunity," Williams
said during his Monday night radio show
. "Some guys can shoot better than others, some guys can score better than others, and we've got to figure that crap out. And we're pushing them in a direction to figure it out, but still, they've got to do it out on the court. We need to work harder, when someone's as hot as Reggie was [Sunday] night, we need to work harder to get him shots."
And Bullock's shooting may be counted on even more Thursday, if reserve guard
Leslie McDonald
-- who is averaging 8.4 points and 17.9 minutes, and is making 40.2 percent of his 3-pointers -- can't play.
McDonald "tweaked" his right knee, and did not practice Tuesday or Wednesday
.
Defense
The Hurricanes rank 18th nationally in field goal percentage defense, holding foes to 37.4 percent shooting per game.
The Tar Heels have held opponents to 39 percent shooting for the season, but have often been inconsistent and failed to communicate on defense when it mattered most. At Virginia, for instance, UNC allowed the Cavs to shoot 52 percent in the second half.
January, 10, 2012
1/10/12
10:01
PM ET
CHAPEL HILL, N.C. – So there is more to UNC offensively than its "Big Three."


While third-ranked North Carolina's frontcourt made only 5 of 19 shots in the first half at the Smith Center, starting guards
Kendall Marshall
and
Dexter Strickland
are 7-for-9, and the Tar Heels
lead Miami 40-25
.
It has been a game of runs for UNC, as it has outscored the Hurricanes in bursts of 8-0 and 8-0, then a 9-0 run to end the half. Leading 31-25, Marshall led that final breakaway by beating Miami reserve
Shane Larkin
on consecutive drives to the bucket for baskets. On Marshall's third consecutive drive, he fed the ball to forward
John Henson
, who was fouled.
Marshall, Strickland and forward
Tyler Zeller
all have 8 points apiece for the Tar Heels, who are shooting 41.7 percent and have outrebounded the Hurricanes by 10.
Kenny Kadji
leads the Hurricanes, who are shooting 34.5 percent, with 9 points.