North Carolina Tar Heels:

SMU Mustangs
April, 28, 2014
Apr 28
11:00
AM ET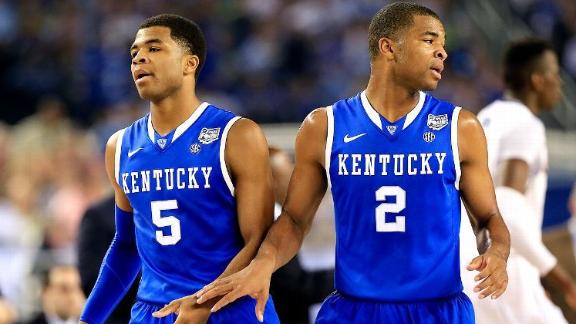 At 11:59 p.m. ET Sunday night, the NBA's early-entry draft deadline came and went. No key college hoops offseason date has so much, or so widespread, an impact on the landscape to come. And, for the fledgling offseason rankings writer, no consideration is trickier. Without question, that's
the hardest part about the Way Too Early Top 25
, which we published with confetti still on the keyboard just after UConn's national championship earlier this month. Until draft decisions are in, you're just making guesses. Educated guesses, sure. But guesses all the same.
Now that we know which players are staying and which are going, it's time to offer an edited addendum to this offseason's first attempt at a 2014-15 preseason top 25. How did draft decisions change the list?
In short, not a whole lot. But we do have a new No. 1. It will surprise nobody.
Jeff Gross/Getty ImagesJohn Calipari will have a roster full of future NBA players, as usual, next season. And this one will have experience.

Kentucky Wildcats: Kentucky was our No. 3 in the Way Too Early rankings back when we were almost certain the Harrison twins, Willie Cauley-Stein, Alex Poythress, and maybe even Dakari Johnson would be headed to the NBA. In the end, Kentucky kept all five, and add two of the best big men in the country (Trey Lyles, Karl Towns) in the incoming class to form a team that is surprisingly experienced, mind-bendingly tall (Calipari has three 7-footers and two 6-10 guys, all of whom are likely to play in the NBA), and every bit as loaded on natural talent as ever. Kentucky is losing Julius Randle and James Young to the draft, and will probably be better next season. Kind of insane!

Duke Blue Devils: Nothing less than a Jabari Parker return could have moved Duke beyond Kentucky and into the No. 1 spot at this point in the season, and Parker is heading to the NBA, as expected. Even so, the Blue Devils are in great shape, mixing the nation's best recruiting class with a really solid group of veteran, tried-and-tested role players.

Arizona Wildcats: The tentative No. 1 back when Nick Johnson was still weighing the proverbial options, Arizona takes the deep, chasmic plummet all the way to No. 3. In less sarcastic terms: Sean Miller has Arizona so well-oiled that it can lose its two best players (Aaron Gordon and Johnson) and still be a national title contender next season.

Wisconsin Badgers: Frank Kaminsky almost made this more work than it had to be; after a breakout postseason, Kaminsky saw scouts' interest skyrocket. But he held off in the end, which means the Badgers are still only losing one player -- senior guard Ben Brust -- from last year's excellent Final Four group.

Wichita State Shockers: Nothing to report here: The Shockers are still losing Cleanthony Early and still keeping Ron Baker and Fred VanVleet. Will they go unbeaten until late March again? No, but they'll be awfully good.

North Carolina Tar Heels: Point guard Marcus Paige played well enough in 2013-14 to earn a fair amount of NBA discussion by the time the season was over. Brice Johnson was just as promising, even in more limited minutes. But both players were always likely to come back, and now that they have, Roy Williams has more talent and experience at his disposal than at any time in the past five years.

Virginia Cavaliers: The Cavaliers are still a relatively predictable bunch going forward. Losing Akil Mitchell and Joe Harris will hurt, but Tony Bennett's team will still be led by Malcolm Brogdon and a very solid returning core.

Louisville Cardinals: Montrezl Harrell was probably a lottery pick, making his decision to stay in Louisville for another season one of the most surprising of the past month. It's also worth a big boost to Louisville's 2014-15 projections.

Florida Gators: Probably the biggest boom-or-bust team on this list, Florida's 2014-15 season will hinge on the development of point guard Kasey Hill and raw-but-gifted big man Chris Walker. Jon Horford, a graduate transfer from Michigan, will add size and stability.

Kansas Jayhawks: Bill Self's team won't have Andrew Wiggins and Joel Embiid in the fold next season, which was always a foregone conclusion (even if Embiid waited just long enough to make us wonder). But the players Self does have returning, plus another solid batch of arrivals, should make for another Big 12 regular-season title, the program's 11th in a row. Ho-hum.

Connecticut Huskies: DeAndre Daniels' pro turn is a little bit surprising, given how quickly Daniels rose from relative obscurity in the NCAA tournament, but it is far less damaging than Ryan Boatright's return is helpful. And transfer guard Rodney Purvis, eligible this fall, will help, too.

Southern Methodist Mustangs: An already good team (and one that probably deserved to get in the NCAA tournament over NC State, but oh well) gets almost everyone back and adds the No. 2 point guard in the 2014 class (Emmanuel Mudiay) to the mix, coached by Larry Brown. This should be interesting.

Villanova Wildcats: Before Jay Wright's team lost to Seton Hall in the Big East tournament and UConn in the round of 32, it lost exactly three games all season. Four starters and an excellent reserve (Josh Hart) return, and Wright's program should remain ascendant.

Virginia Commonwealth Rams: Shaka Smart has a lineup full of his prototypical ball-hawking guards, with the best recruiting class of his career en route this summer.

Gonzaga Bulldogs: As Kentucky prepares for another season in the spotlight, a player who helped the Wildcats win their last national title -- forward Kyle Wiltjer -- re-emerges at Gonzaga, where he'll be the perfect stretch 4 in a devastating offensive lineup.

Iowa State Cyclones: By and large, the Cyclones are what they were when their season ended: Seniors Melvin Ejim and DeAndre Kane are off to the Association, but Fred Hoiberg still has a lot of interesting, interchangeable pieces at his disposal.

Texas Longhorns: The recently announced transfer of Maryland forward Shaquille Cleare won't help the Longhorns until 2015-16, when Cleare becomes eligible, but with everybody back, the Longhorns have a chance to make a real leap right away.

[+] Enlarge

Steve Dykes/Getty ImagesMichigan State shouldn't slide back too far with Branden Dawson returning.

Michigan State Spartans: Our first offseason ranking of Michigan State essentially assumed that Gary Harris would leave, which he did. Branden Dawson's return is crucial, and if Denzel Valentine has a big year, Tom Izzo's team might not take as big a step back as everyone is predicting.

Oklahoma Sooners: Same story here: a very good offensive team with most of its major pieces back that needs to get a bit better defensively to really make a move into the elite.

San Diego State Aztecs: The team that should have been on our first list anyway gets here now in large part as a function of its competition. But that's not an insult: Even losing Xavier Thames, the Aztecs are going to defend really well again, with a group of exciting young West Coast players on the way.

Syracuse Orange: The Orange took not one, but two big-time hits in the draft-decision window. The first was point guard Tyler Ennis; the second, forward and sixth man Jerami Grant. Ennis was the most crucial, as it leaves Syracuse without an obvious point guard replacement.

Oregon Ducks: Now that UCLA's Jordan Adams switched his decision and will leave for the NBA (with little time to spare, too), Oregon's combination of Joseph Young, Dominic Artis and Damyean Dotson looks like the second-best Pac-12 team.

Kansas State Wildcats: Freshman star Marcus Foster was one of the pleasant surprises of the 2013-14 season; he should be even better as a sophomore.

Michigan Wolverines: The worst-case scenario for Michigan fans came true: Nik Stauskas, Glenn Robinson III and Mitch McGary all left for the NBA draft. That said, Caris LeVert is on track for a major season, and while Michigan won't have the firepower of the past two seasons, it's fair to assume the Wolverines will still put up a ton of points.

Iowa Hawkeyes: The argument for Iowa still stands: Fran McCaffery can reasonably replace Roy Devyn Marble and Melsahn Basabe with Jarrod Uthoff and Gabriel Olaseni and still get the kind of offense that fueled the pre-collapse Hawkeyes last season.
December, 30, 2013
12/30/13
9:00
AM ET
Basketball is played right through the new year, so as we look back and plan ahead let's take a look halfway through this season at which 2014 prospects have performed best in 14 categories.
1. Best in the low post: Jahlil Okafor (Chicago/Whitney Young), Duke signee
If a team needs to score a basket in the lower half of the painted area, Okafor is the one to pass it to. He has secure hands to catch almost any pass and a soft touch with superb footwork. He also has a wide mobile body to seal his man and the patience to throw the ball back out and re-post his 7-foot-3 wing span.
July, 13, 2012
7/13/12
9:11
AM ET
PHILADELPHIA -- At the Reebok Breakout Challenge, they wore the business uniforms of July recruiting, some in lime green or bright red, others in black or navy blue.
All had their university names splayed in full across their golf-shirted chests or neatly logoed on left corner pockets.
All, that is, except one gray-haired man, turned out subtly in an anonymous gray shirt, dark shorts and white sneakers.
[+] Enlarge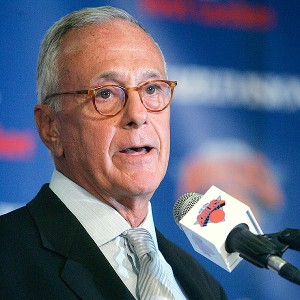 Stephen Chernin/Getty ImagesCollege recruiting has changed a lot since SMU coach Larry Brown last did it, in 1988.
"Hey Frannie, do I need to get one of these fancy shirts with a logo?" he asked Temple coach Fran Dunphy.
"No, coach,'' Dunphy replied. "People know who you are.''
On his first day of July recruiting in 24 years, Larry Brown both stuck out and fit right in, a 72-year-old legend squeezed among young assistants desperate to make their mark, yet a contented hoops junkie thrilled to sit back and watch kids ball.
This, the new SMU coach said, is why he came back to college coaching.
He missed it.
He'd tried to fill his time living vicariously through his many disciples, crisscrossing the country to visit Bill Self at Kansas, Mark Turgeon at Maryland and John Calipari at Kentucky. But being a casual observer is not exactly in Brown's DNA, and the need to get back in was too overwhelming.
So when the call came from SMU, a program with empty trophy cases and woefully thin basketball history books, he said yes.
That was the easy part. Now is when it gets tricky. In 1988, when Brown last worked at a university, things were a little less complicated.
"You met a kid, his parents, his high school coach and his guidance counselor,'' he said. "That's not the deal anymore.''
Now Brown, per NCAA rules, first had to call kids on the phone, though he admits he's not sure why -- "I'm not sure what I'm supposed to say. I'm 72 years old. What do they wan to talk to me about. So I tell them, 'My assistants told me I should call you,' -- and had to take two compliance tests before he could even go out on the road.
"We had study hall,'' assistant Jerrance Howard said, not jokingly. "Really. We had practice tests, flash cards.''
Like every other coach, Brown will spend the month traveling around the country, a far cry from 1988, when recruiting was basically one-stop shopping. Nike held a camp at Princeton University back then, and that was really the only go-to locale.
For Brown, traveling these days is more like a grand tour. His coaching tree stretches for miles and covers plenty of bleacher acreage, so every stop is like old-home week.
On Wednesday night, he spent an hour watching a game two seats away from Turgeon, the Maryland coach who once played for Brown at Kansas.
Brown was scouting talent, looking to stockpile for an SMU team in desperate need of an infusion. He's been around the business plenty long enough to know that growing the Mustangs won't happen quickly.
Which doesn't exactly suit Brown's personality.
"Will you be patient?'' I asked him.
"I don't even want to answer that,'' Brown said laughing. "I know we aren't a factor yet, but if kids come, it will be all over.''
As Brown started to answer, Turgeon shook his head and smirked.